These easy air fryer taquitos are one of my favorite air fryer recipes!  They make for a great afternoon snack for the kids or sometimes I'll even serve them for a quick and easy dinner too!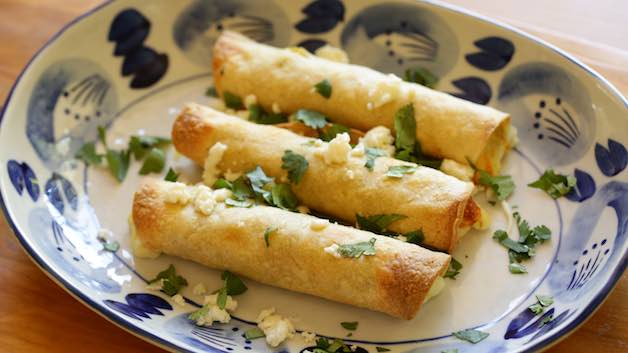 These are filled with cheese and fire roasted green chiles but you can also add shredded chicken, shredded beef or beans too!
For this recipe I used the Philips Air Fryer model HD9630 and I must say, it is fantastic!
So easy to use, a roomy basket for frying and the pieces come apart for easy cleaning!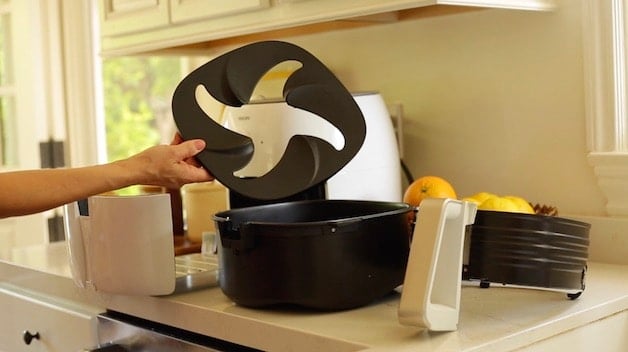 WATCH A PREVIEW VIDEO OF THIS RECIPE BELOW!
(FULL VIDEO DEMO IS IN THE RECIPE CARD BELOW)
Subscribe to my
YouTube Channel
for more recipe videos!
(it's free!)
STEP #1: Soften Corn Tortillas
I really like to use white corn tortillas for these because I think they are lighter and provide for a better texture once air fried.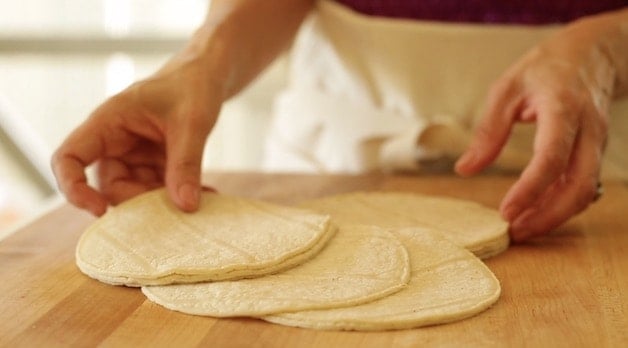 They are also more pliable too which makes them easier to roll up!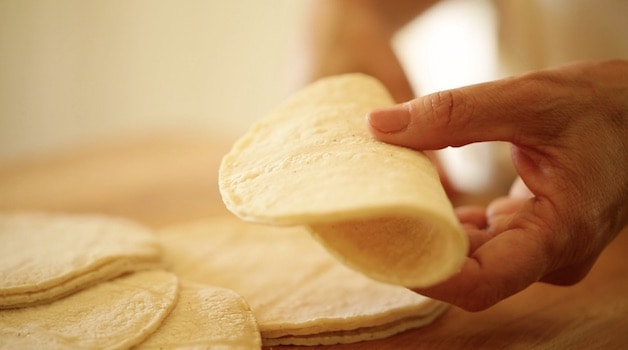 Then spread a little olive oil on each tortilla, both sides. I think this helps them crisp up better in the air fryer.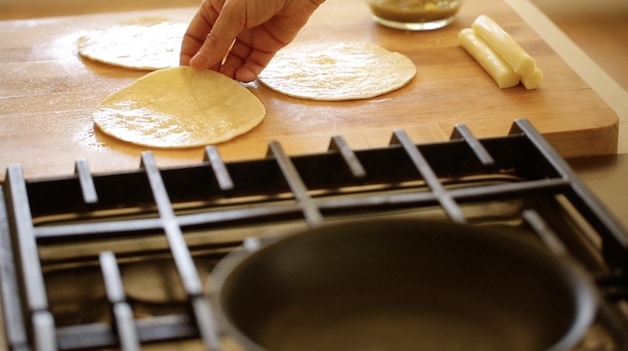 Then quickly warm the tortillas in a small pan before filling and rolling them.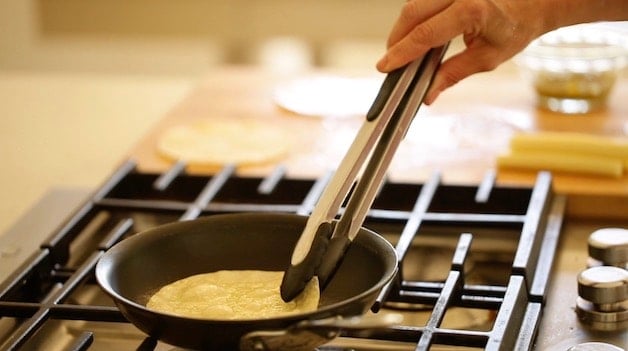 TIP:
The heat helps tortillas that has been stored in the refrigerator, soften and assures they roll up easily.
STEP #2: Slice & Fill Cheese Stick
To fill with cheese you could use grated cheddar or Monterey jack or for an even easier trick, you can also use mozzarella cheese sticks! Score them down the center with a knife.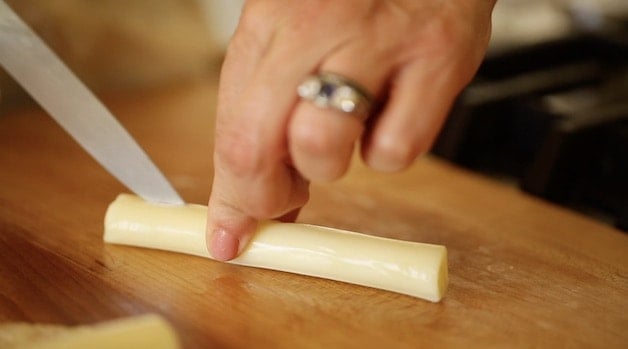 But don't cut them in half, you just want to create a "pocket" you can fill with the fire roasted chiles. I buy the chiles at Trader Joes. They come in a little can and work great!

STEP #3: Roll Taquito
Gently roll up the tortilla and stop when the seam is on the bottom.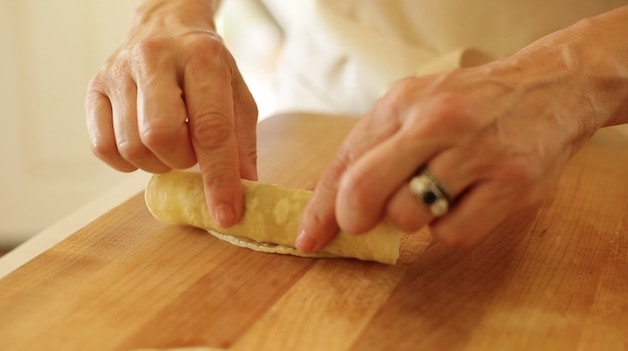 STEP #4: Air Fry!
Set 3 taquitos at a time in the air fryer basket, seam side down. Be careful don't to crowd them or they will stick together.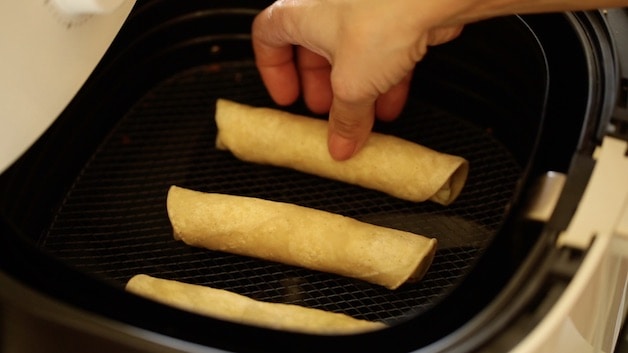 Air fry the taquitos at 400 degrees for 10 minutes. Be careful when you remove them since they will be very hot!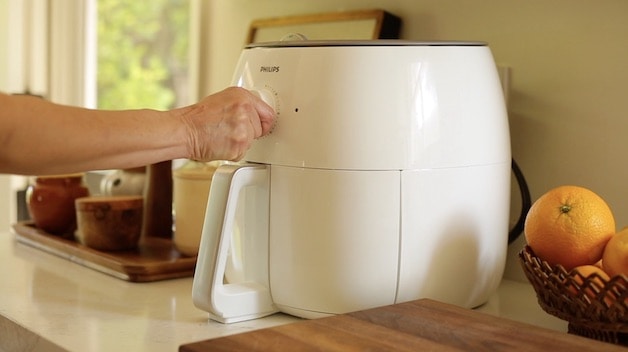 STEP #5: Garnish & Serve! 
Add some crumbled queso fresco cheese and freshly chopped cilantro on top!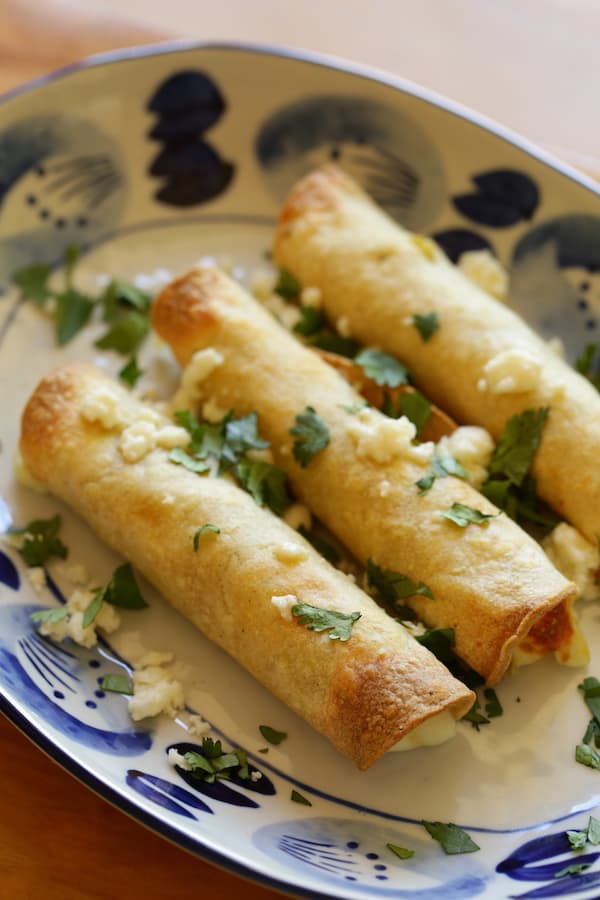 These air fryer taquitos are also great when served with my Homemade Chunky Guacamole Recipe.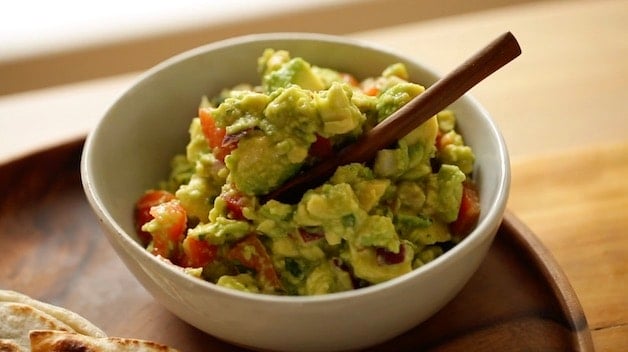 MORE AIR FRYER RECIPES!
Please let me know if you make these Easy Air Fryer Taquitos by leaving a rating and review below!
Follow me on Youtube, Pinterest, Instagram, Facebook & Twitter!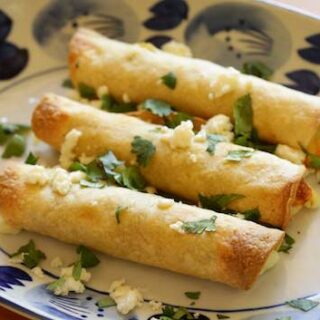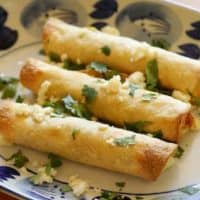 Easy Air Fryer Taquitos
Easy Air Fryer Cheese and Chiles Taquitos. A great after school snack or light lunch! Serve with homemade guacamole and make it a fun appetizer too!
Ingredients
3 White Corn Tortillas
1 tsp olive oil
3 Cheese Sticks
3 tsp Fire Roasted Green Chilies
1 tsp Crumbled Cheese (Queso Fresco/Cotija)
1 tbsp Cilantro
Instructions
Brush tortillas on both sides with olive oil. Heat in a pan on the cooktop until soft and pliable. Slice cheese sticks down the middle, exposing a pocket you can stuff with the chilies. Roll tortilla up. Place in air fryer, seam side down, and fry at 400F for 7-10 mins.
Top with queso fresco and fresh cilantro.
Notes
Use white corn tortillas since they are more pliable than yellow corn and will be easier to roll up.
Serve these with some homemade chunky guacamole for a fun Game Day snack!