These easy air fryer taquitos are one of my favorite air fryer recipes! They make for a great afternoon snack for the kids or sometimes I'll even serve them for a quick and easy dinner too!
New to air frying? Be sure to check out my Top 10 Air Fryer Recipes for lots of delicious easy air fryer recipes! And you must try my Air Fryer Quiche recipe, one of my favorite easy things to make in an air fryer.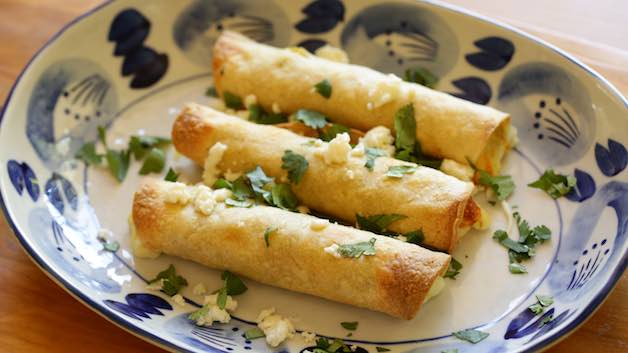 Filling Ideas:
This recipe is filled with cheese and fire-roasted green chiles
But you can also add shredded chicken, shredded beef, or beans too!
Serve them as an appetizer followed by my Enchiladas Suiza for a great Sunday Night Dinner!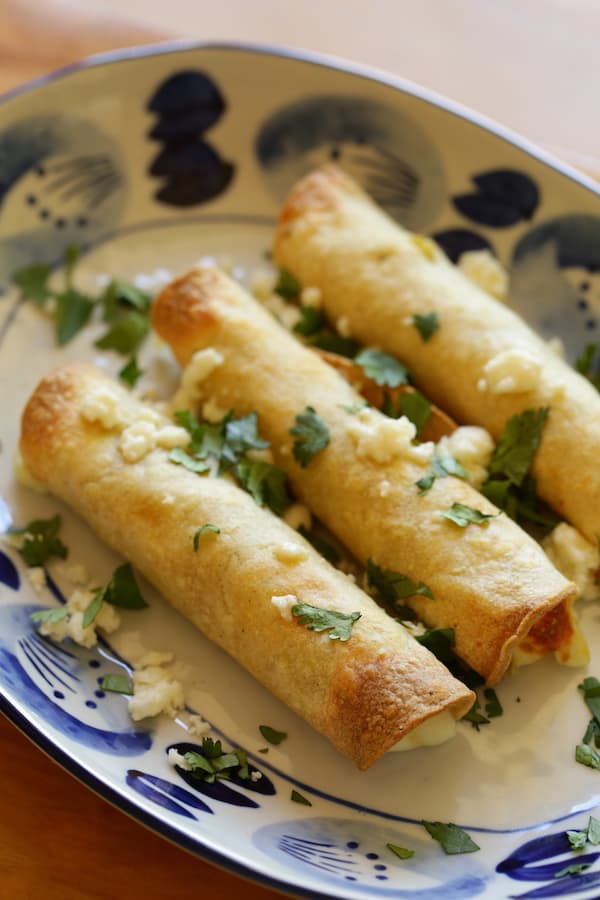 Air Fryer Model
For this recipe, I used the Philips Air Fryer model HD9630 and I must say, it is fantastic!
It's really easy to use and clean! It's also not a big eye sore if you leave it out on your countertop.
I find I use it much more than I do my microwave, so the microwave is now in the garage.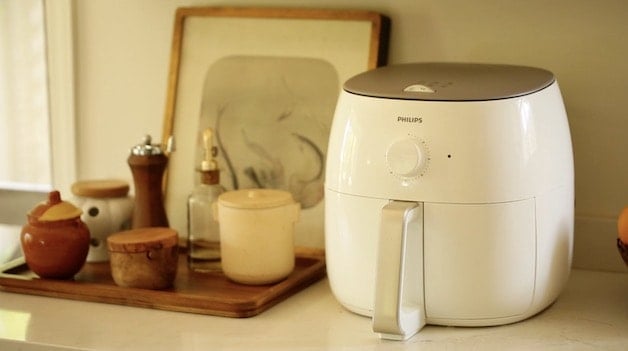 It has a roomy basket for frying. The best part though is how the parts come apart for easy cleaning! (My old air fryer didn't do that!)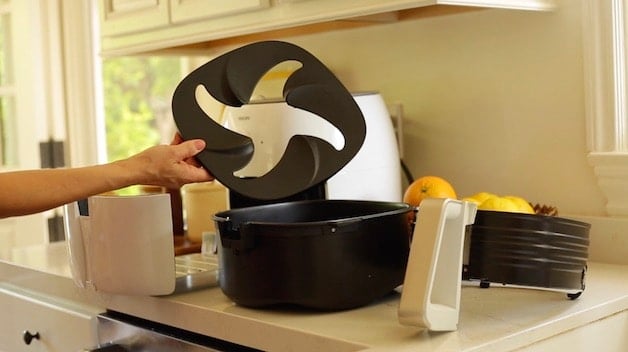 Step#1: Soften The Corn Tortillas
I like to use corn tortillas for these because I think they taste the best and provide the most crunch.
But corn tortillas are more fragile than flour tortillas and in order to roll them up as taquitos, you need to soften them first.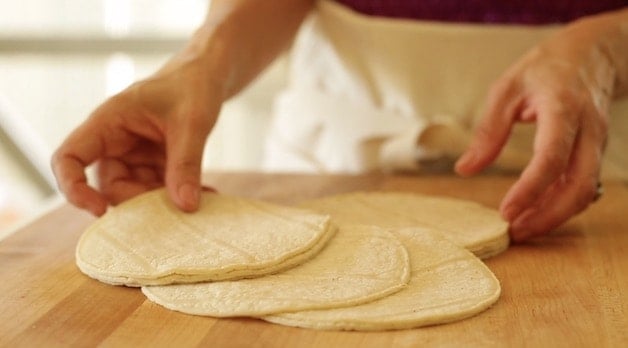 How To Soften the Tortillas
You can place them in the microwave wrapped in a paper towel for a few seconds.
Or you can also heat them in a small non-stick skillet as well. That will also soften them up.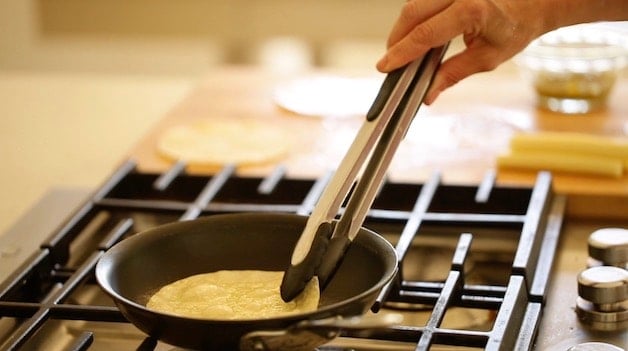 How To Make the Taquitos Extra Crispy
I spray them with a little olive oil first and then heat gently on both sides.
The oil makes them even more pliable and helps them crisp up in the air fryer too!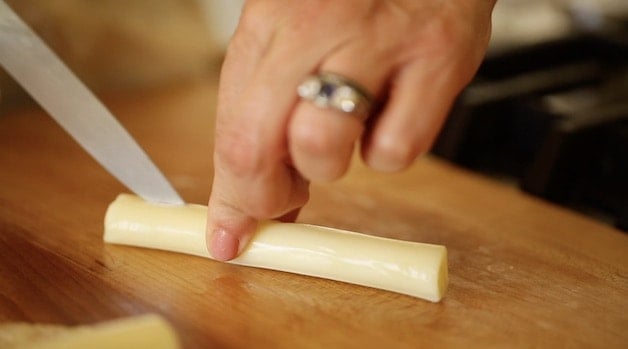 Step#2: Fill Cheese Stick with Green Chilis
Then take a mozzarella or cheddar cheese stick, score it down the middle, and fill it with the green chilis.
The ones that come in a small can at Trader Joe's works perfectly!
Don't cut the cheese stick all the way through or the chilis start to spill out and will break the tortilla with their juice.
For a little more protein or to serve as a main meal, you could also add some shredded, cooked rotisserie chicken along with the cheese as well.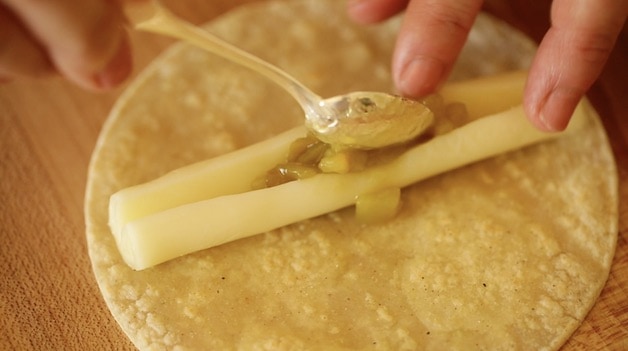 Air Frying the Taquitos
Then tightly roll up the tortilla and place it in the air fryer.
Don't crowd the taquitos. It's best to do 3 at a time, seam side down.
Then Air Fry away at 400F for 7-10 mins!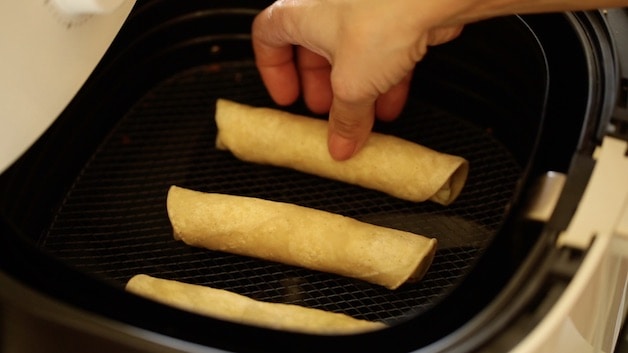 Freezing the Taquitos
To meal prep, you can air fry the taquitos, allow them to cool completely then store them in a freezer-safe container in your freezer for up to a month.
Then when it comes time to reheat the frozen taquitos, no need to defrost.
Just place them in the air fryer at 375F for 4-6 minutes until hot and crispy.
Air Frying Taquitos for a Large Party
For a large party, you can do all the air frying before guests arrive and then keep them warm in a 200F oven for about 30 mins and then serve.
I wouldn't keep them warm longer than that or the corn tortillas will start to get too dried out, hard, and crunchy. But under 30 minutes and you'll be OK!
And meanwhile, you could also Air Fry up some Air Fryer Chicken Wings or Air Fryer Coconut Shrimp which would be other great appetizer ideas to serve with your taquitos.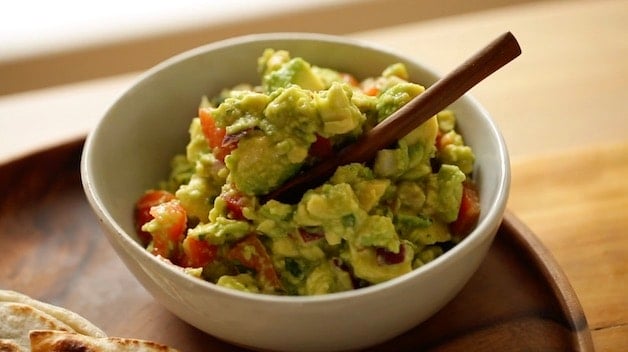 What To Serve with Taquitos?
I love to serve these with my chunky guacamole recipe. It's such an easy lunch idea or after-school snack! Or you can also serve them as an appetizer recipe too!
Top with a little queso fresco and fresh cilantro et voila! Or you can also serve them with a selection of salsas too in a variety of spiciness.
More Air Fryer Recipes You'll Enjoy!
If You Enjoyed This Recipe
Please Leave a Rating and a Review Below!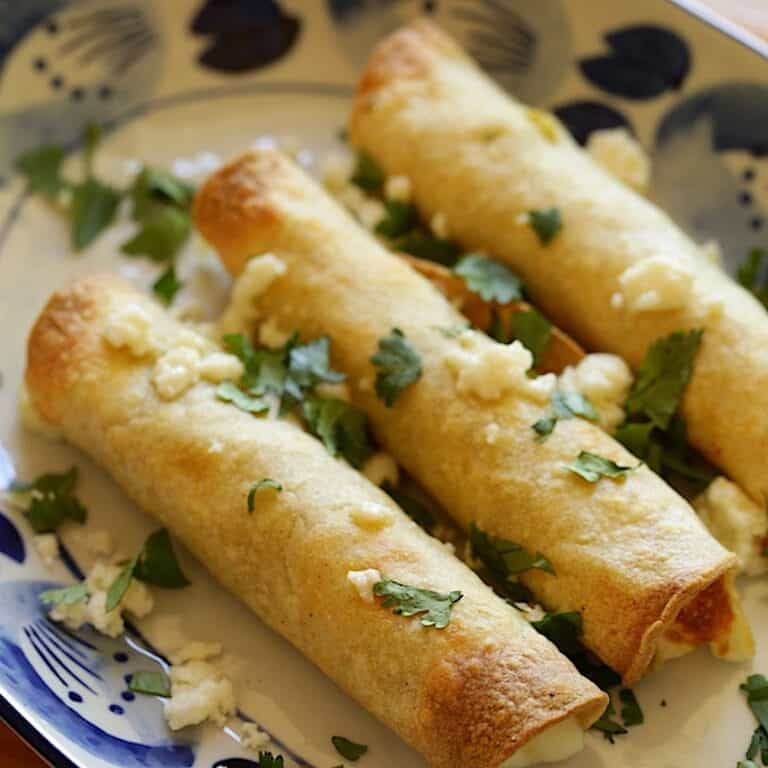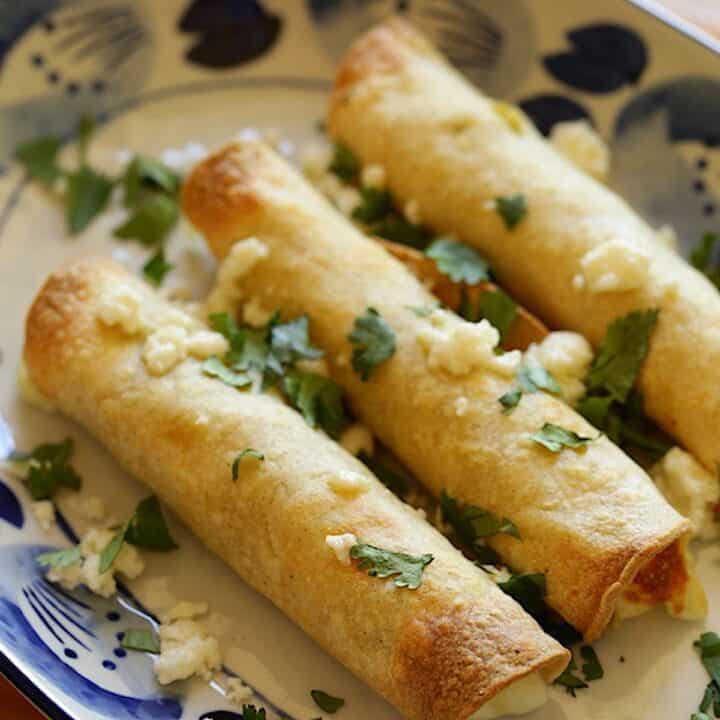 Easy Air Fryer Taquitos
These easy air fryer taquitos are one of my favorite air fryer recipes!  They make for a great afternoon snack for the kids or sometimes I'll even serve them for a quick and easy dinner too! 
Ingredients
3 White Corn Tortillas
1 teaspoon olive oil
3 Cheese Sticks
3 teaspoon Fire Roasted Green Chilies
1 teaspoon Crumbled Cheese (Queso Fresco/Cotija)
1 tablespoon Cilantro
Instructions
Brush tortillas on both sides with olive oil. Heat in a pan on the cooktop until soft and pliable.
Slice cheese sticks down the middle, exposing a pocket you can stuff with the chilies. Roll tortilla up.
Place in the air fryer, seam side down and fry at 400F for 7-10 mins. Top with queso fresco and fresh cilantro.
Nutrition Information:
Yield:

3
Serving Size:

1
Amount Per Serving:
Calories:

160
Total Fat:

9g
Saturated Fat:

4g
Trans Fat:

0g
Unsaturated Fat:

4g
Cholesterol:

23mg
Sodium:

195mg
Carbohydrates:

13g
Fiber:

2g
Sugar:

1g
Protein:

8g