Air Fryer Chicken Tenders
Air Fryer Chicken Tenders are as classic as it gets when it comes to air fryer recipes! Whenever anyone gets a new air fryer it seems like making chicken tenders in the air fryer is usually the first recipe to try.
I think because air fryer chicken tenders are a guilt-free pleasure that is healthier than deep-fried chicken tenders but just as light and crispy, and dare I say, even better tasting than the original!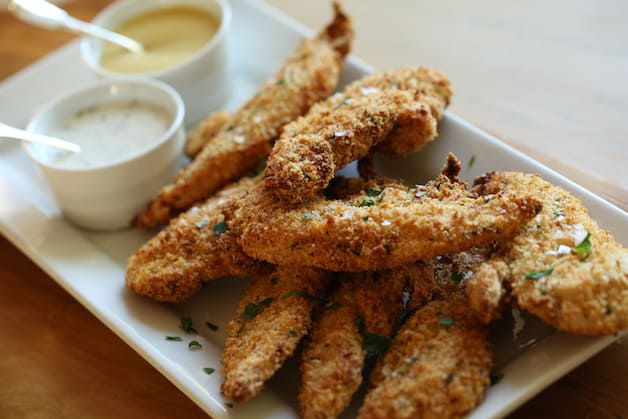 If you are new to the air fryer craze, a great place to start is my Top 10 Air Fryer Recipes. This post will get you started on 10 super easy and delicious air fryer recipes!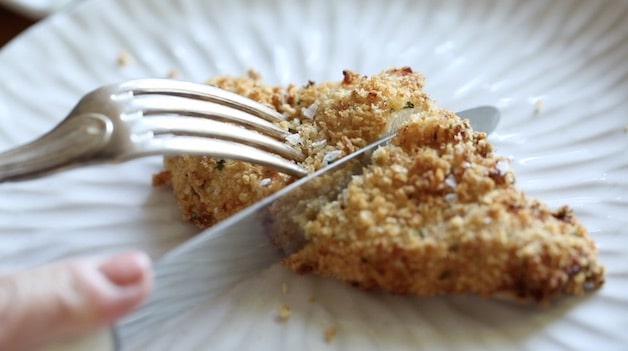 While I typically serve these air fryer chicken tenders as a dinner with some air fryer potato wedges, I also like to serve them as an appetizer too. You could make them with some air fryer taquitos and they would be great for a Game Day Party or Family Movie Night.
Watch My Video Demo of this Recipe Below!
Other air fryer recipes in this video include, Air Fryer Blueberry Muffins, Broccoli and Cheddar Air Fryer Quiche, Air Fryer Grilled Cheese, Air Fryer Baklava Bites, and Air Fryer Potato Wedges
For most of my air fryer recipes, I use the Philips HD9630 Air Fryer. It's larger than most air fryers and I also love the white color and the design. It also doesn't become an eyesore while sitting on your countertop.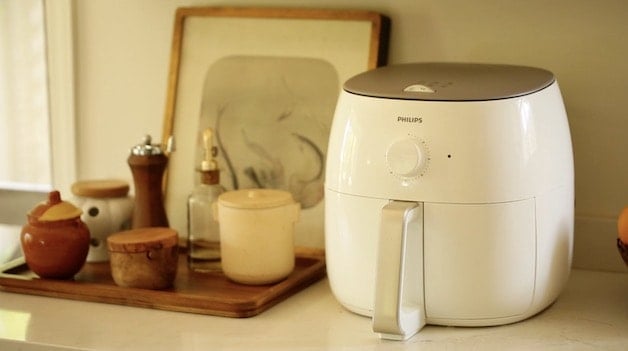 STEP#1: Salt the Chicken Tenderloins
To keep your chicken nice and juicy, salt both sides of the chicken tenderloins. This can even be done the day before you plan to make them.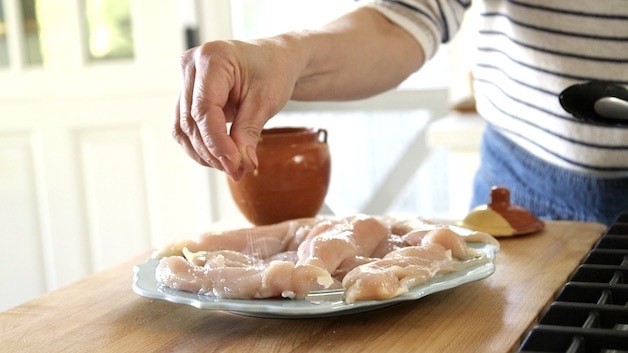 I'm always amazed at what salting in advance does to meat. It locks in the moisture and assures your chicken tenders will be nice and crispy on the outside and tender and juicy on the inside.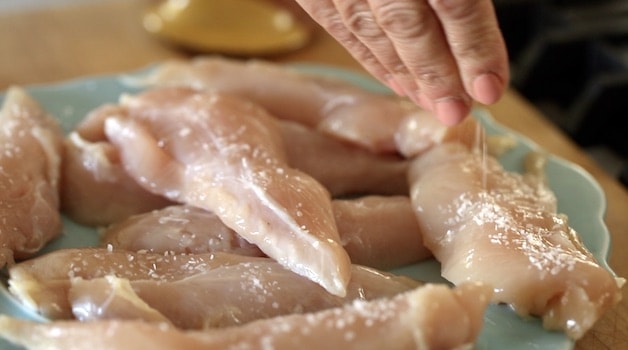 STEP#2: Prepare Egg Bath + Bread Crumbs
Next, you can prepare your egg bath and breadcrumb station. It helps if you crack the eggs in a shallow bowl so that it's easy to dip the chicken tenderloins in without having to bend them.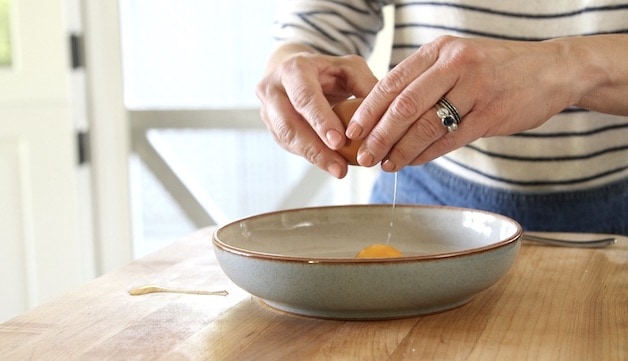 For the bread crumb mixture, I like to use a combination of panko bread crumbs, for crunch, and Italian bread crumbs for flavor and then the secret ingredient, freshly grated parmesan cheese.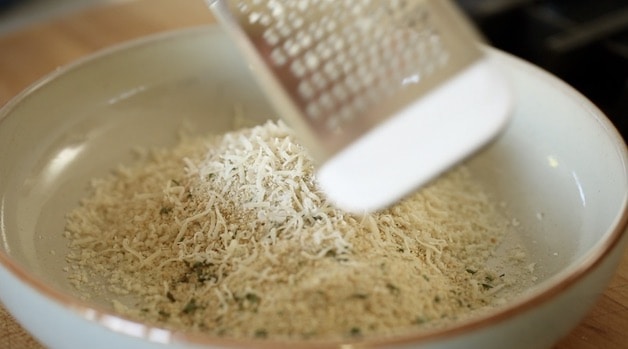 I find the parmesan cheese helps bind the bread crumbs together once it starts to melt in the air fryer. It also gives your chicken tenders one more level of flavor too.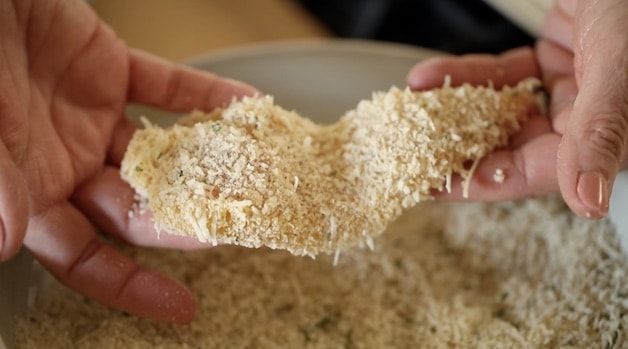 The other thing that's handy to have ready is a baking sheet, lined with parchment paper.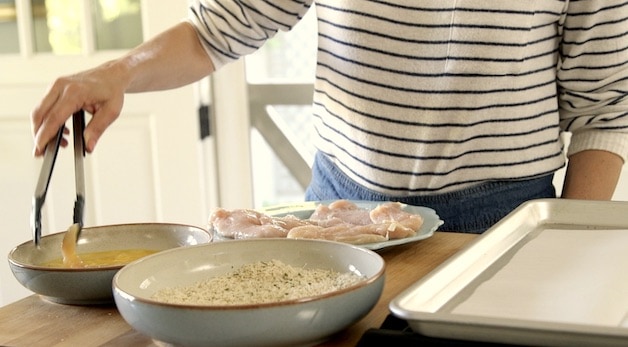 This is where you will place the chicken tenders once you have dipped and dredged them in the bread crumbs.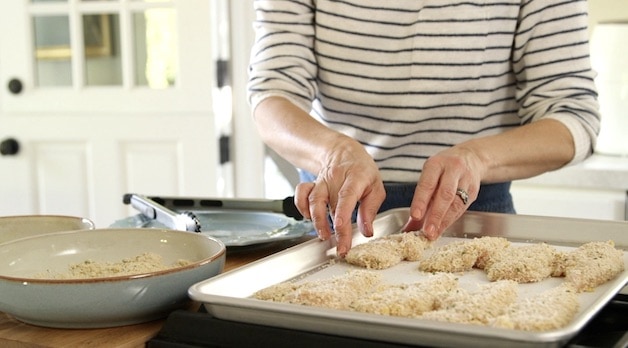 Now, most air fryers do not require any oil, but I can't resist giving these chicken tenders a little spritz of oil just to assure maximum crispiness and crunch. I've discovered those olive oil spray cans are perfect for giving food just a light dusting of oil before hitting the air fryer.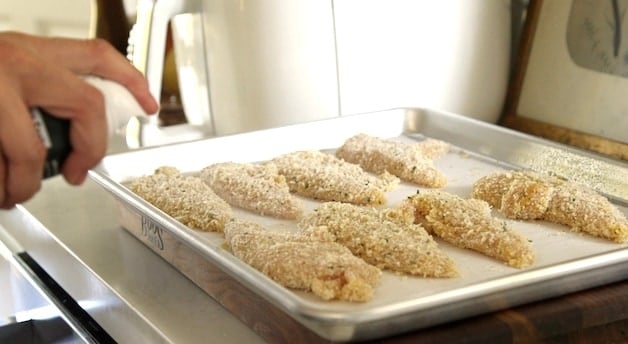 Place 3 chicken tenders in the air fryer at a time and air fry at 350F (175C) for just 12 minutes. You don't even need to flip them, they get just as crispy on the bottom too!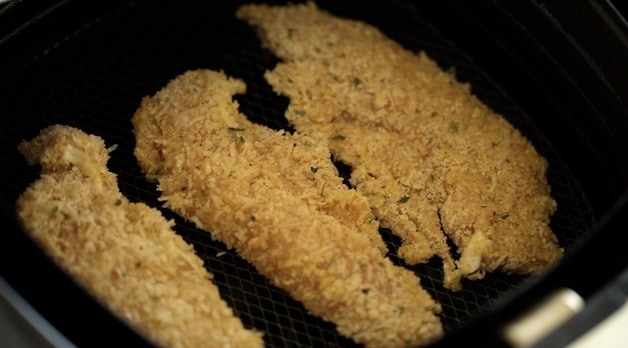 Remove the chicken from the air fryer and place them on a baking sheet fitted with a roasting rack while you air-fry the rest of the batch.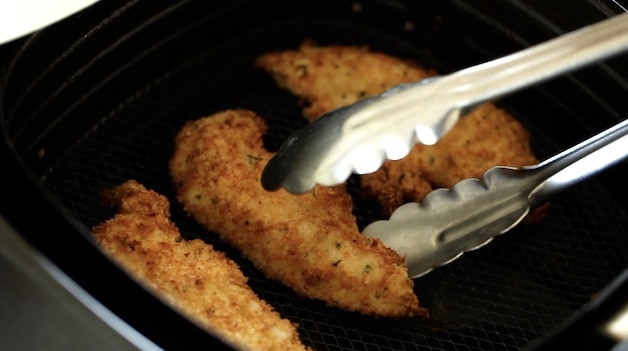 A roasting rack keeps the chicken tenders elevated and retains their crispiness. You can then place them in a 250F (125C) oven to keep warm while you air-fry the rest of your chicken tenders.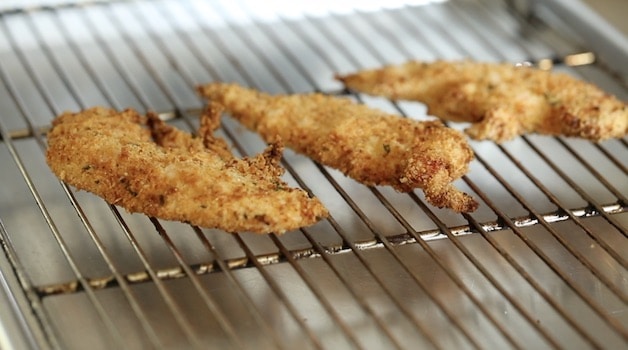 This is also a great meal-prep idea too! On Sunday you can make a big batch of these, allow them to cool, and then place them in a resealable freezer bag and pop in your freezer.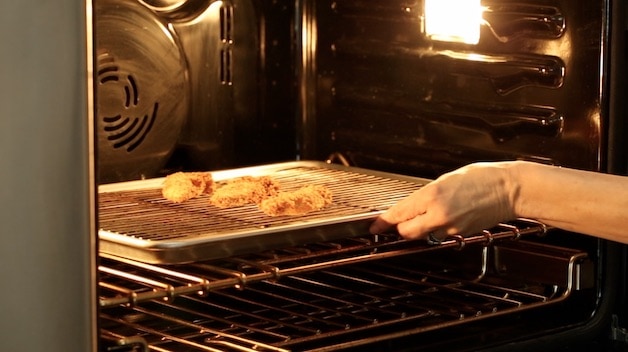 How to Cook Frozen Chicken Tenders in an Air Fryer?
To cook your frozen chicken tenders, set the air fryer at 400F(200C) and place 3 in the basket at one time, and air-fry for 10 minutes. There's no need to defrost them first, then can go right from the freezer to the air fryer.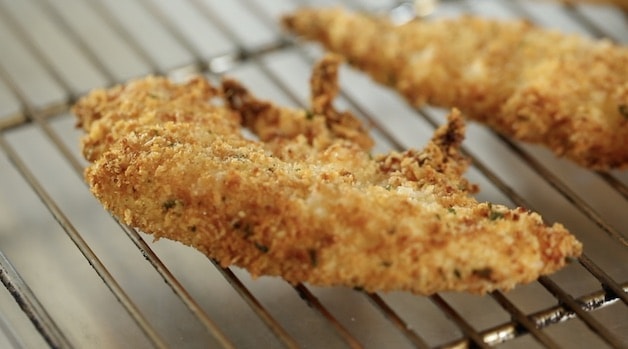 What Types of Dipping Sauces To Serve with the Chicken?
I like to serve these chicken tenders with two types of dipping sauces. I'll serve honey mustard for something tangy and classic ranch for a more mellow flavor (recipes for both are below).
But, of course, my kid's favorite "dipping sauce" will always be ketchup! The Primal Kitchen Unsweetened Ketchup is our new favorite and I love it because as far as ketchup goes the ingredient list is pretty clean!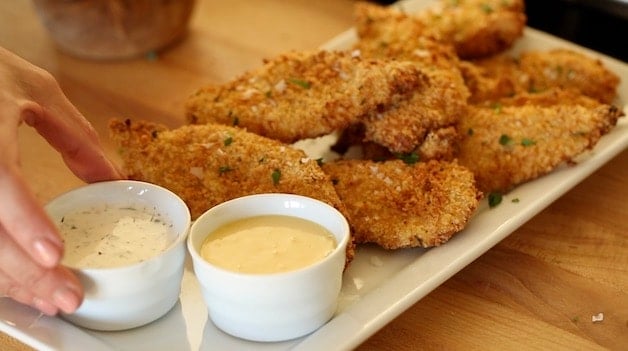 As a finishing touch, I also like to sprinkle some sea salt flakes and chopped fresh parsley on top of the chicken tenders before serving, for one more level of flavor.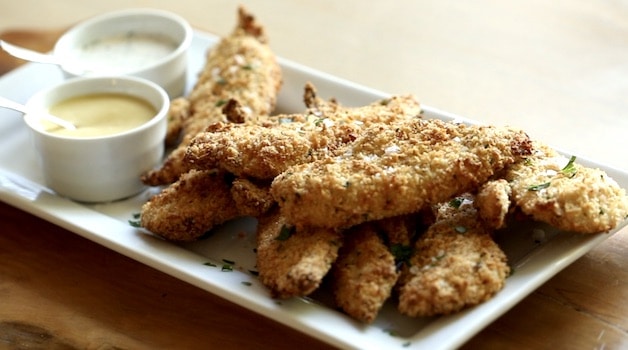 More Air Fryer Recipes You'll Enjoy!
If You Enjoyed this Recipe.
Please Leave a Rating Below!
This helps others discover and enjoy the recipe too!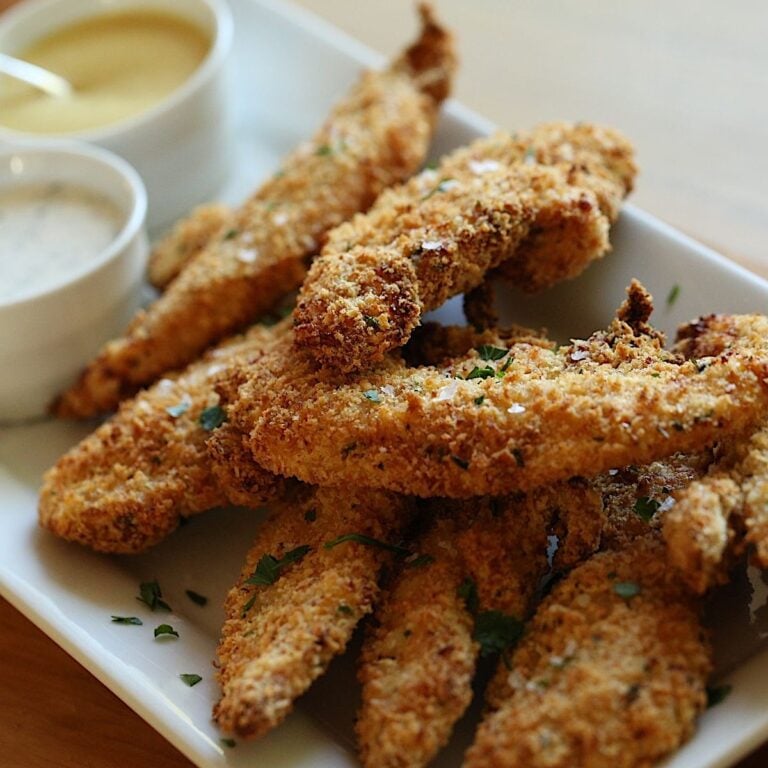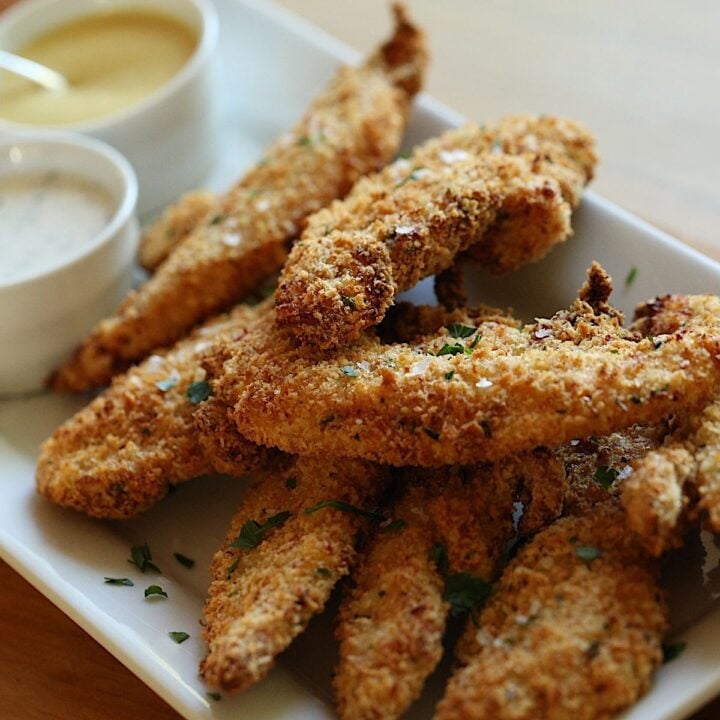 Air Fryer Chicken Tenders
Yield:
Makes 8 Chicken Tenders
Crispy and delicious Air Fryer Chicken tenders! Serve as a meal or freeze them for quick and easy snacks or lunch for the kids!
Ingredients
AIR FRYER CHICKEN TENDERS:
1 lb (450g) Chicken Tenderloin
Salt chicken to taste
2 eggs
⅔ cup (40g) panko bread crumbs
½ cup (75g) Italian style bread crumbs
⅓ cup (30g) freshly grated parmesan cheese
Olive oil spray
GARNISH:
Sea salt flakes and fresh parsley
FOR HONEY MUSTARD:
¼ cup (60ml) of mayonnaise
2 tablespoon (30ml) Dijon Mustard
2 teaspoon (10ml) honey
FOR RANCH DRESSING:
1 ½ cup (350 ml) of fat-free yogurt
1 cup (240 ml) of low-fat buttermilk
2 garlic cloves
1 teaspoon (5 ml) celery salt
½ teaspoon (2.5 ml) garlic salt
Fresh cracked pepper
1 tablespoon (15 ml) fresh chives
1 tablespoon (15 ml) fresh dill
1 tablespoon (15 ml) fresh parsley
Instructions
For the chicken, whisk eggs in a bowl. Set aside.
Combine bread crumbs, panko bread crumbs, and cheese in another bowl. Set aside.
Salt the chicken tenders on both sides. Dip chicken in egg then bread crumb mixture.
Transfer to a sheet pan lined with parchment paper.
Fry chicken at 350F (175C) for 12 minutes. Keep warm in a 250F (125C) oven on a sheet pan with a rack.
Serve with dipping sauces or allow to cool and place in a resealable freezer bag and freeze to heat up later in the air fryer at 400F for 10 mins.
For Honey Mustard: Whisk all ingredients together in a bowl. Keep refrigerated until ready to serve.
For Ranch Dressing: Place all ingredients in a blender and blend until smooth. Keep refrigerated until ready to serve.

Nutrition Information:
Yield:

4
Serving Size:

2 tenders
Amount Per Serving:
Calories:

383
Total Fat:

22g
Saturated Fat:

6g
Trans Fat:

0g
Unsaturated Fat:

14g
Cholesterol:

157mg
Sodium:

923mg
Carbohydrates:

20g
Fiber:

1g
Sugar:

13g
Protein:

26g