This Air Fryer Coconut Shrimp is a fantastic appetizer recipe for summer entertaining. It uses minimal ingredients, most of which you probably already have on hand.
It's crispy and sweet, and pairs beautifully with mango chutney! You can also prep them ahead of time and then reheat in the air fryer moments before guests arrive. New to air frying? Check out more of my Air Fryer Recipes, many of which will become new family favorites!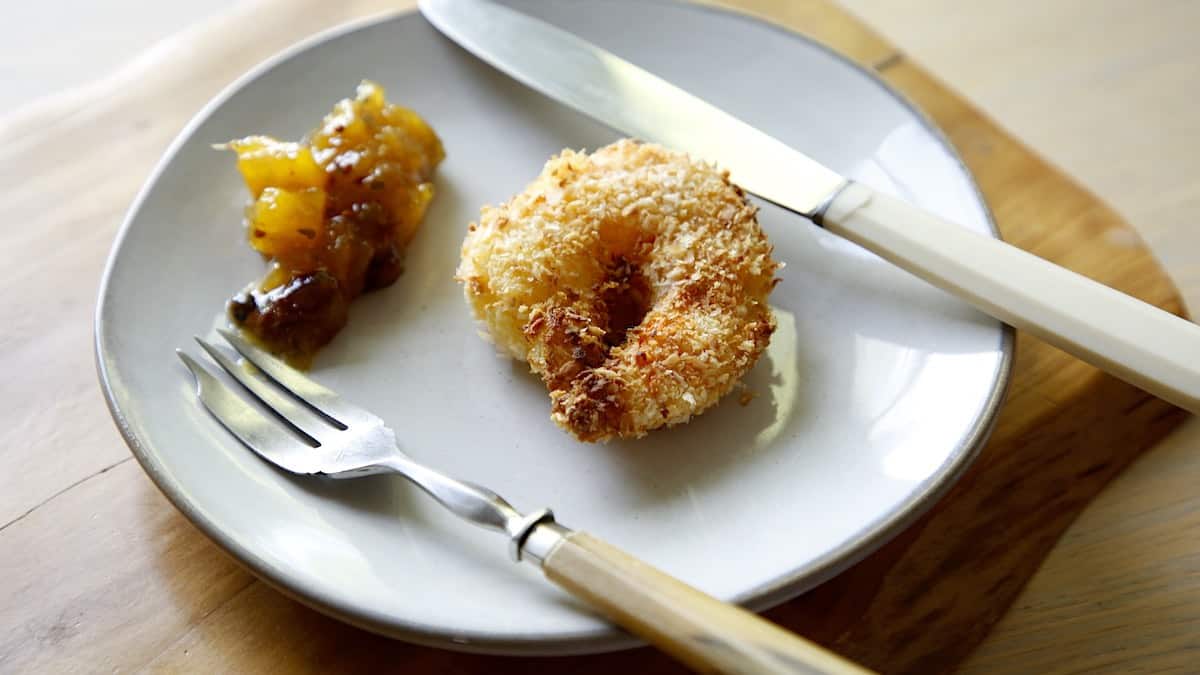 Why Air Fry over Deep Fry?
Coconut shrimp is a delicious appetizer but can be a bit messy if deep-fried. This is why I love the air frying method. It's cleaner, faster, and just as delicious!
It's also "hands-free" cooking, allowing you the ability to do other things in the kitchen while your appetizers are "air frying" away!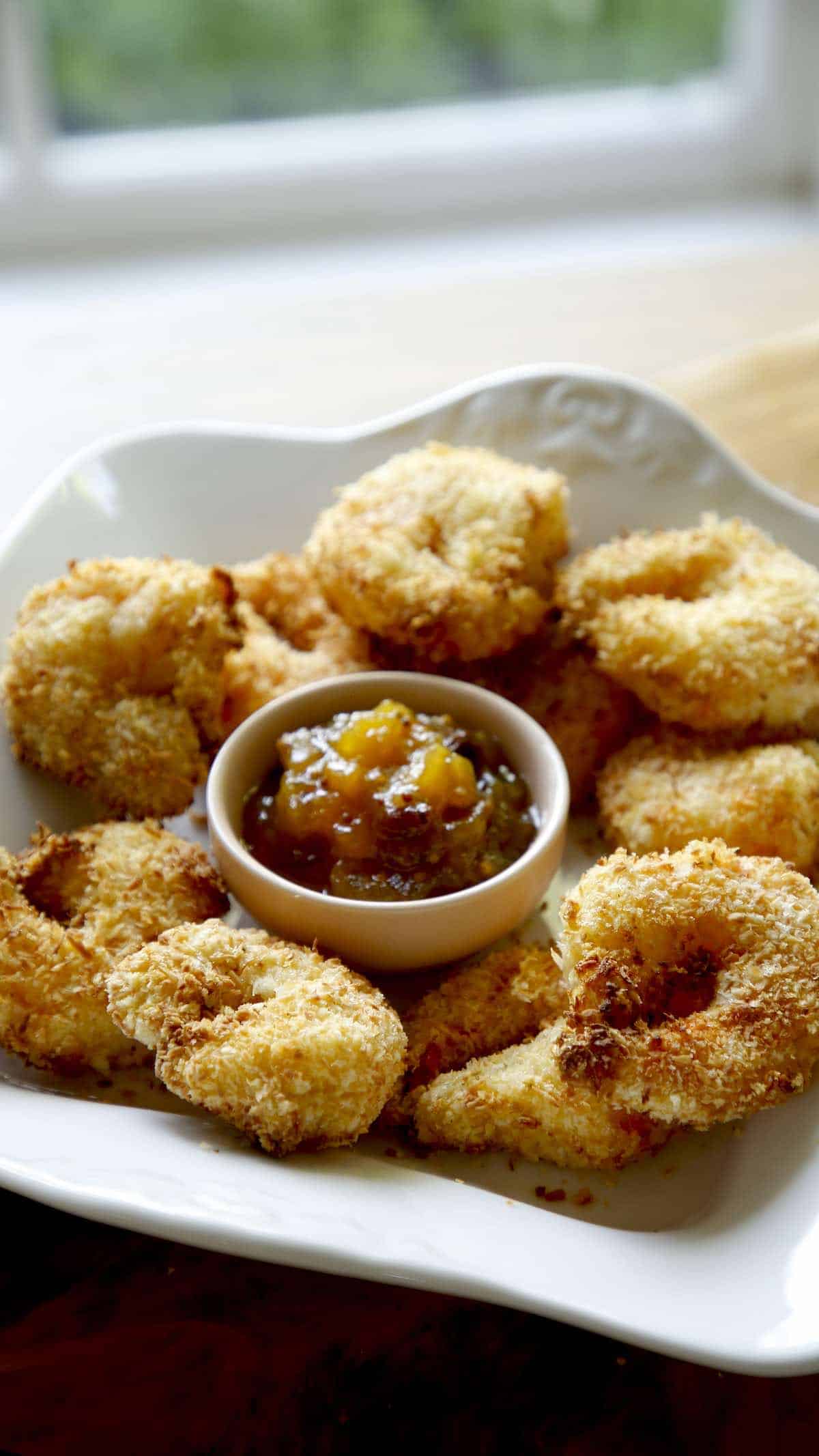 Watch My Video Demo of This Recipe Below!
Also included in this video are recipes for my Air Fryer Chicken Wings, Air Fryer Home Fries, Air Frier Cookie Sundae and Air Fryer Tortilla Chips
Step#1: Selecting the Shrimp
Personally, I like to use colossal shrimp. Their large size makes them a more generous appetizer and they are also easier to coat with the breading. If you can find them with the tails intact, even better since it will make it easier for your guests to have something to grip onto as they serve themselves.
Before dredging the shrimp, be sure to season with salt and pepper to taste.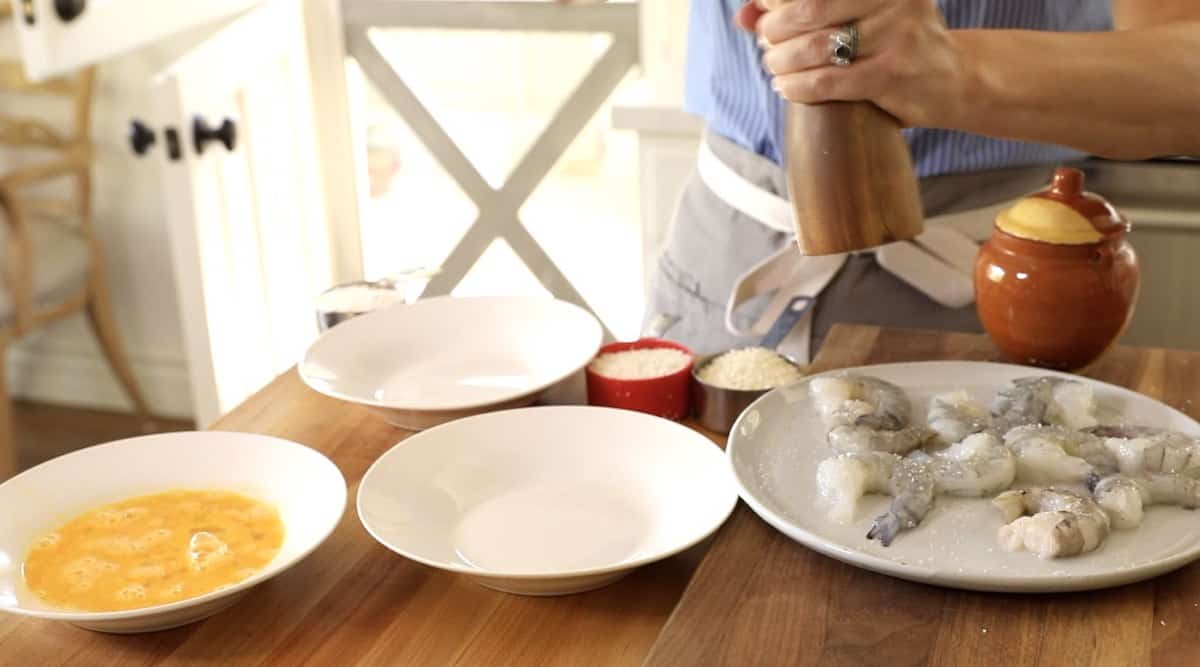 How to Defrost Frozen Shrimp
If you are using frozen shrimp you can either defrost them in the refrigerator overnight or run them under cool water in a colander, shaking them frequently until thawed. Make sure to pat them dry before breading.
Step#2: Setting Up the Dredging Station
Before you begin, it's best to set up three bowls for your dipping station.
Designate one bowl for beaten egg
One bowl for all-purpose flour
One bowl for the panko bread crumbs and coconut mixture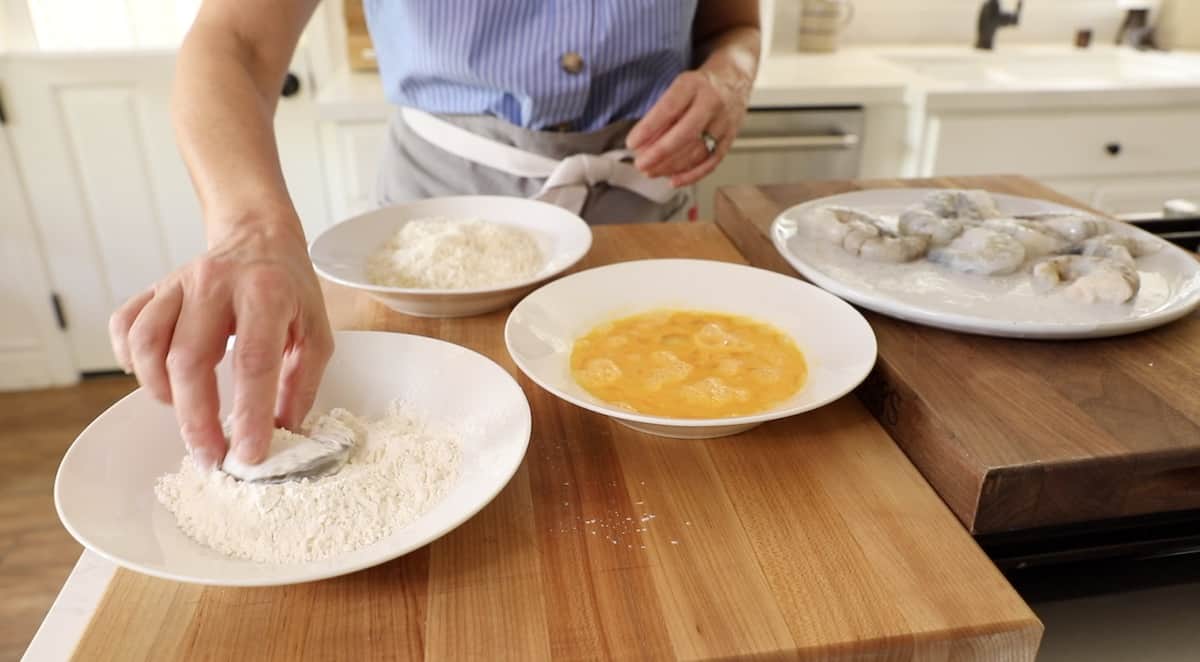 Step#3: Coating the Shrimp
The best way to dredge the shrimp is in this order.
First, dip the shrimp in the flour
Then the beaten egg
Then the panko and coconut mixture
Once all the shrimp have been coated it's time to air fry!
Step#4: Air Frying the Shrimp
Place the shrimp in the air fryer basket and lightly spray them with olive oil spray. This will assure your shrimp becomes extra crispy. The temperature and length of time you air fry will also contribute to the crispiness of your shrimp. On my Philipps Air Fryer, I find the best setting is 375F for 8-10 minutes.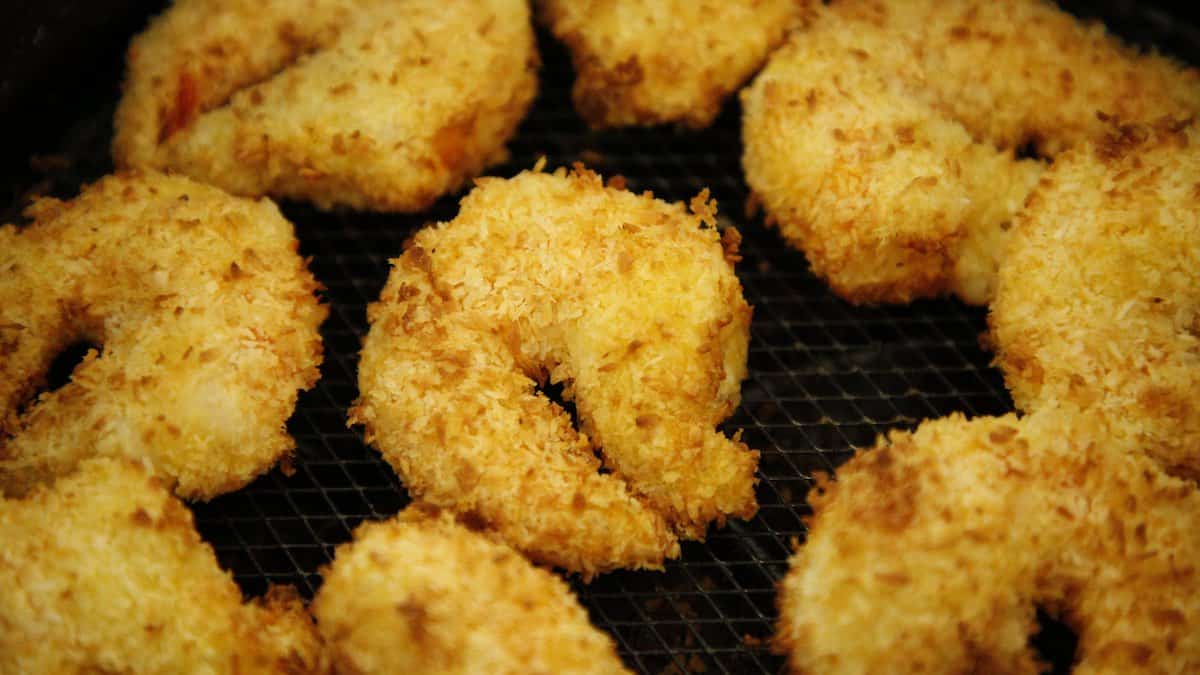 Coconut Shrimp Dipping Sauces
The combination of the crispy coconut shrimp, with a sweet dipping sauce, makes this appetizer even more delicious! Most coconut shrimp recipes serve a sweet chili paste with the shrimp, which is a yummy choice. Trader Joe's makes a great one.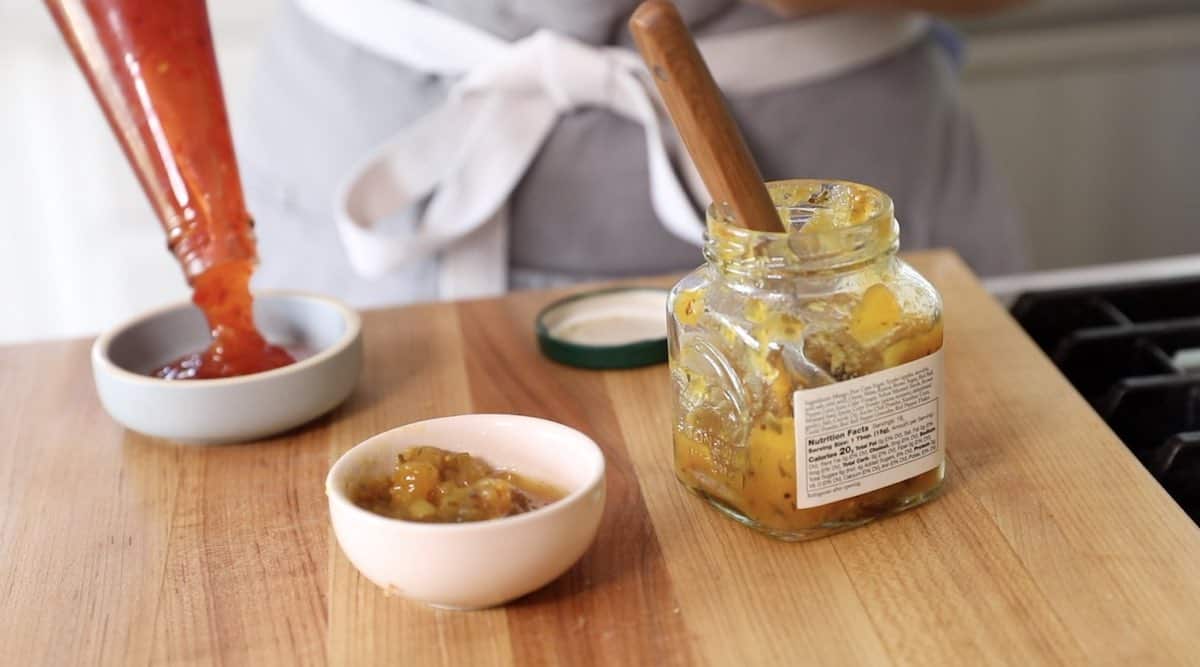 Mango Chutney as a Dipping Sauce
But recently I discovered that mango chutney is even better as a dipping sauce! It has the sweet, syrupy appeal like the sweet chili paste, but what makes it even better is the spices, currants, and chunks of mango that's in it.
The flavor of the mango pairs beautifully with the flavor of the coconut and shrimp. It's also a wonderful combination for summer entertaining.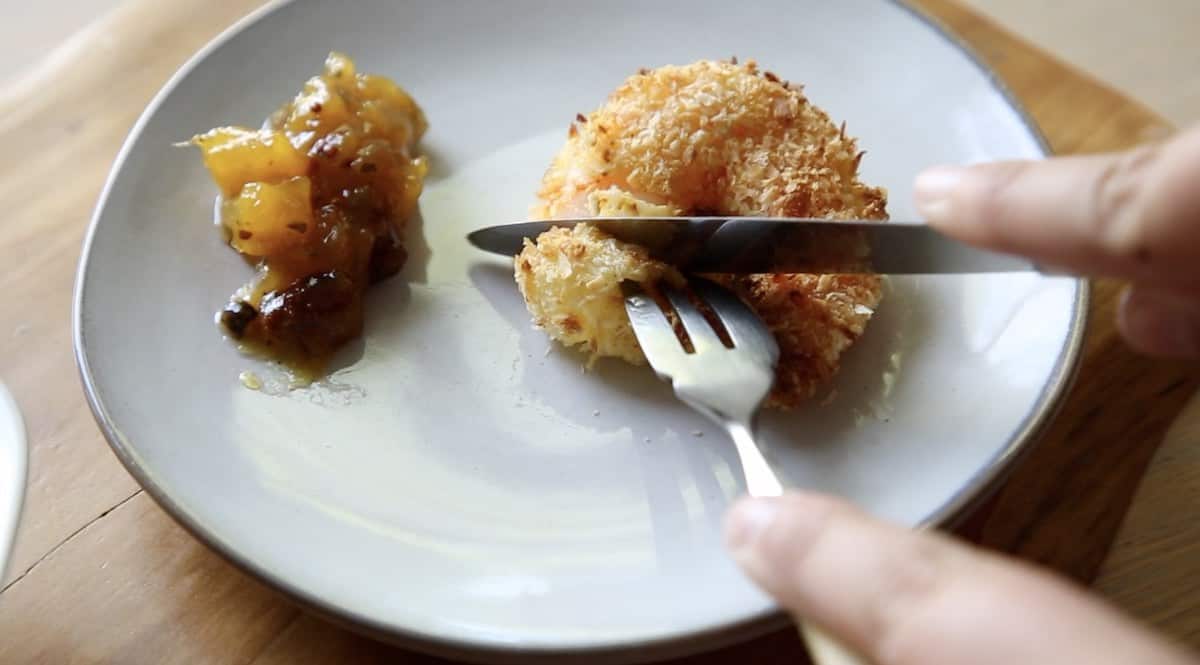 Make-ahead Tips and Storing Leftovers
You can air fry the shrimp ahead of time and then place them in an airtight container
Refrigerate it up to 1-2 days ahead
Then put the shrimp back in the air fryer to reheat at 375F for 5-7 mins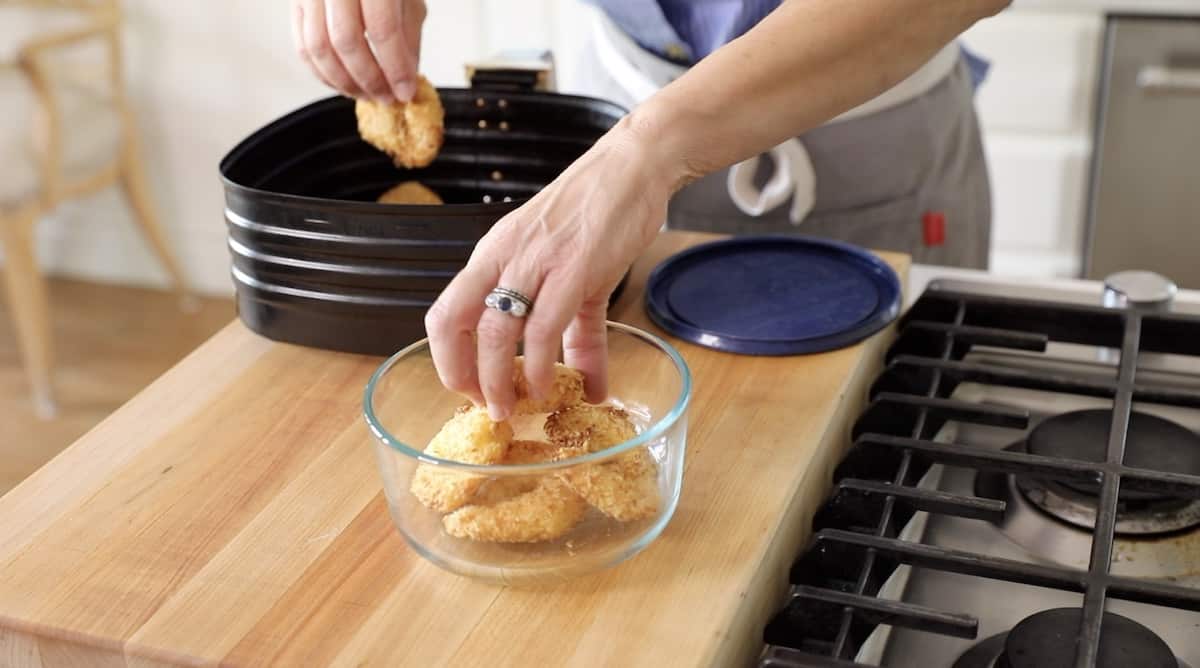 Tips for Making this Recipe
Use Collasel Shrimp for heartier appetizer portions
Pat the Shrimp Dry before seasoning and dredging. This will help the coating stick better
Keep One Hand for Dry Ingredients and One hand For Wet Ingredients when dredging the shrimp. This will make the process less messy.
Use Olive Oil Spray just before air frying for crispier shrimp
Use Unsweetened Coconut Flakes. I find unsweetened is better than sweetened, especially when paired with the sweetness of mango chutney or sweet chili paste.
More Shrimp Recipes!
If You Enjoyed This Recipe
Please Leave a Rating and a Review Below!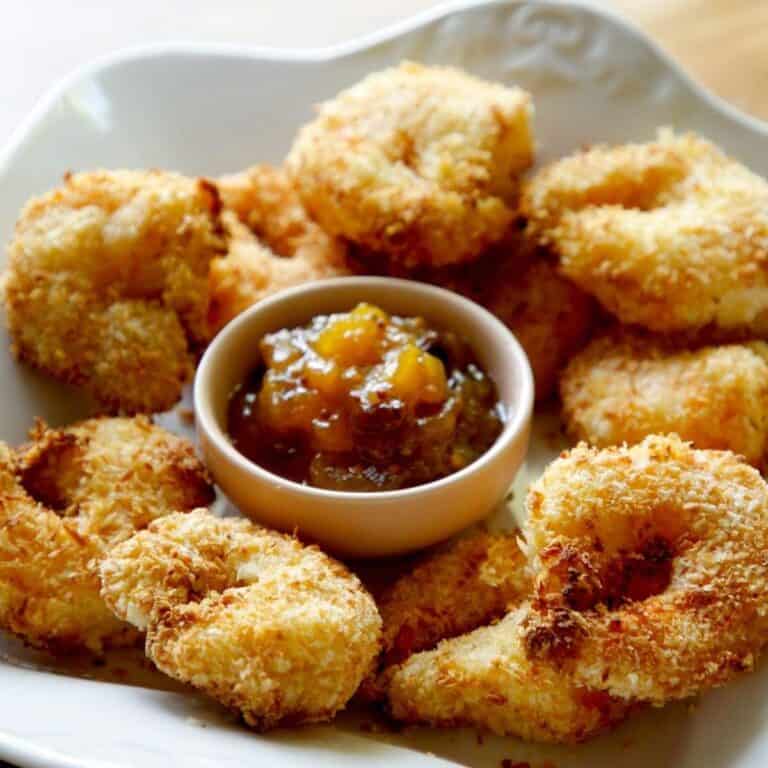 Air Fryer Coconut Shrimp
This Air Fryer Coconut Shrimp recipe is a fantastic appetizer recipe for summer entertaining. It uses minimal ingredients, most of which you probably already have on hand. It's crispy and sweet, and pairs beautifully with mango chutney!
Ingredients
10 colossal raw shrimp
salt and pepper to taste
½ cup (55g) all-purpose flour
½ cup (30g) panko bread crumbs
½ cup (45g) unsweetened shredded coconut
2 eggs beaten
Olive Oil Spray
Sweet Chili Paste or Mango Chutney for serving
Instructions
Pat shrimp dry and season with salt and pepper.
Then create a dredging station of 3 bowls. One for flour, one for egg, and one for panko/coconut mixture.
Then dredge the shrimp in the flour, then the egg, then panko/coconut mixture.
Place shrimp in Air Fryer, spray lightly with olive oil spray.
Air fry 375F 8-10 minutes.
Serve with Mango Chutney or Sweet Chili Paste.
Recommended Products
As an Amazon Associate and member of other affiliate programs, I earn from qualifying purchases.
Nutrition Information:
Yield:

4
Serving Size:

1
Amount Per Serving:
Calories:

218
Total Fat:

9g
Saturated Fat:

4g
Trans Fat:

0g
Unsaturated Fat:

5g
Cholesterol:

112mg
Sodium:

476mg
Carbohydrates:

26g
Fiber:

2g
Sugar:

9g
Protein:

8g