This easy yellow gazpacho soup with spicy shrimp tails is a wonderful mini appetizer idea to serve at your next summer cocktail party! Guests can nibble on the spicy shrimp and then sip on the refreshing soup. They are so easy to make, and in fact, everything can be made a day ahead!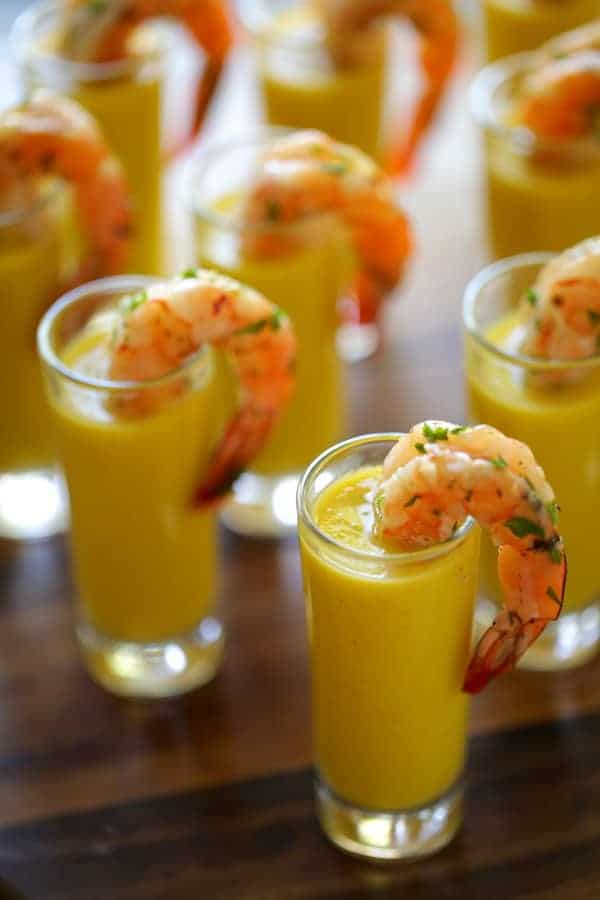 And they also look so pretty and summery too! It's the kind of mini appetizer that looks super fancy but is actually a cinch to make. And how cute are those shot glasses?! (this link goes to Amazon where I am compensated on products sold at no cost to the consumer)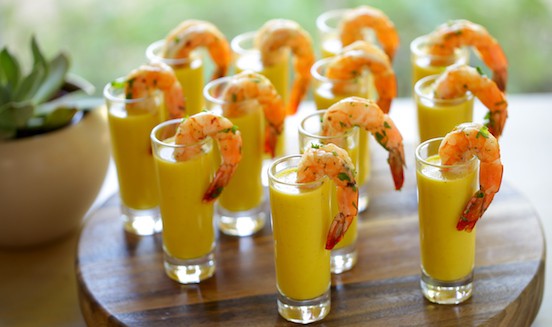 If you are looking for another wonderful summer appetizer with shrimp, try my Avocado Shrimp Cups.
How To Make Yellow Gazpacho Soup with Spicy Shrimp Tails
Subscribe to my YouTube Channel for more recipe videos! (it's free!)
The main ingredient in gazpacho soup is tomatoes, but tomatoes don't always have to be red! This time of year I have a lot of yellow tomatoes growing in my garden and I find they are sweeter than red tomatoes. They also look so summery too and are more unexpected.
Because of their sweetness, if you were making this soup as a first course, you could garnish it with some freshly chopped basil, diced cucumber, and radish.
STEP#1: Prep the Shrimp
Shrimp can be expensive so for me it always comes down to if I want to save time or money?
To save a few dollars, buy the shrimp still in its shell. It will be about half the price of already shelled and cleaned shrimp.
TIP: Remove the shell but keep the tail intact. The tail prevents the shrimp from drying out and makes for a prettier presentation on the glass.

Cleaning the shrimp is the most tedious part of this recipe, but the price per pound for already shelled and cleaned shrimp can be double!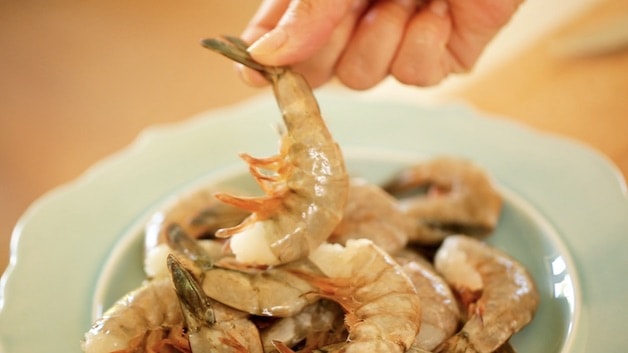 De-vein the shrimp and rinse it under cool water. I also like to gently score the backs of the shrimp too so they plump up when baked.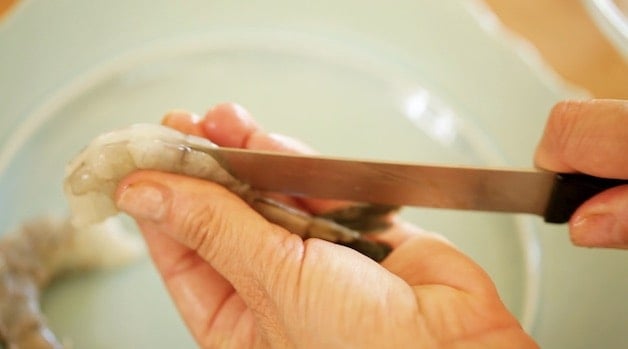 This will make them a prettier garnish on your shot glass.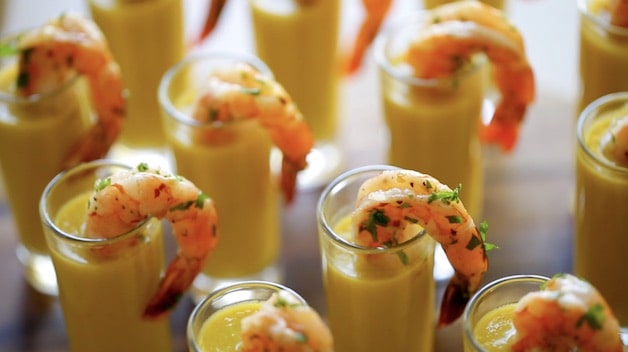 STEP#2: Cook the Shrimp and Refrigerate
After you season your shrimp with salt, pepper, garlic and chili flakes you'll spread them out on a baking sheet

Bake the shrimp at 400F until they are pink, about 5-7 minutes.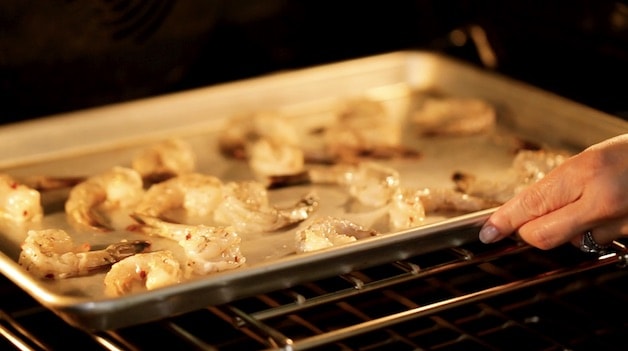 Once they are cooled, place them in a bowl and cover and refrigerate until ready to serve.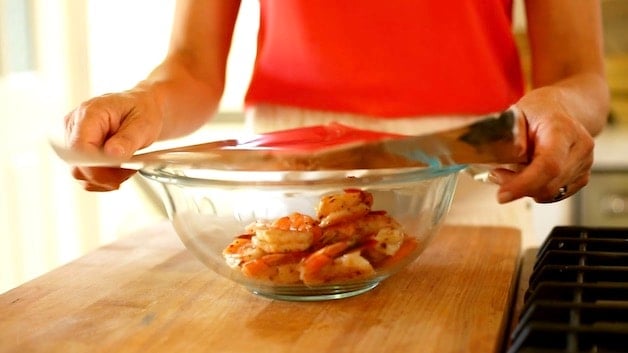 STEP#3: Blend the Soup
Gazpacho soup is so easy to make! All it takes is blending up a bunch of vegetables until they are pureed and smooth. It's like making a veggie smoothie in some ways!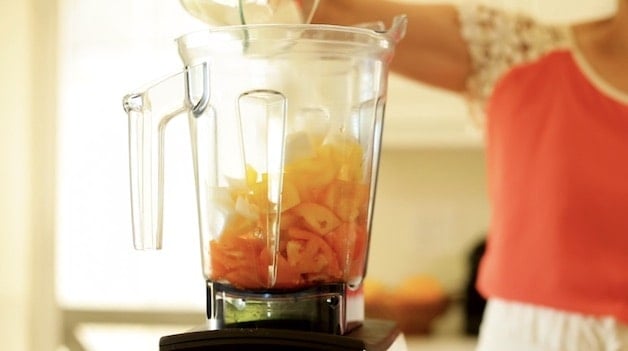 I like to use a combination of yellow tomatoes and yellow bell peppers, along with onions and cucumber.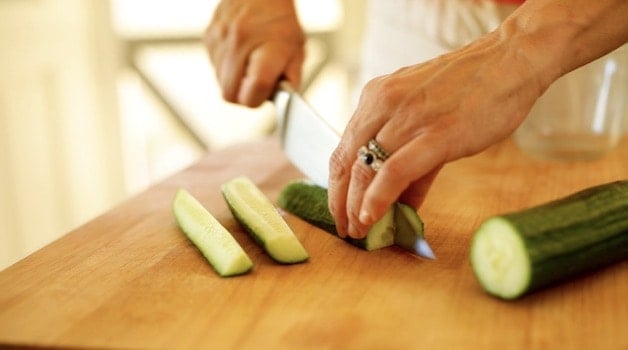 TIP: If you buy the English cucumber you won't have to worry about the wax they put on traditional cucumbers to keep them fresh. English cucumbers are typically sealed in plastic.
They also have thinner skins which alleviate the need of having to peel them and then also saves you a step.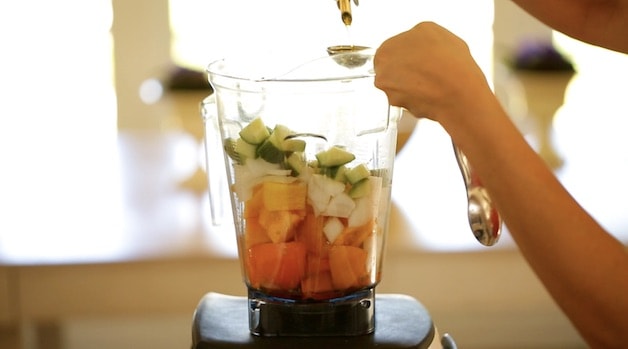 You'll then add equal parts olive oil and red wine vinegar and then blend until smooth.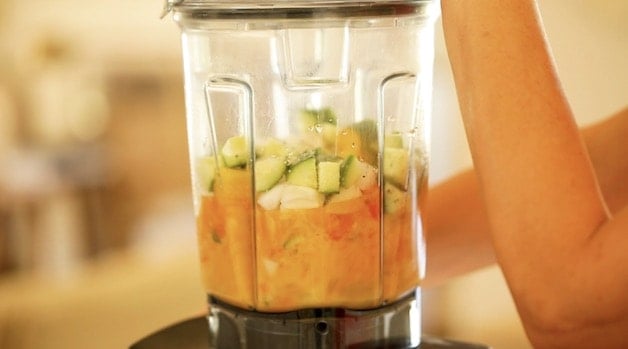 .TIP: Be sure your soup is thin enough to be pourable. This will depend on the juiciness of your tomatoes. If it needs to be thinned you can do that by adding a few tablespoons of vegetable broth.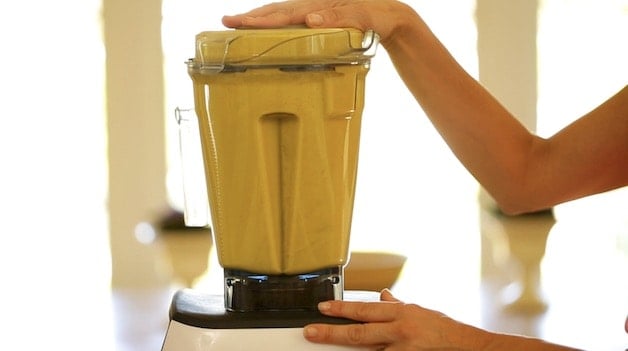 Then chill the soup for at least an hour or overnight is even better since it will give the flavors a chance to marry.
STEP#4: Assemble and serve!
You'll find it easier to pour the soup from the blender into a Pyrex pitcher, and then pour it into the shot glasses.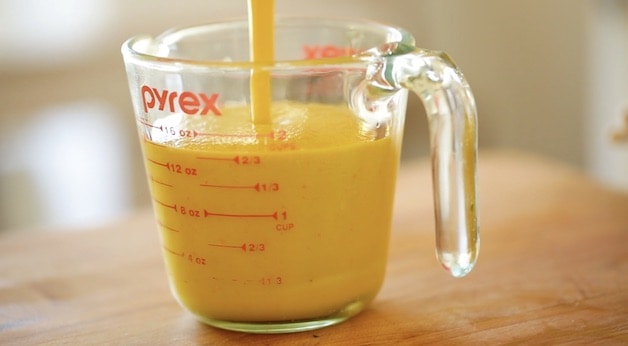 It's best to fill the glasses only 3/4 of the way full so that when you place the shrimp on the rim, the soup doesn't overflow.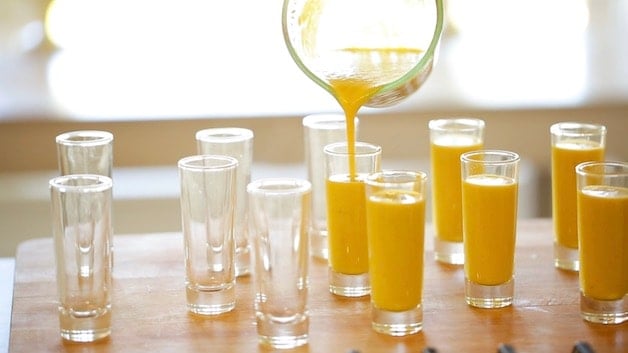 I speak from experience on that!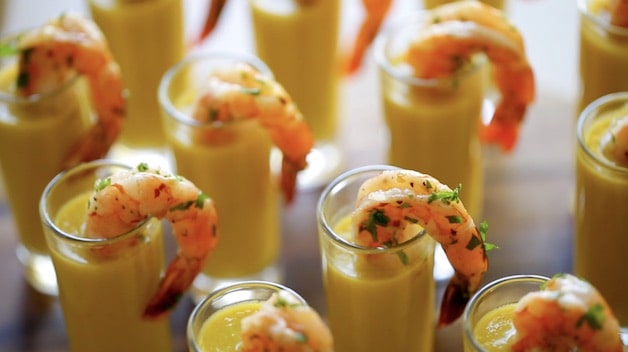 MAKE IT A MEAL!
This recipe would pair perfectly with my Tarte au Soleil Appetizer followed by some tasty Carne Asada Tacos and perhaps a little Sangria?
Please let me know if you make this Gazpacho Soup recipe
by leaving a rating and review below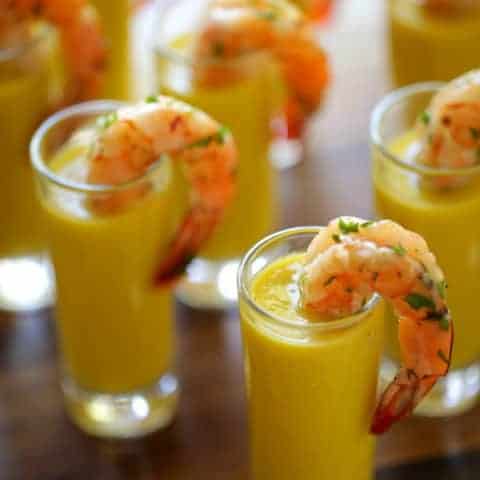 Easy Yellow Gazpacho Soup with Spicy Shrimp Tails
This easy yellow gazpacho soup recipe is a fantastic chilled soup to serve in shot glasses with shrimp tails for a summer appetizer. It's so easy to make the day ahead and so delicious too!
Ingredients
FOR THE SOUP:
2 cups (300g) yellow tomatoes, chopped
1 cup (150g) yellow bell pepper, chopped
1 cup (150g) white or yellow onion, chopped
1 cup (150g) of English cucumber, chopped
2 garlic cloves, smashed
3 tablespoons(45ml)red wine vinegar
3 tablespoons (45ml) olive oil
salt and pepper to taste
(if making without the shrimp add 2-3 dashes of hot sauce)
1-4 tbsp (15ml-60ml) of Vegetable stock
* Only if your soup needs to be thinned to be "pourable" otherwise no need to add. It will depend on the juiciness of your tomatoes!
FOR THE SHRIMP:
12 jumbo shrimp, shelled and cleaned with tail intact
1 tbsp (15ml) olive oil
1 garlic clove, minced
salt and pepper to taste
red chili flakes to taste
1 tbsp.(15ml) chopped parsley
Instructions
Preheat oven to 400F (200C).
Shell, devein and clean shrimp. Then gently score the back side of the shrimp with a sharp knife so that it is slightly butterflied. This will create a curled shrimp that will be prettier when hanging from the shot glass.
In a large bowl toss the shrimp with the olive oil, garlic, salt and pepper and chili flakes. Transfer to a baking sheet and roast for 5-6 minutes until shrimp are pink and cooked through. Set aside to cool and then cover and refrigerate.
In a blender add the tomatoes, peppers, onion, cucumber and garlic. I leave the skin on the cucumber since its thinner on the English varieties but you could peel it if you prefer.
Add the vinegar and olive oil, season with salt and pepper and blend until the soup is completely pureed. Keep soup in blender, with the lid, and place in your refrigerator, preferable overnight to chill and marry the flavors.
To serve, toss the chilled shrimp the minced parsley.
Then blend up the soup quickly to refreshen the emulsion if needed.
Pour the soup into a smaller Pyrex pitcher for easy pouring. Fill each shot glass ¾ of the way full since when you add the shrimp, the soup will rise and overflow if you fill it to the top at this stage.
Add the shrimp tail with the top resting on the rim of the glass and the tail hanging downwards.
Recommended Products
As an Amazon Associate and member of other affiliate programs, I earn from qualifying purchases.
Nutrition Information:
Yield:

12
Serving Size:

1
Amount Per Serving:
Calories:

79
Total Fat:

5g
Saturated Fat:

0g
Trans Fat:

0g
Unsaturated Fat:

4g
Cholesterol:

22mg
Sodium:

441mg
Carbohydrates:

5g
Fiber:

1g
Sugar:

2g
Protein:

3g