This Cod Fish Taco recipe is one of my favorite quick and easy weeknight dinners for when life is busy and everyone is hungry! If it sounds like "Back-to-School" season at your house, I can relate!
They are on rotation with my other quick and easy dinners like my Orecchiette Pasta with Sausage and Broccolini, Sheet Pan Chicken and Veggies, and my Tomato Cream Sauce Linguine.
The flakey cod fish pairs beautifully with my spicy, creamy sauce. And you'll love the addition of the ripe avocado and crunchy cabbage, all wrapped up into a delicious charred corn tortilla!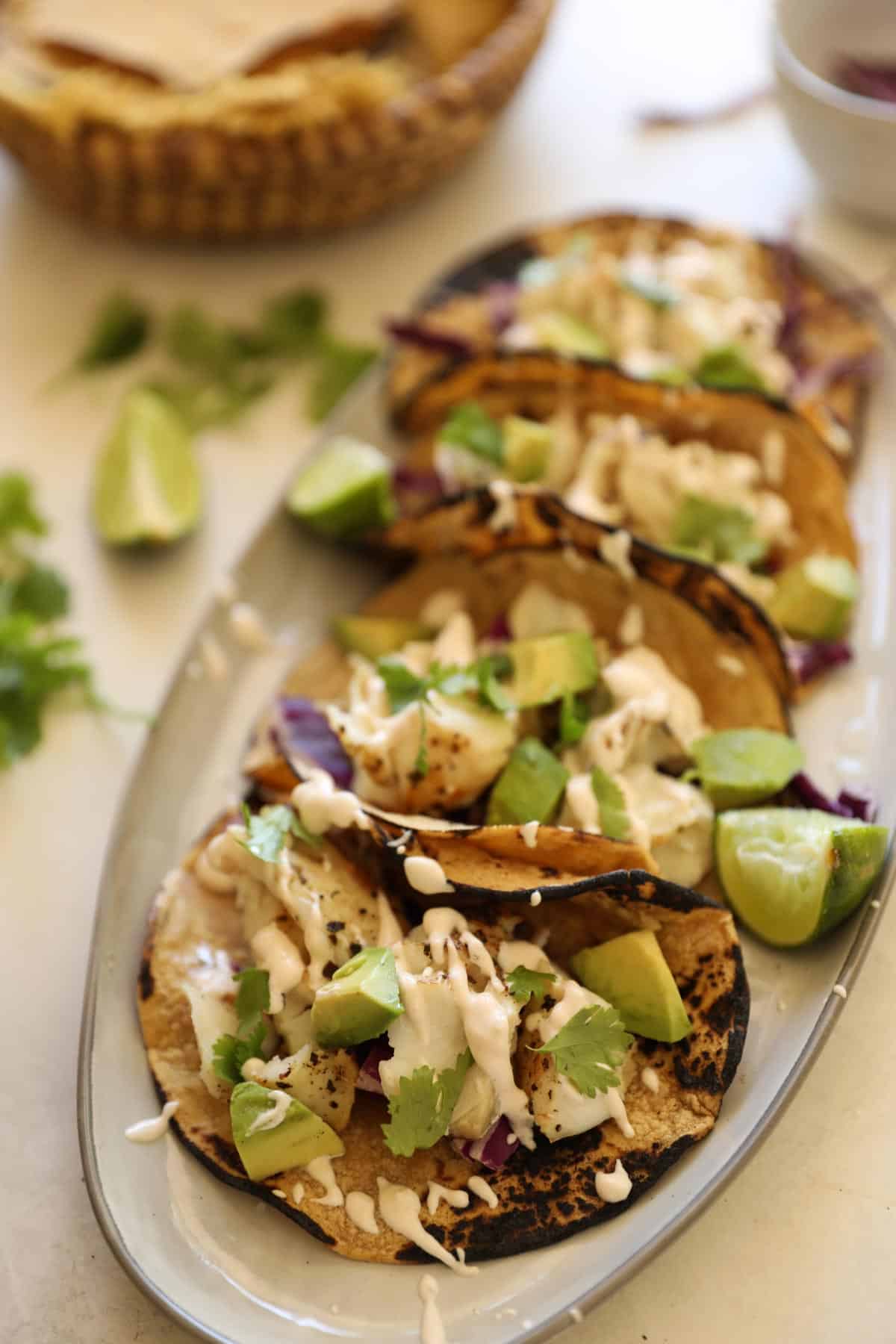 Ingredients:
Cod Fish I prefer to use the fresh fish fillets over frozen. But if frozen is all you have just let it defrost in the refrigerator over night.
Salt, Pepper and Dried Oregano I only use these simple spices on the fish, and reserve the bold flavors for the sauce. This makes the tacos are a bit more kid-friendly because it's easier to leave the sauce off than scrape off the spices on the fish! (Yes, I'm speaking from experience!)
Crema Mexicana or Sour Cream I like to use the Crema Mexicana because it's a little bit sweeter and doesn't have the tang that sour cream has. It's also thinner in consistency than sour cream which makes it easier to drizzle over the tacos. You could also use plain Greek yogurt as well. For a little extra decadence you can also add 1 tablespoon of mayonnaise if desired.
Hot Sauce This can be any brand you like. Or you can also use cayenne pepper or red pepper flakes instead.
Cumin I love the earthy, smokey flavor the cumin provides. If you don't have cumin you can also substitute it for smoked paprika or chili powder instead.
Garlic I like to use fresh garlic, but if you are trying to save time, garlic powder works too! One garlic clove is roughly equivalent to ¼ teaspoon garlic powder. Just don't use garlic salt which will make the sauce too salty.
Fresh Lime Juice This can be altered to taste. I like to use the full lime, but you can start with ½ a lime and taste it first, and then add more as desired.
Fresh Cilantro Adds a wonderful freshness to the tacos. If you are not a fan (and I know there are those of you out there who do not care for it!) you can leave it off, or swap for fresh Italian parsley instead.
Red Cabbage I buy the pre-chopped cabbage because it's so much easier and less wasteful. It's hard to use up a full head of cabbage! But if you have extra cabbage you can put it to good use in my BBQ Chicken Sliders with Coleslaw.
Avocado I like to dice the avocado because it makes it easier to fit in the taco, but you can also slice it if you prefer.
Corn Tortillas I prefer to use organic corn tortillas like the kind from La Tortilla Factory, because they are thicker and more durable than thinner corn tortillas. The thicker tortillas also holds up better against the weight of the taco filling and you won't have to worry about the tortilla tearing.
Optional You can also add some Cotija cheese, pico de gallo, charred corn relish, or sliced radish.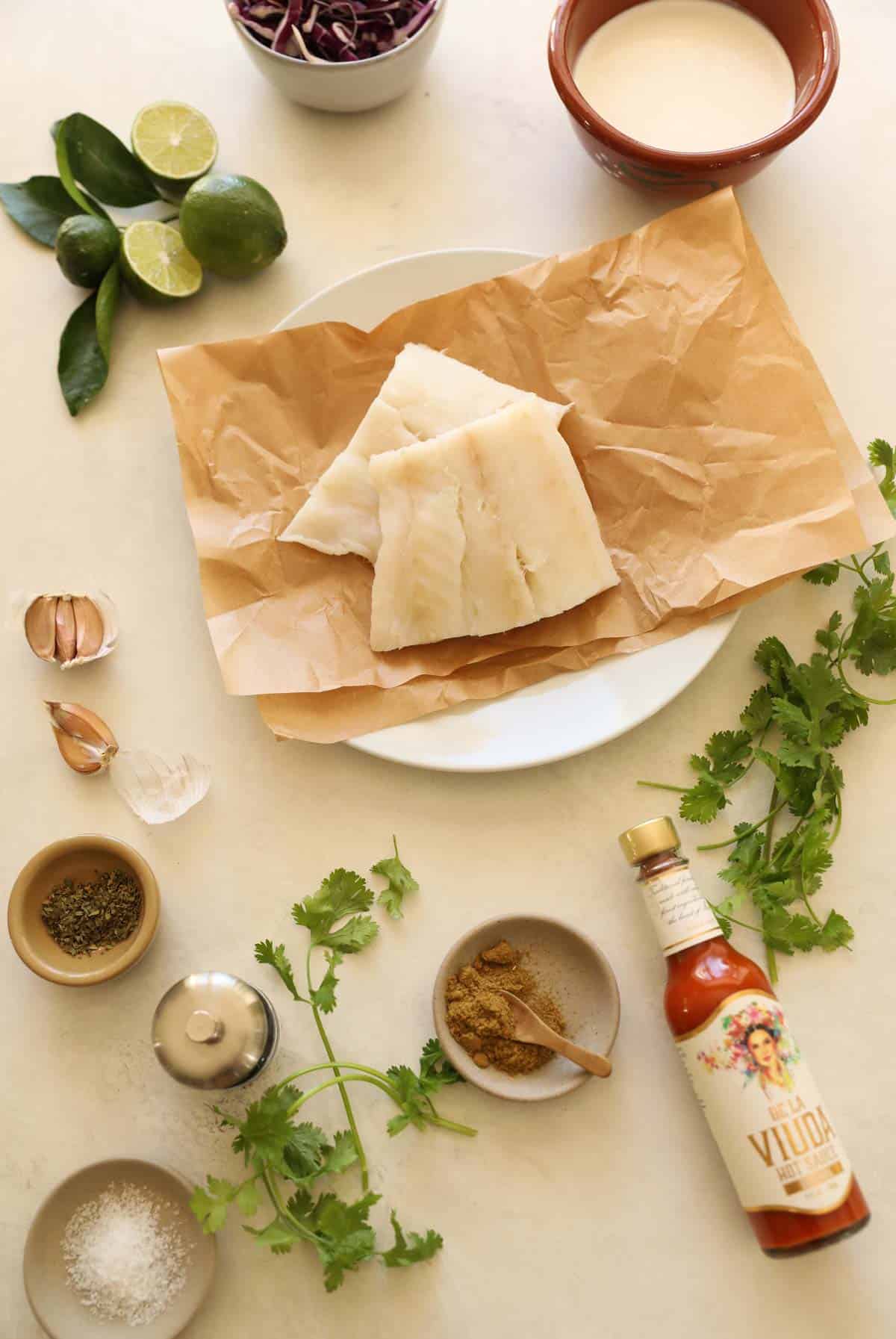 What Type of Fish is Best for Fish Tacos?
Fish tacos are traditionally made with white fish like Cod, Mahi Mahi, Tilapia or Halibut.
When comparing Mahi Mahi against Cod for fish tacos, I prefer the Cod fish because it's easier to find, less expensive and less "fishy" than Mahi Mahi.
Cod also retains its moisture when cooked and develops a lovely flaky texture.
Alternate Fish Ideas:
For salmon tacos try fresh salmon fillets and prepare it the same way as the cod.
You can also make shrimp tacos, just by swapping out the fish for shrimp.
If using shrimp, there's no need to finish cooking it in the oven, just saute it in a pan until pink and cooked through.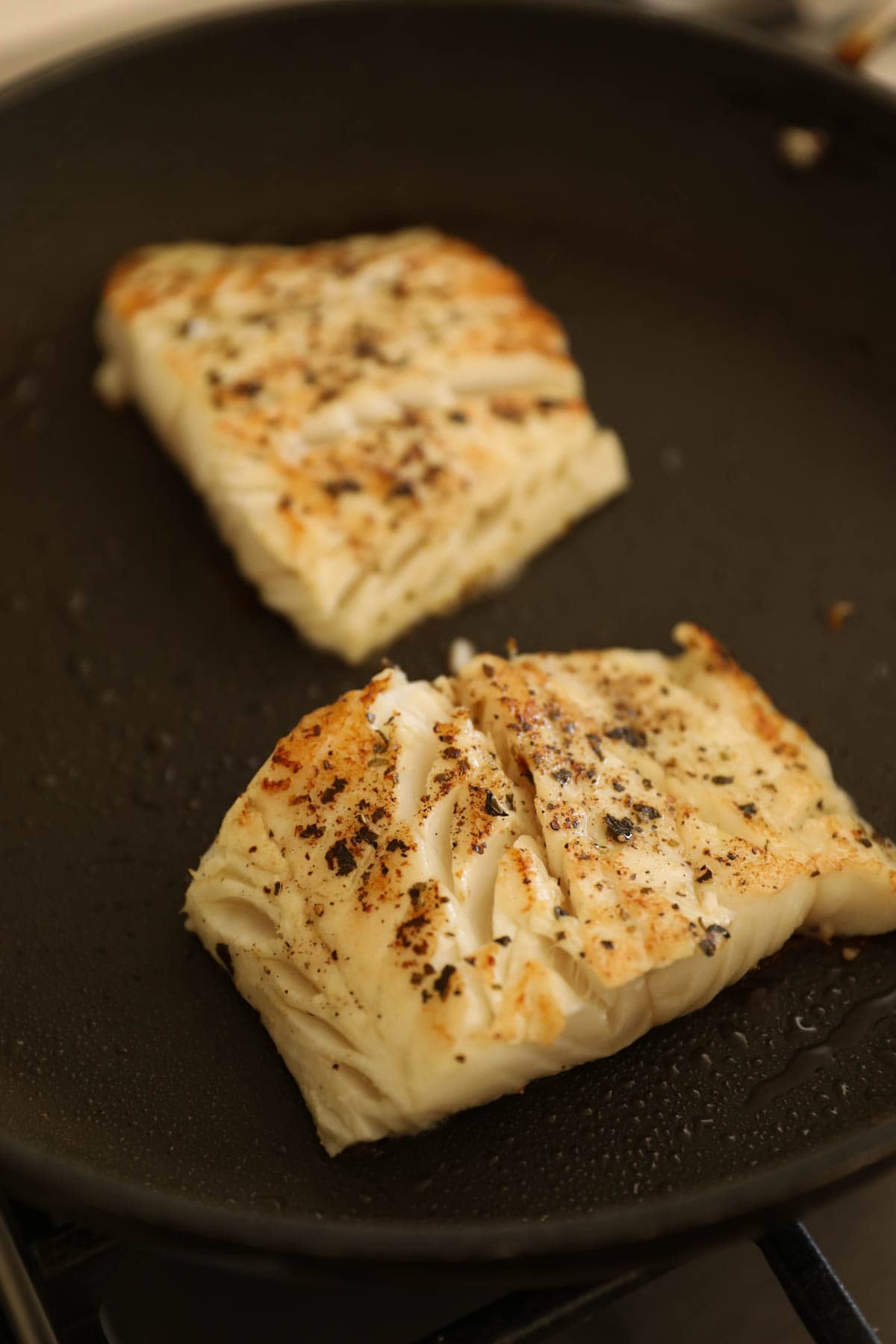 Step#1: Sear the Fish
After seasoning the fish you'll sear it in a skillet first to get some nice color on it. Then flip it over and place it in a 350F oven to cook through.
Use a non-stick pan to get the best sear on your fish. I love my All-Clad Non-Stick pans, personally I think they are worth the money for the quality they provide! And they have a metal handle (not plastic) that allows you to go from cooktop to the oven without having to dirty another pan.
Also, use an oil with a high smoke point. This Avocado Oil Spray by Choosen Foods can reach up to 500F before smoking! High heat will get you a nice sear and the high-smoke point oil will prevent a smoky kitchen.
Step#2: Make the Fish Taco Sauce
I prefer to use Crema Mexicana because of the liquidy consistency. It helps for drizzling the sauce on the tacos.
But if sour cream is all you have just thin it a bit with water until it's a drizzly consistency, otherwise it will be too clumpy for the taco topping.
The recipe below will give you a "starting place" but feel free to adjust the lime, hot sauce and seasonings to taste.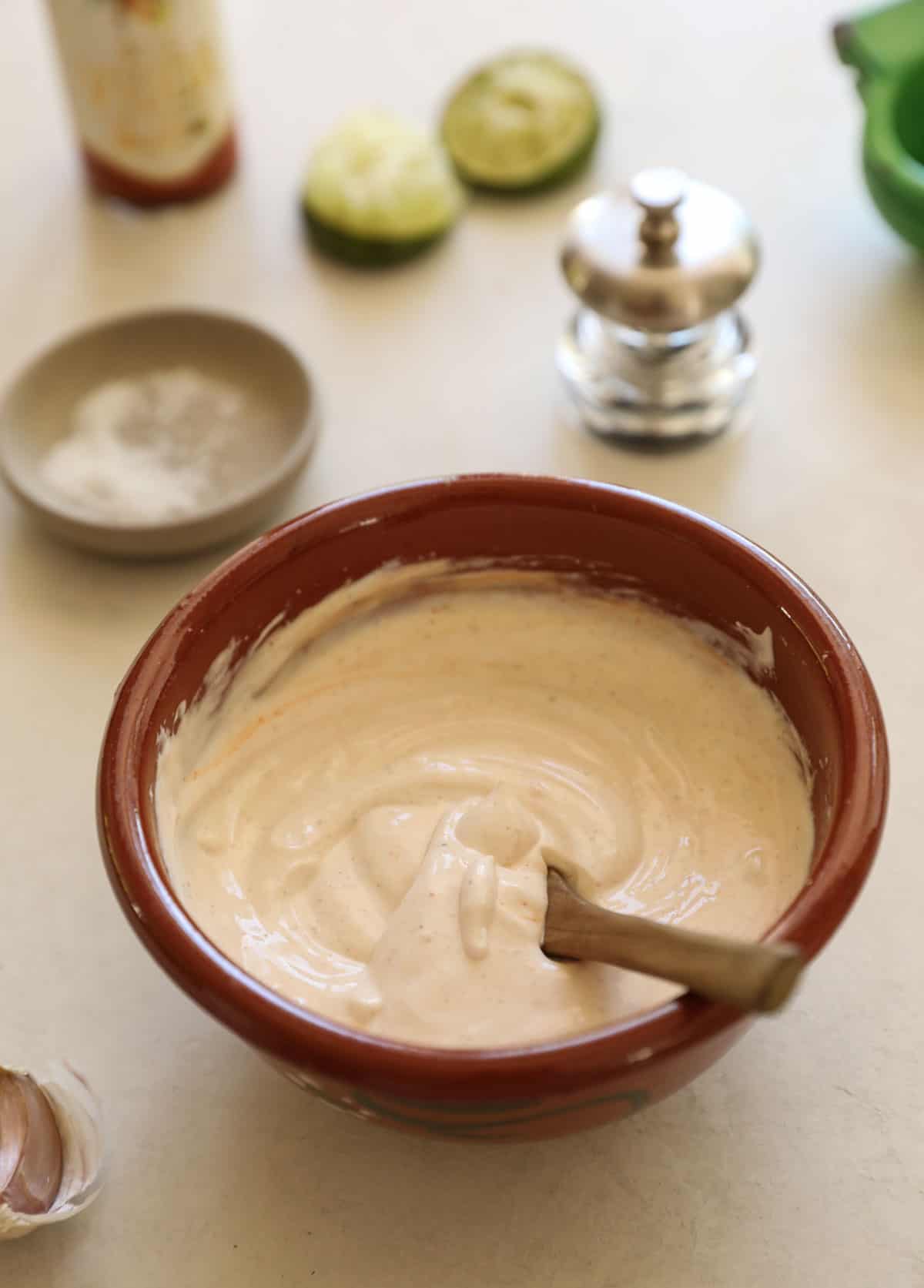 Step#3: Warm and Char the Tortillas
The tortillas are best heated on a gas cooktop, because they become charred and a bit crispy without loosing the pliability.
But use a heartier corn tortilla that is thicker and a bit more dense. This will allow it to hold up to the weight of the taco filling.
Simply place the tortilla directly over a gas burner, on medium-high heat, flipping it every :20 or so, or until it starts to char. Do not walk away from it, you must watch it closely, or it will burn and catch on fire!
I heat both sides (undercooking the second side to preserve the pliability so the taco will fold) and stack them until ready to use.
I have not tried this with flour tortillas, but I find taco recipes work better with the smaller corn tortillas. Leave the flour tortillas for Fajitas or Quesadillas.
For another delicious taco recipe try my Carne Asada Tacos.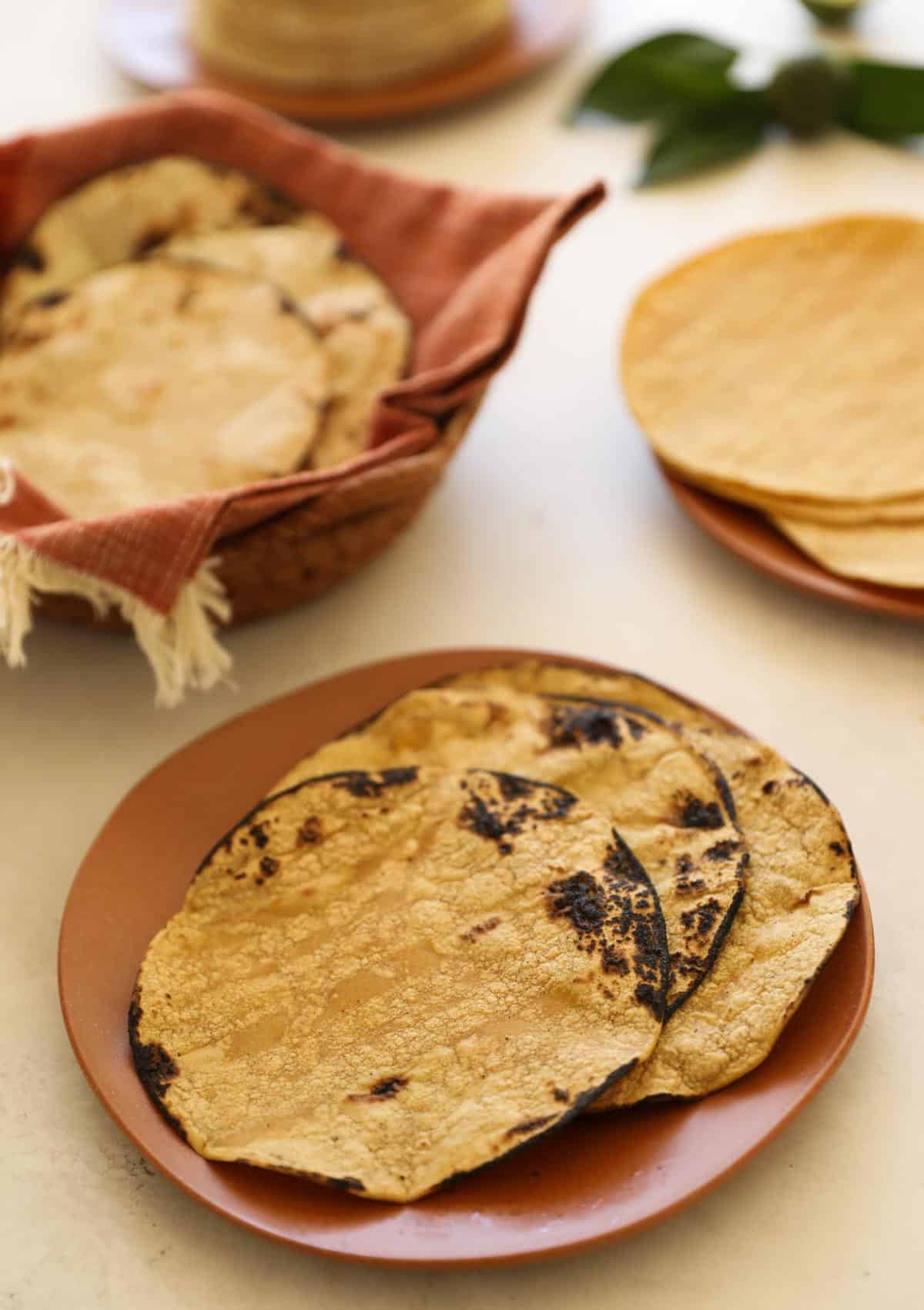 Best Way to Cut Cod for Fish Tacos
Cod fish is naturally flaky, which makes it really easy to separate into bite-sized pieces with two forks.
Cutting the fish with forks also preserves it's flakiness.
This is another reason why I love to use cod fish for fish tacos, because it's so easy to separate into chunks.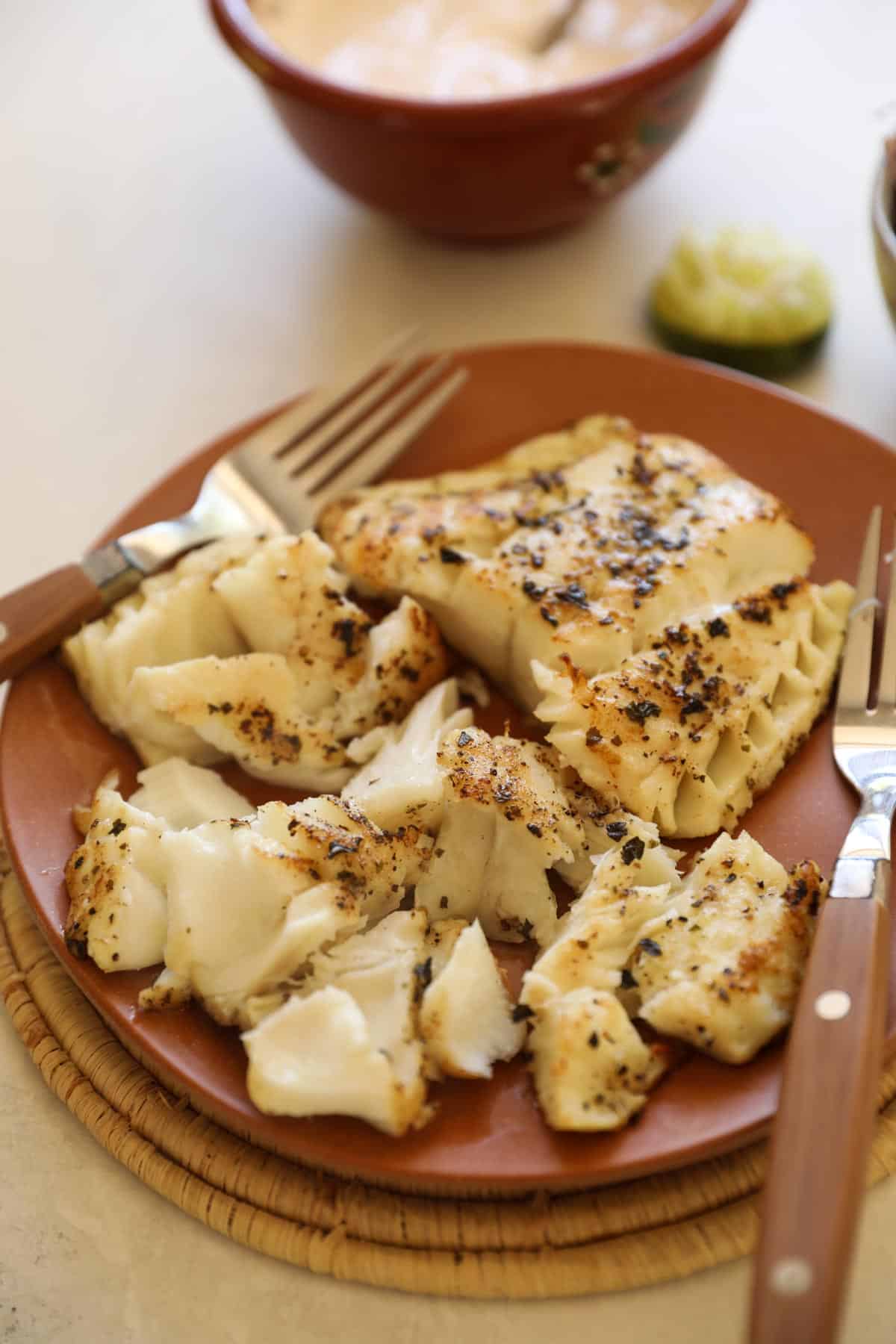 What to Serve with Fish Tacos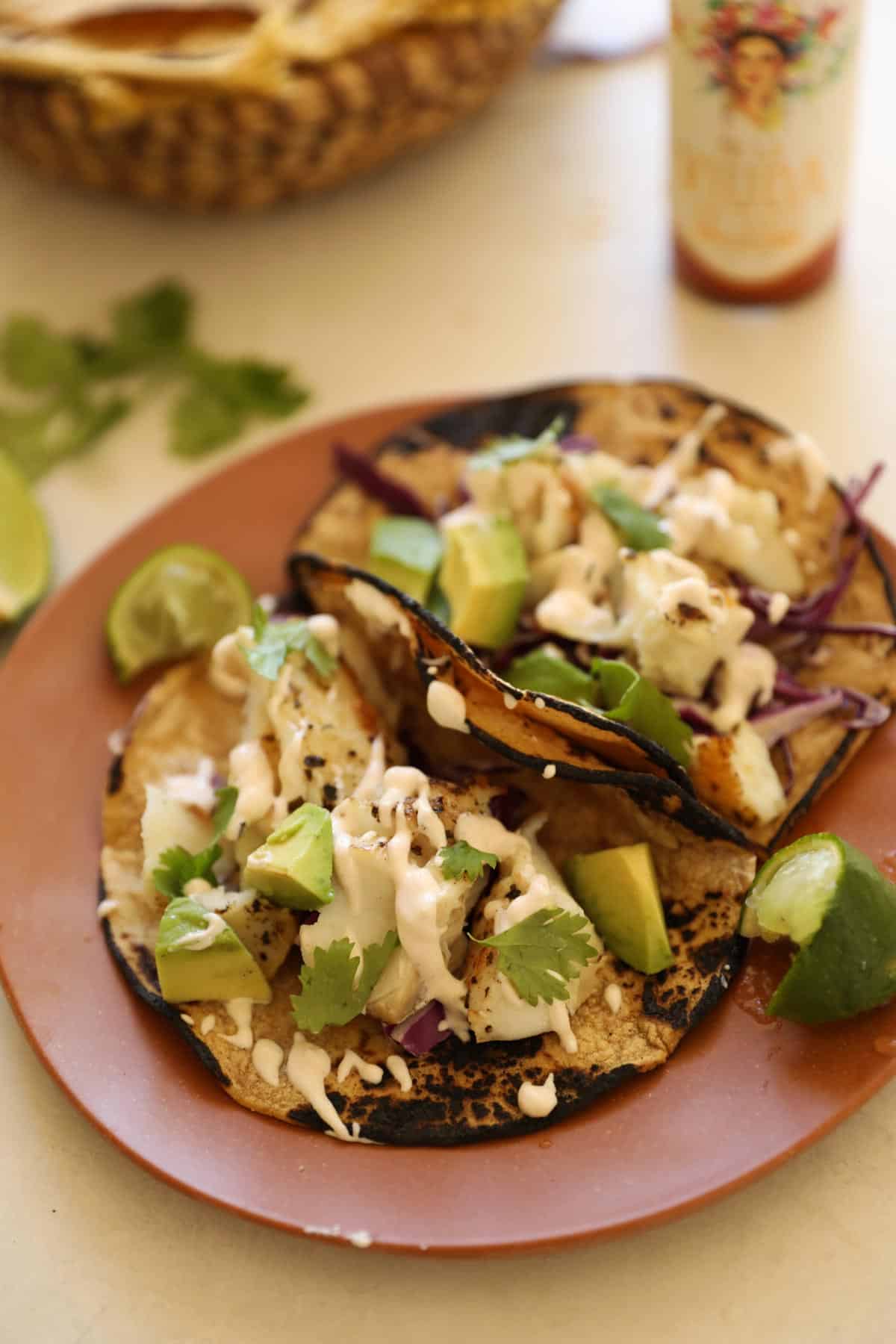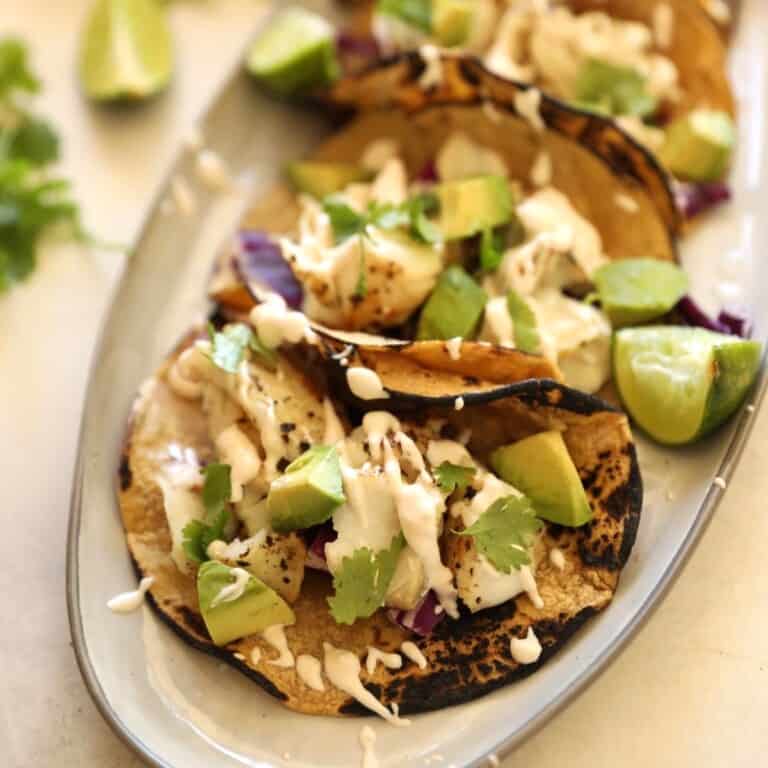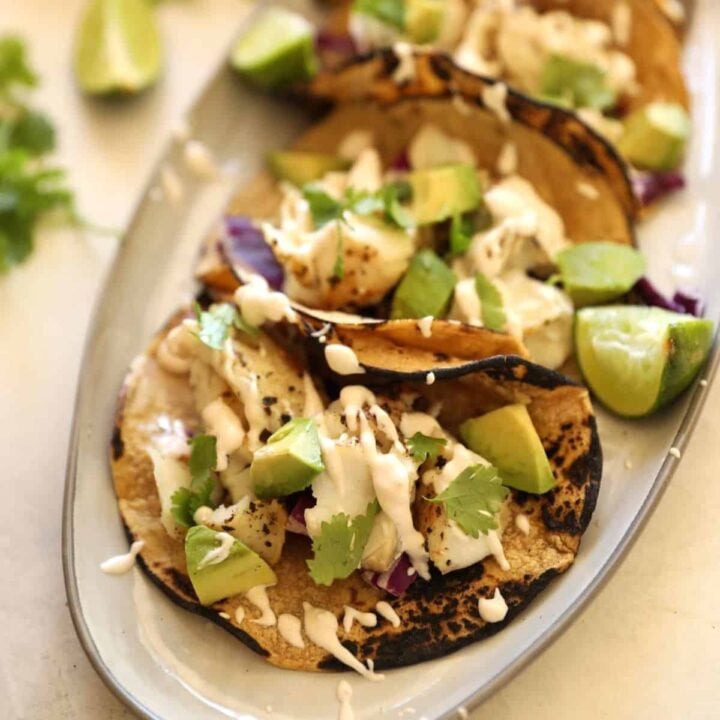 Cod Fish Tacos
A delicious kid-friendly cod fish taco recipe that comes together quickly and easily for a weeknight meal!
Ingredients
for the fish:
¾ lb (340g) of fresh cod fish (or Mahi-Mahi)
Salt and pepper, to taste
Dried oregano, to taste
Avocado or Coconut Oil (or any other high-smoke point oil)
for the sauce:
1 cup (236ml) of Crema Mexicana or Sour Cream
1 teaspoon (5ml) ground cumin
1 teaspoon (5ml) Sriracha or hot sauce
The juice of ½ or 1 full lime (taste at ½ half and add more if desired)
1 clove of garlic, minced
for the toppings:
1 ½ cups (335g) of shredded cabbage (any color you like)
1 ripe avocado
fresh cilantro leaves to taste
5-6 Corn Tortillas
Instructions
Preheat the oven to 350F (175C).
Season the top of the cod fillets with salt, pepper and dried oregano.
Heat a non-stick skillet (with a metal handle that can go in the oven. No plastic handles!) with the oil on medium-high heat until hot.
Place the fish in the skillet, seasoned side down, and sear for 2-3 minutes until golden brown.
Flip the fish with a metal spatula and place the skillet in the oven. Bake for 5-7 minutes until fish is cooked through.
If fish looks done but other components, like the sauce and tortillas aren't, just turn the oven off to keep the fish warm, or remove the skillet and serve the fish warm/room temperature. It doesn't need to be piping hot because all the other ingredients will be at room temperature or chilled.
For the sauce, place all the ingredients in a bowl and whisk to combine. Set aside
For the tortillas, place each tortilla directly on a gas burner on medium-high and toast until warm and slightly charred, then flip with tongs and do the same on the other side, cooking slightly less so that the tortillas are still pliable.
To assemble, separate the fish into bite-sized chunks by pulling apart the flakes with 2 forks. You can do this right in the pan.
Line each tortilla with a layer of cabbage, then 4 chunks of fish, a drizzle of the sauce (use a fork to drizzle the sauce it will drizzle better than a spoon) a few leaves of cilantro, and a few pieces of diced avocado.
Serve immediately.
Notes
If the cream sauce becomes too thick, you can thin it out with some water in 1 tablespoon increments.
Nutrition Information:
Yield:

6
Serving Size:

1
Amount Per Serving:
Calories:

293
Total Fat:

16g
Saturated Fat:

5g
Trans Fat:

0g
Unsaturated Fat:

10g
Cholesterol:

34mg
Sodium:

154mg
Carbohydrates:

26g
Fiber:

7g
Sugar:

7g
Protein:

16g