If you love a classic churro a great new way to enjoy them is by turning them into a Churro Sundae! The combination of the warm crunchy churro and the rich, creamy ice cream topped with cinnamon and pecans is a taste sensation!
It's also a fun dessert recipe for summer entertaining! And the best part is you can make them ahead of time and freeze them. Then all you have to do is fry them and serve.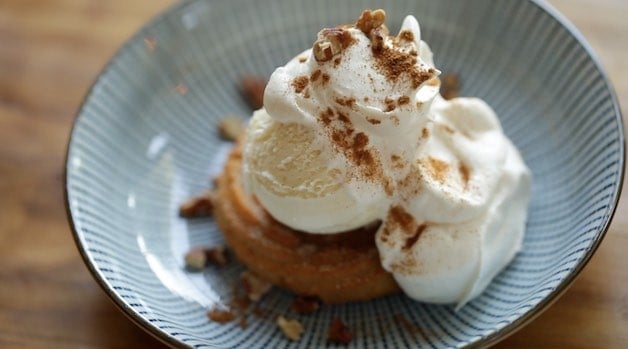 Topping Ideas: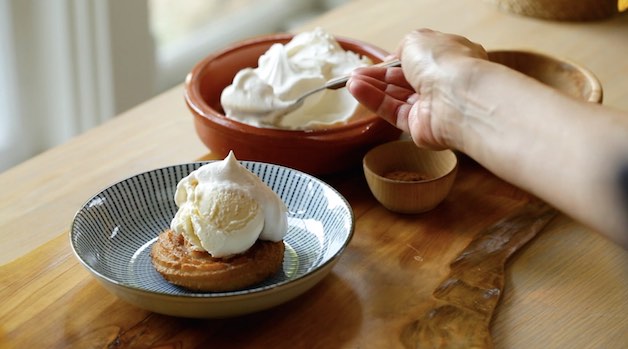 Recipe Pairing Ideas:
Watch My Video Demo of This Recipe Below!
Other Recipes Featured in This Video
This video also includes recipes for my Carne Asada Tacos, Charred Mexican Corn Salad and Cantaloupe, and Cucumber Aqua Fresca.
STEP#1: Combine the Dry Ingredients
To create the churro dough you'll first mix together your dry ingredients and set that aside.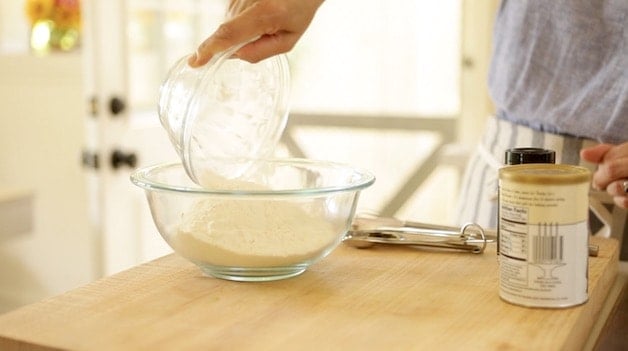 STEP#2: Combine the Butter, Sugar, Salt, and Water
Then in a medium saucepot add the water, butter, salt, and sugar and heat until everything is melted and combined.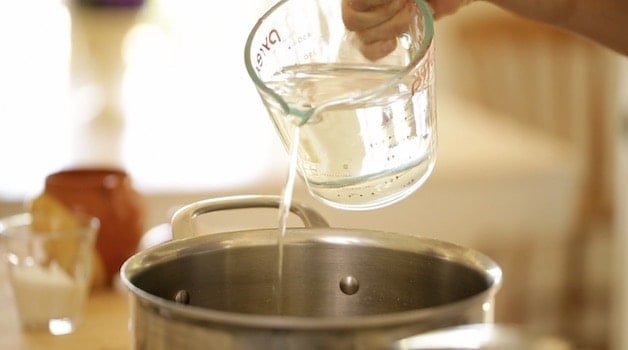 Your mixture should look like this before adding the dry ingredients.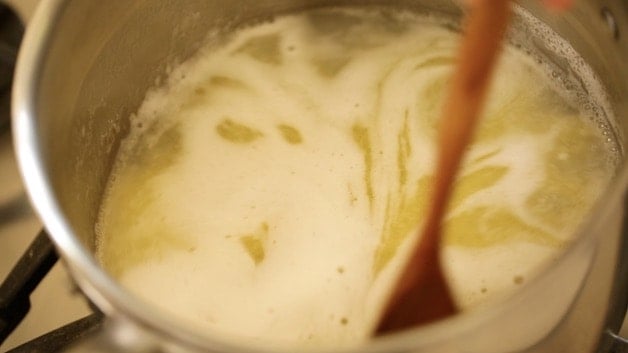 STEP#3: Add Dry Ingredients
Add the dry ingredients and stir with a wooden spoon until a dough starts to form. Cook it for at least a minute to activate the flour.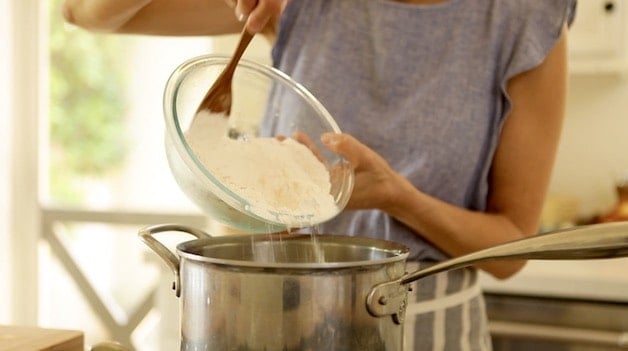 Then pat down the dough to cover the bottom of the pan. This will prevent the eggs from scrambling once you add them in the next step.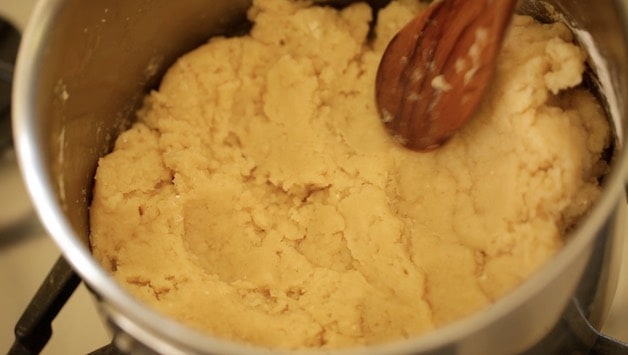 STEP#4: Add Beaten Eggs
At this stage is best to turn off your flame. Then add the eggs to the churro dough and stir constantly until the eggs are combined.
TIP: At first it will look like a slimy mess but not to worry it will eventually come together after enough stirring and you'll have a smooth dough.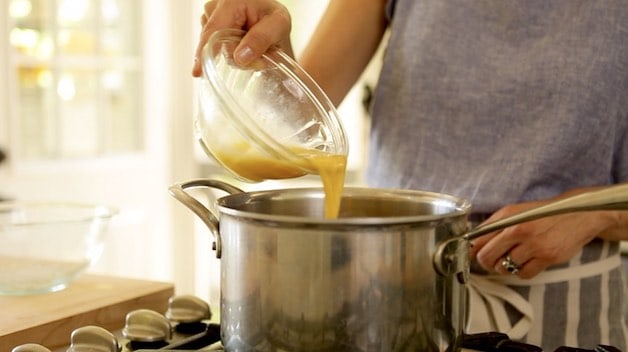 STEP#5: Pipe Into Disks
Transfer the dough to a large piping bag fitted with a star tip. It's a thick dough so it does take a little "elbow grease" to pipe it out. But not to worry the results are well worth the effort!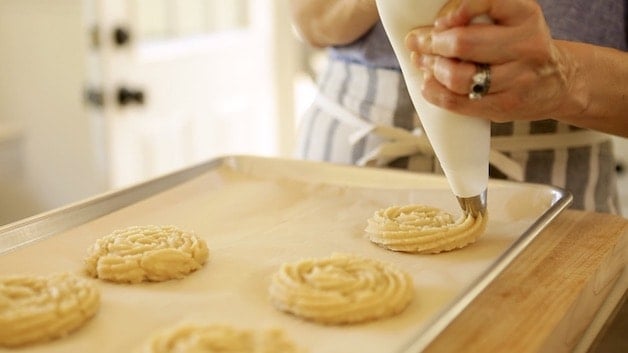 How Do Churros Get their Shape?
The churro shape is created by using a wide star pastry tip. Be sure to pick a star that is not too tight or not too small. This will assure a nice thick piping of dough.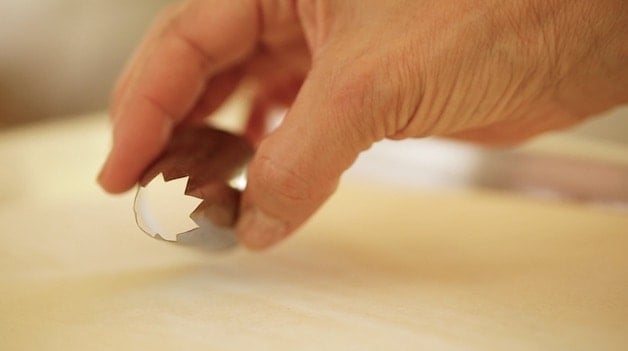 Pipe the disks into an escargot pattern with 3 rings. I think this is the perfect size to hold a scoop of ice cream on top.
Once all your disks are pipped out, it's important to freeze them before frying. This will set up the rings and make them solid. Otherwise, they won't keep their shape when you drop them in the hot oil.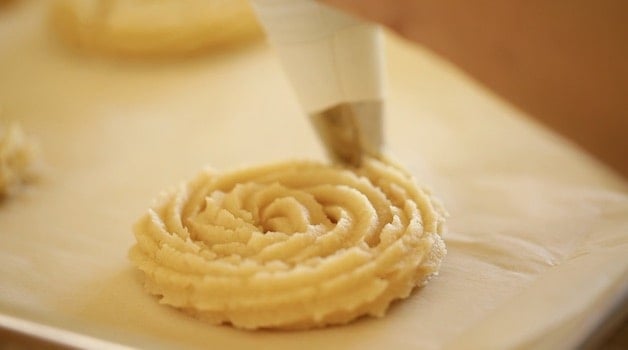 STEP#7: Deep Fry
Lower the churro disks into the hot vegetable oil, on medium-high heat, with a spider strainer. Then fry on each side until golden brown.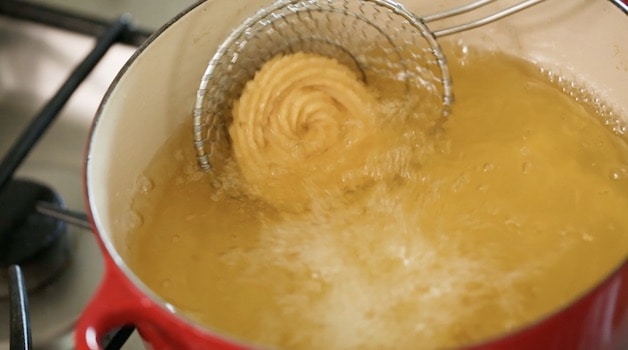 Preventing Raw Dough Inside
If your oil is too hot. Your churros will brown too quickly on the outside and be raw on the inside. The best way to regular the temperature is with a candy thermometer.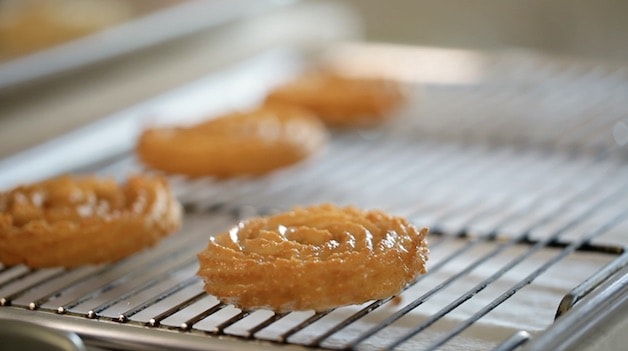 Maintaining the Right Fry Tempeture
Keep the thermometer in the pot as you fry to make sure the oil maintains a temperature of 375F at all times. It will lower a bit between frying as the churro batter brings it down while it cooks. Just wait a minute or two for it to come back up before frying the next batch.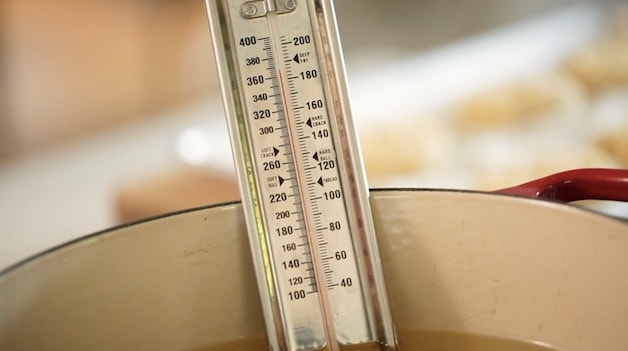 STEP#8: Sprinkle with Cinnamon Sugar
Allow the churros to drain on a cooling rack fitted into a baking sheet lined with a paper towel. This will keep them crispy. Then while they are still hot sprinkle with the cinnamon-sugar mixture on top. If you have extra cinnamon-sugar left over you can use it up in my delicious Snickerdoodle Cookie Recipe.
The ideal texture of a churro is crispy on the outside and soft and cakey on the inside.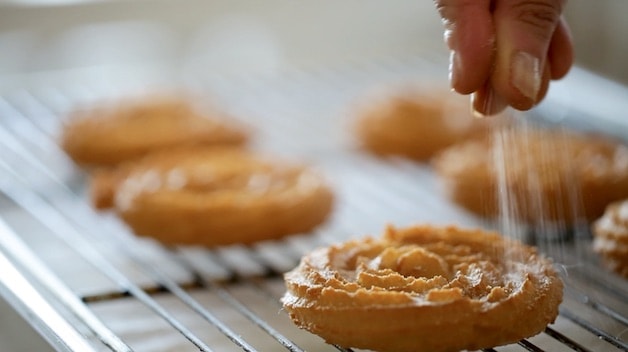 STEP#9: Assemble and Serve!
Place the churro on a plate and top with ice cream and homemade whipped cream.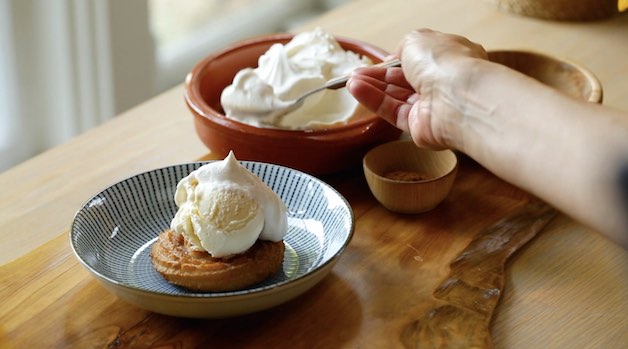 Then finish it off with a sprinkle of cinnamon and some freshly chopped pecans. If you really wanted to go for broke you could also add a drizzle of chocolate sauce on top too!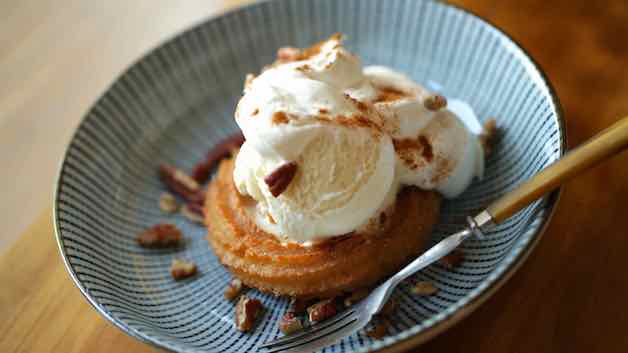 If You Enjoyed This Recipe
Please Leave a Rating and a Review Below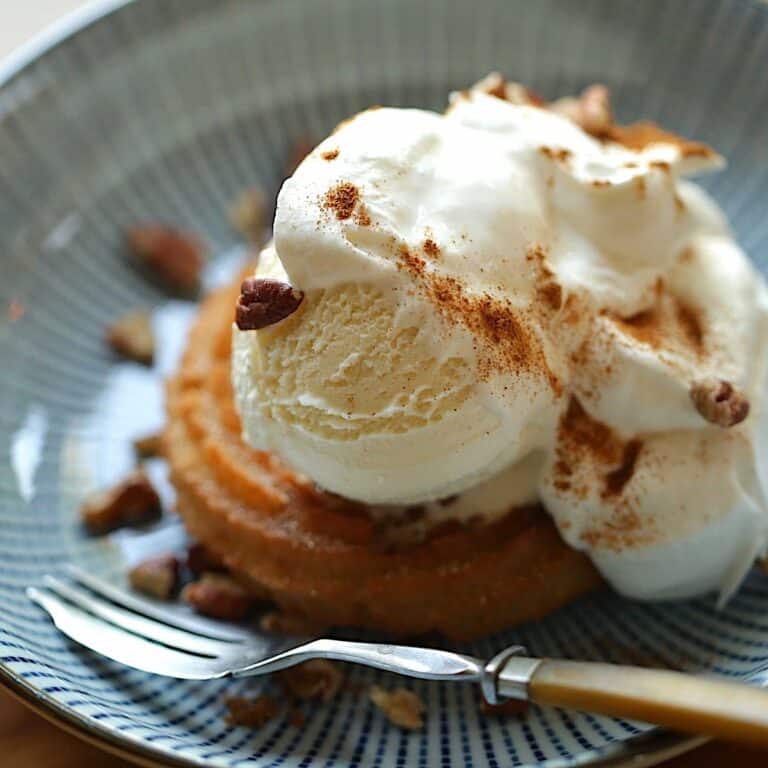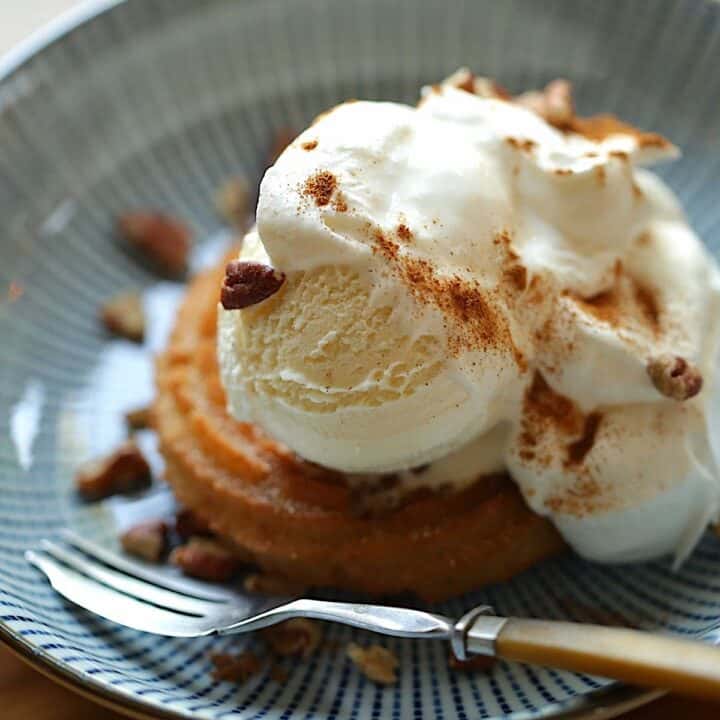 Churro Sundae Recipe
Total Time:
3 hours
30 minutes
If you love a classic churro recipe a great new way to enjoy this dessert is by turning them into a Churro Sundae! The combination of the warm crunchy churro and the rich, creamy ice cream topped with cinnamon and pecans is a taste sensation! It's a great dessert to celebrate Cinco de Mayo! 
Ingredients
For Churro Dough:
2 cups (475ml) water
½ cup (120g) butter
½ teaspoon (2.5ml) salt
3 tablespoon (38g) sugar
2 cups (240g) flour
½ teaspoon (2.5ml) cinnamon
1 teaspoon (5 ml) baking powder
2 eggs, beaten
1 teaspoon (5ml) vanilla extract
For Whipped Cream:
2 cups (475ml) heavy cream
2 tablespoon (13g) powdered sugar
1 teaspoon (5ml) vanilla extract
Cinnamon Sugar:
¼ cup (50g) sugar
1 teaspoon (5ml) cinnamon
Garnish:
Vanilla Ice cream
¼ teaspoon (1.25ml) cinnamon
¼ cup (40g) pecans
Instructions
In a medium sized bowl whisk together flour, cinnamon and baking powder. Set aside.
Then in a small bowl whisk together eggs and villa extract. Set aside.
In a large saucepan combine water, butter, salt and sugar. Bring to a boil until butter is melted and sugar dissolved.
Add the flour butter to the butter mixture, mixing with a wooden spoon until combined. Then turn off the heat and move pan to a cool burner. Allow mixture to cool slightly and then add the beaten egg mixture, beating quickly with the spoon until eggs are incorporated and batter is formed.
Transfer batter to a pastry bag, fitted with a large star tip.
Line a cookie sheet with parchment paper. Pipe 8 large circles of batter on paper, creating a circle with 3 rings.
Place cookie sheet in freezer for a minimum of 2 hours.
When time to serve, heat vegetable oil in a large Dutch oven until a candy thermometer registers 375F.
Combine ¼ cup of sugar with 1 teaspoon of cinnamon whisk together and set aside.
Slowly drop in 2 circles of frozen churro dough into the oil with a slotted spoon or spider. Fry on both sides until golden brown and cooked through. Allow oil to get back up to temperature in between frying.
Transfer to a cookie sheet lined with paper towel and rack to allow grease to drain. Sprinkle churro disks with cinnamon sugar topping.
Place 1 churro disk on plate, top with scoop of ice cream, top with a dollop of whipped cream, dusting of cinnamon and sprinkle of pecans.
Notes
If your churros are browning quickly but then raw inside it means your oil is too hot. Use a candy thermometer to assure that the oil stays at 375F. Any higher and you will have crispy churros with raw centers.
Don't skip the freezing part! Otherwise your churros won't stay in a neat disk, but will fall apart in the oil. The freezing keeps the intact.
Nutrition Information:
Yield:

8
Serving Size:

1
Amount Per Serving:
Calories:

81
Total Fat:

6g
Saturated Fat:

3g
Trans Fat:

0g
Unsaturated Fat:

2g
Cholesterol:

62mg
Sodium:

33mg
Carbohydrates:

5g
Fiber:

0g
Sugar:

5g
Protein:

2g