This summer skip the expensive grilled steak dinner whip up these Carne Asada Tacos instead! These tacos use more affordable flank steak that becomes so tender and juicy when marinated overnight. It's also a fun and interactive main course to serve a crowd! They are flavorful, filling, and easy to eat at a backyard BBQ!
They are also the perfect little nibble to follow my Veggie Quesadillas and Homemade Guacamole appetizer. For ground beef tacos try my Slow Cooker Tacos! Great for Game Day or an Open House! And for a lighter summer taco try my Easy Cod Fish Tacos.
Why You'll Love This!
Flavorful marinade that uses basic ingredients, but delivers wonderful flavor!
Tacos are a fun, interactive way to serve your guests. Set out all the components and let your guests serve themselves!
A wonderful grilled item for when you just want something a bit spiffier than burgers and hot dogs.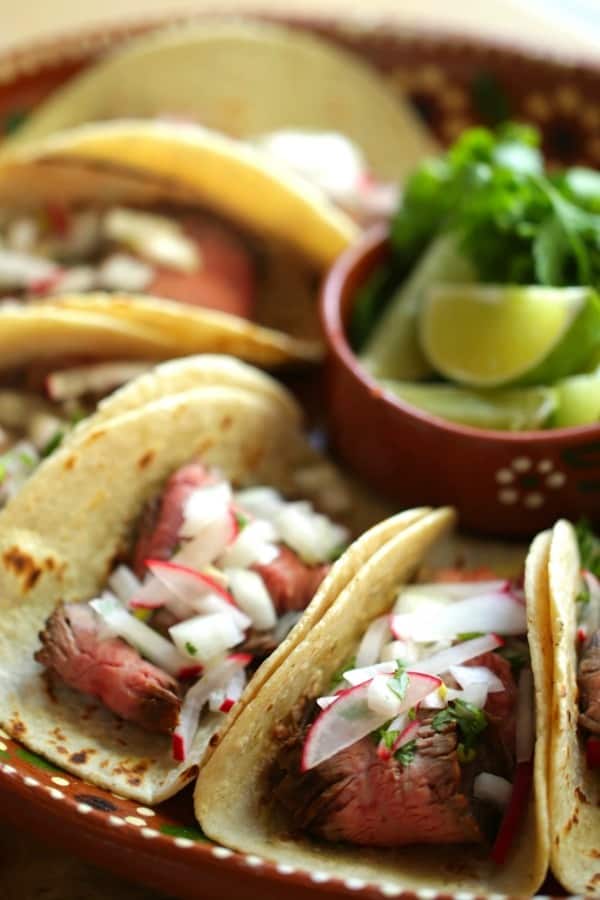 What Is Carne Asada?
Carne Asada is a Spanish term used to describe grilled beef. It can be sirloin, tenderloin, or flank steak. It's usually seared on a grill and then sliced very thin. This makes it a great option for filling tacos!
Watch My Video Demo of This Recipe Below!
This video also includes recipes for my Cantaloupe and Cucumber Agua Fresca, my Charred Mexican Salad, and my Churro Sundaes all great recipes for summer grilling or Cinco de Mayo too!
Make The Marinade
For this recipe, I like to use flank steak. Since flank steak is an affordable cut of beef it's perfect for feeding a crowd.
But it's also a tougher cut of beef, so it's best to tenderize it by allowing it to marinate overnight in orange juice, vinegar, garlic, and spices.
This will make it tender and juicy and easy to slice.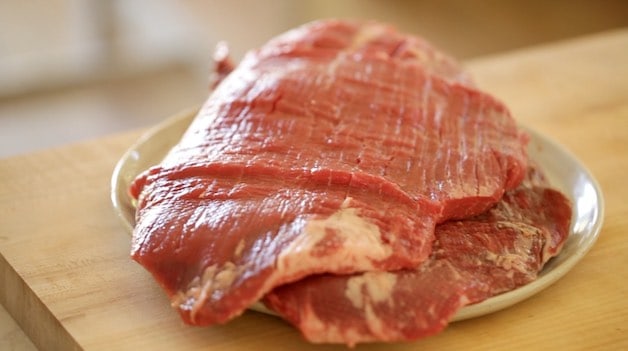 Don't Use a Spice Blend. Blend Your Own!
In my opinion, the secret to a flavorful carne asada marinade is the spice blend.
I like to use a combination of ground cumin, smoked paprika, ground coriander, and dried oregano. I think this gives the beef the perfect combination of a smokey, rich flavor with a lot of depth.
I find you get more flavor and fewer preservatives by blending your own spices, than using a pre-made spice blend. The flavors will be more pronounced too!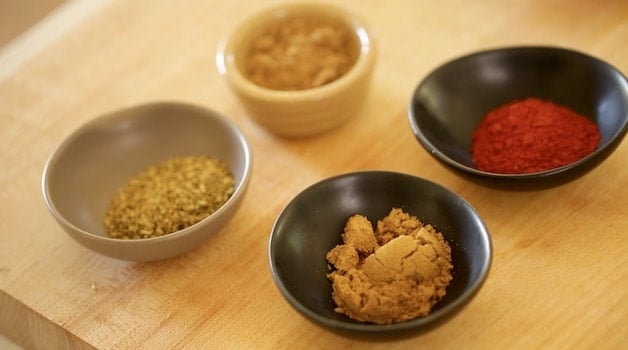 How Long to Marinate the Steak?
Once the marinade is made it's best to place each piece of flank steak in their own casserole dish and pour the marinade over it.
This will allow each piece to soak up as much marinade as possible and not be crowded by the other. Cover and refrigerate the beef until ready to grill.
I find this is best done the day before to allow the beef to marinate for at least 24 hours.
But if you are short on time, you could also get away with a minimum of 4 hours.
The longer flank steak marinates, the more tender it becomes so it's worth the extra time if you ask me.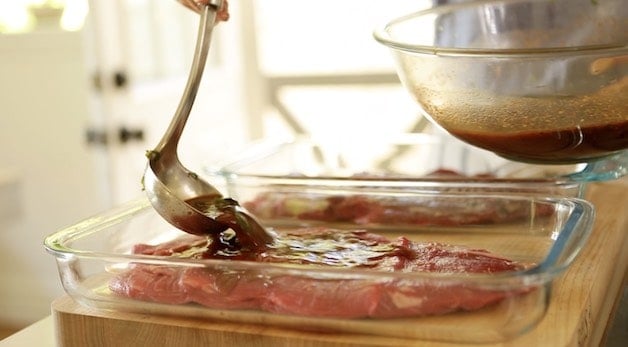 How to Get a Great Sear?
Before grilling the steak remove it from the marinade and pat dry with a paper towel. Otherwise, when you grill the beef it will steam up instead of sear.
A dry steak will sear, and caramelize a lot better than a wet one and this is what will create a great flavor to the tacos once they are grilled.

How Long to Grill the Flank Steak for Medium Rare?
Grill the flank steak on a BBQ or an indoor grill pan on medium-high heat for 7-8 minutes on each side for medium-rare.
Then allow the steak to rest for at least 15-minutes on a cutting board. This will lock in the juices and make it easier to slice as well.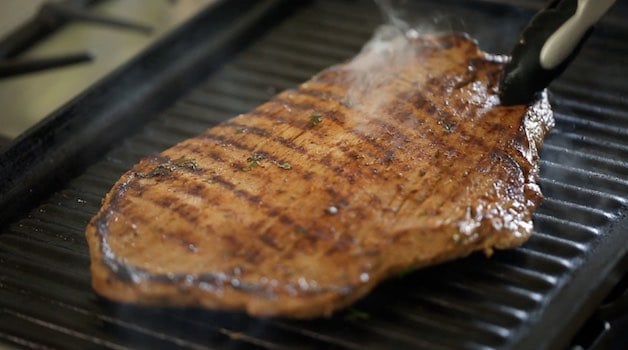 Making the Relish
I like to serve these carne asada tacos with a limey onion-radish relish on top. It provides a nice freshness and crunch to the tacos and also looks beautiful too. You can prepare the relish the day before or while your steak is resting.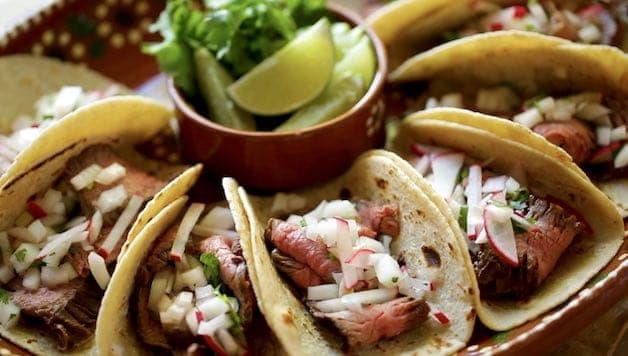 The relish is just a simple combination of diced onion, radish, lime juice, and fresh cilantro. Mix it all together and that's it!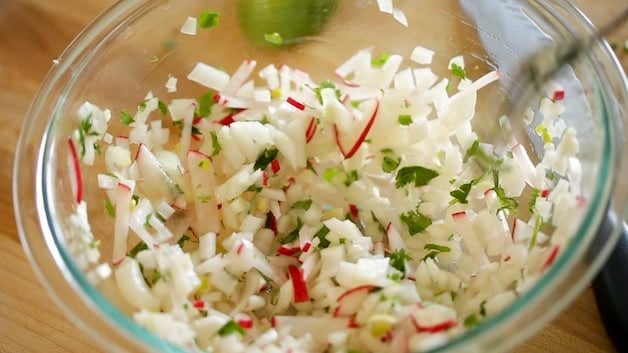 Yes, Grill the Tortillas
For me, the mark of a great taco is a grilled tortilla. I love to use the Corn Wheat Tortillas by La Tortilla Factory. They provide the flavor of a corn tortilla, but with the chewiness of flour tortilla.
It's truly the best of both worlds. They also hold up better to the weight of the carne asada filling and relish filling.
Grill each tortilla for a minute or so on each side and then set aside.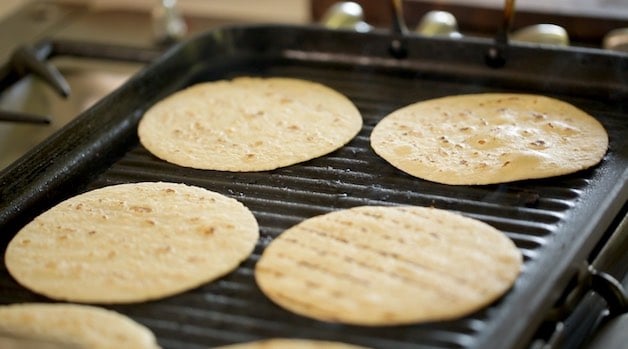 Assembling the Tacos
Thinly slice the steak against the grain. Slicing against the grain creates tender slices of beef that will also make your tacos easier to fill.
If you slice "with the grain" you'll end up with chewy pieces of beef that are so tough they'll be practically impossible to chew!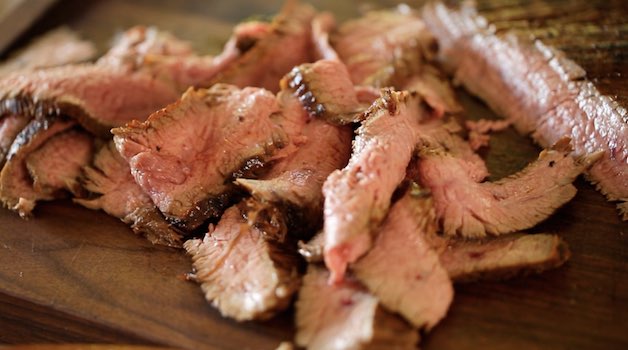 Place a few slices of beef on each tortilla. Then top each taco with the relish, being careful not to overfill it. A little goes a long way and you'll want to make sure you'll be able to fold them up slightly to serve them.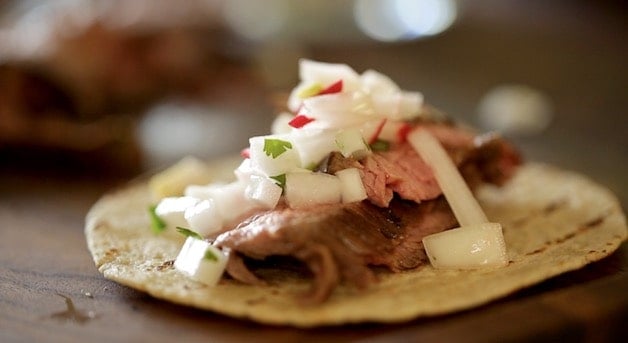 The Plating
I think the easiest way to serve these tacos to a crowd is to take a large platter and place a small bowl in the center. You can fill the bowl with extra cilantro and lime wedges.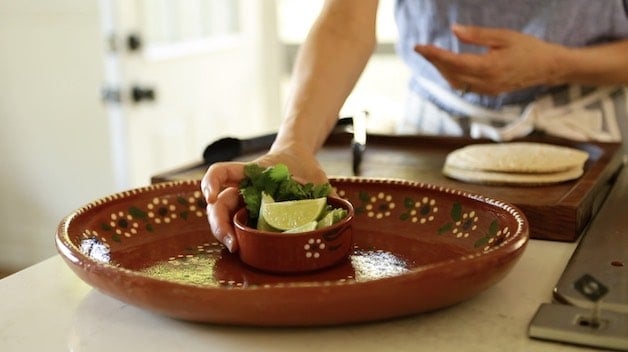 Then slightly fold each taco and create a display of tacos all around the platter, using each taco to steady the next taco. It gets easier once you have a few tacos on the platter.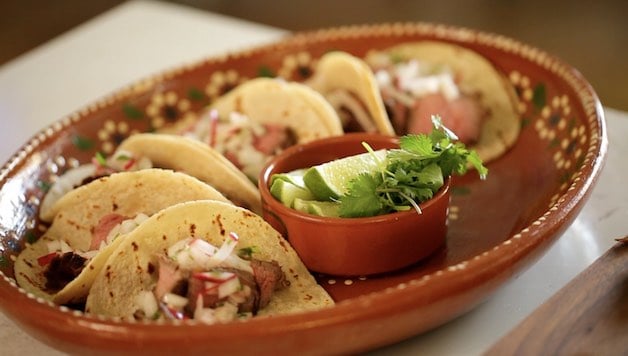 The result is such a pretty display that's so easy to do and helps guests grab a taco easily if serving themselves from a buffet line.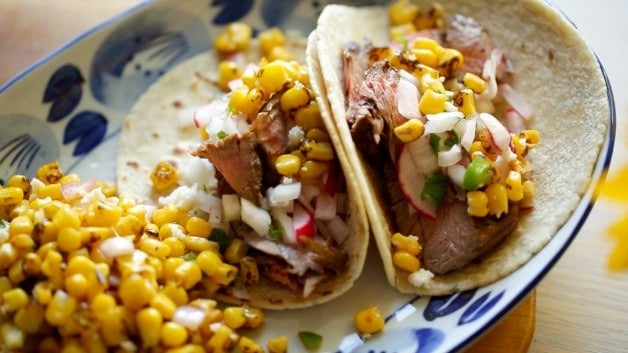 More Summer Flavors You'll Enjoy!
Please let me know if you make this Recipe
by leaving a rating and review below!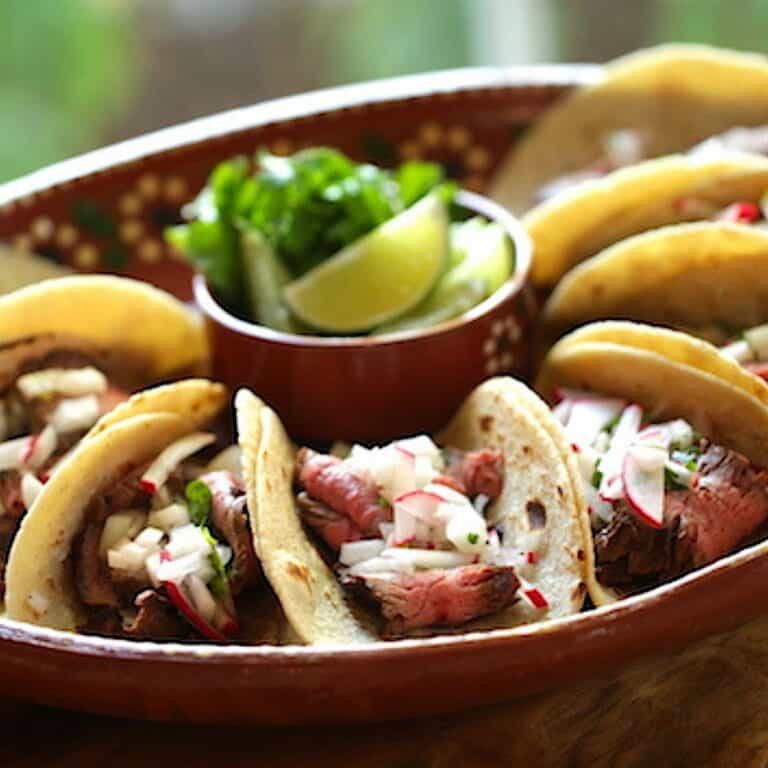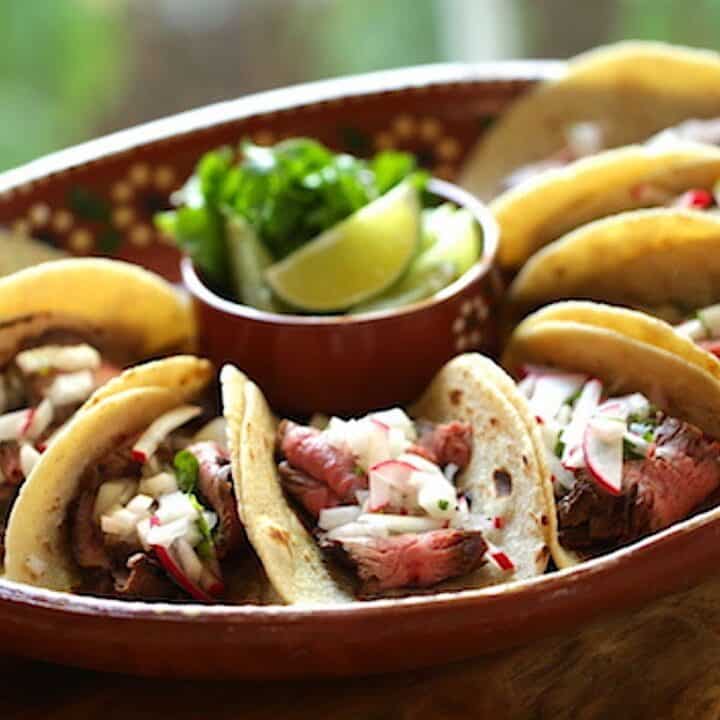 Carne Asada Taco Recipe
Total Time:
5 hours
20 minutes
A delicious carne asada taco recipe perfect for feeding a crowd! An easy carne asada marinade combines with affordable flank steak to create a tender and juicy sliced steak dinner perfect for filling inside of tacos!
Ingredients
3 lbs of flap meat or flank steak
Marinade:
1 cup red wine vinegar
¾ cup fresh orange juice
¼ cup Worcestershire Sauce
3 tablespoon soy sauce
1 teaspoon salt
freshly cracked pepper
2 teaspoon ground cumin
2 teaspoon smoked paprika
2 teaspoon dried oregano
2 teaspoon ground coriander
¼ cup cilantro, chopped
3 garlic cloves, mashed
Onion Radish Topping:
1 ½ cups white onion, diced
1 lime, zest and juice
4 radishes, diced
2 tablespoon cilantro
Corn Tortillas
Instructions
Whisk together the marinade ingredients in a large bowl. Place the meat in 2 shallow 13 x 9 casserole dishes so they can be a single layer. Pour half the marinade in one casserole dish and the other half in the other casserole dish. Cover and refrigerate overnight or a minimum of 4 hours. But overnight is even better!
To serve whisk together the onion and radish topping. Set aside.
Heat a stovetop grill pan or a barbecue to medium-high. Be sure the grill is greased. Wipe off the marinade from meat and blot with paper towels so no moisture remains and meat is as dry as can be. You'll get a better sear this wear.
Grill meat on each side for about 7-8 minutes for medium-rare. Remove meat from the grill and allow to rest for 15 mins. This will preserve the juiciness.
Meanwhile, grill the tortillas on each side.
Slice meat into very thin slices, across the grain, this will make the meat tender.
Fill each tortilla with a few slices of meat, top with relish and serve with a variety of hot sauces on the side.
Nutrition Information:
Yield:

8
Serving Size:

1
Amount Per Serving:
Calories:

547
Total Fat:

27g
Saturated Fat:

10g
Trans Fat:

0g
Unsaturated Fat:

15g
Cholesterol:

124mg
Sodium:

859mg
Carbohydrates:

16g
Fiber:

2g
Sugar:

9g
Protein:

56g