Strawberry Shortcake Charlotte Recipe
This Strawberry Shortcake Charlotte Recipe is a fantastic dessert recipe for showing off the first strawberries of the season. It's really a "cheater" charlotte that's made thanks to the help of a special pan.
It basically takes the idea of a classic Strawberry Shortcake Recipe and dresses it up for something a bit fancier! Perfect for a special occasion like Easter or Mother's Day. For another fantastic springtime, dessert try my extra moist Carrot Cake Recipe with Cream Cheese Frosting.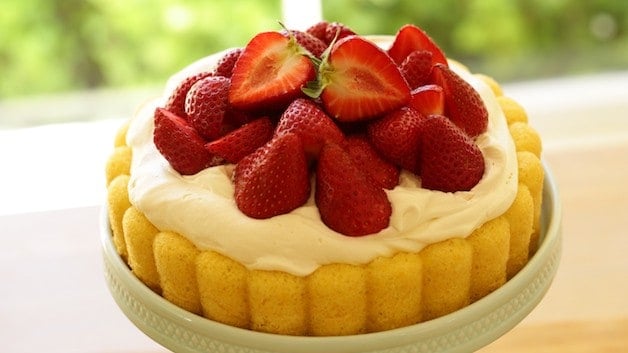 Why You'll Love This Recipe:
This cake is basically a fancy way to serve a strawberry shortcake dessert.
I love this idea because a traditional Charlotte can be really hard to make! You have to line up the ladyfingers and fill the center and hope it stays together.
But this pan gives you all the beauty of a charlotte without all the hassle! And guests are also really impressed by it too!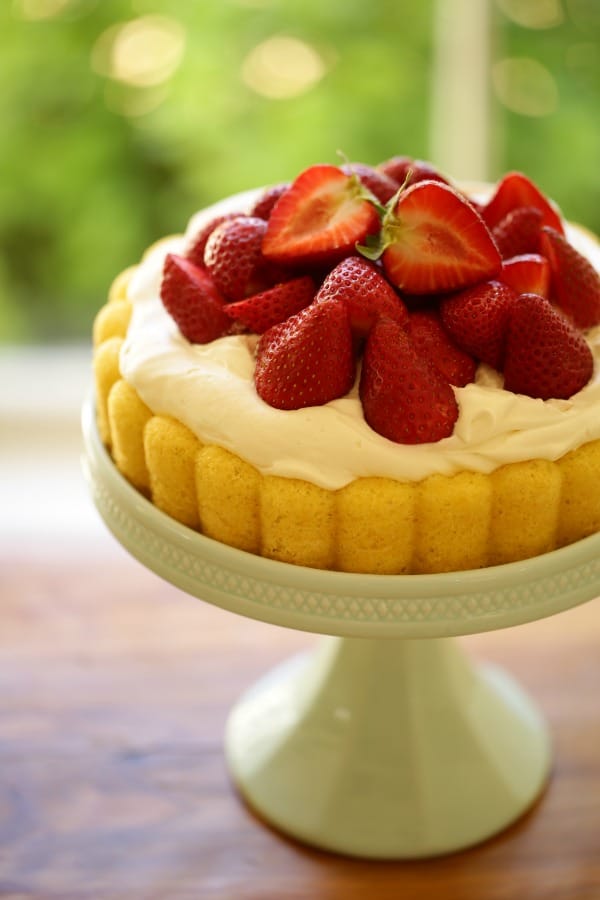 Subscribe for weekly recipes
and new videos!
Get The Look:
I saw this pan at the Inspired Home Show this spring and thought "well, now isn't that genius!". I just fell in love with the concept of it considering my past fails with a traditional Charlotte and had to share it!
Once the cake is baked, it fits beautifully on this elegant Robin's Egg Blue cake stand. Perfect for spring!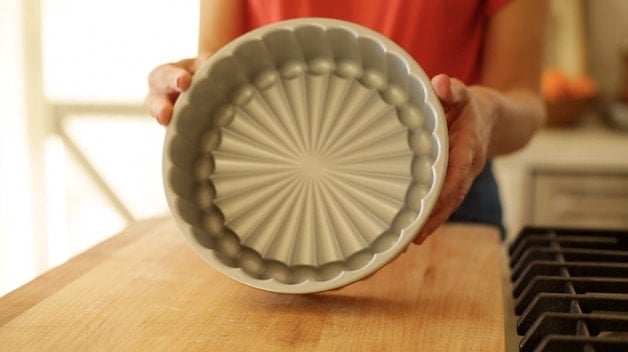 Be Sure to Spray the Pan
Since the pan has so many nooks and crannies I like to spray it with some baking spray first, and then distribute it well with a pastry brush. Just for added insurance!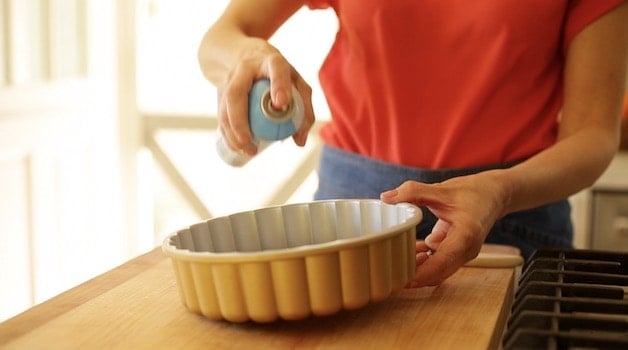 Watch My Video Demo of This Recipe Below!
Making the Sponge Cake
For the sponge cake, be sure to beat the eggs and sugar for at least 5 minutes. You can use a hand mixer, it doesn't need to be a stand mixer, but just don't skimp on the beating! This is what will make your cake so soft and light.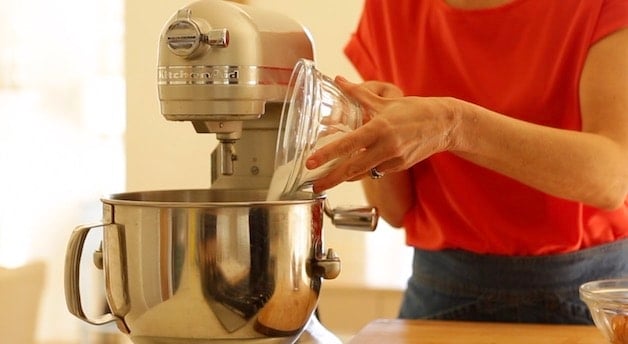 Your egg mixture will triple in volume and become a soft, pale yellow. It will feel light and pillowy! Then pour the batter in the pan and fill it ¾ of the way up.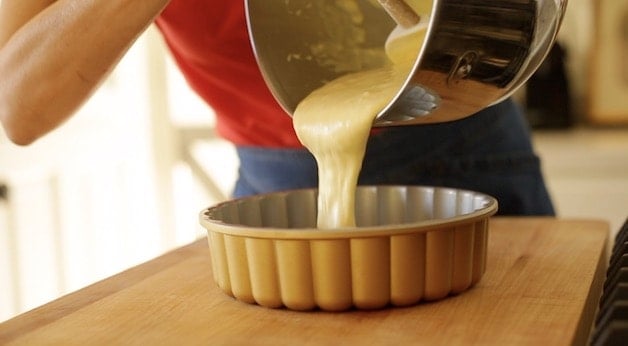 Then gently tap it to remove the air bubbles in the batter. Otherwise, they will bake into the cake that way and not be so pretty once your cake is baked.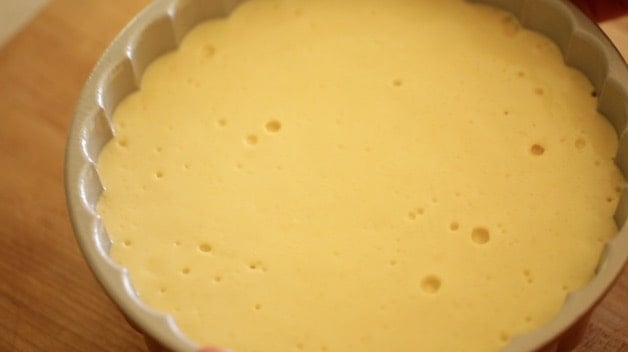 Allow the cake to cool for 10 minutes in the tin. You'll notice it will sink slightly and pull away from the pan. This is the moment you should remove it from the mold.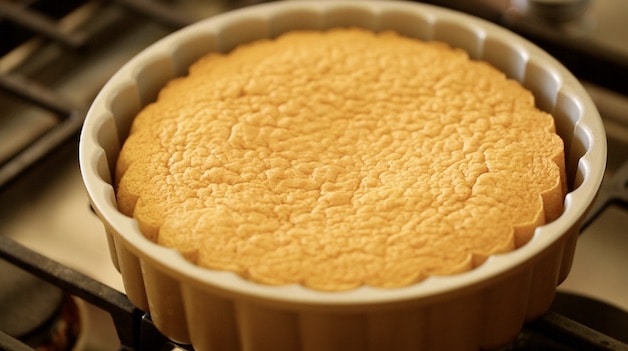 Releasing the Cake
I've found if you wait too long to remove the sponge cake from a molded pan like this, it gets harder to remove since it gets a bit sticky as it cools.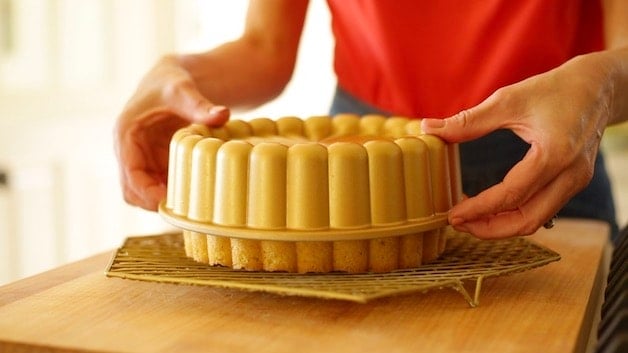 When you remove it you'll see how beautiful the design is! (this is where the baking spray really helps! Don't use butter. You will have much better success with the spray, trust me!)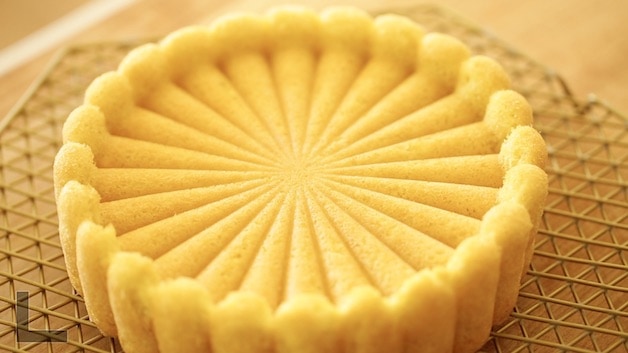 Making the Whipped Cream
When whipping the cream just whip it until you achieve soft peaks, not stiff peaks. This will make the cream pourable and create pretty dollops on your cake.
If you accidentally whip the cream for too long and end up with stiff peaks, you can fix that by adding in more heavy cream and whipping slowly until it loosens back up to soft peaks.
Wait until the cake is cooled, before adding the whipped cream on top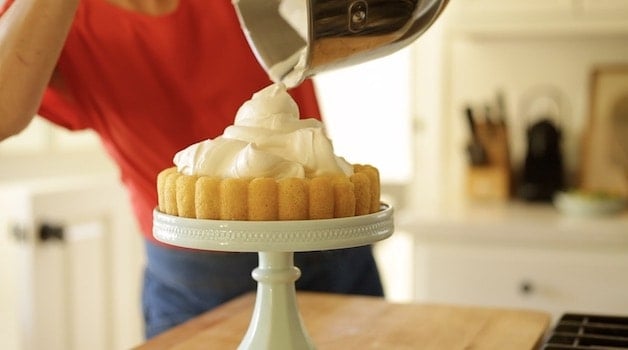 Adding the Strawberries
Then pile high with fresh strawberries that have been cut in half.
It doesn't need to be perfect. I think the more haphazard the better! It's part of the rustic charm of this cake.
If you have leftover strawberries put them to good use in my Homemade Strawberry Sauce or my Strawberry Cobbler Recipe.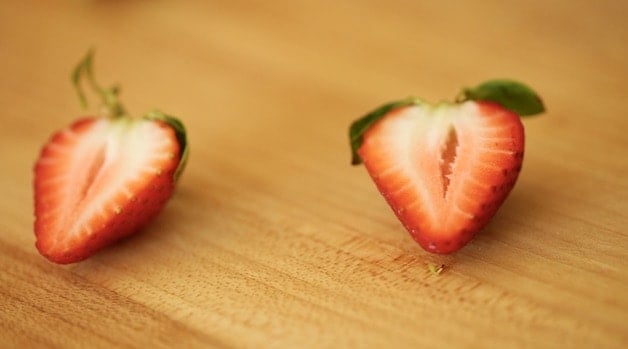 Garnishing the Top
To garnish, slice a strawberry in half, keeping the top on.
Place the strawberry halves, cut side up on the cake, going in opposite directions.
I like to keep the green tops on the strawberry garnish because I think it looks pretty to have a bit of green on top, but you could also use fresh mint too!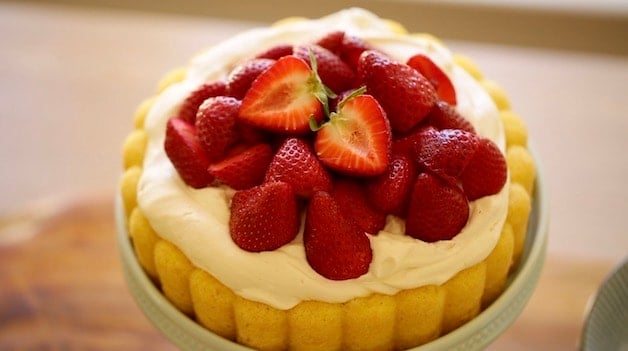 Serving Tips:
Slicing the cake is a bit messy so allow the cake to set up a bit in the refrigerator.
Overnight is best but 2 hours will work if you are short on time.
Then serve each slice with more berries on the side.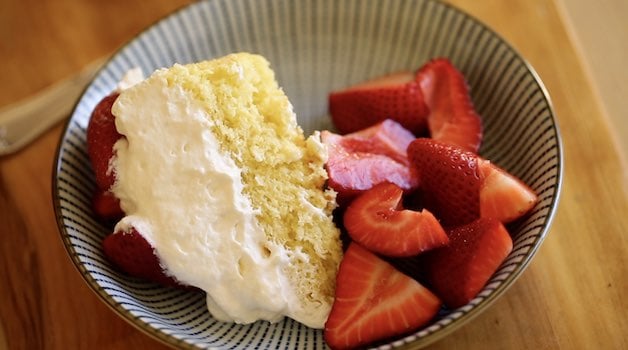 More Great Summer Dessert Recipes!
If you enjoyed this recipe
please leave a rating and review below!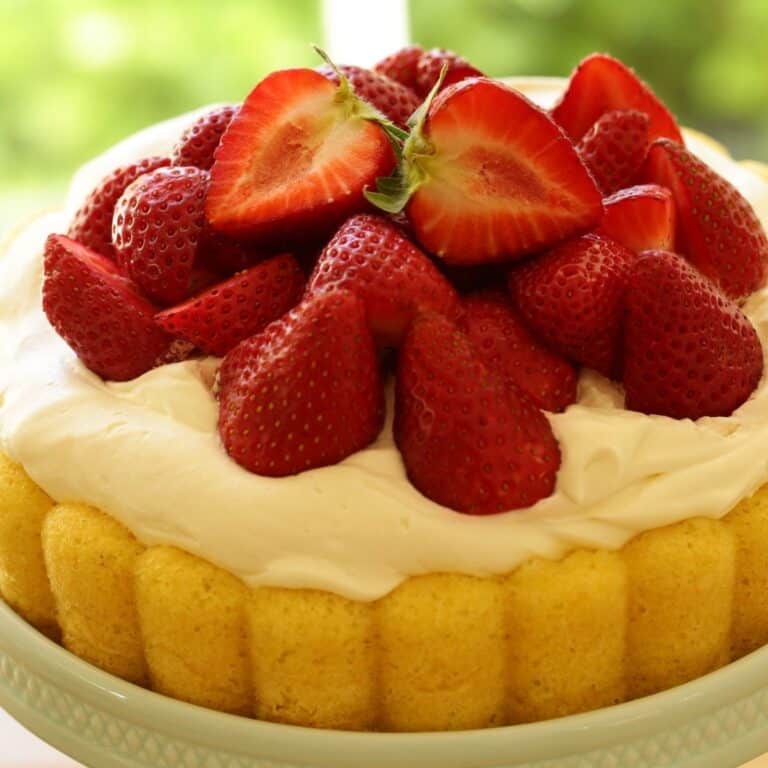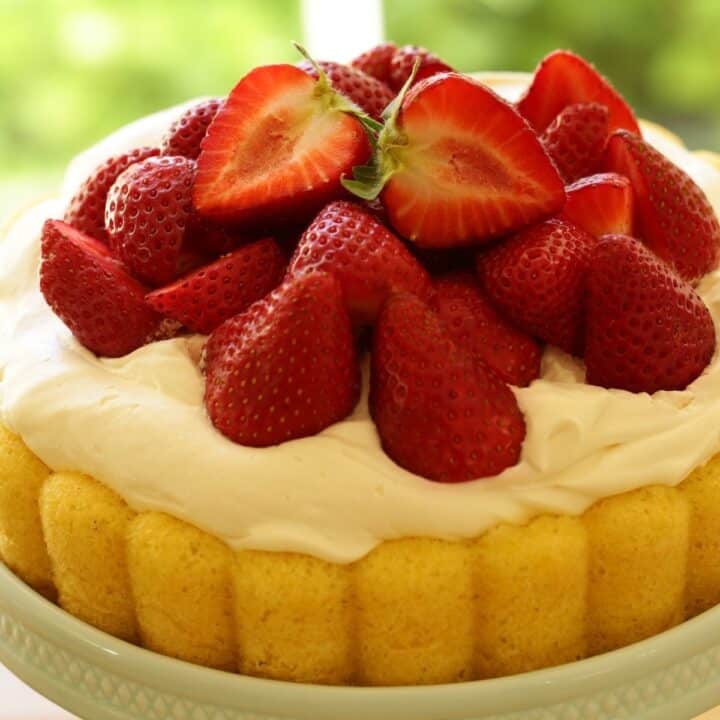 Strawberry Shortcake Charlotte Recipe
Total Time:
3 hours
20 minutes
A fantastic-looking dessert for Mother's Day that's actually so easy to make. I love this idea because it gives you the look of a charlotte, without any hassle, thanks to the Charlotte Cake Pan from Nordic Ware (This link goes to Amazon where I am compensated on products sold with no additional cost to the consumer)
Ingredients
For sponge cake:
4 eggs
½ cup (100g) of sugar
1 ½ teaspoon (7.5ml) of vanilla extract
⅔ cup (80g) flour
½ teaspoon (2.5ml) baking powder
⅛ teaspoon (large pinch) of salt
For Whipped Cream:
1 ½ cups (350ml) heavy whipping cream
2 tablespoon (13g) powdered sugar
1 teaspoon (5ml) vanilla extract
2 cups (300g) strawberries, plus more for serving on side if desired
Instructions
Preheat oven to 350F (175C). Spray the charlotte pan with baking spray and distribute well with a pastry brush and set aside.
In a small bowl combine the flour, baking powder and salt. Whisk to combine and then set aside.
In the bowl of an electric mixer combine the eggs and the sugar and beat on high for 3-5 minutes until it's increased in volume and is a pale-yellow color. Add vanilla extract, beat to combine.
Remove the bowl from the mixer and sift in half of the flour mixture, folding gently into the batter. Then add the second half, folding gently.
Pour the batter into the prepared charlotte pan and tap the filled pan gently on the counter to release any air bubbles. Bake for 20 minutes or until risen and golden brown on top.
Allow the cake to cool for 10 minutes, then release from the pan and transfer to a cooling rack to cool completely.
To make whipped cream, place the heavy cream, powdered sugar and vanilla extract in the bowl of an electric mixer. Whip on high until soft peaks form.
Transfer sponge cake to a cake stand. Pour whipped cream in the center of the cooled cake. Creating soft indentations in the cream with a spatula. Place strawberries on top of cream, and garnish with a strawberry with top intact, but sliced down the milled. Place the garnish strawberry cut sides up, going in opposite directions.
Place in refrigerator overnight to set completely before serving.
Notes
If you don't have this pan you can also make this sponge cake in a regular 9" cake pan or springform pan.
Nutrition Information:
Yield:

6
Serving Size:

1
Amount Per Serving:
Calories:

83
Total Fat:

6g
Saturated Fat:

3g
Trans Fat:

0g
Unsaturated Fat:

3g
Cholesterol:

132mg
Sodium:

61mg
Carbohydrates:

2g
Fiber:

0g
Sugar:

2g
Protein:

4g