Cherry Bakewell Tart Recipe
These mini Cherry Bakewell Tarts are a fantastic alternative to the traditional American Cherry Pie recipe, but just as delicious! They are light and delicate and filled with the most delicious cherry jam. The crust will also melt in your mouth!
You can make one big 10" tart with this recipe, or create mini 4" tarts as well!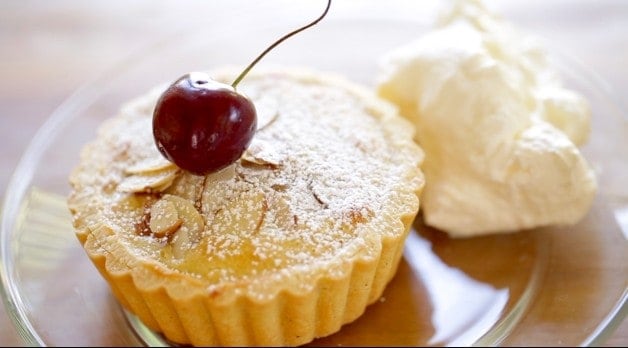 Why is it called a Bakewell Tart?
Bakewell Tarts are a traditional British dessert associated with the town of Bakewell in Derbyshire. They are light and flakey and can be made with all kinds of fruit fillings. I really love the cherry because it works well against the flavor of the almond.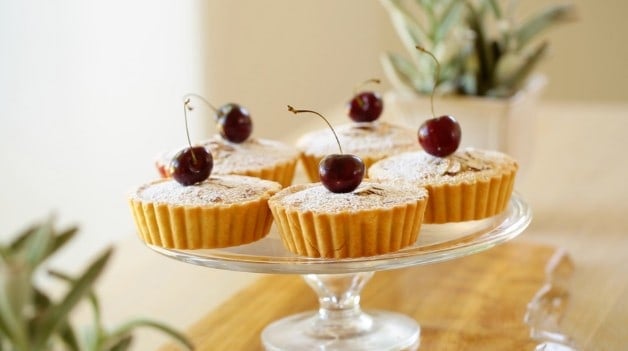 Watch My Video Demo Below!
Step 1: Make the Tart Dough
This dough is an easy and light dough. Add flour, powdered sugar, salt to a food processor, and pulse.
Then add chopped, cold butter. Add egg yolk with ice water in a small bowl and whisk to combine.
Add that to the food processor, pulsing while you pour the egg yolk mixture.
Continue pulsing until a large dough ball forms. Remove the ball from the food processor and you will see just how soft the dough is.
Flatten the dough ball out and wrap it in parchment paper or plastic wrap and fridge for at least 30 minutes.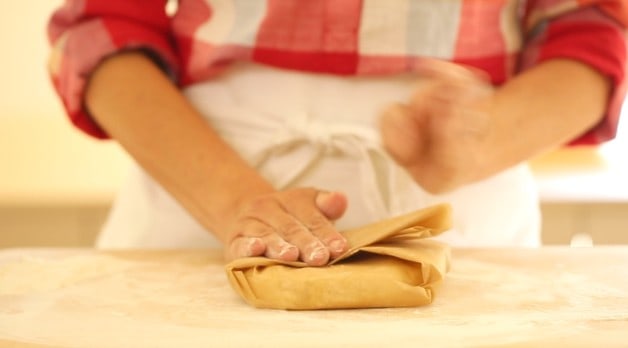 Step 2: Make the Filling
The almond filling comes together so easily and will go on top of the cherry jam inside the tartlets. The flavor combination of almond and cherry is simply delicious!
In an electric mixer, add softened butter, powdered sugar, eggs (room temp), almond extract, and ground almonds or almond meal.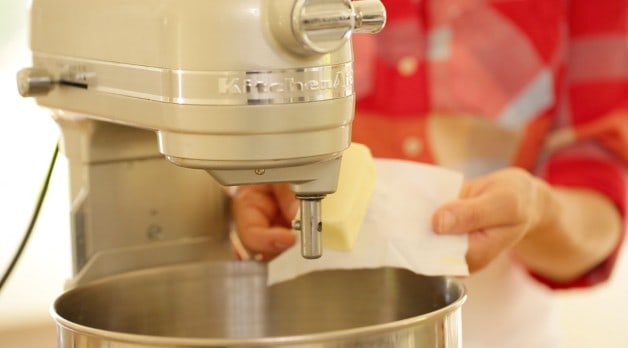 A Word About Almond Meal
Almond meal is sometimes labeled almond flour, it's the same thing.
You can grind up your own almonds, but I like to buy finely, pre-ground almond meal from the grocery store. The almond meal gives the cake a delicate texture to the cake part of the tartlets. Add flour, salt and mix well. Now your filling is ready to go!
Step 3: Assemble the Tartlets
This recipe makes enough for one 10-inch tart pan, but I like the mini-tarts because there's something so cute about them. You can go either way!
For the tartlets, I use these mini removable bottom tartlet pans.
The removable bottom makes it really easy to slide the finished product onto a cake stand or dessert plate.

This tart pan can also be used for my

Mini Quiche Recipe

and my

Pistachio Orange Cakes

.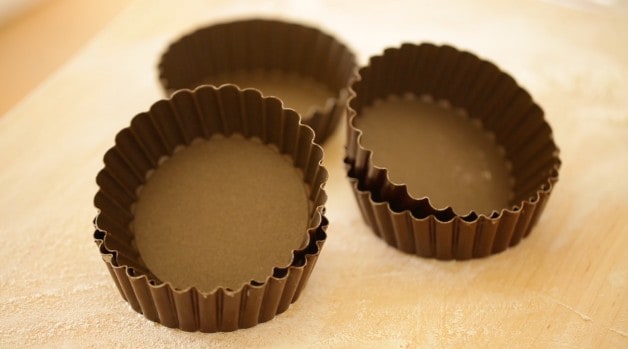 Fitting the Dough
To fit your dough into the tartlet pans, roll out the dough out onto a floured surface.
The dough should be about ¼ inch thick. Place the tart tin upside down and cut a rough circle around the tin.
It doesn't have to be perfect, but you need enough dough to press into the tartlet tin.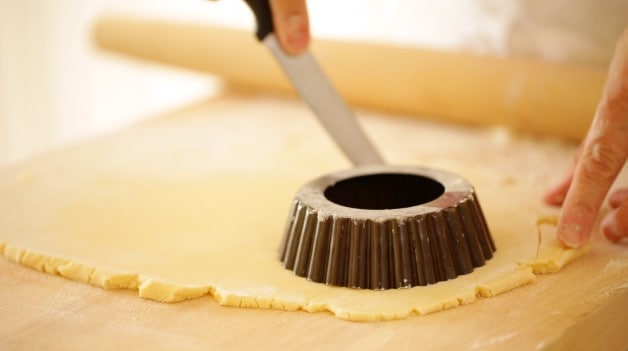 Place your tartlet tin right side up and press the dough into the tin. Be careful not to press the dough too thin on the bottom or the cherry jam will leak out during the baking process.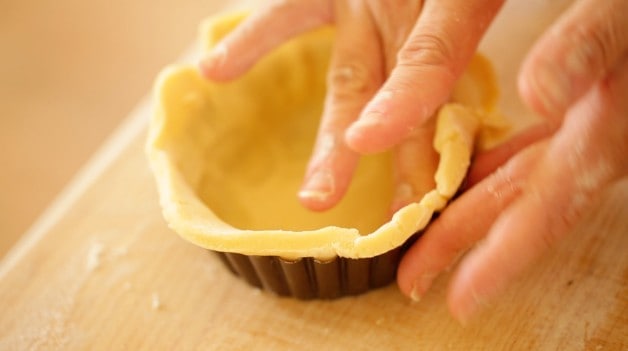 Then, trim off the excess dough with a sharp knife and discard.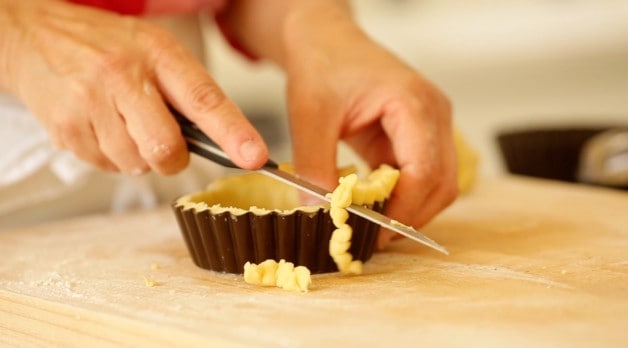 Place the tins into the freezer for about 10 minutes. You don't want warm dough going into a hot oven as it will become melted and misshapen and ruin our pretty tartlets!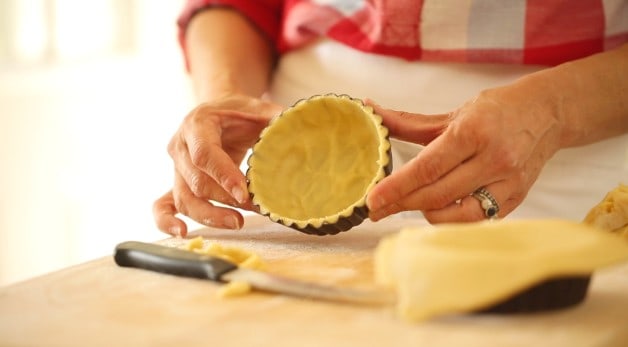 Adding the Cherry Jam
After the dough has chilled, remove the tartlets from the freezer and add a heaping spoonful of cherry jam to the bottom of each tartlet.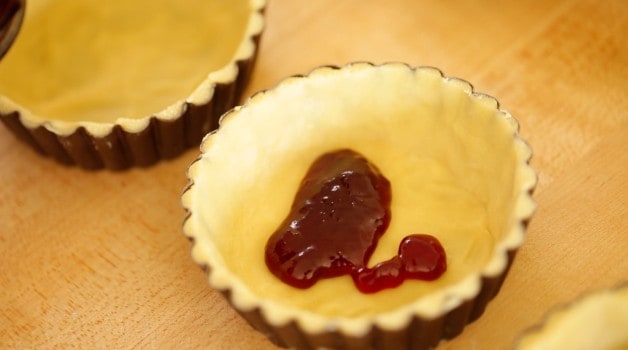 What kinds of jam are used in tarts?
You can use any kind of fruit jam, marmalade or preserves, but here are some of the best jams for tarts:
apple jam
lemon curd
apple preserves
blackberry jam
blueberry jam
orange marmalade
Adding the Almond Filling:
Then, add the creamy almond filling we made in the stand mixer on top of the cherry jam.
Fill all the way to the top of the tartlet and smooth.
The filling will rise slightly during baking, and create a beautiful dome.
Sprinkle some sliced almonds over the top and place in a 350F (170C) degree oven for about 25 minutes or until the crust is set and golden brown.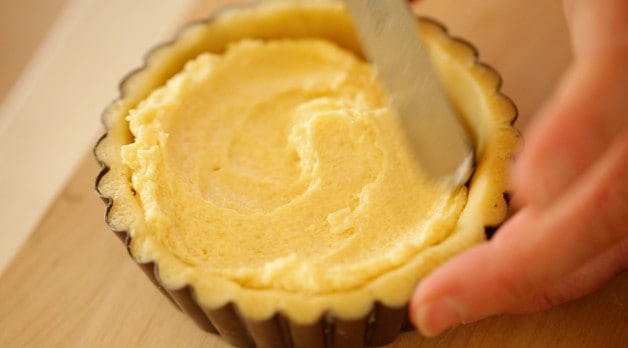 Garnish and Serve
When they are finished baking, allow them to cool completely. Then remove them from the tins and finish them off with a dusting of powdered sugar and a fresh cherry. It just gives the presentation a little something extra!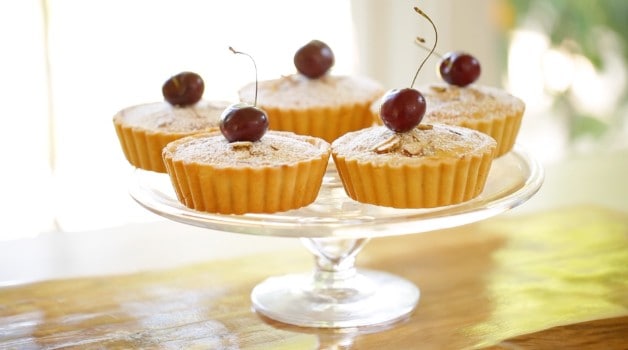 What to Serve with the Tarts?
I like to serve this with homemade whipped cream. You can also add a tablespoon of cherry liqueur, called Kirsch, to your homemade whipped cream for an adult dessert!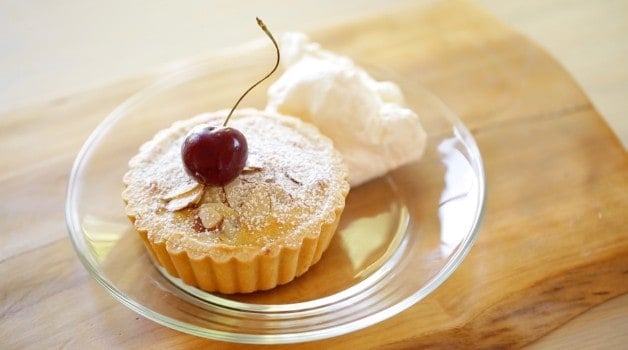 How long will the tarts keep?
If you tightly wrap your tart in foil and leave it out on the countertop your Bakewell Tarts will last 2-3 days.
Please let me know if you enjoyed this recipe
by leaving a rating and a review below!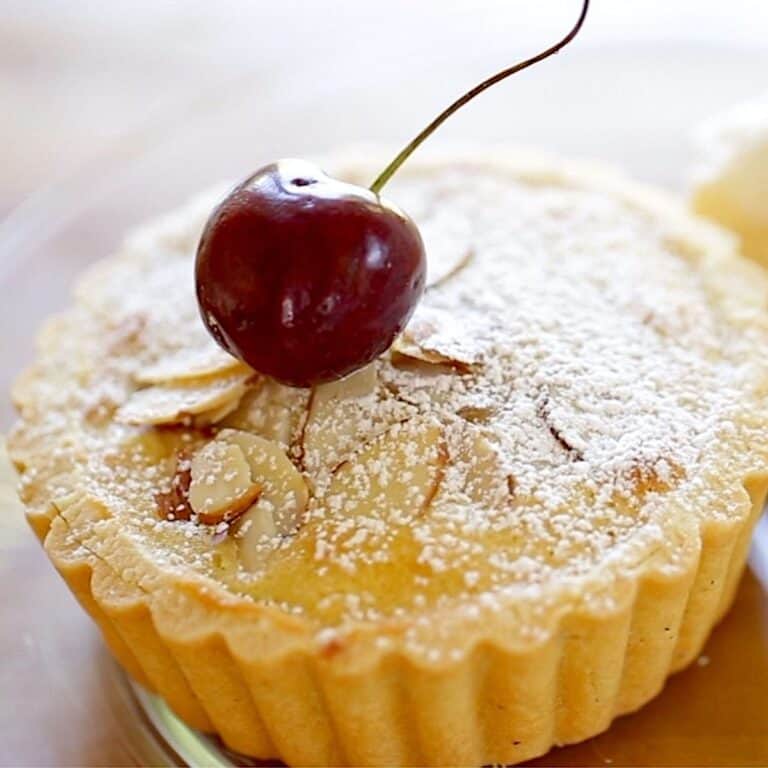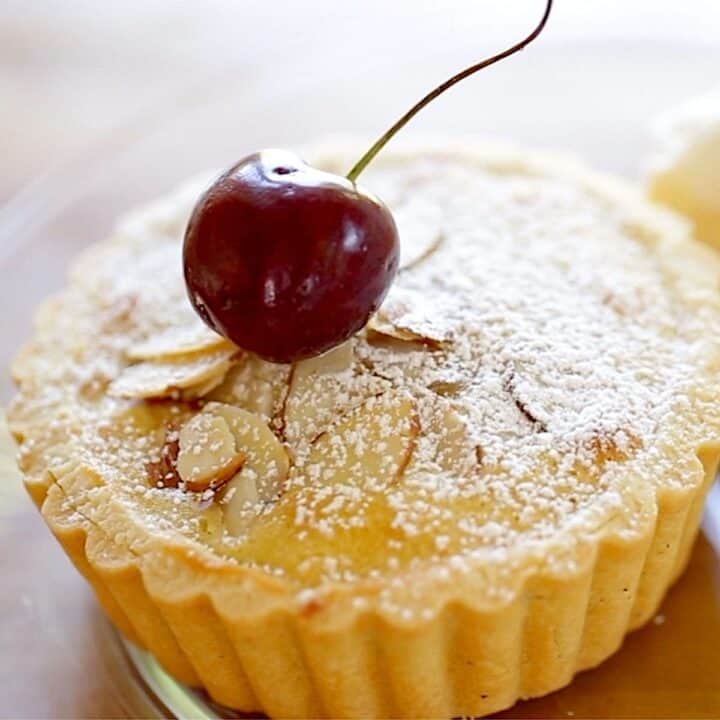 Cherry Bakewell Tart Recipe
Additional Time:
30 minutes
Total Time:
2 hours
5 minutes
These mini Cherry Bakewell Tarts are a fantastic alternative to the regular American Cherry Pie. They are light and delicate and filled with the most delicious cherry jam. The crust will also melt in your mouth!
Ingredients
FOR CRUST:
1 ¼ cups (150g) flour
2 tablespoon (13 g) powdered sugar
¼ teaspoon (1.25ml) salt
½ cup (120 g) butter, chilled and diced into cubes
1 egg yolk
1-2 tablespoon (30 ml) ice water
FILLING:
½ cup (120 g) butter
½ cup (50 g) powdered sugar
3 eggs
2 teaspoon (10 ml) almond extract
1 cup (240 ml) almond meal
3 tablespoon (22 g) flour
¼ teaspoon (1.25 ml) salt
5 tablespoon (75 g) cherry jam
¼ cup (30 g) raw sliced almonds
FOR WHIPPED CREAM:
2 cups (475ml) heavy whipping cream
2 tablespoon (13 g) powdered sugar
1 teaspoon (5 ml) vanilla extract
*Optional 1-2 Tablesppons of Kirsch
Instructions
In the bowl of a food process combine flour., sugar salt, pulse to combine. Then slowly add butter pulsing until a coarse meal forms.
In a small bowl whisk together the egg yolk and water and then slowly add this egg mixture to the food processor pulsing until a dough ball forms.
Turn dough out onto a floured surface, flatten into a disk and wrap in parchment paper. Chill in refrigerator for 30 mins.
Meanwhile, make the filling. In the bowl of an electric mixer beat together the butter and sugar until combined. Add the eggs, almond extract, almond meal, flour and salt and set aside.
Fit dough into tart pan, and trim the edgres with a knife to form a clean edge. Freeze for 10 mins to allow dough to harden up.
Then place 1 tablespoon of jam in the bottom of each tart tin, spread to cover the bottom. Then add a dollop of the filling, all the way to the top, and smooth out a spatula. Top with sliced raw almonds.
Bake at 350F for 25 mins or until the tart is golden brown and set. Allow to cool.
For whipped Cream:
Combine all ingredients in the bowl of an electric mixer. Whip until soft peaks form.
Dust with powdered sugar and top with a fresh cherry before serving.

Notes
This recipe can also be turned into a 10" tart as well
Nutrition Information:
Yield:

5
Serving Size:

1
Amount Per Serving:
Calories:

191
Total Fat:

10g
Saturated Fat:

4g
Trans Fat:

0g
Unsaturated Fat:

6g
Cholesterol:

162mg
Sodium:

58mg
Carbohydrates:

19g
Fiber:

1g
Sugar:

14g
Protein:

6g