These make-ahead frozen oatmeal cups are a great way to manage the chaos of back to school. Prepare these on Sunday for quick and easy breakfast every day of the week! It's so easy to customize each one to the tastes of your family, and it's a real time-saver in the mornings!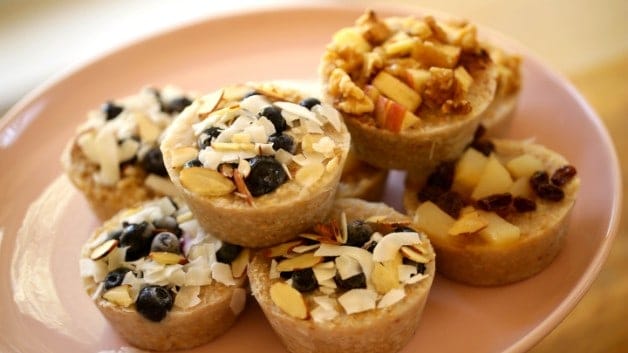 Looking for another great Back-to-School breakfast idea? Try my Oat Flour Pancakes with Blueberries and Bananas! Make a big batch on Sunday to freeze and last throughout the week!
Watch How to Make Frozen Oatmeal Cups Below!
SUBSCRIBE TO MY

YOUTUBE CHANNEL

FOR MORE RECIPE VIDEOS! (IT'S FREE!)
If you are looking for a more leisurely breakfast or brunch over the weekend, try my Flakey Blueberry Scones with Lemon Glaze or my Pumpkin Spice Waffles
Step 1: Make the Oatmeal
For make-ahead oatmeal cups, I find steel-cut oats are the best way to go. I find they re-heat better the next day than the old fashioned oats.
To prepare the oats, add 8 cups of water to a large dutch oven.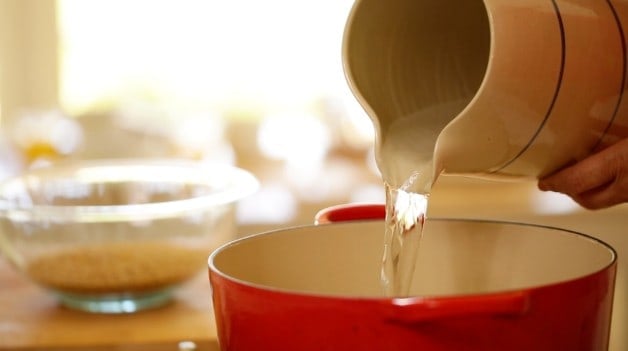 Then as soon as the water begins to boil, add the oats. Simmer for 20-30 minutes until the oats begin to thicken and water starts to evaporate.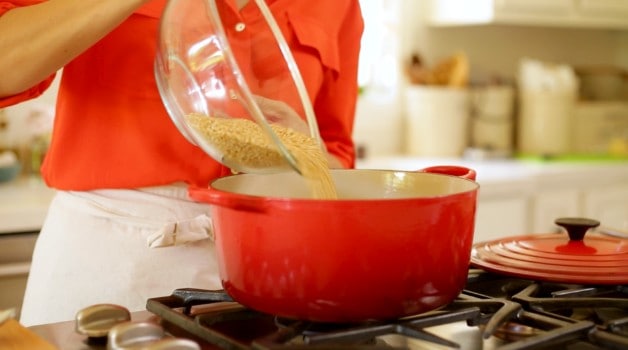 I like to leave a little bit of water in the pot for added moisture since we are freezing them to reheat later. Otherwise, without the water, you'll find the oats will be a bit too dry when reheated.
When the oatmeal is done, lightly grease a jumbo-sized muffin tin with butter. This will help the oatmeal cups pop out easily once they are frozen.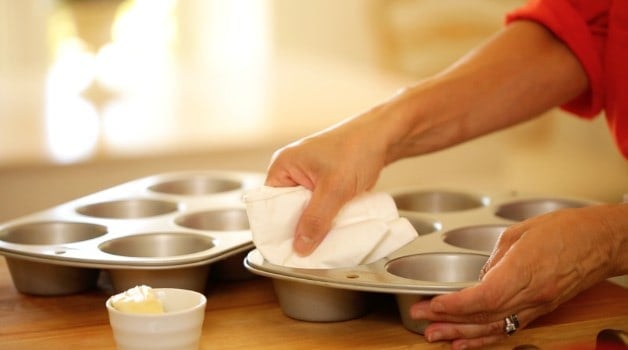 I think the jumbo-sized muffin tin is a bit better for larger breakfast portions but for smaller toddler portions you could certainly use a standard-sized muffin tin.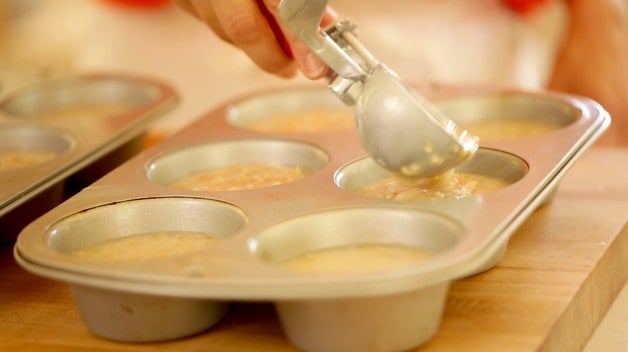 Tip: For even portions, use an ice cream scoop. I add two scoops per muffin well.
Does Oatmeal Freeze well?
Yes, oatmeal freezes beautifully! Be sure to allow the oatmeal to cool before placing it in the freezer. This cuts down on freezer burn and watery oatmeal when defrosted.
Step 2: Add Toppings
Now, add your preferred oatmeal toppings. You can use a mix of different variations and tailor each oatmeal cup to your family's tastes so everyone is happy!



Topping ideas for Oatmeal Cups:
apples
walnuts
cinnamon
brown sugar
pumpkin pie spice
pear
raisins
blueberries
shredded coconut
sliced almonds
Step 3: Freeze and Store the Oatmeal Cups
To freeze, cover the muffin tin with foil and place in the freezer until solid.
Once the oatmeal is frozen, it's best to remove them from the muffin tin and store them in a freezer-safe container for easy reheating.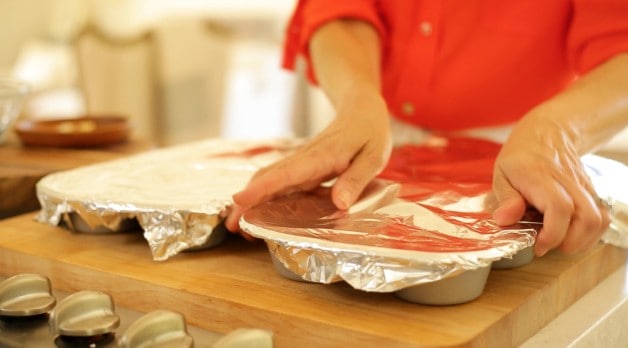 To remove each "frozen oatmeal cup" from the tin, place the tin in a 9x13 casserole dish filled with warm water just for a few minutes.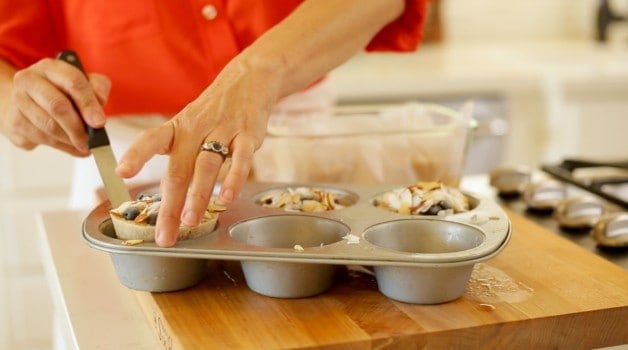 This loosens the oatmeal cups from the tin for easy removing. You may need to use a thin knife to pop them out.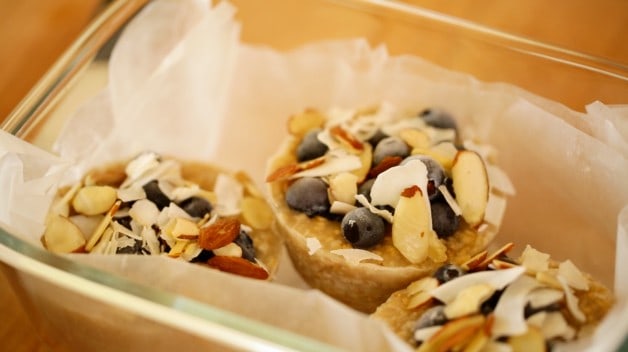 Then, transfer them into a freezer-safe container, lined with wax paper. You can even label the container so the kids can grab their own oatmeal creation!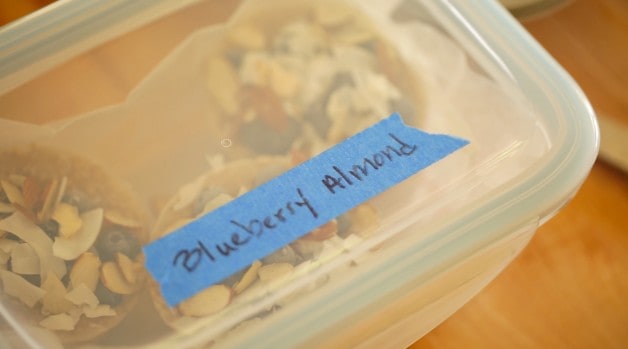 Store your oatmeal cups in the freezer until you are ready to serve.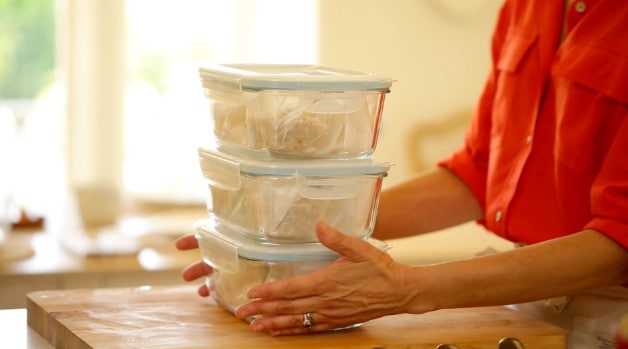 How Long Does Oatmeal Last in the Freezer?
For the best quality, freeze the oatmeal and eat within six months. It will still be safe to eat past that time-frame, but may not be as flavorful.
Step 4: Reheat Oatmeal and Serve
Reheating is a piece of cake, and if you have older kids, they can probably do this by all themselves.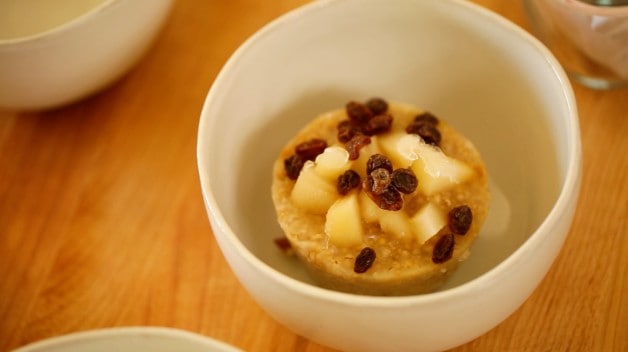 Place one oatmeal cup into a bowl. Add a few tablespoons of water to loosen the oatmeal. You can use less water if you prefer thicker oatmeal. Pop it in the microwave until hot and fluff with a fork.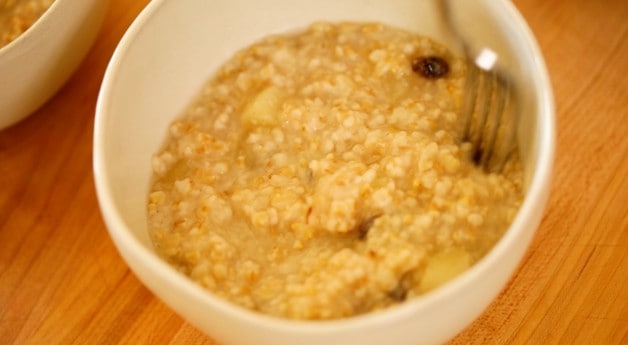 To serve, simply bring the bowls to the table and set out a few extra toppings to finish off the oatmeal.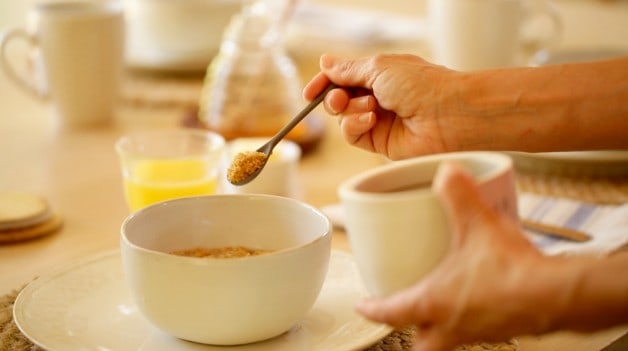 I like to serve butter, brown sugar, warm milk, and honey so everyone can add what they like best. I hope you enjoy this recipe and it brings some sanity to your back to school mornings!
MORE GREAT BREAKFAST RECIPES!
PLEASE LET ME KNOW IF YOU MAKE THIS RECIPE
BY LEAVING A RATING AND REVIEW BELOW!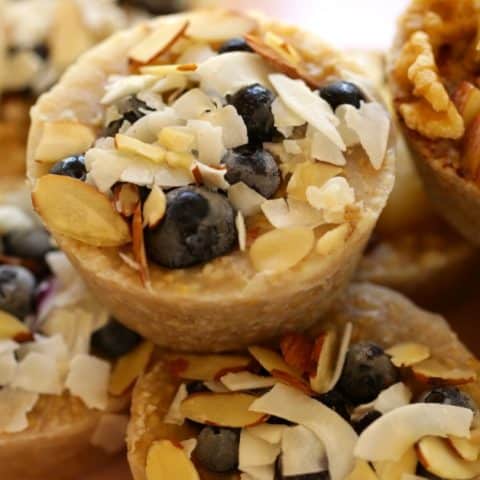 Make-Ahead Frozen Oatmeal Cups
Total Time:
3 hours
40 minutes
Make back-to-school mornings even easier with my make-ahead frozen oatmeal cups! Great for a quick and easy breakfast idea that gives everyone a hot breakfast and gets them out the door fast!
Ingredients
8 cups water
2 cups steel cut oats
butter for greasing
TOPPINGS:
Blueberries, Almonds, Coconut flakes
Cinnamon, Honey, Apple, Walnut
Brown sugar, Pumpkin Pie Spice, diced jarred pears, raisins
Instructions
In a large Dutch oven, boil water, then add oats, stir and allow to simmer until thickened and almost all the water has evaporated. Allow oats to remain runny since they will soak up the water as they freeze.
Grease two 6-well jumbo muffin tins. Scoop out oats with an ice cream scoop, adding 2 scoops per well.
Place topping of choice on top. Cover with foil and freeze.
Once frozen, place muffin tin in a 13 x 9 casserole tin with 2 inches of warm water. After 5-8 minutes loosen with a sharp knife and pop out the cups. Store in freezer containers, lined with wax paper.
To rewarm, place oatmeal cup in a bowl. Add 2 tsp of water on top, microwave for 2:00-3:00
until oats loosen and are hot. Fluff with a fork and serve!
Top with a pat of butter, drizzle of honey or brown sugar.
Recommended Products
As an Amazon Associate and member of other affiliate programs, I earn from qualifying purchases.
Nutrition Information:
Yield:

12
Serving Size:

1
Amount Per Serving:
Calories:

178
Total Fat:

5g
Saturated Fat:

3g
Trans Fat:

0g
Unsaturated Fat:

2g
Cholesterol:

3mg
Sodium:

37mg
Carbohydrates:

31g
Fiber:

5g
Sugar:

10g
Protein:

4g