Oat Flour Pancakes with Bananas
If you haven't noticed, Oat Flour Pancakes are all the rage! Especially, if you don't have flour in the house or are looking for healthy pancakes, old fashion oatmeal, blends up into oat flour in a jiffy!
Oat flour is simply just ground Old Fashioned oats. You can either buy Oat Flour already ground, or you simply can make your own by grinding up the oats in your food processor. It's a popular flour these days because it's a great gluten-free option for pancakes.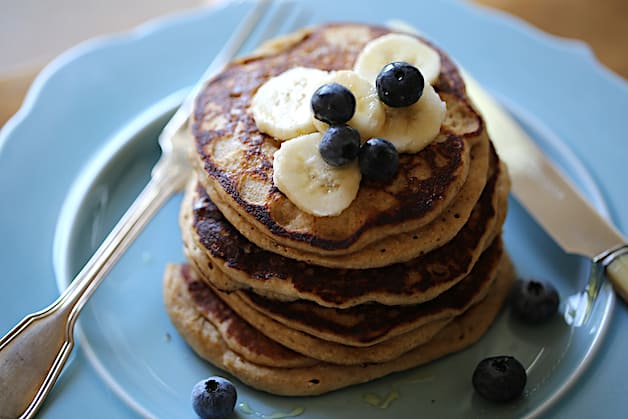 Why You'll Love This!
No need to process the oats into flour first, just pop them in the blender with the rest of the ingredients and blend!
The blender does all the work. No need to drag out several bowls.
These make for a great make-ahead breakfast because they can be made on the weekend and frozen.
Then just microwave them and top them with fruit and a drizzle of honey
The addition of the cinnamon, and sweetness of the date also makes them so flavorful too!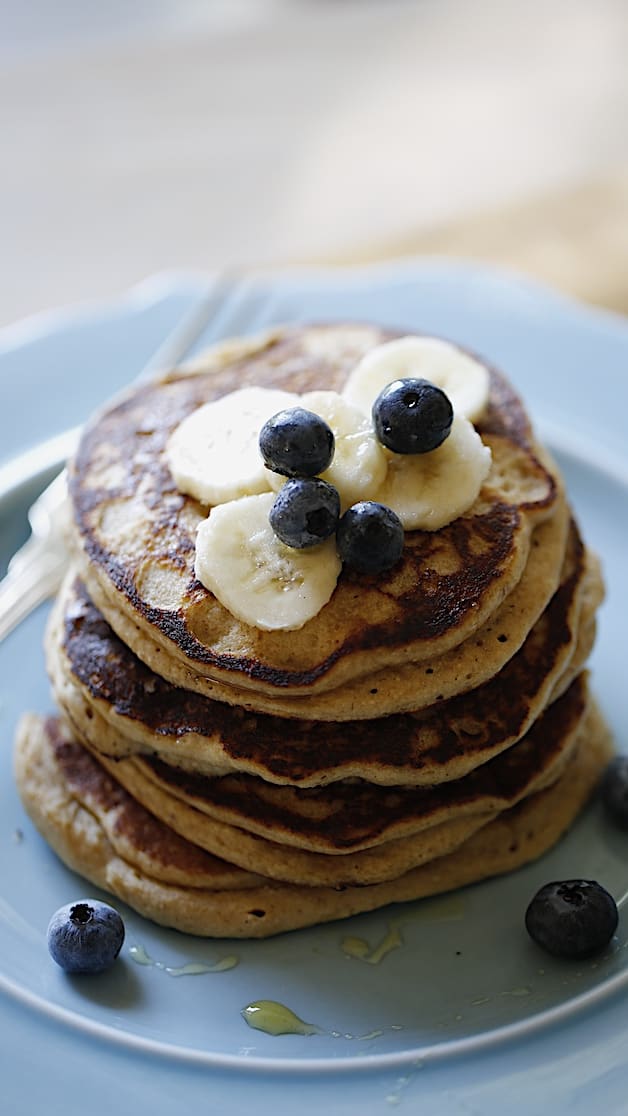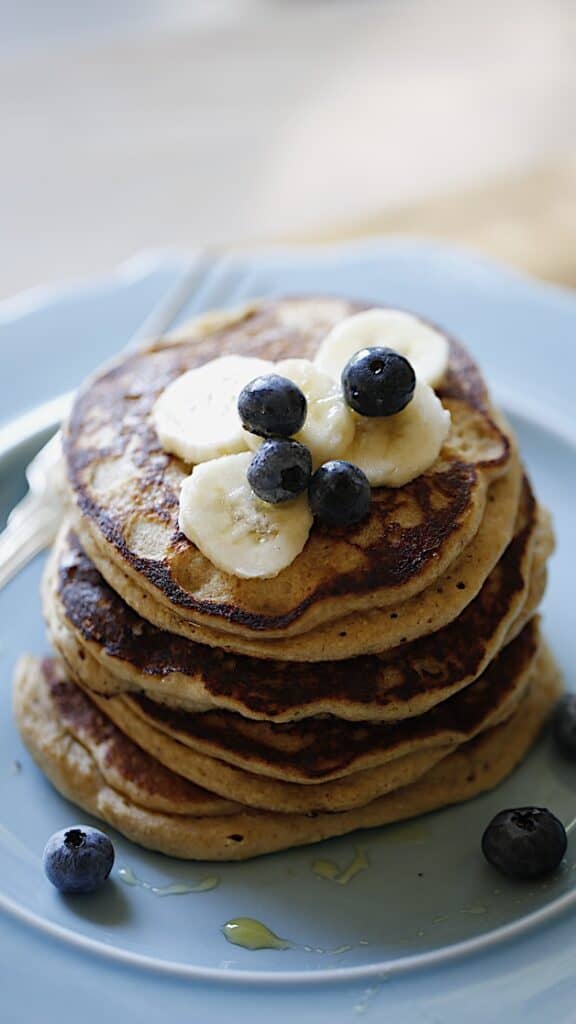 These pancakes are also much more filling than traditional pancakes, due to the fiber in the oats. They'll keep kids and grown-ups alike, going longer before a snack or lunch.
Have leftover oatmeal? Try my Make-Ahead Oatmeal Cups! Another great make-ahead breakfast idea! Or for a special treat try my Chewy Oatmeal Cookie Recipe with Chocolate Chips. A fan favorite!
Watch My Video Demo of This Recipe Below!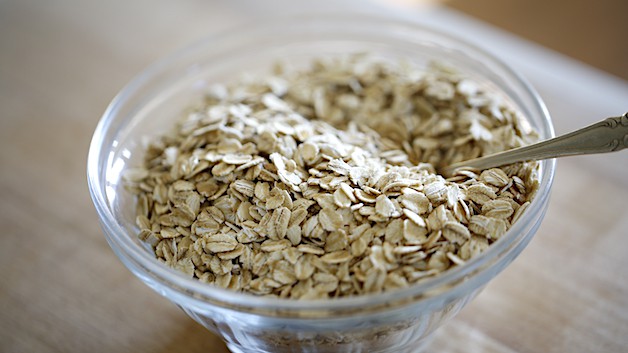 Old Fashioned Oats vs. Quick Cooking Oats?
For this recipe, it's best to use Old Fashioned or "rolled oats" as opposed to quick-cooking oats. The quick-cooking oats are already "partially cooked" when processed, which is what makes them cook faster than traditional oats. Personally, I don't like their texture as they become mushy pretty quickly and will add a gluiness to your pancakes. For a fluffy oat flour pancake stick to the Old Fashioned Oats.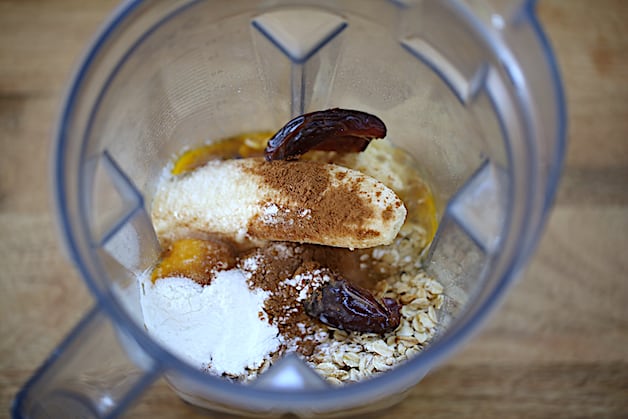 Blending the Ingredients
It will take at least a minute or so to blend the ingredients well enough so that the oats "turn" into flour and incorporate them into the batter.
It will be a thick pancake batter since the oats quickly absorb all the liquid. For a thinner pancake batter, just add more milk.
You can use traditional milk or almond milk too. I haven't found either to affect the texture or flavor that dramatically. So they are really interchangeable.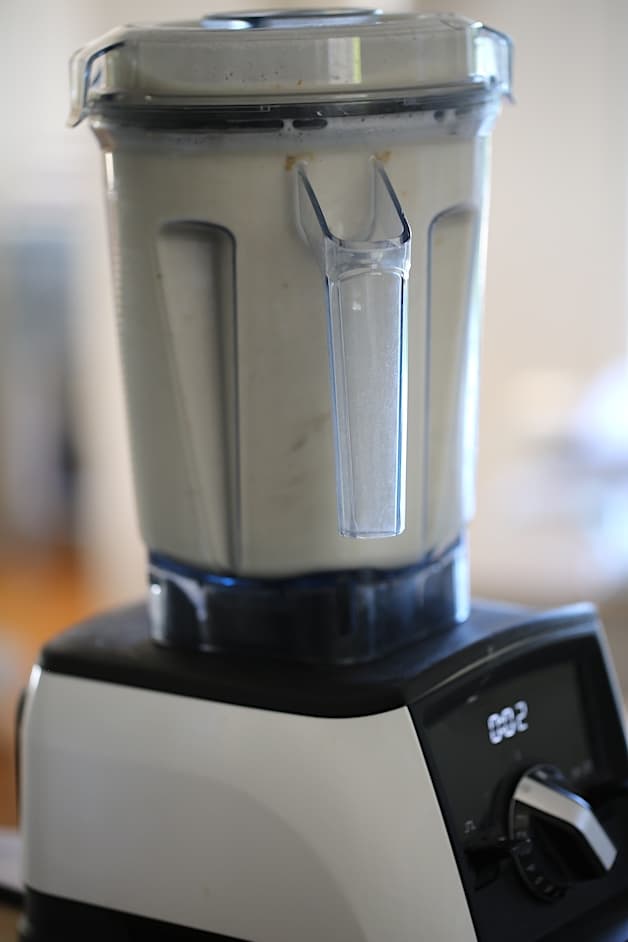 A Quick and Easy Way to Clean The Blender
You'll notice this batter is really thick! It can be hard to clean your blender afterward, especially if you have left the batter sitting too long in the blender.
To make it easier, add hot water to the blender filling it about ¾ of the way up, then add a few drops of dish soap and blend on high!
It will easily loosen the gooey batter that was stuck to the blender and blade!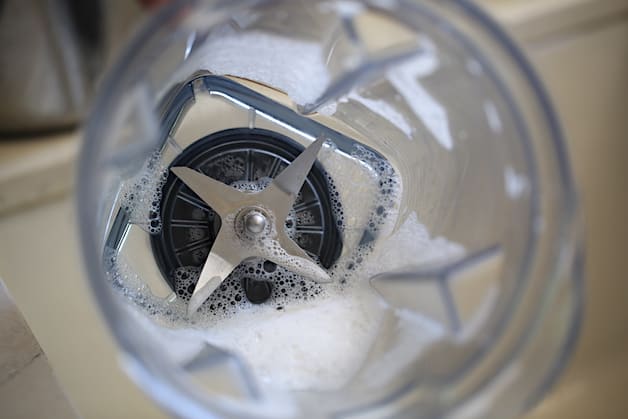 Using Natural Sugars
What I love about these healthy pancakes is the fact that they use natural sugars, all you need is a ripe banana and a full date. The riper your banana is, the sweeter your pancakes will be.
Just make sure your date is pitted before using it! Some dates come pitted and some do not.
That pit is really hard and is not something you want to put in your blender!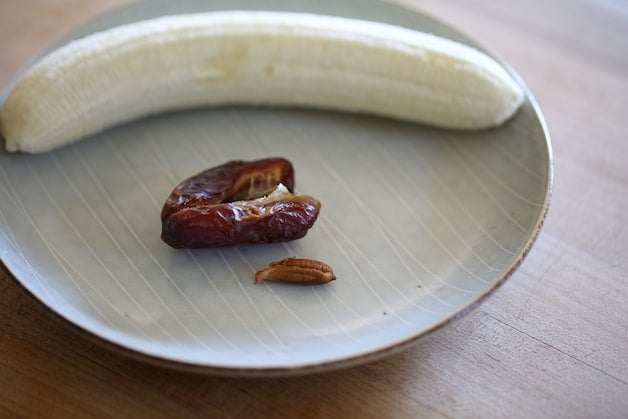 How to Ripen a Banana Quickly
This is the best trick in the book if you need a ripe banana. I do it all the time for my Ultimate Banana Bread Recipe and my Chocolate Banana Bread Recipe.
Place the banana on a baking tray, lined with foil. Since this gets a bit messy.
Bake it in the oven at 350F for 20 minutes flipping halfway through, and presto!
You'll have a sticky sweet banana ready to use in your pancakes.
The Secret Ingredient
These pancakes get their additional flavor from the ground cinnamon. It's really the thing that sends them over the top, and gets my kids excited about them! It adds so much flavor, without adding sweetness. It's also a nice match against the earthy flavor of the oat flour. You could also use pumpkin pie spice as well for even more flavor.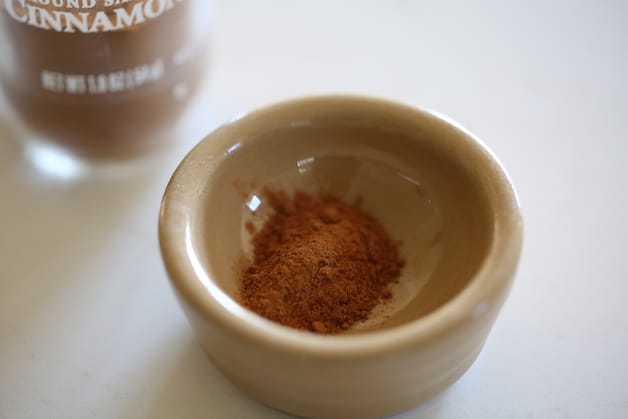 Greasing The Griddle
I have found the best oil for greasing for pancakes, is coconut oil. It has a higher smoke point than butter and won't burn as easily. You'll also get better color on your pancakes with coconut oil too!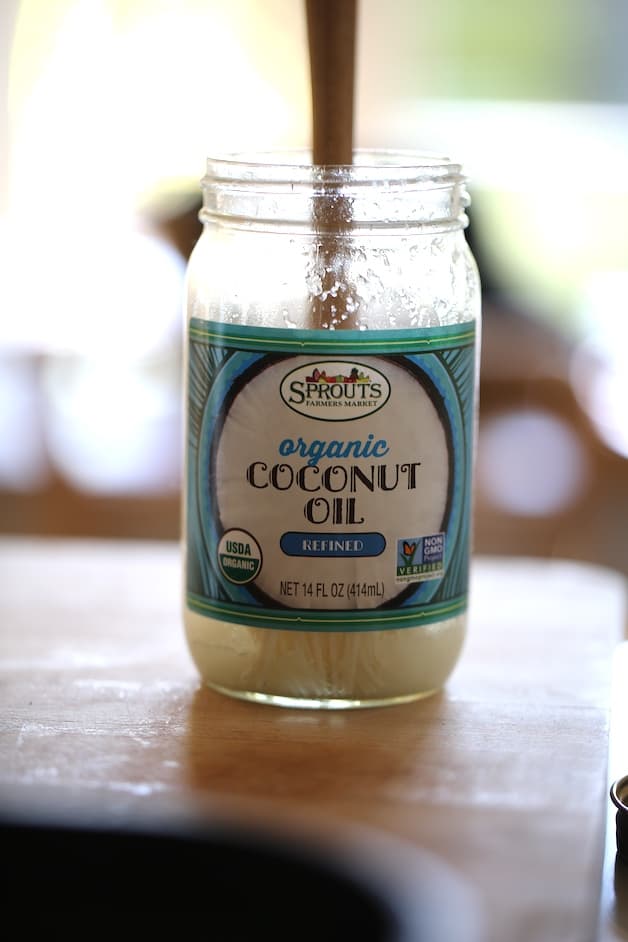 Garnish and Serve
Top with a drizzle of honey, almond butter, or honey butter
Top with fresh blueberries, and sliced bananas!
Or you can make a delicious apple raisin topping as seen in my Apple Cider Pancake recipe. That would be a lovely topping too!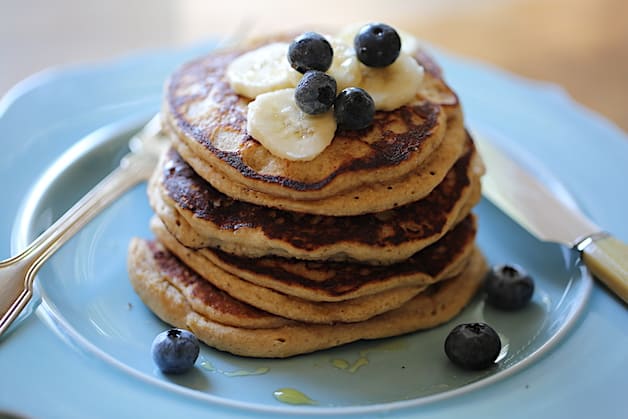 More Pancake Recipes!
If You Enjoyed This Recipe
Please Leave a Rating and Review Below!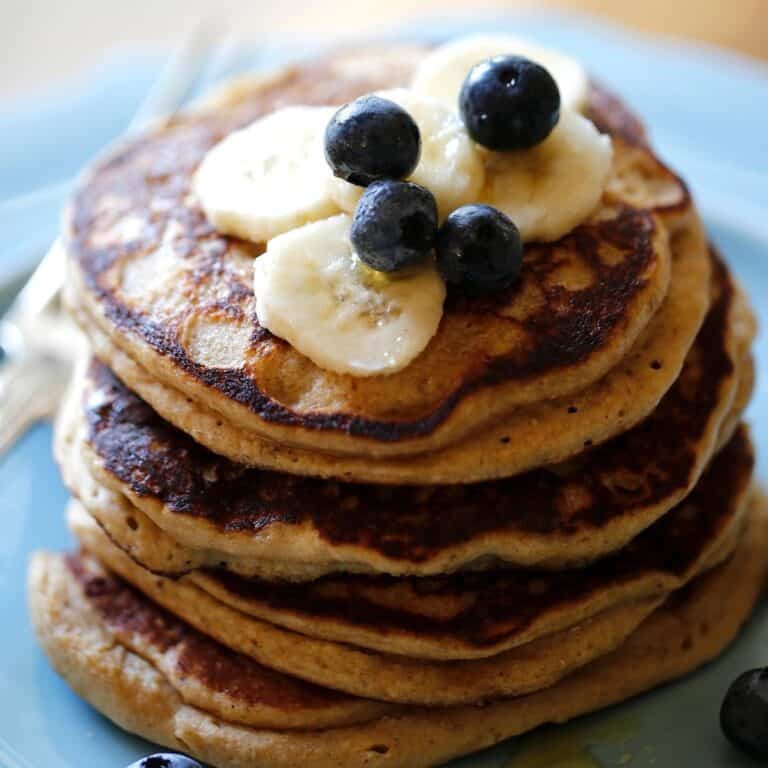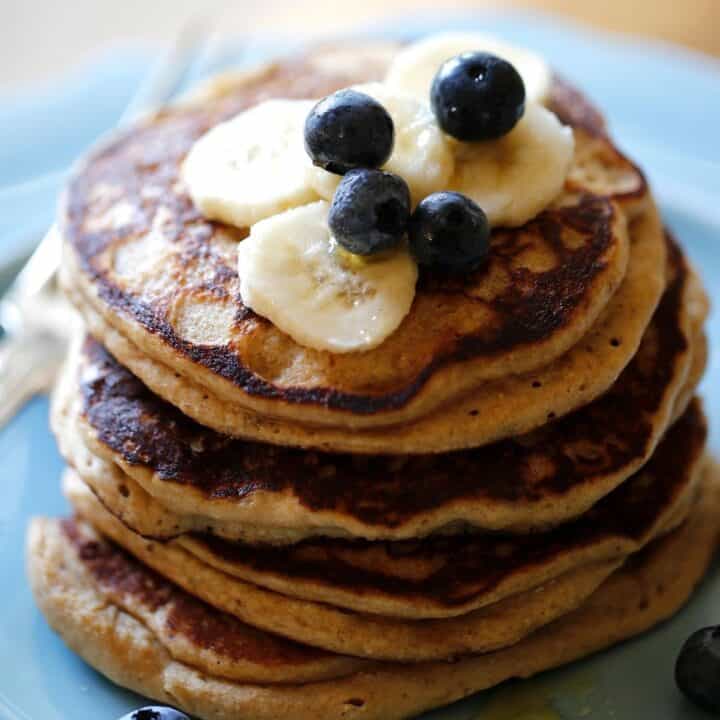 Oat Flour Pancake Recipe with Bananas
If you haven't noticed, Oat Flour Pancakes are all the rage! Especially, if you don't have flour in the house or are looking for healthy pancakes, good old fashion oatmeal, blends up into oat flour in your blender, in a jiffy!
Ingredients
2 ¼ cups (250g) Old Fashioned Oatmeal
1 cup (240ml) of milk (or almond milk)
1 date, pitted
1 ripe banana
1 ½ teaspoon (5.5ml) vanilla
2 eggs
2 teaspoon (10) baking powder
1 teaspoon (5ml) cinnamon
⅛ teaspoon (large pinch) salt
Coconut oil for greasing pan
Instructions
Place everything in a blender, blend on high.

Grease with coconut oil. Cook pancakes over medium-high heat. Flip when bubbles appear. Cook 1-2 minutes on the other side. Top with honey, Sliced Bananas and Blueberries
Notes
Allow pancakes to cool then wrap them 2-3 up at a time in paper towel. Place in a freezer-safe container and freeze. To reheat, place pancakes in paper towel on a plate and microwave for :45-1:00.
Nutrition Information:
Yield:

9
Serving Size:

1
Amount Per Serving:
Calories:

99
Total Fat:

4g
Saturated Fat:

2g
Trans Fat:

0g
Unsaturated Fat:

2g
Cholesterol:

44mg
Sodium:

32mg
Carbohydrates:

12g
Fiber:

1g
Sugar:

2g
Protein:

4g