Strawberry Muffins with Lemon Zest
These Strawberry Muffins with Lemon Zest are so light and moist, and flavored with just a hint of lemon that compliments the strawberries so beautifully! They are a fantastic muffin recipe when you start to crave the flavors of summer.
Simple enough even for beginners, this is a muffin recipe that requires no electric mixers and can be whipped up in a jiffy with just 2 bowls and a whisk!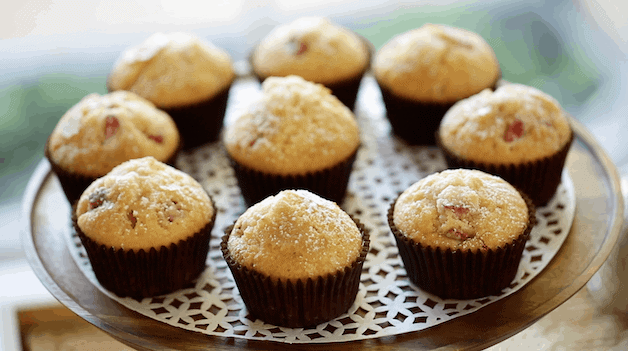 These muffins employ my "Essential Muffin Recipe" techniques for the lightest and fluffiest muffins which can also be found in my Classic Blueberry Muffins, Snickerdoodle Muffins and Banana Muffins.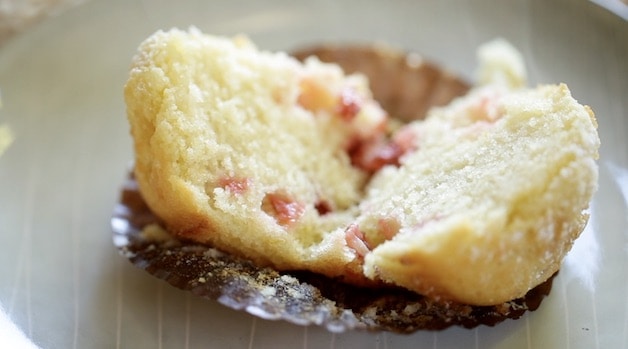 How To Make a Light and Fluffy Muffin?
Use a combination of fats. Melted Butter + Oil. The butter will give you the flavor and the oil is pure fat and will provide the most moisture.
Use water, over milk! This will create a lighter muffin over milk. The same principle is applied in my light and fluffy Banana Bread and Pumpkin Bread recipes
Don't overdo the flour! And use a whisk to gently stir it in!
Follow these tips and you cannot go wrong!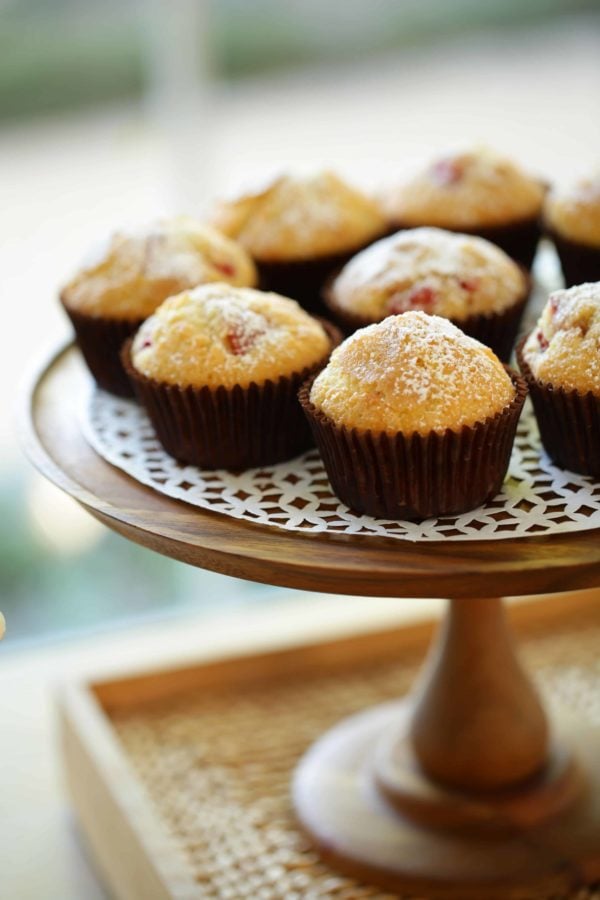 Watch My Video Demo of this Recipe Below!
Subscribe to My YouTube Channel and never miss a recipe!
Step#1: Mix The Wet Ingredients
This recipe calls for a combination of melted butter, oil, and water. I have found it's the butter that gives the flavor, but the oil preserves the moisture. Too much butter and the muffins will be a bit dry, too much oil and the muffins will be bland. Combining the two is just right!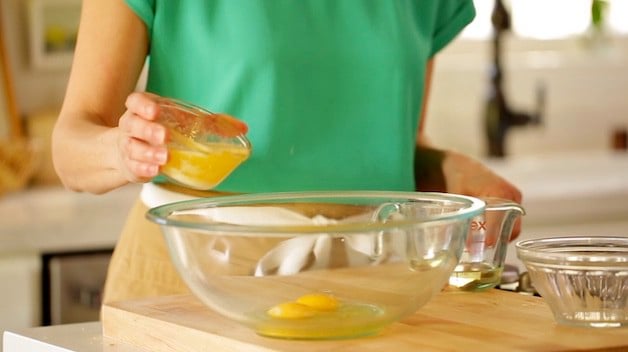 Don't Skip the Water
Over the years I've received a lot of push back on my water addition! While sure you can add milk instead if you really want to, you just won't get the same lightness! Milk will weigh the muffin down, creating a denser muffin, while water will create a light and airy muffin. Trust me, the water is the way to go!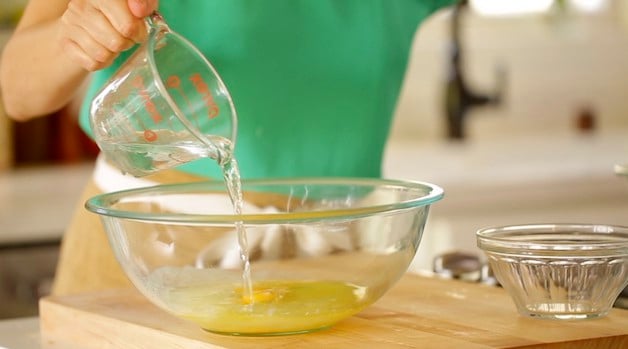 Step#2: Mix together the dry Ingredients
A muffin's worst enemy can be flour! If you add too much flour you'll have a dense little rock on your hands, not enough and they fall apart. This recipe calls for just 1 ¾ cup of flour which I think is just the right amount of flour for proper structure without sacrificing the tender texture.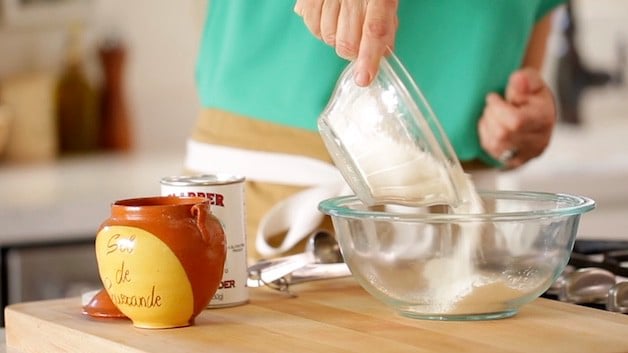 Measuring the Flour
There are a lot of ways to measure flour, but for all my recipes I use the scoop method. So I scoop my measuring cup into my canister and shake off the access. So no packing down. Keep it loose and your muffins will thank you!
Then gently stir the dry ingredients into the wet ingredients, in thirds, with a wire whisk. Nothing against wooden spoons, but I find it's easy to over mix that way. If you over-mix muffin batter, you'll end up with tough muffins! A wire whisk will combine the flour gently and quickly so you won't be tempted to over mix.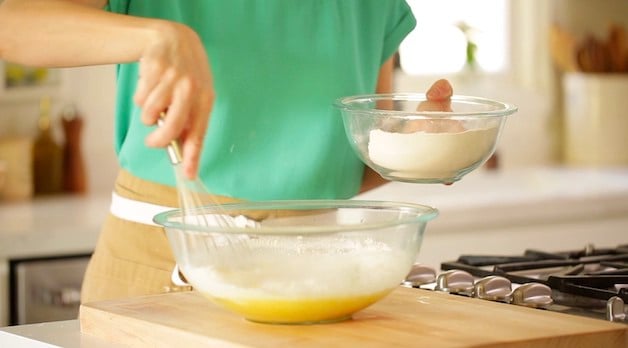 Step#3: Add the Strawberries
I love this muffin recipe because it's so versatile! You really can use it as a base and then use any fruit you like. Once the batter is made, gently fold the fruit into the batter. If you have extra strawberries, put them to good use in my delicious Home Strawberry Sauce for Ice Cream.
Other great combinations include:
Blueberries + Orange Zest
Cherries + Almond Extract
Raspberries + Almond Extract
Blackberries + Lime Zest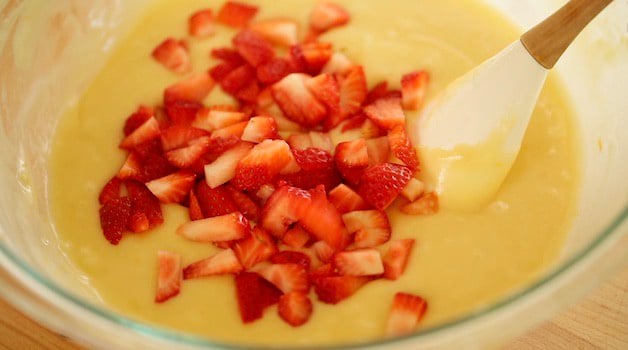 Step#4: Use Muffin Papers
Another way to preserve the texture of your light and fluffy muffin is to use muffin papers! Otherwise, the muffin will become overbaked against the metal tin and create a tougher exterior. I really like the non-stick parchment papers over the regular papers or foil papers. The non-stick property of the parchment means you will enjoy more of the muffin!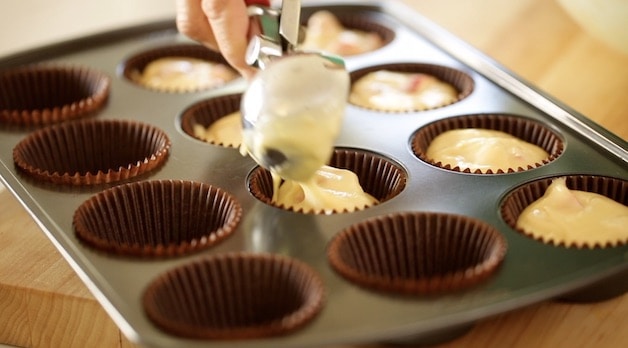 Step#5: Sprinkle with Turbinado Sugar
Just before baking, I like to add a little sprinkle of Turbinado sugar on top of each muffin. This creates a wonderful crunch to the tops and gives the muffins additional sweetness since I'd rather place the sweetness on top, as opposed to making them too sweet all around.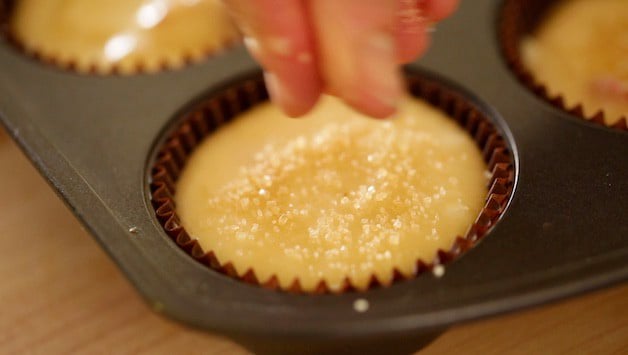 High Heat For a Soft Dome
I also like to bake these muffins at a high temperature, 425F, this will force them to rise quickly, and dome on top. It also makes for quicker baking time too!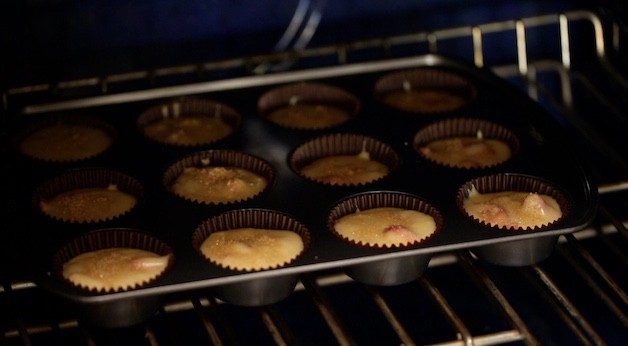 Step#6: Allow your Muffins to Cool
The strawberries get really hot, once baked inside the muffin so it's best to let them cool before serving. I also find the flavor is more pronounced as well if they are served just warm or at room temperature.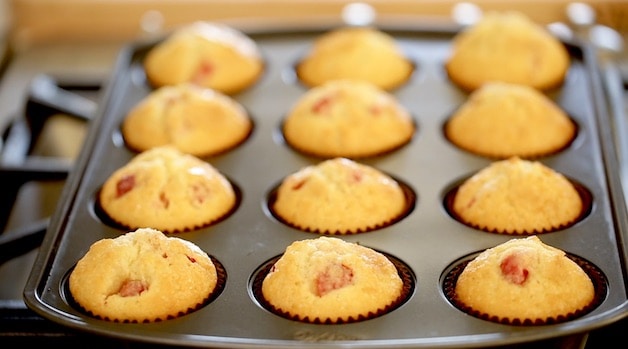 Then give them a dusting of powdered sugar. It's a pretty finish that adds a touch more sweetness on top.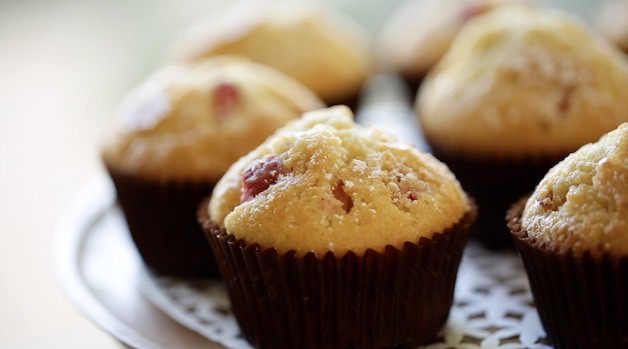 Freezing the Muffins
These muffins also freeze beautifully! Allow them to cool completely, and then pop them in a ziplock bag and freeze. Then reheat in the microwave for 45 seconds and they'll taste like they were freshly baked!
More Great Muffin Recipes
If You Enjoyed this Recipe
Please Leave a Rating and a Review Below!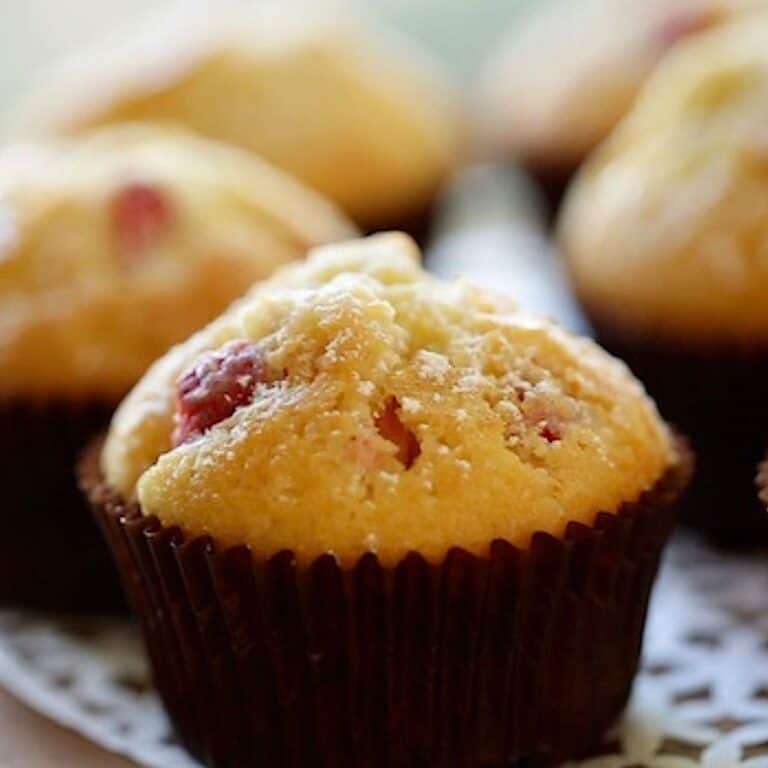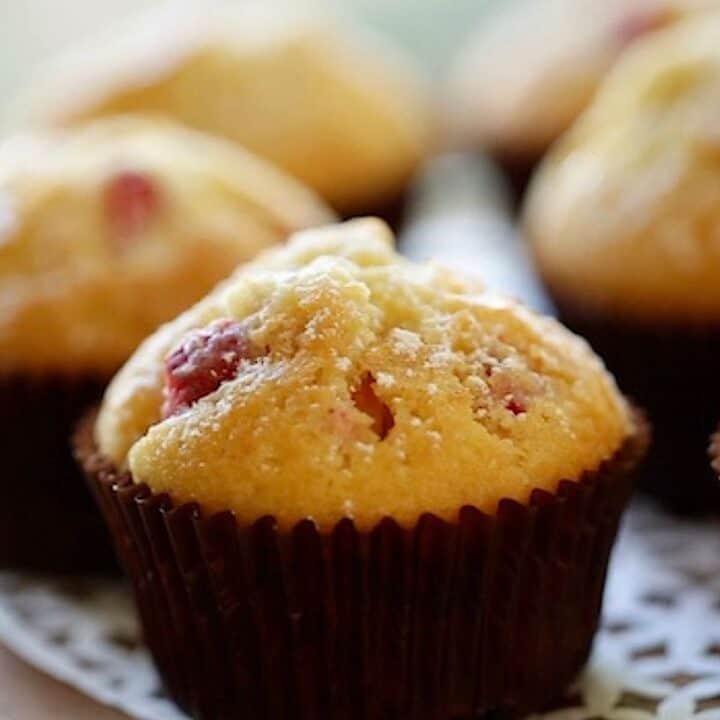 Strawberry Muffin Recipe with Lemon Zest
An easy strawberry muffin that is perfect for a springtime brunch. Light, moist and SO delicious!
Ingredients
For Muffins:
2 eggs
¾ cup (180 ml) melted butter
¼ cup (60 ml) vegetable oil
½ cup (120 ml) water
¾ cup (150g) sugar
1 teaspoon (5 ml) lemon zest
1 ¾ cup (210 g) flour
2 teaspoon (10 ml) baking powder
½ teaspoon (2.5ml) salt
1 cup (150g) fresh strawberries, diced
Topping:
2 tablespoon (30 ml) turbindao (raw) sugar
Dusting Powdered Sugar
Instructions
Preheat oven to 425F (218C).
In a large bowl mix together the eggs, butter, oil, water, sugar, and lemon zest. Set aside.
In a medium-sized bowl whisk together the flour, baking powder, and salt. Add the dry ingredients to the wet ingredients, in thirds, until combined.
Gently fold in the strawberries, until combined.
Scoop batter into muffins tins lined with muffin papers. Sprinkle with turbinado sugar on top
Bake 16-18 mins until golden brown and risen.
Allow to cool before serving
Notes
These muffins also freeze beautifully! Allow them to cool completely, and then pop them in a ziplock bag and freeze.
Then reheat in the microwave for 45 seconds and they'll taste like they were freshly baked! 
Nutrition Information:
Yield:

12
Serving Size:

1
Amount Per Serving:
Calories:

260
Total Fat:

5g
Saturated Fat:

1g
Trans Fat:

0g
Unsaturated Fat:

1g
Cholesterol:

33mg
Sodium:

18mg
Carbohydrates:

10g
Fiber:

0g
Sugar:

10g
Protein:

1g