Hash Brown Waffles with Mexican Scramble
These Hash Brown Waffles topped with a Mexican egg scramble are always a winner for a fancy Breakfast Recipe for a special occasion like Father's Day.
The crispy, cheesy waffle gets topped with a light and fluffy scrambled egg, smoky salsa, and sliced avocado. Hash brown waffles are easy to make, grain-free, and present a fantastic new way to use your waffle iron. They also turn out crispy and cheesy and so delicious too!
Looking for traditional waffle recipes? Try my Crispy Blueberry Waffles or my Spiced Pumpkin Waffles!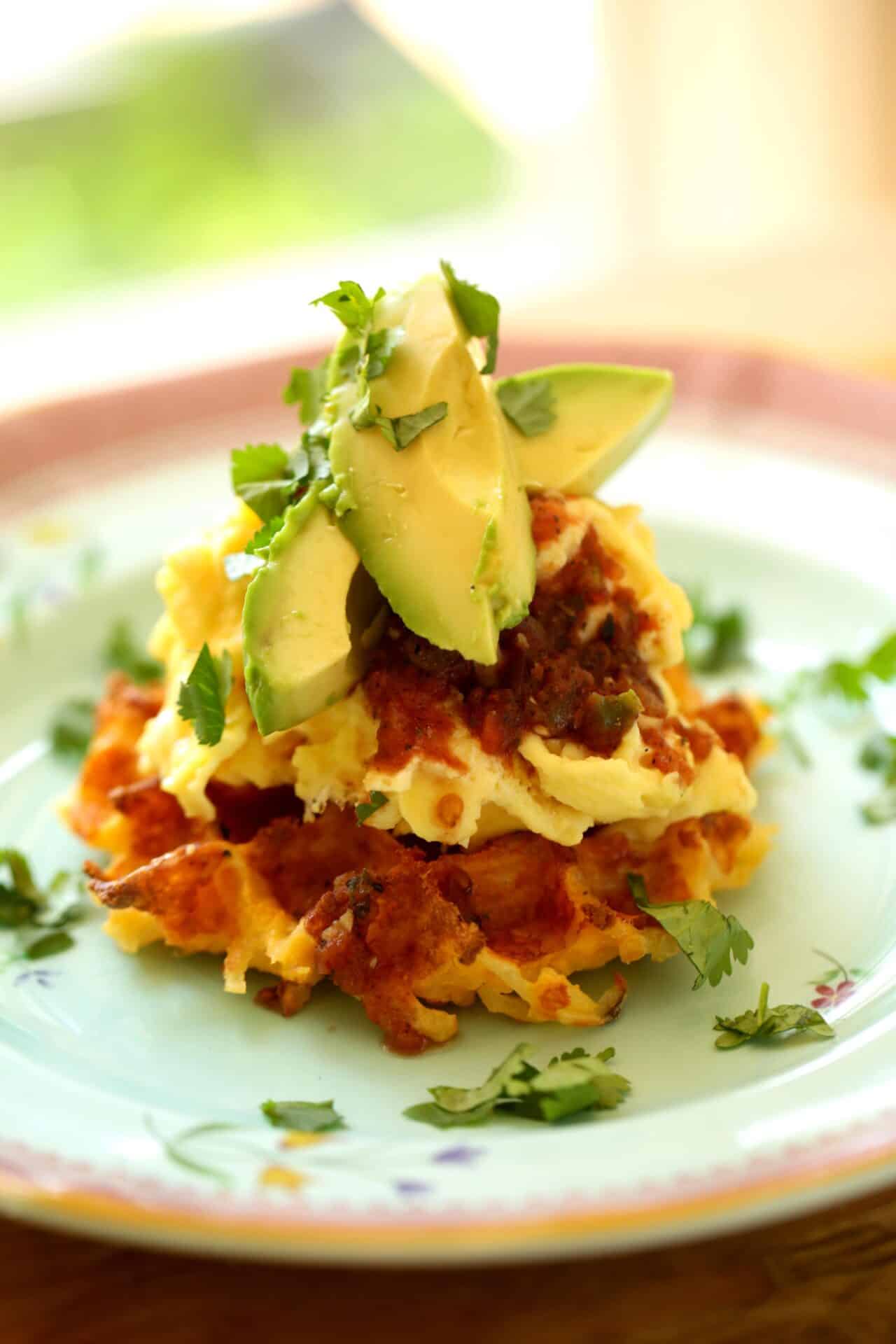 Subscribe for weekly recipes
and new videos!
Why You'll Love This Recipe
What makes this recipe super easy is using store-bought ingredients for the hash brown potatoes and salsa.
It saves time and allows you to spend more time around the table with family and friends.
The waffles take the place of toast and provide a wonderful starchy, crispiness to the eggs
It's such a pretty dish, made with simple ingredients, you may already have on-hand!
Watch My Video Demo For This Recipe Below!
Step 1: Make the Hash Brown Waffle Mixture
While your waffle iron is warming up, you can toss together the hash brown waffle mixture. Make sure your waffle iron is set on a high setting in order to cook the hash browns thoroughly, this will assure they will be nice and crispy. On my waffle iron, it's about a 5 or a 6 heat setting.
Can You Use Frozen Hashbrowns?
You can use frozen hashbrowns for hashbrown waffles, so long as they are not a solid mass. Funny enough I find the Trader Joe's Hashbrowns work the best if making them from frozen potatoes, because they don't form a solid mass, but rather stay pretty loose.
If Not Using Frozen Hashbrowns
Be sure to pat the hashbrowns dry with a paper towel, this will prevent them from getting soggy, and also allow them to crisp up. The cheese in the mixture also helps to make the hashbrown waffles crispy and prevents them from drying out.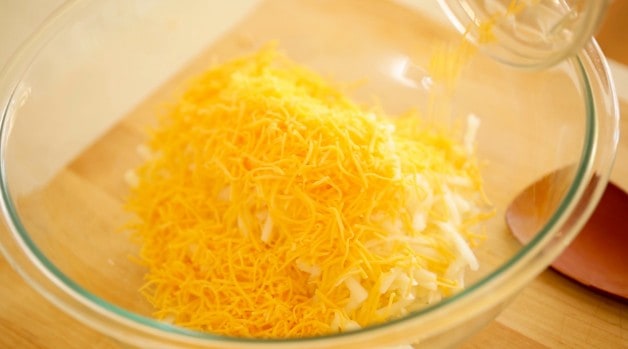 The Cheese and Egg as Binders
These waffles can be grain-free because what holds them together are the eggs and the cheese. They act as binders that will help keep the hashbrown as they cook and form into waffles.
Making Your Hash Brown Waffles Extra Crispy
The other thing that crisps up the waffles is coating your waffle iron with vegetable or olive oil before placing in the mixture.
I like to use a brush for this step so the oil gets in all the nooks and crannies of the waffle iron.
And be sure to do both the bottom and the top plates of the waffle iron. This will prevent your hashbrowns from sticking and falling apart.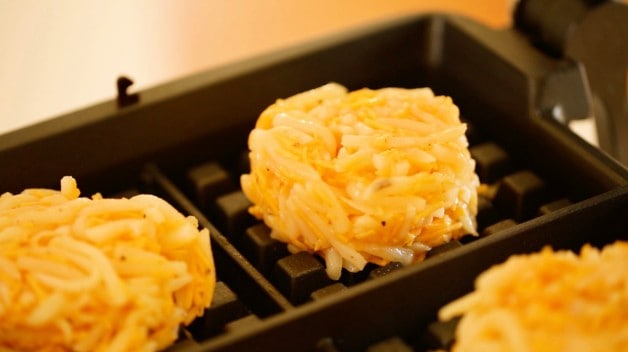 Cooking the Waffles Is Easy
Then, drop about ⅓ of a cup of the hash brown mixture into the individual squares of the waffle iron and close the iron just as you would when making waffles. Allow the hash browns to cook a little longer than regular waffles - about 5 minutes.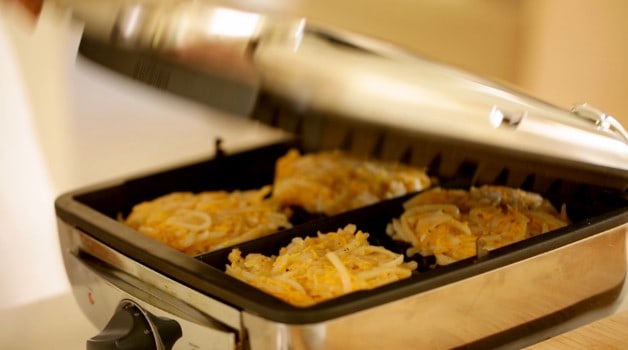 How To Know When the Waffles Are Done?
When the "waffles" are done, you will see golden-brown, toasted, cheesy, hash brown waffles!
They will easily remove from the waffle iron and hold their shape.
Pop them in a 300F (150C) degree oven to keep warm while you prepare the eggs.
To keep them crispy it helps to place them on a baking sheet pan, fitted with a rack to elevate them.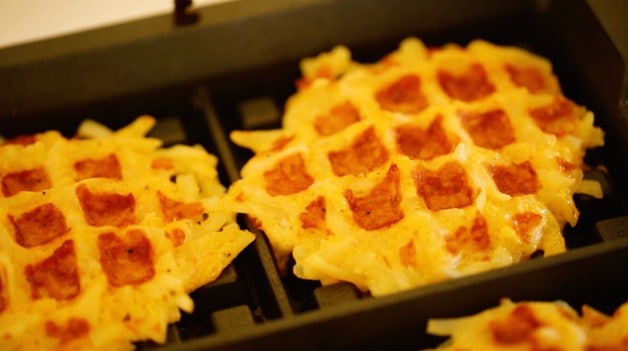 Step 2: Make the Mexican Scramble
This recipe makes enough for 6 people, so if you need to cut down the waffles or scrambled eggs you can easily cut this recipe in half or quarters.
Add the eggs to a mixing bowl, along with a small amount of water, and whisk until scrambled.
How-To Create a Fluffy Scrambled Egg?
Adding a tiny bit of water to the egg mixture before scrambling prevents drying and creates a pretty, fluffy scramble.
Using butter instead of a spray or oil keeps the eggs from sticking to the pan while adding great flavor
Keeping the eggs over low heat and allowing them to set first, before scrambling, is the secret to a super fluffy scrambled egg!
Run a silicone spatula around the rim of the pan to keep the eggs from sticking.
Continue to gently scramble until eggs are done. Remove from the heat.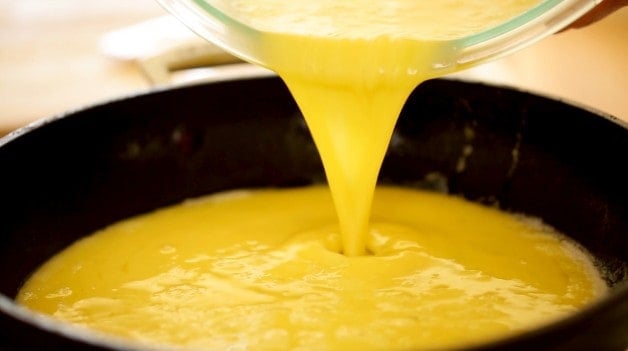 Step 3: How To Serve Your Hash Brown Waffles
Now that the waffles and eggs are ready for serving, place a waffle in the center of a plate and top with scrambled egg, salsa, sliced avocado and finish with freshly chopped cilantro.
Tip: I love to use a smoky-style salsa, it's a great additional flavor against the cheesy waffles and rich avocado. Store-bought is just fine for this recipe!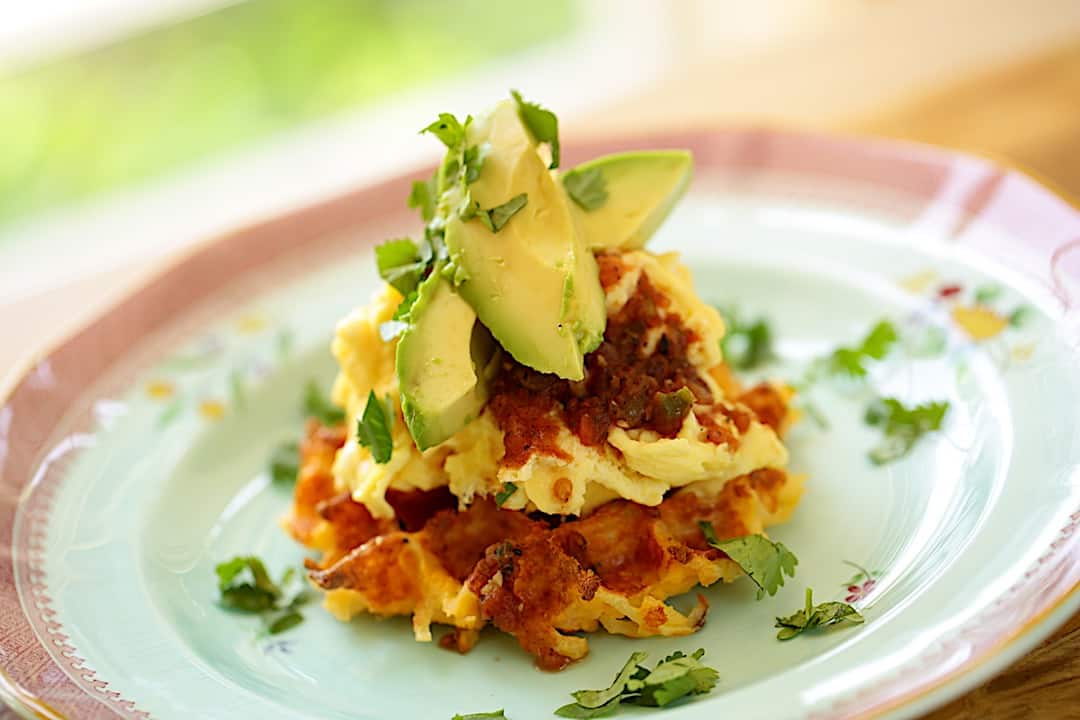 More Great Breakfast Recipes
If You Enjoyed This Recipe
Please Leave a Rating and A Review Below!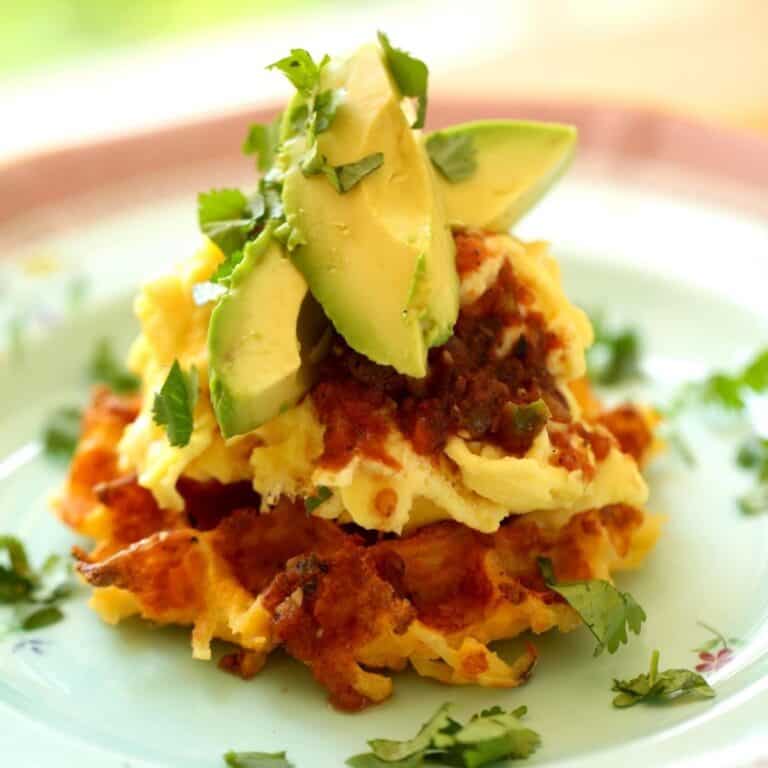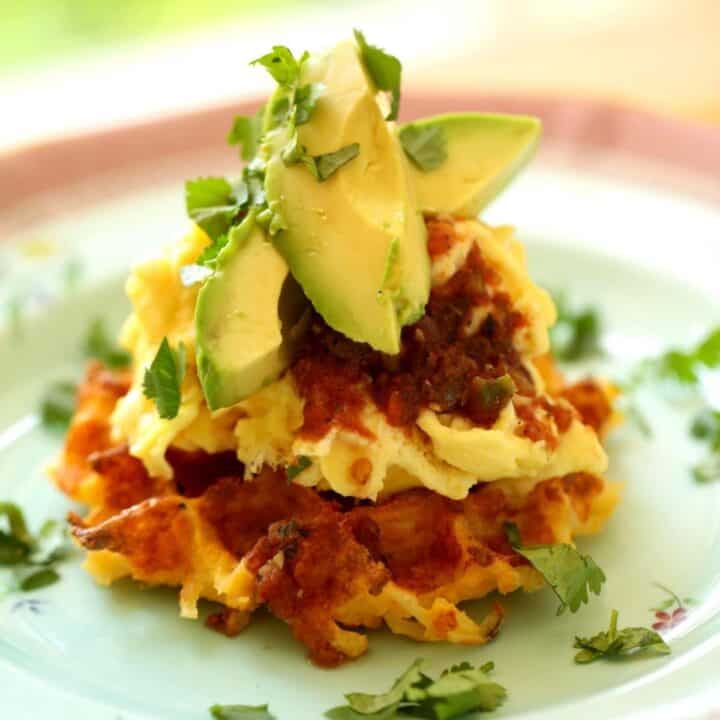 Hash Brown Waffles and Mexican Scramble
These hash brown waffles are another great way to use your waffle iron! Cheesy and crispy, and topped with a light and fluffy Mexican scramble!
Ingredients
FOR WAFFLE:
2 cup (475 ml) shredded hash brown potatoes
1 cup (240 ml) finely grated cheddar cheese
½ teaspoon (2.5 ml) salt
pepper
1 teaspoon (5 ml) hot sauce (½ teaspoon (2.5 ml) if you don't want these too spicy
2 eggs
FOR SCRAMBLE:
10 eggs
1 tablespoon (15 ml) water
2 tablespoon (30 g) butter
salt & Pepper
2 slices Avocado per person
Cilantro, freshly chopped
Smokey salsa
Instructions
Pre-heat waffle iron to highest setting. Mix up waffle ingredients. Brush generous amount of olive oil on iron. Scoop out ½ cup (120 ml) of mixture spread in iron. Bake for 4-5 mins until golden brown. Transfer to a cookie sheet and keep warm in the oven at 300F (150C).
Mix eggs with water. Melt butter in a non-stick skillet until sizzling, add eggs and turn flame down to low. Gently scramble allow eggs to remain still and cook in between motions. Once large curds form, turn off flame and continue to cook until desired doneness.
Plate potato waffle on plate, top with a scoop of eggs, season with salt and freshly cracked pepper. Spoon over salsa, add 2 avocado slices and top with freshly chopped cilantro.
Enjoy!
Nutrition Information:
Yield:

6
Serving Size:

1
Amount Per Serving:
Calories:

320
Total Fat:

24g
Saturated Fat:

6g
Trans Fat:

0g
Unsaturated Fat:

16g
Cholesterol:

377mg
Sodium:

370mg
Carbohydrates:

12g
Fiber:

5g
Sugar:

1g
Protein:

16g