My Easy Coffee Cake Muffin Recipe is the perfect little sweet treat to wow a crowd! It's a great brunch idea or breakfast item to bring to a potluck. There's just something so delicious about a soft and fluffy cake with crumb topping!
You might also enjoy my Sour Cherry Crumb Cake Recipe or my Orange Pecan Crumb Muffins too!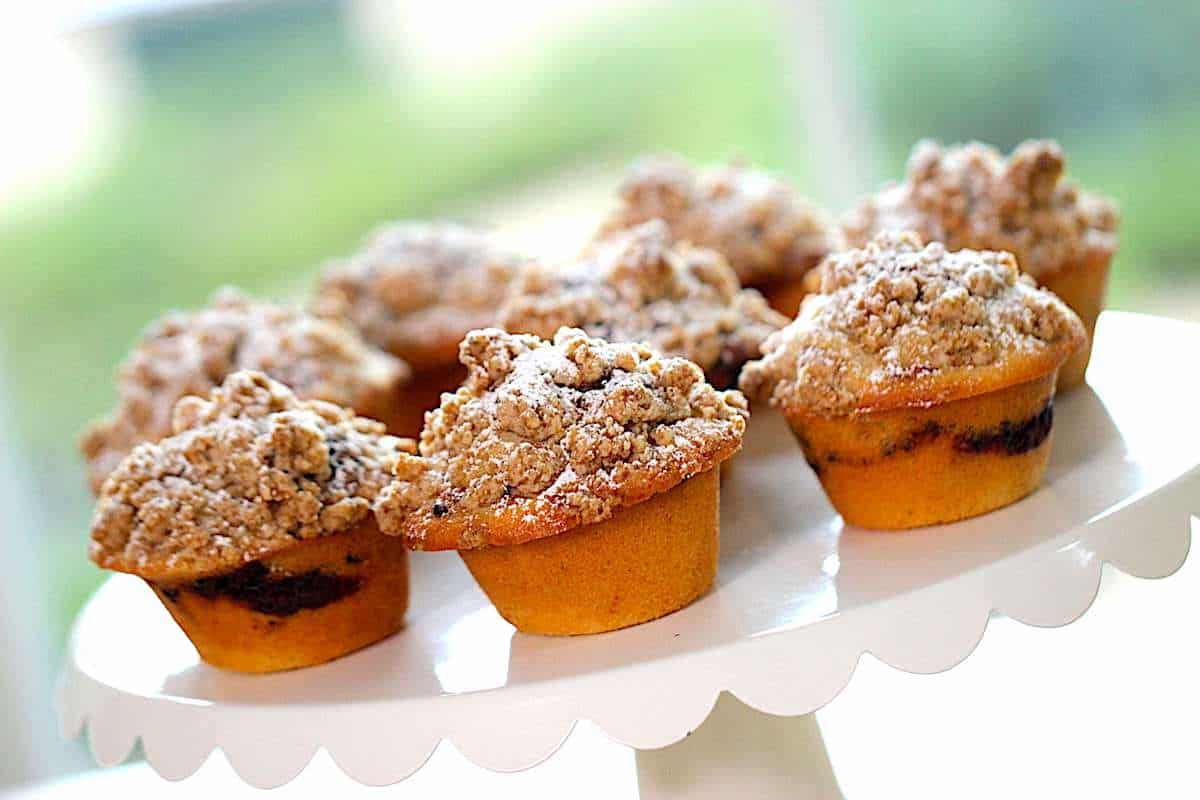 If you need a sweet treat to wow a crowd, look no further than my coffee cake muffin recipe. It has all the classic flavors of those store-bought coffee cakes you may remember as a kid, but is also so beautiful to look at that I've had guests exclaim "oh but it's just too pretty to eat!".
How do you make this Easy Coffee Cake Muffin Recipe?
Essentially you'll make a basic muffin batter, then swirl in instant coffee and cocoa, top with a crumb topping, and bake. Nuts are optional but I do like to swirl them into the batter for another texture.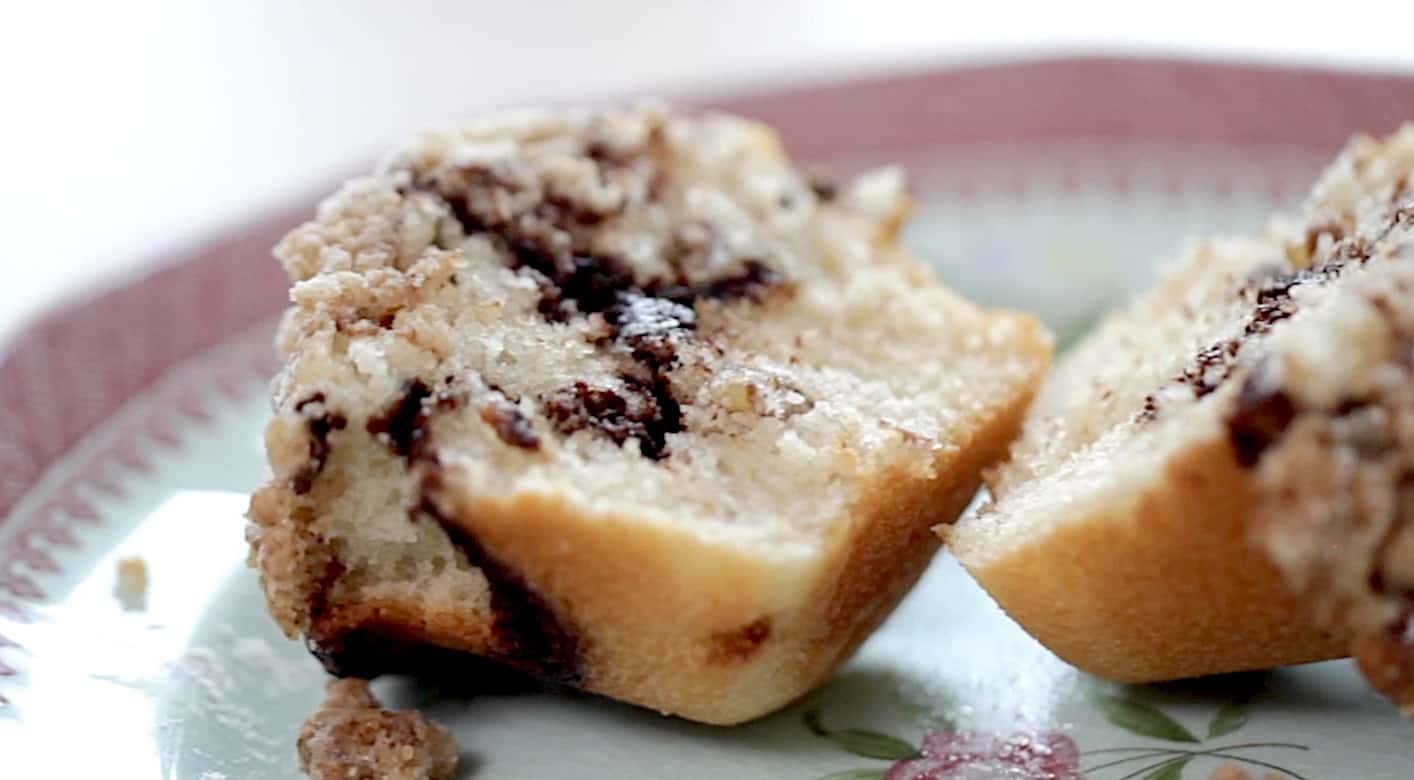 WATCH MY VIDEO DEMO OF THIS RECIPE BELOW
How do you make a crumb topping?
This crumb topping is super simple to put together. Basically, you'll add flour, baking powder, brown sugar, and cinnamon to a bowl, add the melted butter, stir with a fork to combine until you see a "crumb" forming.
Can you make coffee cake muffins ahead of time?
Yes, you can make these a few hours ahead leave in the muffin tins, and then re-warm at 300F for 15 mins to regain that "freshly baked" effect.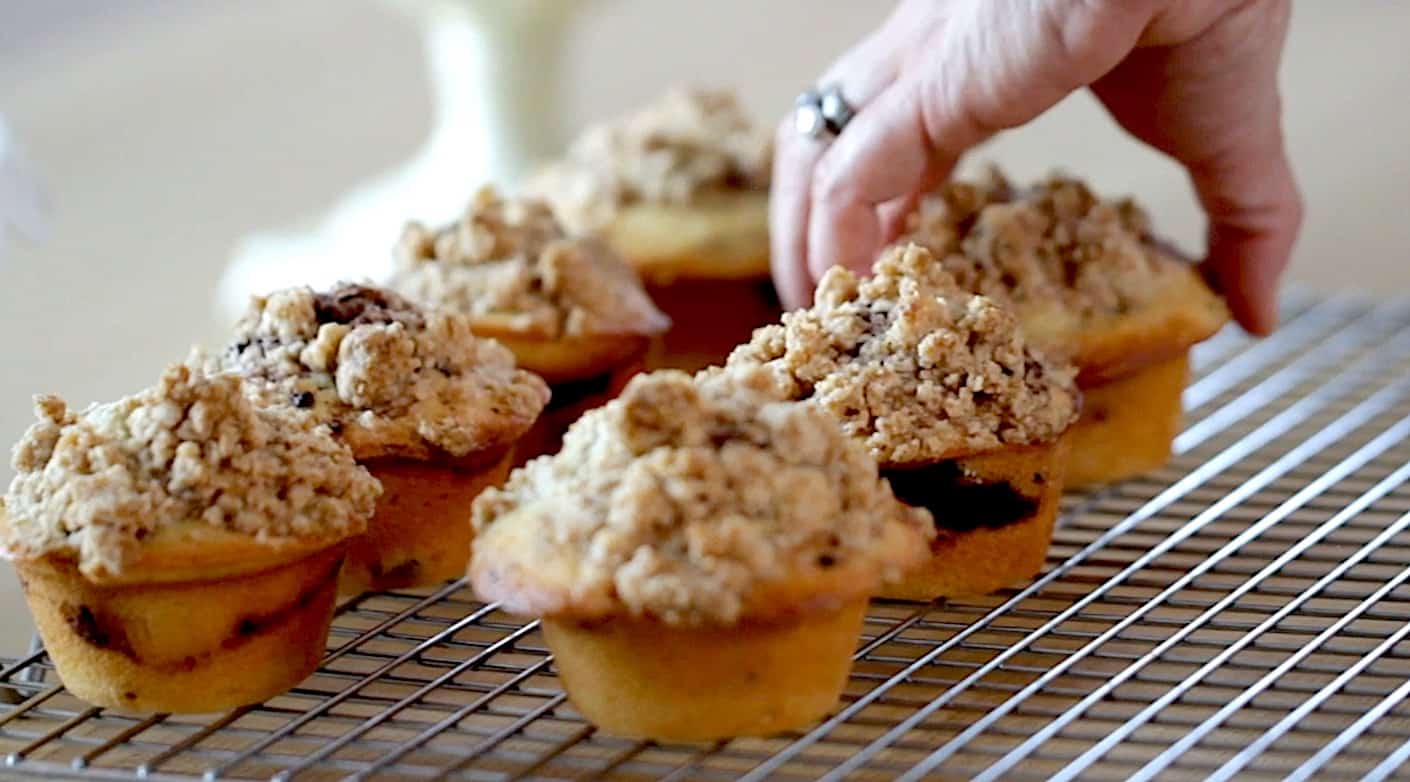 So, next time you need something extra special to line your brunch buffet, you can't go wrong with these.
Please let me know if you make this recipe
by leaving a rating and review below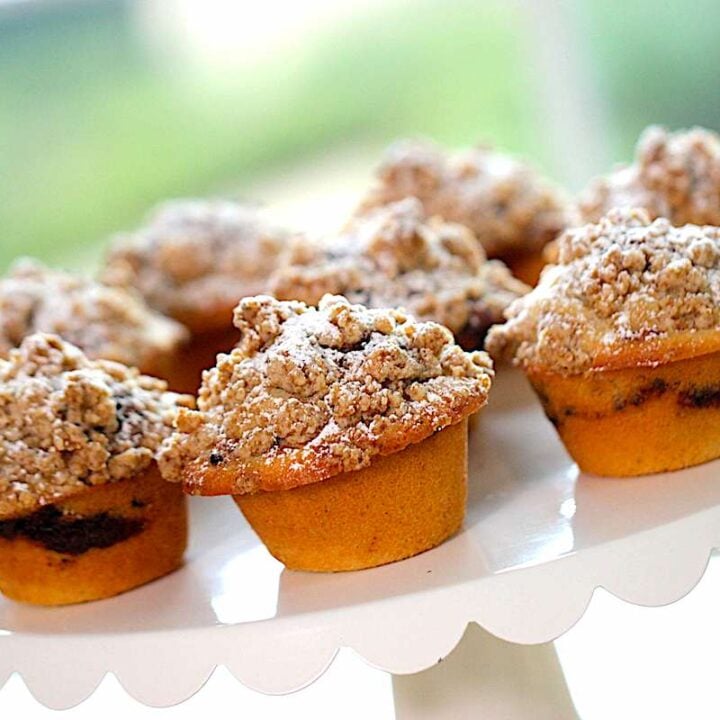 Coffee Cake Muffins
My Easy Coffee Cake Muffin Recipe is the perfect little sweet treat to wow a crowd! A great brunch idea or breakfast item to bring to a potluck.
Ingredients
For Muffins:
4 eggs
½ cup (120ml) canola oil
¼ cup (60ml) melted butter
¾ cup (150 g) sugar
½ cup (120 ml) water
2 cups (240 g) flour
2 ½ tsp (12.5 ml) baking powder
¾ tsp (4 ml) salt
½ cup (75 g) chopped pecans
For Interior Swirl:
1 tbsp (15 ml) instant coffee granules
2 tbsp (30 ml) unsweetened cocoa
3 tbsp (45 ml) white sugar
For Crumble:
⅔ cup (80 g) flour
4 tbsp (60 g) brown sugar
¼ tsp (1.25 ml) cinnamon
¼ tsp (1.25 ml) baking powder
4 tbsp (60 ml) melted butter
Instructions
Preheat oven to 375F/(190C)
Combine eggs, oil, butter, sugar and water in a large bowl and whisk until smooth.
In a separate bowl combine flour, baking powder and salt. Whisk to combine.
Add the dry ingredients to the wet ingredients in thirds, until combined. Don't over mix.
In a small bowl combine cocoa, instant coffee, and sugar, whisk to combine and set aside.
In another small bowl combine flour, sugar, cinnamon, baking powder, and butter. Whisk with a fork to combine.
Prepare a muffin tin with baking spray, covering inside of wells and lightly spray top of pan too since muffins will rise up and slightly cover the top.
With an ice cream scoop, spoon in half a scoop of batter into the muffin well, top with 1 tsp (5 ml) of the filling, cover with second half scoop of batter. Take a knife and gently swirl interior to distribute filling. Top with 1 tbsp (15 ml) of crumb topping.
Repeat process until all the wells are full. Bake for 16-17 mins until golden brown and risen.
Allow to cool slightly. Dust with powdered sugar if desired.
Nutrition Information:
Yield:

12
Serving Size:

1
Amount Per Serving:
Calories:

130
Total Fat:

12g
Saturated Fat:

7g
Trans Fat:

0g
Unsaturated Fat:

5g
Cholesterol:

87mg
Sodium:

100mg
Carbohydrates:

3g
Fiber:

0g
Sugar:

3g
Protein:

2g