Crumb Cake with Sour Cherries
This Crumb Cake with Sour Cherries is a fantastic Christmas morning breakfast idea! The cake is light and fluffy and filled with sour cherries, and the delicious crumb topping just seals the deal.
You can also make this crumb cake ahead of time, see below for methods, making this an easy holiday recipe for a quick and easy breakfast!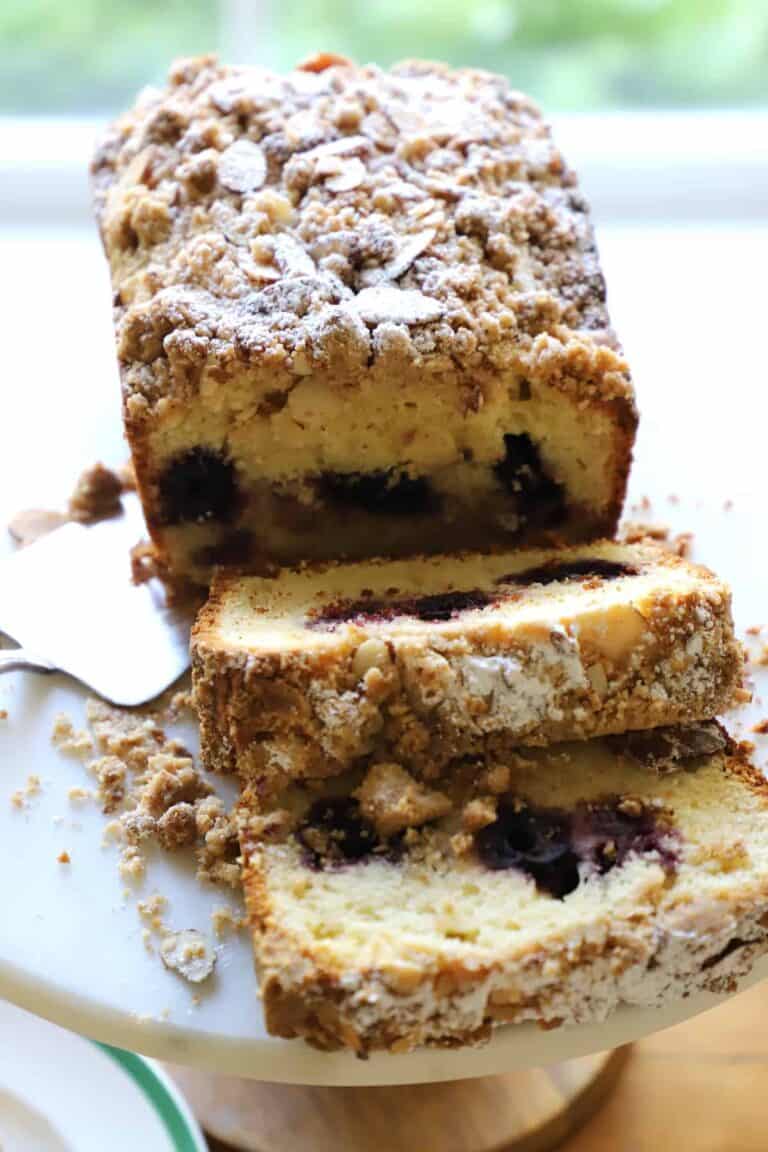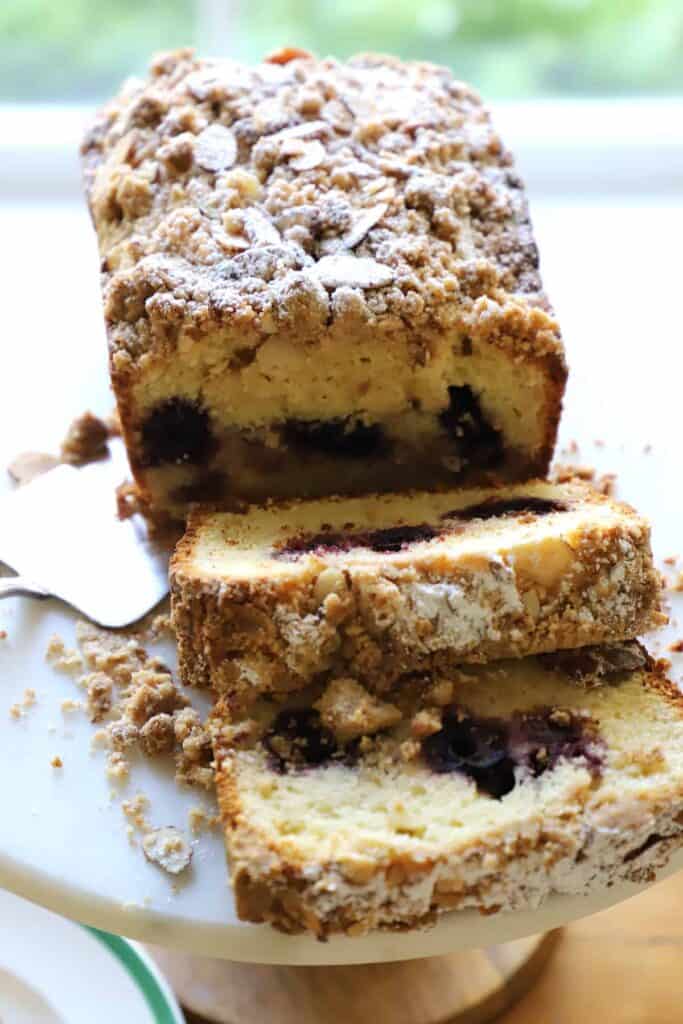 Why You'll Love This:
You will love the texture of this cake which is so light and delicate, and the sour cherries inside break up the sweetness and add wonderful moisture to this cake.
Subscribe for weekly recipes
and new videos!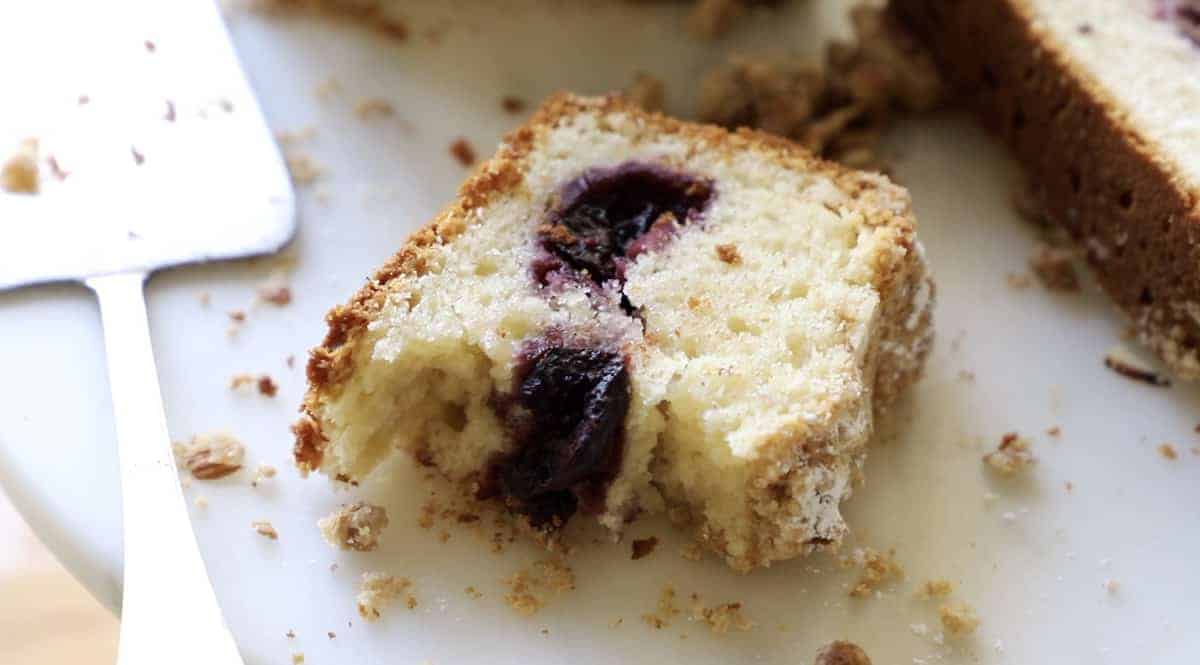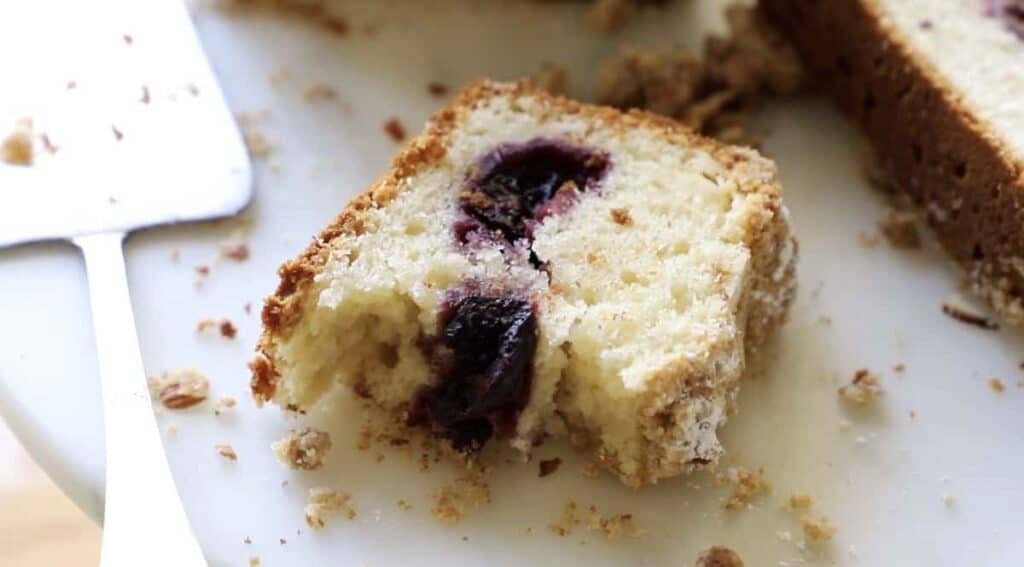 Watch my Video Demo of This Cake Recipe Below!
5 Tips for Perfecting this Crumb Cake Recipe!
A few key steps will make this crumb cake really sing!
Tip#1: Room Temperature Ingredients
To get the lightest, fluffiest texture on this cake it's important that 3 key ingredients are at room temperature:
The butter
The eggs
The sour cream
Allowing these ingredients to be at room temperature before you begin, will allow your batter to be fully incorporated, this will give the cake the best fluffy and moist texture!
Tip#2: Fluffy Butter!
I cannot stress this tip enough! If your butter is nicely softened, this will be easy. It's important to beat the butter and the sugar until it is very pale and fluffy. This can take as much as 5 minutes or more. The texture should resemble whip cream. This will create the lightest, fluffiest cake texture.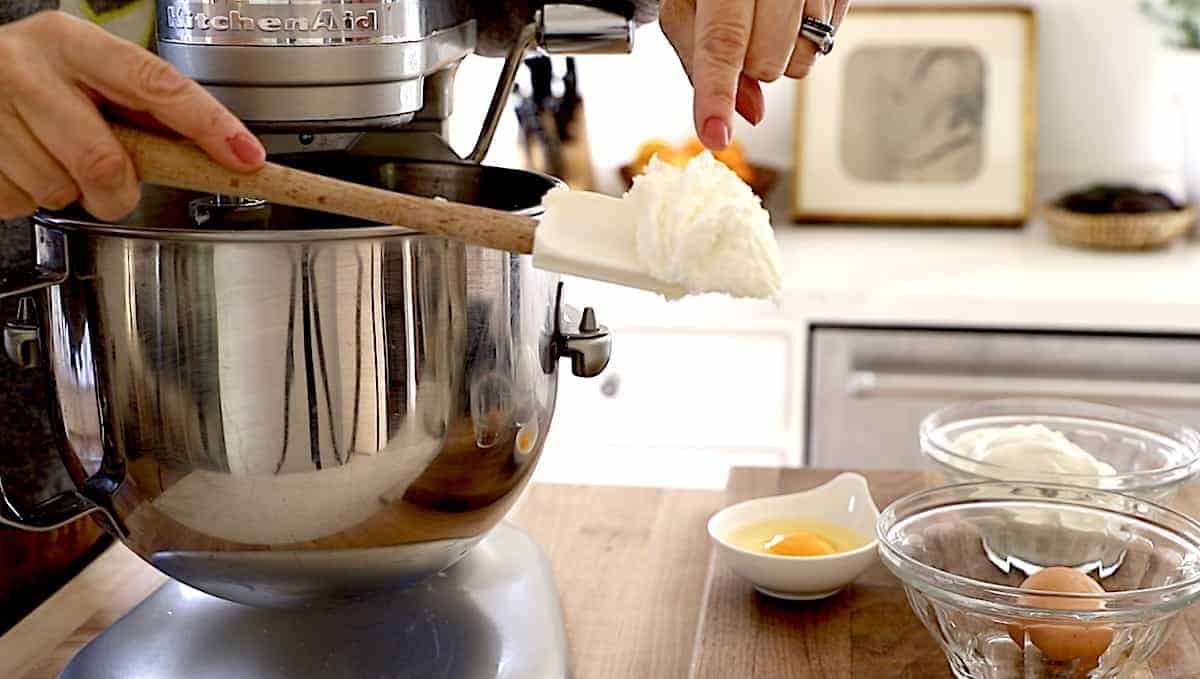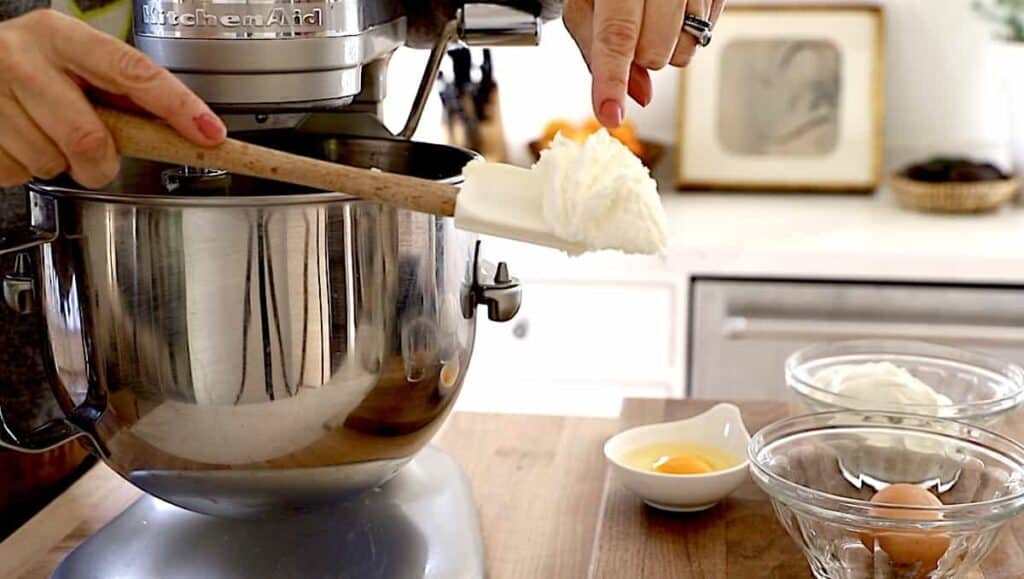 Tip#3: Use the Baking Spray
Now I realize there are bakers out there that swear by the "butter and flour" method for greasing loaf pans, but I say if you want a cake to release effortlessly, use the baking spray!
Preferably Baking Spray with Flour. Pam or Baker's Joy would be my recommendations.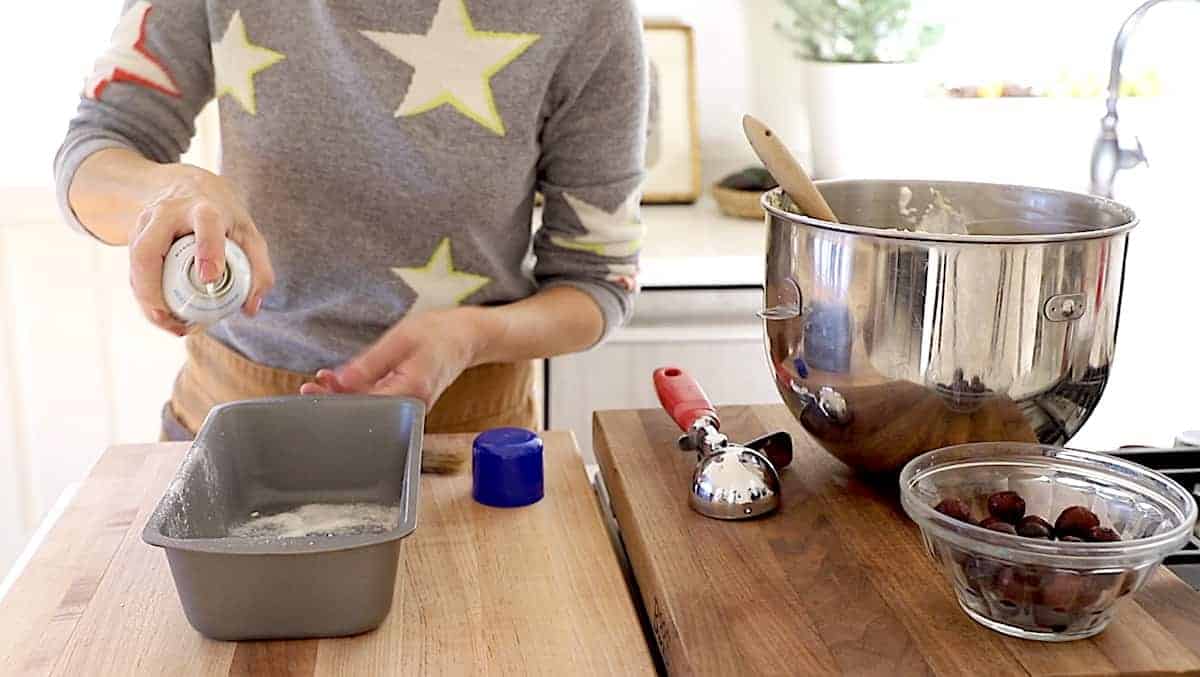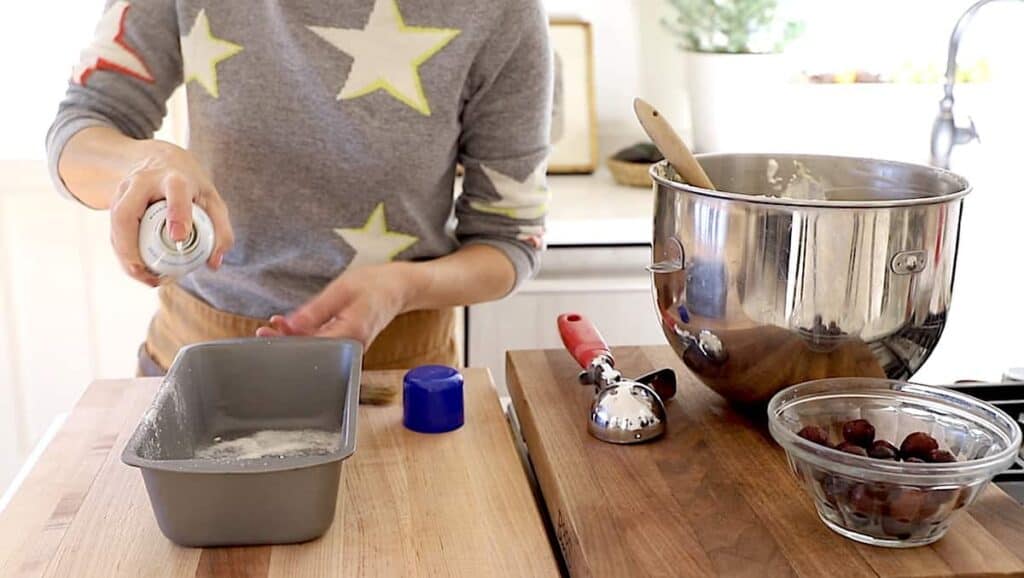 Don't Forget to Distribute the Baking Spray
After spraying the pan, then go in with a pastry brush and make sure it is evenly distributed. This will prevent a patchy "greasing" and will also prevent the corners and sides from burning from too much spray.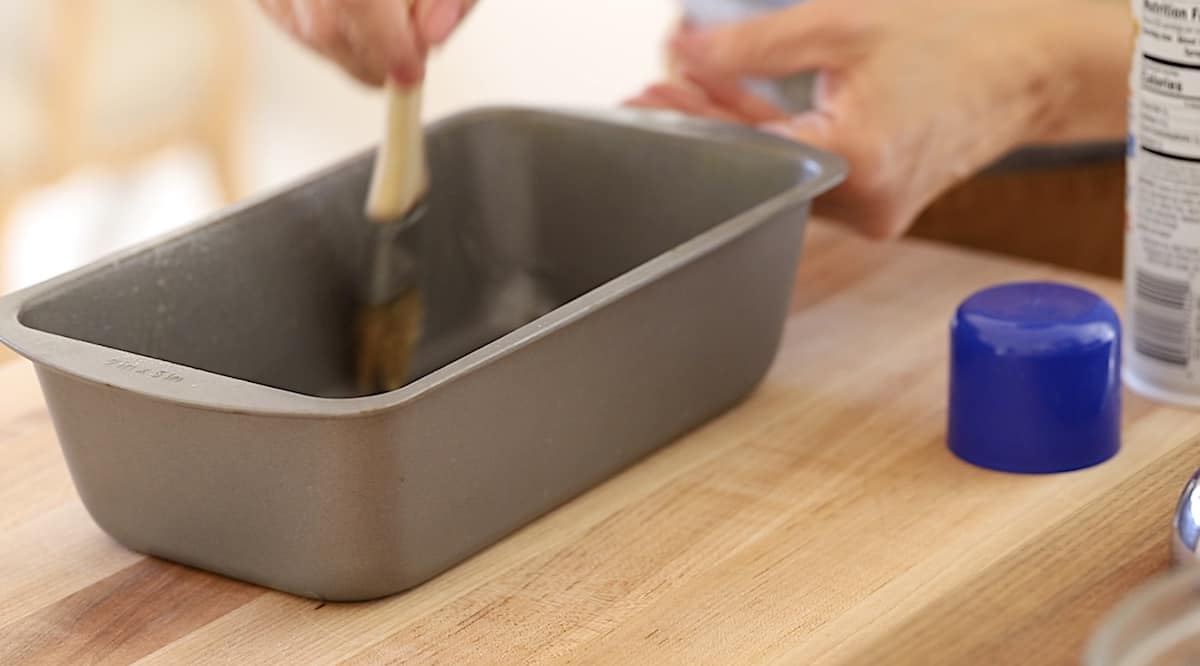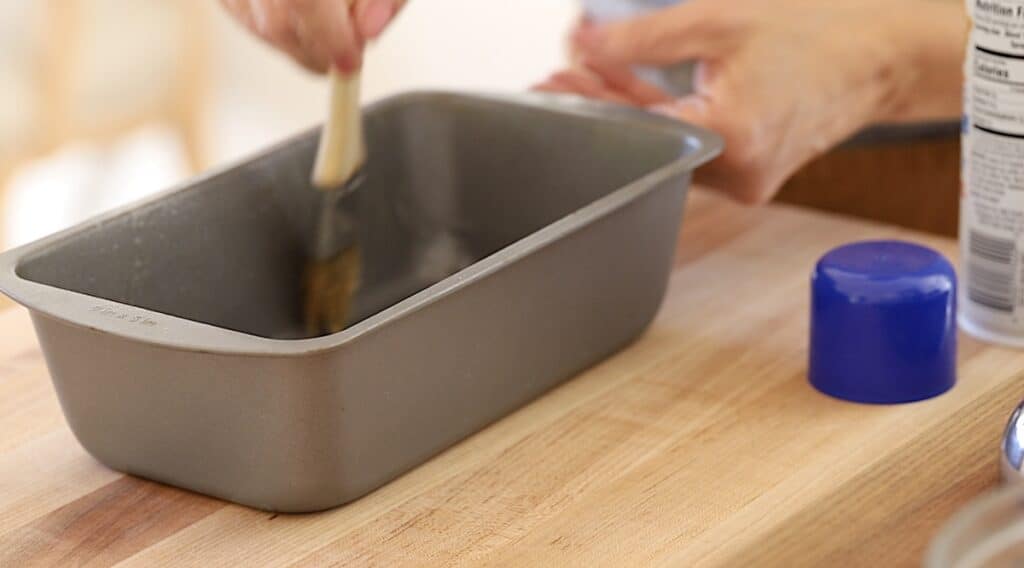 Tip#4: Use Frozen Cherries
Frozen cherries are way easier than fresh because they come already pitted! There's no need to thaw. They can be placed right in frozen. In fact, they are even better this way since their juice will not run and they will stay in place as they bake into the center of the cake.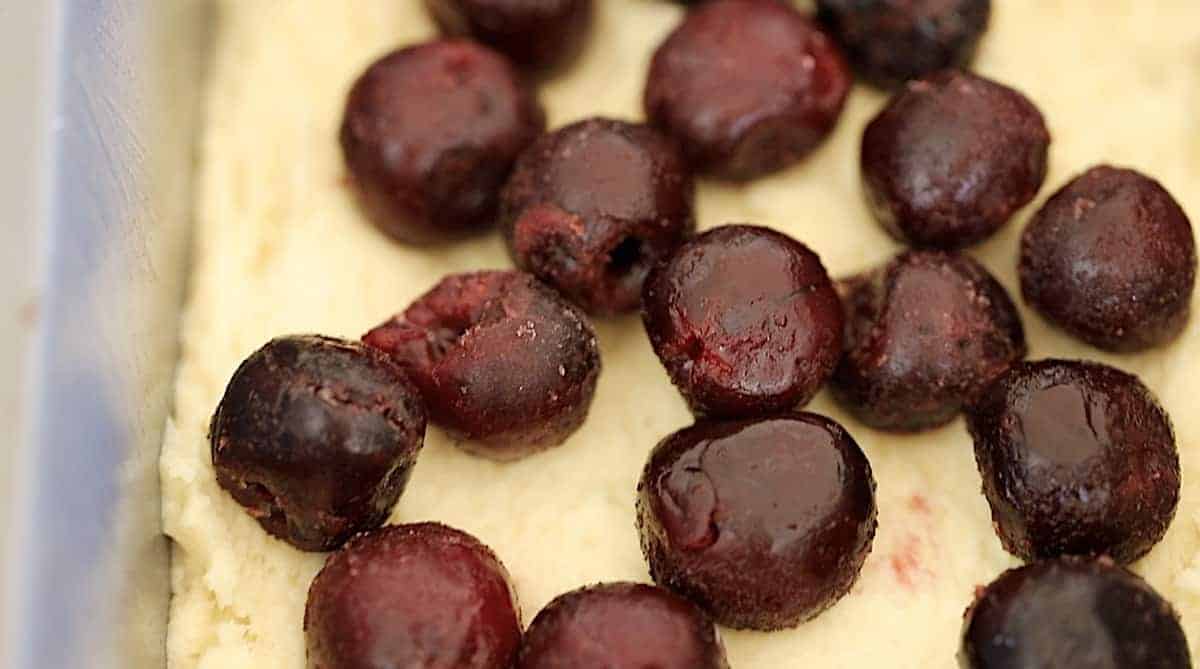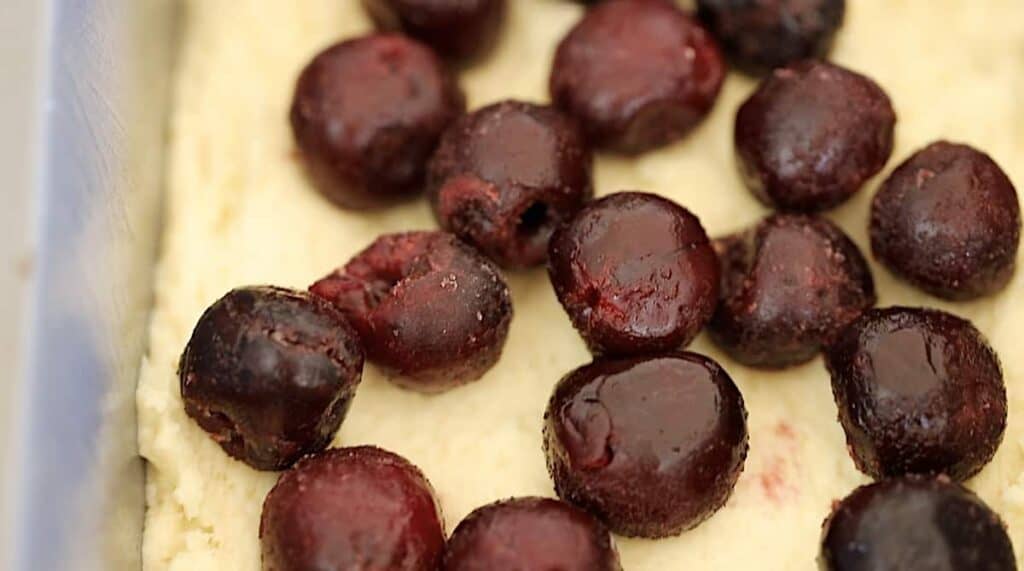 Alternatives to Frozen Cherries
If you cannot find frozen cherries you could use fresh or use:
fresh or frozen cranberries
fresh or frozen raspberries
fresh or frozen blueberries
When adding them to the 1st layer of cake batter, do not let them touch the sides of the pan, since they will bake on and stick. Keep them right on top of the batter and the batter will then bake up to encase them.
Tip#5: Allow the Crumb Cake to Cool 30 minutes
As tempting as it will be to dive right into this cake right away, it's better if you allow it to cool for at least 30 minutes before trying to release it from the pan.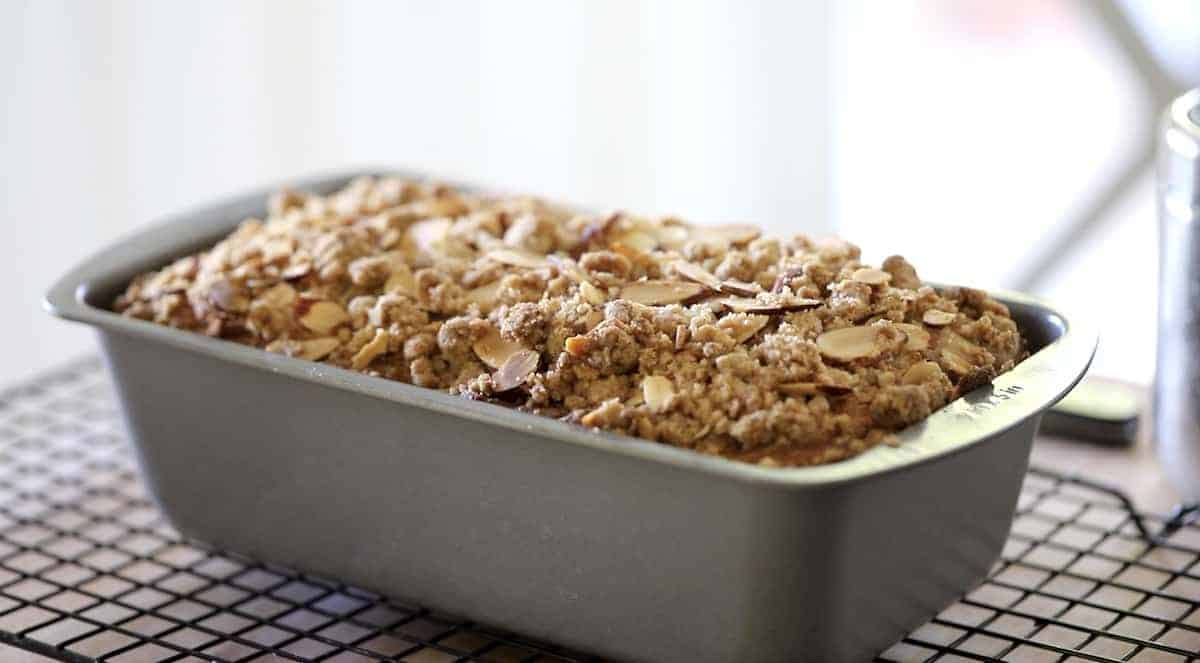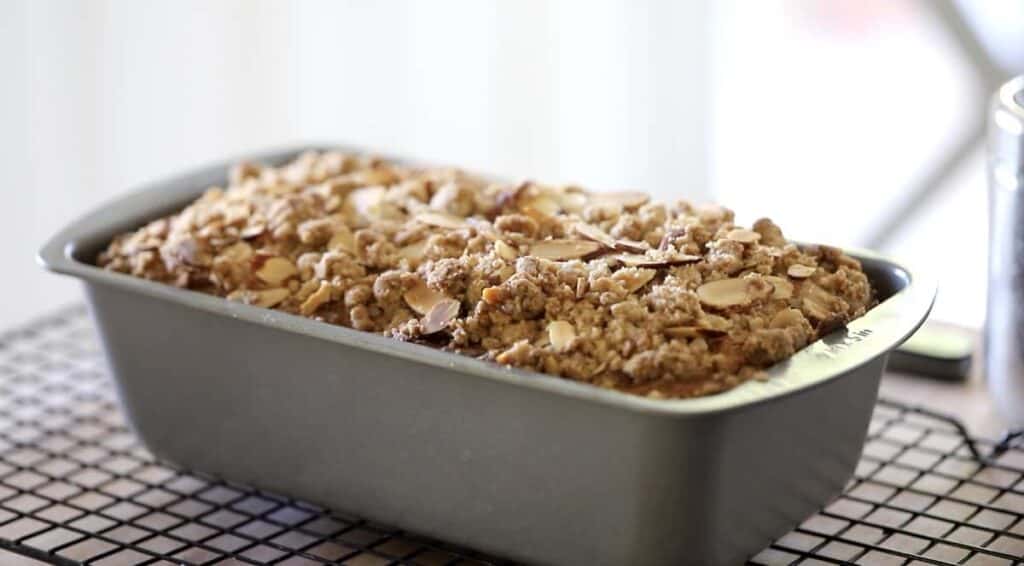 It will not only be easier to turn out of the pan when cooled since it will be less fragile. But it will be easier to slice when cooled as well. It also allows the cake to "set up" and not be as crumbly if it's cooled down.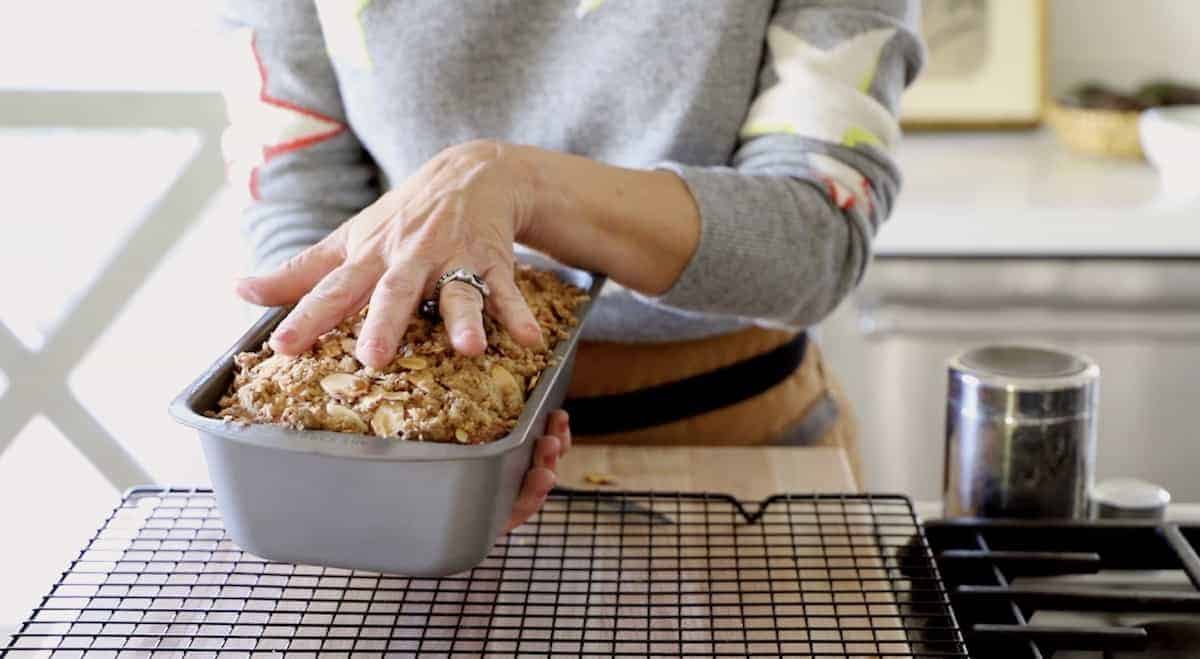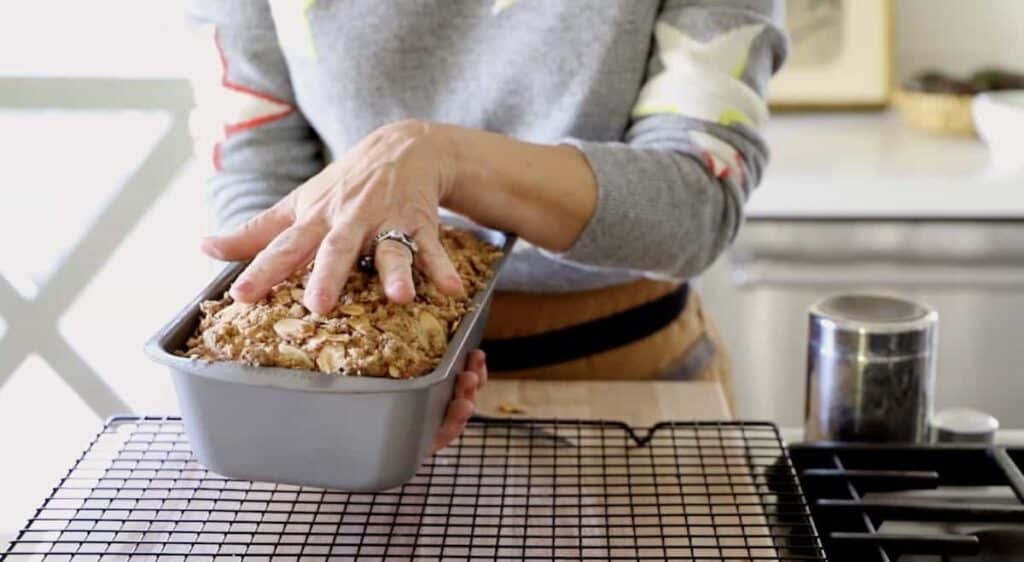 Tip#6: Release the Sides with a Knife
The crumb topping is sticky! It can "bake on" to the sides of your pan during baking, or slip down the sides too. To release any crumb topping that has baked-on, run a knife along the sides before trying to remove it.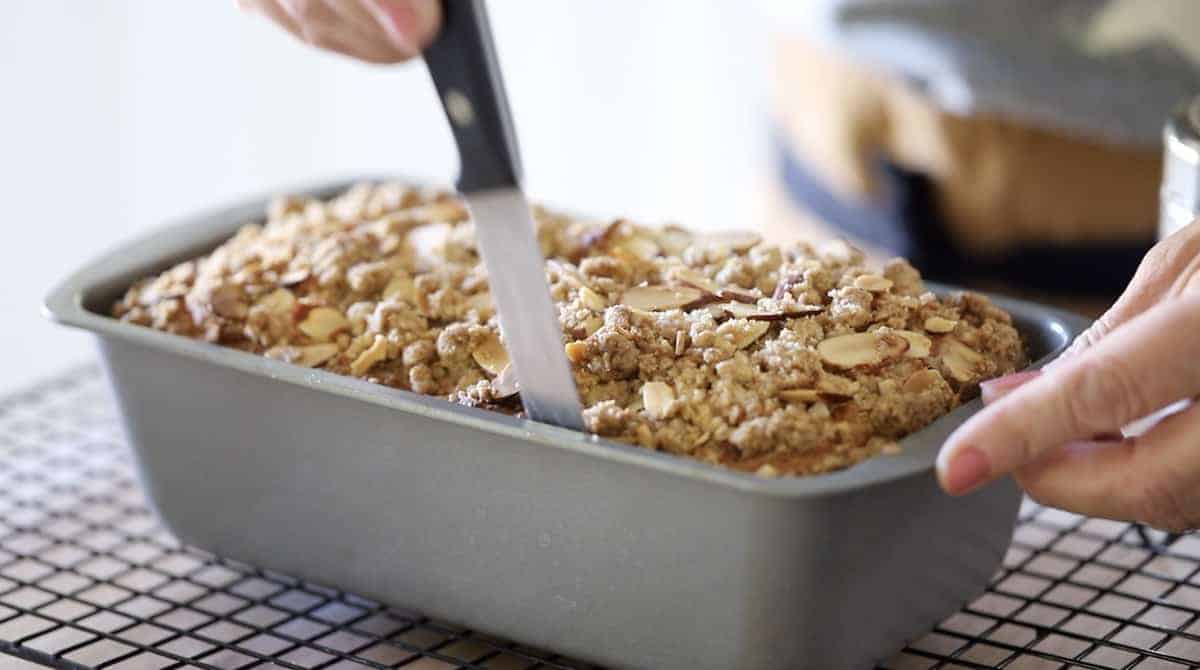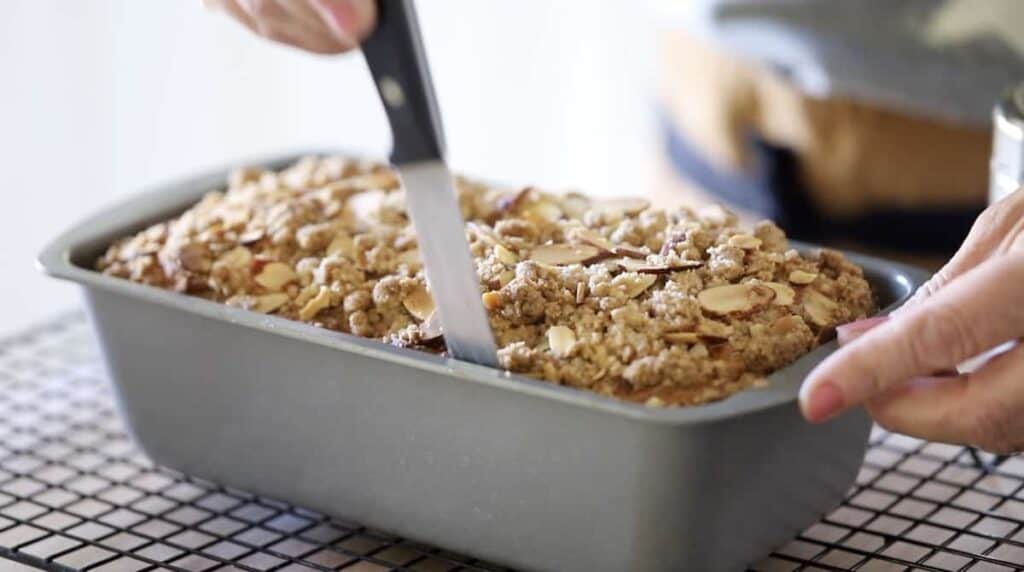 This will prevent your cake from sticking to the sides when it's upside down, and then falling apart because it's stuck to the pan.
A cooled cake will also prevent the powdered sugar from melting when you dust it on top! A little bit goes a long way since the crumb topping is pretty sweet.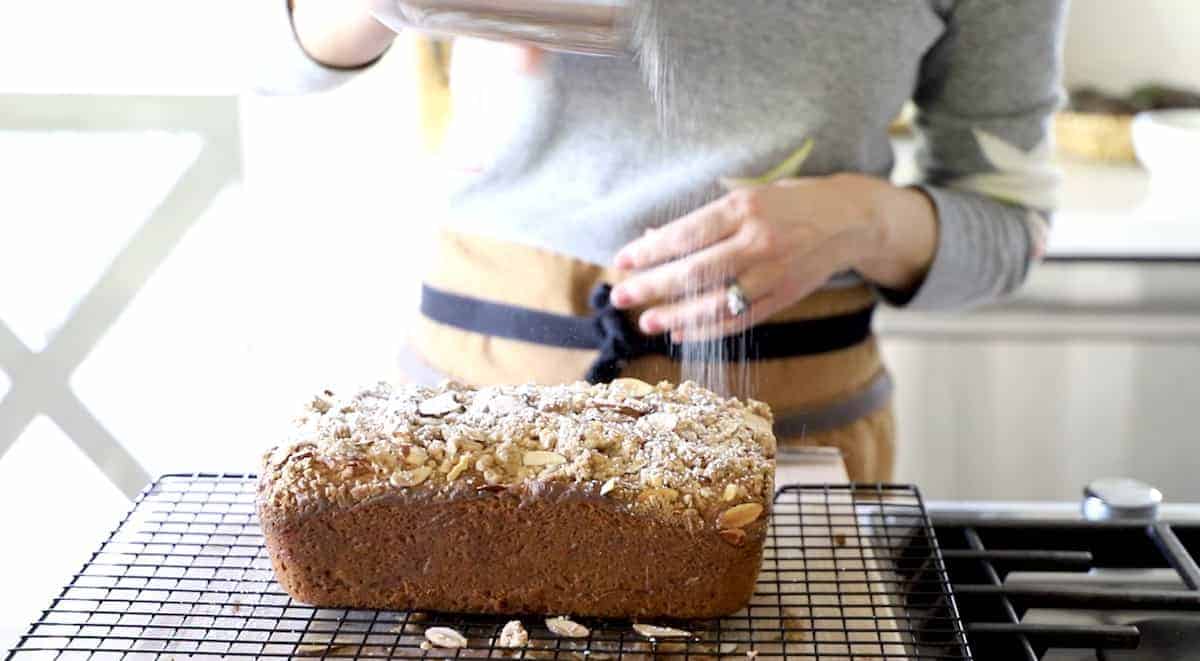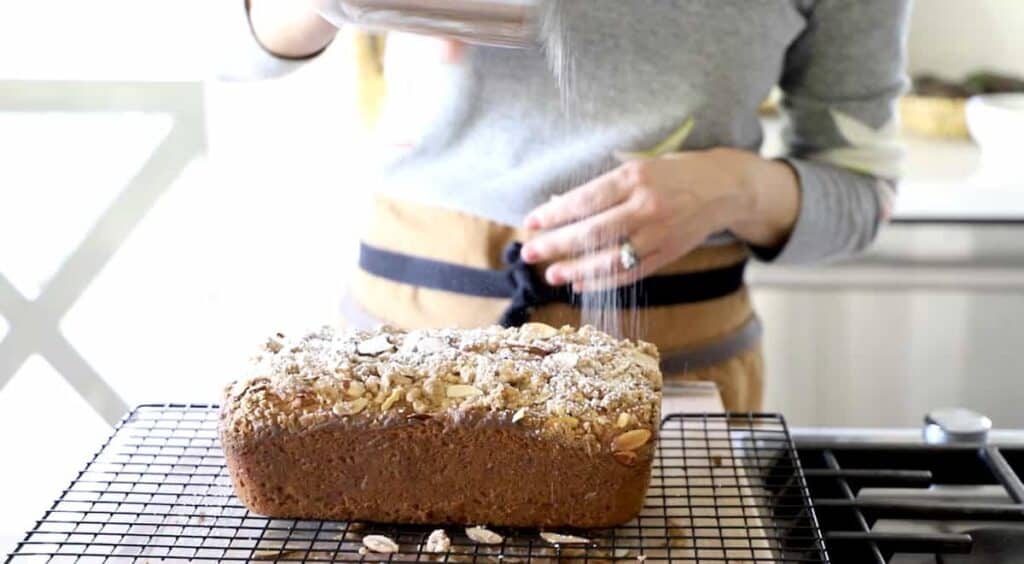 Make-Ahead Tips:
This crumb cake reheats beautifully! To have it all ready to go you can make it in advance, follow either one of these make-ahead steps.
Refrigerated
Bake the cake up to 2 days before.
Allow it to cool completely
Keep it in the tin
Cover it loosely will foil
Reheat it in a 300F oven, covered for 20 minutes
Remove the foil for another 5 minutes to crisp back up
Frozen
Bake the cake for up to 2 weeks before
Allow it to cool completely
Remove it from the tin
Wrap it in wax paper, then a layer of tin foil
Freeze
To defrost, place overnight in the refrigerator
Remove the wax paper. Wrap it back up in the foil
Reheat it in a 300F oven, covered for 20 minutes
Remove the foil for another 5 minutes to crisp back up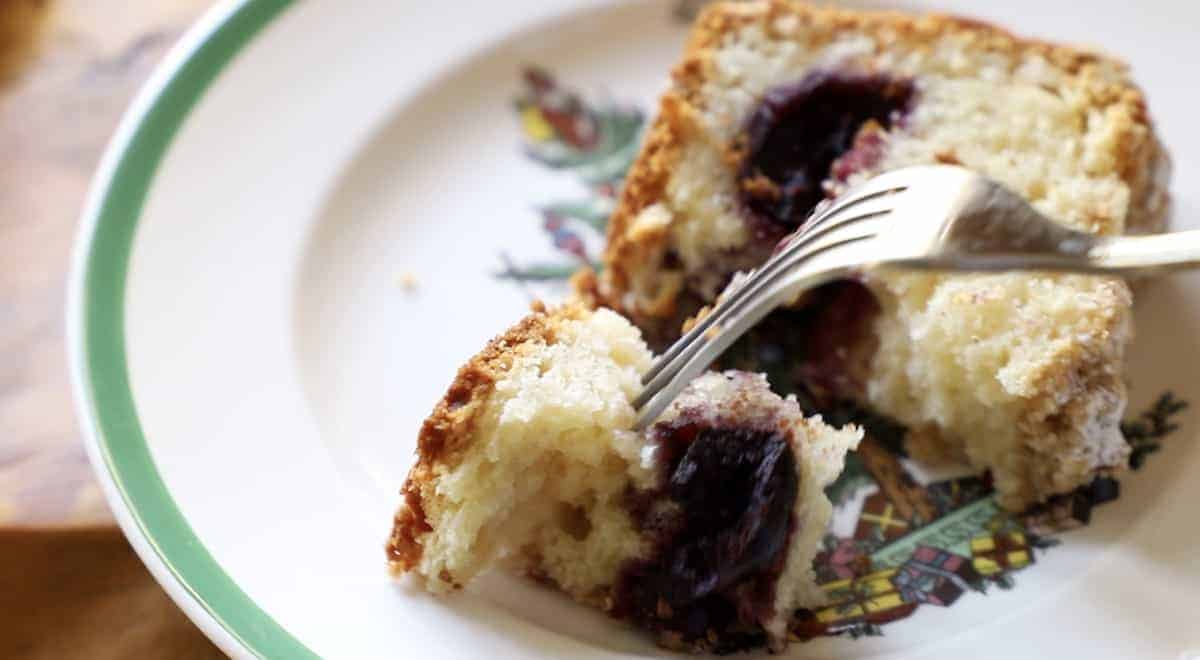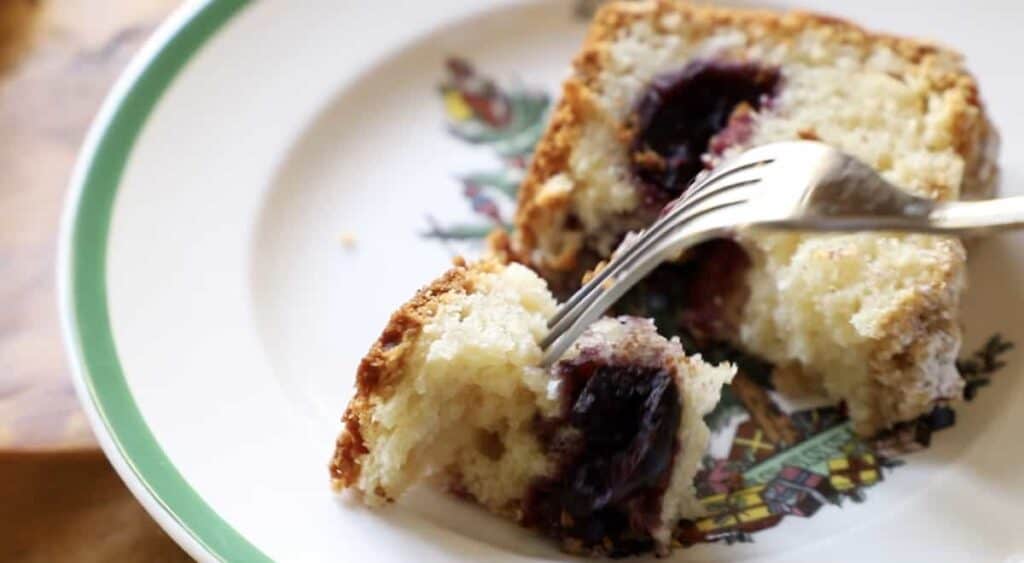 More Christmas Morning Recipes!
If You Enjoyed This Recipe
Please Leave a Rating and a Review Below!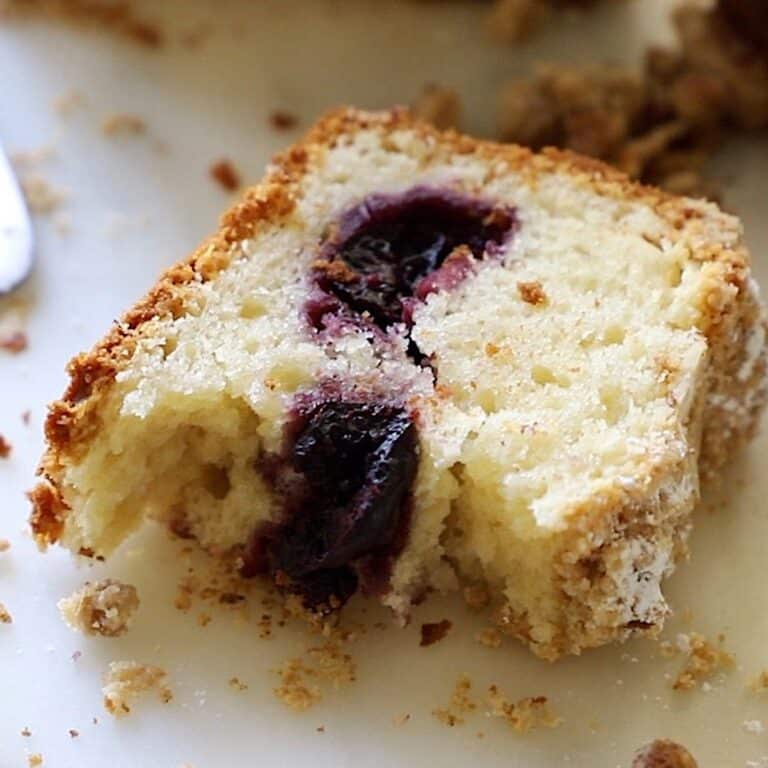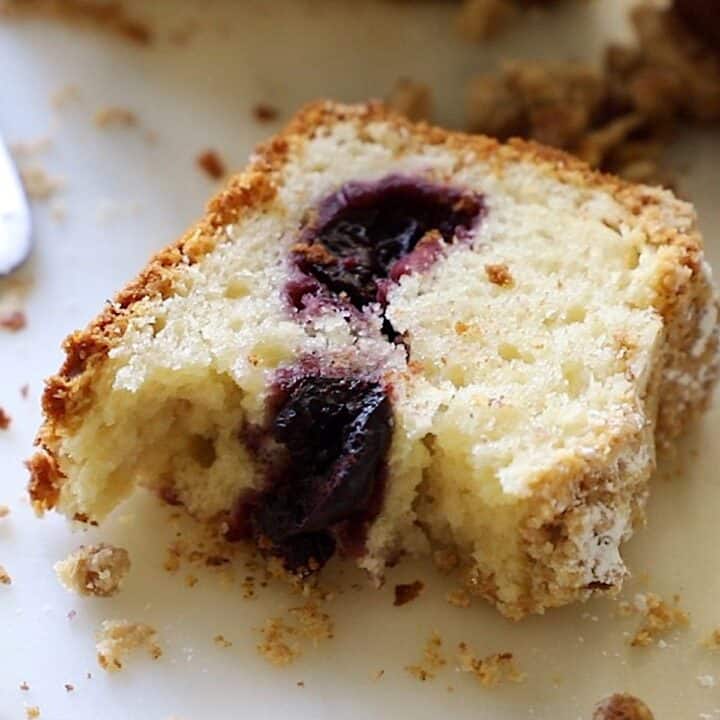 Crumb Cake with Sour Cherries
Cook Time:
1 hour
10 minutes
Total Time:
1 hour
55 minutes
A delicious crumb cake recipe that is light and fluffy and filled with sour cherries, and topped with the most delicious crumb topping!
Ingredients
FOR THE CAKE:
¾ cup (180g) of butter, softened
1 cup (200 g) sugar
2 eggs, room temperature
2 teaspoon vanilla extract (10 ml)
2 ½ cups (300g) flour
2 teaspoon (10 ml) baking powder
½ teaspoon (2.5 ml) baking soda
1 teaspoon (5 ml) salt
1 ½ cup (350ml) sour cream, room temperature
1 cup (150g) frozen, pitted cherries
CRUMB TOPPING:
½ cup (60 g) of flour
½ teaspoon (2.5ml) baking powder
2 tablespoon (25 g) sugar
2 tablespoon (23 g) brown sugar
¼ teaspoon (1.5g) cinnamon
5 tablespoon (75ml) melted butter
1 teaspoon (5 ml) vanilla extract
¼ cup (40 g) of sliced almonds
GARNISH:
Instructions
Preheat oven to 350F/176C. Spay a 9 (23cm) x5 (13cm) loaf pan with baking spray.
Prepare the crumble. Whisk together the dry ingredients, then add the butter and the vanilla and stir until a wet crumble appears. Then stir in the almonds. Set aside.
Cream butter and sugar until very fluffy. Add eggs one at a time until combined. Add vanilla extract.
In a separate bowl whisk together flour, baking powder, baking soda, and salt.
Add the dry ingredients to the butter mixture in thirds, alternately with the sour cream. The batter will be thick and sticky!
Transfer half of the batter into the pan. For this, I like to use an ice cream scoop. Make 5-6 batter balls then smooth out with a spatula.
Then add a single layer of cherries on top, keeping them from touching the sides of the pan or they will stick.
Cover the cherries with the remaining batter (5-6 more batter balls) Smooth out and then top with all the crumble.
Bake on the lower third rack of your oven, this will prevent the crumble from getting too browned.
Bake 1 hour and 10 mins, check for doneness with a skewer it should come out clean when inserted into the center of the cake. Bake 5-10 mins more if needed.
Allow to cool for 30 mins. Then release the cake from the pan, dust with powdered sugar slice, and serve!

Notes
If the top starts to become too brown at the 1-hour mark, cover loosely with a sheet of foil.
Nutrition Information:
Yield:

8
Serving Size:

1
Amount Per Serving:
Calories:

231
Total Fat:

13g
Saturated Fat:

7g
Trans Fat:

0g
Unsaturated Fat:

5g
Cholesterol:

75mg
Sodium:

86mg
Carbohydrates:

26g
Fiber:

1g
Sugar:

19g
Protein:

3g