This easy Frittata recipe includes Tomatoes, Basil, and Mozzarella cheese. It's a festive addition to any of your Christmas Morning breakfast or brunch recipes!
Comes together quickly and you can cook the potatoes at the same time, so both are done together! (recipe below and video will show you how to manage the prep)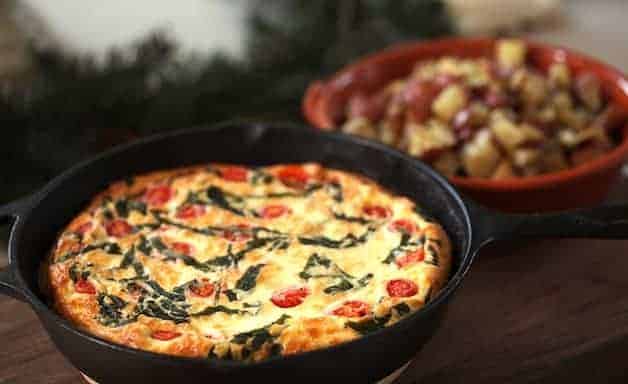 This recipe comes from my Christmas Morning Breakfast Menu I did for the Kin Community YouTube Channel a few years back. You can watch the full video below!
Need more menu ideas? Watch all my Kin Community Menu Videos
More Recipes from this video include:
STEP 1: Mix Egg Batter
Combine eggs, heavy cream, salt, pepper, and cheese in a large mixing bowl. You could even do this the night before to save time on Christmas morning!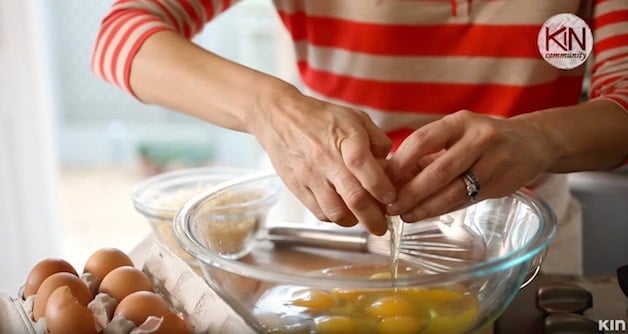 Tip: Adding the heavy cream is decadent, but it creates a wonderful texture to this frittata recipe. It ends up with a texture that is less like an omelette and more like a quiche.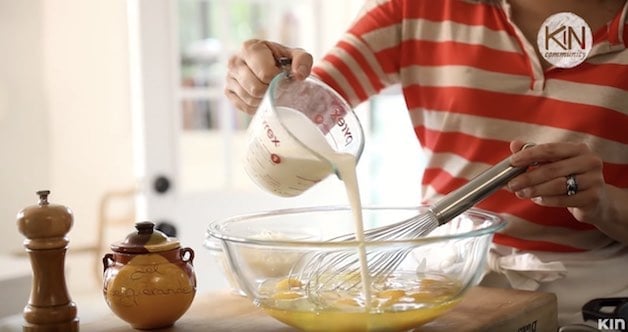 STEP 2: Pour Egg Batter into Skillet
Gently pour your egg batter into a skillet that has been lined with melted butter.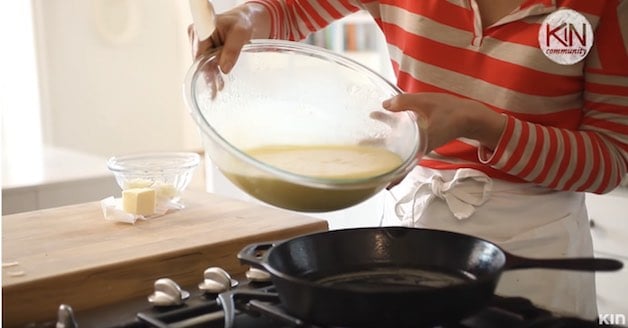 Tips:
If you are looking for a cast-iron skillet, I highly recommend the 10" pre-seasoned Lodge Cast Iron Skillet. (this link goes to Amazon where I am compensated on products sold at no additional cost to the consumer)
The pre-seasoning is definitely the way to go! It creates this wonderful non-stick surface that otherwise would take years of use to achieve.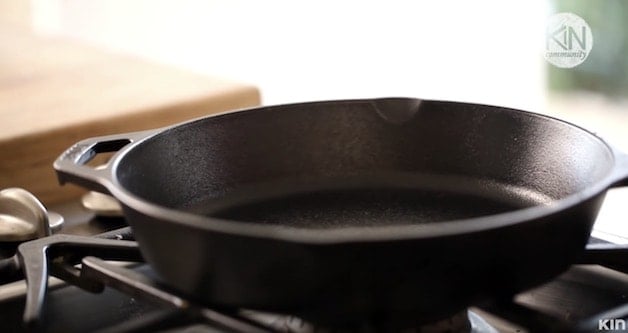 STEP 3: Cook Frittata on Stovetop
This frittata will cook in two stages. First, you'll set it on the cooktop under a medium-low flame. And then add more cheese on top.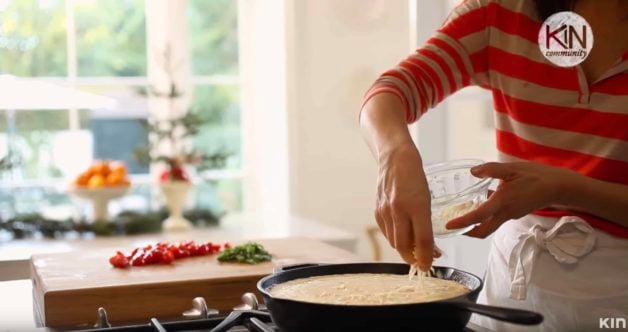 Tips:
The low heat allows you to achieve the delicate texture.
Then you'll cook it all the way through it the oven to cook the tomatoes and melt the cheese. This also provides for a nice golden brown top.
STEP 4: Add the Tomatoes and Basil
Once the frittata is set it will allow you the ability to place the tomatoes and basil on top without them sinking to the bottom.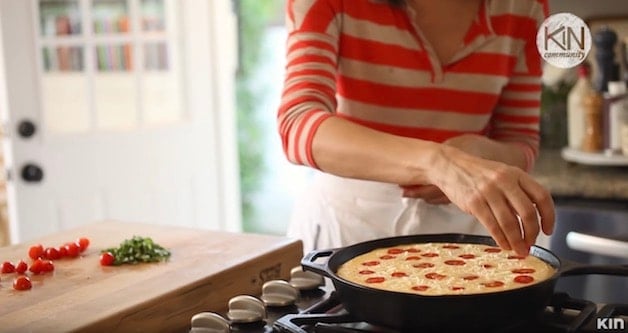 Tip: When slicing the cherry tomatoes cut them in half as opposed to lengthwise.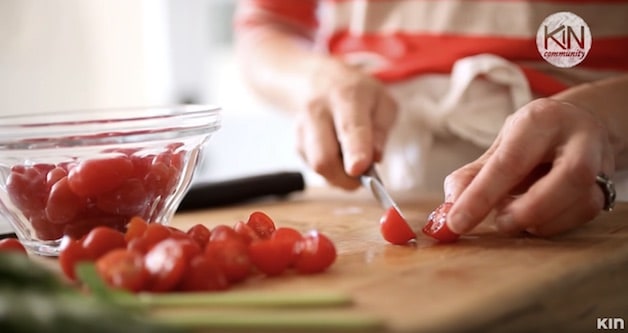 This will create a prettier view of the interior of the tomato (no core) and look nicer when placed on top of your frittata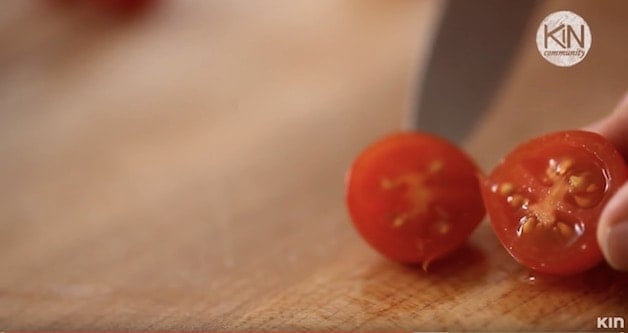 STEP 5: Bake and Serve!
Bake the frittata in the oven until set and serve with my perfectly roasted potatoes (recipe below) Merry Christmas!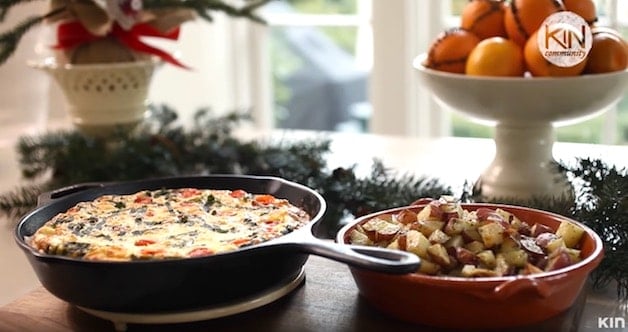 Looking for more Christmas morning recipes?
PLEASE LET ME KNOW IF YOU MAKE THIS RECIPE
BY LEAVING A RATING AND REVIEW BELOW!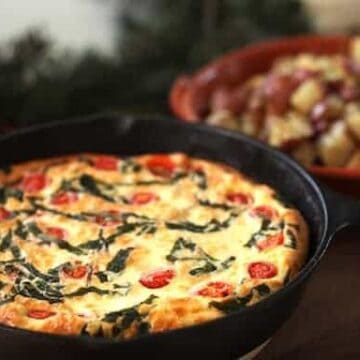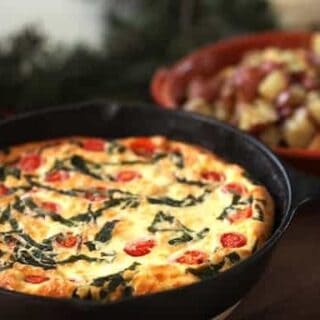 Easy Frittata Recipe
Easy Frittata recipe perfect for a weekend brunch or Christmas morning breakfast! Rich and delicious!
Ingredients
Frittata
12 eggs
1 teaspoon (5 g) salt
½ teaspoon (2.5 g) freshly cracked pepper
½ (120 ml) cup of heavy cream
1 ¼ cups (135 g) of shredded mozzarella cheese separated
1 tablespoon (15 g) butter
20 cherry tomatoes
2 tablespoon (10 g) basil, roughly chopped
Roasted Potatoes
1 ½ cups (225 g) red new potatoes, diced
1 tablespoon (15 ml) olive oil
Good few pinches of salt
fresh cracked pepper to taste
1 tablespoon (5 g) herbs de Provence
Instructions
Preheat oven to 400 F (200 C) degrees.
Dice potatoes, toss with olive oil, salt, pepper and herbs de Provence. Place on a sheet pan, and pop in the oven for 15 mins.
Meanwhile combine eggs, salt, pepper and heavy cream. Whisk together. Stir in 1 cup (90 g) of cheese.
Place a 10-inch (25 cm), oven-safe skillet (can not have a plastic handle, or it will melt once you place it in the oven) on a medium flame. Melt butter in pan. Add egg mixture and cook without touching for about 15 mins until eggs begin to set.
Then turn oven down to 375 degrees (190C). Once frittata is setting up around the edges, top with the remaining cheese, cherry tomatoes, and chopped basil.
Place potatoes on bottom rack of your oven, and frittata on the middle rack. Cook both until potatoes are crisp and Frittata is completely cooked through, puffed and golden brown. It should not giggle in the middle.
Garnish frittata with freshly cracked pepper and serve with potatoes.
Notes
You can make the egg batter the night before. Cover and refrigerate
If serving in a cast-iron skillet make sure the skillet is pre-seasoned and has a good non-stick surface on it
Cut the cherry tomatoes in half (as opposed to lengthwise) this will give you the prettier view of the interior of the tomato
If you cannot find Herbs de Provence seasoning fresh or dried rosemary can also be used
Serve with a little warmed pesto on the side. Adds a nice sauce to this recipe.
Recommended Products
As an Amazon Associate and member of other affiliate programs, I earn from qualifying purchases.
Nutrition Information:
Yield:

8
Serving Size:

1
Amount Per Serving:
Calories:

247
Total Fat:

17g
Saturated Fat:

7g
Trans Fat:

0g
Unsaturated Fat:

8g
Cholesterol:

305mg
Sodium:

223mg
Carbohydrates:

9g
Fiber:

1g
Sugar:

2g
Protein:

14g