If you've ever wondered how to make spinach quiche from scratch, my foolproof quiche recipe is as easy as it gets! It uses simple ingredients you probably already have on hand, and it works with either my homemade crust or store-bought crust.
It's rich and flavorful and holds its shape! (no watery, runny quiche here!) this one keeps its structure thanks to a few of my foolproof tips! It's a go-to recipe at our house for Easter, Mother's Day, baby or bridal showers!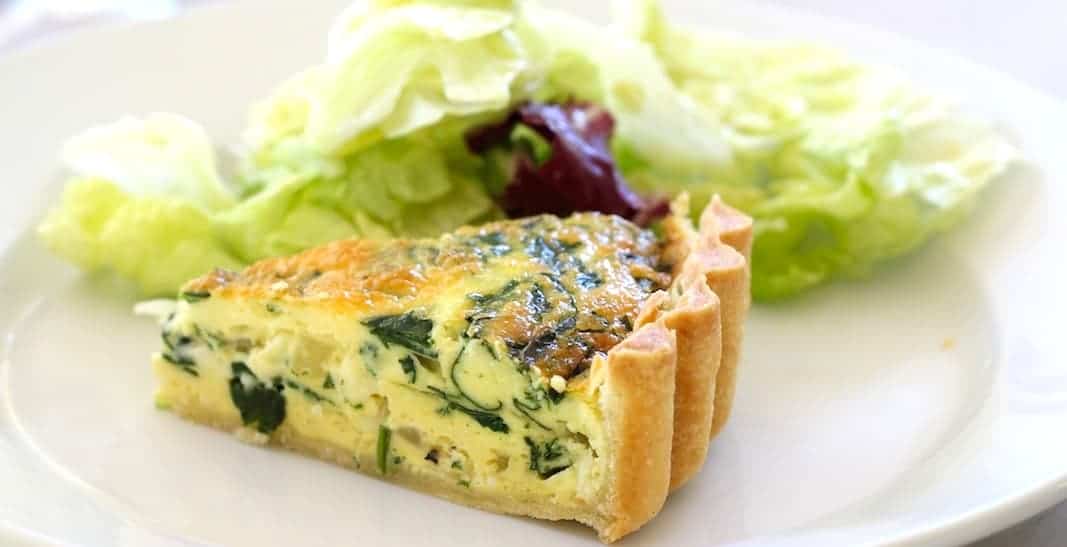 For individual quiche fillings try my Mini Quiche Recipe; one base with multiple fillings to please everyone! For a quick and easy quiche recipe try my Crustless Air Fryer Quiche Recipe. The air fryer makes quiche so fluffy and delicious!
Recipe Pairings:
Watch My Video Demo of this Recipe Below
Can I use Fresh Spinach instead of Frozen in Quiche?
Personally, I like to use fresh spinach even more than frozen, because I find the flavor is more pronounced and the quiche doesn't get watery or soggy the way it can with frozen spinach. I add the spinach right after sauteing the onions. It will look like a lot of spinach, but not to worry it cooks down quickly.

Chop Fresh Spinach After It's Cooked
Cooked spinach is a lot easier to chop than fresh spinach. You can cook the fresh spinach down until it's wilted, allow it to cool, and then chop it. It will be more bite-sized this way and evenly distributed throughout the quiche as well.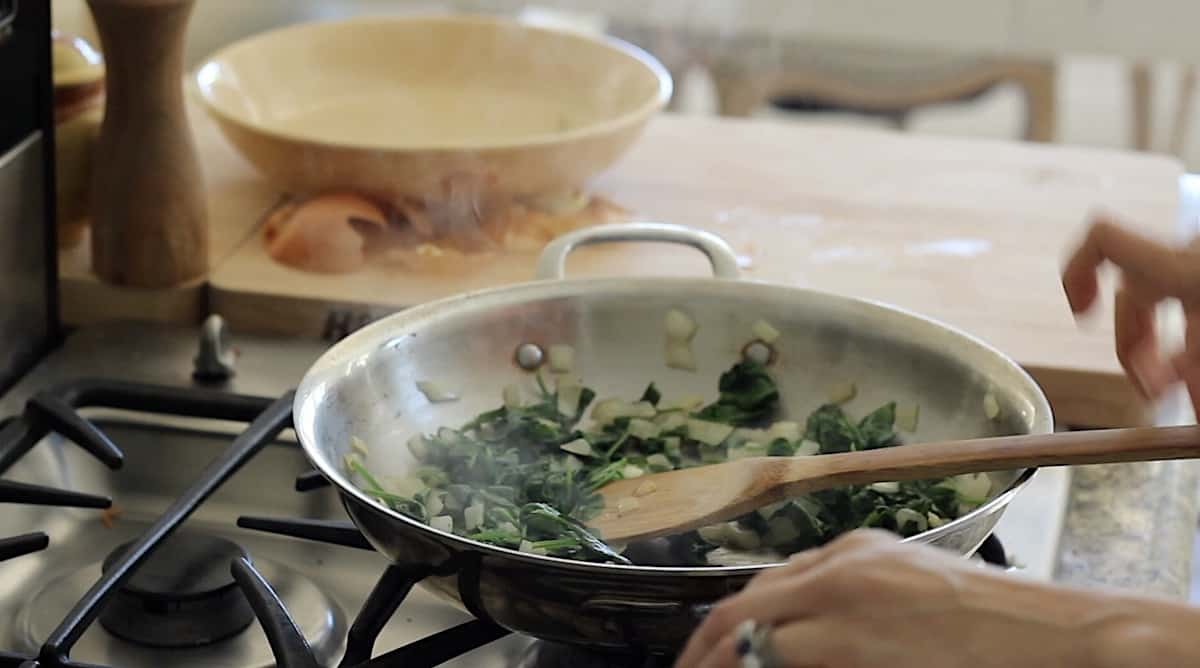 Homemade vs. Store-bought Crust
There are two ways to go for the crust depending upon how much time and effort you want to put in. Personally, I'm a big fan of homemade quiche crust. Not only is the flavor better and the texture flakier, but it also allows you the ability to pick your own quiche pan.
Use a Deep Dish Pan
I like a deep dish quiche pan since it allows for more generous slices. And when you see how beautiful this quiche is to slice, you'll want a nice deep quiche. My favorite pan to use is the Deep Dish Quiche Pan with Removable Bottom from Nordicware (This link goes to Amazon where I am compensated on products sold at no cost to the consumer).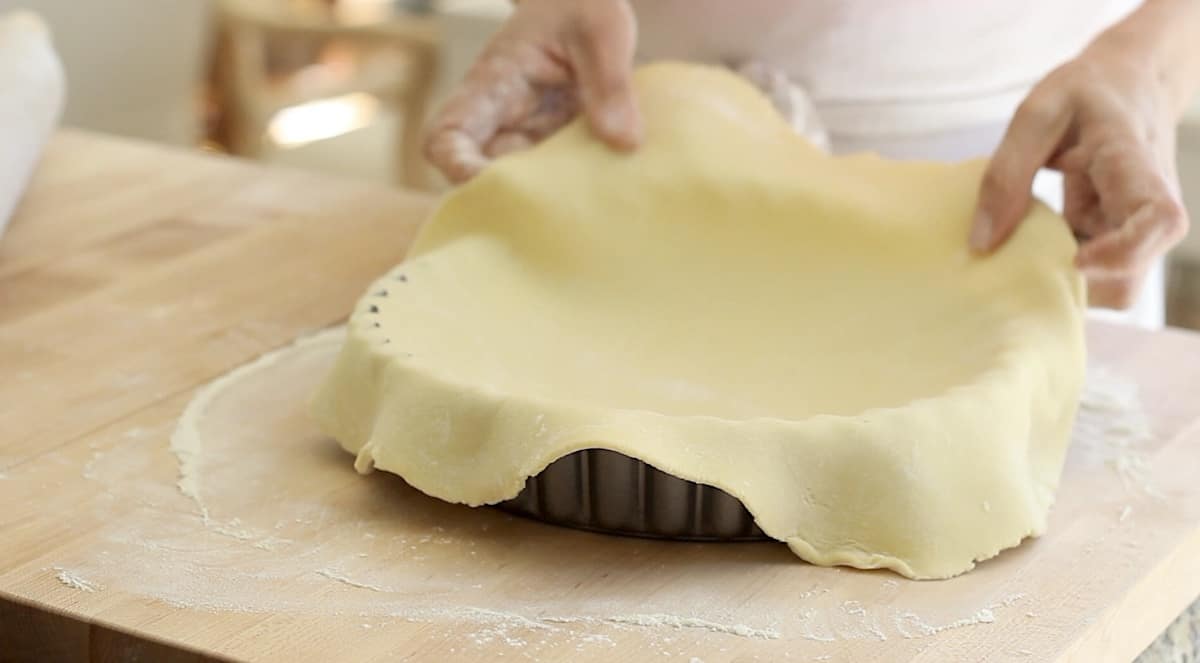 Store-Bought Crust
Store-Bought quiche crust allows for greater convenience, but you're limited in the depth of the store-bought tin. Look for a crust that is labeled "deep dish" and pick the deepest one you can find.
Another drawback with store-bought crusts is that they can easily crack when frozen and then you need to thaw them to reshape them. Once thawed you can patch them back together again. But it's just another consideration.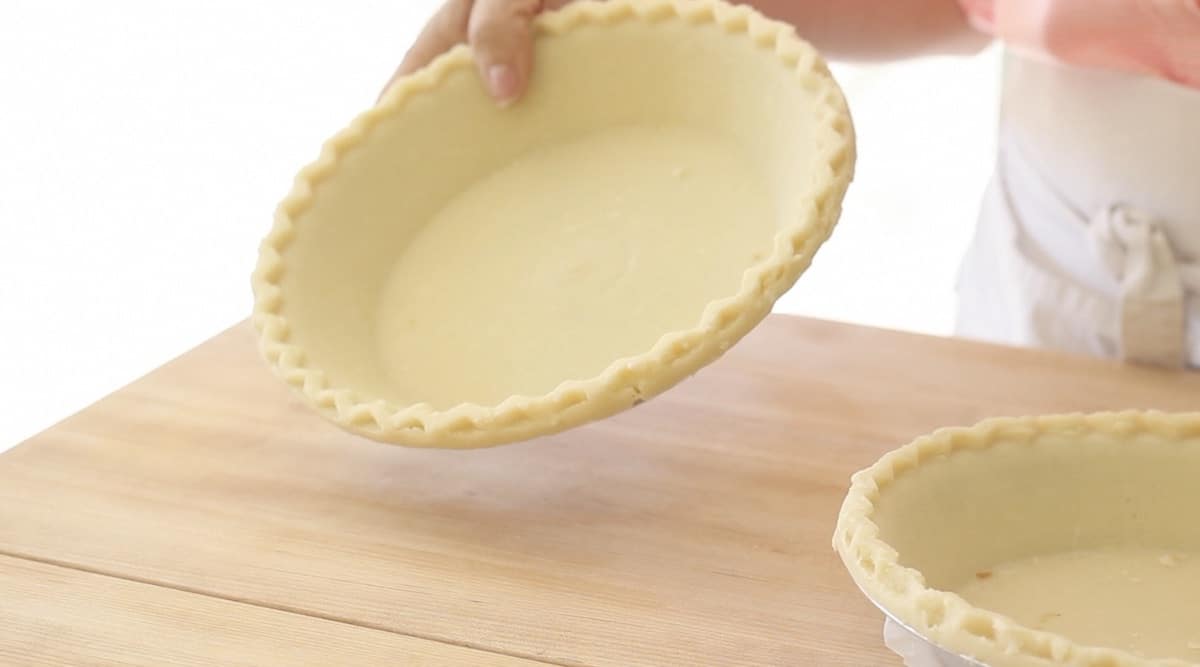 Is Blind Baking Necessary for Quiche?
I know this can be controversial, but personally, I don't blind bake the quiche crust. I find if you freeze your tin with your dough fitted, before adding the filling and baking, it will remain crisp and keep its shape. Even with the best-chilled quiche dough, I find blind baking can be hit or miss. Sometimes it can still shrink, slide down the tin and make for a lopsided crust!
Since I especially love the pretty fluted design of the deep dish quiche pan, I don't take any chances for slippage. So I've found the best way to preserve its fluting is not to blind bake the crust.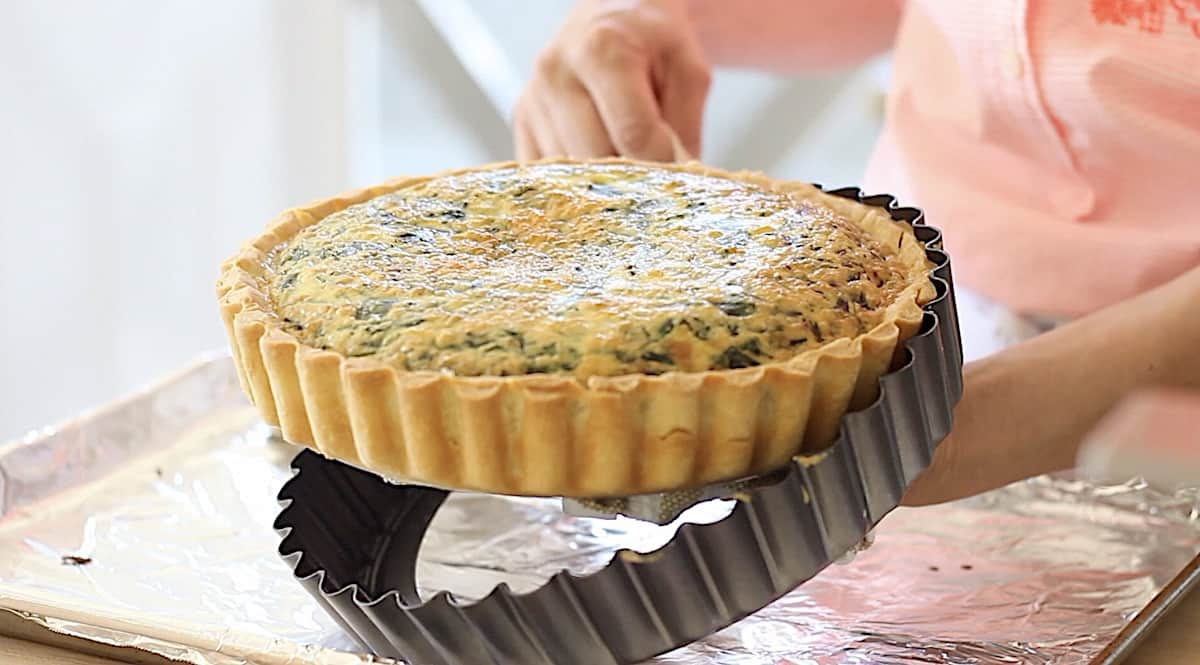 Take the Time to Trim the Edges
Before placing your tin in the freezer be sure to trim the edges so that they are flush with the top of the tin. This will allow for a prettier crust once your quiche is baked.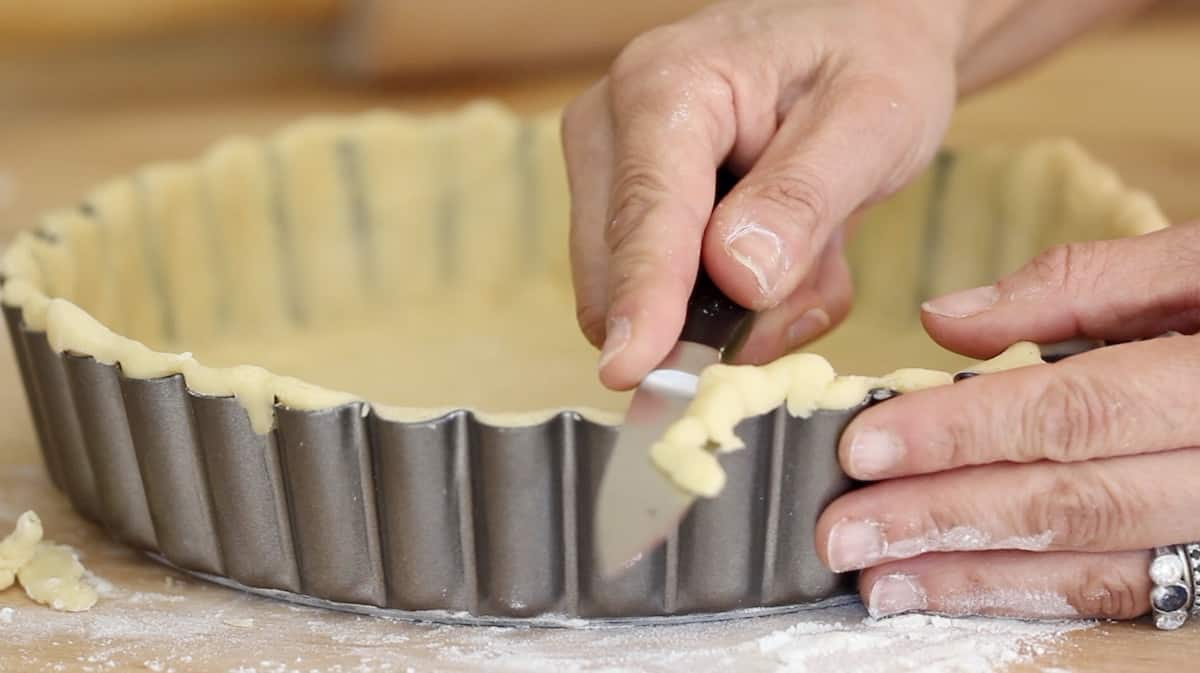 Filling the Quiche
It's best to place your tin on a sheet pan, this will make it easier to place in and out of the oven. I line the pan with foil in case the quiche leaks anywhere before setting. It will make it easier to clean up than having to scrape off the baked-on egg.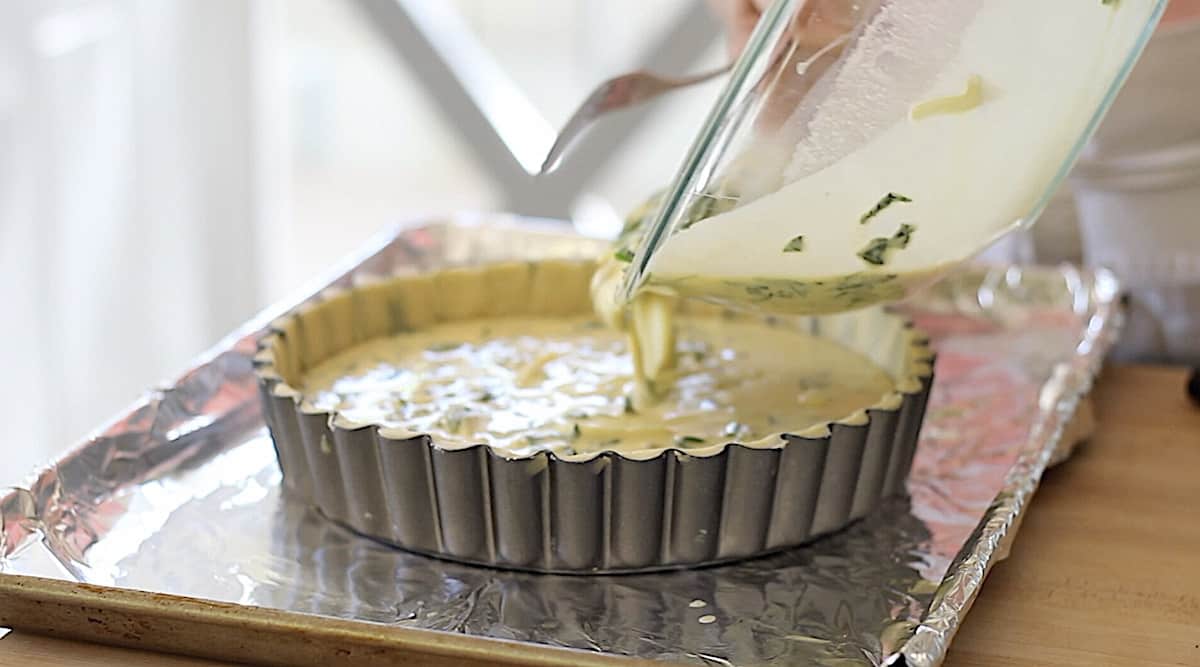 Can I Use Milk Instead of Heavy Cream?
Let's face it, quiche is not diet food and while you can reduce the calorie count by using milk instead of cream, what you will lose in structure, just isn't worth it in my opinion. It's the heavy cream that really allows for a firmly set quiche that will be the envy of all your guests and have the most delicious and decadent texture (and won't turn into a wobbly mess).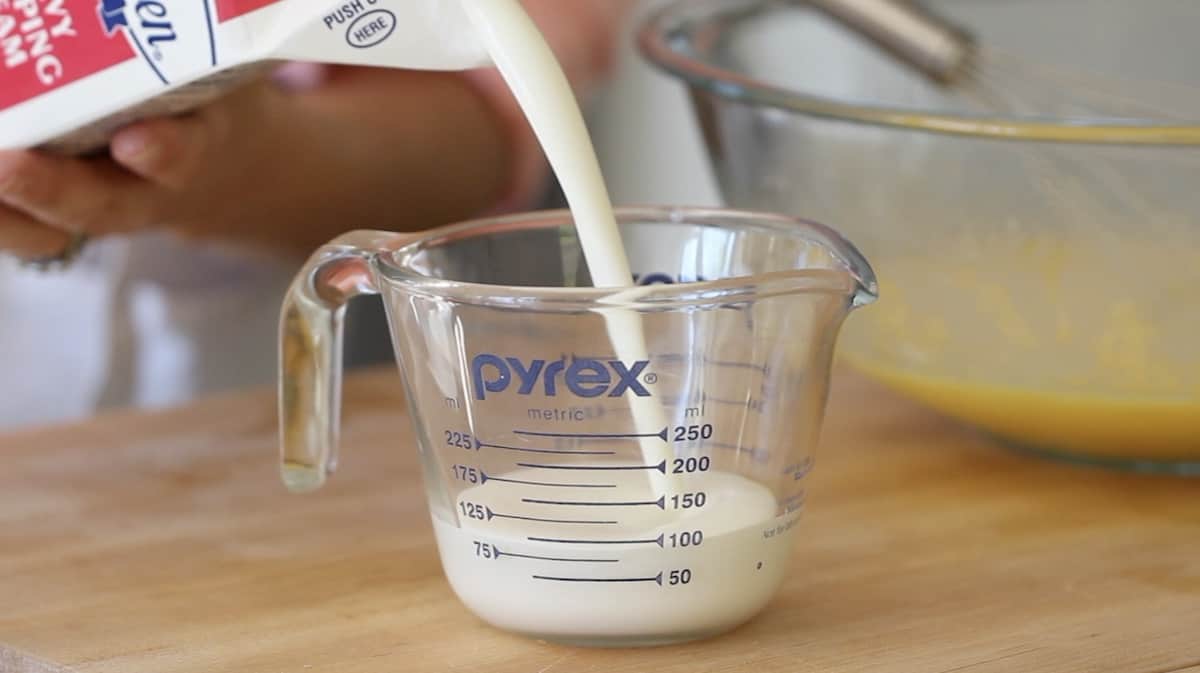 More Spring Recipes!
If You Enjoyed This Recipe
Please Leave a Rating and a Review Below!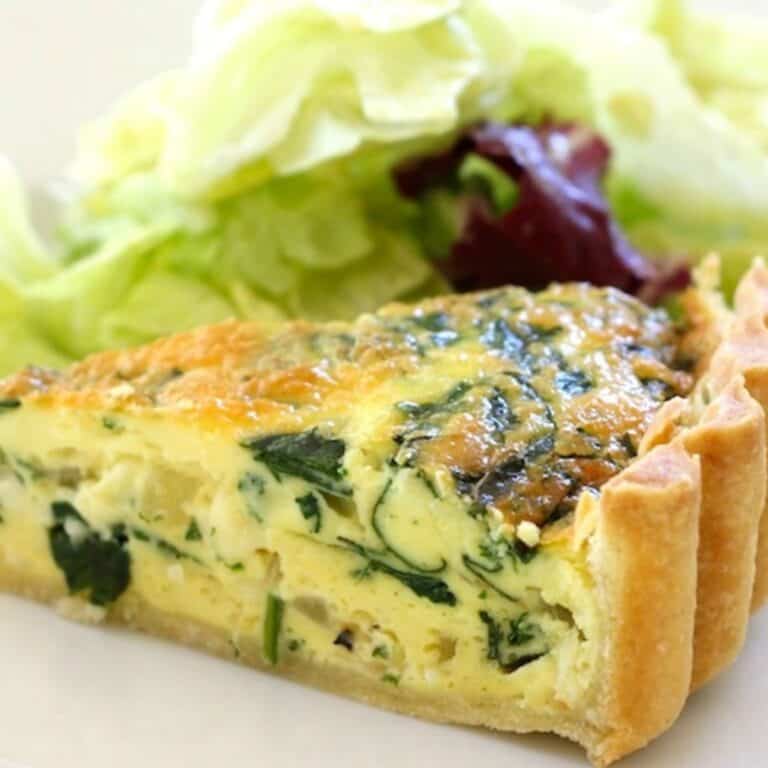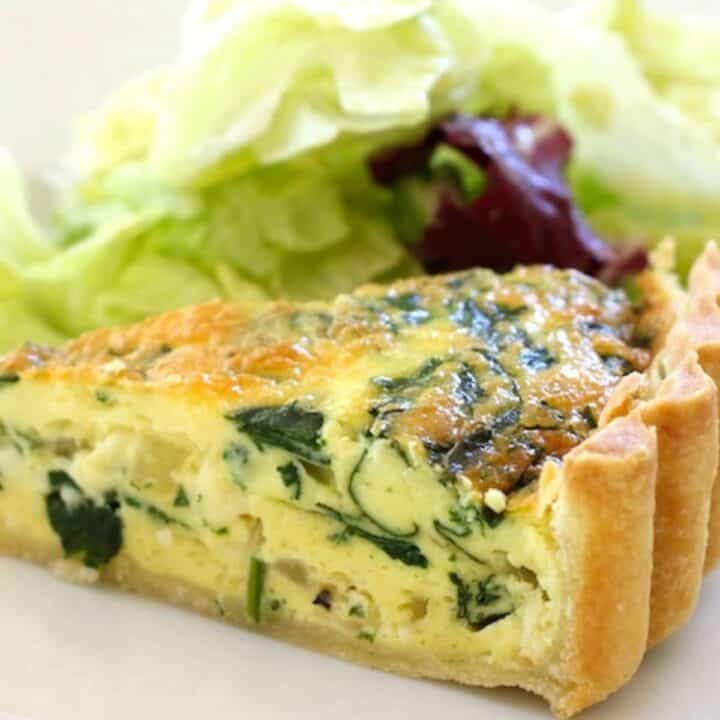 Beth's Foolproof Quiche Recipe
Total Time:
1 hour
30 minutes
If you don't have a killer quiche recipe in your current recipe arsenal, today is your lucky day.  Here is my Foolproof Quiche Recipe that gets rave reviews every single time. Happy Spring entertaining!
Ingredients
Quiche Dough:
1 ¼ cups (150 g) flour
½ tsp (2.5 ml) salt
½ cup (150 g) cold unsalted butter, cubed
1 egg
2 tbsp (30 ml) ice water
Quiche Filling:
1 tbsp (15 g) butter
½ cup (75 g) yellow onion, diced
good Pinch of salt
crackled pepper to taste
10 eggs
1 cup (240 ml) heavy cream
1 tsp (5 ml) salt
Cracked pepper to taste
⅛ tsp (1.75 ml) cayenne pepper for spice or ⅛ tsp (1.75 ml) nutmeg for a more mellow flavor
½ cup (60 g) Gruyere cheese, shredded
1 6 0z (170 g) bag baby spinach
Instructions
To make the crust:
Combine flour and salt in a food processor and pulse. Cut butter into small cubes and add to food processor and pulse.
Combine eggs with ice water, add to a food processor, pulsing until a dough forms. Remove dough and roll into a ball on a floured surface.
Roll the dough out right away and fit into the bottom of the pan, letting the sides flop over. Fit the bottom and sides, and then using the back of your palm to fit into all the crevices. Cut the excess off the top so that the dough is flush.
Place the pan in the freezer for at least 20 mins, longer is fine too. The dough should be almost frozen and not bend to the touch.
Meanwhile, prepare the filling. Melt the butter in a sauté pan. Add onion and sauté until soft. Season with a good pinch of salt and pepper. And spinach and cook until wilted and reduced in size to about 1 cup.
Crack 10 eggs in a large bowl, whisk together, add the heavy cream, and whisk. Then add salt, pepper, and cayenne. Whisk to combine.
Remove the spinach mixture from the pan and give it a rough chop, add to the egg mixture. Add the cheese and mix to combine.
Remove tart pan from freezer and place on a rimmed cookie sheet.
Pour filling on top.
Bake at 350F (175C) for 45-50 mins or until golden brown and set (Quiche should not wiggle)
Allow to cool slightly and serve with a tossed green salad.
Notes
This can be baked the day before.
Allow to cool completely cover with foil and pop in the fridge overnight.
To Reheat keep quiche covered with foil and reheat at 300F (150C) for 20 mins.
Remove foil and bake 5 mins more. Enjoy!
Nutrition Information:
Yield:

8
Serving Size:

1
Amount Per Serving:
Calories:

134
Total Fat:

9g
Saturated Fat:

4g
Trans Fat:

0g
Unsaturated Fat:

5g
Cholesterol:

264mg
Sodium:

147mg
Carbohydrates:

2g
Fiber:

1g
Sugar:

1g
Protein:

10g