Endive Bechamel, or Endives au Jambon as it's also called, is a classic French recipe, that combines soft and tender endive, simmered in silky bechamel sauce, wrapped in crispy ham, and topped with bubbling, Gruyere cheese. It is the ultimate French comfort food and it's also so simple to make!
It's the kind of dish you won't find in bistros or cafes, but rather in your grandmother's kitchen. It's home cooking at its best, and one of my French husband's favorite meals from his childhood, along with other home-cooked classics like Hachis Parmentier and Tomates Farcie.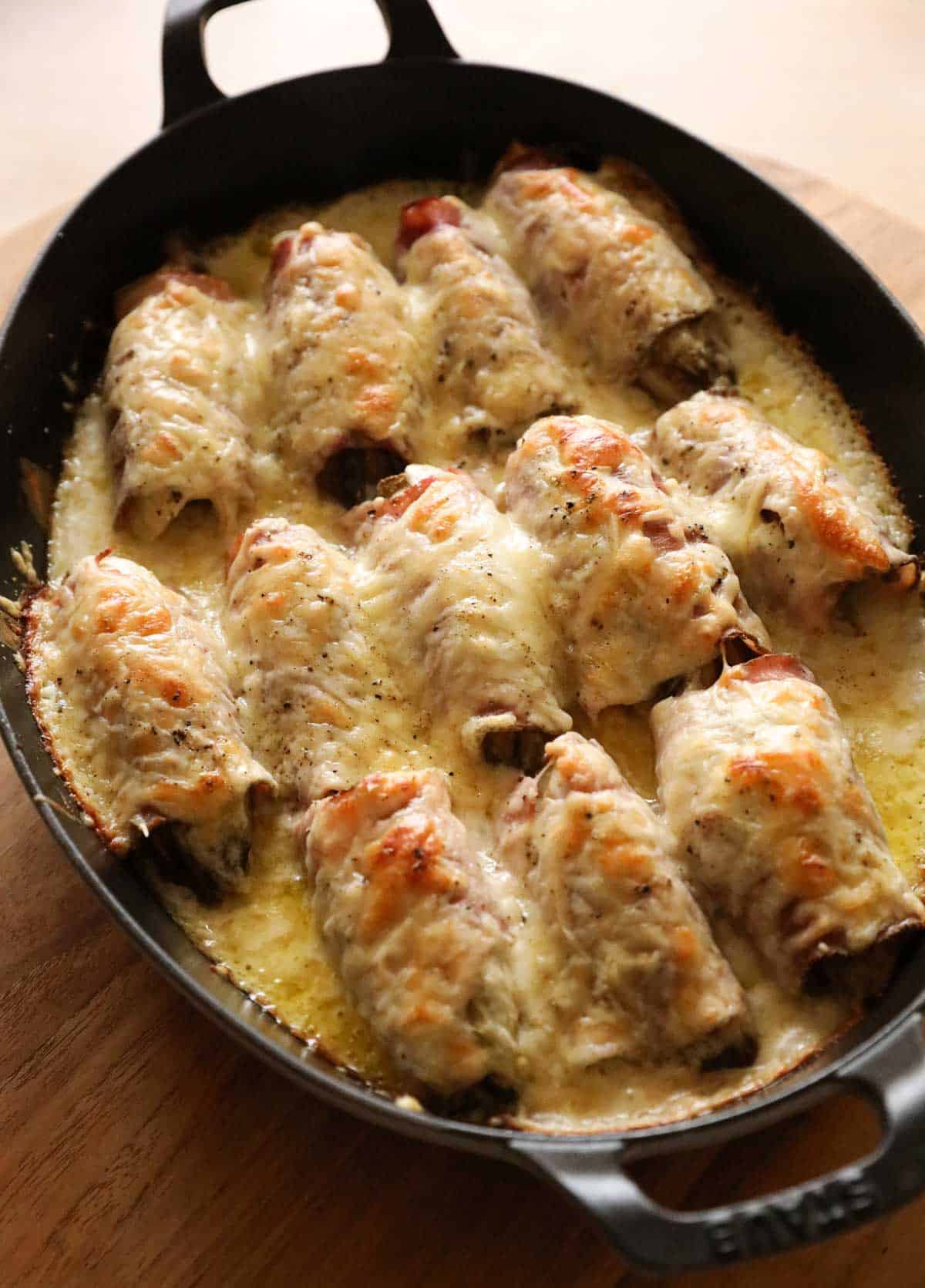 What is the Origin of Endives au Jambon?
Endive Bechamel or Endives au Jambon as its also known, most likely has its origin in Belgium where endives originated. Although it can be argued that bechamel sauce has its origin in France, so perhaps this dish is really a culinary mash-up between the two countries. But the story goes that a Belgian farmer left some chicory root in his basement to dry out, only to find months later that it had sprouted leaves! And hence the "Belgian Endive was Born"!
This recipe can be prepped in advance, and baked off as soon as guests arrive, making it a wonderful choice for easy entertaining! Serve with a green salad tossed with a French vinaigrette and some crusty French baguettes, and you are all set.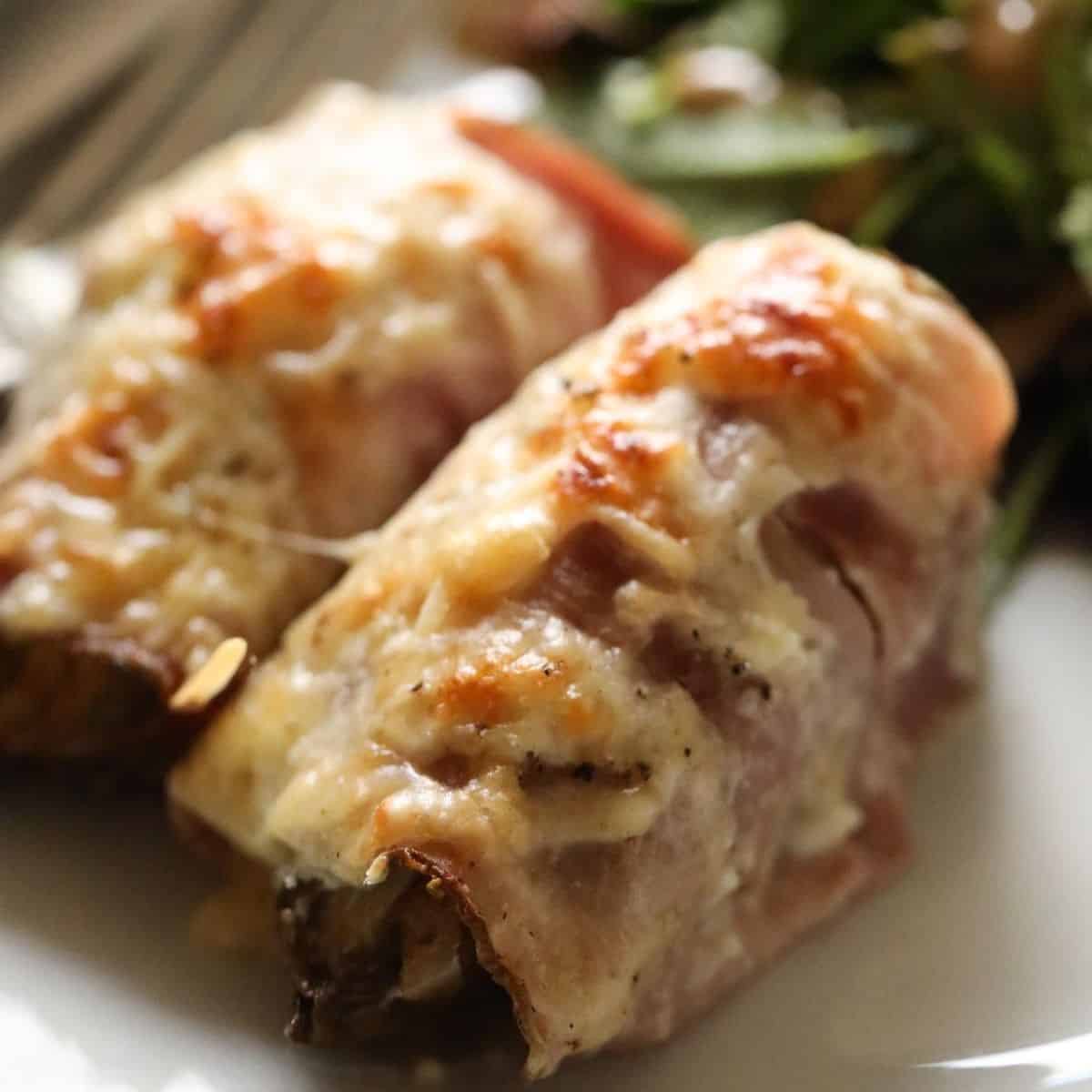 The Ingredients:
The nice thing about this recipe is it takes very few ingredients to make something so utterly sublime and delicious!
Belgian Endive Most often in the States, we eat endive raw, either in a salad or as a vehicle for a nutty blue cheese dip. Its crisp, bitter taste and texture can be quite refreshing. But once its cooked, the flavor mellows and the texture becomes velvety smooth and delicious. For this recipe color doesn't matter, both the green endive or the purple endive will work, but if you buy endive at Trader Joe's the packages come mixed with both.
Sliced Ham Get the best quality ham you can find. Black Forrest Ham, or French ham is great. Or if at Trader Joe's their Rosemary Ham is quite good too!
Butter, Flour and Milk You'll need these ingredients to make the bechamel sauce, which is very easy to make. And once you master this sauce you can also use it for my Chicken and Mushroom Crepes. Another great French recipe to try!
Garlic I like to flavor my bechamel sauce with garlic, but you could leave it out and go with the grated nutmeg instead. Or use both!
Pinch of nutmeg Adds a really lovely perfumed nuttiness to bechamel sauce.
Freshly Cracked Pepper Always go for freshly cracked, you'll get the best flavor that way. I add it in the sauce, and on top of the cheese once the casserole is ready for the oven. It adds a nice finish to the top.
Salt I wouldn't go over board on the salt in the bechamel sauce because both the ham and the cheese are pretty salty
Gruyere Cheese For that wonderful gooey flavor. If you can't find cheese labeled Gruyere, look for sliced Swiss cheese. You could even wrap the slices around the ham/endive bundles if it's pliable enough, otherwise just layer the cheese on top.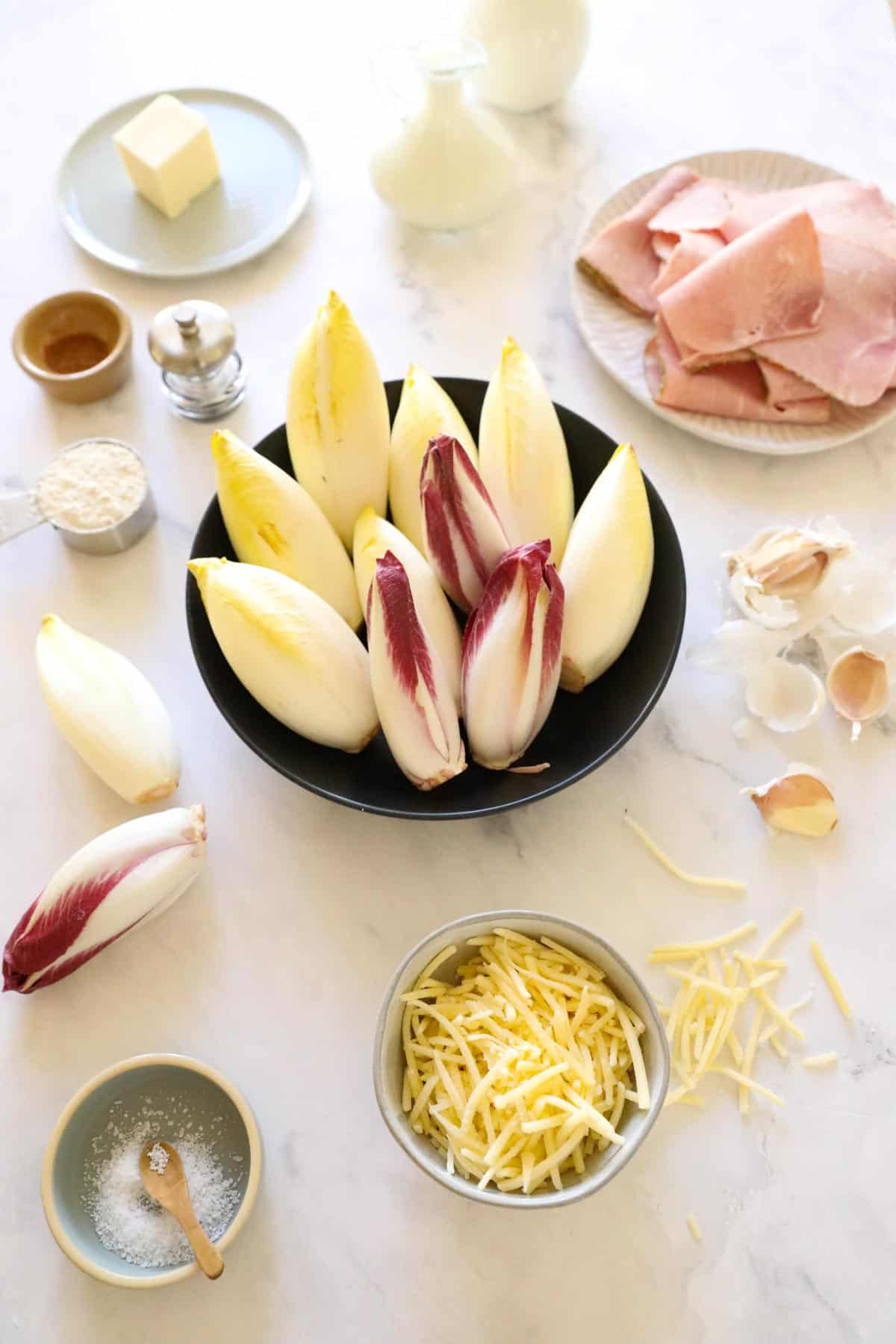 Slicing the Endive Core
The root portion of the endive can be tough to eat, so it's best to slice off the ends.
It's also important to cut out the toughest part of the core, at the bottom.
The easiest way to do that is to cut a V at the bottom of the Endive. That will remove the toughest section.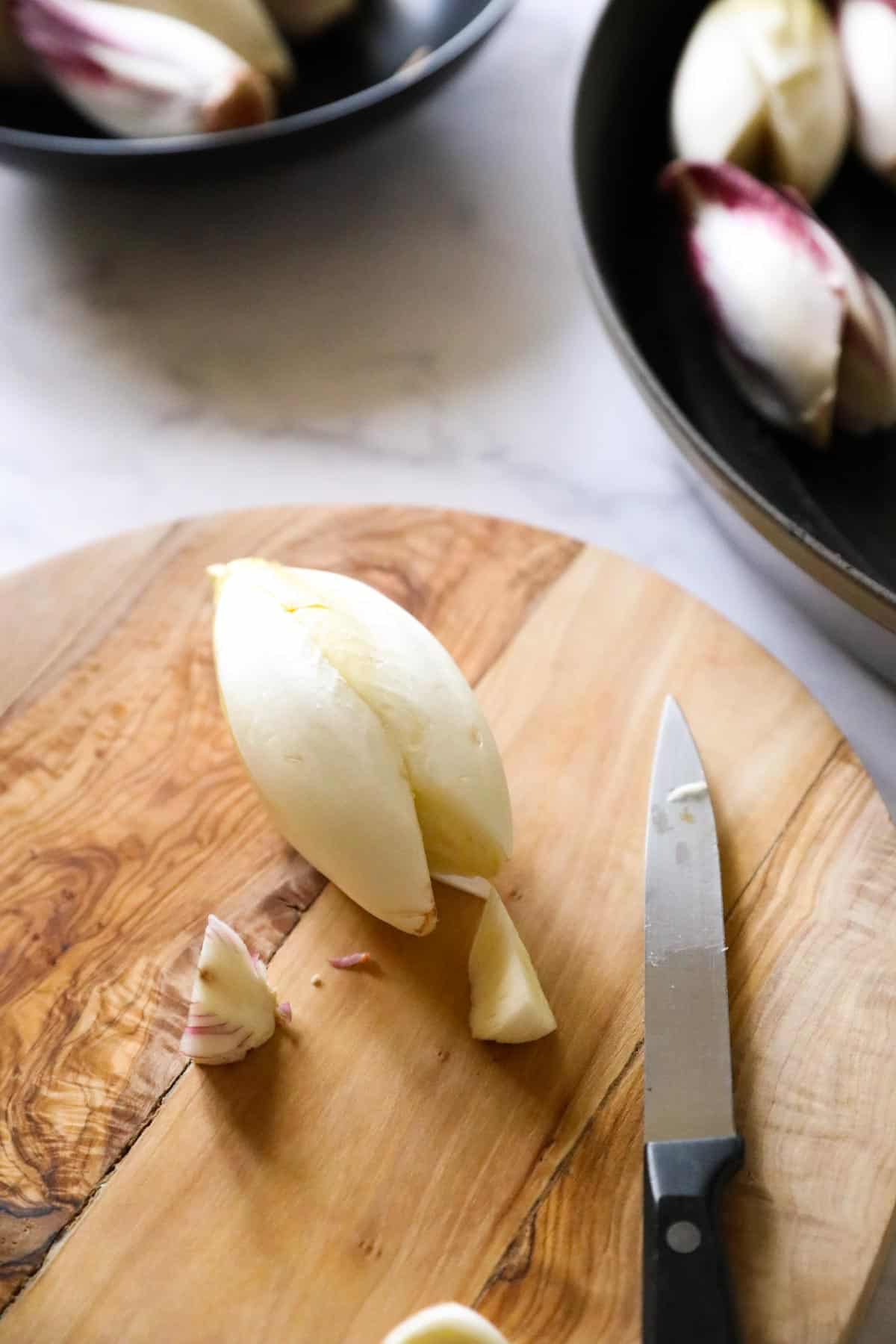 Should You Cook the Endive First?
Yes! Pre-cooking the endive will give them the best texture. But there is a debate in our household about what is the best way to do that.
My husband's grandmother, and mother are known to have boiled the endive first. This can be a time consuming and messy process.
I also find the moistutre from the water boiling seeps into the endive and then is released into the bechamel sauce as it bakes, which will result in a runny bechamel sauce.
So my preferred method is to bake them first! They soften up, stay nice and dry, and it's so much easier this way too!
Be sure to grease the dish first, then place in the endive snuggly. I use a 9x12.5 gratin dish and 9 endives fit in perfectly.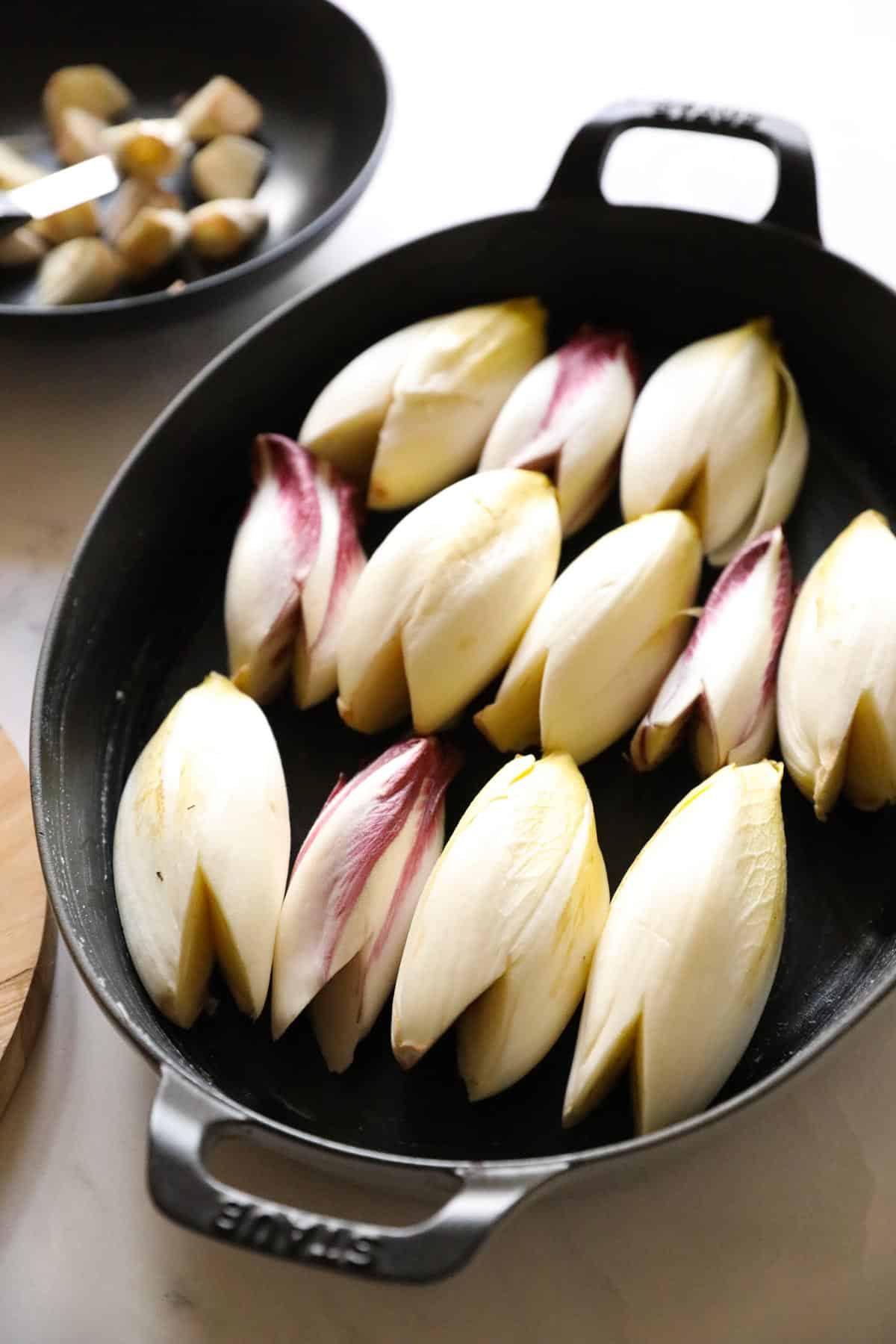 Wrapping the Ham and Endive
Wrap the ham around the cooled endive once its been pre-baked.
Place the wrapped endive, seam side down in the pan.
Try to space out the bundles so there is a little room between each one, this will allow space for the bechamel sauce to seep through.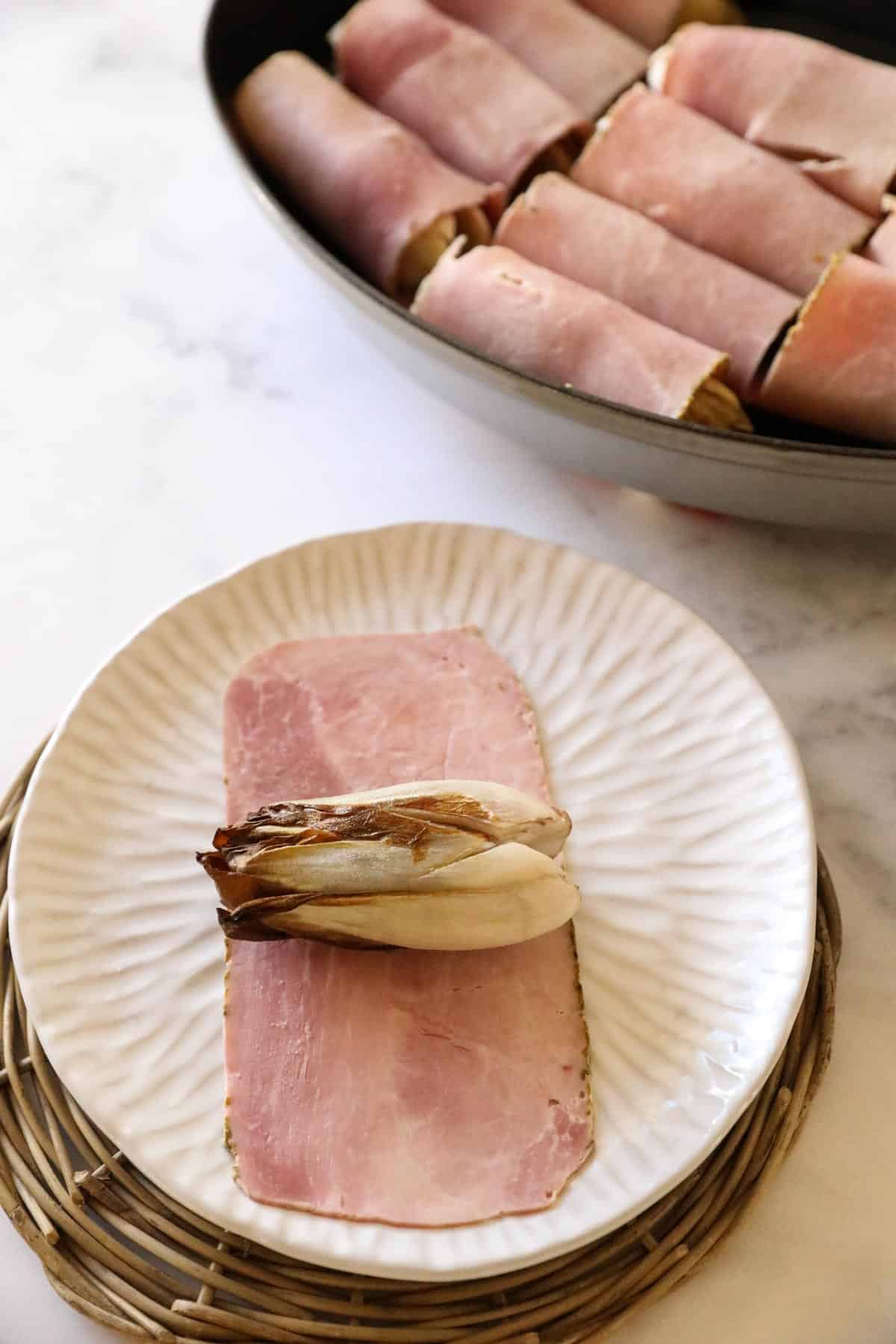 Making the Bechamel Sauce
The bechamel sauce will thicken as it bakes in the oven.
For this, it's better to keep it a bit on the thinner side, knowing the sauce will continue to cook and thicken in the oven.
In fact, if using a gratin pan that is cast-iron, it will thicken quite a bit and you should keep an eye on it. If it starts to look too thick you can add a little bit more milk to the pan, to thin it out.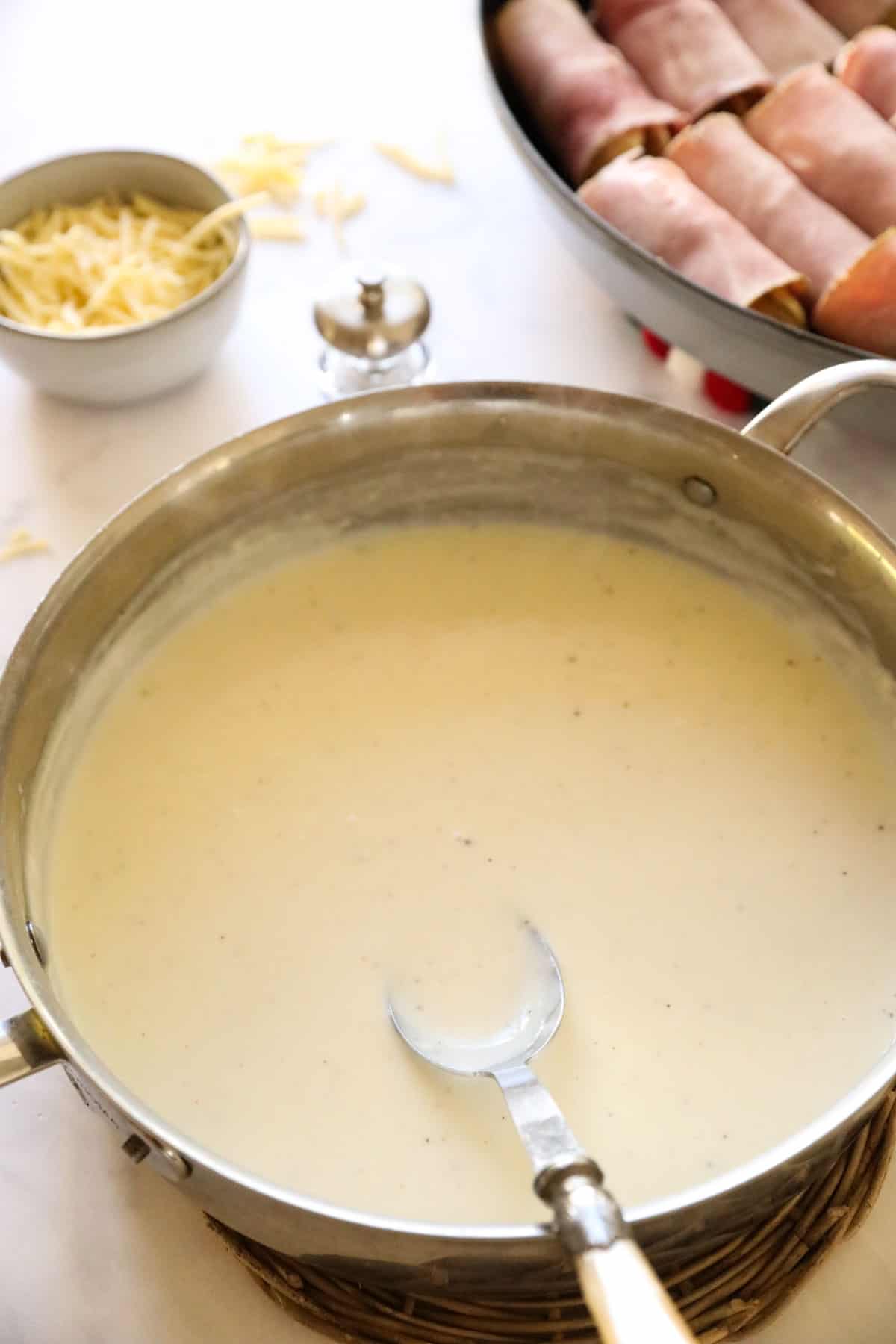 Adding the Gruyere Cheese
Add the cheese once the bechamel sauce has been spooned over the ham.
I try not to completely cover the ham with the bechamel sauce because leaving some of it exposed will create crispy pieces of ham which is quite delicious.
The is also the case with the cheese. I add just enough to create a gooey topping but not completely covered so that the ham can remain exposed and crisp up.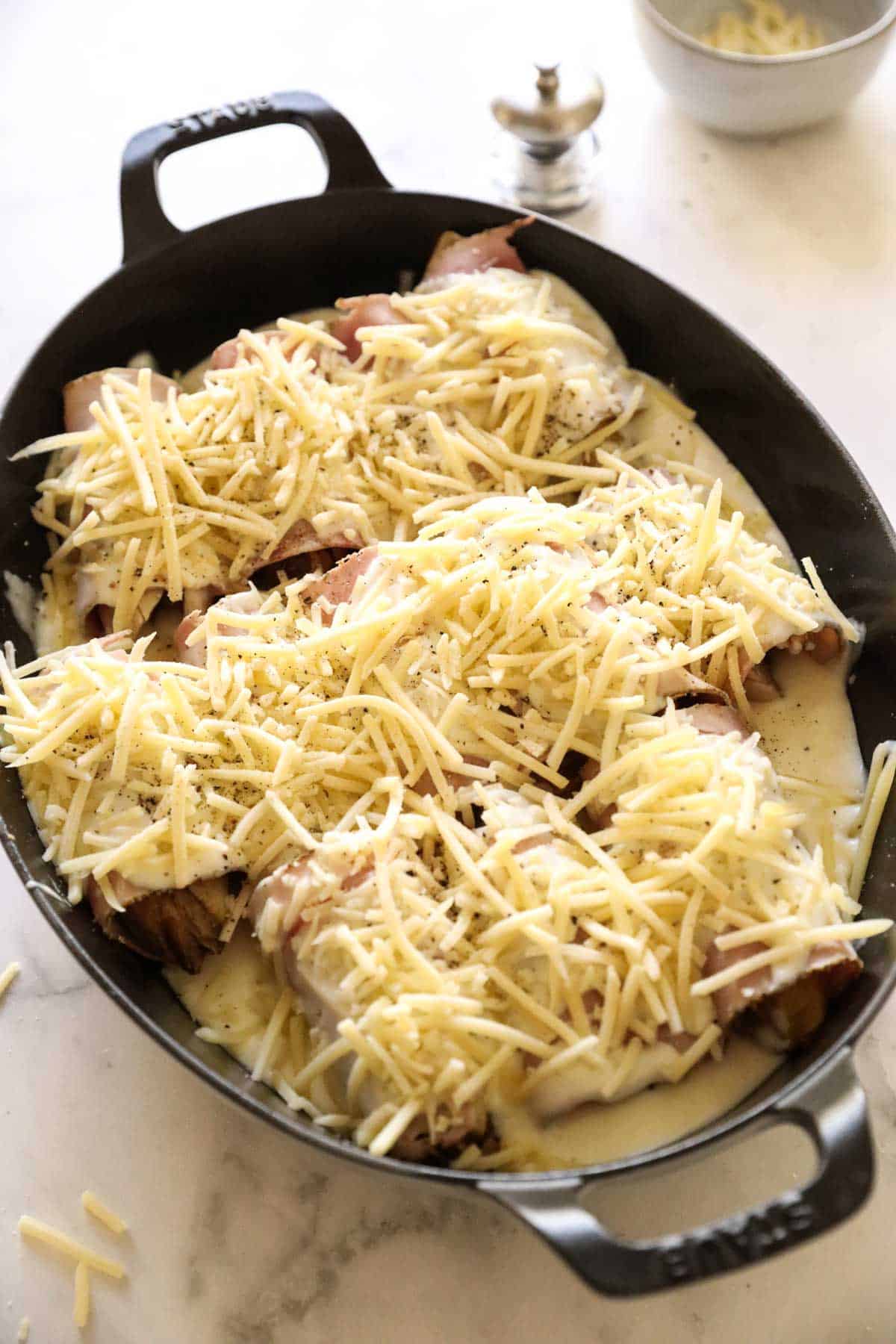 Make-Ahead and Serving Tips
You can assemble the casserole and keep it refrigerated until ready to bake.
The cheese and ham along with the bechamel sauce, make this dish quite filling.
Serving it with a tossed salad with a French vinaigrette is a great compliment, and will cut the richness.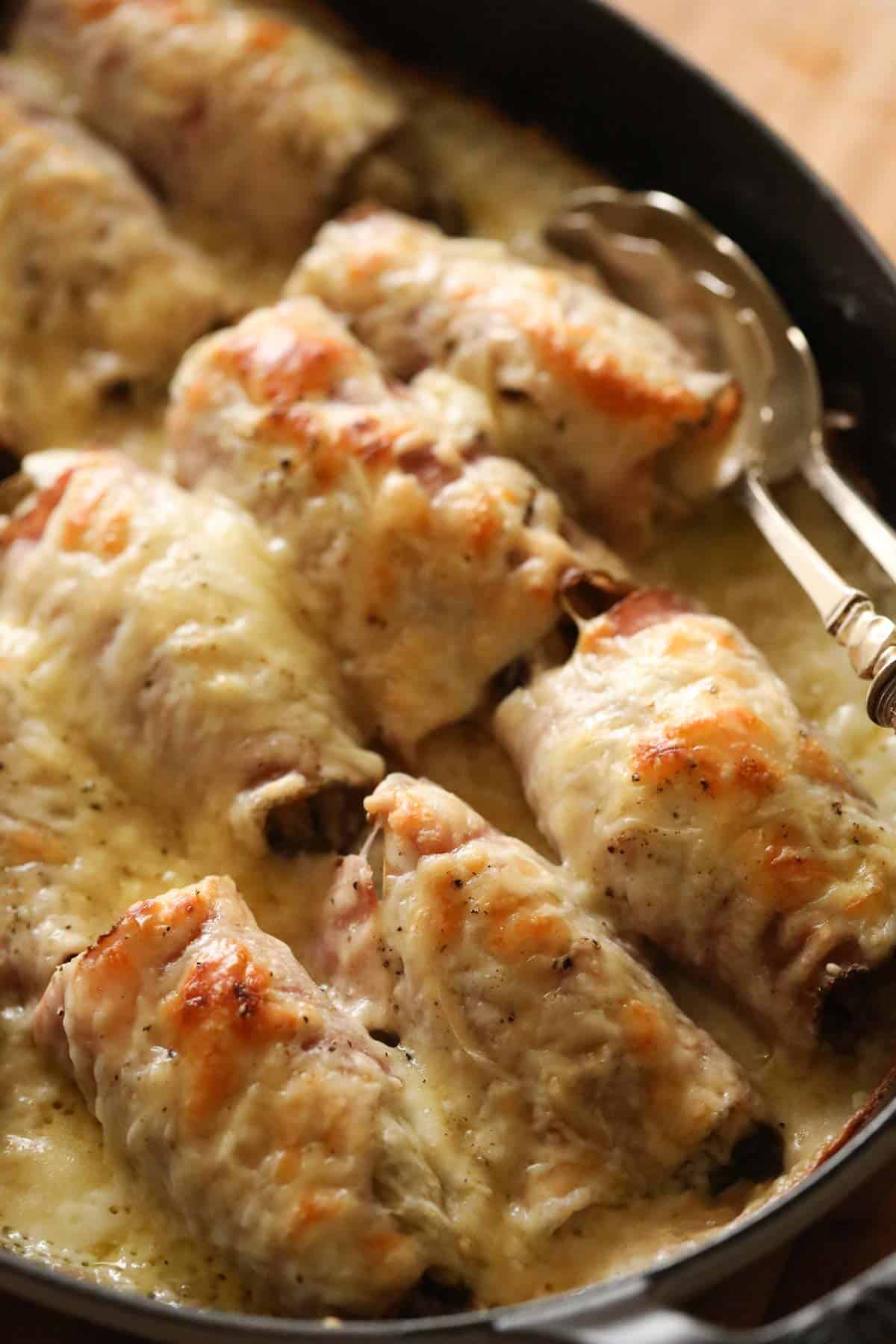 If You Enjoyed This Recipe
Please Leave a Rating and a Review Below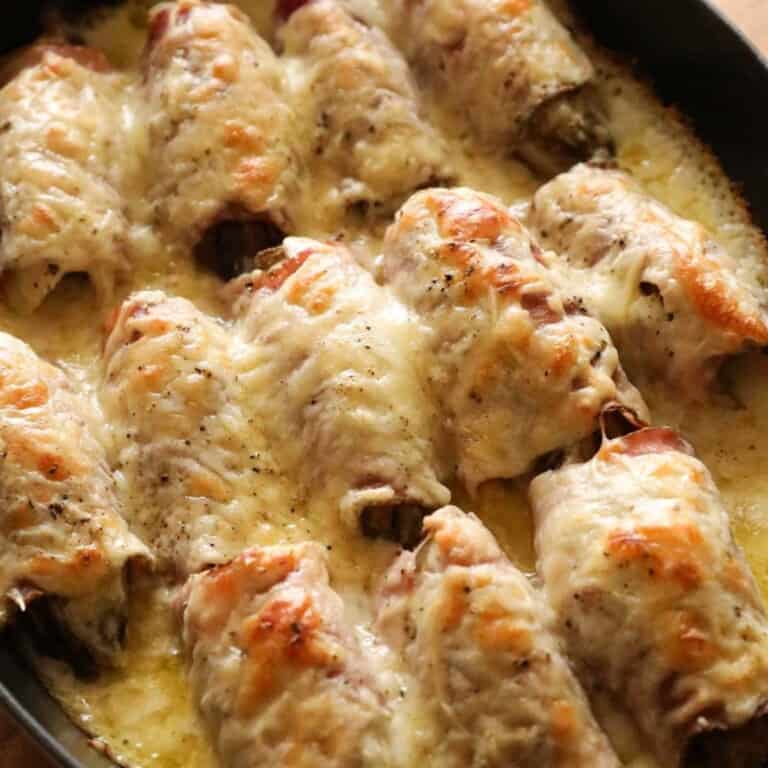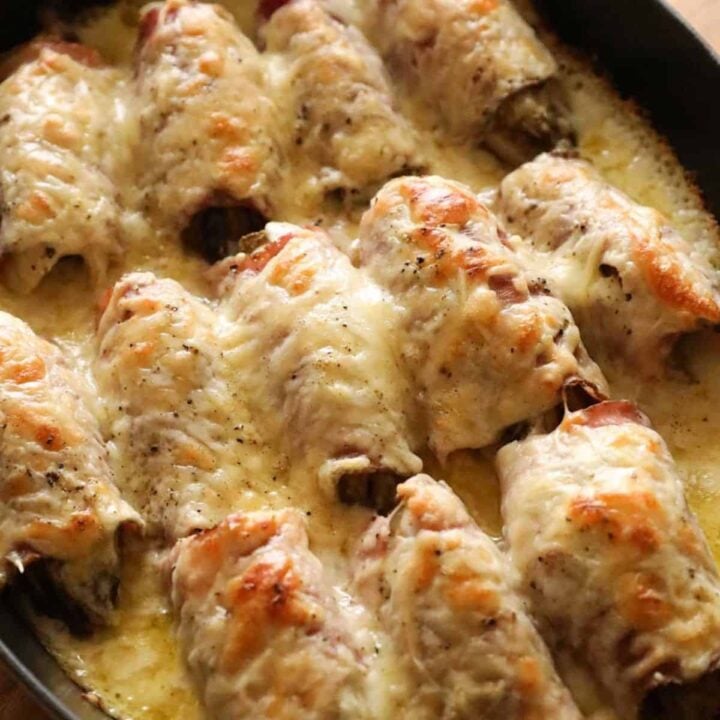 Endive Bechamel
Total Time:
1 hour
15 minutes
Endive Bechamel is a classic dish from my husband's childhood that is still one of his favorite family dinners.
Ingredients
9 whole endives
5 tablespoon (75 g) butter + 1 tablespoon (15 g) for greasing the casserole dish
¼ cup (30 g) flour
3 cups (700 ml) milk
¾ teaspoon (3.75 ml) salt
Freshly cracked pepper to taste
Pinch of nutmeg
2 cloves garlic, minced
9 pieces of black forest ham
1 cup (240 ml) Gruyere cheese, grated
FOR VINAIGRETTE:
1 teaspoon (5 ml) Dijon Mustard
1 tablespoon (15 ml) white wine vinegar (or red wine vinegar works too!)
4 tablespoon (60 ml) grape seed oil (or olive oil)
1 shallot, minced
salt and pepper to taste
Instructions
Pre-Heat oven to 375F (190C)
Grease a 9 x 14 casserole with 1 tablespoon of butter.
Core the bottom of each endive by slicing an upside-down 'V" out of each endive bottom. This will remove the toughest part of the core. But don't cut too much or the endive will begin to fall apart.
Place it in the bottom of the casserole and roast for 20 mins in the oven. Set aside to cool while you make the béchamel sauce.
In a large pan, I like to use a wide deep skillet for this. Melt the butter until foamy. Then add the flour whisking until a paste forms. Cook the paste for about 1 minute.
Then add the milk slowly whisking all the while until combined. Heat on medium-high until the sauce thickens and is smooth. 3-4 mins.
Season with salt, pepper, nutmeg, and garlic. Set aside to cool slightly.
Meanwhile wrap 1 piece of ham around each endive. Place back in the casserole snugly.
Pour sauce evenly across all the endive. Top with grated gruyere cheese.
Bake for 35-40mins until cheese is browned and sauce is bubbly.
For Vinaigrette: Combine mustard and vinegar and whisk until smooth. Then slowly add in oil until thickened and smooth. Add shallot and season with salt and pepper to taste.
Notes
You can prep this dish ahead of time, cover and refrigerate and then bake and serve for an easy dinner for entertaining.
Nutrition Information:
Yield:

5
Serving Size:

1
Amount Per Serving:
Calories:

183
Total Fat:

7g
Saturated Fat:

3g
Trans Fat:

0g
Unsaturated Fat:

3g
Cholesterol:

31mg
Sodium:

678mg
Carbohydrates:

14g
Fiber:

4g
Sugar:

0g
Protein:

17g