Vegan Cream of Broccoli Soup
This Vegan Cream of Broccoli Soup is a fantastic soup recipe served warm in the winter or chilled in the summer. It hits the spot when you are craving a creamy broccoli soup without cream. The creaminess comes from my secret ingredient! Cauliflower and Potato. It's packed with vegetables, giving it a nutritional punch!
You'll also love the flavor that the sauteed shallots provide and the hint of dried dill. Both are a fantastic flavor combination against the broccoli.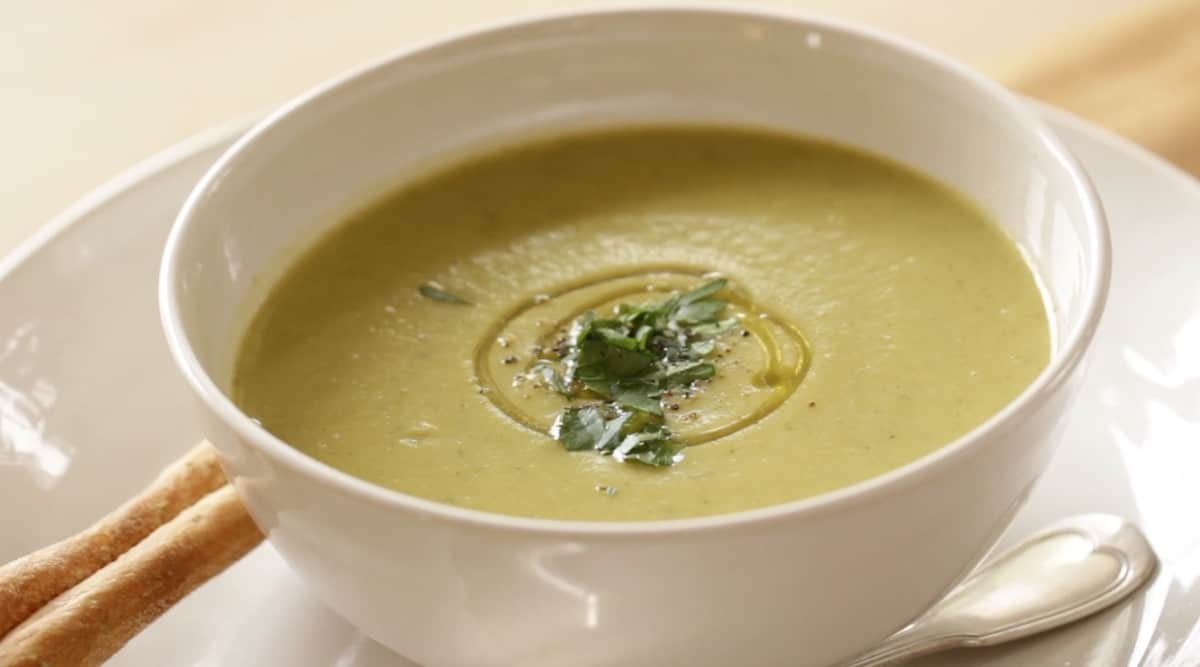 Why You'll Love This:
Completely vegan but doesn't feel like it's missing a thing! Non-Vegans will love it too!
The creaminess comes from adding cauliflower and potato
Quick and easy for a weeknight meal or lunch
Freezes well too! Make a big batch to last for up to 3 months in the freezer
Watch My Video Demo of This Recipe Below!
Subscribe to My YouTube Channel and Never Miss a Recipe!
Also featured in this video is a tease to Hot For Food's Vegan Cream of Mushroom Soup video. Another great vegan soup to try!
Step#1: Saute The Vegetables
The first step involves sauteeing the onions, shallots, and garlic until translucent and fragrant. Sauteeing the vegetables first will make them sweeter and more flavorful. This will give your soup, better overall flavor too! So don't skip this step.

Step#2: Add the Broccoli, Cauliflower, and Potato
I use the pre-cut broccoli florets to make the prep on this soup even easier and you can also do the same for the cauliflower too!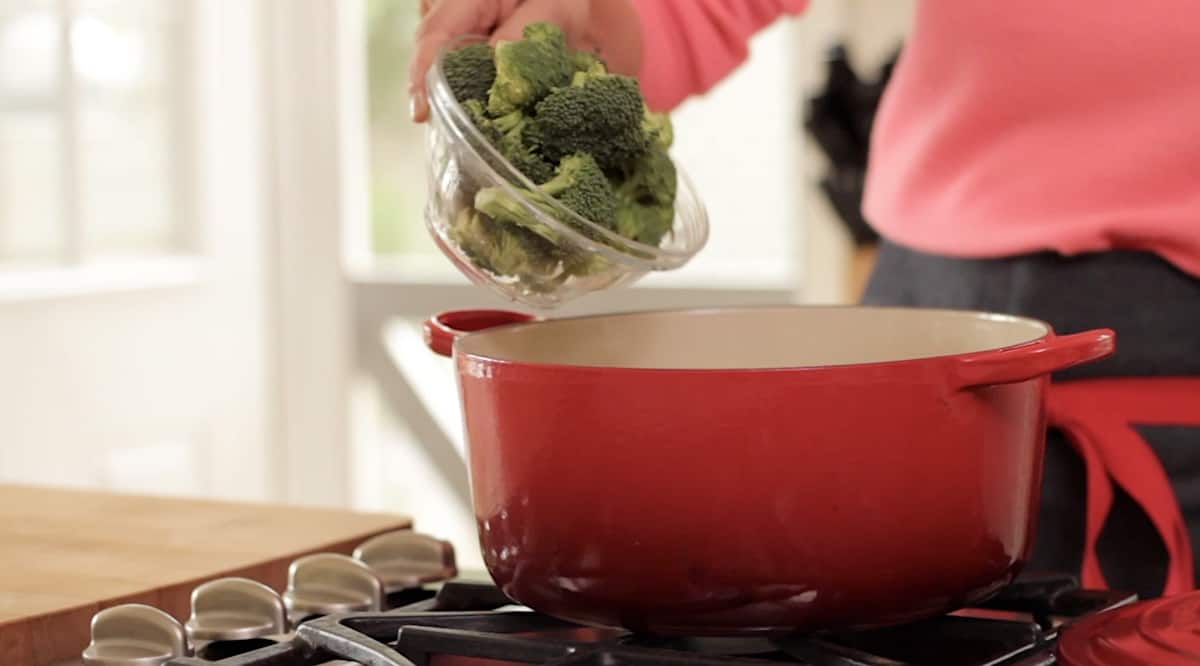 Cauliflower The Miracle Vegetable
I'm convinced that cauliflower is a wonder-vegetable! Eaten raw it may not make the best impression, but once you cook it, especially in a soup, it imparts the silkiest texture to anything you put it in.
It's the secret ingredient to my Potato Leek Soup Recipe and it's also a fantastic thrown-in-the-air fryer too! If you own one you must try my Air Fryer Cauliflower Recipe.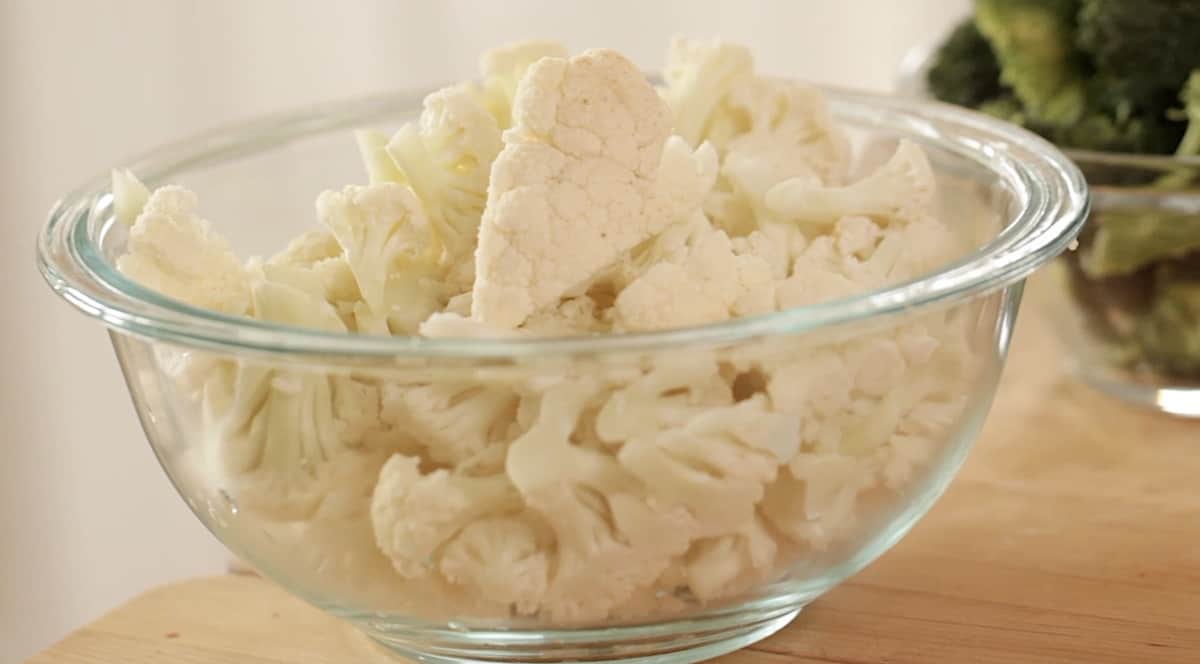 Thicken the Soup with Potato
Another nice thing about this soup recipe is the fact that it's also gluten-free! Thanks to the potato that thickens it up. There's no need for flour or cornstarch. The potato works its magic by creating a thick texture without altering any of the fantastic broccoli flavors.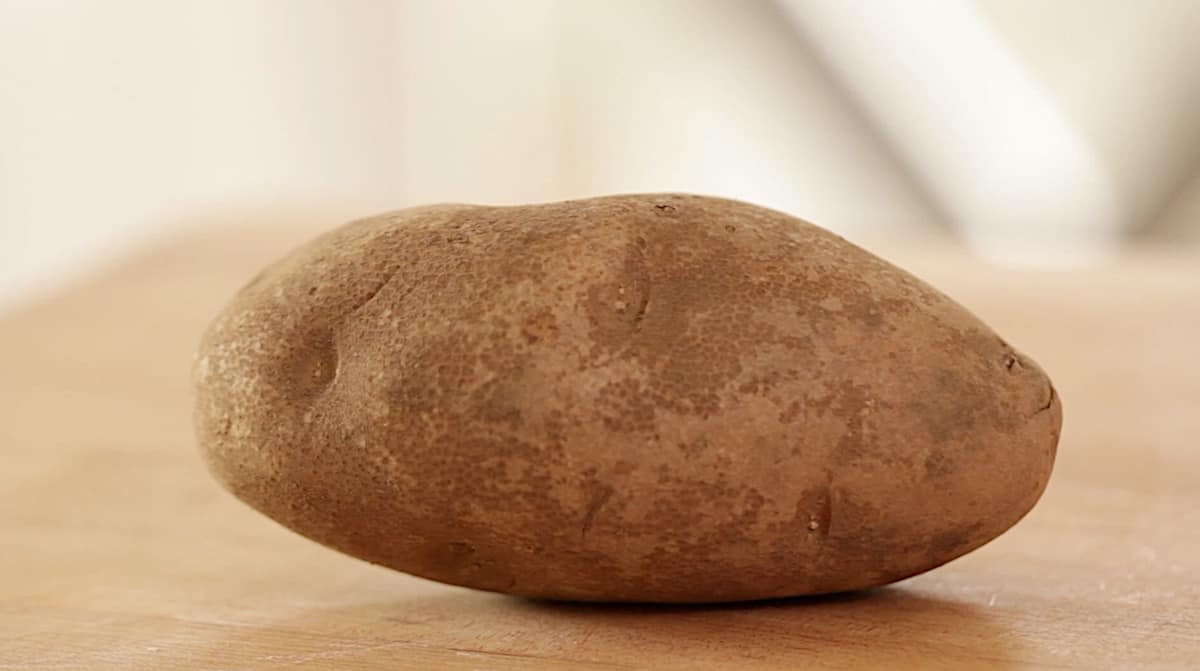 Step#3: Add the Vegetable Broth
The vegetable broth will certainly give this soup the best flavor but in a pinch, you could also use water too! The vegetables have so much flavor in them, this soup will still be delicious without the broth. If using the water you may want to add one more garlic clove and a bit more salt after blending, to punch the flavors up.

15-Minutes is All it Takes!
The key to getting this soup to cook quickly is to cut the potato into small cubes. Since the potato will take the longest amount of time to become tender. If the potato isn't cut small, it will take longer to reach a tender stage and by that time the broccoli will become mushy and start to lose its fresh flavor. It also helps to cover your pot with a lid while it simmers to speed up the process too.

Step#4: Blend and Season
To get the creamiest, smoothest texture it's best to blend the soup in batches. I typically only fill the blender halfway full. If the blender is too full, it will leave some unblended chunks at the bottom. While you puree the soup, you can store it in a heat-safe Pyrex bowl.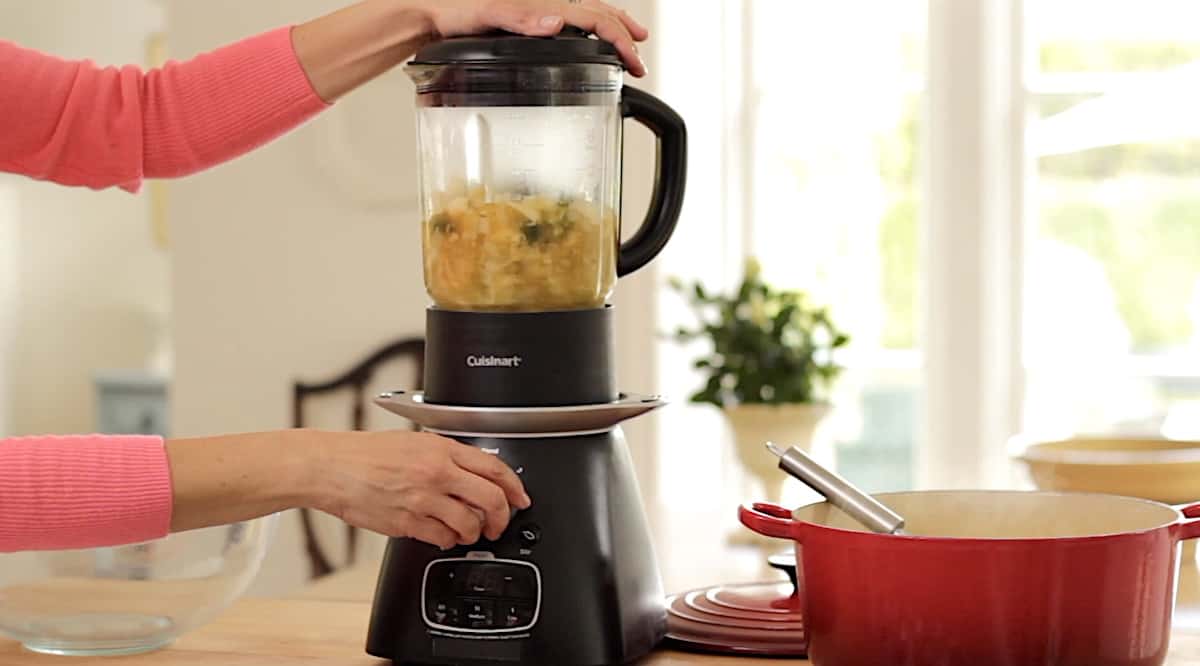 Then pour the blended soup back into a cleaned-out pot. That way you'll have the smoothest, silkiest soup, without any residue or floating vegetables.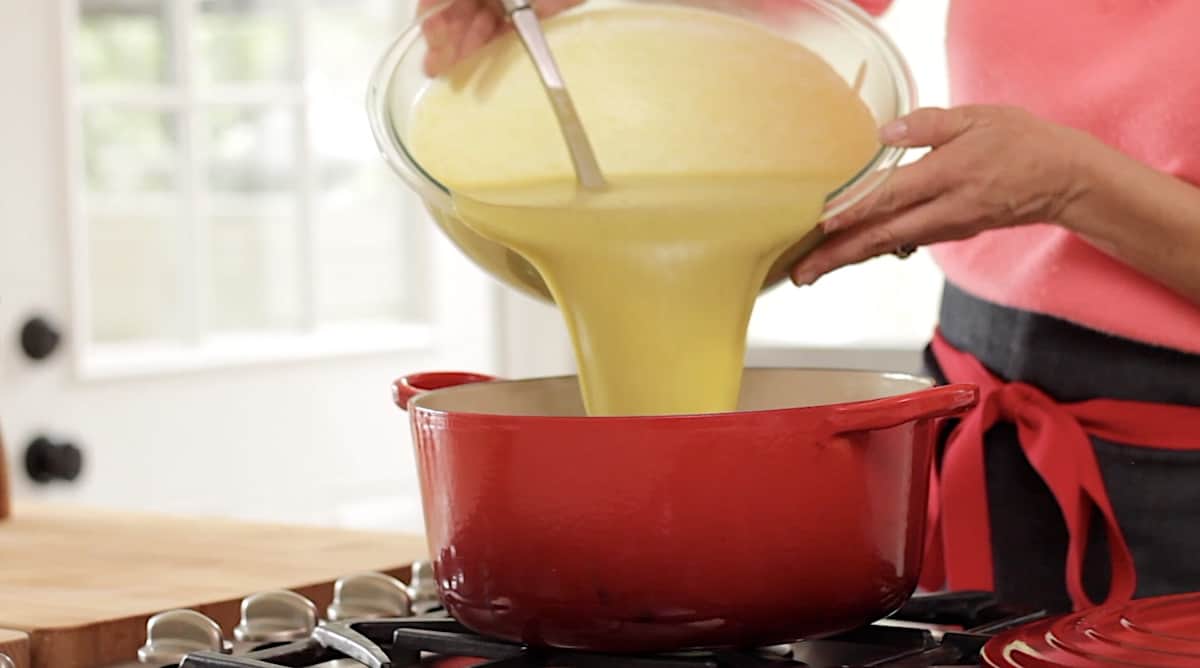 It's All About The Seasonings
What people really love about this soup, is the flavor the dried dill imparts. It's such a fantastic combination against the broccoli. It creates this beautiful fresh taste that's so unexpected for broccoli soup, it's just delicious!
You could use fresh dill too, but I find the dried dill is more flavorful and imparts even more flavor. I also add a good amount of salt and pepper, to taste, as well.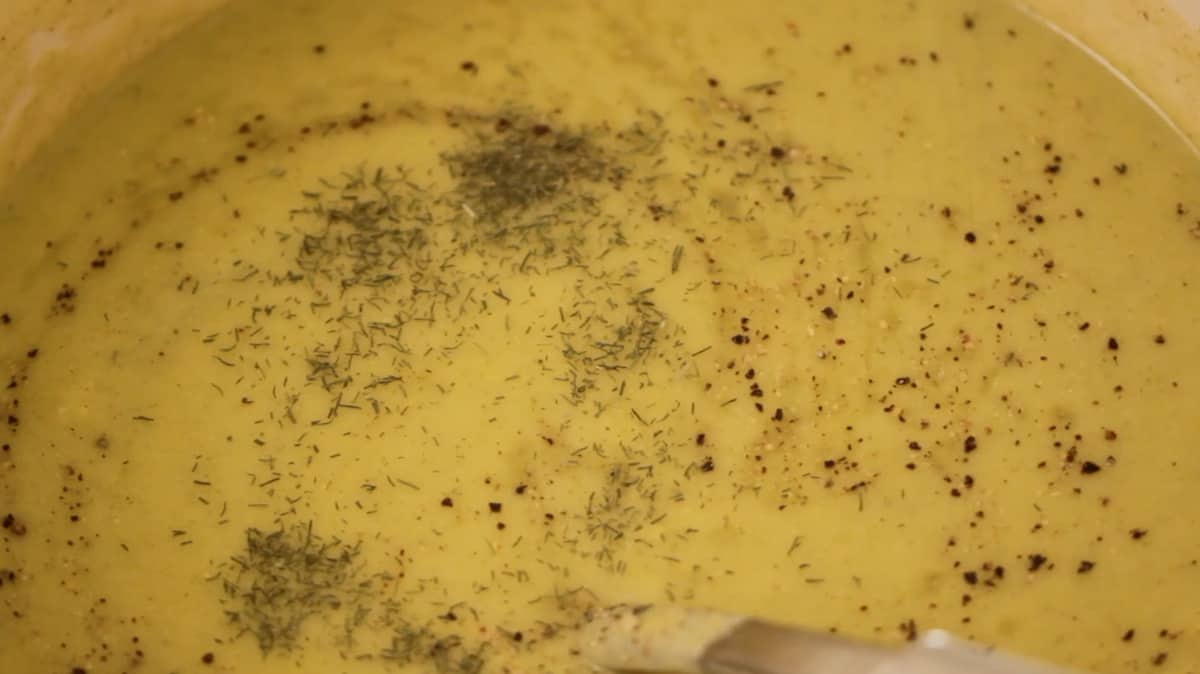 Step#5: Garnish and Serve!
Before serving, add a drizzle of olive oil, to create a nice silky smooth finish, some freshly chopped parsley, and little cracked pepper on top.
If not serving this as a vegan dish, it's also great with a drizzle of sour cream, thinned with a bit of warm water, and some fresh lemon zest too!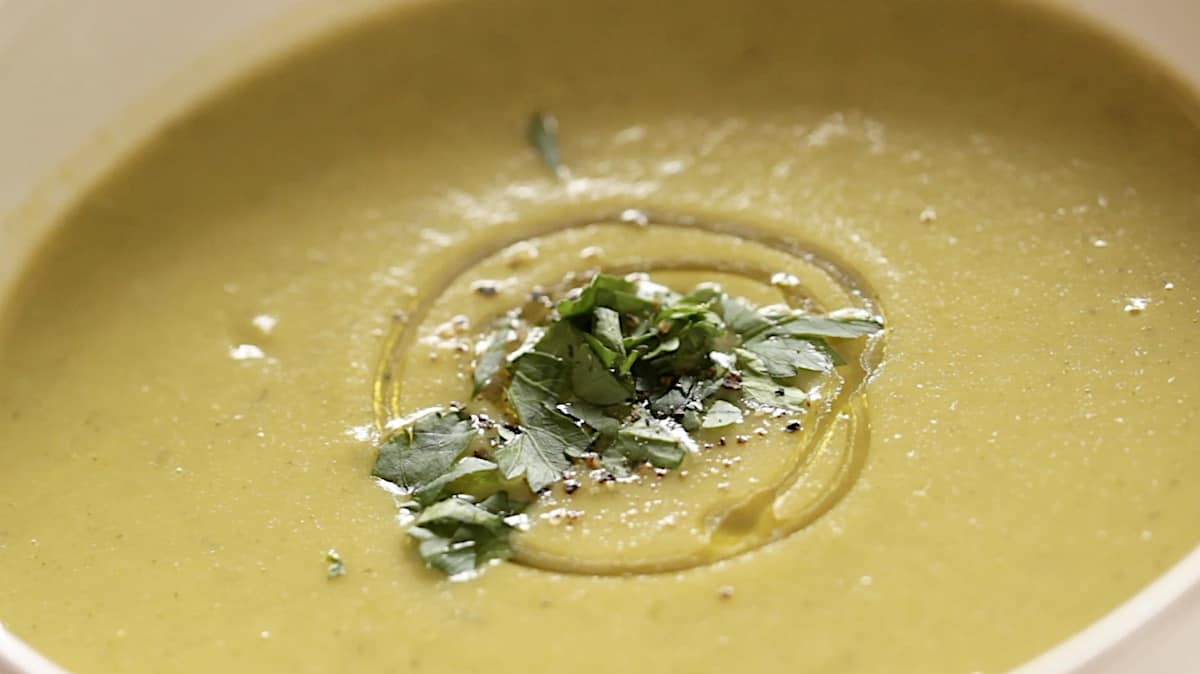 What To Serve with This Soup?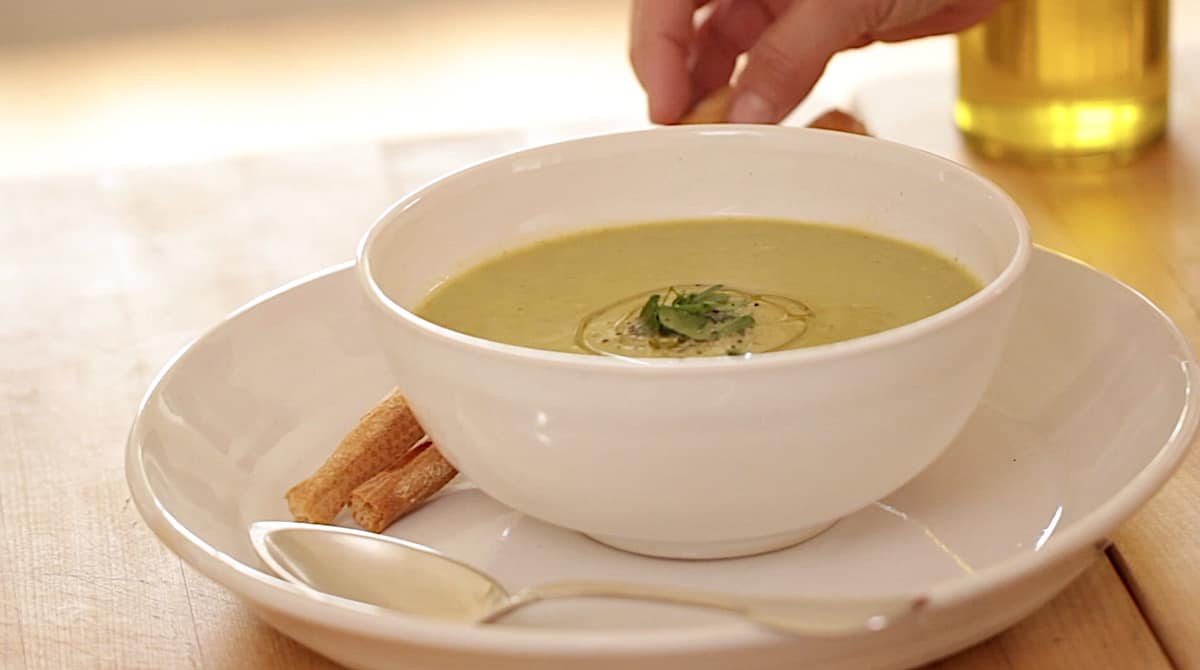 More Vegan Recipes You'll Enjoy!
If You Enjoyed This Recipe
Please Leave a Rating and a Review Below
This helps others discover and enjoy the recipe too!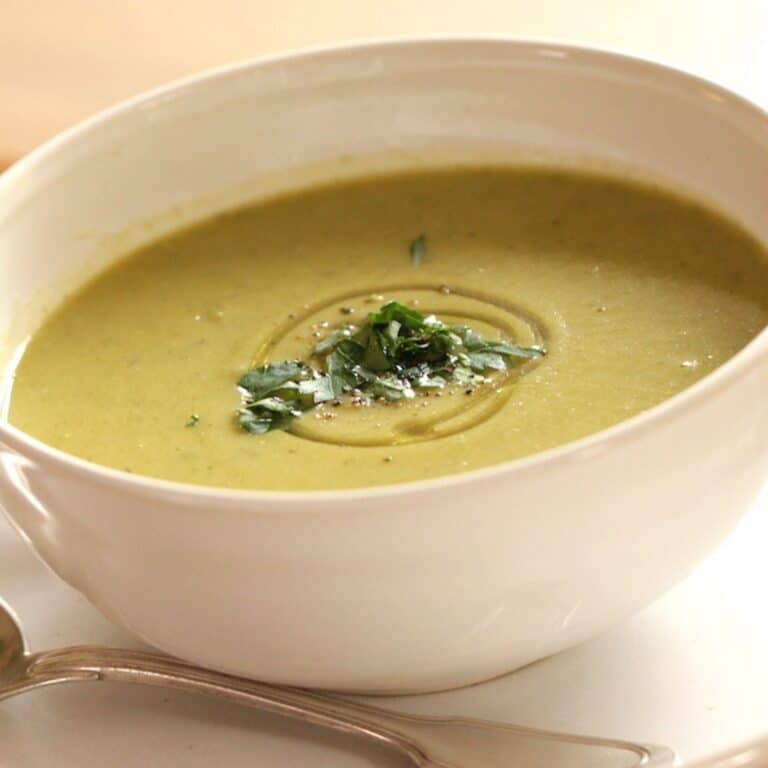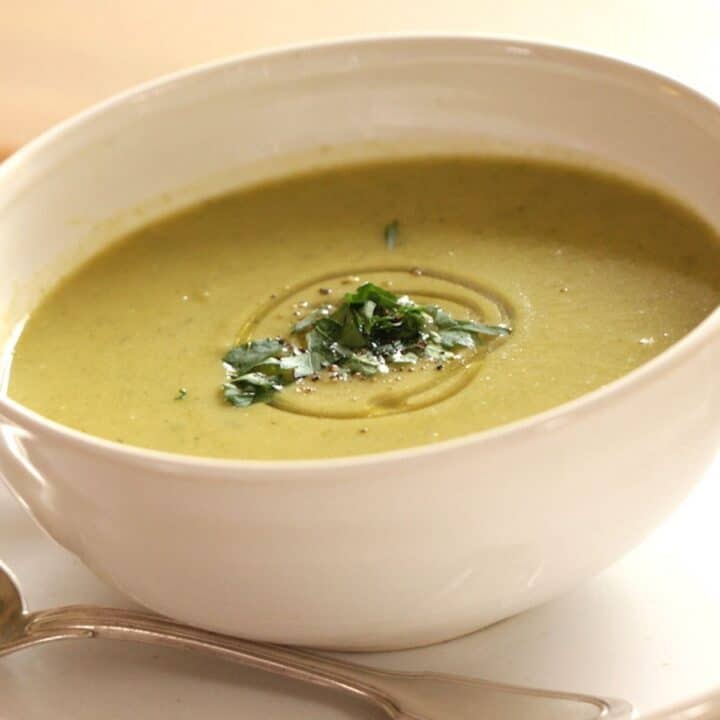 Vegan Cream of Broccoli Soup
This Vegan Cream of Broccoli Soup Recipe uses cauliflower and potato to make it silky smooth and give the "illusion" of a decadent cream-based soup. without the dairy!
Ingredients
2 tablespoon (30 ml) olive oil
1 ½ cups (225 g) yellow onion, diced
½ cup (75 g) shallots, diced
3 garlic cloves
salt and pepper to taste
3 cups (450 g) broccoli florets
5 cups (750 g) cauliflower florets
1 ½ cups (225 g) russet potato, diced
6 cups (1400 ml) vegetable broth
½ teaspoon (2.5 ml) salt
freshly cracked pepper to taste
½ teaspoon (2.5 ml) dried dill
1 tablespoon (15 ml) fresh parsley
Instructions
Heat olive oil in a large soup pot. Sauté onions, shallots, and garlic until soft and tender.
Add broccoli, cauliflower, and potato. Then pour in vegetable broth.
Cook covered 15 mins. Puree in batches in a blender until smooth. Pour into a cleaned-out soup pot.
Season with salt, pepper, and dried dill.
Ladle into bowls, drizzle with olive oil, and chopped parsley. Serve with Italian breadsticks.
Notes
This soup freezes beautifully! So you can make a big batch of it on Sunday and have it on hand for the rest of the week. Just portion out individual portions and pop in the freezer.
Nutrition Information:
Yield:

6
Serving Size:

1
Amount Per Serving:
Calories:

182
Total Fat:

8g
Saturated Fat:

1g
Trans Fat:

0g
Unsaturated Fat:

6g
Cholesterol:

7mg
Sodium:

398mg
Carbohydrates:

21g
Fiber:

1g
Sugar:

5g
Protein:

8g