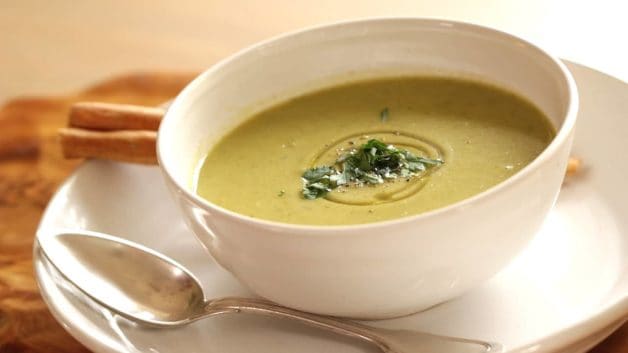 We are in week 4 of my "New Year, New Dinner Collaboration" and this week I want to introduce you to Hot For Food, an amazing Vegan cooking channel on YouTube.
Lauren and John are the charming couple behind this channel and not only will you get sucked in by their personalities (you feel like they are cooking just for you!) but the food photography, recipes and styling is just fantastic!  In fact, I was well into about 6-7 videos before I actually realized it was a Vegan channel! The food looks that good! They are definitely re-defining Vegan cuisine.
This week our theme was creamy soups that don't actually use cream.  Yep, no dairy. You must try Lauren and John's fantastic looking Cream of Mushroom Soup I just love the idea of adding the spinach to this!
Below is my recipe for a Vegan Cream of Broccoli Soup Recipe using cauliflower and potato to make it silky smooth and give the "illusion" of a decadent cream-based soup.
Watch our collab below! 
We hope you enjoy! xx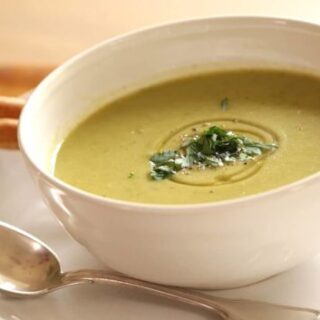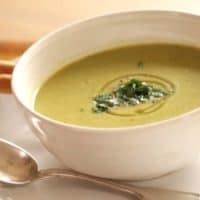 Vegan Cream of Broccoli Soup
Ingredients
2 tbsp (30 ml) olive oil
1 ½ cups (225 g) yellow onion, diced
½ cup (75 g) shallots, diced
3 garlic cloves
salt and pepper to taste
3 cups (450 g) broccoli florets
5 cups (750 g) cauliflower florets
1 ½ cups (225 g) russet potato, diced
6 cups (1400 ml) vegetable broth
½ tsp (2.5 ml) salt
freshly cracked pepper to taste
½ tsp (2.5 ml) dried dill
1 tbsp (15 ml) fresh parsley
Instructions
Heat olive oil in a large soup pot. Sauté onions, shallots and garlic until soft and tender.
Add broccoli, cauliflower, and potato. Then our in vegetable broth.
Cook covered 15 mins. Puree in batches in a blender until smooth. Pour into a cleaned out soup pot.
Season with salt, pepper and dried dill.
Ladle into bowls, drizzle with olive oil and chopped parsley. Serve with Italian breadsticks.
Notes
This soup freezes beautifully! So you can make a big batch of it on Sunday and have it on hand for the rest of the week. Just portion out individual portions and pop in the freezer.
Never miss a recipe!  Subscribe to my cooking channel on YouTube (it's free!)