Easy White Chicken Chili Recipe
This Easy White Chicken Chili Recipe is one of my favorite healthy recipes because it's so comforting. You don't feel like you are missing out on anything! It's also a great soup recipe for the lunchbox the next day!
It also freezes well, allowing you the ability to make a big batch on the weekend to last throughout the season!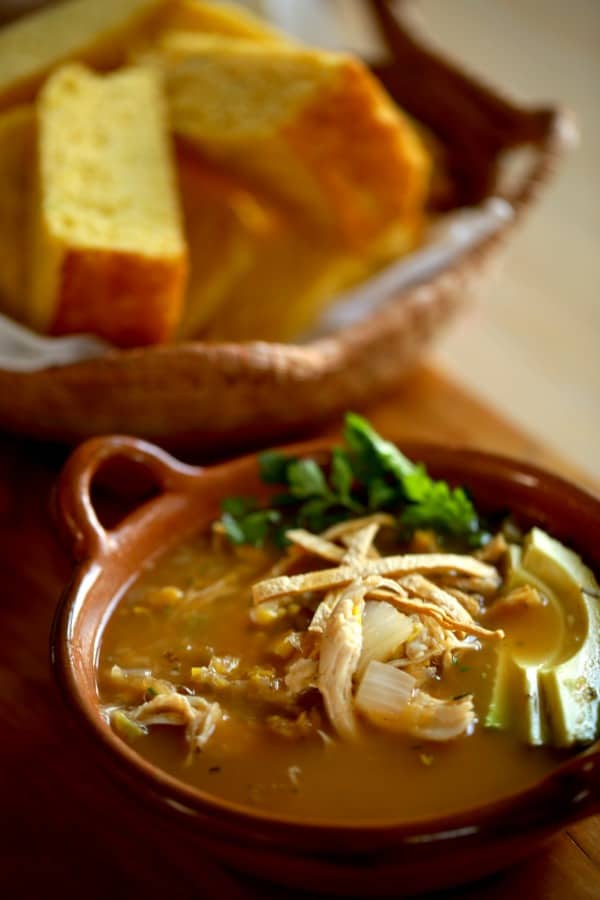 Why You'll Love This:
This is a soup recipe that feels more like a meal.
It's a great way to get the kids to eat more vegetables because it has a lot of familiar flavors that will lure them in.
And of course there's the cornbread to entice them too!
From the chicken to the tortilla chips and avocado there's something for everyone.
Subscribe for weekly recipes
and new videos!
Watch My Video Demo Below!
Subscribe to My YouTube Channel and Never Miss a Video!
Step#1: Roast The Chicken
Place two skin-on, bone-in chicken breasts on a rack and roast at 350F (175C) until golden brown and cooked through. About 30 mins. Allow to cool at room temperature while you prep the rest of the recipe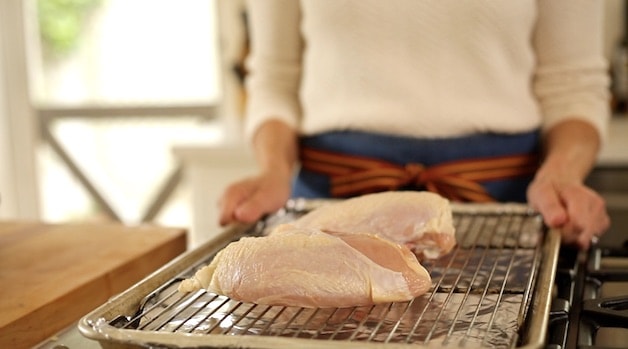 Make-Ahead Tips:
This part of the recipe could be done up to 2 days before.
Leave the skin on until ready to serve, it will keep the chicken moist and prevent it from drying out.
Then, remove the skin and shred the chicken into bite-sized pieces with two forks.
You can make this recipe even easier by using store-bought rotisserie chicken.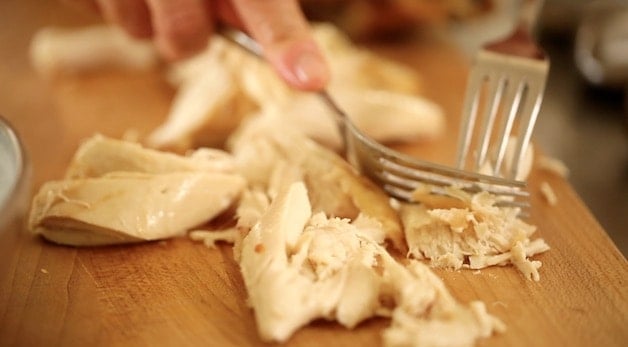 Step#2: Add the veggies and chicken broth
Sauté the onions in olive oil in a dutch oven until soft and fragrant. Don't rush this step, cooking the onions down until they are very soft will sweeten the onions and give this soup the best flavor. Pour in the chicken or veggie stock and add the bag of frozen corn.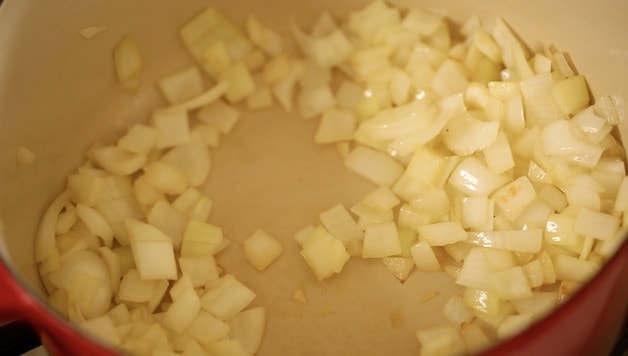 Modifying for Vegetarians
Then add the cannellini beans. Just be sure they are rinsed and drained first. The beans add so much protein that if you wanted to make this chili vegetarian you could easily leave the chicken out and add veggie broth instead of chicken broth.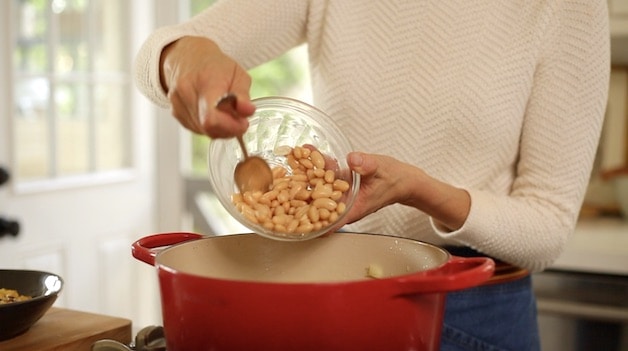 Charred Corn Adds Even More Flavor
If you can find the charred corn at Trader Joe's it's really great! You'll get a subtle smokey flavor from it and it looks so pretty in the chili too. It's also great in the summertime in my Charred Mexican Corn Salad recipe too.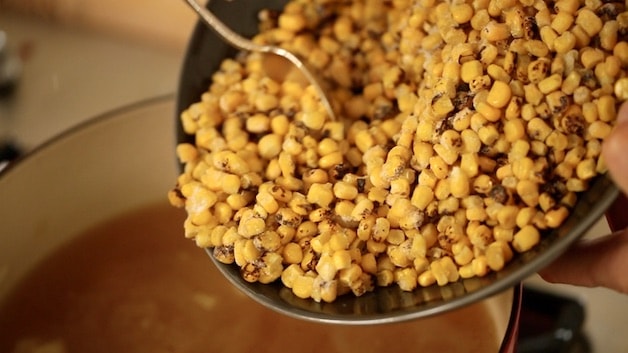 Adding The Best Combination of Spices
I think the best combination of spices for white chicken chili is cumin, smoked paprika, cayenne pepper, and dried oregano.
This blend will give you the smokiness, earthiness, and heat that makes for a delicious chili.
How to Thicken Chili?
The best way to thicken this chili is with an immersion blender since the beans are starchy enough to give it a nice texture once blended.
But you could also do this in a regular blender too, just don't puree it up all the way. Leave it a bit chunky.
If you want an even thicker chili you could mix 2 tablespoon of cornstarch with 2 tablespoon of water to create a slurry. Bring the chili to a boil, then add the slurry stirring and simmering until thickened.
Step#3: Add Chilis and Shredded Chicken
I like to use canned green chilis simply because it's easier, but if you wanted to roast your own you certainly could! Jalapeños or Serranos would be great.
My Enchiladas Suizas recipe will show you the technique for charring these peppers easily in the oven.
When buying the canned chilis look for the ones marked "fire-roasted". I think these have the best flavor and will provide a little extra heat too.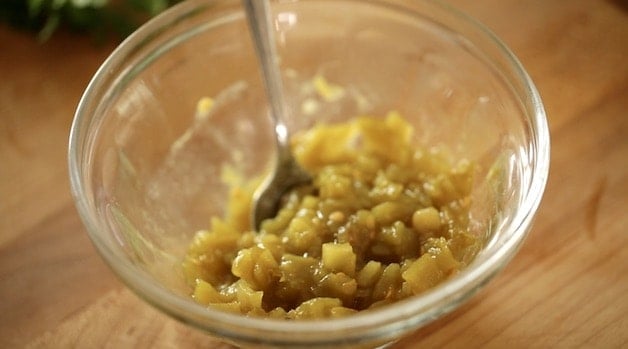 Step#4: Add the Toppings!
You can top your chili with a sprig of fresh cilantro and a few slices of Avocado.
TIP: Slice the avocado in the skin and scoop out with a large serving spoon. This will create uniform slices you can fan out on top of the chili.

Serving and Garnishing Ideas
I love serving chili in these beautiful handmade mini cazuelas. I found them online and they are so beautifully made. Definitely worth the investment (this link goes to Amazon where I am compensated on products sold with no additional cost to the consumer).
Top with baked tortilla strips and serve with fresh lime. I find the tortilla strips bake really well in an air fryer if you have one! Or you can also bake them in the oven (recipe follows below)

What to Serve with the Chili?
I think the best thing to serve with white chicken chili is cornbread. I highly recommend my Cheesy Chivey Cornbread recipe if you haven't tried it! It's light and fluffy and extra moist! It bakes in a cheesecake pan which allows you to cut it into thick wedges. It also makes a lovely presentation in a breadbasket.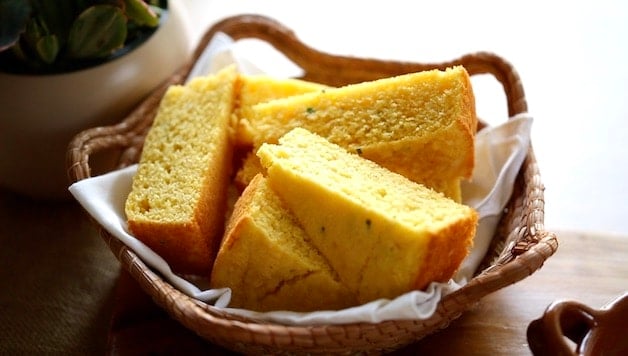 More Healthy Soup Recipes!
If You Enjoyed This Recipe
Please Leave a Rating and a Review Below!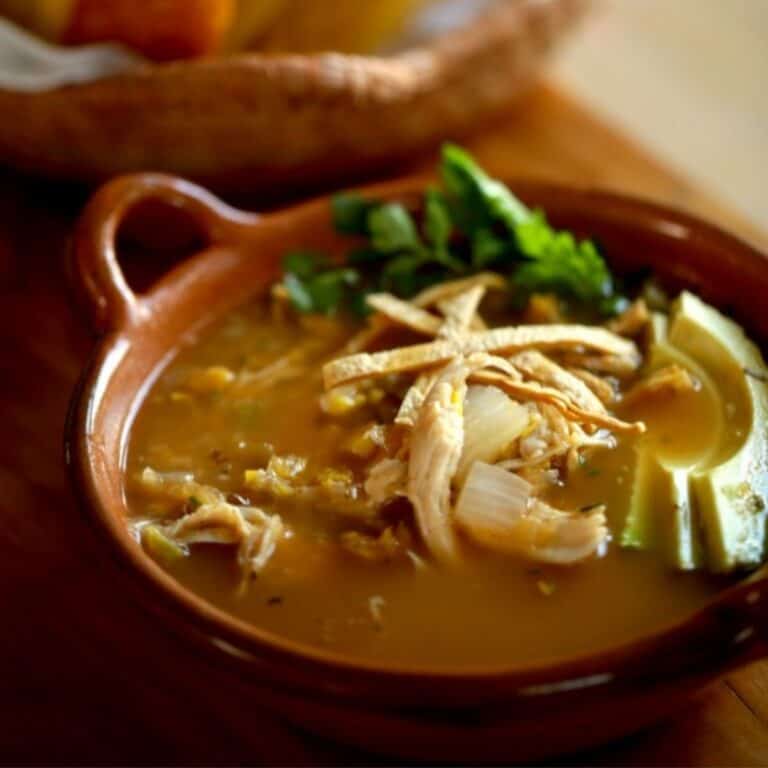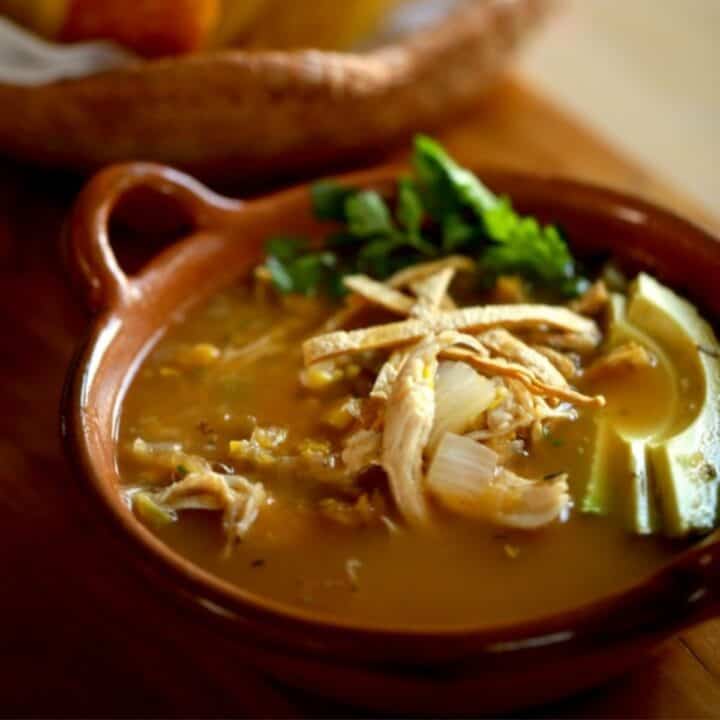 Easy White Chicken Chili Recipe
Total Time:
1 hour
45 minutes
An easy white chicken chili recipe that's perfect for a weeknight meal and the lunchbox the next day!
Ingredients
For Chili:
(2) Chicken Breasts, Bone-In Skin On
1 tablespoon (15 ml) olive oil
2 cups (300g) yellow onion, diced
8 cups (1,900ml) chicken broth
1 15-oz (430g) can cannellini beans
1-1lb (450g) bag frozen corn, charred if you can find it
½ teaspoon (2.5ml) salt 3 garlic cloves, minced
3 teaspoon (15ml) ground cumin
1 teaspoon (5ml) dried oregano
1 teaspoon (5ml) smoked paprika
¼ teaspoon (1.25ml) cayenne pepper
4 ounces (113g) fire-roasted green chilies
2 tablespoon (30ml) cilantro, chopped
For Garnish:
8 Cilantro sprigs
2 Avocados
3 corn tortillas
2 Limes
Instructions
Preheat oven to 350F (175C). Place chicken breasts on a rack fitted into a rimmed lined baking sheet and bake for 40 minutes or until chicken is cooked through. Allow to cool.
In a large Dutch oven, add oil heat until hot, then add onion and cook until onions are fragrant and translucent.
Add broth, beans, corn, salt, garlic, cumin, oregano, smoked paprika and cayenne pepper. Cook until corn and beans are warmed through.
Blend slightly with an immersion blender until pureed but still chunky.
Shred chicken with 2 forks and add to pot. Add chilies and continue to simmer until chicken is warmed through. Add cilantro.
To serve ladle out chili in a bowl, top with a fresh cilantro sprig, sliced avocado, and toasted corn tortilla strips. Serve with lime wedges.
For Tortilla Strips. Slice 2-3 corn tortillas in thin strips. Place in air fryer 5-7 minutes or bake at (375F/190C) for 10 minutes on a baking sheet in the oven.
Notes
Use store-bought rotisserie chicken to make this recipe even easier!
When buying the canned chilis look for the ones marked "fire-roasted" those have the best flavor and provide a little extra heat too.
When garnishing the chili, slice the avocado in the skin and scoop out with a large serving spoon.  This will create nice slices you can fan out on top of the chili.
Nutrition Information:
Yield:

10
Serving Size:

1
Amount Per Serving:
Calories:

590
Total Fat:

12g
Saturated Fat:

2g
Trans Fat:

0g
Unsaturated Fat:

9g
Cholesterol:

16mg
Sodium:

310mg
Carbohydrates:

89g
Fiber:

22g
Sugar:

6g
Protein:

37g