Slow Cooker Chicken Cacciatore
This Slow Cooker Chicken Cacciatore is a fantastic main course idea for stress-free entertaining!
You can prep everything ahead of time and all you have to do is serve it! It pairs beautifully with my easy polenta cakes, topped with freshly grated parmesan cheese and fresh rosemary. Or you could also serve it over pasta too.
For more classic Italian dinners try my Old-School Cheese Manicotti, Chicken Marsala or Chicken Piccata recipes.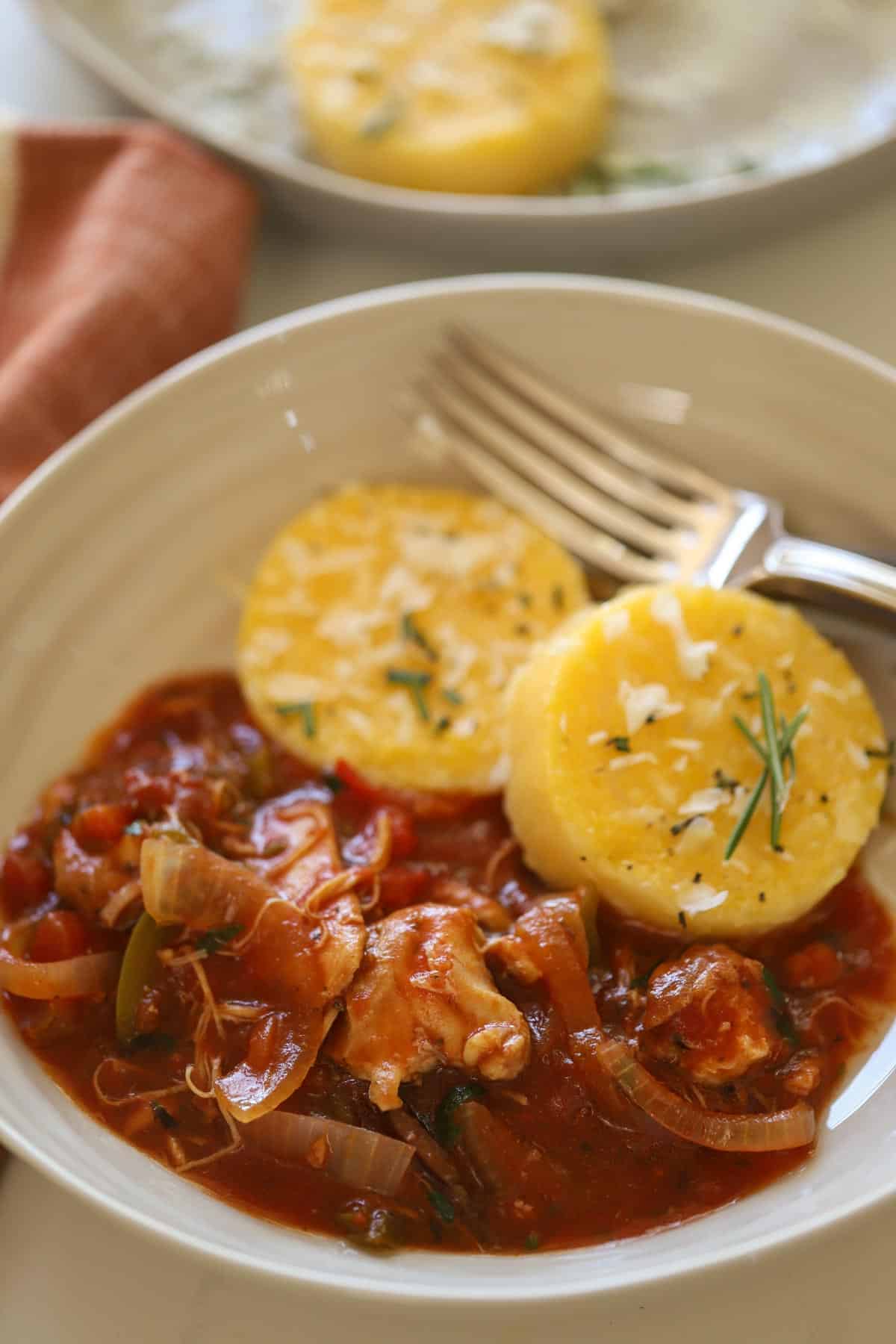 Why You'll Love This Recipe
Tender pieces of chicken in a simmered tomato sauce with silky vegetables, briny olives, and fresh parsley! It's a flavor sensation!
Your protein and vegetables are all in one pot, cooking at the same time.
After browning the chicken. The slow cooker does all the work for you. Allowing you time to clean the house, set the table, arrange the flowers before guests arrive.
The polenta cakes are not only delicious but also look kinda fancy too! Perfect for entertaining.
This recipe also freezes beautifully for leftovers or for meal prepping.
What is Chicken Cacciatore?
Chicken cacciatore is a classic Italian chicken dish that is made from chicken, simmered in tomatoes, herbs, onions, red and green bell peppers, and sometimes mushrooms and olives. I really love adding the olives to this recipe for a nice briny flavor that pairs well with the tomatoes and chicken. It's also known as "hunter-style" chicken because the word "cacciatore" comes from two words in Italian meaning to cook with a small stove that was traditionally used by hunters.
What to Serve with Chicken Cacciatore?
Chicken cacciatore pairs beautifully with polenta, a starchy grain that resembles grits. Adding butter, parmesan cheese and rosemary are perfect complements to the starchy polenta. But you could also serve this dish with my Easy Garlic Knot Recipe, rice, mashed potatoes, pasta or zucchini noodles or spaghetti squash for a gluten-free option.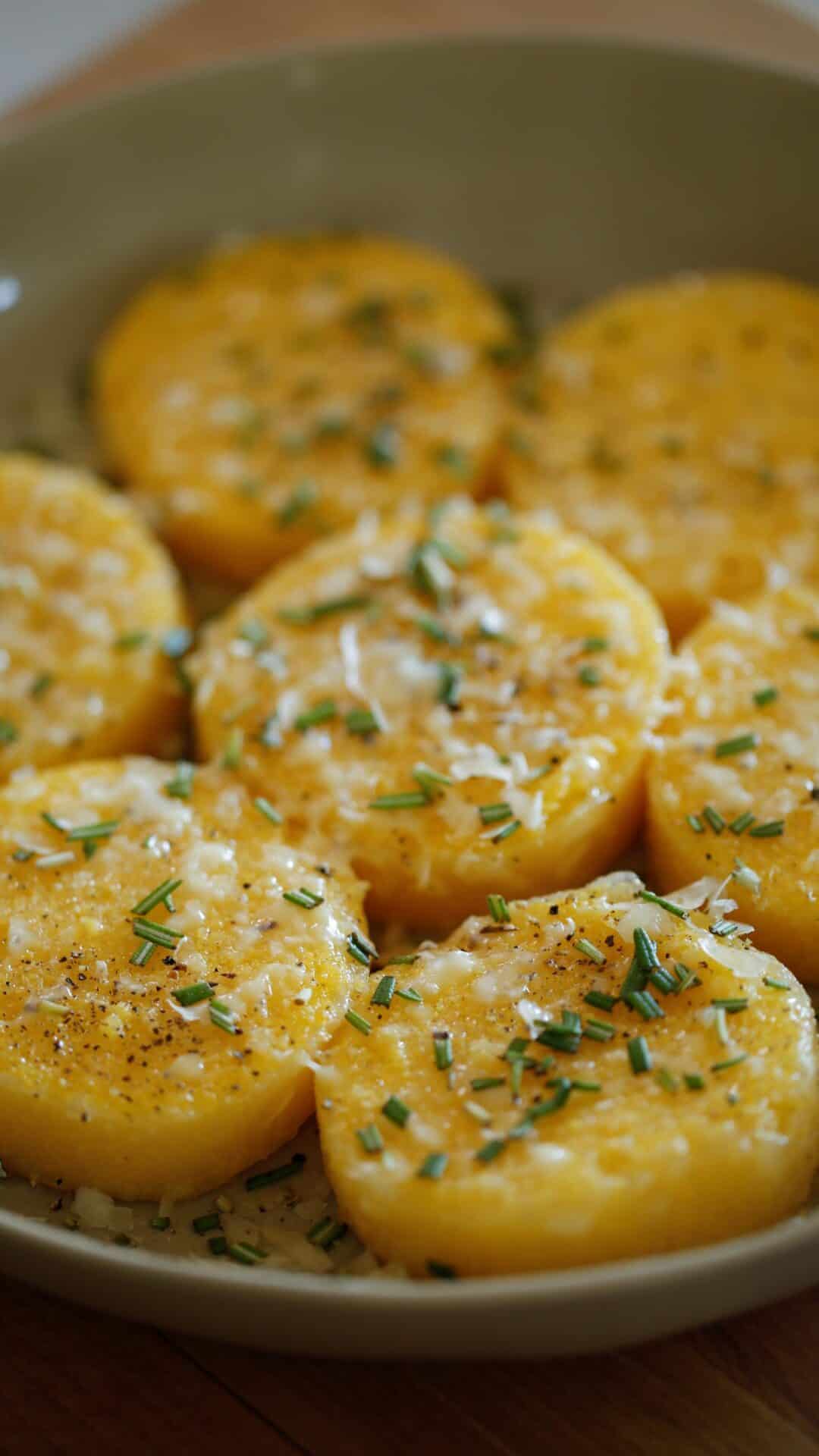 Watch The Video Demo
The Ingredients: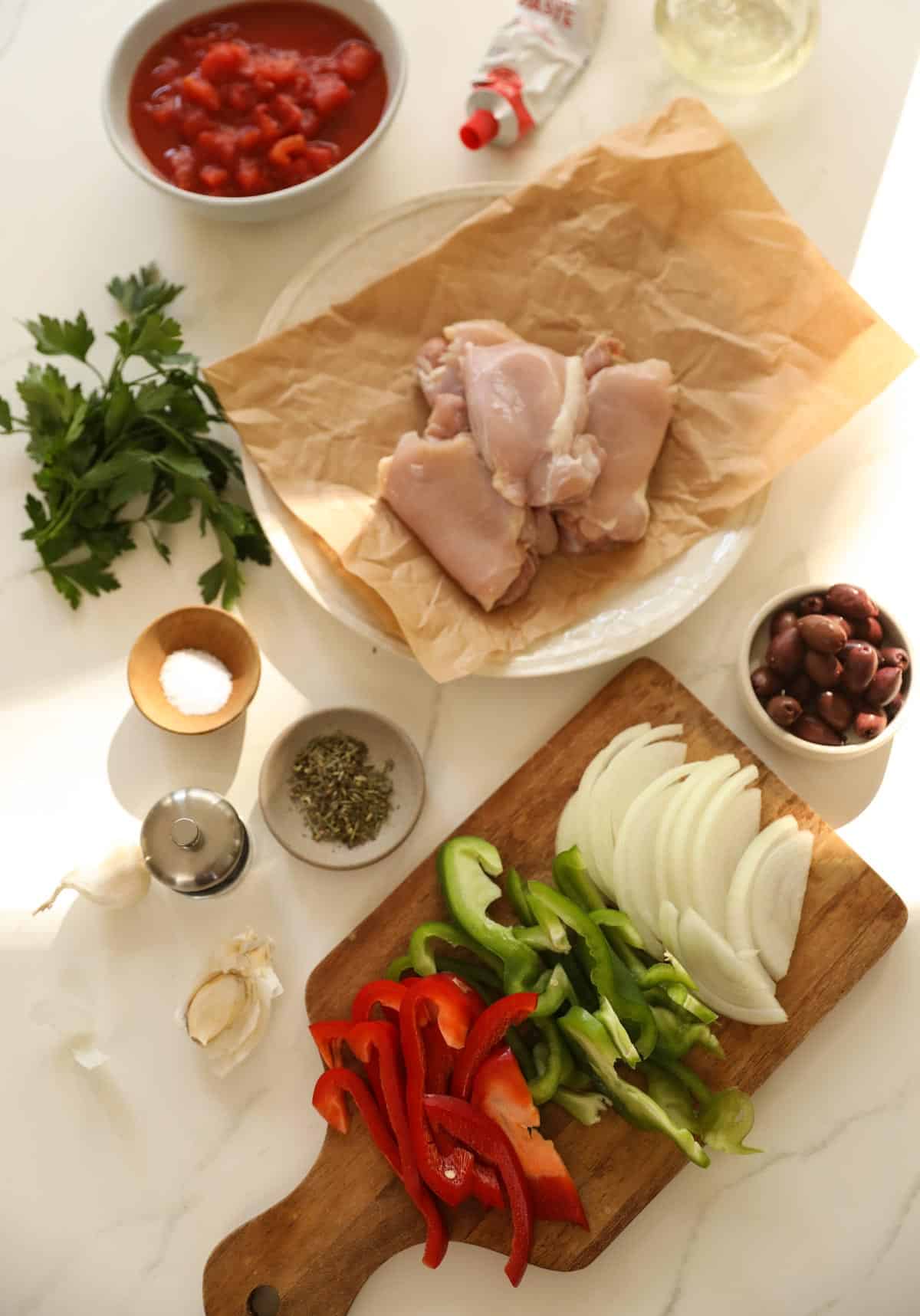 Step#1: Browning the Chicken
For the best flavor and texture, it's best to brown the chicken before going into the slow cooker. This is a step I also do for my Slow Cooker Beef Tacos that is worth the extra work for the flavor it provides.
There are some models, like the Cuisinart Slow Cooker, that will allow you the ability to brown the meat directly in the slow cooker before setting it to simmer.
But if your slow cooker doesn't have this option, you can do it easily in a large skillet.
I have made this recipe both ways with browning and not browning the meat before setting it to slow cook, and it's much better with the meat browned ahead of time.
Browning the meat avoids that weird rubbery texture on the chicken you can get with slow cooking if you just put the raw chicken in with the rest of the ingredients.
The only time I do this is for my Slow Cooker Chicken Tortilla Soup since I shred the cooked chicken afterward so the texture isn't much of an issue.
Browning the meat also helps to add more flavor to the chicken, and you can add the pan drippings to the stew as well.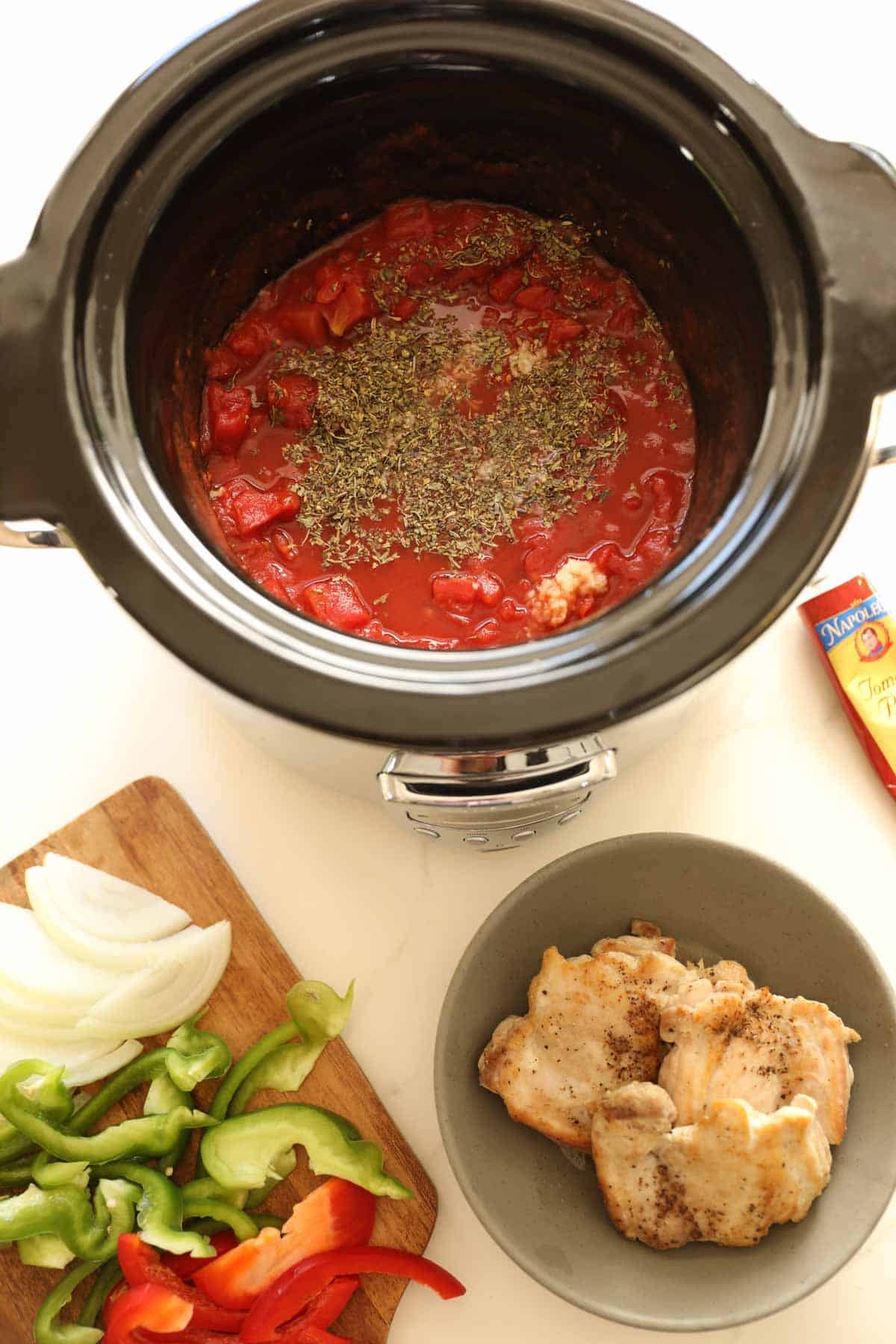 Step#2: Prepare the Cacciatore Sauce
It's best to prepare the cacciatore sauce first and then lay the browned chicken and vegetables on top of the sauce. The flavors will marry best this way and your chicken will cook through faster as it simmers in the sauce directly. Then set on the slow cooker on high for 5 hours or set it on low for 6-8 hours.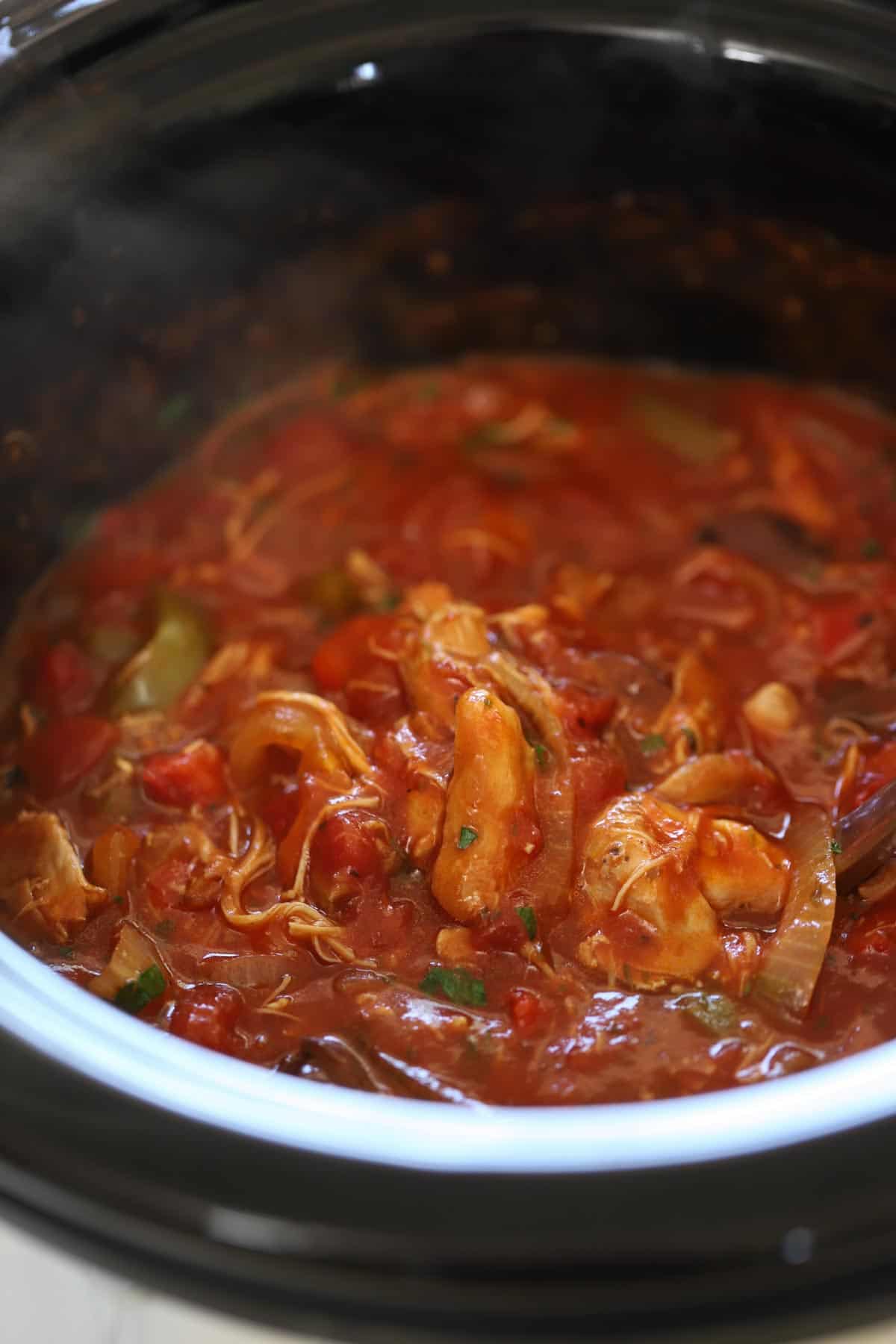 Step#3: Add the Finishing Touches
Once the cacciatore has simmered for the allotted time then you'll do 3 things to complete it.
First Add the olives. You just need them to warm through which will only take a few minutes in the simmering sauce. You don't want to add them too soon in the cooking process or they will make your sauce really salty!
Second You'll want to thicken up your sauce with some cornstarch. The five hours of simmering will have created moisture in the pot from the condensation due to the pot being covered, and the release of the juices from the chicken, and the vegetables. You'll create a cornstarch slurry with equal parts cornstarch mixed with cold water, mix it together, and add it slowly to the pot while whisking to combine.
Third Add a pat of butter! All sauce based dishes are usually better with a pat of butter added at the end. Not only will it impart a rich flavor, but a velvety texture too.
Then you can put the Slow Cooker on low, or warm if your model has that setting and prepare the polenta cakes.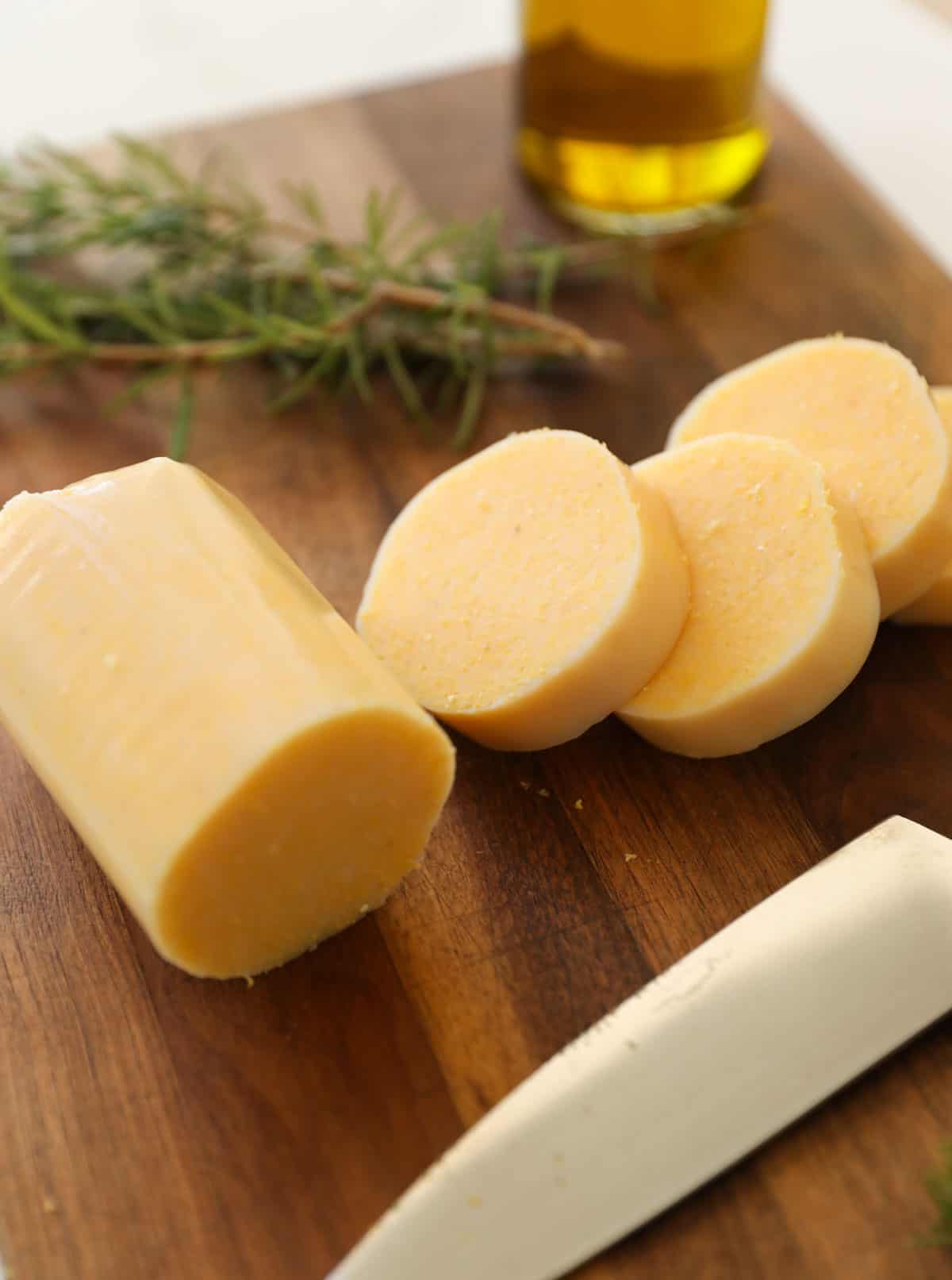 Step#4: Prepare the Polenta Cakes
If using the pre-cooked polenta in a roll be sure to pat it dry after removing it from the package. It will release a lot of moisture.
Then slice it into ¾" slices. You can usually get about 8-9 slices off one roll.
I typically factor 2 cakes per person.
You can certainly serve this dish with lose polenta I do that with my Provencal Chicken Stew (almost like the French version of chicken cacciatore) but I find cooking polenta over a stove top isn't the most convenient thing for entertaining. The cakes allow you to prep them ahead of time and then reheat them in the microwave before serving (see Game Plan notes below).
You'll sear the cakes in the pan with olive oil, covered, to soften and add flavor to the polenta. It won't taste as good if you just microwave the slices and skip the sautéing part.
Then top with the cheese and rosemary.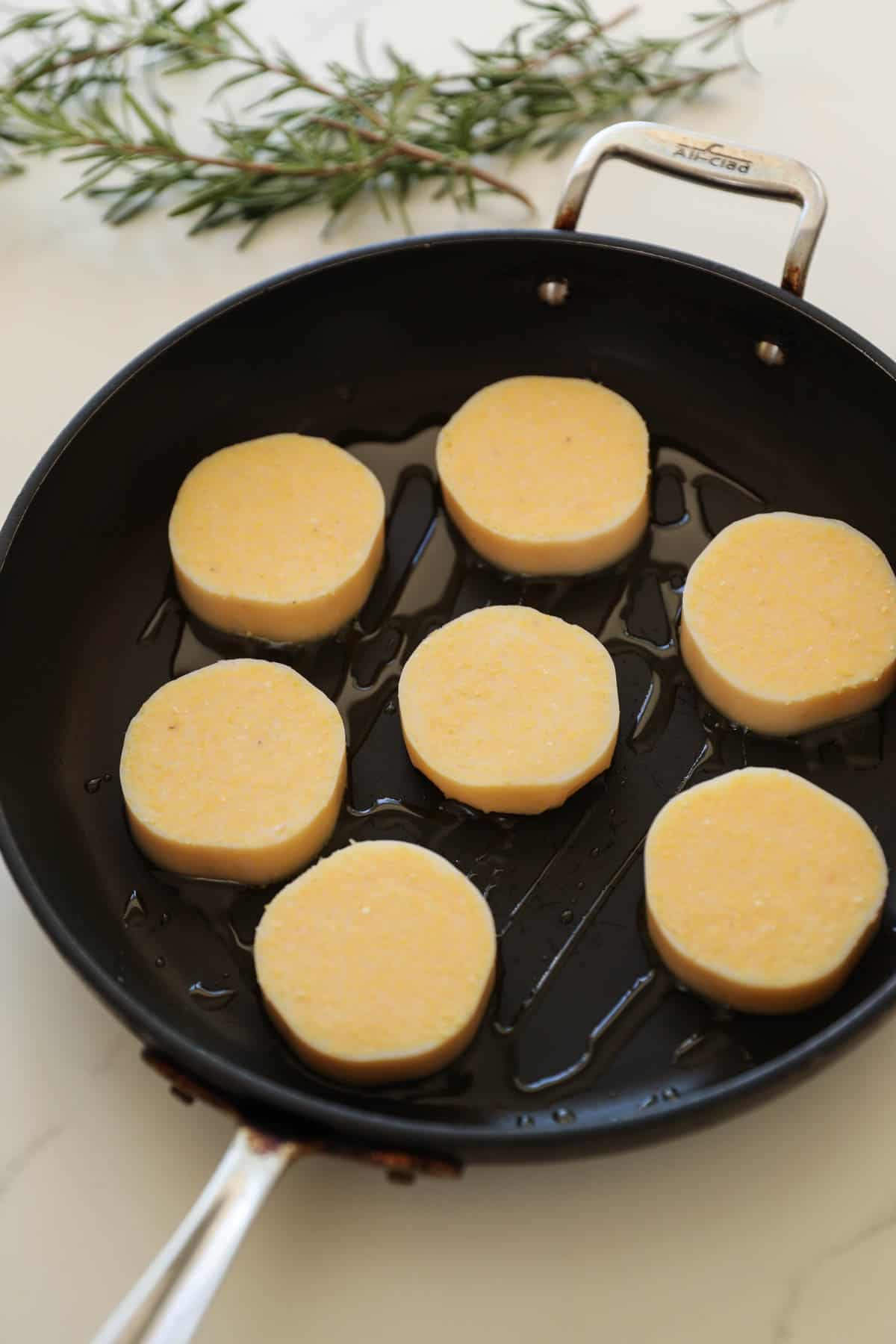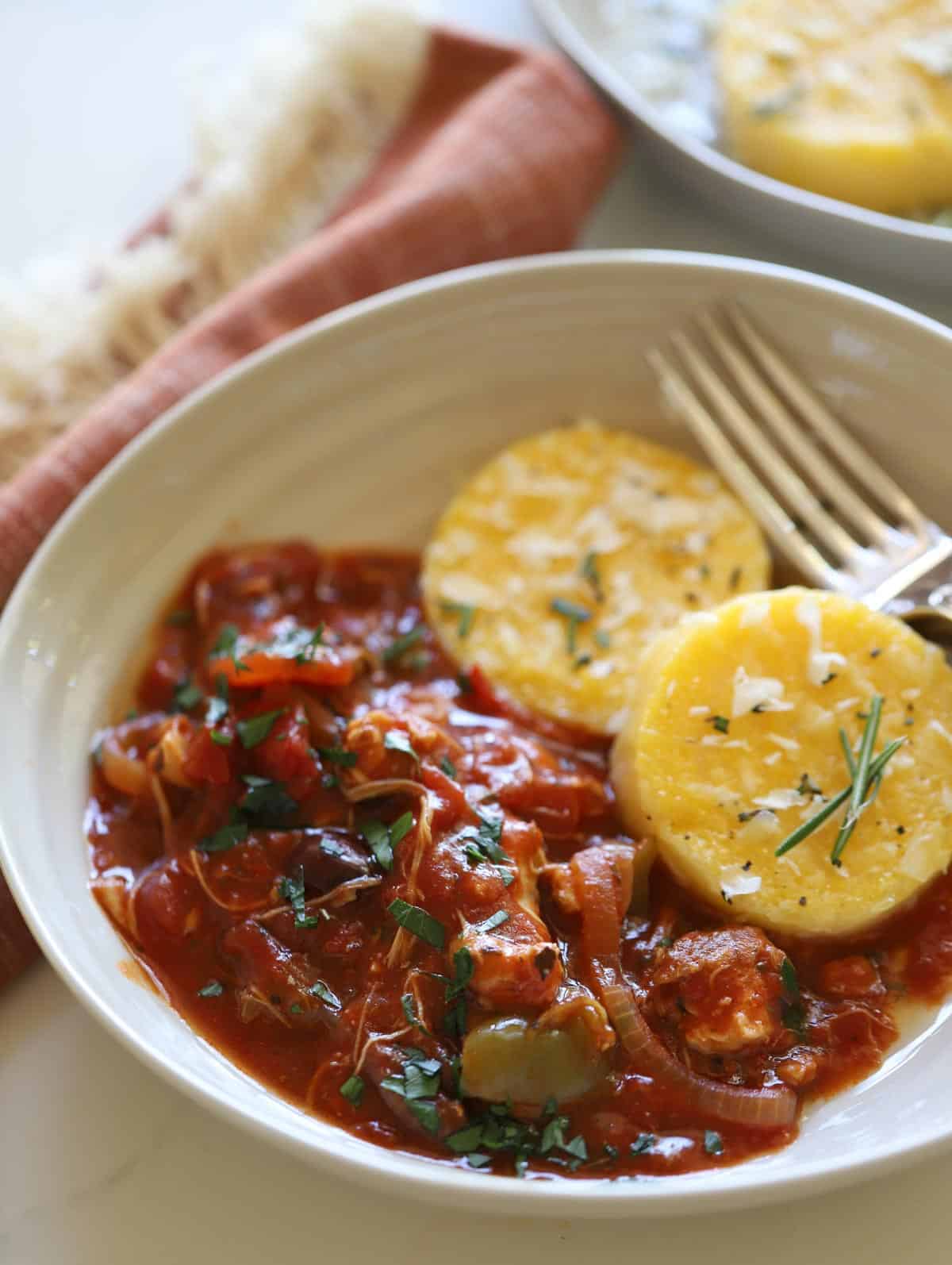 Serving/Storage Suggestions
Serve in shallow bowls to allow for the chicken cacciatore and polenta cakes to be served together. I really love these Pebble Pasta Bowls for serving this dish or any Pasta Dish.
Top the chicken cacciatore with freshly chopped parsley for a pretty garnish and more flavor. Or add red pepper flakes for some heat.
To store, remove the insert from the slow cooker and allow it to fully cool.
Then refrigerate for up to 4 days, reheating portions in the microwave. Or freeze for up to a month.
The Game Plan
How-To Prep Ahead
Slice the onions and vegetables a day ahead, cover and refrigerate.
Set the slow cooker to start around 1:00pm in the afternoon for a 7:00pm dinner. It will be ready by 6:00pm. Keep it on low until ready to serve.
Sear the polenta cakes before guests arrive and then reheat them in the microwave. Then garnish with the cheese and the rosemary.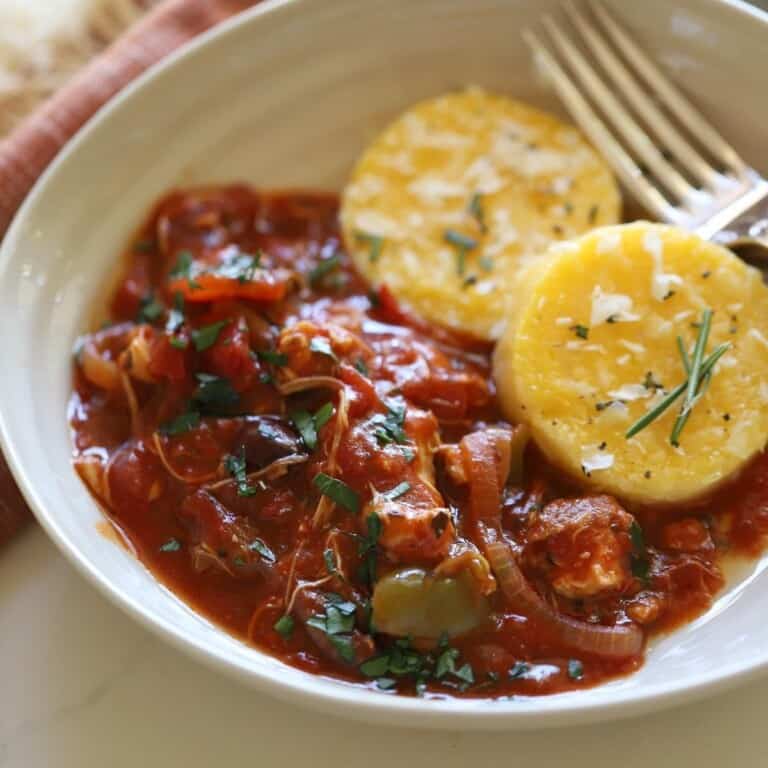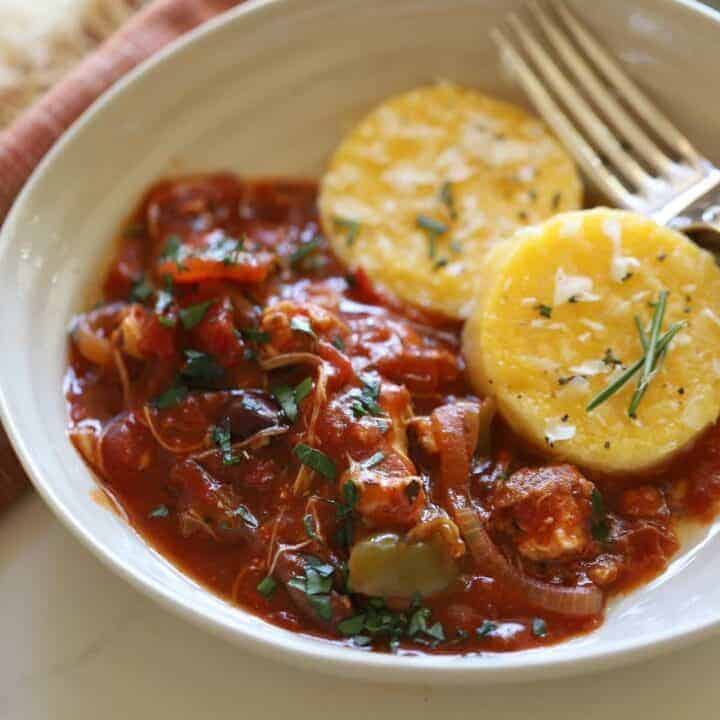 Slow Cooker Chicken Cacciatore with Polenta Cakes
Total Time:
5 hours
20 minutes
A delicious slow cooker chicken cacciatore that makes for a wonderfully easy meal for entertaining or for a hearty Sunday night super!
Ingredients
1.5 lbs of Boneless, Skinless Chicken Thighs
1 tablespoon olive oil
salt and pepper to taste
30 ounces of canned diced tomatoes
¼ cup white wine (a dry wine like Chardonnay or Sauvignon Blanc)
3 tablespoon of tomato paste
3 teaspoon of Italian Seasoning
1 teaspoon salt
freshly cracked pepper
2 garlic cloves, minced
1 cup yellow onions, sliced into half moons
1 cup red bell peppers, sliced into thin strips
1 cup green bell peppers, sliced into thin stripes
½ cup Kalamata olives, sliced in half lengthwise
1 tablespoon cornstarch + 1 tablespoon cold water
1 tablespoon butter
½ cup fresh Italian parsley, chopped
For Polenta Cakes
1 roll of cooked, packaged polenta
1 tablespoon olive oil
1 tablespoon parmesan cheese, freshly grated
1 Tbsp, fresh rosemary, chopped
salt and pepper to taste
Instructions
Season chicken thighs on both sides with salt and pepper to taste.
Heat olive oil in a non-stick pan over medium-high heat.
Once hot place the chicken in the pan and brown on both sides, about 3-4 minutes per side. Set aside.
In the slow cooker add the diced tomatoes, tomato paste, wine, seasonings, and garlic. Whisk to combine.
Add the chicken, and submerge it in the sauce.
Then add the onions and peppers. Stir to combine, mixing the chicken, sauce, and vegetables together.
Place the lid on top of the slow cooker, and heat on high for 5 hours or on low 6-8 hours.
Once the cooking is done, add the olives, and stir to combine.
Then mix the cornstarch and water together to combine, and pour the mixture into the slow cooker mixture, whisking to thicken.
Add the butter and whisk to combine. Set the slow cooker on low or warm.
For the polenta, remove the roll from its packaging. And pat dry.
Then slice the roll into ¾" slices. You should get about 8-9 slices.
Heat the olive oil in a large non-stick pan on medium-high. Add the polenta cakes. Cook for a few minutes, covered, until polenta is warmed through and the bottom turns a darker shade of yellow. And then flip.
Cook on the other side for a few minutes until warmed through.
Then transfer the polenta cakes to a serving bowl. Add salt and freshly cracked pepper to taste. And grated parmesan cheese and freshly chopped rosemary.
To serve add 2 polenta cakes to a shallow bowl, and 1-2 ladlefuls of the chicken cacciatore. Garnish chicken with freshly chopped parlsley.
Notes
You can sear the polenta cakes ahead of time. Then cover and refrigerate. Then reheat in the microwave, and then top with the cheese and rosemary.
Nutrition Information:
Yield:

6
Serving Size:

1
Amount Per Serving:
Calories:

392
Total Fat:

21g
Saturated Fat:

6g
Trans Fat:

0g
Unsaturated Fat:

14g
Cholesterol:

149mg
Sodium:

1107mg
Carbohydrates:

22g
Fiber:

5g
Sugar:

8g
Protein:

32g