This Provencal chicken stew is one of my favorite French recipes that also makes for fantastic leftovers! If you've been wondering how to stew chicken on the stovetop this recipe is for you!
It's a simple chicken stew recipe that uses mostly pantry and fridge staples and you'll love the Provencal flavors coming from the tomatoes, olives, capers, and of course, herbs de Provence.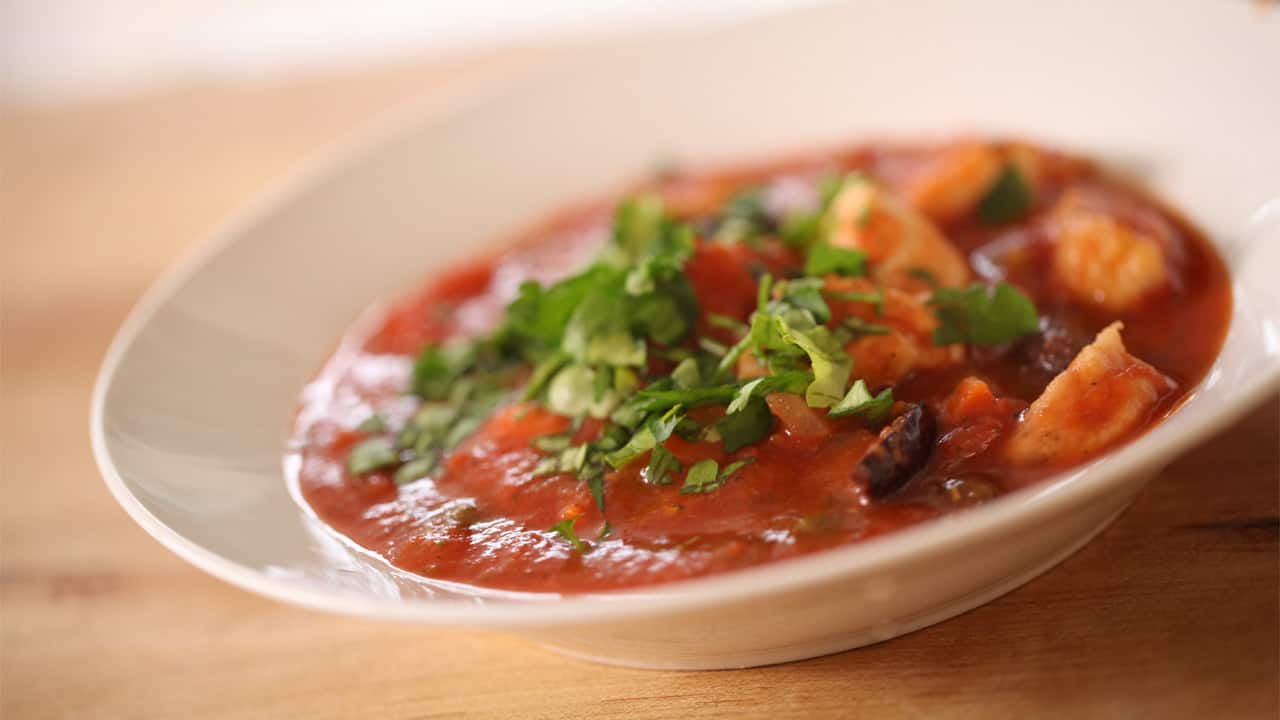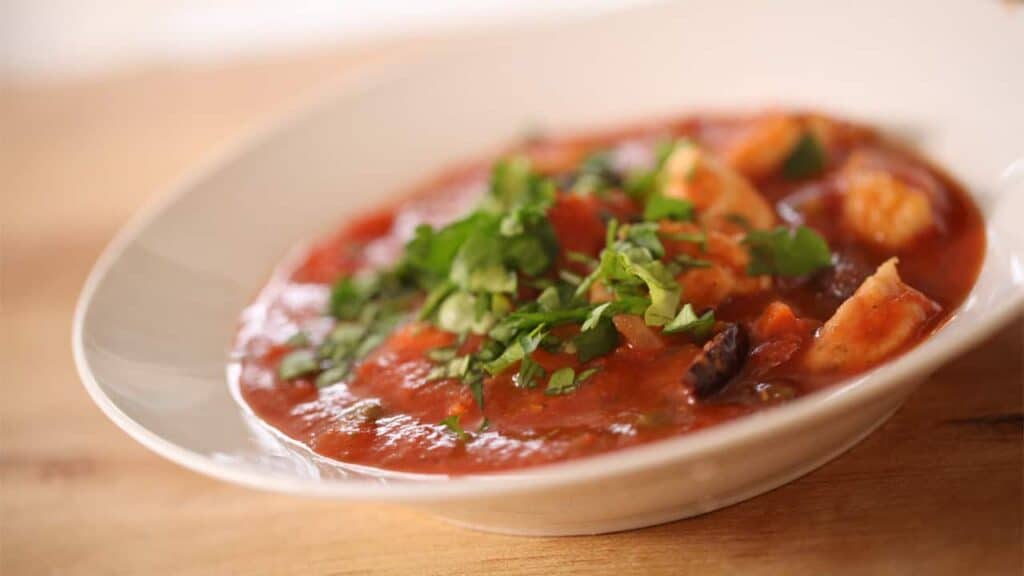 What To Serve with This Stew?
This hearty chicken stew pairs really well with warm polenta topped with butter, parmesan cheese, and fresh rosemary.
Just follow the recipe for making polenta on the back of the package and then stir in the butter, cheese, and rosemary. The full recipe is in the recipe card below.
For a full "Provencal-themed" menu you can start this meal off with my Tarte au Soleil with Pesto a fantastic appetizer idea! And then finish with my Lavender Creme Brulee.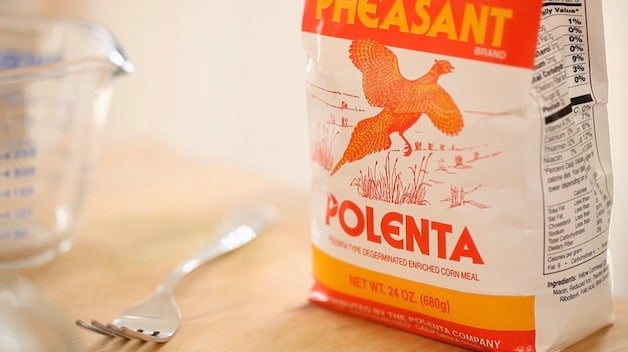 Step#1: Prep the Chicken
For this recipe, I prefer to use chicken tenderloins because I find they cook up a lot quicker and will be more tender too.
You'll cut them into bite-sized pieces and then dredge them through the cornstarch.
The cornstarch will protect the meat as it sears and it also helps to keep the chicken nice and juicy. It will also thicken the stew as it simmers on your cooktop. It's the same technique I use in my 15-Minute Chicken Stir Fry Recipe and my Cashew Chicken Recipe.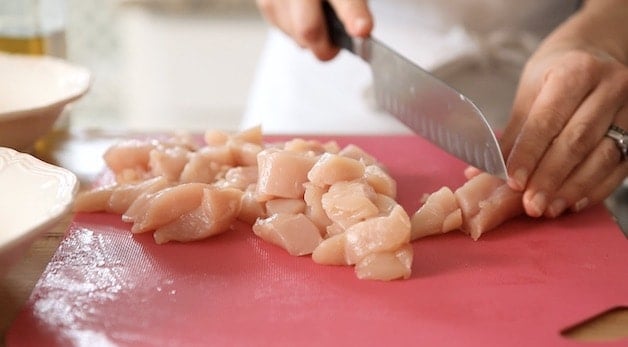 Step#2: Cook the Chicken
In a large Dutch oven cook the chicken quickly in olive oil.
At this stage, it's really just to sear the chicken on all sides until it's golden brown. Don't worry about cooking it all the way through. It will cook through in the simmering stage once you add the rest of the ingredients.
Then remove the chicken with a slotted spoon and set aside.
Don't worry about washing out the pot. It's actually better to cook the vegetables in the flavored oil and chicken fat. It will make your stew more flavorful.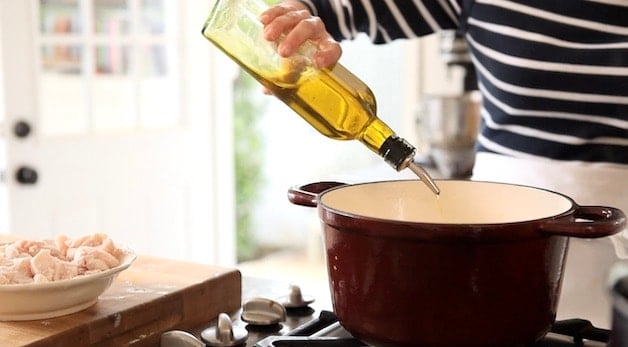 Step#3: Create the Provencal Sauce
You'll add a mirepoix of diced carrots, onions, and celery and saute them until they are tender and fragrant.
Deglaze the pan with a dry white wine, I like to use a Chardonnay for this, but you could also use a Pinot Grigio or Sauvignon Blanc.
Be sure to allow the wine to reduce by a third. Then add the rest of the ingredients. This is the part I really love because now it's mostly pantry staples!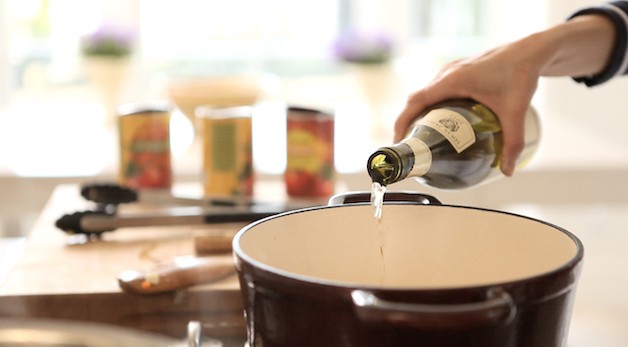 Optional Flavor Booster:
If you have the time, I also like to add some roasted eggplant to this stew as well. I think it adds another wonderful flavor and texture to the stew.
I like to add two cans of diced tomatoes and one can of tomato sauce, but for a runnier sauce, you could reverse that to two cans of sauce to one can of diced tomatoes.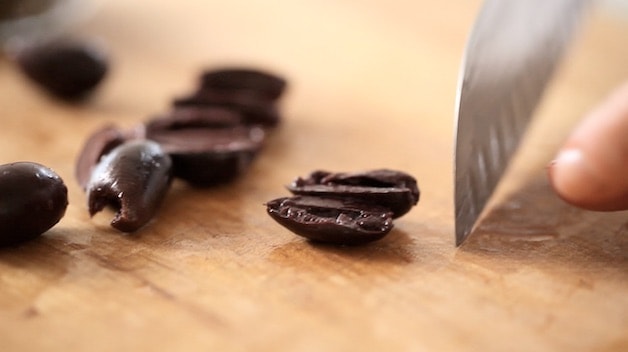 Prepping the Olives:
To save time I always buy the pitted kalamata olives and then slice them in half.
Olives can be a strong flavor for those who aren't accustomed (Ahem, like kids!) so I find slicing them into smaller pieces usually allows them to slide under the radar.
Step#4: Add the Chicken Back In
Once your sauce has simmered for at least 20-30 minutes then you can add back in the chicken to make sure it's cooked through.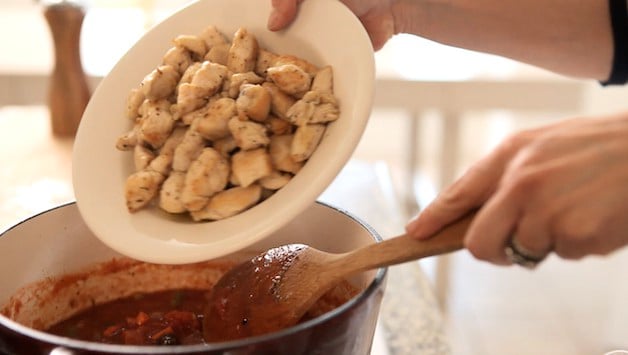 Step#5: Garnish and Serve
I love to serve this stew with some freshly chopped parsley on top but you could also use fresh basil, or oregano too!
This stew is so good when served with some creamy rosemary polenta! It's a great easy dinner idea that makes enough for leftovers the next day!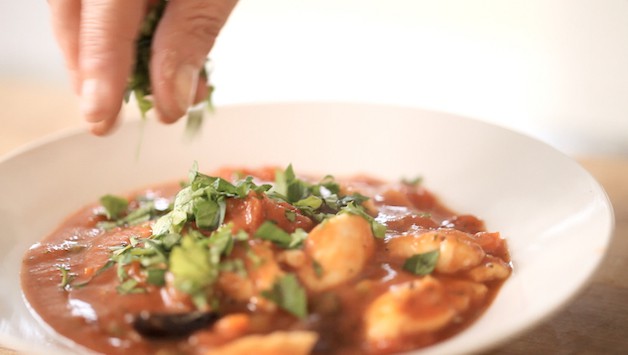 More French Inspired Recipes!
If you enjoyed this Chicken Stew
Please Leave a Rating and a Review Below!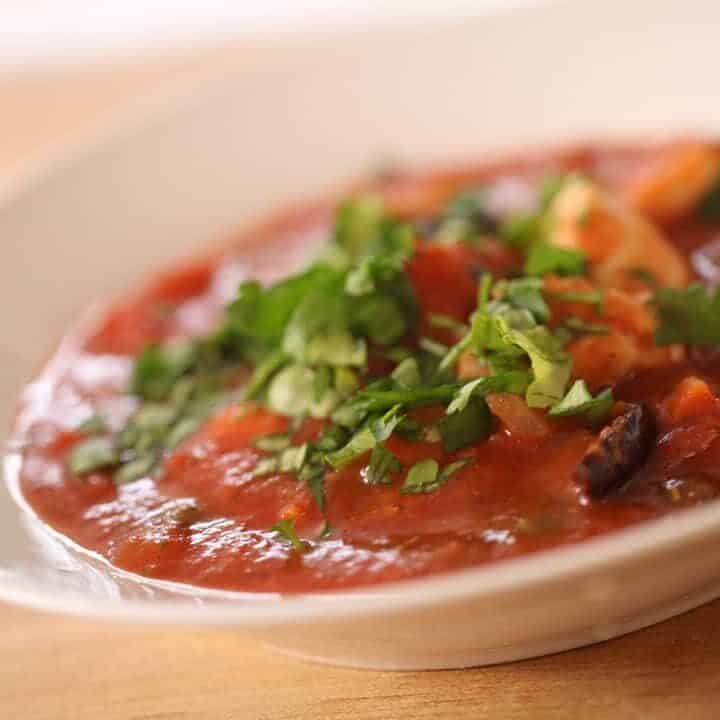 Provencal Chicken Stew
Total Time:
1 hour
30 minutes
This simple Provencal chicken stew recipe can be made on the stovetop and uses mostly pantry and fridge staples and you'll love the Provencal flavors!
Ingredients
2 pounds of Chicken Tenders
6 tablespoon cornstarch
4 tablespoon olive oil, separated
2 tablespoon butter
3 cups eggplant, diced
1 cup onion, diced
½ cup carrots, diced
½ cup celery, diced
½ cup of white wine or chicken broth
2 (15-ounce) cans diced tomatoes
1 (15-ounce) can tomato sauce
1 cup chicken broth
1 bay leaf
2 tablespoon herbs de Provence
¼ cup black pitted, Kalamata olives, diced
¼ cup capers
1 teaspoon salt
½ teaspoon freshly cracked pepper
¼ cup flat-leaf Italian Parsley
For Polenta:
Follow package instructions for 8 servings of polenta
4 tablespoon butter
½ cup freshly grated parmesan cheese
1 teaspoon rosemary, minced
salt and pepper to taste
Instructions
Preheat oven to 450F. Toss eggplant with 1 tablespoon olive oil, season with salt and pepper to taste. Roast for 15 mins, shaking the pan periodically
so eggplant browns nicely. Set aside to cool.
Cut chicken into bite-sized pieces, season with salt and pepper to taste. Toss
chicken with cornstarch, coating all sides and shaking off excess.
In a large Dutch oven, heat 1 tablespoon of the olive oil and 1 tablespoon butter. Sautee chicken in batches until golden brown,
and slightly undercooked, it will finish cooking in the stew. Set aside.
In the same pot, add 1 tablespoon olive oil and sauté carrots, celery, and onion until soft. Deglaze the pan with the wine or
stock. Add the chicken back in, along with the rest of the ingredients. Simmer on med-low heat for 15 mins.
Garnish with parsley and serve with polenta
For Polenta:
Polenta (follow instructions on package)for 8 servings then add the butter, cheese rosemary, and salt and pepper to taste
Nutrition Information:
Yield:

8
Serving Size:

1
Amount Per Serving:
Calories:

624
Total Fat:

39g
Saturated Fat:

12g
Trans Fat:

1g
Unsaturated Fat:

24g
Cholesterol:

86mg
Sodium:

1903mg
Carbohydrates:

42g
Fiber:

4g
Sugar:

5g
Protein:

26g