Beth's Easy Tartiflette Recipe
This easy Tartiflette Recipe is a dish that can only be described as the most over-the-top potato-side dish you will ever eat. But this is my American self speaking, in France, this is eaten as a main course, it's that filling!
It's one of my favorite French Recipes to serve guests because it always makes a BIG impression! Their eyes always widen when I bring it to the table as they exclaim "What is this thing of decadence?!"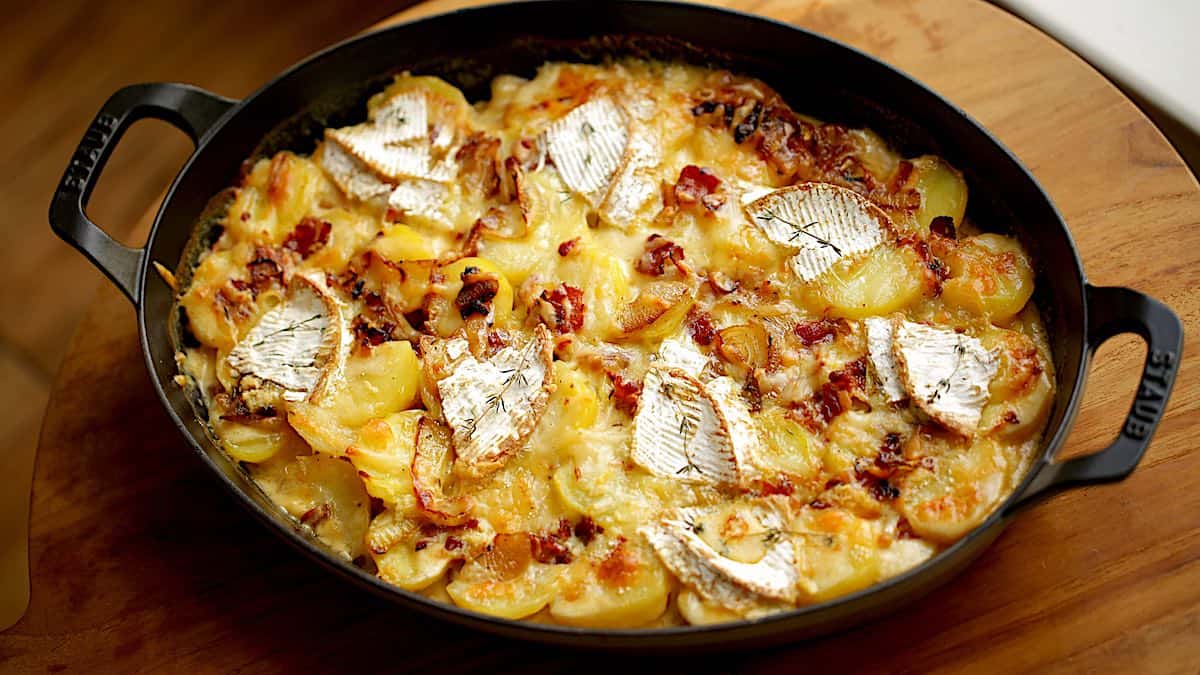 It's a dish that originates from the mountain region of France and is definitely "cold-weather comfort food".
Why You'll Love This:
The decadence of tender potatoes covered in a rich cream sauce, combined with crispy bacon and melted camembert makes this the holiday side dish that everyone will be talking about for weeks.
It's also an easy side dish that can be prepped in advance and baked right before serving. Make it in a beautiful Gratin Dish and serve it oven-to-table
I'm pretty sure none of your guests will have tried it before and it will become a fun conversation piece!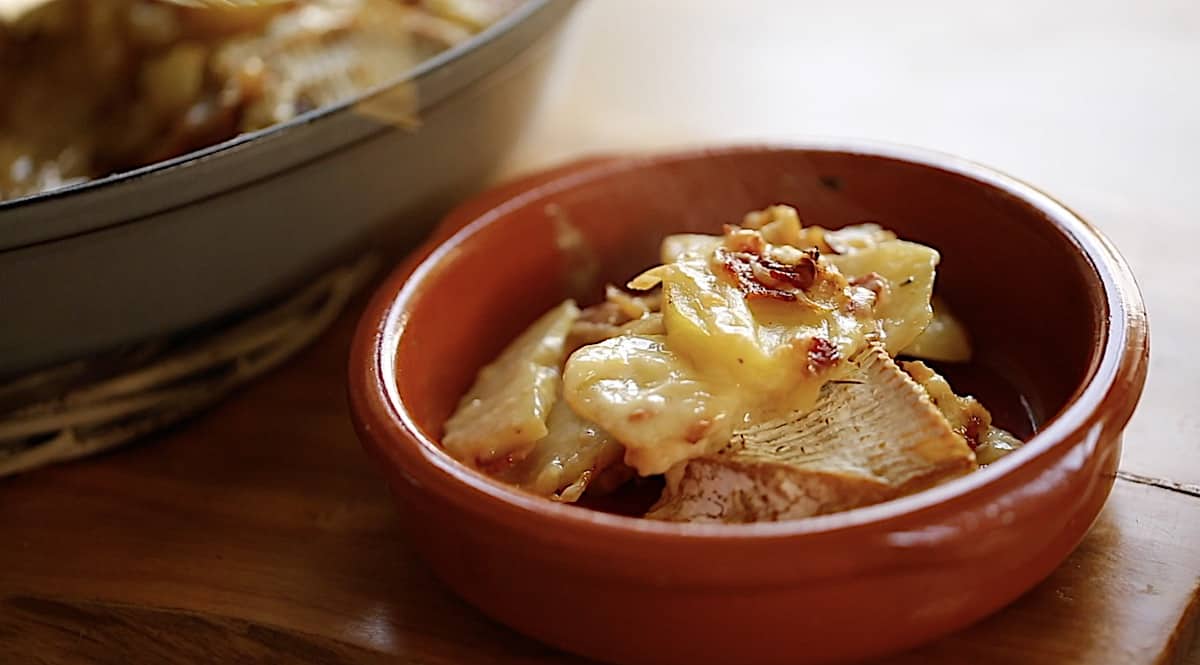 What is Tartiflette?
Tartiflette is a cheesy French potato casserole, slathered in a cheesy cream sauce, dotted with crispy bacon, and topped with baked with typically Reblochon Cheese on top.
It's typically served as a main course "apres-ski" but I think it makes for a fabulous holiday side dish.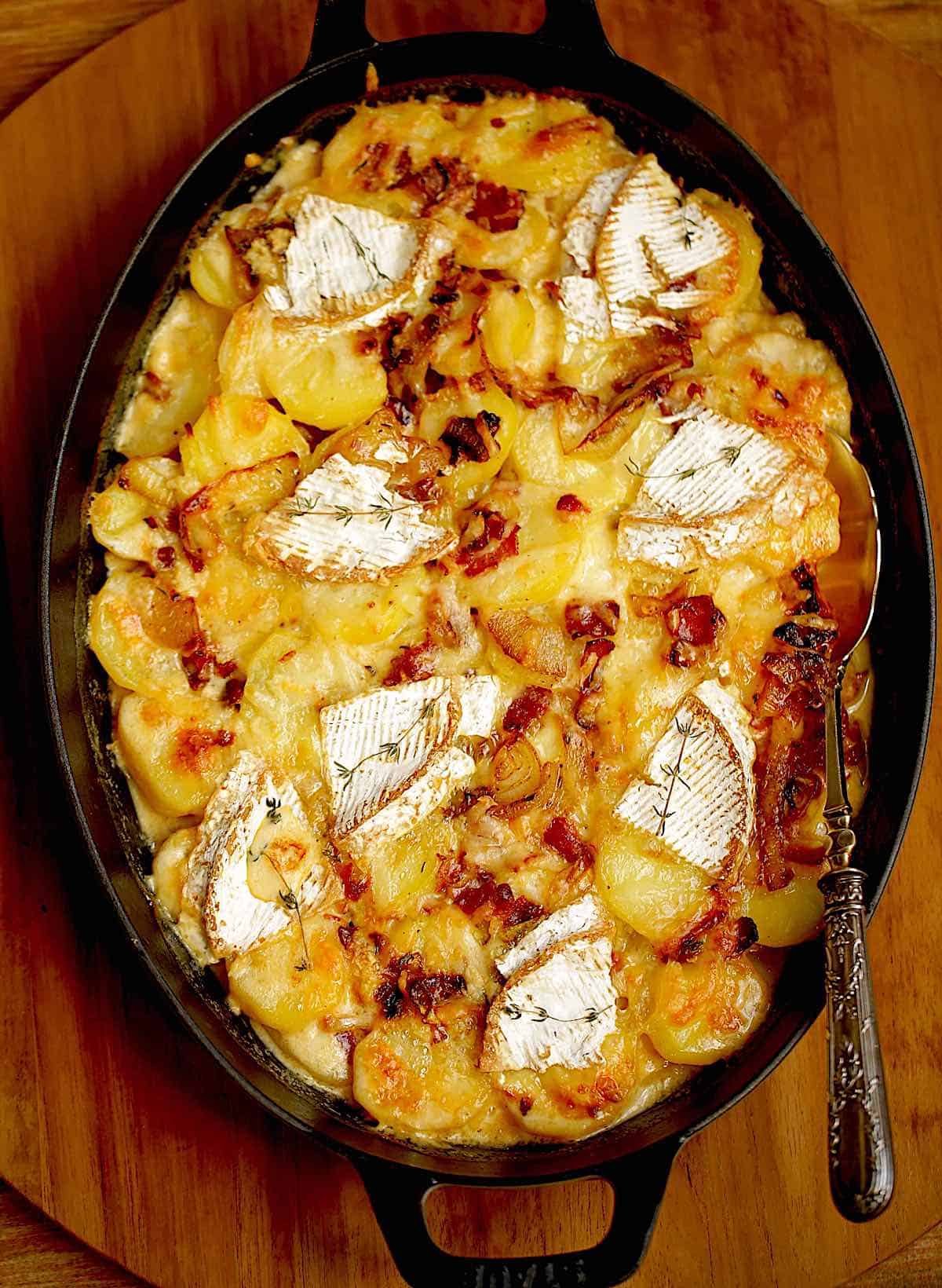 What Can Be Substituted For Reblochon Cheese in a Tartiflette?
Unfortunately, Reblochon cheese is outlawed in the U.S. (?!) so instead, you could use camembert cheese, or for something even lighter a brie would work too. Have extra brie? Try my Baked Brie with Fig Jam or Baked Brie in Puff Pastry. Two other cold-weather comfort foods.
Tartiflette Ingredients
For your Tartiflette, you'll need a waxy potato. A variety like Yukon gold works well.
Avoid starchy potatoes like russets, since they get too crumbly and won't hold up after boiling.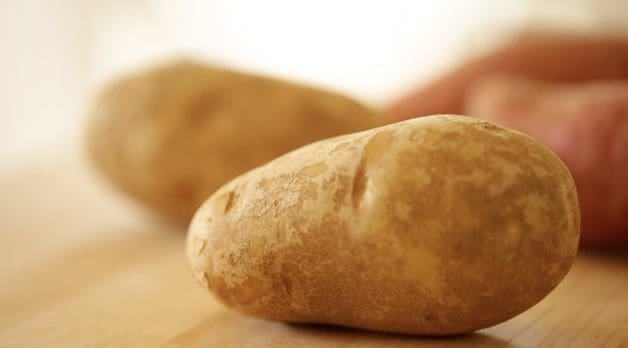 You'll want to slice the cooked potatoes neatly and waxy potatoes allow for this.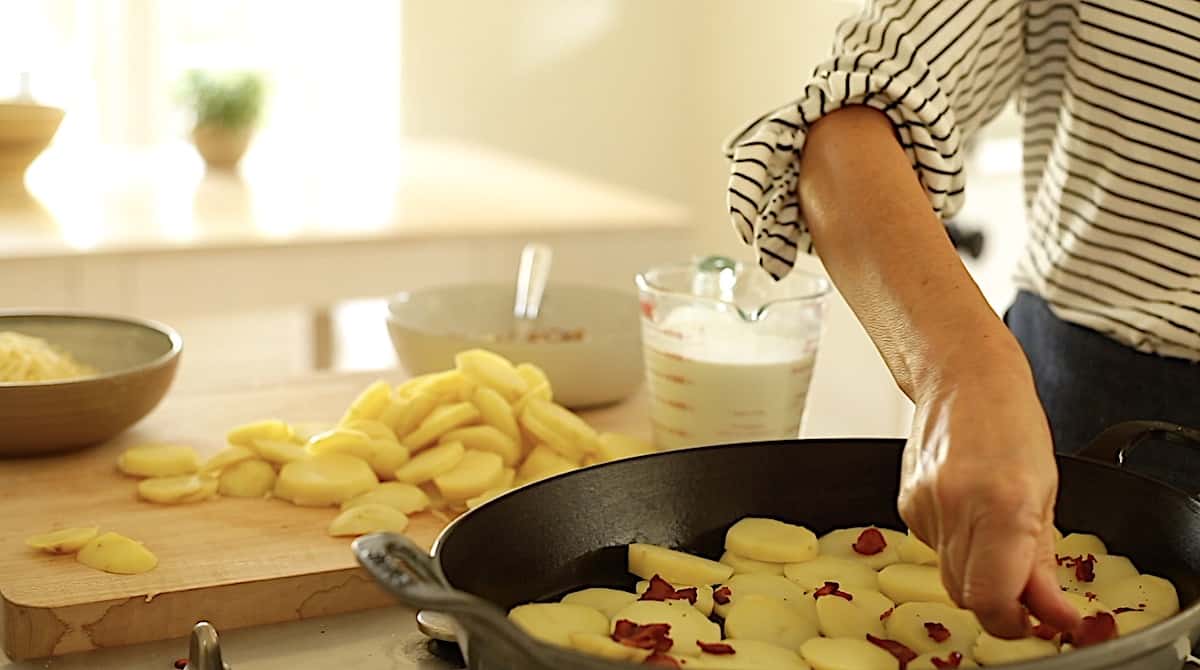 You'll also use heavy cream and milk, garlic, caramelized onions, crispy bacon, gruyere cheese, and of course a nice round wheel of camembert or brie for a milder taste.
Once sliced you'll place the cheese triangles on top of your casserole and top with fresh thyme.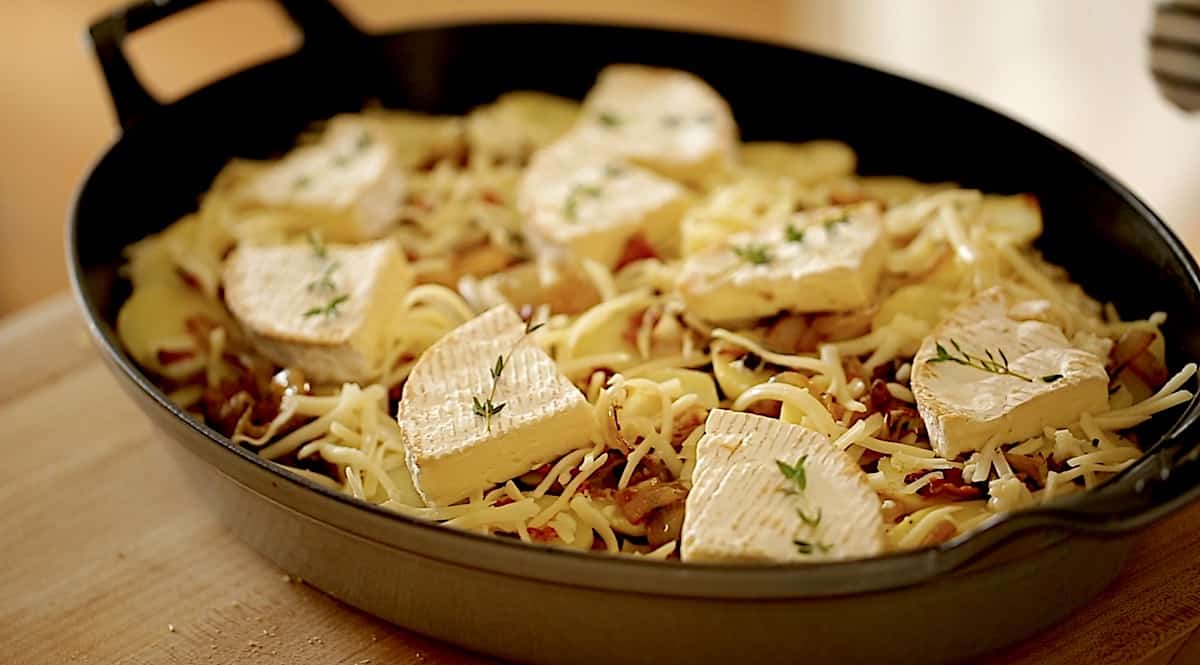 What to serve with Tartiflette?
To continue the French theme, serve my make-ahead holiday coq au vin it works beautifully with this recipe. It's another festive French meal that works well for holiday entertaining.
The richness of the cheesy cream sauce pairs beautifully with the sauce of the coq au vin and on a cold winter's night, it's pure comfort food.
You could also serve my Easy Sheet Pan Rack of Lamb Recipe or my White Wine Chicken or Chicken Marsala Recipes would also be lovely.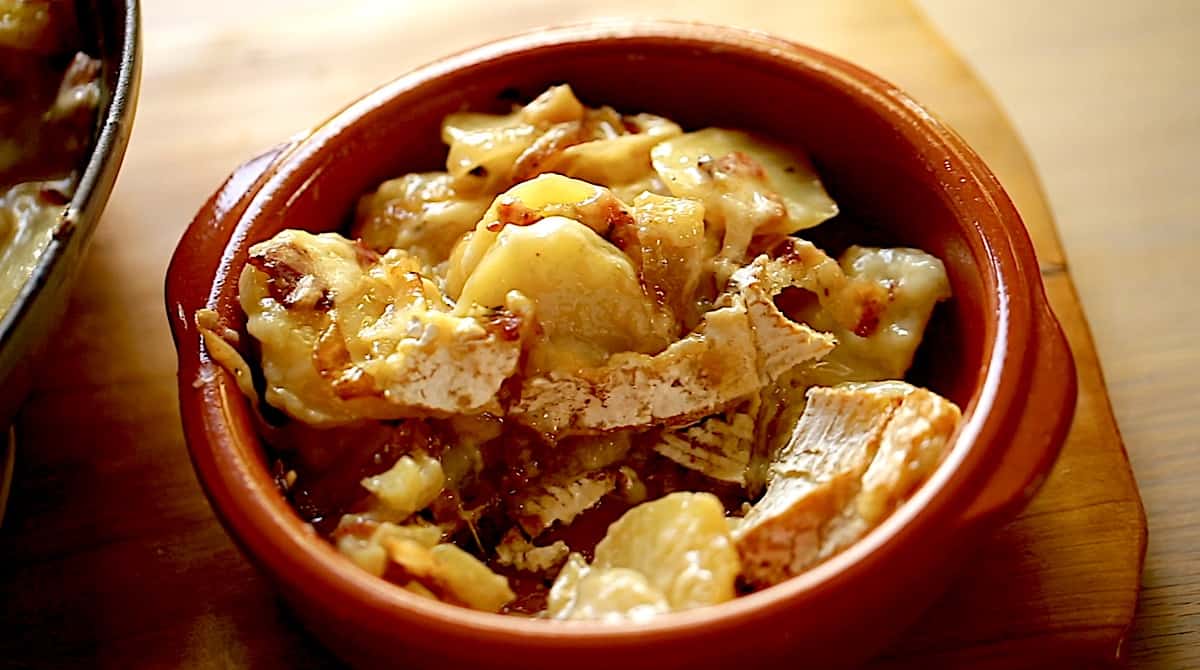 Can You Reheat Tartiflette?
Technically, yes you can. But personally, I find Tartiflette is best eaten straight from the oven! You'll get the best sauciest, texture that way.
Otherwise, the sauce has a tendency of getting soaked up by the potatoes if left to sit in the fridge overnight.
So just assemble it ahead of time, but don't bake it until ready to serve.
To continue the French theme, you could serve my easy Chocolate Pot de Creme or Profiteroles for dessert. They can be made ahead of time and placed in the fridge and all you have to do is top with whipped cream and chocolate shavings. That would be a fantastic finish.
Please let me know if you make this recipe
by leaving a rating and review below!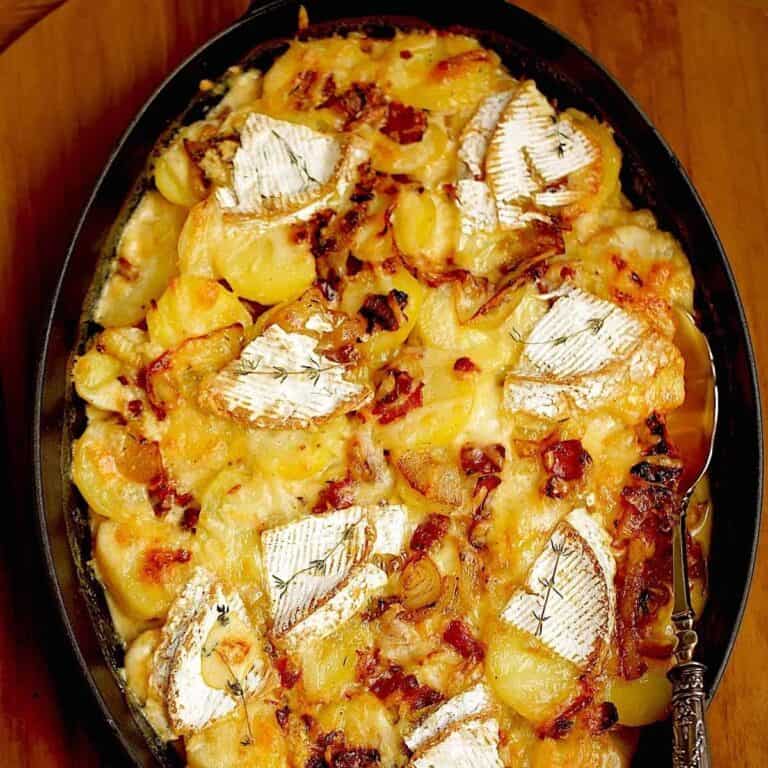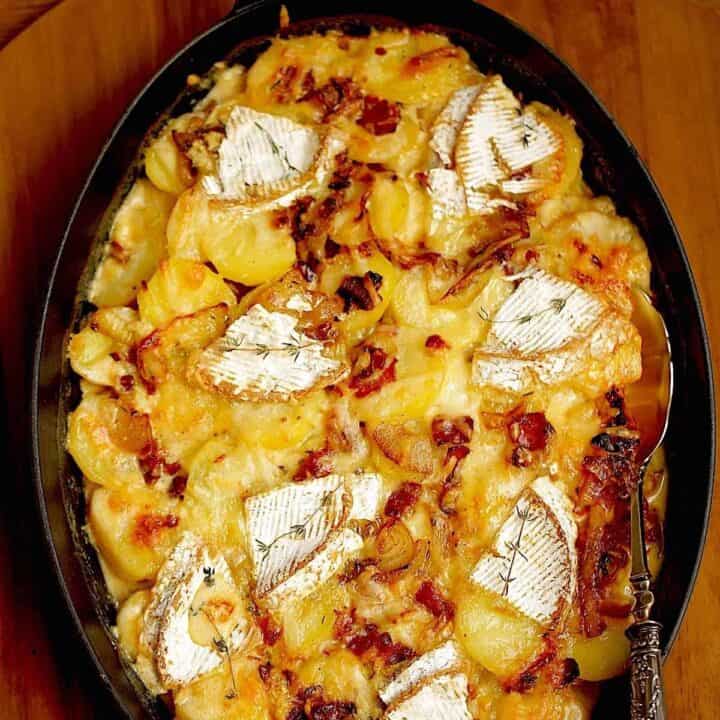 Tartiflette Recipe
Prep Time:
1 hour
30 minutes
Total Time:
2 hours
15 minutes
Tartiflette is the ultimate holiday side dish that your friends and family will be talking about for weeks! It's that good!
Ingredients
3.5 lbs (1580g) Yukon Gold Potatoes, peeled
7 slices, thick center cut bacon, sliced into 1 inch strips
1 ½ cup (350 ml) Gruyere cheese, shredded
2 cups (300g) yellow onion, sliced into half moons
¾ cup (180ml) heavy cream
½ cup (120ml) whole milk
2 garlic cloves, minced
½ cup (120ml) dry white wine
1 ½ teaspoon (7.5ml) fresh thyme, chopped (separated)
1 ½ teaspoon (7.5ml) salt
1-8oz (230g) wheel of Camembert
Instructions
Boil potatoes until fork tender. Allow to cool.
Meanwhile, heat a large non-stick skillet on medium high. Cook bacon until crispy. Remove with a slotted spoon and transfer to a plate lined with paper towel to drain.
Remove all by 1 tbsp. (15ml) of bacon fat from the pan and sauté onions in fat until soft and caramelized. Season to taste with salt and pepper. Add thyme. Set aside to cool.
Then in a medium-sized bowl combine cream, milk, garlic, wine and salt. Set aside.
Slice potatoes into ¼ inch (6mm) slices and set aside.
Grease a 13 x 9 (32cm x 23cm) oval gratin pan. Line pan with one single layer of potato slices, sprinkle a ⅓ cup (80ml) of cooked bacon over the potatoes, ⅓ cup (80 ml) of the Gruyere cheese, ⅓ cup (80 ml) of onions and ⅓ cup (80 ml) of the milk/cream mixture. Repeat this process until you create 3 layers.
Slice the wheel of cheese horizontally as if cutting a hamburger bun to create a top and bottom. Then cut the wheel into quarters. You will have 8 triangles of cheese.
Place cheese triangles all over the top of casserole. Sprinkle with remaining ½ teaspoon of fresh thyme.
Bake at 400F (200C) for 35-40 mins until cheese has melted and topping is golden brown.
Notes
The entire dish can be pre-assembled the day before, covered and refrigerated.  Then bake according to instructions listed.
Nutrition Information:
Yield:

8
Serving Size:

1
Amount Per Serving:
Calories:

186
Total Fat:

8g
Saturated Fat:

4g
Trans Fat:

0g
Unsaturated Fat:

3g
Cholesterol:

22mg
Sodium:

251mg
Carbohydrates:

20g
Fiber:

2g
Sugar:

2g
Protein:

8g