Baked Brie with Fig Jam is one of my favorite holiday recipes because it's so easy to throw together and is so delicious too! It also looks so pretty when baked in a cast-iron skillet and placed on a platter garnished with fresh red grapes and toasty baguette slices.
The best part is you can have it prepped in advance and refrigerated and then all you have to do is pop it in the oven as soon as guests arrive. There's nothing better than welcoming a guest in from the cold and serving them a toasty baguette slathered in warm, gooey brie. Let the holidays begin!
For another "prep ahead and bake" appetizer recipe try my highly-addictive Mac & Cheese Bites or my Cheese Puff Recipe! Always the first things to fly off the plate!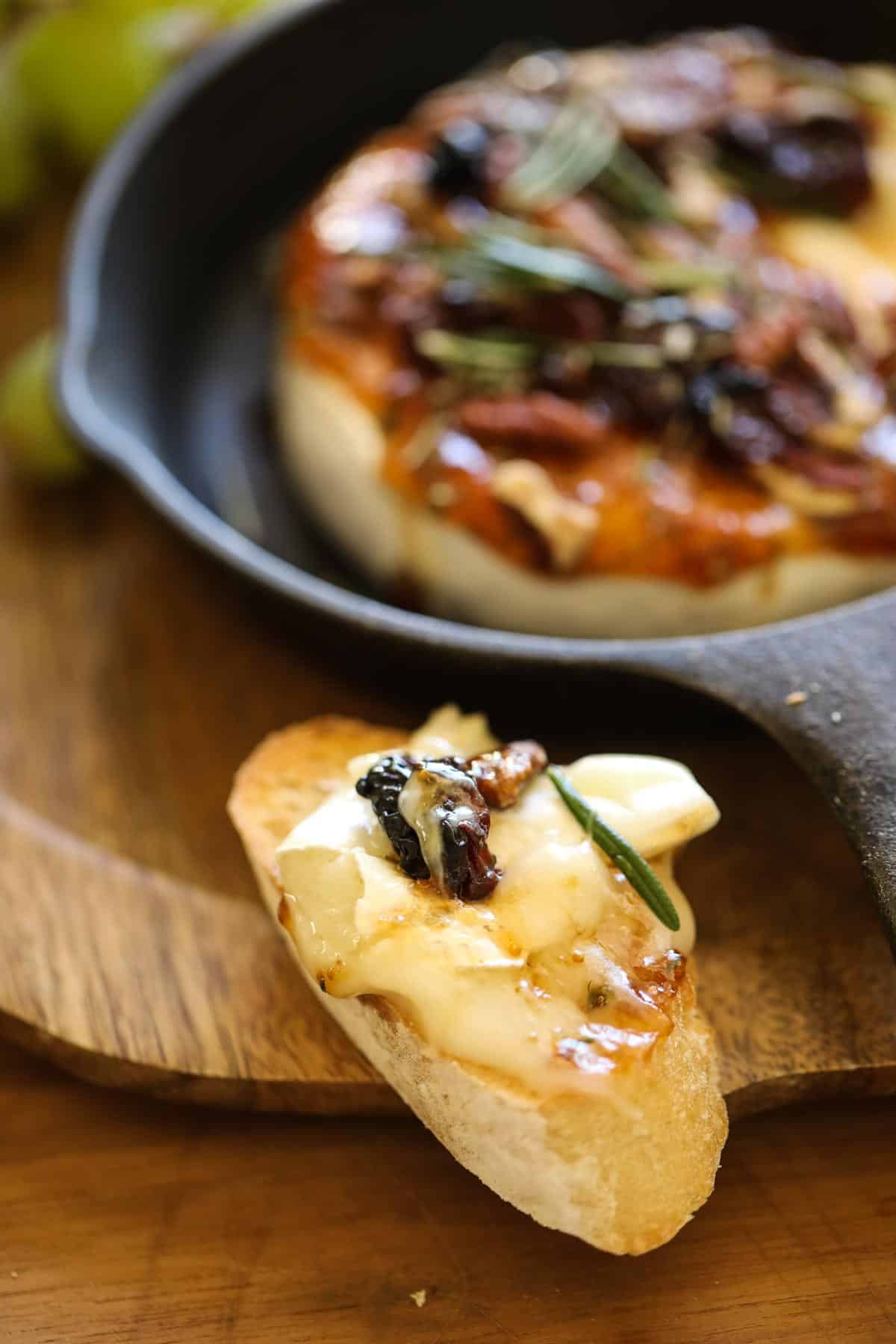 Two Ways to Serve Baked Brie
There are a few popular ways to serve baked brie.
You can either do it the easy way by baking your brie with jam, nuts, and dried fruits in a skillet.
Or take a bit more time to create my Baked Brie in Puff Pastry Recipe or another wonderful way to serve it is with my Fig and Brie Braid Recipe.
Both types of baked brie are equally delicious, but I'd say the baked brie with jam is a much quicker and easier way to go if you are pressed for time.
Appetizer Pairings:
Watch My Video Demo of This Baked Brie Recipe Below!

Flavor Combinations:
Baked brie is great with fig jam, raspberry jam, Cherry preserves, or apricot jam.
Top it with dried fruit for texture, such as dried apricots, dried cranberries, or dried cherries
Add some nuts! Walnuts, pecans, pistachios or almonds are all great choices
Add Some Freshness:
I like to serve some fresh fruit on the side to balance out the richness of the brie. Then encourage guests to place them on top of the brie once it's spread on the toast or cracker. Any of these fruit options would be great!
A trio of grapes in red, green, and purple looks beautiful and tastes delicious too!
Sliced apples or pears is also nice. Slice just before serving, once the brie is out of the oven to prevent browning on the fruit
If they are in season fresh figs or fresh cherries are also nice too!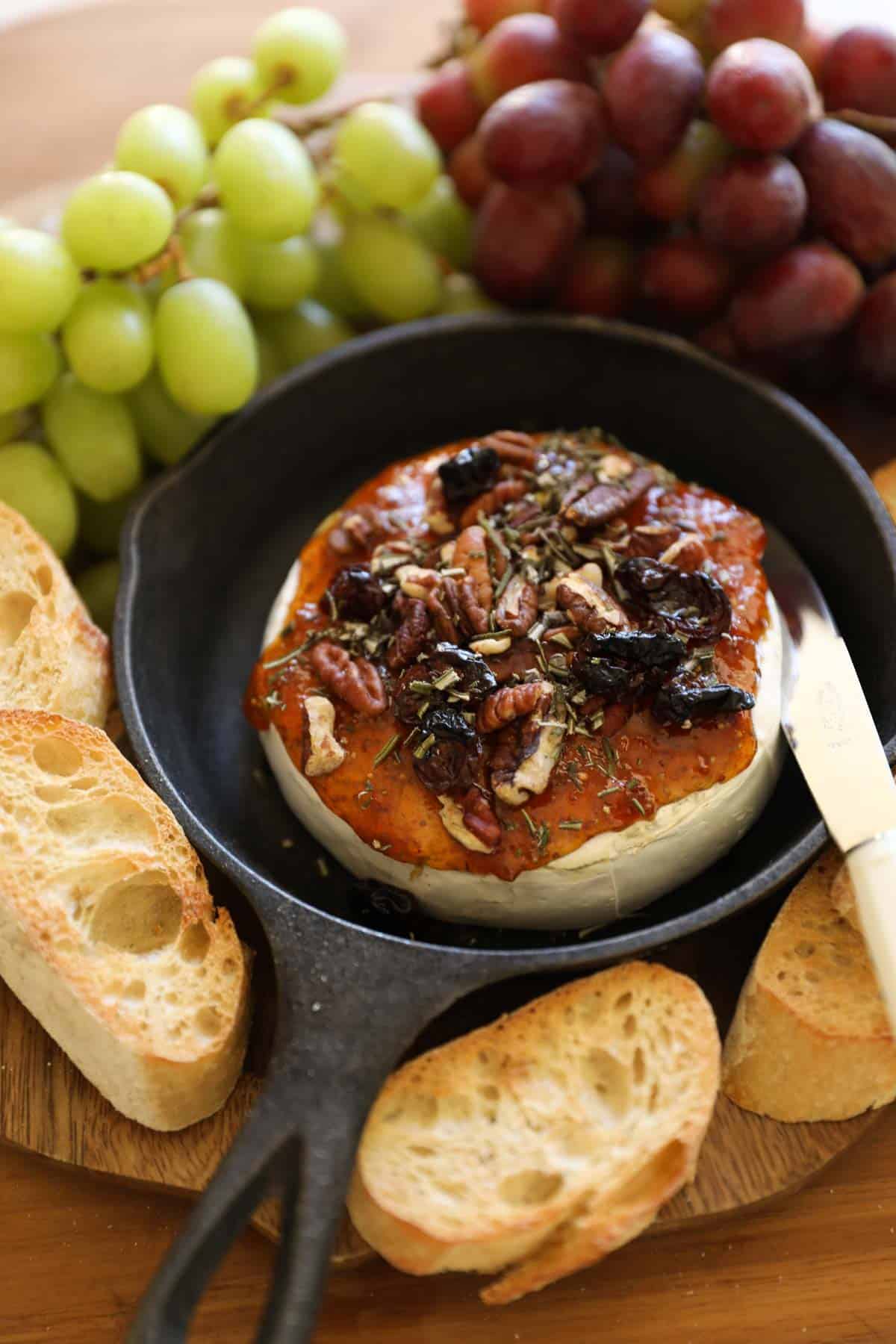 Step #1: Place Brie in Oven Safe Casserole Dish
Personally, I love to use the 6.5" mini cast-iron skillet from Lodge. An 8-ounce wheel of brie fits in this little skillet perfectly and the heat that's retained from the cast iron will keep the brie warmer longer.
And then you can use it later for my Warm Chocolate Skillet Cakes too!
You do not need to remove the rind off brie before baking it. It's perfectly edible! It also softens in the oven and creates another wonderful texture against the gooeyness of the interior.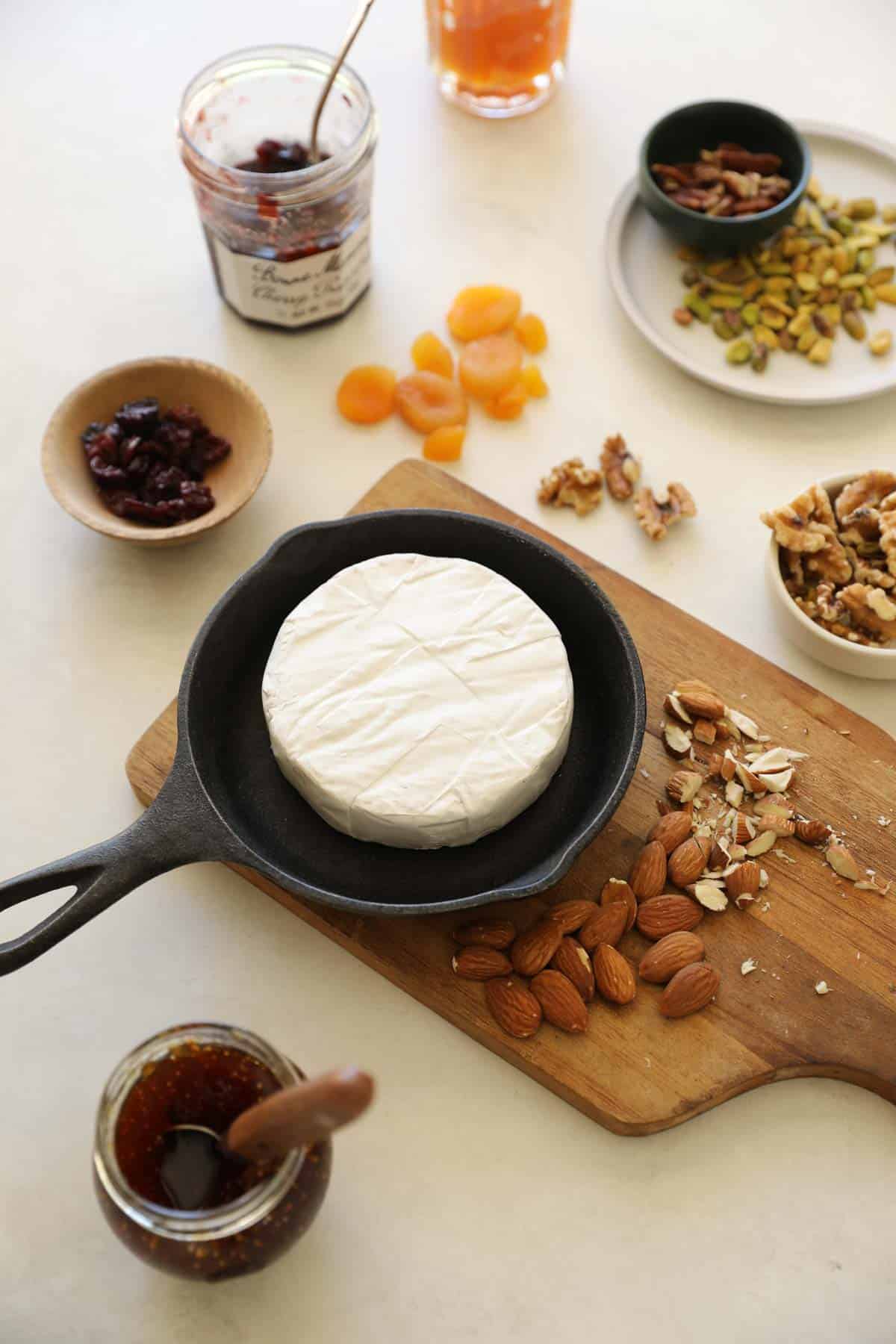 Step#2: Spread Fig Jam on Brie
Dollop at least 2 tablespoons of fig jam on top of the brie and spread it until the entire surface is covered.
After the brie is warm and gooey it will combine with the fig jam and create the most delicious flavor combination.
It's typically at that moment that I wish I added a bit more jam. So don't skimp on this step!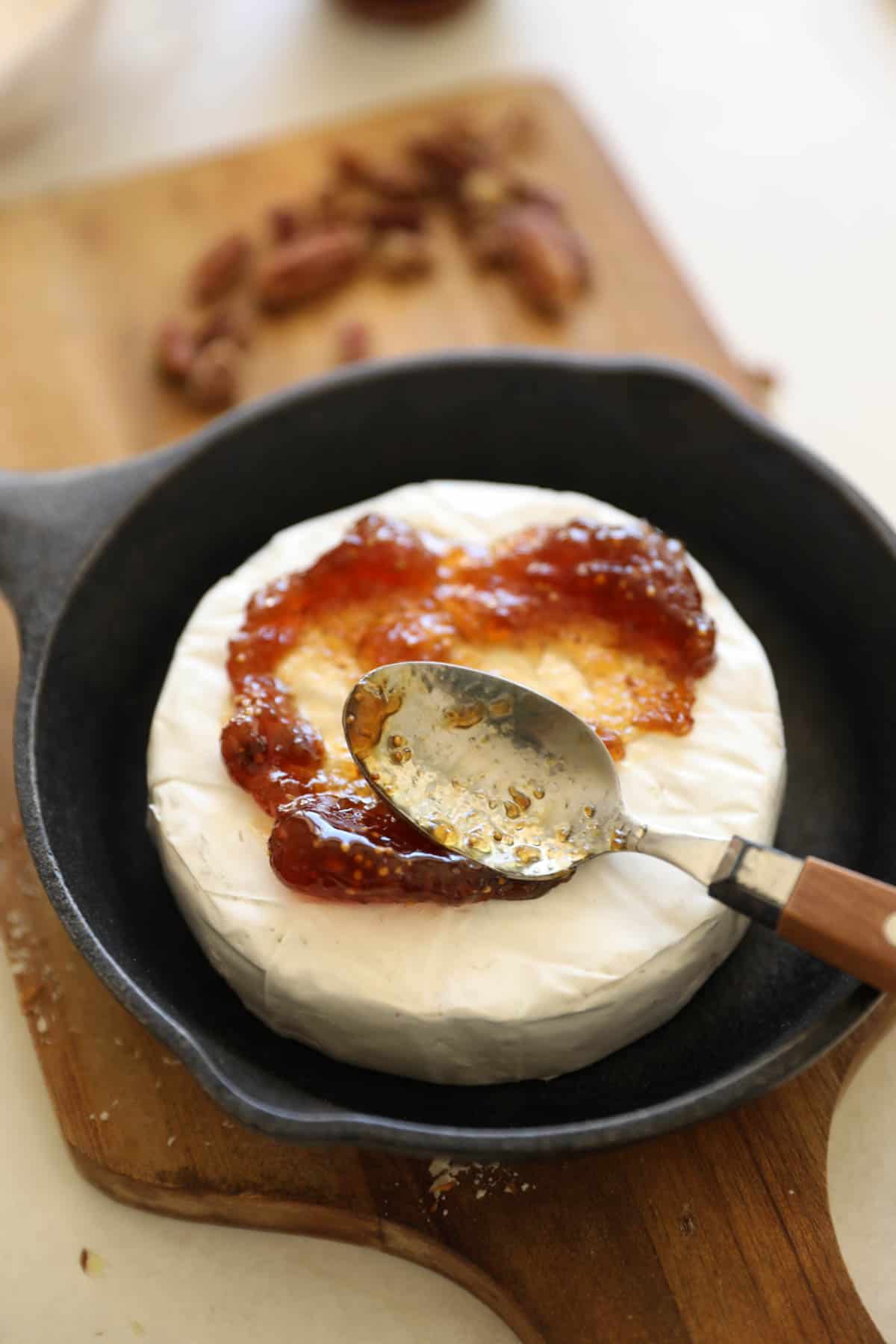 Balancing the Sweetness of the Jam
To counteract the sweetness of the jam, I also like to add some fresh rosemary, which is also a great flavor combination with the fig.
But you could swap that out for some fresh orange zest that would also be delicious and help to balance out the sweetness too.
Step#3: Top with Nuts and Dried Fruit
At this stage, you really could add whatever you like. That's the great part about this recipe.
In fact, if you have a crowd you could make 2-3 of these mini baked brie skillets and use different jams and toppings for each.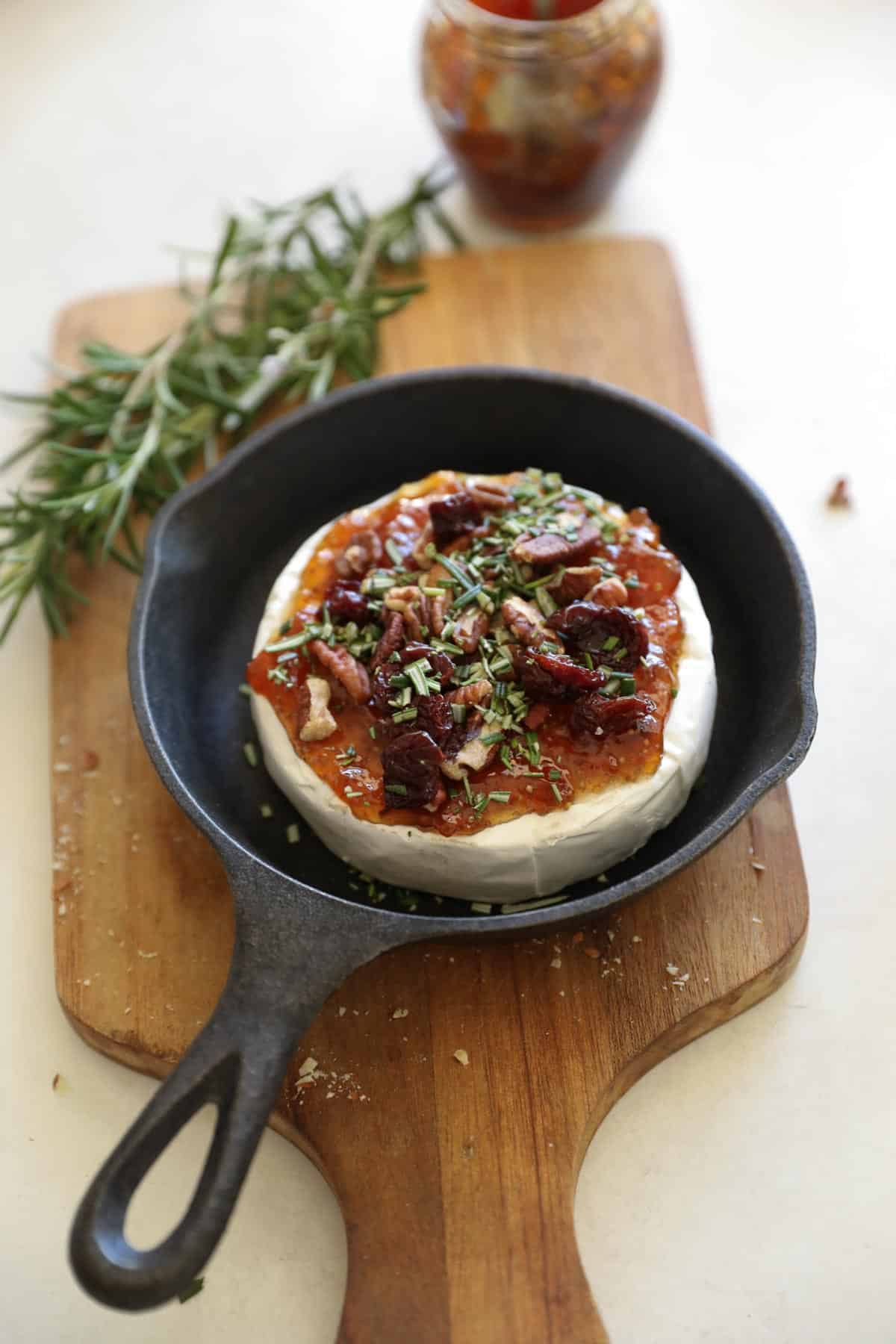 Suggested Baked Brie Topping Combinations:
Raspberry Jam, Dried Cherries, and Almonds
Apricot Jam, Candied Ginger, and Pistachios
Sundried Tomatoes and Pine nuts. Once baked top with fresh basil
Honey, Thyme, and Walnuts

A Baked Brie for All Seasons
Personally, I go with chopped pecans and sliced dried figs for the fall.
Apricot, ginger, and pistachios would be great for the spring.
The tomatoes and basil great for the summer!
Get creative and find the combinations you like best!
Step#4: Bake at 375F for 15 minutes
That's all it takes! Seriously, could this be any easier?
The brie can be prepped ahead of time with the jam and the nuts and then 15-minutes before guests are due to arrive pop it in the oven.
You do not need to cover the brie before baking. It's better left uncovered. That way the jam gets really nicely syrupy and the nuts become slightly toasted.
That way as soon as they arrive you are ready to greet them with some warm gooey brie, sure to take off winter's chill!
The baguette toasts can also be made ahead of time and kept at room temperature. Since the brie will be so hot, the toasts are fine at room temperature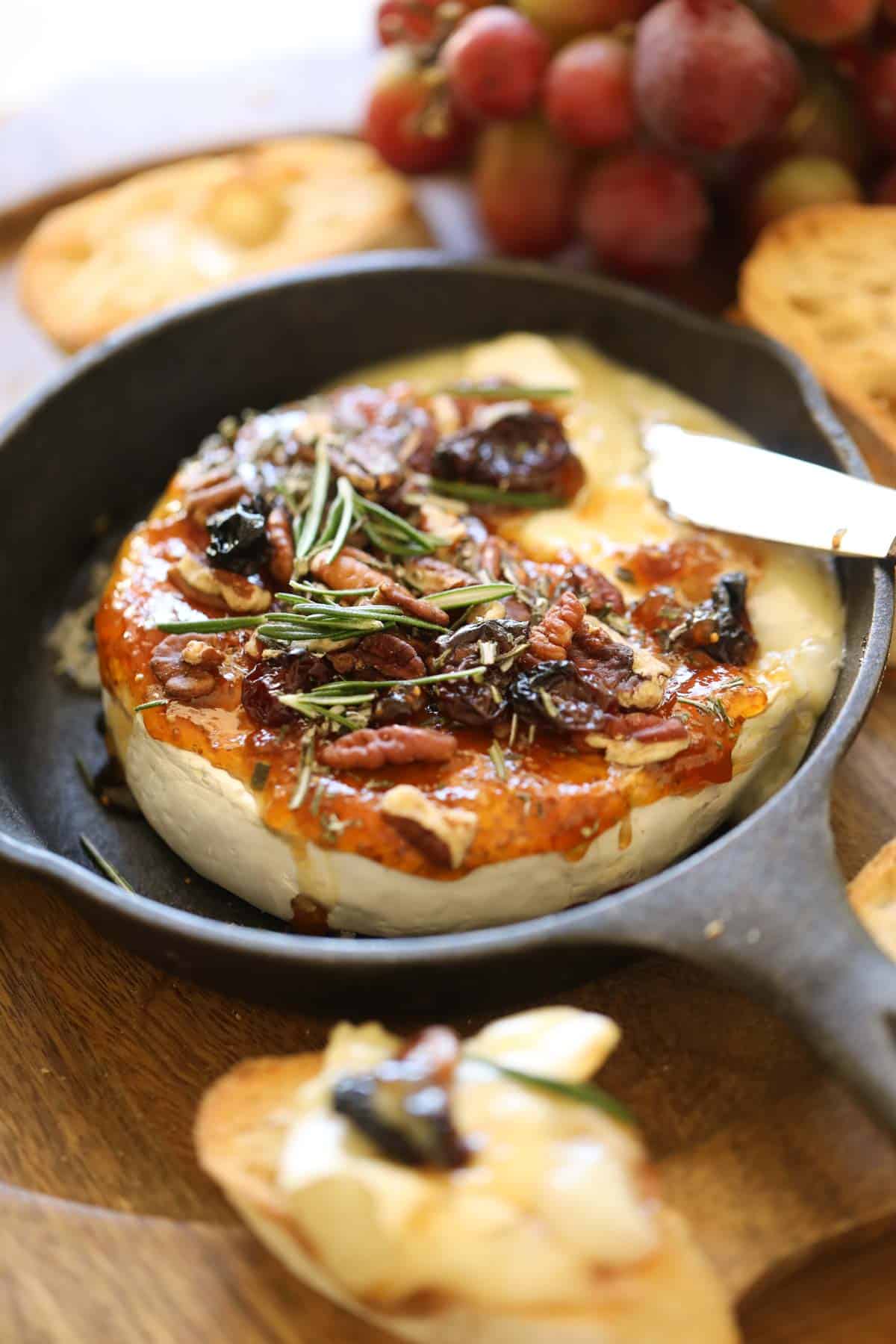 Step#5: Garnish and Serve!
It's best to place your warm brie on a cutting board or wooden charger since your casserole will be hot.
This will also provide additional room to add things like grapes, sliced apples or pears, dried apricots, toast, or crackers. It makes for a very festive display!
If You Enjoyed This Recipe
Please Leave a Rating and a Review Below!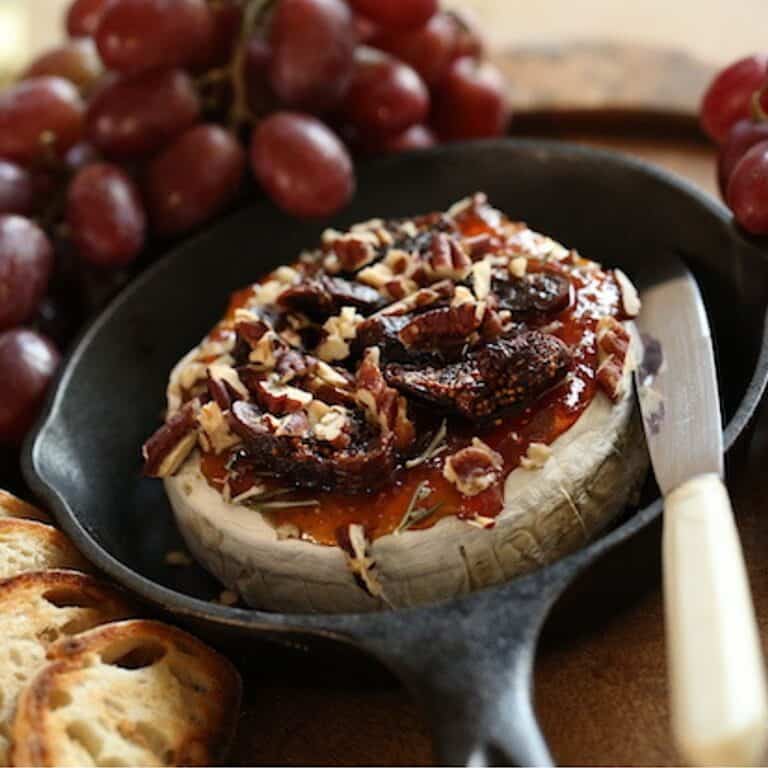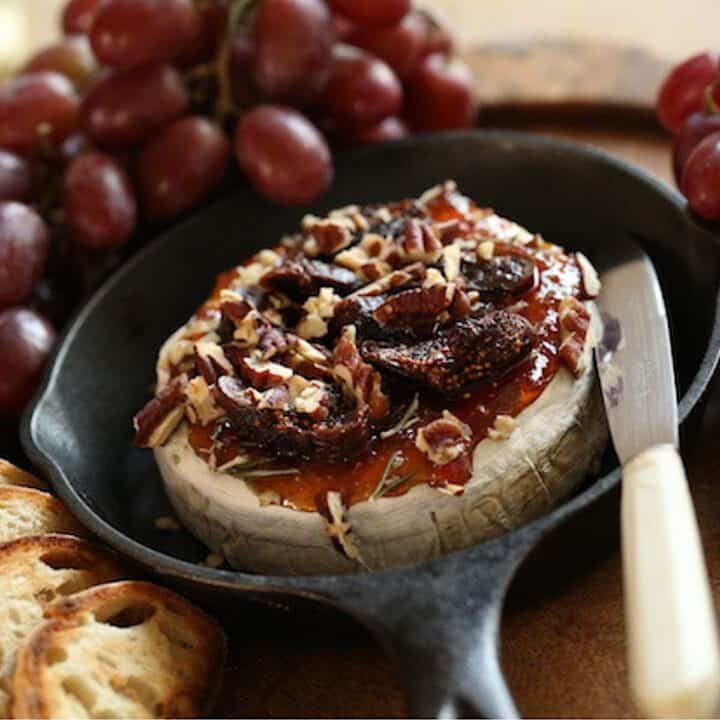 Baked Brie with Fig Jam Recipe
Baked Brie with Fig Jam, a deliciously easy appetizer recipe that is perfect for holiday entertaining! So easy and delicious!
Ingredients
8 oz (230g) wheel of brie
2 tbsp. (30ml) fig jam
1 teaspoon (5 ml) fresh rosemary, minced
2 dried figs, sliced
1 tbsp. (15 ml) of pecans, chopped
1 baguette, sliced and Toasted
2 bunches grapes
Instructions
Slice baguette into thin slices and place on a baking sheet.
Place under the broiler until toasted, and then flip until toasted on the other
side. Remove from oven and set aside to cool.
Place brie in an oven-safe dish, a 6" (15cm) Lodge Skillet
works perfectly!
Spread jam on top, add rosemary, dried figs, and pecans.
Place in preheated 375F (190C) for 15 minutes. Place on a
wooden charger, add grapes and toasted baguette!
Notes
Additional Topping Could Include:
Raspberry Jam, Dried Cherries and Almonds
Apricot Jam, Candied Ginger, and Pistachios
Honey, Thyme, and Walnuts
You can prep the brie ahead of time with the jam and nuts. Keep refrigerated. Then 15-minutes before guests arrive pop in the oven!
You can also toast the baguette slices ahead of time too. Keep those at room temperature until ready to serve.
Nutrition Information:
Yield:

8
Serving Size:

1
Amount Per Serving:
Calories:

227
Total Fat:

9g
Saturated Fat:

5g
Trans Fat:

0g
Unsaturated Fat:

3g
Cholesterol:

28mg
Sodium:

424mg
Carbohydrates:

26g
Fiber:

1g
Sugar:

6g
Protein:

10g