Fig and Brie Braid in Puffed Pastry
This Fig and Brie Braid in Puffed Pastry is one of my favorite puff pastry appetizer recipes for holiday entertaining. It has everything going for it. It's easy, it wows a crowd, and will disappear in minutes! So much so I always make two!
You can also make it ahead of time, keep it wrapped in the refrigerator and then bake as soon as guests arrive.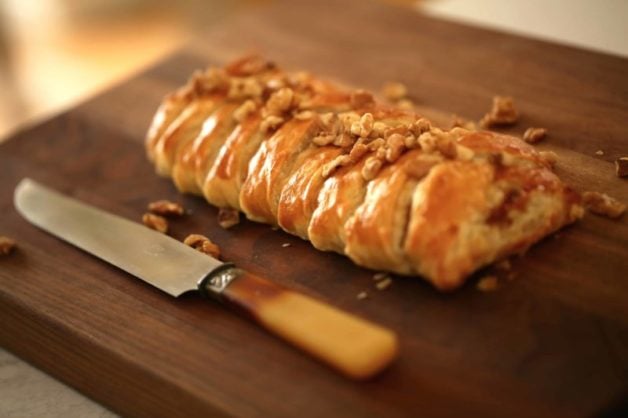 Watch My Video Demo of this Recipe Below!
Subscribe for weekly recipes
and new videos!
Other recipes in this video include my Sausage and Cheese Pinwheels and my Mushroom and Thyme Tartlets
STEP#1: Spread the Fig Jam
To make it easier to remove your fig and brie braid from the baking sheet, I recommend using a flat cookie sheet without a rim. This will allow you the ability to slide it off the tray once baked.
Be sure your puff pastry sheet is thawed. If you buy it frozen, defrost it in the refrigerator overnight.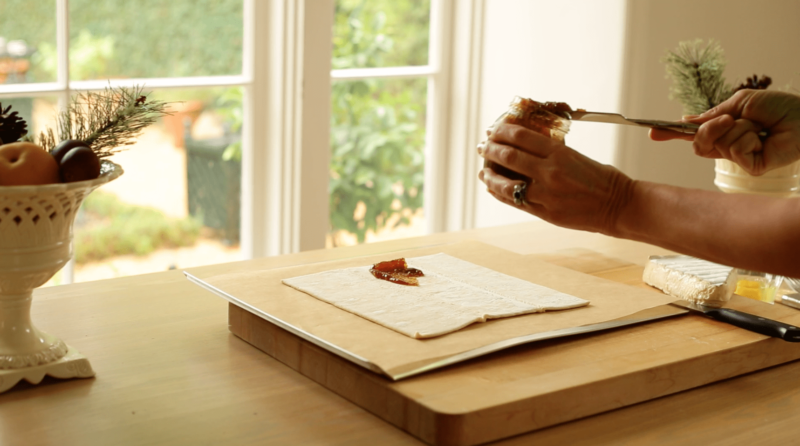 Assembling the Pastry Braid
It's also easier to assemble the braid right on the baking sheet since once you have it filled and braided, it's best not to move it. For an even easier Fig Jam and Brie appetizer, try my Baked Brie and Fig Jam in a Mini Skillet.
STEP#2: Add the Brie Cheese
Once you spread the fig jam, you will then top it with 4 slices of brie cheese. You can also use camembert for a stronger flavor, or goat cheese for a milder flavor.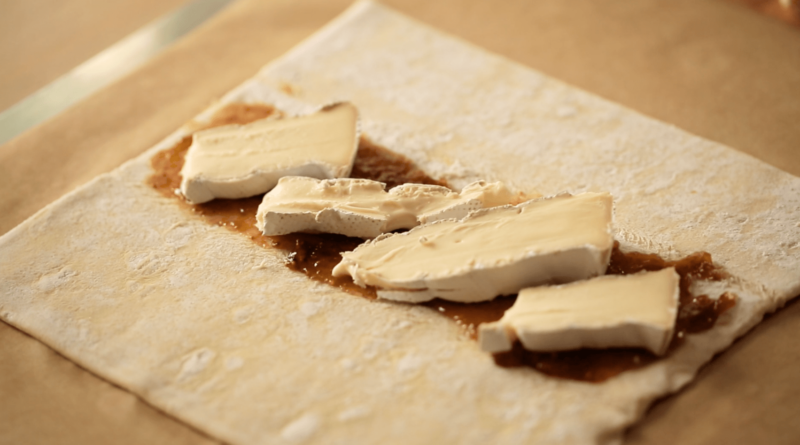 STEP#3: Slice the Puff Pastry
Then cut 1-inch strips along the sides of the adjacent panels, assuring you have the same amount of slices on each side. They should match up.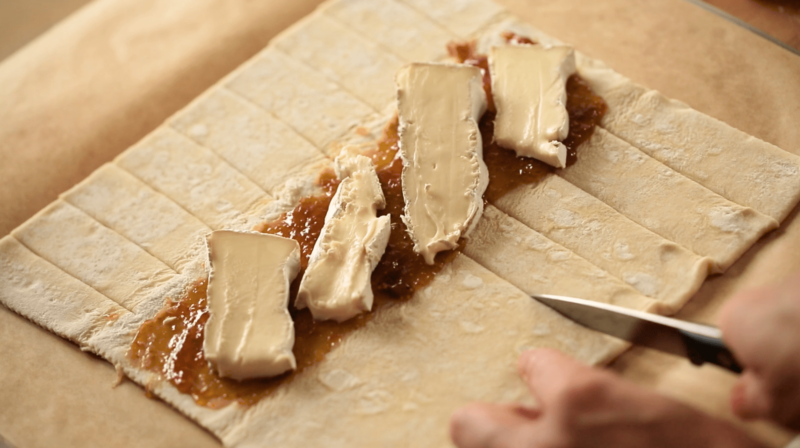 STEP#4: Cover the Filling with the Puff Pastry
Then bring the strips to the center of the puff pastry braid being sure to cover the cheese and jam with the puff pastry strips. When you are done it will look like a little mummy.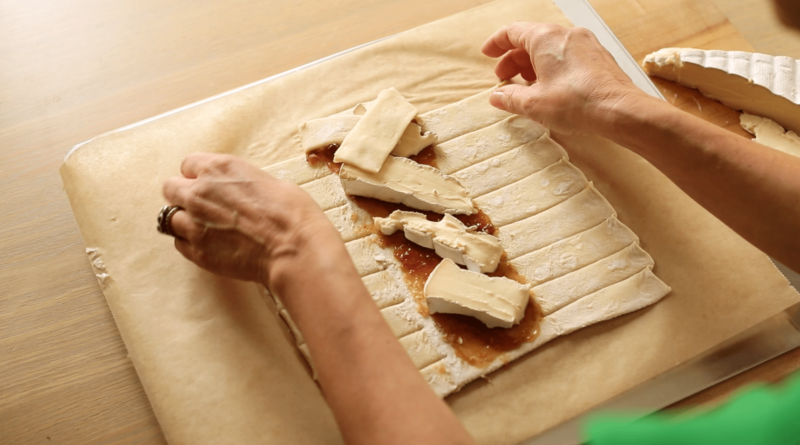 Make-Ahead Tip:
At this stage, the braid can be done a day ahead and kept in the fridge until ready to bake, or for a few days before and kept in the freezer. Cover the tray tightly with plastic wrap, then cover the tray with foil.
If Baking From A Frozen Braid
If frozen, there is no need to thaw the braid first before baking, just pop right in the oven!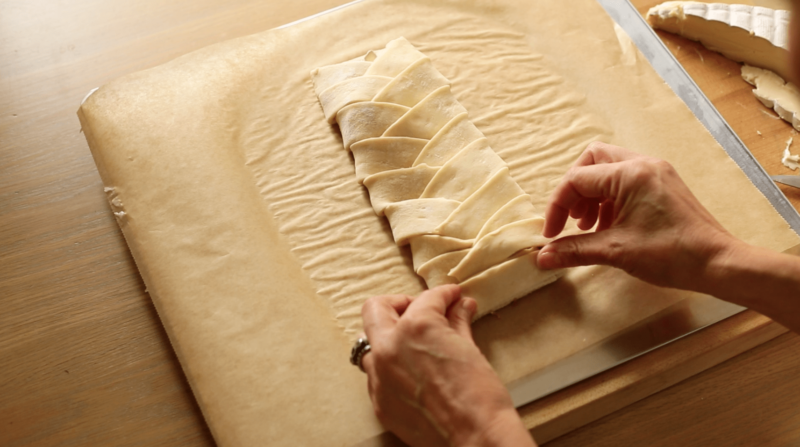 Before Baking Tip:
Before baking your braid, brush it lightly with a beaten egg on all sides. This will help keep your braid together and prevent the filling from spilling out. It will also give the baked braid a lovely color and shine.
How-To Serve
This is such an easy appetizer to serve because you can slide it off onto a cutting board, top with some chopped walnuts, and let your guests dig in! It will disappear in a matter of minutes!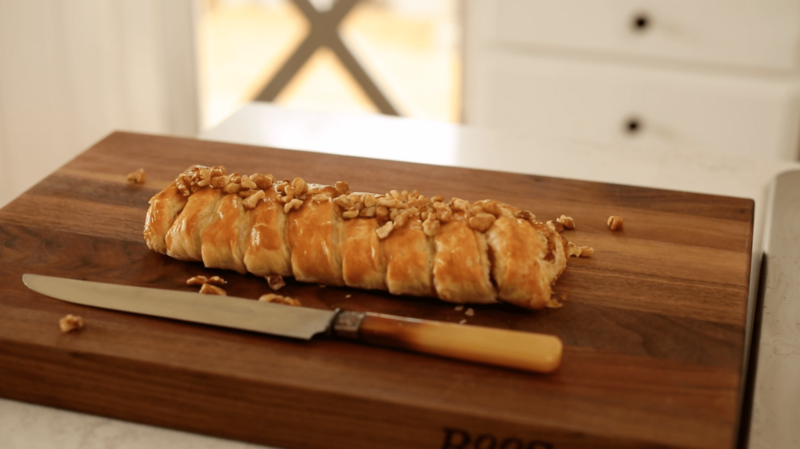 Why You'll Love This:
The combination of the flakey pastry, the sweet jam, and gooey cheese is a fantastic holiday flavor combination! You'll also love how the walnuts add a nice buttery crunch.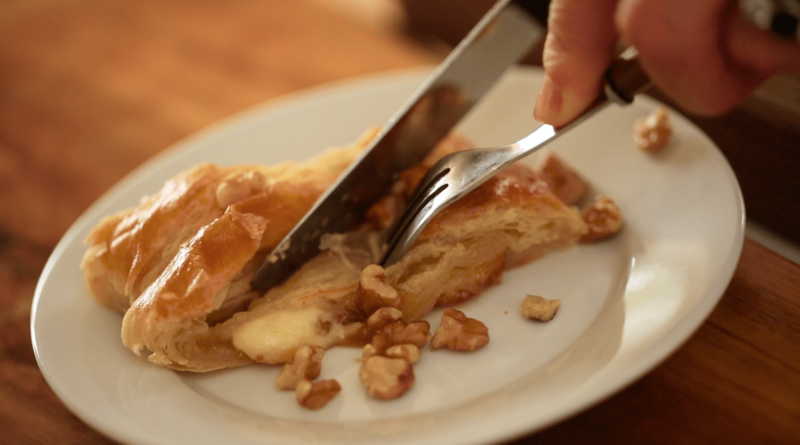 Serving Tip:
Since this appetizer is so flakey and gooey, it's a good idea to offer your guests a small appetizer plate and some cutlery. Or a big stack of cocktail napkins!
MORE HOLIDAY APPETIZERS:
If You Enjoyed this Recipe
Please Leave a Rating and Review Below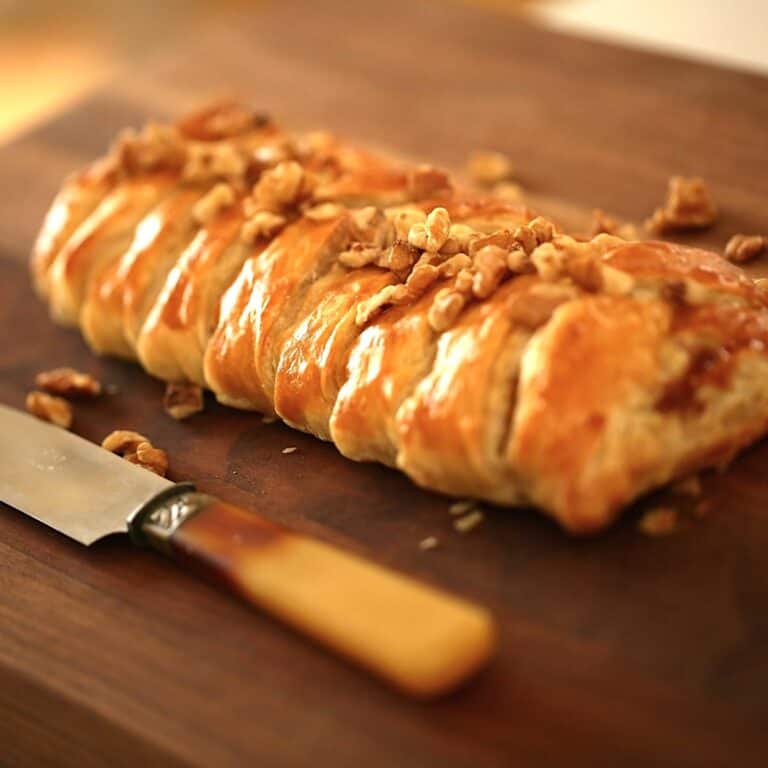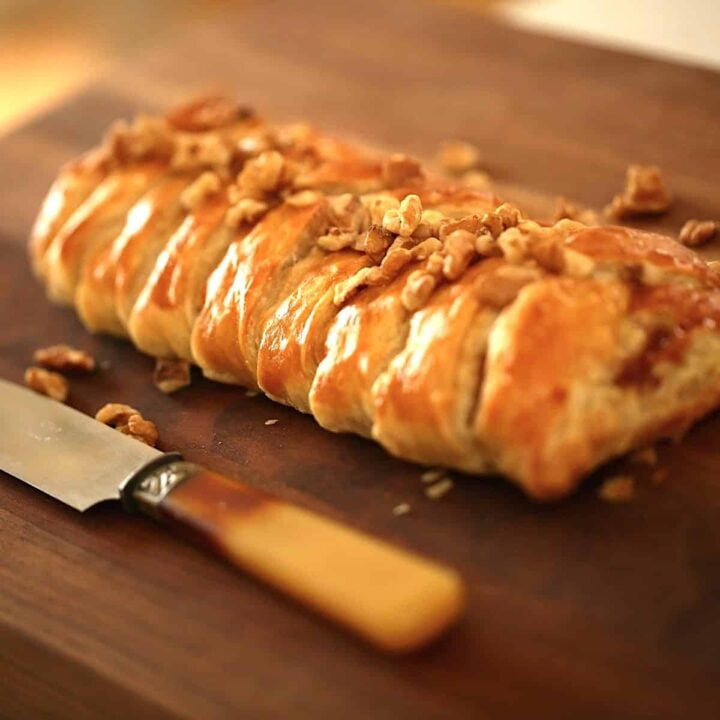 Fig and Brie Braid in Puffed Pastry Recipe
A terrific puff pastry appetizer idea that can be made ahead of time and baked just before guests arrive
Ingredients
1 package store-bought puff pastry sheet
2 tablespoon (30 ml) fig jam
4 slices of Brie Cheese
1 egg, well beaten
¼ cup (60 ml) chopped walnuts
Instructions
Preheat oven to 400F(200C)
Roll out pastry onto a flat cookie sheet lined with parchment paper. This will be your work surface.
Most store-bough puff pastry sheets come in 3-folded panels. This is the best kind to buy for this. Unfold and the panels and roll out slightly.
On the center panel, spread fig jam to cover the center panel surface. Then top the jam with the sliced brie.
On the side panels, cut ¾ " (19 mm) strips on each side making sure you have equal number of strips on each side.
Then alternating the strips, bring them to the center panel, to cover the jam and cheese, overlapping each one, forming a rustic braid.
Before baking brush the egg wash with a pastry brush all over the braid and bake for 25 mins until puffed up and golden brown.
Transfer braid to a cutting board. Sprinkle with chopped walnuts and serve with knife for easy slicing.
Notes
If making this ahead of time, wrap up in the parchment paper, then freeze on tray until firm, Then wrap tightly in foil and remove tray and keep in freezer until ready to serve.
Nutrition Information:
Yield:

6
Serving Size:

1
Amount Per Serving:
Calories:

121
Total Fat:

8g
Saturated Fat:

4g
Trans Fat:

0g
Unsaturated Fat:

4g
Cholesterol:

50mg
Sodium:

145mg
Carbohydrates:

7g
Fiber:

0g
Sugar:

3g
Protein:

5g