Mushroom Tartlets with Thyme and Cheese
These Mushroom Tartlets are a fantastic holiday appetizer recipe that can be made ahead of time and baked moments before guests arrive. The flakey puff pastry combined with the savory mushroom filling, seasoned with shallots and thyme, is an irresistible combination for holiday entertaining.
There's something about puff pastry appetizers that always make the holidays feel more festive! Especially, these little morsels that are easy to handle in one hand, while balancing a glass of champagne in the other!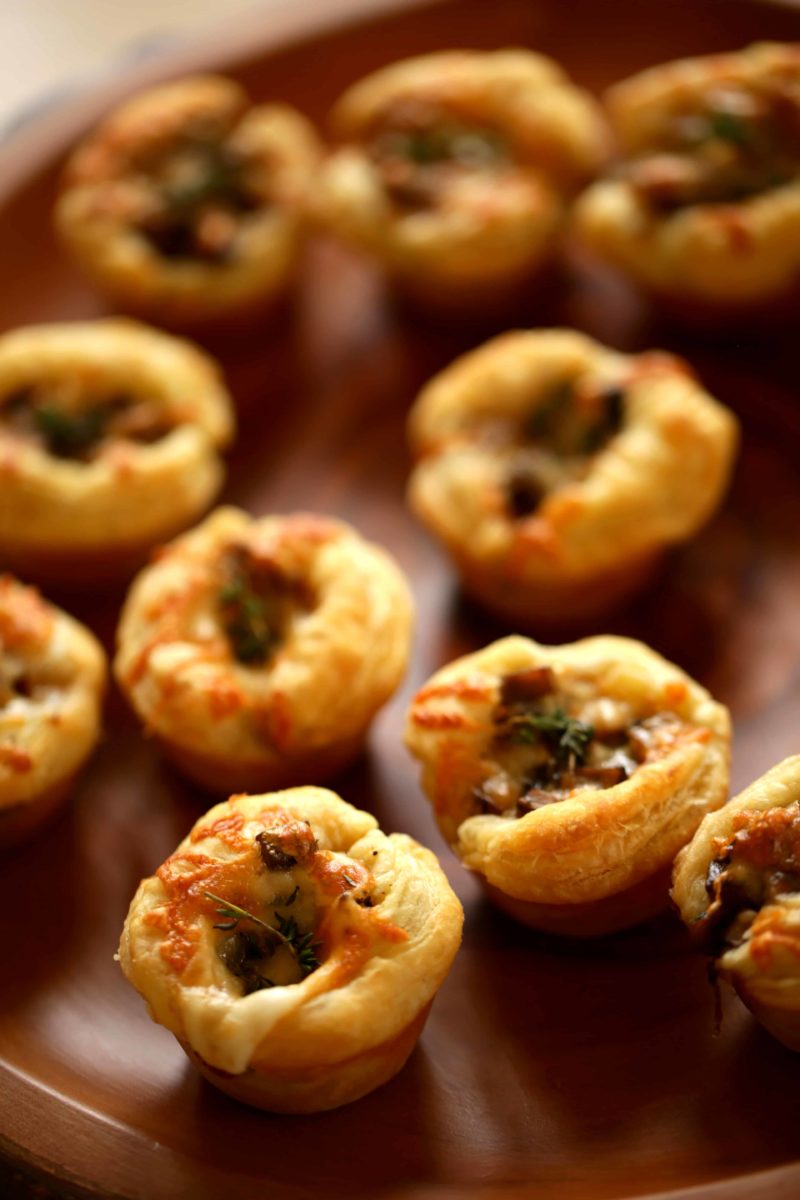 Recipe Pairing Ideas:
Watch My Video Demo of This Recipe Below!
Subscribe for weekly recipes
and new videos!
Subscribe To My YouTube Channel and Never Miss A Recipe!
This video also includes recipes for my baked Fig and Brie Braid and my Sausage and Cheese Pinwheels
STEP#1: Cut the Puff Pastry
Slice one sheet of puff pastry sheet into 12 equal-sized rectangles.
It helps if your pastry is thawed and not frozen.
The best way to defrost puff pastry, if you've purchased it frozen, is to place it in the refrigerator overnight.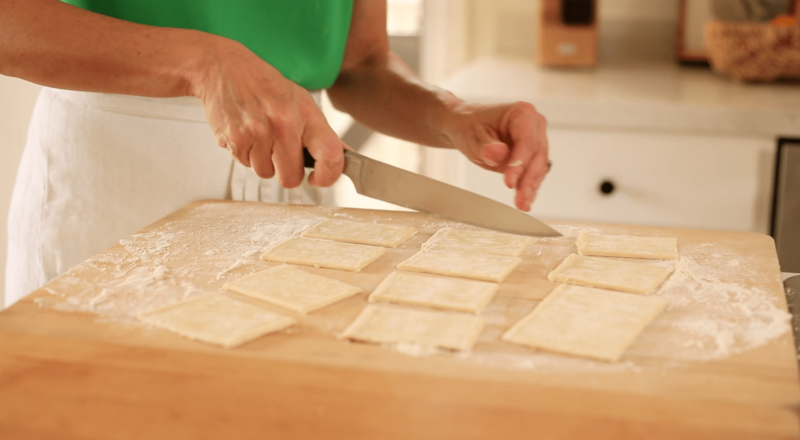 STEP#2: Form the Tart Shells
Then fit the puff pastry snugly into a mini muffin tin, forming the excess pastry into a free form crust.
A mini muffin tin is an entertainer's best friend since they create bite-sized nibbles and so many wonderful appetizers can be made in them, such as my Goat Cheese Tartlets with Caramelized Onions.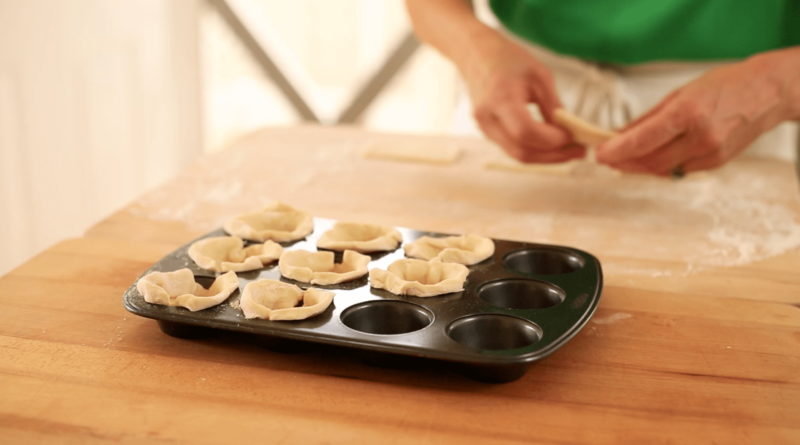 STEP#3: Fill with the Mushroom Mixture
Then fill each shell with the mushroom mixture.
Be sure the mushrooms have cooled before filling the tart shells. Otherwise, the puff pastry will melt and will prevent it from puffing up properly.
TIP: You can make the mushroom mixture up to 3 days ahead and keep it covered and refrigerated before using it.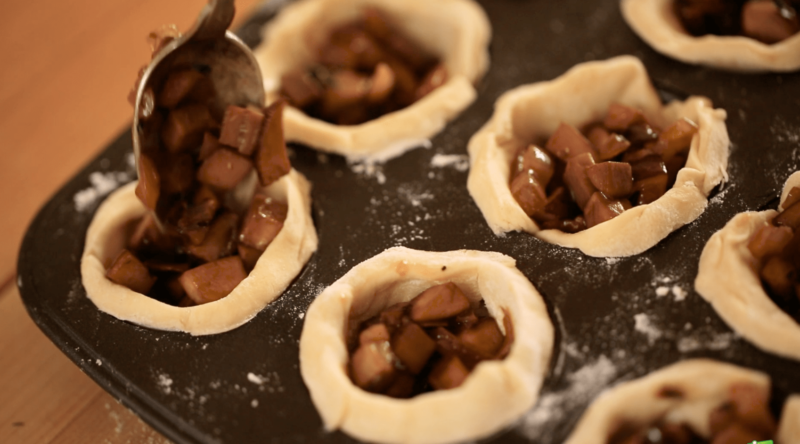 STEP#4: Add the Cheese
For the best flavor and convenience, use an Italian blend cheese.
These blends typically include an equal amount of Mozzarella, Asiago, Parmesan, and Fontina Cheese.
Top the mushrooms with Italian blend cheese.
Cheese Substitutions:
If you can't find the Italian blend, use a combination of Mozzarella, Provolone, or Fontina for gooeyness, and then parmesan, or Asiago for flavor.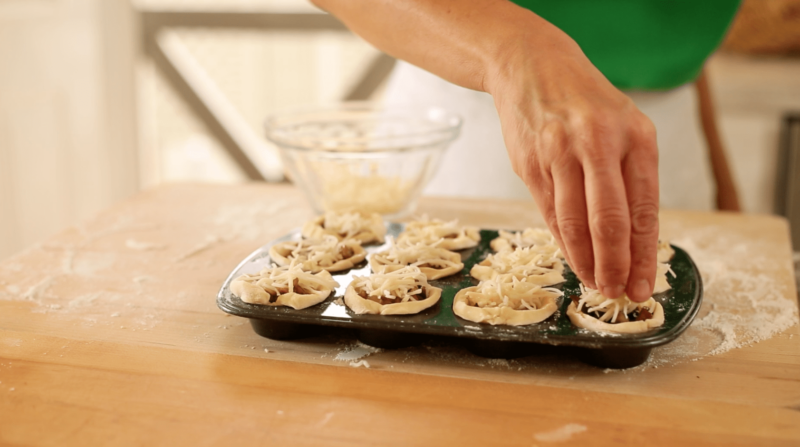 Make-Ahead Tips:
Once the tartlets are assembled you cover them, refrigerate and bake moments before guests arrive.
There's something so welcoming about entering a house for a party and being greeted with a warm, flakey appetizer hot from the oven.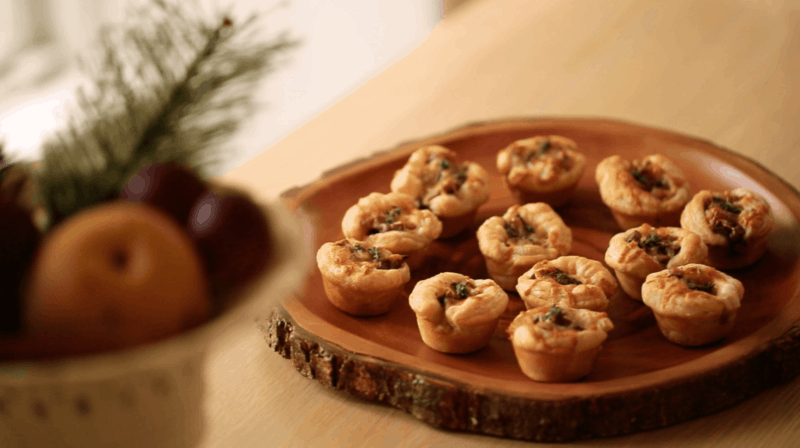 More Holiday Recipes You'll Enjoy!
If You Enjoyed This Mushroom Tartlets Recipe
Please Leave a Rating and a Review Below!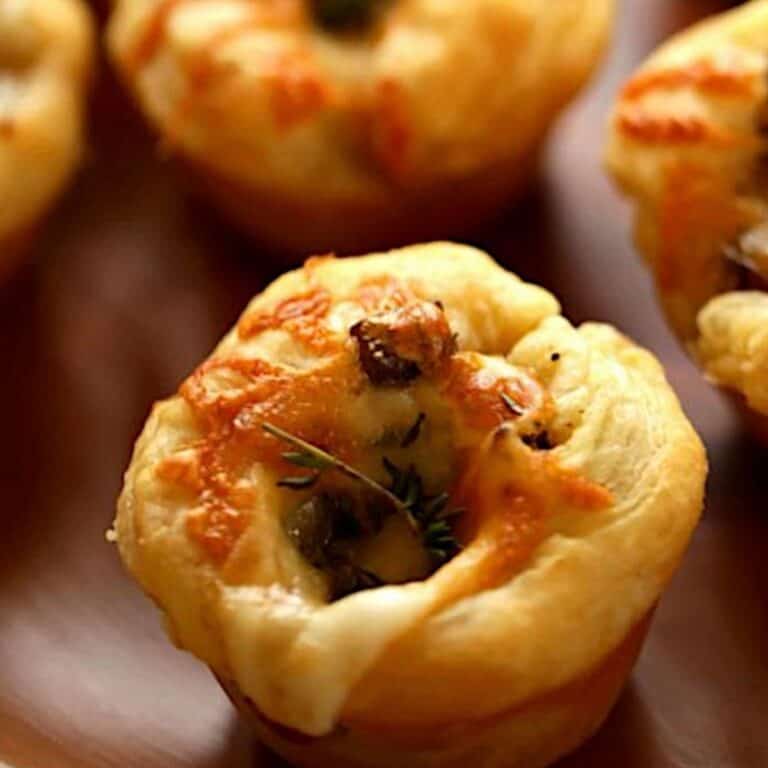 Mushroom Tartlet Appetizer Recipe
Total Time:
1 hour
5 minutes
A wonderful appetizer recipe that can be made ahead and placed in the oven moments before guests arrive!
Ingredients
2 tablespoon (30 g) butter
¼ cup (60 ml) shallots, minced
1 ½ cups (350 ml) cremini mushrooms, diced
1 teaspoon (5 ml) fresh thyme
salt and freshly cracked pepper to taste
1 teaspoon (5 ml) Worcestershire sauce
2 tablespoon (30 ml) Italian Blend cheese
Instructions
Preheat oven to 400F (200C)
Melt butter in a large skillet. Sauté shallots until soft, add mushrooms and sauté until browned. Add thyme, salt and pepper, and Worcestershire sauce. Allow to cool slightly.
Cut 1 sheet of Pepperidge Farm puff pastry into 3x3 (7.6cm x 7.6 cm) squares. Fit squares into a mini muffin tin. Fill with 1 teaspoon (5 ml) of the mushroom mixture, top with a sprinkle of cheese.
Bake for 15-20 mins. Top with a thyme sprig and serve.
Notes
For 24 appetizers, double the recipe and use both sheets of Pepperidge Farm Puff Pastry.
If you can't find the Italian blend, use a combination of Mozzarella, Provolone or Fontina for gooeyness, and then parmesan, or Asiago for flavor.
These can be made 2 days ahead, covered and refrigerated until ready to bake. Or cover with wax paper and then foil and freeze them in the tin for up to 1 month. Then bake straight from the freezer to the oven.
Nutrition Information:
Yield:

12
Serving Size:

1
Amount Per Serving:
Calories:

25
Total Fat:

2g
Saturated Fat:

1g
Trans Fat:

0g
Unsaturated Fat:

1g
Cholesterol:

5mg
Sodium:

127mg
Carbohydrates:

1g
Fiber:

0g
Sugar:

1g
Protein:

1g