If your Thanksgiving dinner looks a bit smaller this year, this Simple Thanksgiving Menu for 6 is the perfect solution! It's easy, uses basic ingredients, and is so delicious too! The turkey and the sides roast on one sheet pan, and the stuffing easily slips in on the lower rack of your oven 40 minutes before the turkey is done!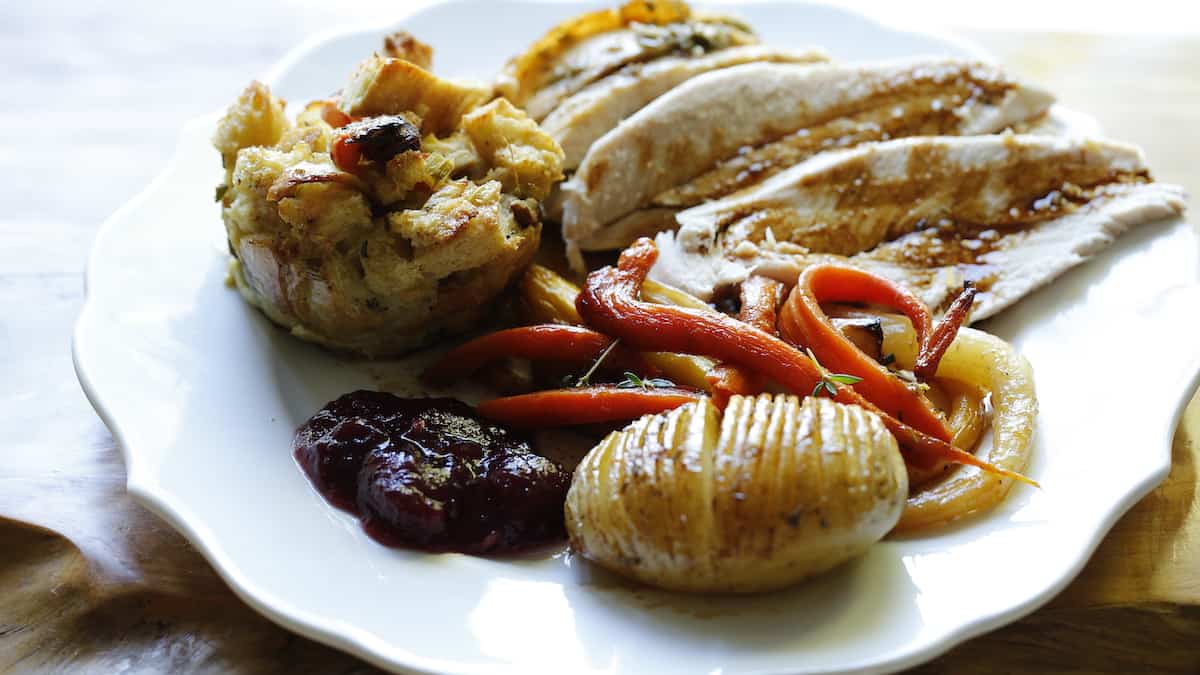 All the classics are represented and the stuffing cups and cranberry sauce can be made the day before! It's the perfect Thanksgiving Menu if this year you want easy, fast, affordable, and festive! Which come to think of it shouldn't that be every year?!
Watch My Video of this Thanksgiving Menu Below!
Subscribe to My YouTube Channel and Never Miss a Recipe!
For a dessert that goes with this menu consider my Apple Cinnamon Crepes. They use pantry staples and most of it can be made ahead of time!
Day Before Prep
To get ahead of the prep these delicious stuffing muffins can be prepped ahead of time. In fact, I think they are even better when made the day before it allows for the bread to soak up all the egg and chicken broth and create a delicious bread pudding-like center once they are baked.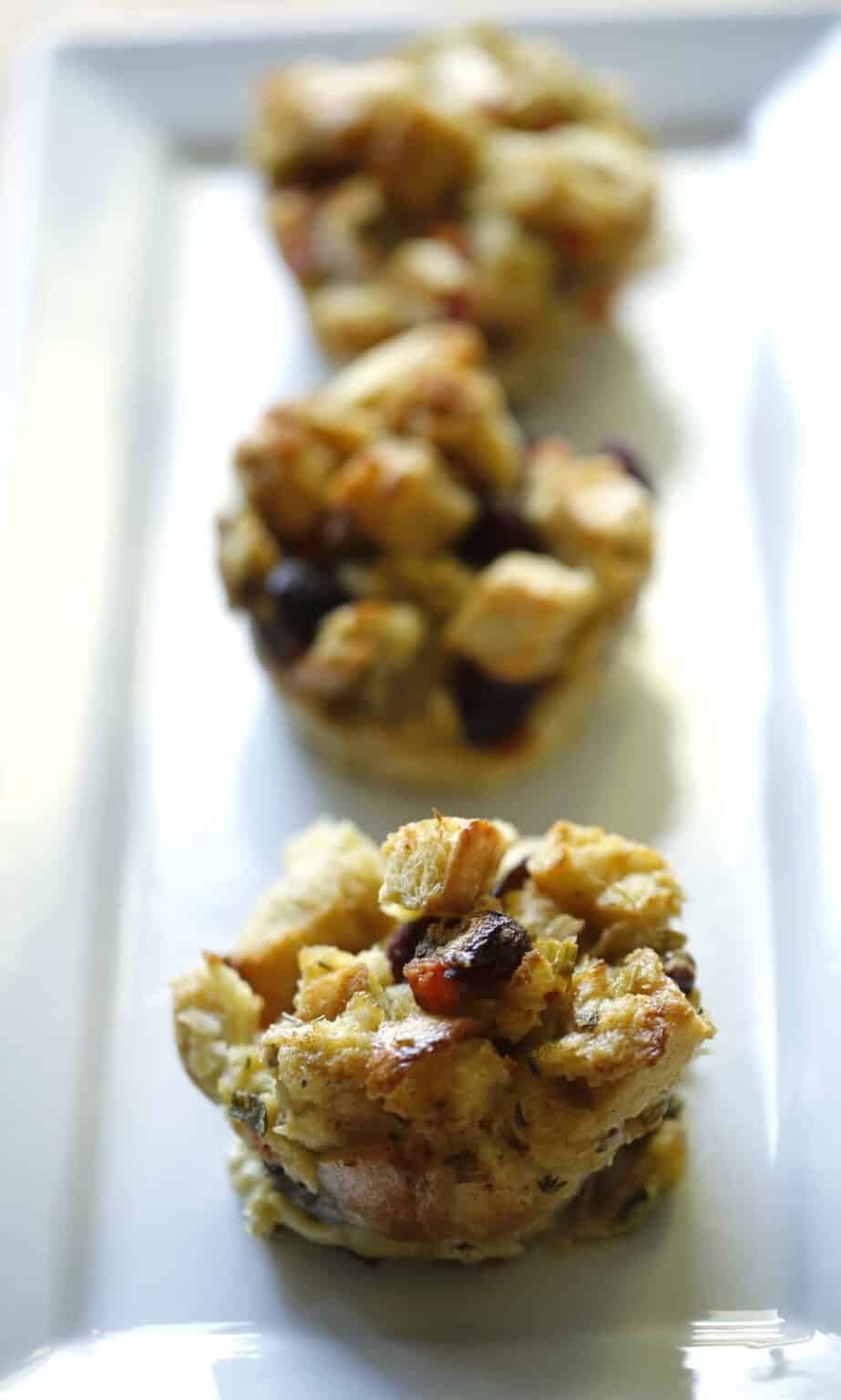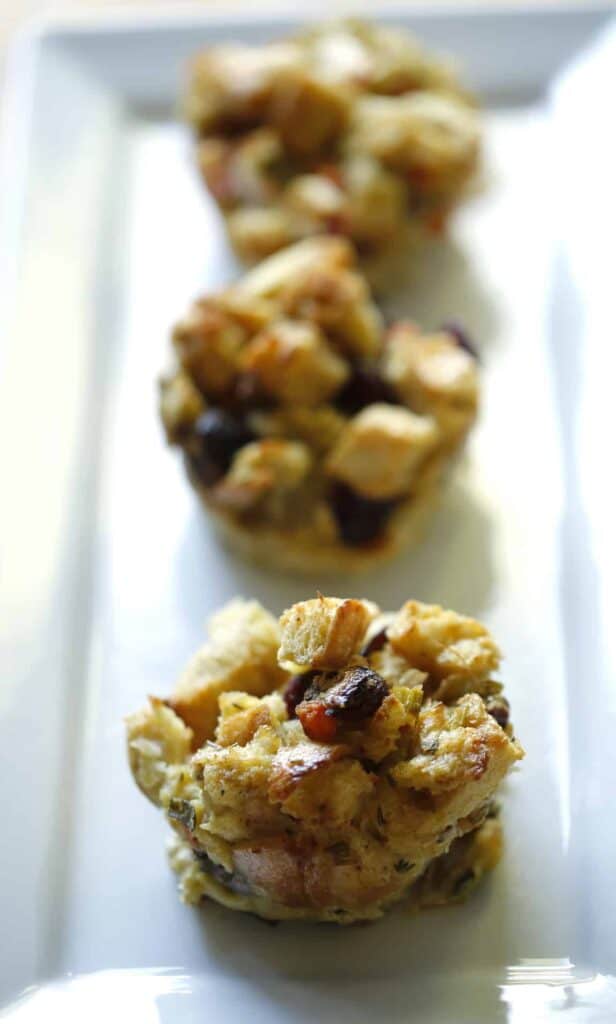 Use Store-Bought Sourdough Sandwich Bread
What makes this recipe so easy is you can use pre-sliced sourdough sandwich bread. It's already sliced for you and will assure uniform thickness when you slice it into cubes. The sourdough holds up well when it's tossed with the broth and the egg because it is a hearty bread. If you can't find sourdough a French loaf would work well too.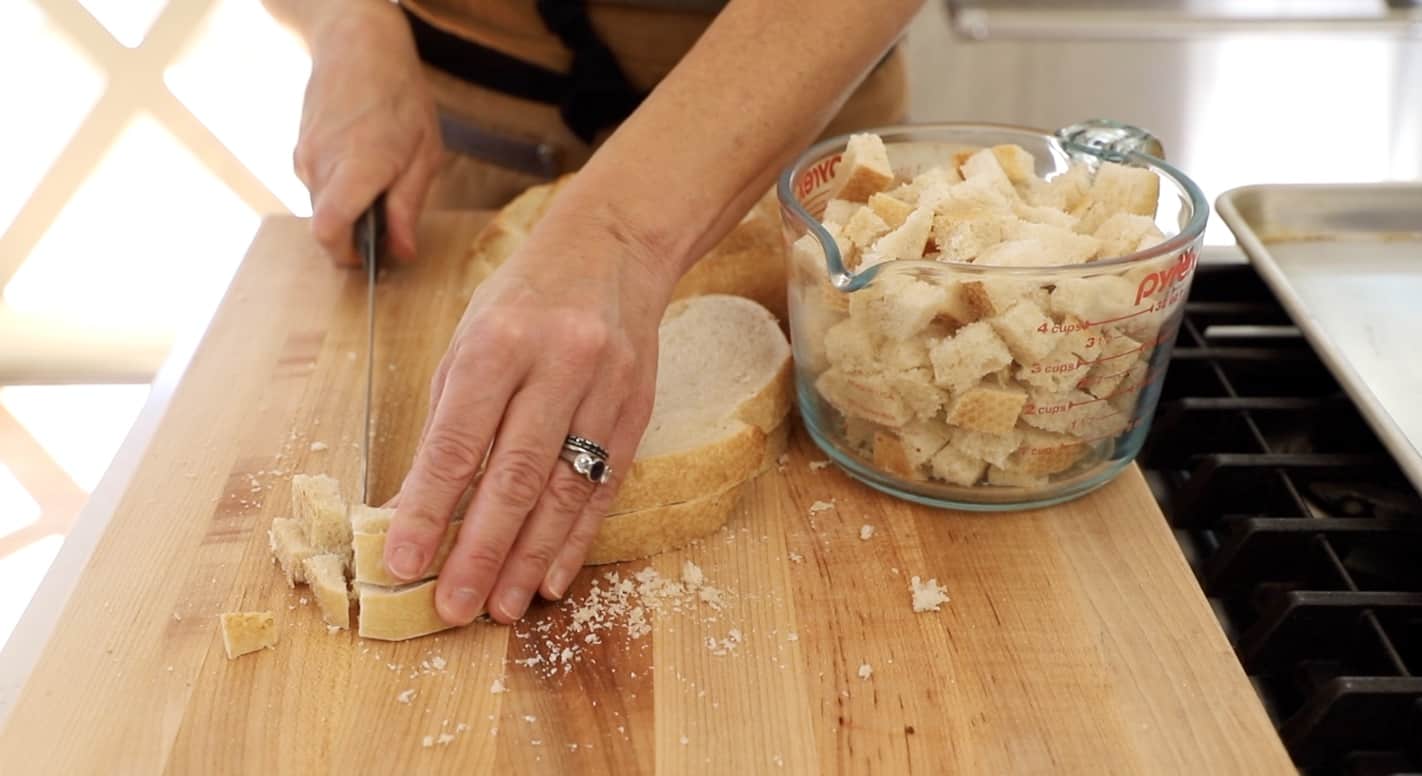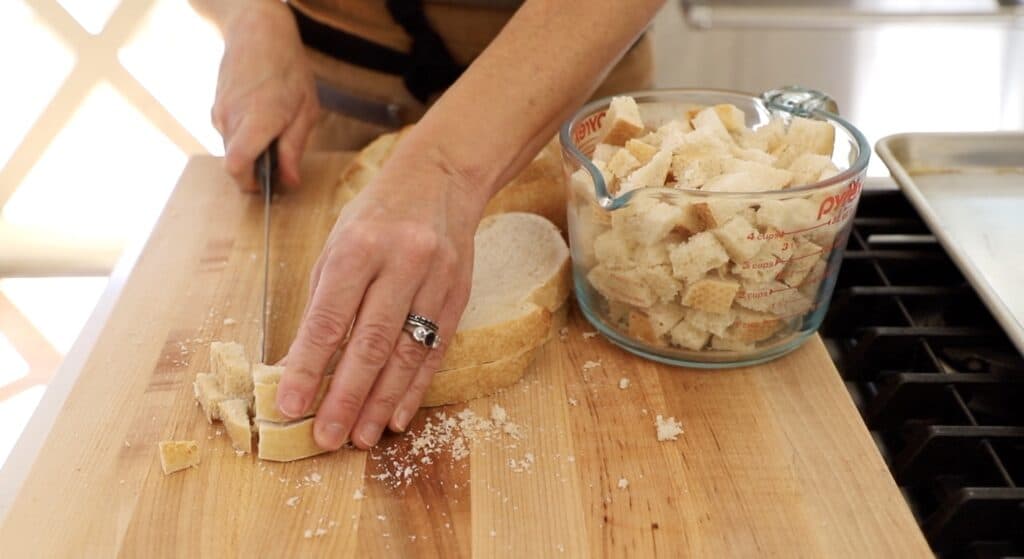 The day before prep also allows you to bake the bread cubes first too, they need to dry out before tossing them with the liquid. If you wait until the day of, you may compete with the oven time with the turkey. So even if you plan to make the stuffing cups the day of at least get the bread baked the day before. You can leave it out on your countertop, covered with foil.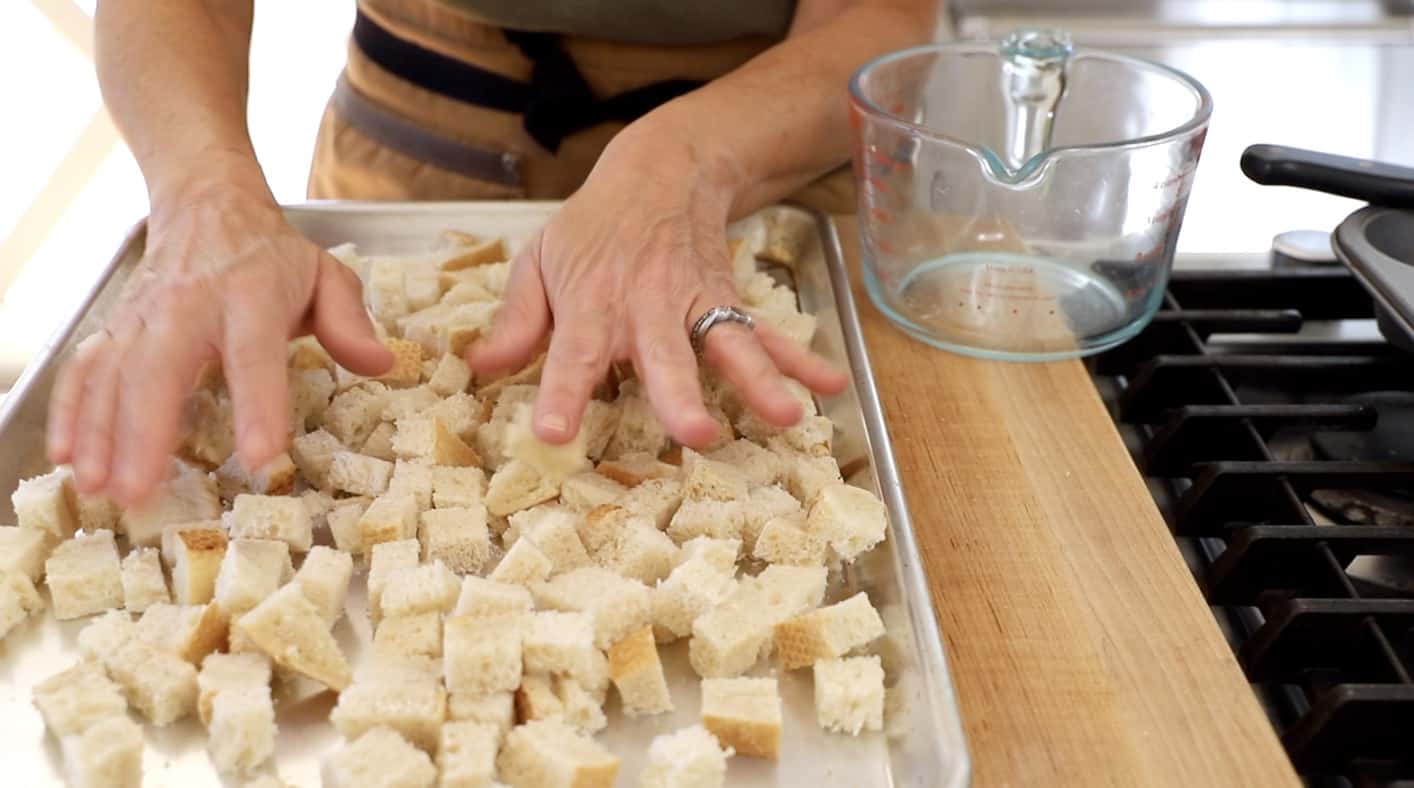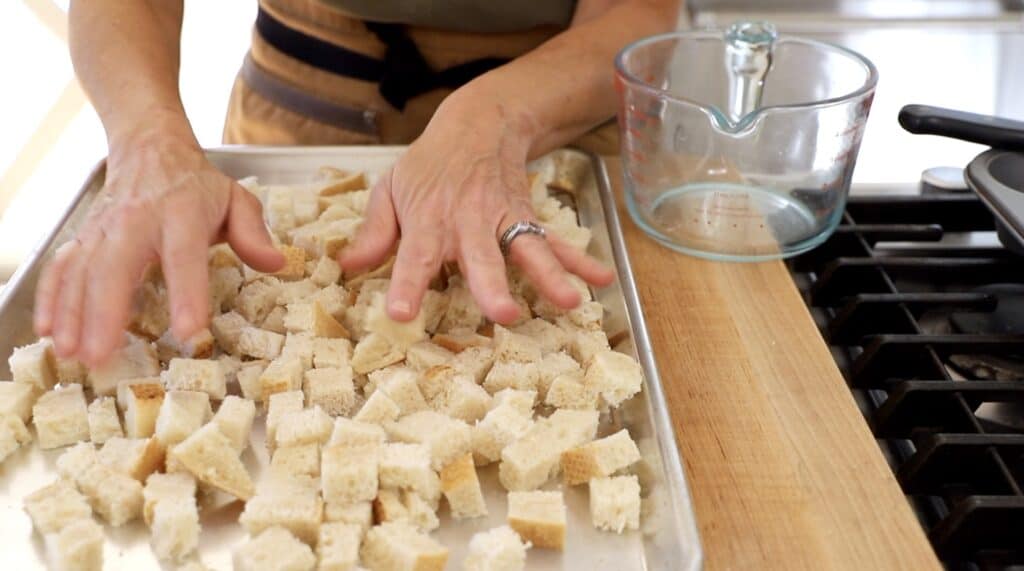 How-To Create a Crispy Top for Stuffin Muffins
To assure golden brown crispiness spray each muffin cup with olive oil spray just before baking. Alternatively, you could also brush a little melted butter on top too.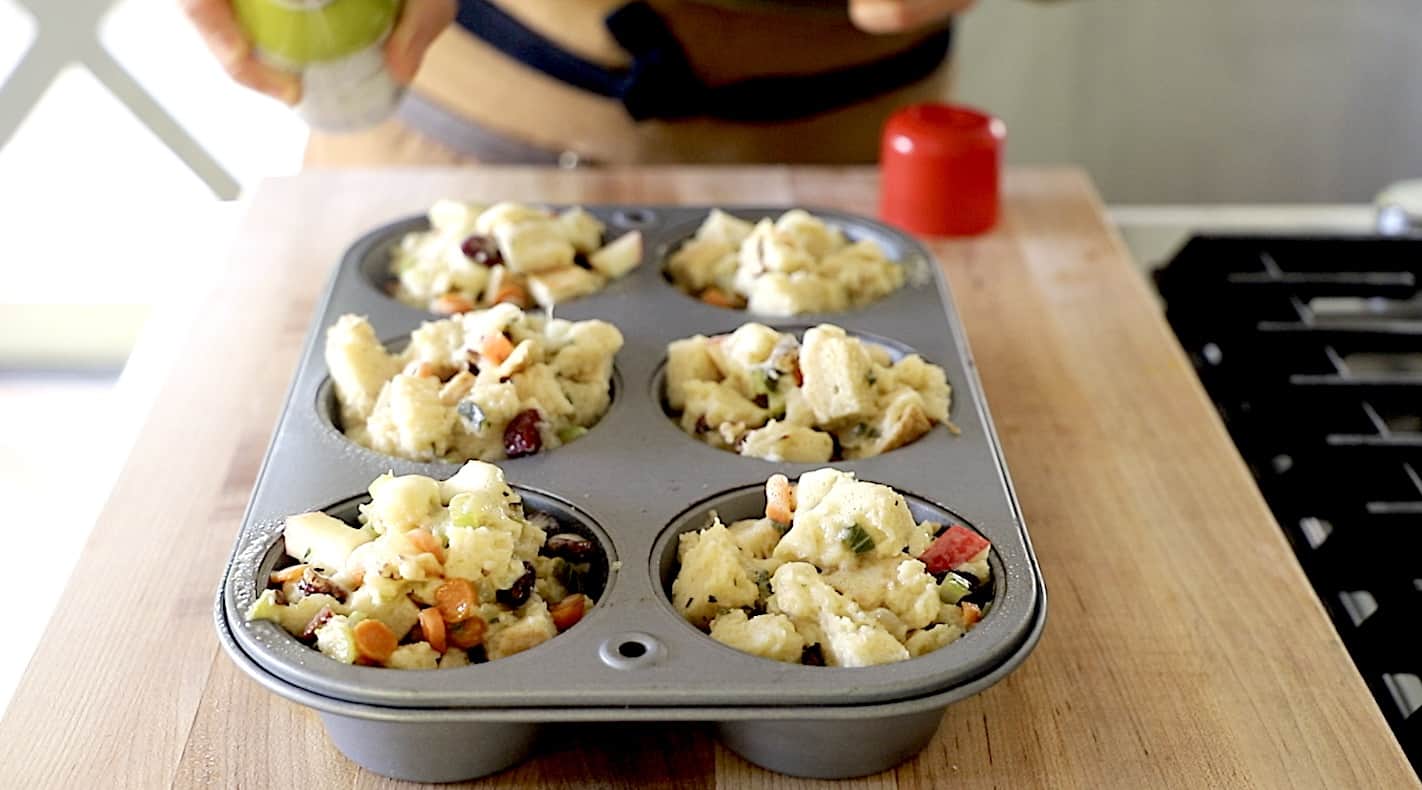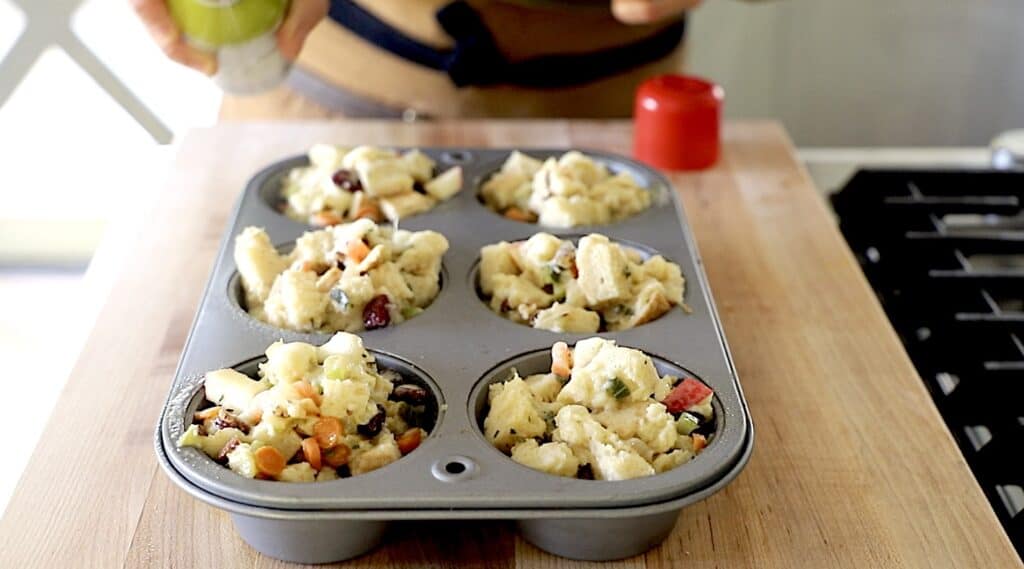 No Time for Homemade Cranberry Sauce?
No problem! My recipe below will show you how to "doctor up" a can of store-bought cranberry sauce with orange, cloves and ginger to make it taste my "homemade" and gourmet! Just be sure you buy "Whole Cranberry Sauce" and not jellied cranberry sauce. I think the Ocean Spray brand is the best and looks the most convincing if you can find it.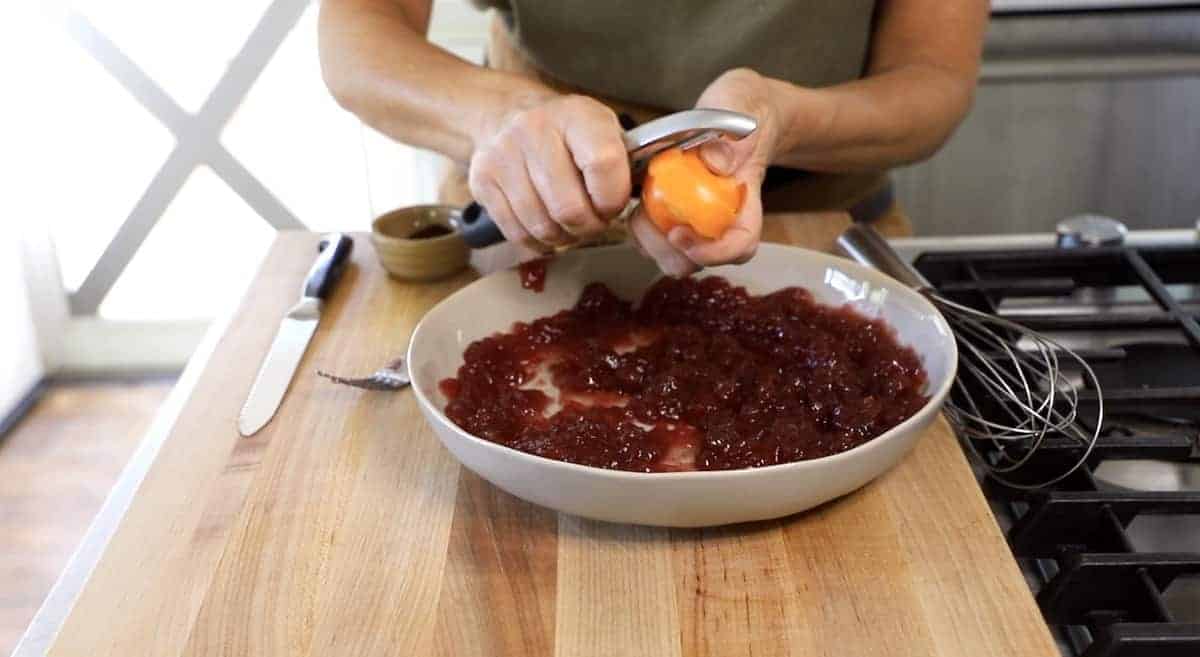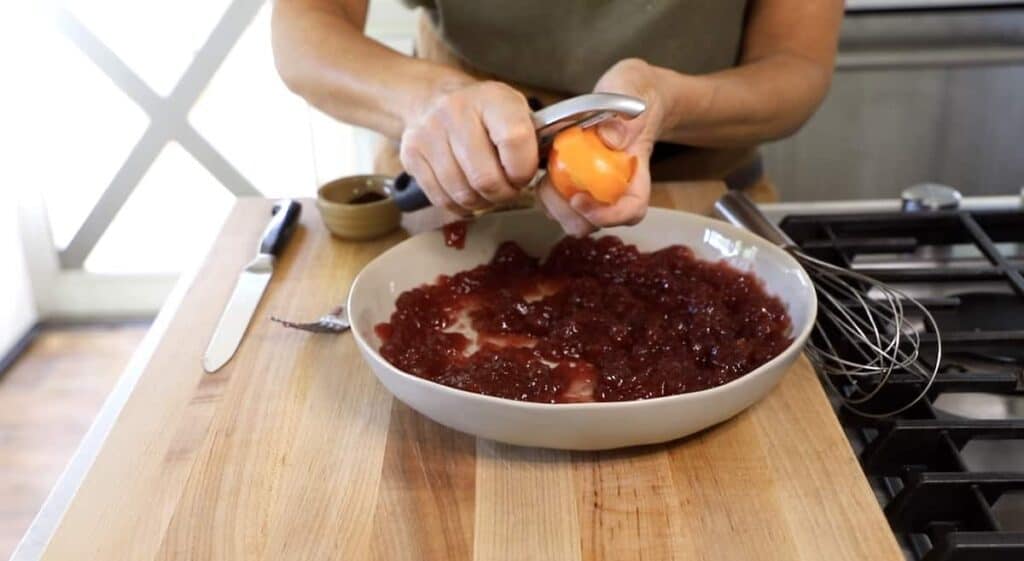 How-To Make Hasselback Potatoes
Nothing says holiday more than a perfectly roasted Hasselback potato! And they are so easy and inexpensive to make! Simply slice ⅛ slices in your potato, being careful not to cut all the way through, brush with olive oil, and season with salt and pepper, place them on the sheet pan to roast with the turkey.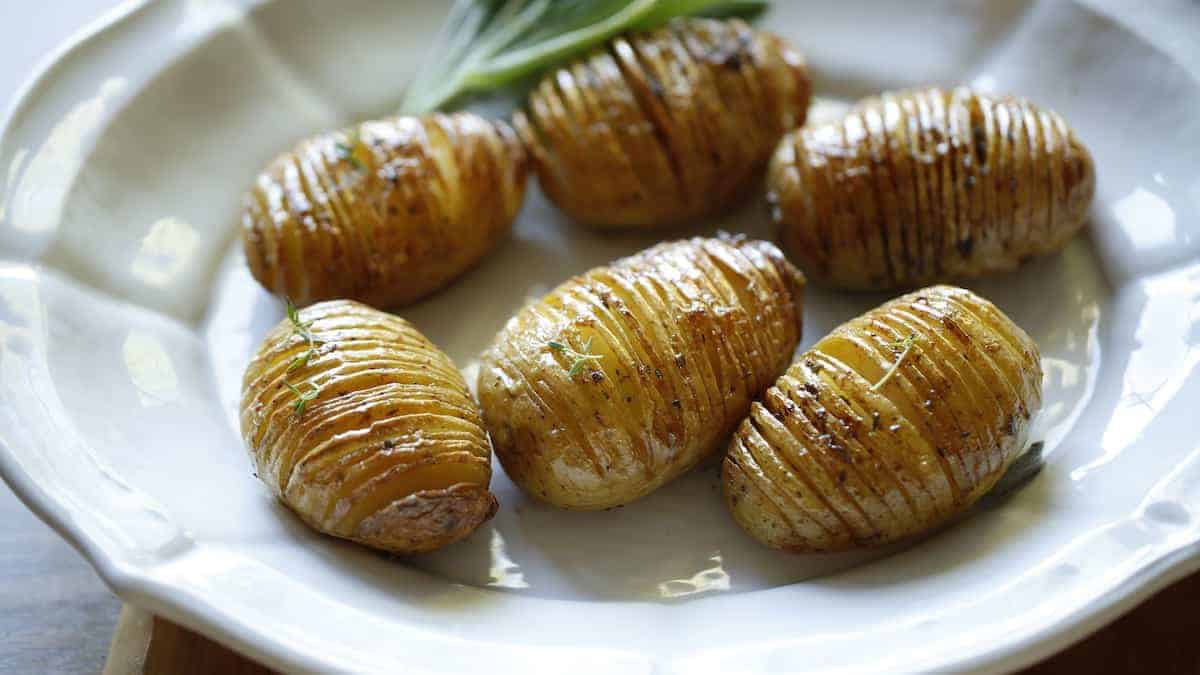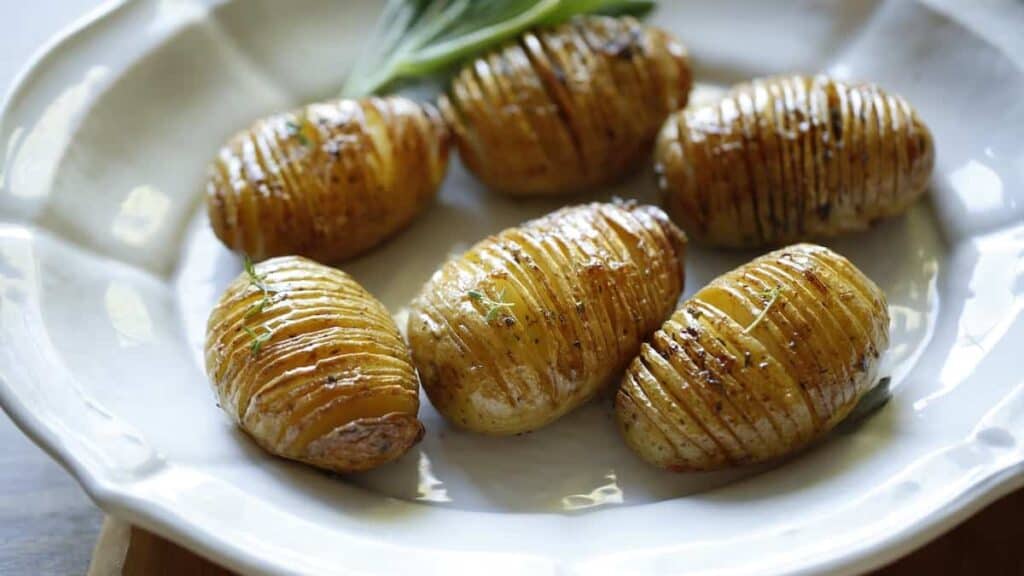 Then about 20 minutes before the turkey is done, brush them with the sage butter! Or you could also spoon some of the pan sauce over them too. The results are just sublime! And no one needs to know how easy they are! They give you so much WOW factor for such minimal effort.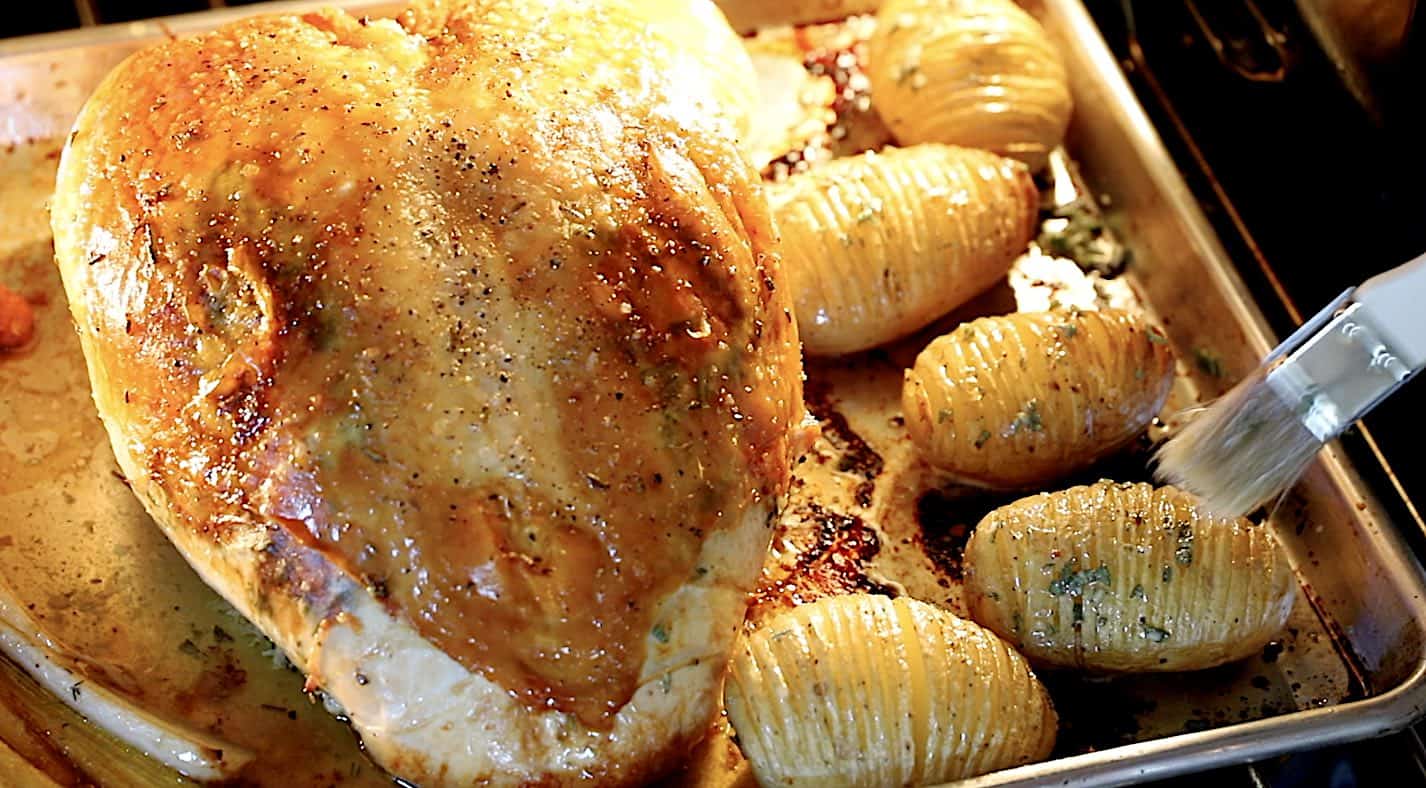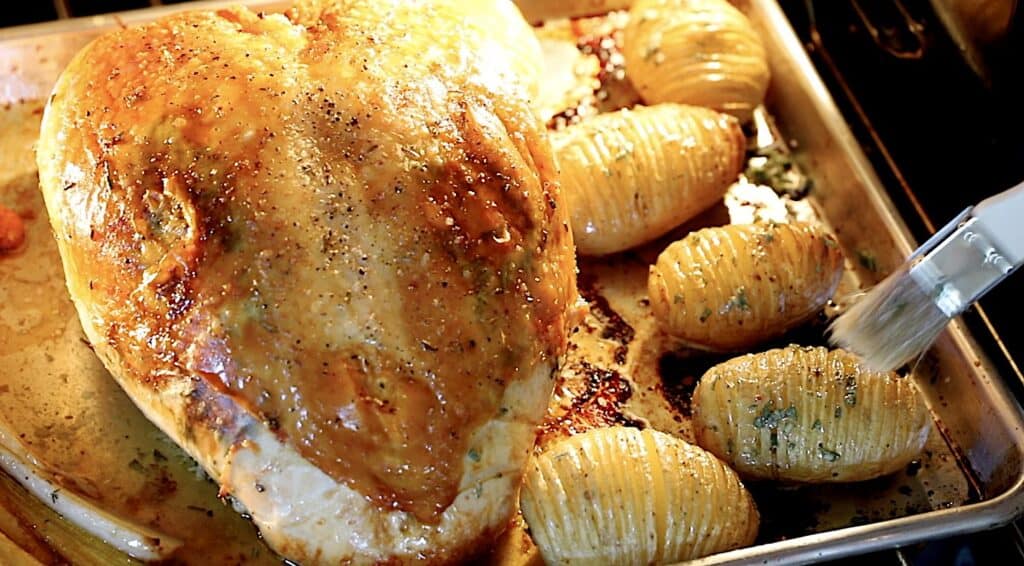 When to Take the Turkey Out?
Once your turkey reaches an internal temperature of 162F degrees, remove the tray from the oven and lift the turkey up and transfer it to a carving board to rest. Ideally, your turkey should rest for 15 minutes covered with foil. As it rests, it will come up to 165F which is the perfect internal temperature for turkey.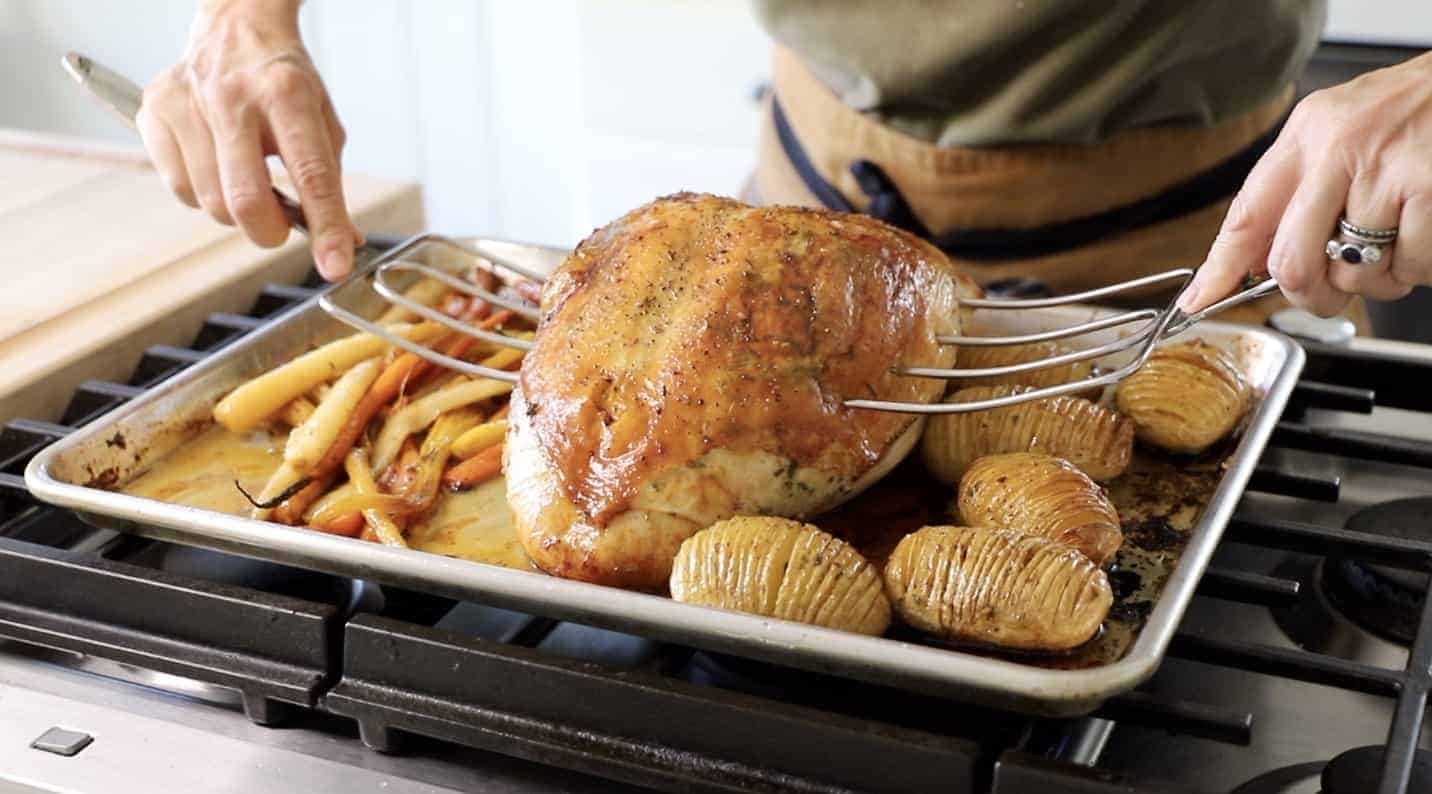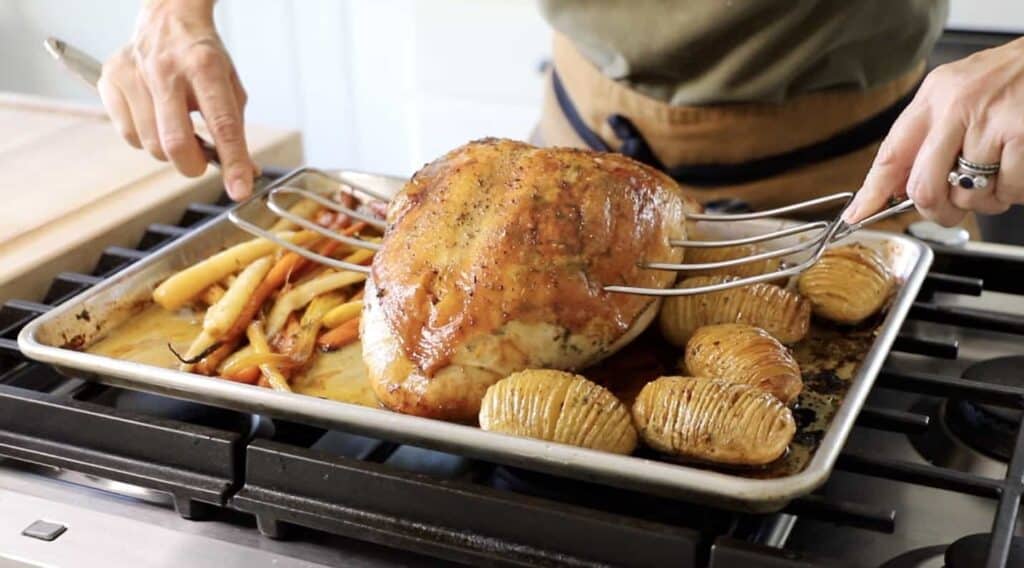 How to Keep The Rest of The Meal Warm?
Meanwhile place the tray back in the oven, with the Stuffing Muffins to keep warm. At this point, if the stuffing looks nice and crispy on top, you can lower the oven temperature to 200F, to avoid overcooking the vegetables.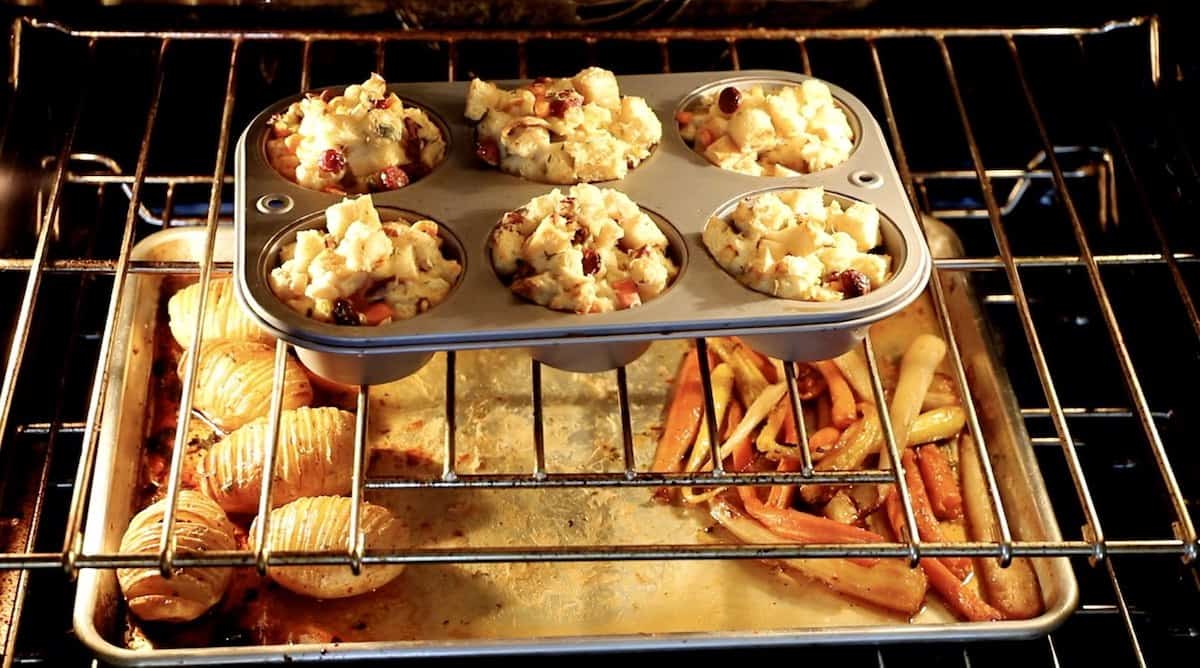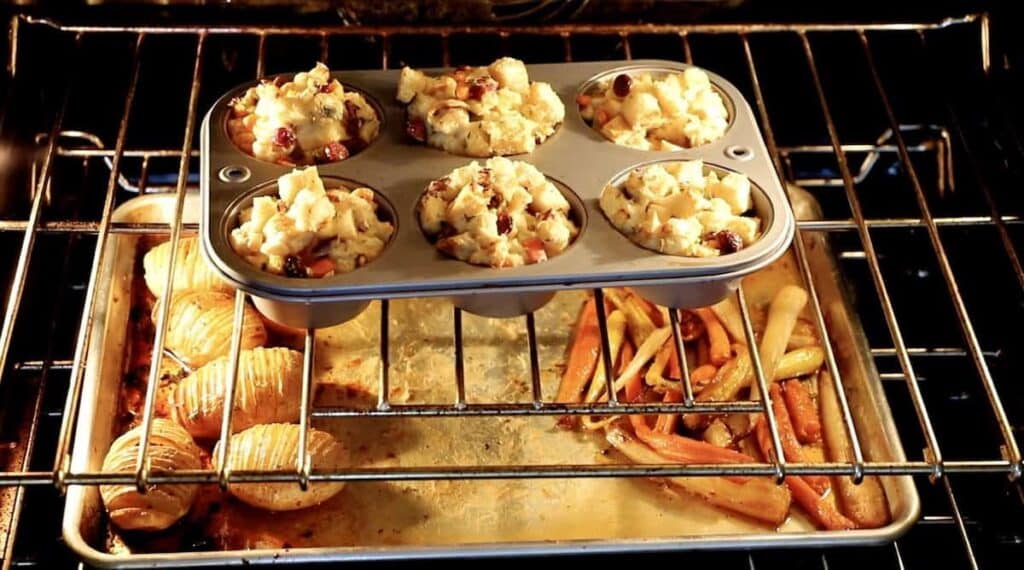 How To Serve Your Turkey Dinner
When serving for 6 people or less it may be easier to compose the plates, instead of setting up a buffet. I like to place the turkey in the back, drizzle some of the pan sauce on top or serve on the side, nestle in the carrots and stuffing, add the cranberry sauce, and have that beautiful Hasselback potato facing the guest.
HAPPY THANKSGIVING!!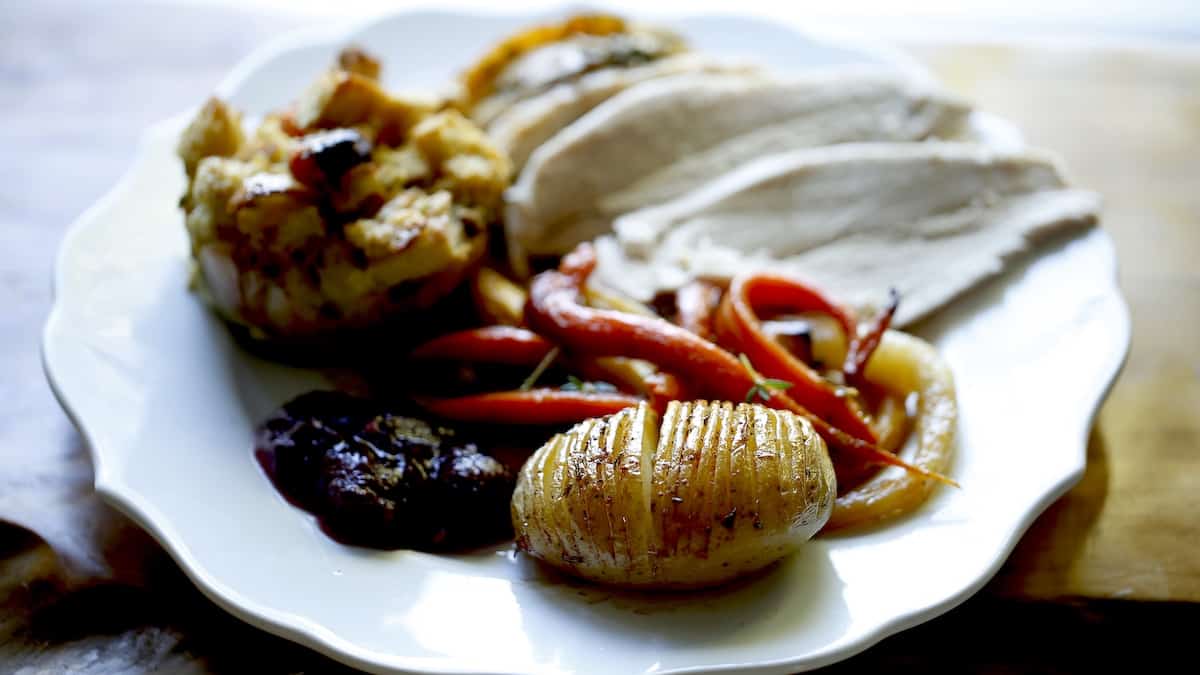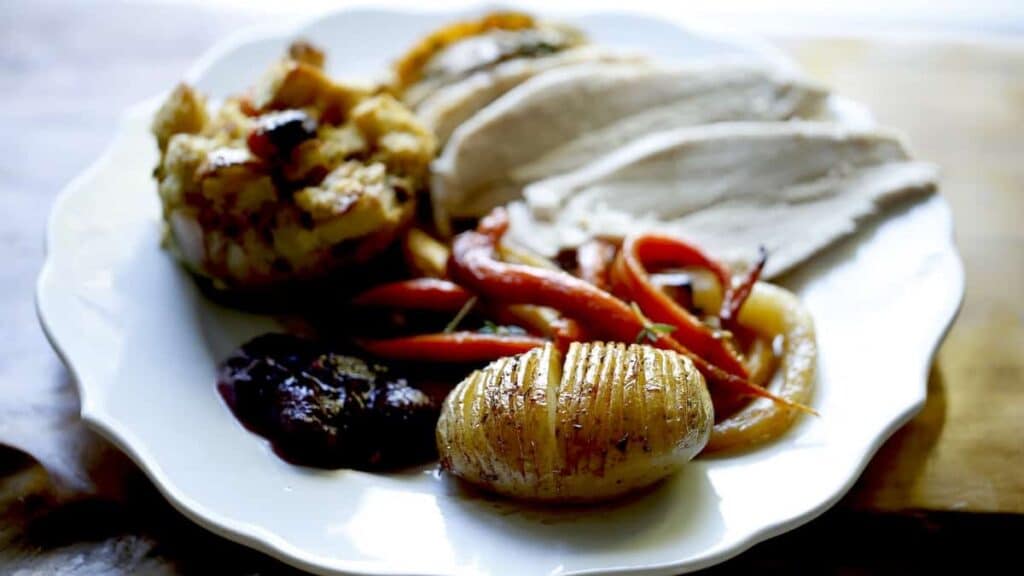 If You Enjoyed This Simple Menu for 6
Please Leave a Rating and a Review Below!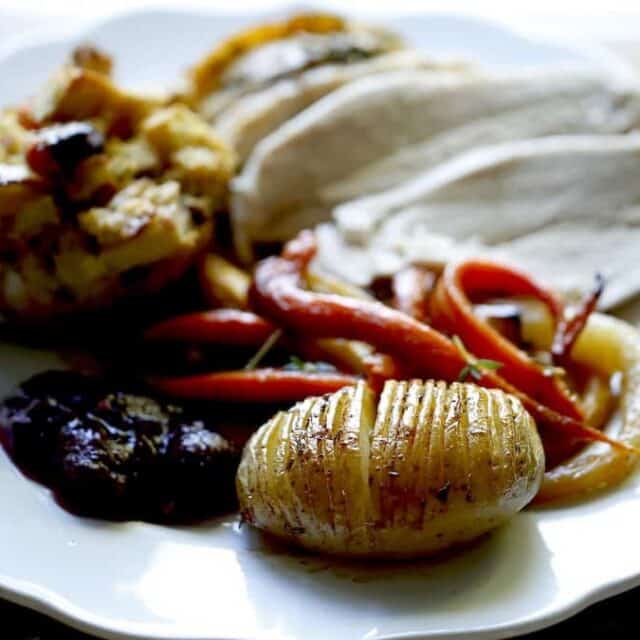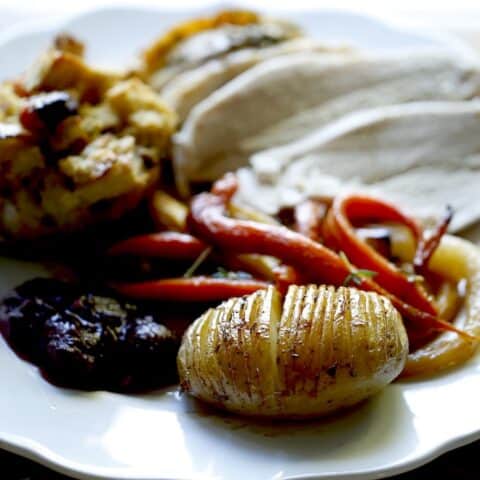 Simple Thanksgiving Menu for 6
Cook Time:
1 hour
30 minutes
Total Time:
2 hours
30 minutes
A delicious Thanksgiving Menu for 6 that uses basic ingredients, small quantities, and simple preparation! A menu so easy and delicious you might just make it every year!
Ingredients
TURKEY:
6 lb Turkey Breast with Ribs
3 tablespoon (45 ml) melted butter
½ teaspoon (2.5ml) salt
2 cloves garlic, minced
POTATOES:
6 Dutch Baby Potatoes
1 tablespoon (15 ml) Olive Oil
salt and pepper to taste
1 tablespoon (15 ml) butter, melted
1 garlic minced
½ teaspoon (2.5ml) fresh sage
CARROTS:
2-3 Bunches of Rainbow Carrots (factor 5-6 carrots per person) peeled and tops sliced off. If carrots are thicker than a nickel, slice in half, the size of a dime, leave them whole.
1 tablespoon (15 ml) olive oil
1 tablespoon (15 ml) maple syrup
salt and pepper to taste
1 teaspoon (5ml) fresh thyme
CRANBERRY SAUCE:
1 (14-ounce can) whole cranberry sauce (Ocean Spray Brand)
3-4 orange peels
1 teaspoon (5 ml) ginger, grated
⅛ teaspoon (large pinch) ground cloves
pinch of salt
STUFFING MUFFINS:
5 cups (755g) sourdough bread cubes, dried out in a 350F (175C) oven for 10 mins
2 tablespoon (30 ml) butter
½ cup (75g) diced white onion
½ cup (75g) diced celery
½ cup (75g) diced carrots
1 tablespoon (15 ml) fresh sage, chopped
1 tablespoon (15 ml) fresh Thyme, chopped
2 tablespoon (30 ml) Dry white wine (Chardonnay or Sauvignon Blanc)
2 eggs
2 cups (480ml) of Chicken Broth
2 tablespoon (30 ml) dried cranberries
2 tablespoon (30 ml) chopped pecans
2 tablespoon (30 ml) diced apples
Instructions
Prepare the cranberry sauce a day ahead, by mixing all the ingredients and storing in a bowl, covered in the refrigerator. The flavors will be better if made a day ahead!

Preheat oven to 375F (190C)

Place the turkey on a sheet pan, positioned in the center of the pan. Mix together the rosemary butter and spoon it under the Turkey Skin.

For the potatoes, carefully slice small slits in the potatoes all the way across it, without cutting all the way through. Slits should be about ⅛" (3 mm) apart. Rub with olive oil and season with salt and pepper to taste. Place the potatoes on the pan, on one side of Turkey.

In a large bowl add the olive oil and maple syrup, salt, pepper, and thyme. And mix to combine, add the carrots and toss. Place the carrots on the other side of the Turkey.

Roast for approximately 1 hour and 30 minutes or until the turkey reaches an internal temperature at the thickest point of the meat of 162F. Allow the turkey to rest on a carving board, covered with foil for 15 minutes it will then come up to 165F. The best temperature for Turkey.

Prepare the stuffing cups. (the day before you can bake the bread cubes at 350F for 10 mins to dry out) then in a large bowl whisk together the eggs and the broth, add the cubes and toss to coat. Then sautee the onion, celery and carrots in a skillet until tender. Season with salt and pepper, add the herbs, and wine and reduce slightly, allow to cool. Add the veggies to the bread mixture, along with the cranberries, pecans, and apples.

Spoon stuffing into a Jumbo muffin tin sprayed with baking spray. Then top each cup with a spray of olive oil. Bake along with the Turkey during the last 40 minutes of roasting time.

While Turkey is resting place the veggies back in the oven, with the stuffing to keep warm, consider reducing the oven to 200F (100C) if needed so they don't overcook.

Carve the bird and serve with the sides! Spoon the pan juices over the top of the Turkey. HAPPY THANKSGIVING!!
Nutrition Information:
Yield:

6
Serving Size:

1
Amount Per Serving:
Calories:

1131
Total Fat:

26g
Saturated Fat:

8g
Trans Fat:

1g
Unsaturated Fat:

14g
Cholesterol:

448mg
Sodium:

1121mg
Carbohydrates:

67g
Fiber:

6g
Sugar:

33g
Protein:

145g