This Easy Apple Crisp in a Cast-Iron Skillet is a fantastic Thanksgiving dessert idea! Personally, I think it's even easier than an Apple Pie and just as delicious.
The sturdy skillet makes it very transportable too, so it's the perfect dessert to bring to a potluck and reheat just before serving!

Cast-iron skillets are just so handy for so many things! My favorite is the Lodge 10" pre-seasoned skillet. (this link goes to Amazon where I am compensated on products sold at no cost to the consumer)
I use it all the time, especially this time of year for things like my Sweet Potato Biscuits or my Overnight Cinnamon Buns, or my Homemade Pizza.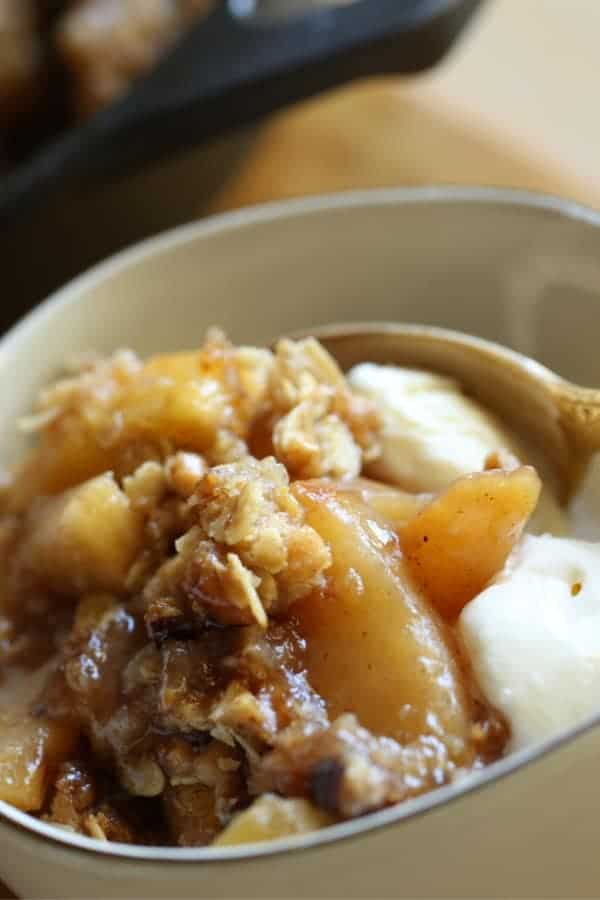 Watch My Video Demo of This Recipe Below!
What Apples are Best for Apple Crisp?
Personally, I think Gala apples are best for apple crisp because they are sweet and juicy! They also cook up quicker than Granny Smiths, which I think are better reserved for apple pie.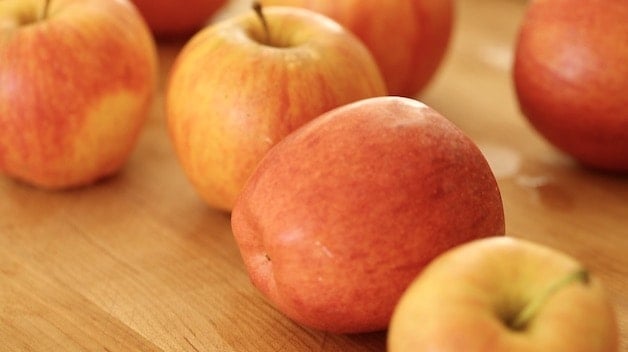 Keep in mind, an apple crisp doesn't take as long to bake as an apple pie. An apple crisp can take around 30 minutes in the oven whereas an apple pie can take almost an hour. So the Granny Smiths can really hold up to that kind of heat because they are so firm.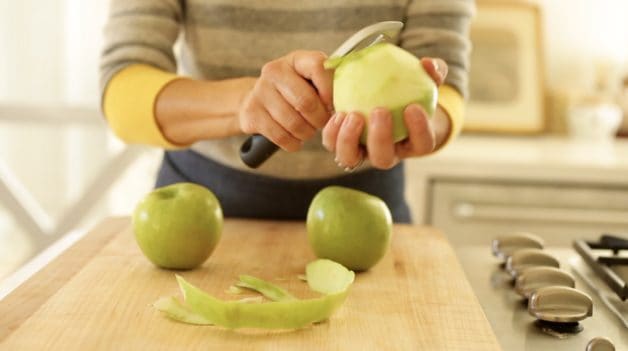 I also prefer the Granny Smith apples for an apple pie because they don't release much juice when they bake. This is ideal for a pie because it prevents a runny soggy pie after its baked.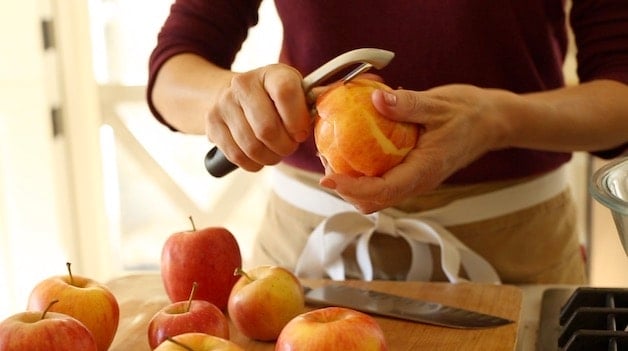 But for an apple crisp, you want a nice syrupy filling and the Galas are sweet and juicy and become tender in just 30 minutes. As a result, they are my apple of choice for an apple crisp.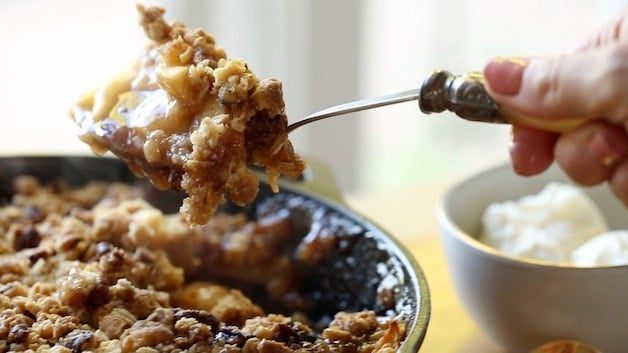 Step #1: Prep The Apples
Be sure to leave the apples a bit chunky, more like wedges. Don't cut them as thin as you would for an apple pie, this will give your crisp a better texture.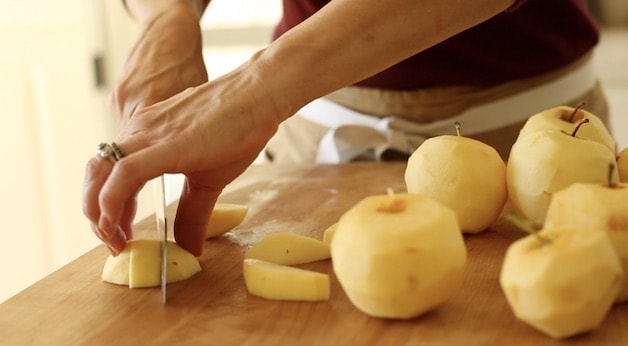 Then you'll toss the apples together with some cornstarch, white sugar, lemon juice, and pumpkin pie spice.
Can I Substitute Cinnamon for Pumpkin Pie Spice?
Sure, you could use cinnamon in place of pumpkin pie spice, just use the same quantity. But this time of year, true to my American roots,  I love to reach for the pumpkin pie spice because it provides more depth of flavor than just the cinnamon. Pumpkin Pie Spice is a spice blend that includes cinnamon, nutmeg, cloves, allspice, and ginger so it packs a lot of flavor into that one little teaspoon!
If you live outside the States and can't find it, it's actually really easy to make at home and you can try my recipe for Homemade Pumpkin Pie Spice for a taste of America.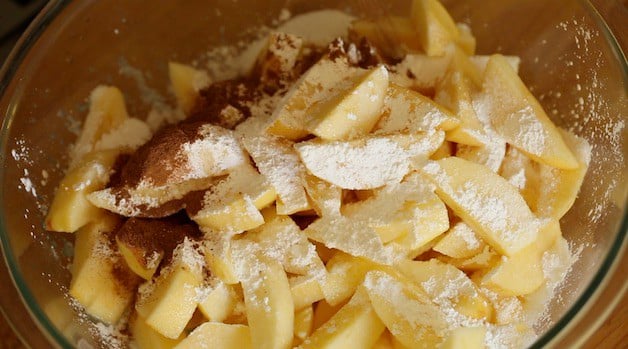 Step #2: Simmer Apples in the Skillet
Next, you'll give your apples a head start in the cast-iron skillet. This is why I love this recipe so much. It's so easy to go from skillet to oven, knowing that your apples are getting a head start to being tender and syrupy!
The syrupy texture is really the hallmark of a great apple crisp if you ask me. Let's face it, apple crisp is really a topping for ice cream cream, so the more syrupy, the better!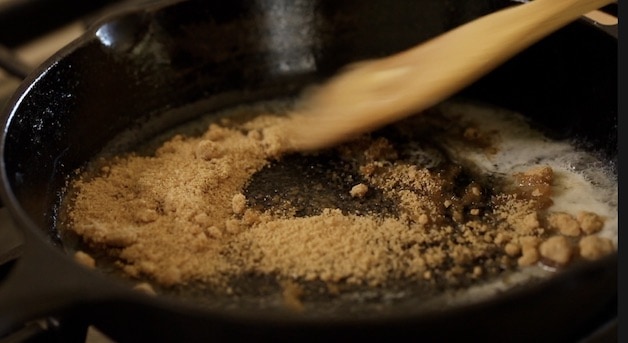 Once the butter has melted and the brown sugar is added, it will form a paste, that's when it's time to add the apples.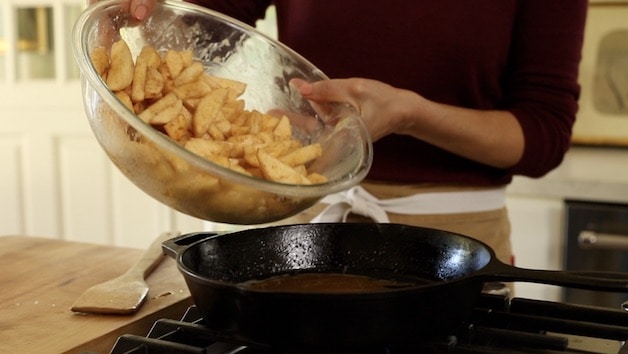 Let the apples simmer away on medium-low while you prepare the apple crisp topping. I love recipes like this when you can multi-task! Especially around Thanksgiving. Just keep an eye on your apples to make sure they don't become too dry. If that starts to happen add the water.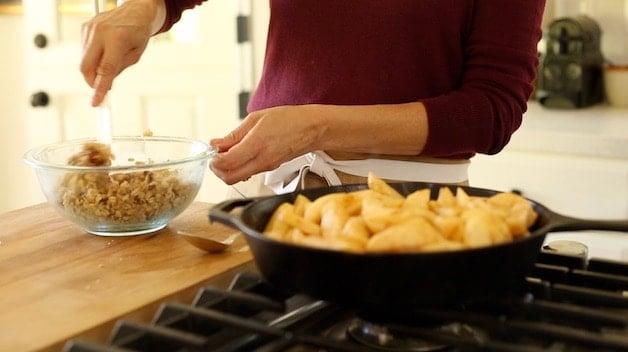 Step #3: Make The Crisp Topping with Oats
For me, it's all about the oats for a crunchy, crisp topping. You'll start by whisking together the dry ingredients, then stir in the melted butter. At this stage, you'll have a paste.
Then stir in the oats, the pecans, and my secret ingredient...Heath toffee bits! The toffee bits add such a wonderful caramel flavor to the crisp once it's baked.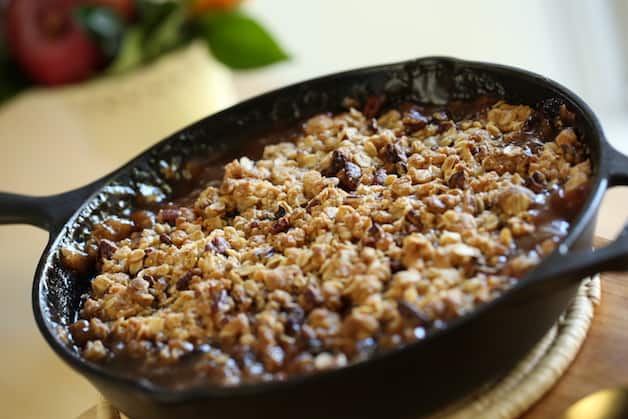 You can usually find the toffee bits in the baking aisle, next to the chocolate chips. Or I also buy toffee bits in bulk online since I know I use them so often around the holidays (this link goes to Amazon where I am compensated on products sold at no cost to the consumer)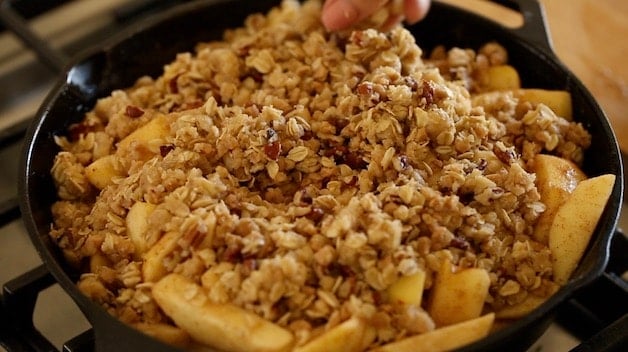 Step #4: Add Topping and Bake
Sprinkle the crisp topping over the simmering apples and place the skillet in the oven at 375F for 30-35 minutes or until the topping is golden brown and the juices underneath are bubbling.
How Do You Store the Crisp After Baking?
Once baked allow your crisp to cool completely. Then cover your skillet with foil and refrigerate. As it sits overnight, the juices will thicken and congeal.

But not to worry, you can thin the juices out and get them bubbling again with this simple trick. Sprinkle 2-3 tablespoon of water all over the top of the crisp.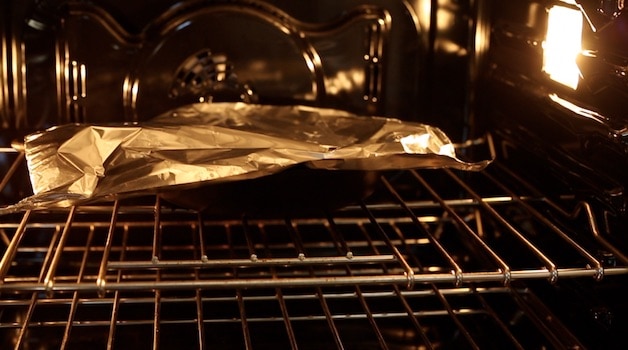 Then cover with foil and place in a 375F oven for 15 minutes. Then remove the foil and continue baking for about 10 minutes more or until you see those juices bubbling up again.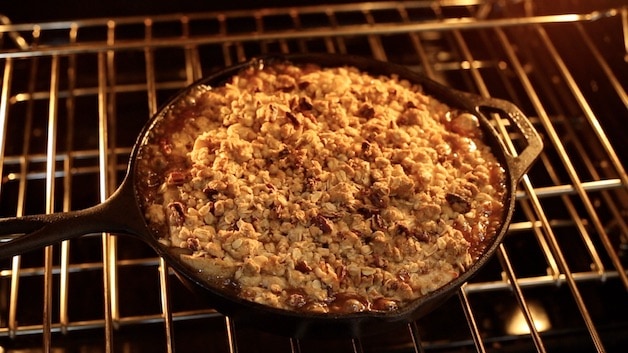 It should look like this! Crispy and saucy and ready to pour over some vanilla ice cream. The skillet is meant to go from oven to table, but just make sure you put a trivet down or a cutting board to protect your table!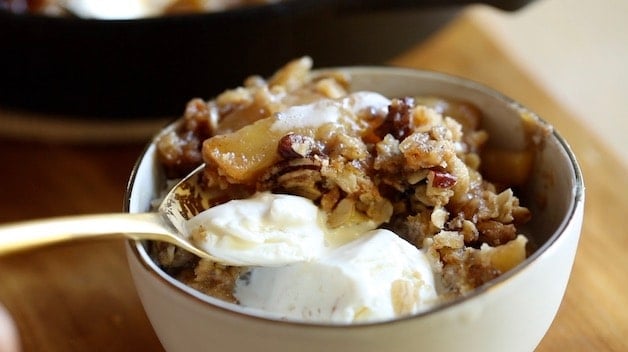 And let everyone dive in! I like to serve apple crisp in small bowls because it keeps the crisp extra hot and prevents the ice cream from melting too fast. Happy Thanksgiving!
More Great Thanksgiving Recipes:
If You Enjoyed This Recipe
Please Leave a Rating and a Review Below!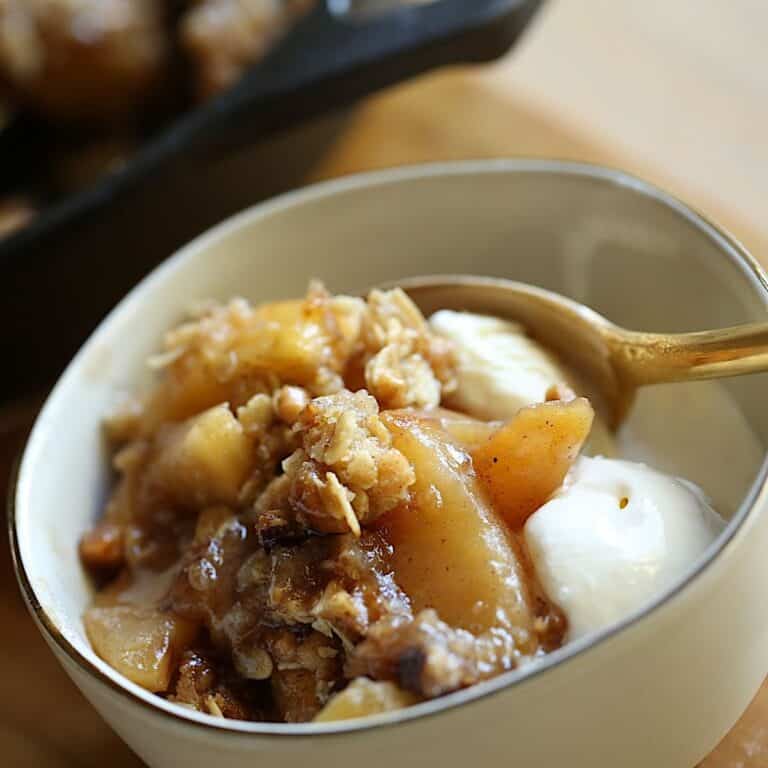 Easy Apple Crisp Recipe in a Cast-Iron Skillet
Total Time:
1 hour
35 minutes
This Easy Apple Crisp in a Cast-Iron Skillet is a fantastic Thanksgiving dessert idea! Personally, I think it's way easier than an Apple Pie and just as delicious. It's also easy to make the day before and reheat, see my tips below for how best to do this. The sturdy skillet also makes it really easy to transport as well in case you are heading to a potluck for Thanksgiving. 
Ingredients
7 cups (1050g) Gala Apples, peeled, cored and cut into wedges
2 tbsp (30ml) fresh lemon juice
⅓ cup (65g) white sugar
2 tbsp (15g) cornstarch
1 tsp (5ml) pumpkin pie spice or cinnamon (Click here http://bit.ly/2zPINCN to learn how to make Pumpkin Pie Spice at Home)
3 tbsp (45g) butter
⅓ cup (60g) brown sugar
¼ cup (60ml) water
Crisp Topping:
¾ cup (90g) flour
2 tbsp (23g) brown sugar
2 tbsp (25g) white sugar
¾ tsp (3.75ml) baking powder
large pinch salt
¼ tsp (1.25ml) cinnamon
8 tbsp (120ml) melted butter
¾ cup (65g) old fashioned oats
½ cup (75g) pecans, chopped
½ cup (75g) Heath toffee bits
Instructions
Preheat oven to 375F (190C).
In a large bowl toss the apples with lemon juice, white sugar, cornstarch, and pumpkin pie spice. Toss with hands until everything is well coated and combined. Set aside.
In a 10-inch cast-iron skillet, melt 3 tbsp (45g) of butter, add brown sugar and whisk to combine. Transfer apple mixture to the skillet and allow apples to simmer on medium-low while you prepare the crisp topping.
In a medium-sized bowl whisk together the flour, brown sugar, white sugar, baking powder, salt, and cinnamon. Then add the melted butter. Stir to combine, then add the oats, pecans, and toffee bits. Set aside.
At this stage check the apples, stirring occasionally, the liquid in the bottom should start the thicken as it heats and the cornstarch is activated. At this point pour ¼ cup of water over the apples. This will create more of a sauce for the apples to cook in while the crisp bakes, resulting in a nice syrupy mixture once it's done.
Remove the skillet from the heat and add the crisp topping, sprinkling it evenly over the top.
Then place the skillet in the oven and bake for 30-35mins. The crisp will be golden brown and the juices will be bubbling underneath. Serve right away or, allow to cool completely, cover with foil and refrigerate.
Then 25 minutes before serving, remove the foil and add drizzle 3 tablespoons of water all over the top of the crisp (this will loosen the syrup that has congealed due to the refrigeration) cover with the foil and bake at 375F for 15 minutes. Then remove the foil and bake for another 10 minutes uncovered until topping is crisp and the juices underneath are bubbling.
Serve in small bowls with vanilla ice cream.
Notes
This recipe works well with any fruit! Try stone fruit in the summer like peaches, nectarines or plums. Or apricots in the spring, or pears and cranberries in the winter.
Nutrition Information:
Yield:

8
Serving Size:

1
Amount Per Serving:
Calories:

270
Total Fat:

15g
Saturated Fat:

8g
Trans Fat:

0g
Unsaturated Fat:

6g
Cholesterol:

32mg
Sodium:

161mg
Carbohydrates:

35g
Fiber:

5g
Sugar:

22g
Protein:

2g