I'll be honest, I've struggled with homemade pizza for years! It was either too doughy, too bready, or just too heavy!
But I've recently cracked the case on making this intimidating recipe at home and it's just 2 simple tricks to achieving light, chewy and crispy crust pizza!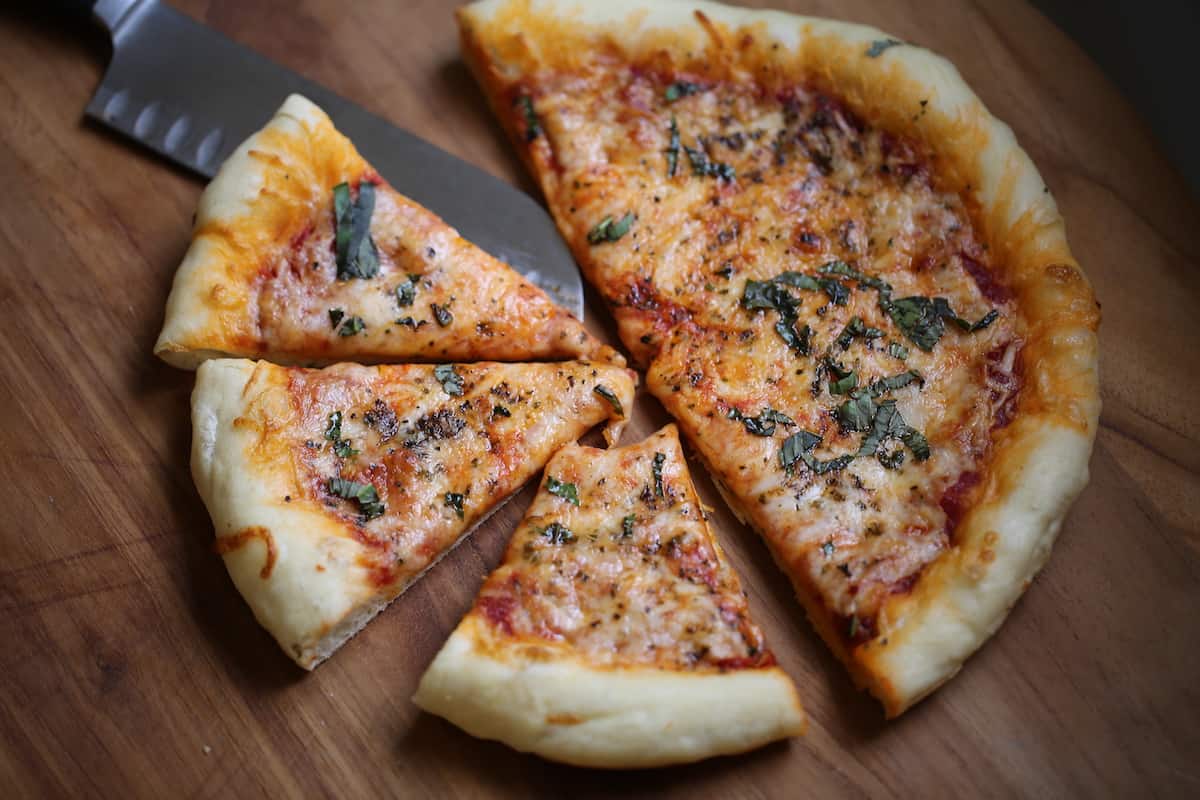 Recipe Pairing Ideas: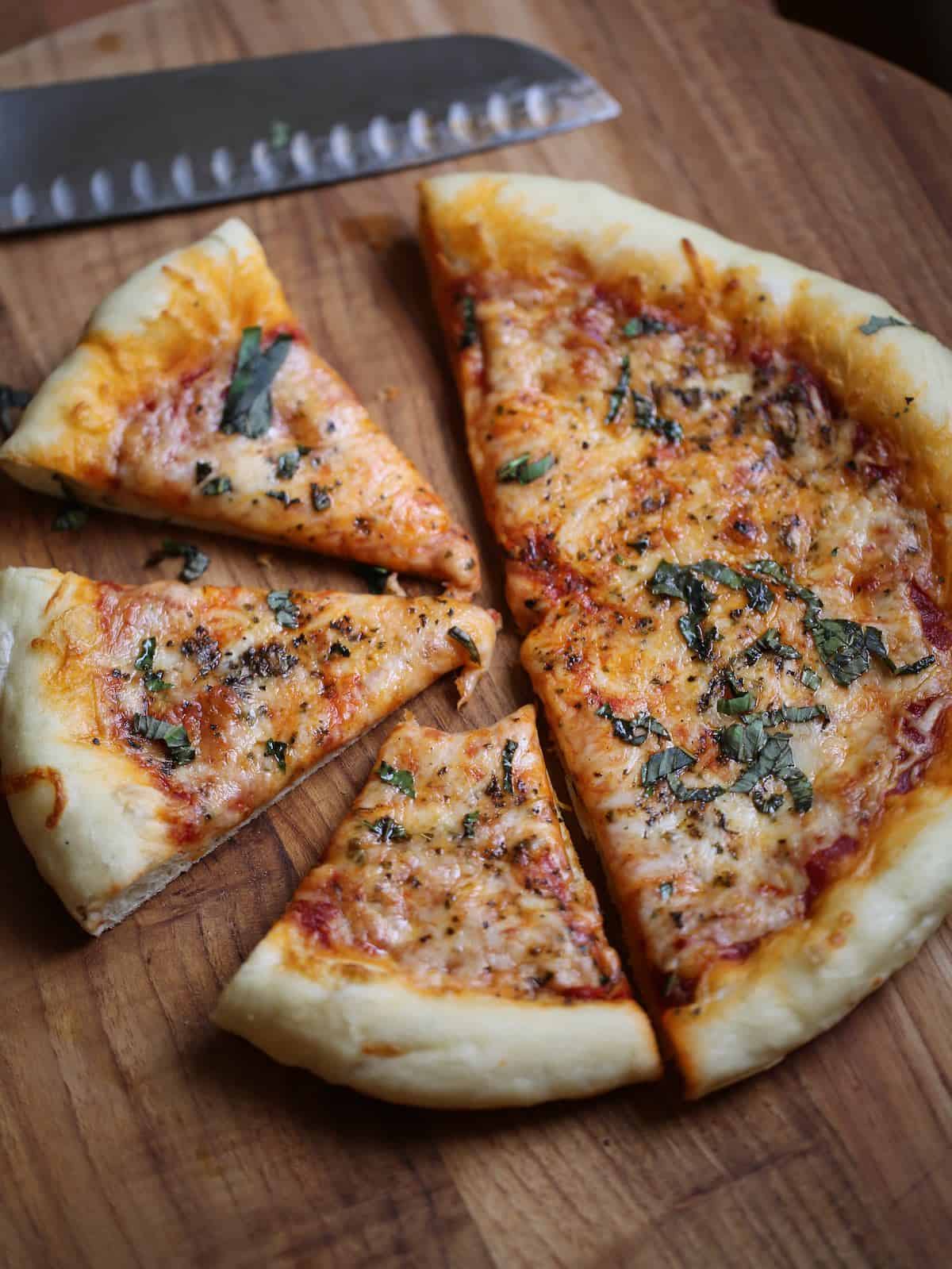 Watch My Video Demo of This Recipe Below!
Tip#1: Make Sure the Yeast Is Good
Before you set out on your pizza-making adventures, it's best to start with the yeast.
If it does not turn all foamy and cloudy like this, it means either your water was not warm enough to activate the yeast, or it was too hot and killed the yeast, or your yeast is no longer good.
In all cases, it's best to start again!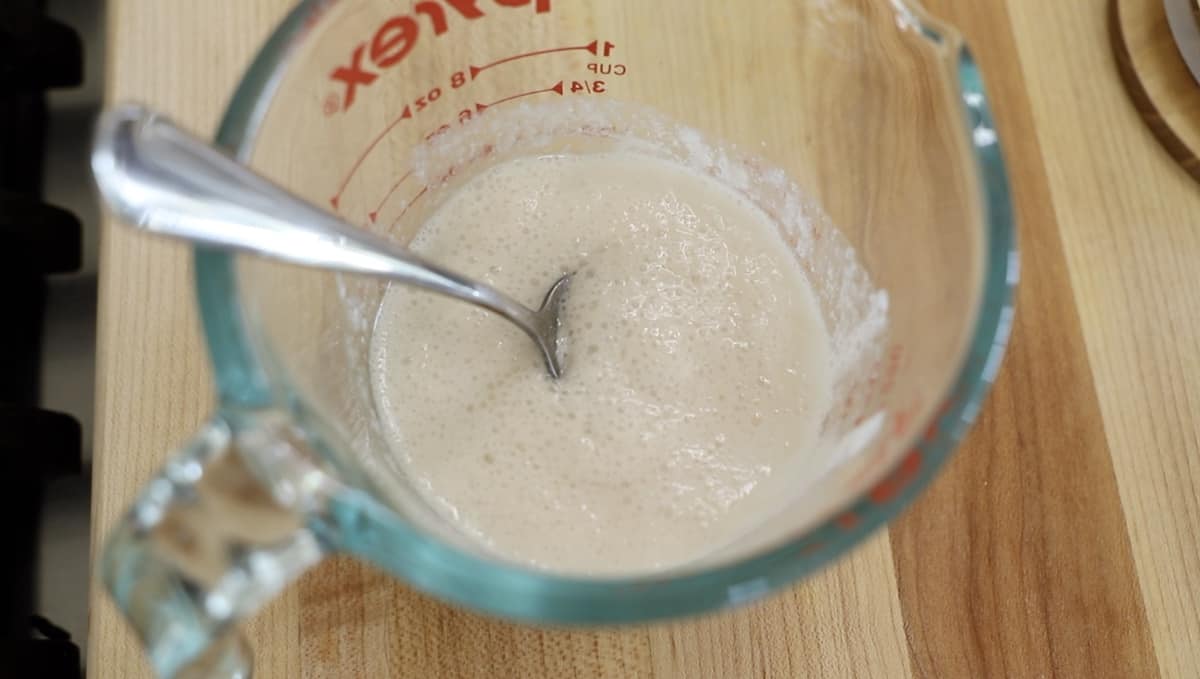 How-To Store Left Over Yeast?
Fold the yeast packet closed and then place it in your refrigerator. It will last 4-6 months that way. Or you can also use it up to my Pumpkin Cinnamon Roll Loaf or my Overnight Cinnamon Rolls.
Tip#2: Use Bread Flour
It took me a few years to figure this out, but the best flour for homemade pizza is bread flour! Especially, if you like a light and chewy crust!

What is bread flour?
Bread flour is sold in major supermarkets, right next to the all-purpose flour.
It has more protein in it, which creates more gluten, which absorbs more water which then creates a chewier crust!
It's also great for bread and cookies too. But not so great for cakes or muffins. Best to stick with the all-purpose flour for those.
Tip#3: Pick the Right Rising Spot
Another key component to pizza dough is getting it to rise properly!
My two favorite places are on the countertop near a sunny window or in the oven on the Bread Proof setting.
This is a new feature that a lot of new ovens now have so check to see if yours does too!
It's basically a setting at 100F, which is the perfect temperature for rising dough.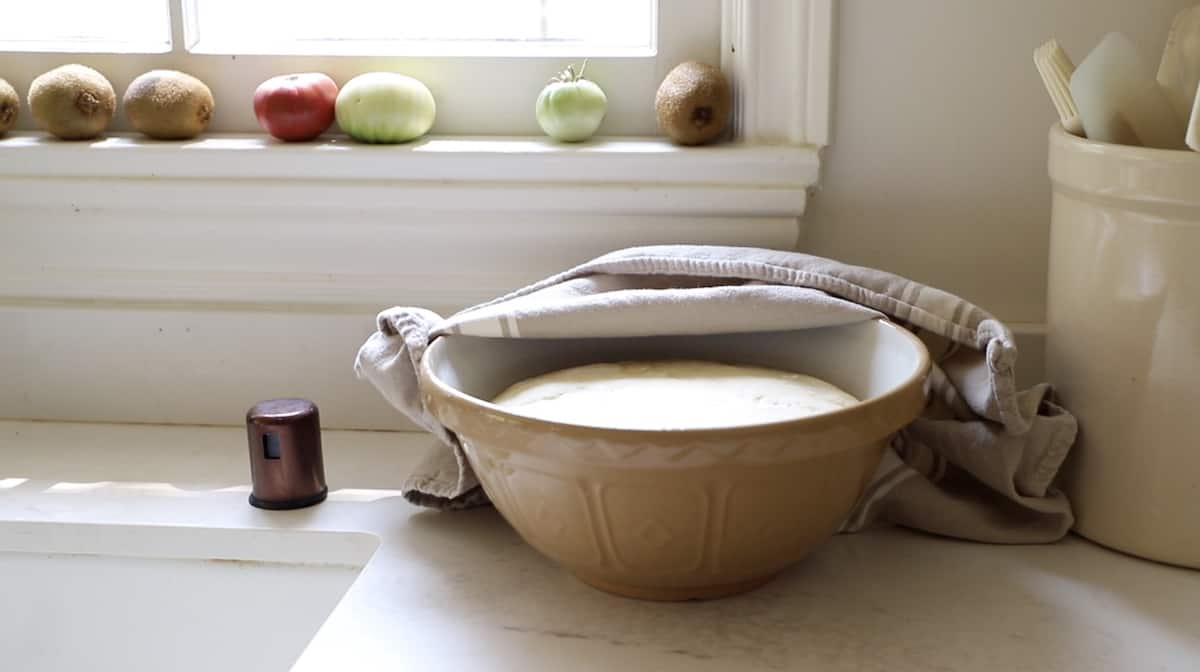 Tip#4: Bake Pizza in a Cast-Iron Skillet
I've tried the pizza stones, the pizza pans, the pizza stone on the BBQ, and in my opinion, nothing is as good as a classic cast-iron skillet.
I use a 12-inch cast-iron skillet by Lodge size for this recipe.
The dough will make enough for two pizzas of this size, so be sure to split the dough in half before adding it to your skillet.
This sized-skillet is also a great size for making my Apple Crisp in a Cast Iron Skillet too!

Why a Cast-Iron Skillet is Great for Pizza
It's a great conductor of heat! Allowing your pizza to bake evenly
It creates a nice puffy crust
It delivers a circular pizza! No more free-form, organic shaped pizzas that are hard to serve
The pre-seasoned cast-iron has a nice non-stick surface alleviating the need for using cornmeal (which I think adds a really weird texture to the bottom of your pizza!)
Tip#5:Pre-Bake on the Cooktop
The other reason why I love baking pizza in a cast-iron skillet is the ability to "pre-bake" it on the cooktop! Three minutes is all you need to get it going and this will assure a nice crispy crust underneath once your pizza is baked.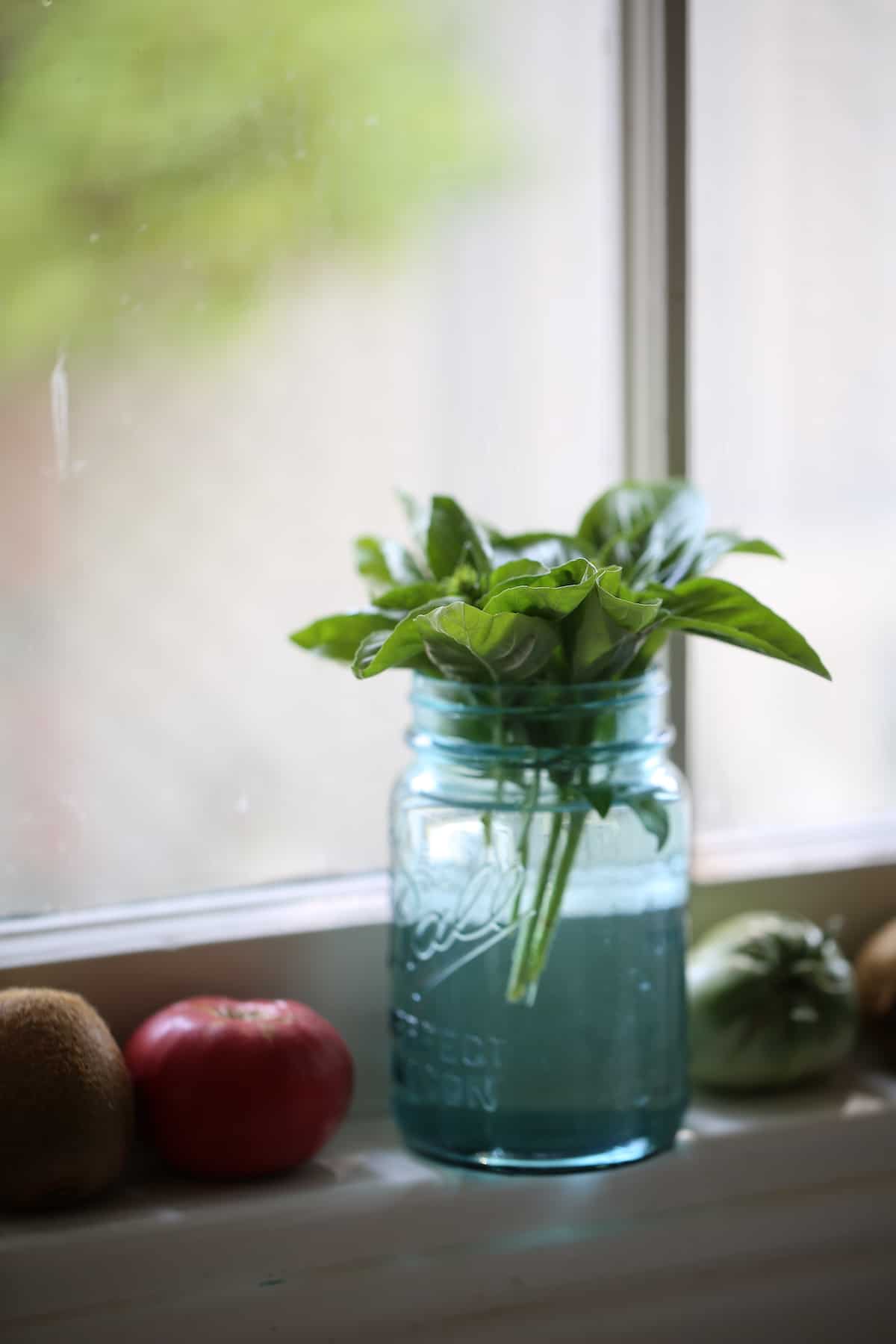 Tip#6: Garnish with Fresh Basil
For the best mix of flavors use dried oregano before baking and fresh basil after baking! There's something so refreshing and delicious about the fresh basil on top of a hot, cheesy pizza! It really takes it to a whole other level! And you can use the extra basil for my Angel Hair Pasta with Roasted Tomatoes and Mozzarella!
More Yeasted Bread Recipes:
If You Enjoyed This Recipe
Please Leave a Rating and a Review Below!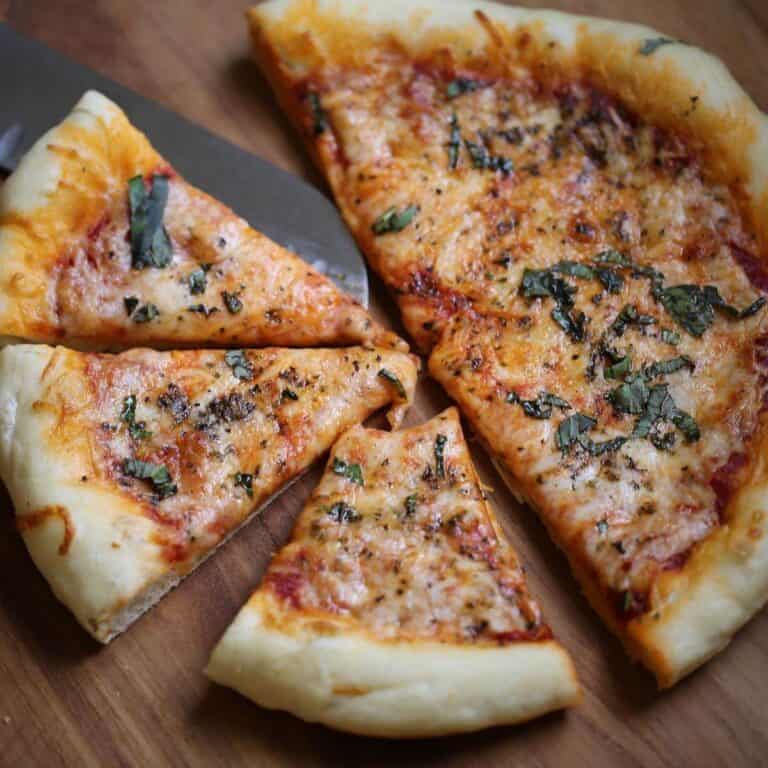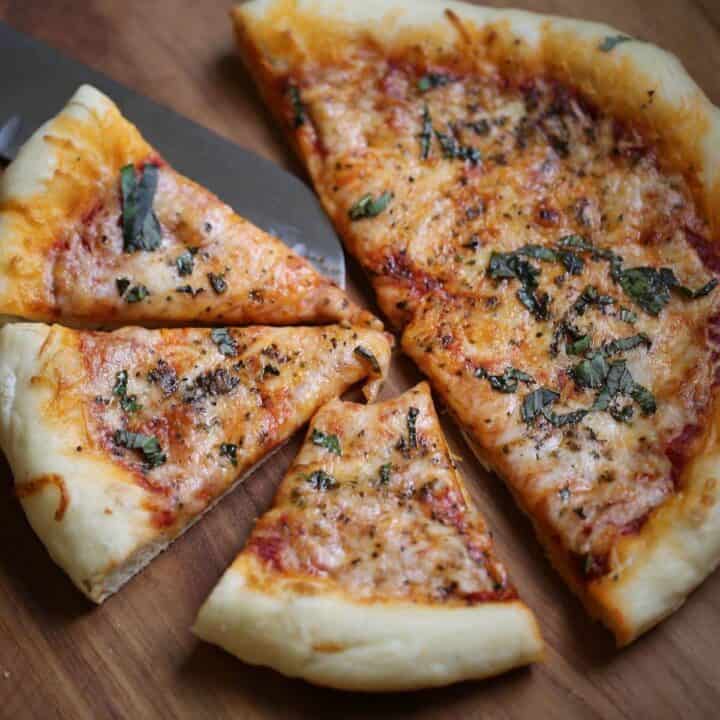 Easy Homemade Pizza Recipe
Total Time:
1 hour
42 minutes
Delicious and easy homemade pizza recipe, that's light and chewy with a crispy crust! Perfect for the home cook!
Ingredients
1 ¼ cups (300ml) warm water (110-115F/43C-46C), Separated
1 teaspoon (5ml) sugar
1 teaspoon (5ml) dry active yeast
3 cups (360g) bread flour
1 teaspoon (5ml) salt
1 tablespoon (15ml) Olive Oil
1 15-ounce can (425g) pure tomato sauce
salt and pepper to taste
1 clove garlic, minced
2 tablespoon (30ml) tomato paste
½ teaspoon (2.5ml) dried oregano
2 cups (200g) shredded mozzarella cheese
1-2 tablespoon (15-30ml) Fresh Basil
Instructions
Pour ¼ cup (60ml) of the warm water in a pitcher or small bowl. Add the sugar and then the yeast. Whisk and allow to sit for 5 minutes.
The solution should turn cloudy and foamy. If nothing happens it means either your water wasn't the right temperature or your yeast is old and best to start again with fresh yeast.
In a large bowl whisk together the flour and the salt. Then add the foamy yeast mixture PLUS the remaining 1 cup of warm water. Stir to combine.
Once the mixture pulls apart from the sides of the bowl and turns into a dough ball you're ready for kneading!
Turn your dough out onto a floured surface (continue using the bread flour) and knead it for about 10-15 turns. Then clean out your big bowl.
Grease the insides of the bowl with olive oil. Then place your dough inside. Cover with a clean dishtowel or plastic wrap. Place in a warm, sunny space of your kitchen (no drafts!) and allow to rise for at least 1-hour.
To prepare the sauce, heat the tomato sauce in a medium saucepan, add the garlic, salt and pepper, tomato paste, and oregano and simmer for 10-15 mins.
Then preheat the oven to 450F (225C).
Flour the skillet lightly and set it aside.
IMPORTANT: Cut the dough in half! For (2) 12-inch pizzas OR use one and freeze the other by placing it in a ziplock bag. Then thaw in the refrigerator overnight and use the next day.
Then roll out the dough to a rough circle. If the dough is hard to roll out, just let it sit for a minute or 2 and then come back to it. Sometimes Pizza Dough needs a "time out"!
Fit the dough into the skillet, create a crust indentation with your fingertips around the perimeter, Add 1 ladle of sauce to the center, and spread it around leaving a border for the crust.
Place the skillet on medium-high heat on your cooktop for 3-minutes to set the crust and give it a head start. The crust will also start to puff up! Then add the cheese and any toppings you desire and then place it in the oven for 10-12 mins until golden brown and cheese is melted.
Finish with chopped fresh basil! Enjoy!
Notes
Why a Cast-Iron Skillet is Great for Pizza
It's a great conductor of heat! Allowing your pizza to bake evenly
It creates a nice puffy crust
It delivers a circular pizza! No more free-form, organic shaped pizzas that are hard to serve
The pre-seasoned cast-iron has a nice non-stick surface alleviating the need for using cornmeal (which I think adds a really weird texture to the bottom of your pizza!)
Nutrition Information:
Yield:

16 slices
Serving Size:

1
Amount Per Serving:
Calories:

112
Total Fat:

2g
Saturated Fat:

1g
Trans Fat:

0g
Unsaturated Fat:

1g
Cholesterol:

3mg
Sodium:

178mg
Carbohydrates:

20g
Fiber:

1g
Sugar:

1g
Protein:

4g