If you would like a sensational bread recipe for your holiday table I highly recommend this savory monkey bread from scratch.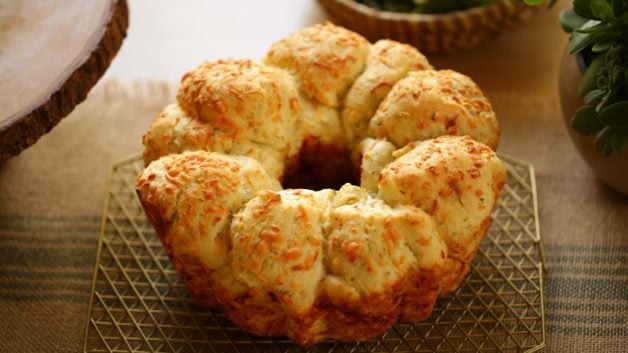 It's a cheesy and herby monkey bread recipe that has such a wonderfully soft texture on this inside…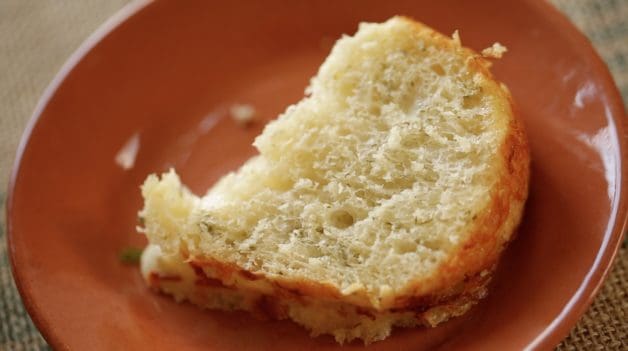 …and a crispy cheesy texture on the outside.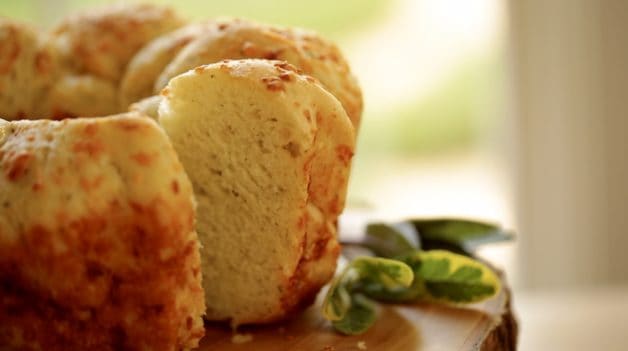 Watch My Savory Monkey Bread Video Demo Below!
How Do You Make Monkey Bread From Scratch?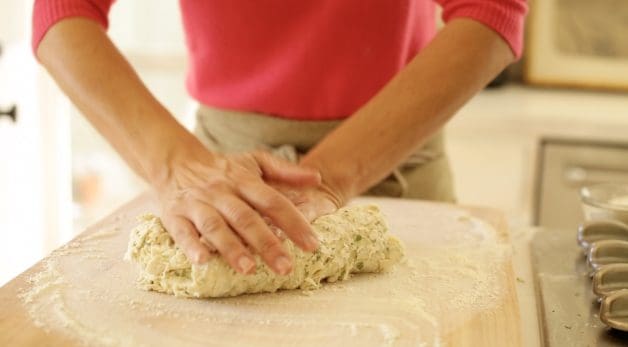 There's no need to buy those pre-made biscuits in a can to make monkey bread you can make your dough from scratch (and it will taste 10x better!)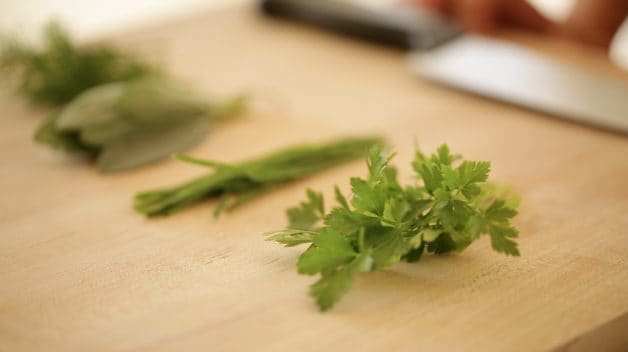 Making your dough from scratch also allows you the ability to infuse it with a selection of wonderful herbs, giving this rich bread a fresh finish.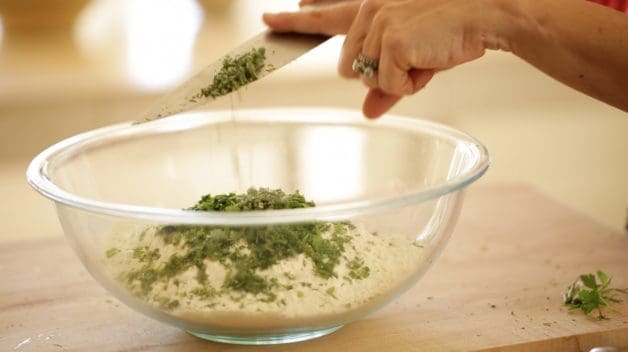 You'll just need to plan ahead! Since this dough needs to rise initially for 2 hours…..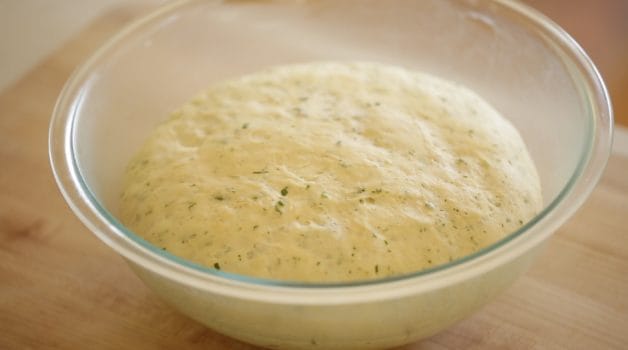 …and then once your dough balls have been formed and dipped in garlic butter and rolled in cheese, it will rise for another 30 minutes. But the results are well worth the time and effort!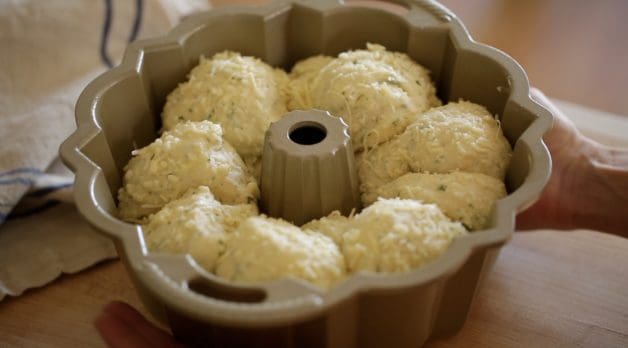 What are the Ingredients for Savory Monkey Bread?
You'll make a simple dough out of all purpose flour, a packet of yeast, salt and warm water. Then you'll add your herbs and once risen cut into 16 dough balls.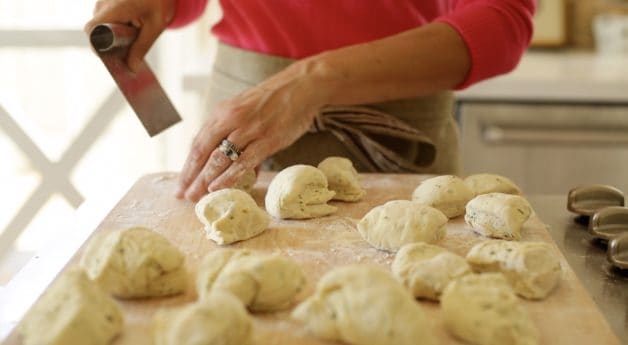 Dip in garlic butter and cheese and then you'll place them in a bundt pan.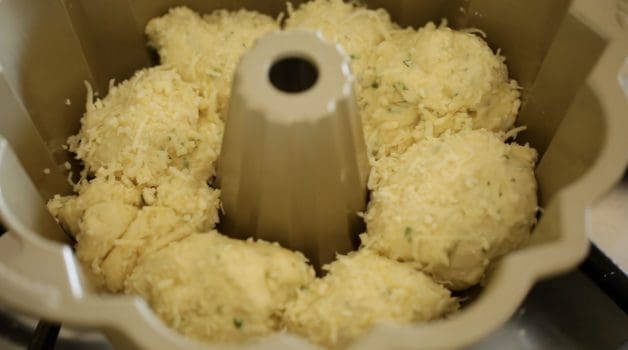 TIP: It really helps to spray your bundt pan well with baking spray, don't just grease with butter. We're talking baked-on cheese! You'll need the extra assurance your bread will come out of the pan (even if it's a non-stick pan) and I find you only get this with baking spray! (These links go to Amazon where I am compensated on products sold at no cost to the consumer)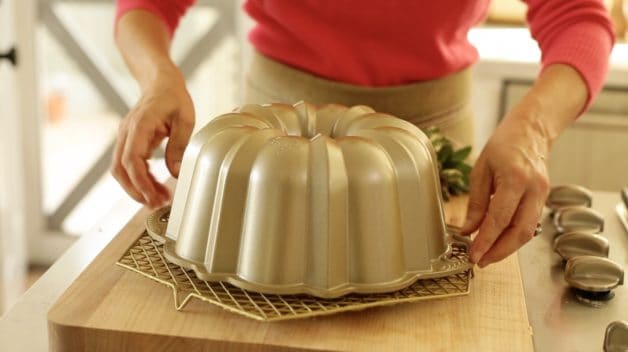 Once your monkey bread is baked, loosen the sides with a sharp knife, and flip upside down, it will resemble a cheesy garlic bread.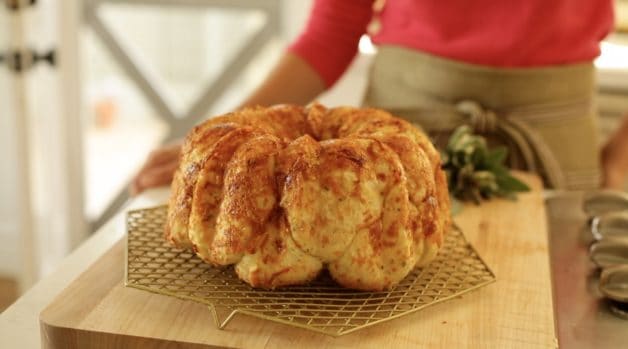 I find for a Savory Monkey Bread Recipe, the bread is prettier flipped right side up.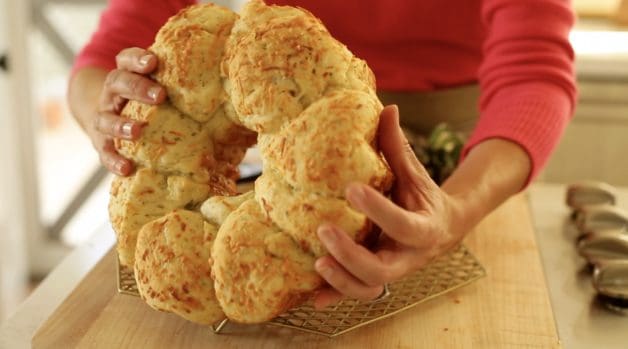 Garnish with fresh herbs and let your guests dig in!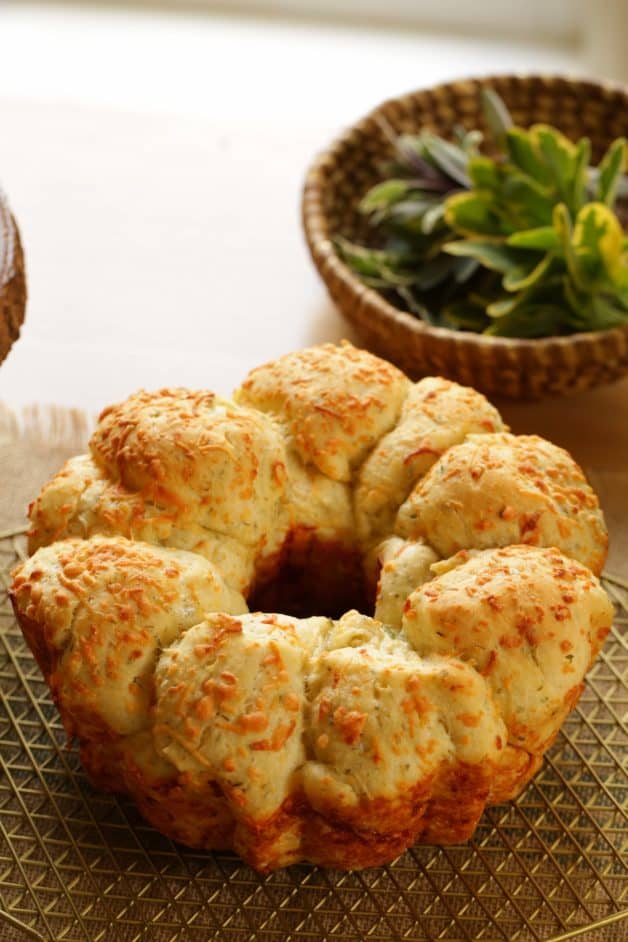 More Bread Recipes!
PLEASE LET ME KNOW IF YOU MAKE THIS SAVORY MONKEY BREAD RECIPE BY LEAVING A RATING AND REVIEW BELOW!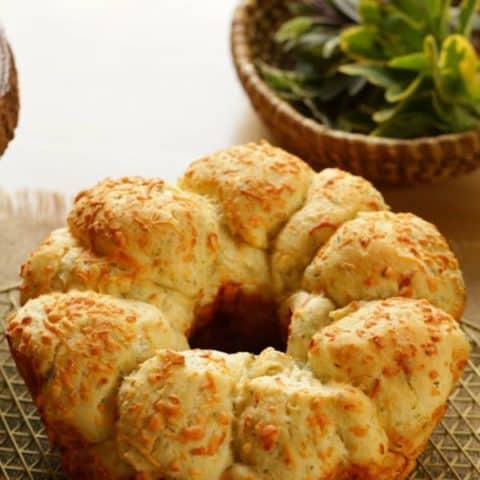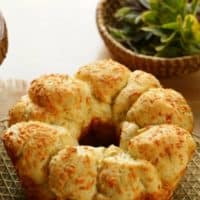 Savory Monkey Bread From Scratch
Total Time:
3 hours
30 minutes
Savory Monkey Bread from Scratch infused with fresh herbs and dipped in garlic butter and cheese. A wonderful holiday bread recipe!
Ingredients
For Bread:
3 ½ cups (420g) all-purpose flour
2 ¼ tsp (1 package) (11.25ml) dry active yeast
1 tsp (5ml) salt
2 tbsp (30ml) dill, finely chopped
2 tbsp (30ml) parsley, finely chopped
1 tbsp (15ml) chives, finely chopped
1 tbsp sage (15ml), finely chopped
1 ½ cups (350ml) warm water (between 110-115F (37C-46C)
2 tbsp (30 ml) butter, melted
For Dipping and Rolling:
2 cups (120g) Italian Blend Cheese
4 tbsp (60g) butter, melted
1 clove garlic, minced
Instructions
Whisk together the flour, yeast, salt, and herbs. Then add water and slowly mix into a dough, and then into a ball. Dough will be very sticky. Grab dough with floured hands and knead on a floured surface for 20 turns. Adding more flour if needed as kneading. Then pour 1 tbsp (15ml) of melted butter on top of dough and knead for another 10 turns.
Place other 1 tbsp (15 ml) of butter in a clean bowl, and grease the sides of the bowl with it.  Place dough inside and cover with a dry towel or plastic wrap. Set in a warm place for 2 hours to rise. It should double in volume.
Once risen, remove the dough from the bowl and place on well-floured surface. Cut dough into quarters. Then cut each quarter, into quarters. You will have 16 pieces.
Roll each piece into a ball, coating with flour if needed. Set aside.
Prepare a 10-cup Bundt pan by spraying it well with baking spray, use a pastry brush to distribute it well. Set aside.
Combine melted butter and garlic in a small bowl and set aside. Place cheese in a small bowl and set aside.
Then dip each dough ball into the melted butter and then roll in the cheese, place in the Bundt pan. Continue process until Bundt pan is covered with one layer, and then begin a second layer on top.
Cover and allow to rise in a warm place for 30 minutes.
Meanwhile preheat oven to 375F (190C).
Once dough has risen for the second-time place in oven and bake for 25-30 mins. Bread will be golden brown and puffed up.
Allow to cool and then loosen edges with a sharp knife to release any baked-on cheese.  Then release bread by placing a cooling rack on top of Bundt pan, flipping over, and then gently flip it again to place it right side up on cooling rack to cool slightly.
To serve place on a cake stand, garnished with fresh sage or rosemary leaves. Cut into slices.
Notes
It really helps to spray your bundt pan well with baking spray, don't just grease with butter. We're talking baked-on cheese! You'll need the extra assurance your bread will come out of the pan (even if it's a non-stick pan)
Nutrition Information:
Yield:

12
Serving Size:

1
Amount Per Serving:
Calories:

155
Total Fat:

2g
Saturated Fat:

1g
Trans Fat:

0g
Unsaturated Fat:

1g
Cholesterol:

5mg
Sodium:

33mg
Carbohydrates:

28g
Net Carbohydrates:

0g
Fiber:

1g
Sugar:

0g
Sugar Alcohols:

0g
Protein:

5g