No-Knead Bread with Cinnamon and Raisins
These are the days for No-Knead Bread. If you've never made homemade bread before you'll be amazed at how easy it is! This is one of my favorite bread recipes because it takes hardly any work to get truly artisan results!
The No-Knead technique is what makes it so easy, it literally rises overnight while you sleep! Bake it in a Dutch oven and you'll have truly artisan results!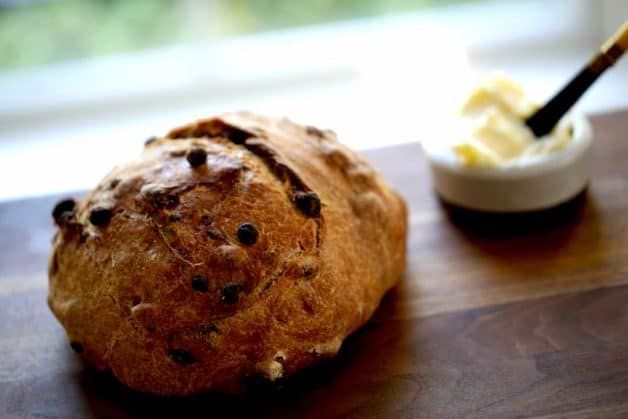 Homemade Bread is Easier Than You Think
There's something so comforting about making your own bread, and slathering it with softened butter. A feeling of all is well if I can bake my own bread! And I'm here to tell you, YES you can!
Subscribe for weekly recipes
and new videos!
And here's the best part. All you need are a few pantry staples like flour, yeast, and salt. Then just add your mix-ins like cinnamon, raisins, and walnuts, and allow to rise. And seriously folks, that's it!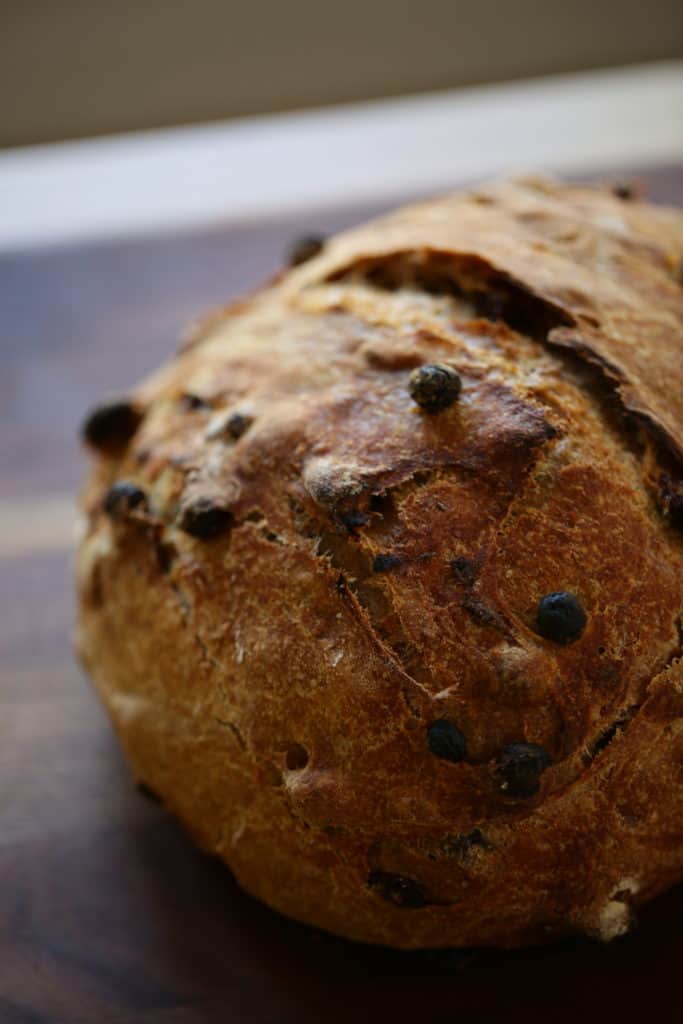 Watch My Video Demo of his Recipe Below!
What is No-Knead Bread?
No-Knead Bread is a bread-making process that uses a slow rise technique. It requires little to no kneading and rises while you sleep! For the best results, it's best to make this bread recipe in a Dutch oven because it creates an "oven within an oven" environment.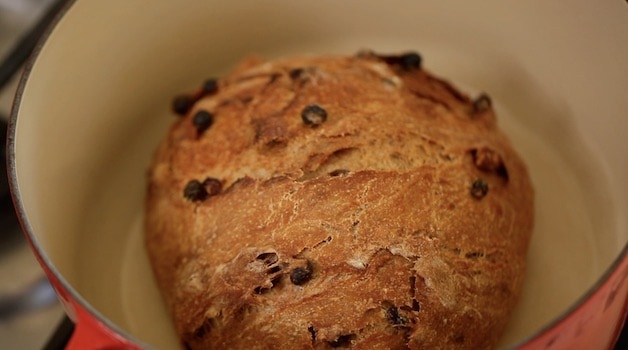 This allows the bread to get nice and crispy on the outside while remaining light and fluffy on the inside! The raisins and walnuts add a wonderful texture to this bread, but you could also omit them for a plain cinnamon loaf or omit the cinnamon for just plain bread.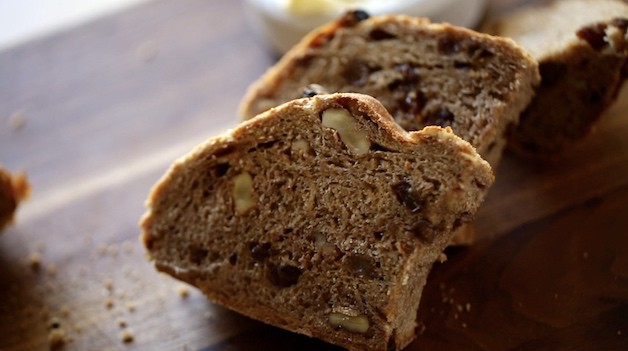 Storing the Bread
This bread also freezes beautifully! To freeze it, slice the bread and place it in a resealable freezer bag. Then wrap it in a paper towel and microwave until warm, or toast it straight from the freezer.
Step#1: Combine the Dry Ingredients
In this recipe, I use both white flour and wheat flour because I like the denser texture combining the flours creates. But if you only have one of these flours, that's totally fine. Just use the same quantity of flour of either.

This bread recipe uses very little yeast, just ¼ teaspoon since it has so much time to rise. It's a great excuse to make 2-3 loaves while you are at it since you've already opened the packet of yeast!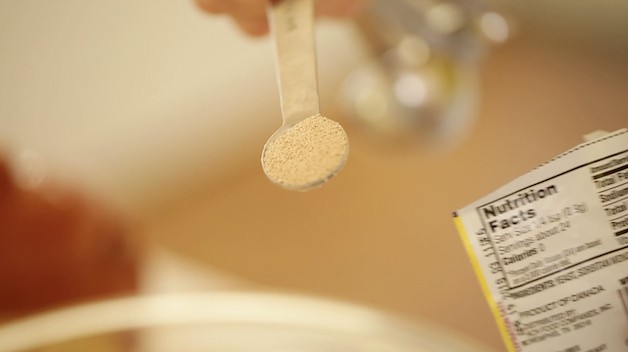 Step#2: Add Your Mix-Ins
The great thing about No-Knead Bread recipes is the fact that once you know the basic recipe, you can easily add any flavorings you like.
For this bread, I like to add raisins and walnuts, but you could omit the cinnamon in this recipe and add 2 tablespoons of minced rosemary or ¼ cup of diced Kalamata olives.
If you don't have raisins or walnuts on hand you could also use dried cranberries, orange zest, and pecans, that's another really great flavor combination too!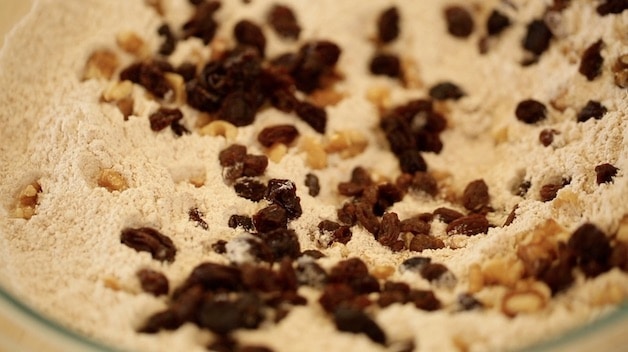 Adding the Water
Unlike other bread recipes where the water has to be at an exact temperature, with No-Knead Bread the water just has to be at room temperature.
That's another thing I love about this bread, it's so forgiving!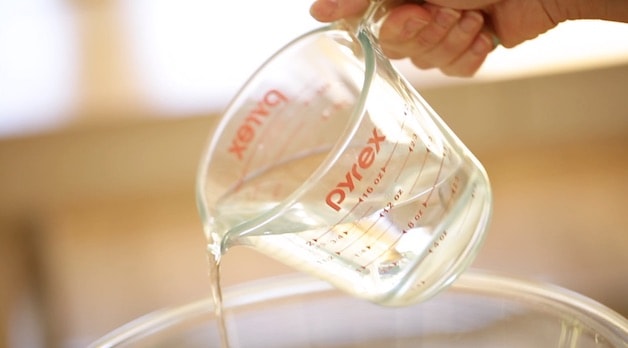 Then mix up the dough with a wooden spoon until it comes together. If your dough appears to be dry, feel free to add some more water in 1 tablespoon increments until it sticks together and will form a ball.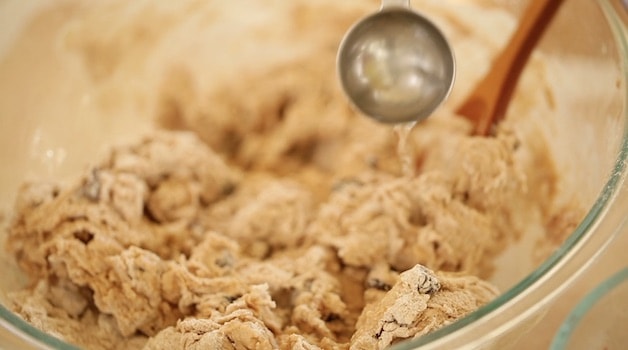 Step#3: Oil the Bowl + First Rise
You'll then oil a bowl with olive oil and place your dough ball inside.
Don't worry about forming a perfect ball at this stage, you really can just plop it in!
Do this before you head to bed so it has 12 hours to rise while you sleep. That way you'll have fresh bread baking in the morning hours. Is there anything better?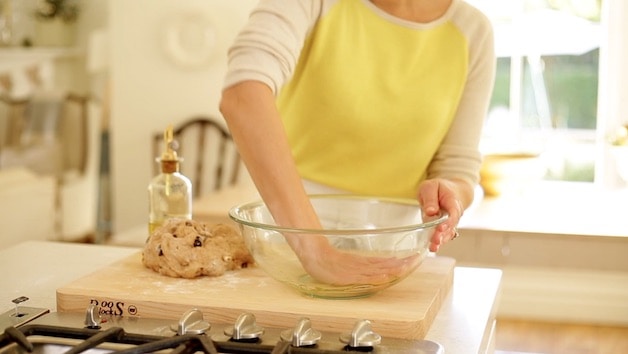 Cover your dough with plastic wrap to create a tight seal and prevent any air from getting in. Air can dry out your dough and create a skin around it.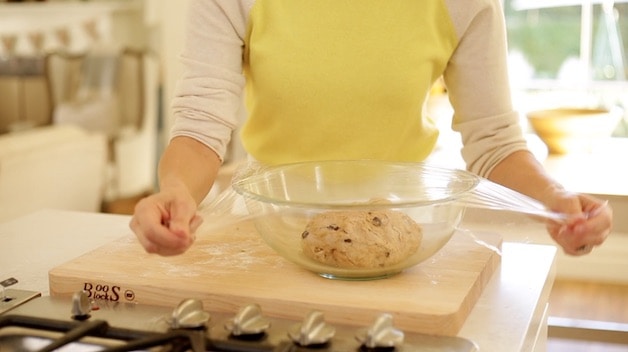 Step#4: Punch Down + Second Rise
When you awake you'll be greeted with a mass of dough that will look like this, spread out into the bowl on all sides.
Make sure your hands are nicely floured before handling it because at this stage it is really sticky!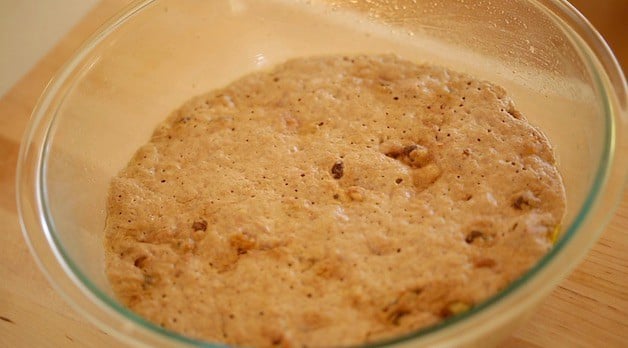 Form your dough into a ball, by pulling the dough under itself, to create the seams at the bottom. Place it in a floured bowl and allow it to rise for another hour or two (I think 1 ½ hours is perfect but you can get away with 1 hour if you are getting antsy!)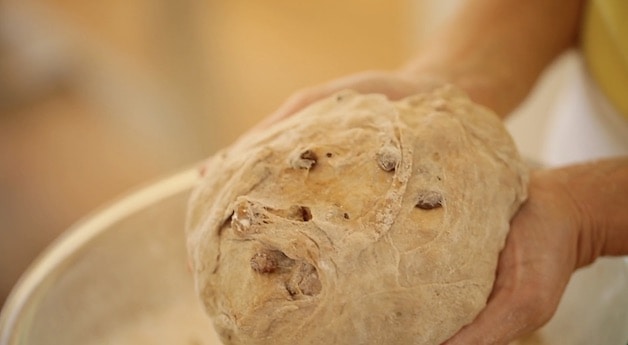 Also, be sure to cover it with plastic wrap again to prevent it from drying out.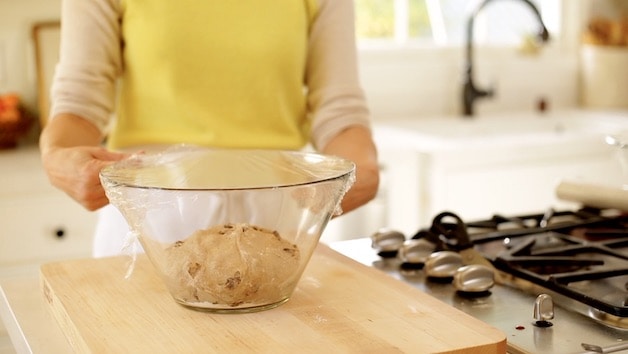 Step#5: Preheat Dutch Oven
It's important to pre-heat your Dutch oven for at least 30 minutes as your oven preheats. This will assure your Dutch oven will be at the correct temperature for baking the bread.
I think the 5.5-quart-size Dutch oven is best. It's big enough to be roomy for a nice-sized loaf of bread and not too roomy that the Dutch oven doesn't get hot enough inside.
It's also important to make sure your Dutch oven has an oven-safe knob on it like metal or resin and is not plastic otherwise it will melt!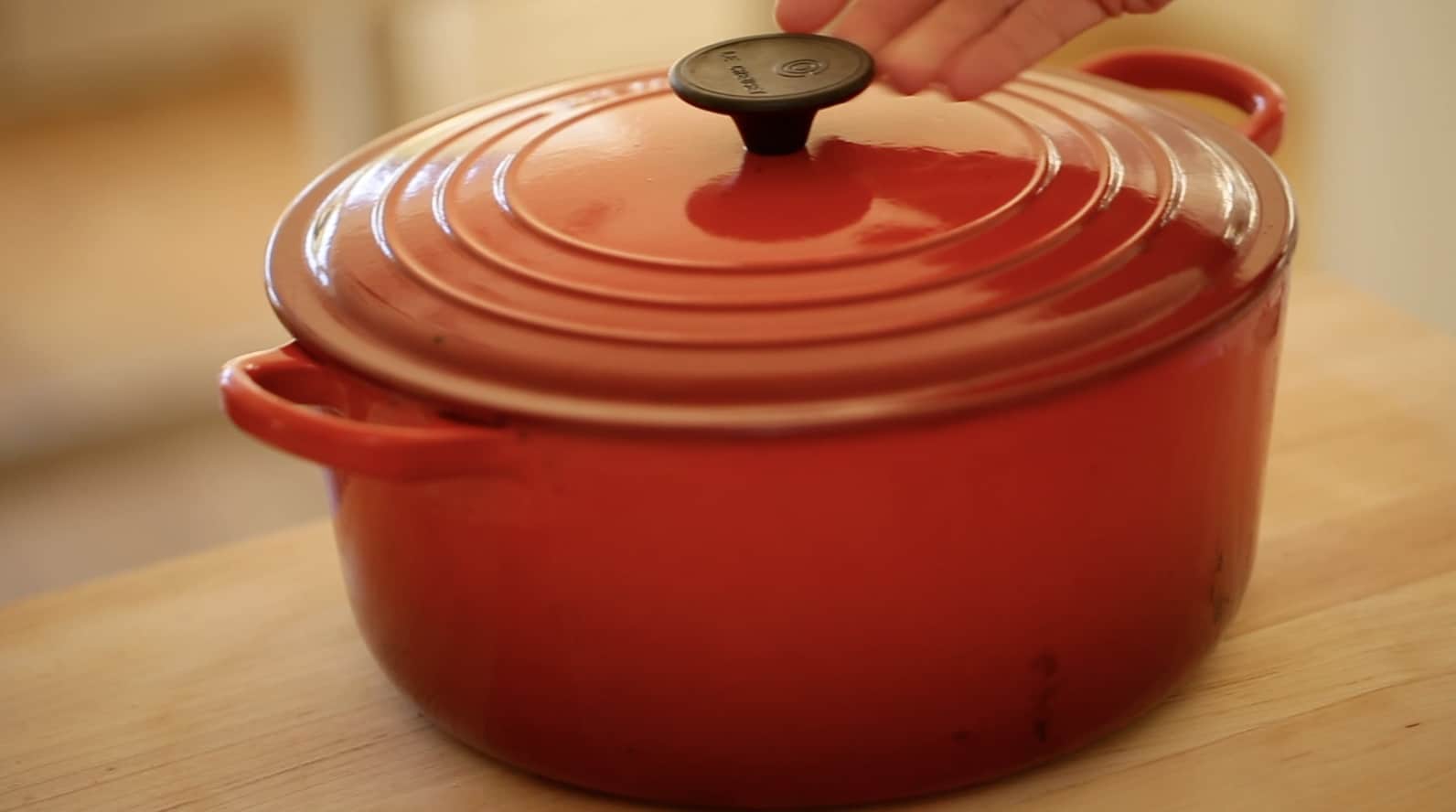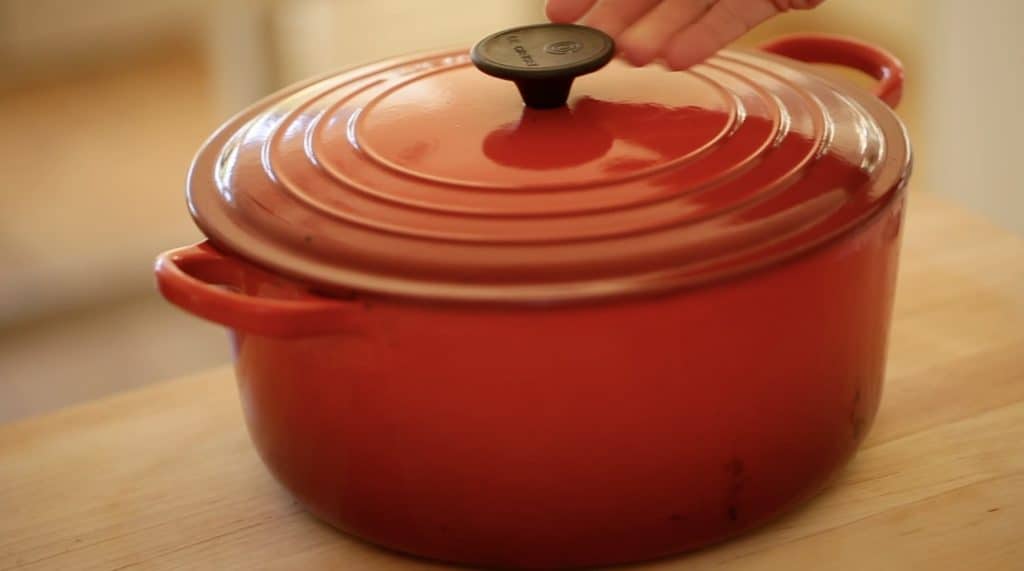 Step#6: Bake The Bread
My Dutch oven is well seasoned from years of use so I just place my bread inside the pot.
But if this is the first time you've made the bread or are unsure about the non-stick properties of your Dutch oven, use parchment paper as a liner.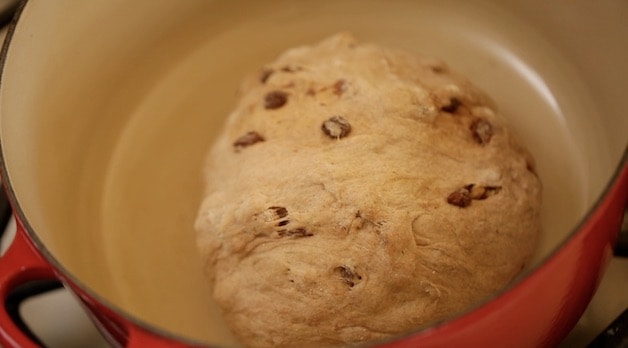 Simply place your dough ball on a sheet of parchment paper and then lower it into the Dutch oven. Place the lid on and bake and 30 mins later you will have the MOST delicious artisan bread!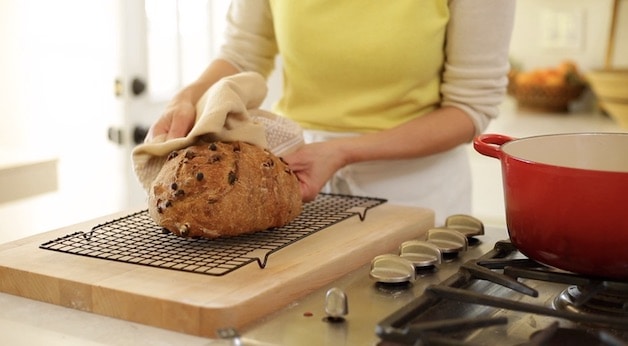 Allow the Bread to Set Up
The bread will be really hot and inside of fishing it out with your hands, it's best to use a clean kitchen towel to remove it.
Then place it on a cooling rack to set up inside.
Allowing the bread to set up in this way will make it easier to slice, and will be less doughy inside.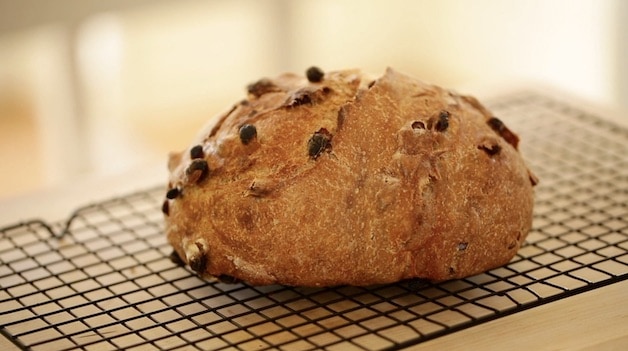 The bread is perfectly crisp on the outside and chewy and moist on the inside. Slathered with a pat of butter, you will either love me or hate me for this one! The fact that No-Knead Bread is so easy to make, is what makes it so dangerous! Yikes! Bake responsibly people. Enjoy!! xx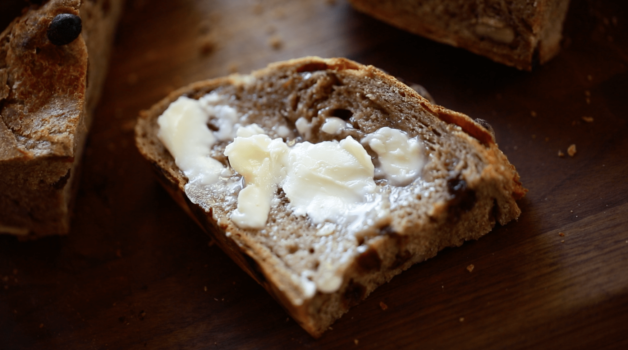 Turn the Bread into French Toast
If you have any leftover slices, this bread also makes a terrific French toast the next day! Drizzled it with orange-flavored syrup (maple syrup + orange zest) and it can't be beat!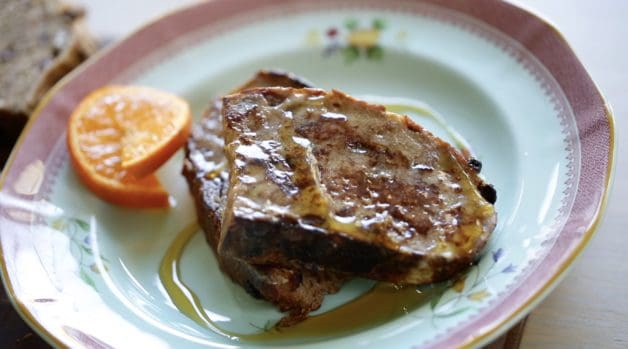 So if you are stuck inside this week and looking for a project that will soothe the body and soul, you can't go wrong with homemade bread! Once you master this recipe, try my Savory Monkey Bread too! Another great bread recipe to try!
More Great Breakfast Recipes!
Please let me know if you make this Recipe
by leaving a rating and review below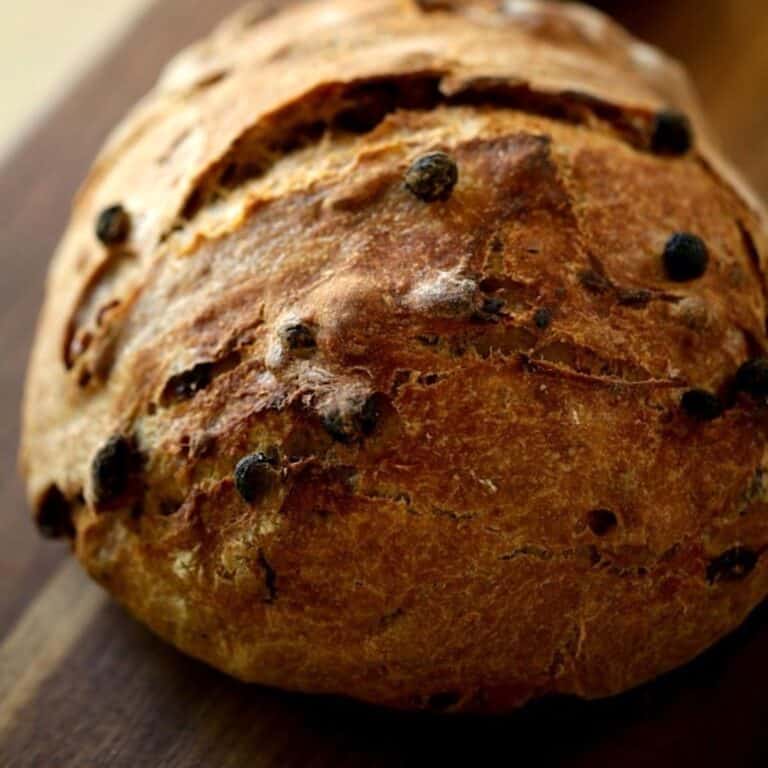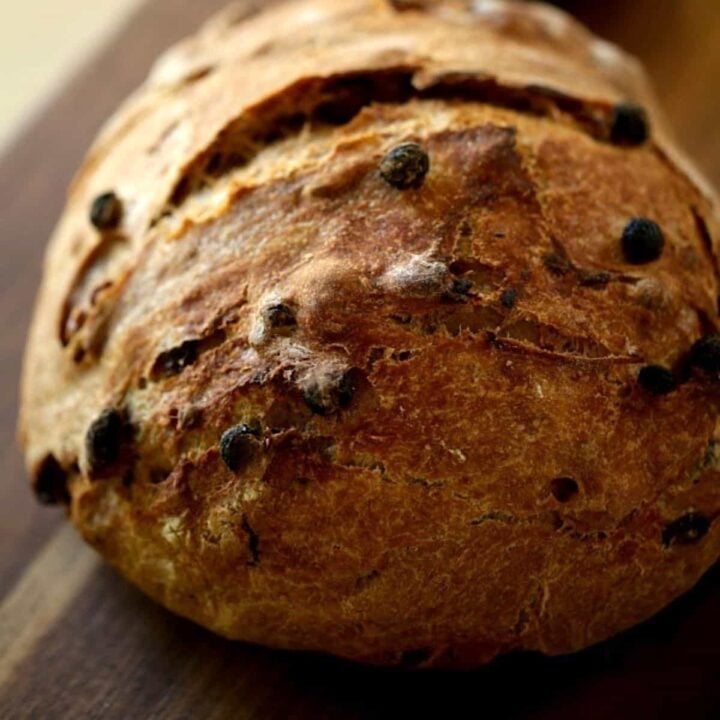 No-Knead Bread Recipe with Cinnamon and Raisins
Total Time:
12 hours
30 minutes
Artisan-style no-knead bread that rises while you sleep! Made from pantry items you probably already have in the cabinet. Also makes for great French toast the next day.
Ingredients
1 ½ cups (180 g) all-purpose flour
1 ½ cups (180 g) whole wheat flour
¼ teaspoon (1.25 ml) yeast
1 ½ teaspoon (7.5 ml) of salt
1 tablespoon (15 ml) ground cinnamon
1 ½ cups (350 ml) room temperature water (more if needed in 1 tablespoon increments)
½ cup (75g) walnuts
½ cup (75 g) raisins
Instructions
Whisk together the flours, yeast, salt, and cinnamon. Then add the walnuts and raisins. Stir to combine.
Slowly add the water and stir with a wooden spoon until a dough forms. If the dough looks to dry add more water in 1 tablespoon increments. Too wet add more flour in 1 tablespoon increments.
Transfer dough into a clean bowl that has been greased with olive oil. Cover with plastic wrap and rise overnight.
The following day, punch down dough and with "floured hands" form dough into a ball. Place in a clean bowl dusted with flour, cover with plastic wrap and allow to rise for 1 ½ hours.
Pre-heat oven to 500F (260C) with the Dutch oven so both can get up to temperature together. Place the dough inside and cover. Bake for 30 mins.
Allow bread to cool for 1 hour. Slice and serve! Bread also freezes well if sliced and placed in a plastic freezer bag.
Notes
Bread also freezes well if sliced and placed in a plastic freezer bag.
You can omit the cinnamon and raisins and add 2 tablespoons of minced rosemary or ¼ cup of diced Kalamata olives instead for a more savory profile
Nutrition Information:
Yield:

12
Serving Size:

1 slice
Amount Per Serving:
Calories:

114
Total Fat:

0g
Saturated Fat:

0g
Trans Fat:

0g
Unsaturated Fat:

0g
Cholesterol:

0mg
Sodium:

75mg
Carbohydrates:

24g
Fiber:

1g
Sugar:

0g
Protein:

3g