This easy Fettuccine Alfredo is a great pasta recipe to make from scratch. I'm always amazed at how little time it takes to make one sublime sauce. If you've never made your own alfredo sauce, you are in for a treat! And I bet you'll never go back to anything store-bought again!
To add more protein try my Chicken Fettuccine Alfredo, another delicious recipe!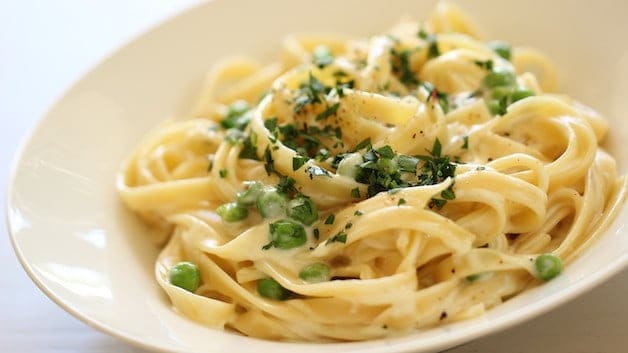 Watch My Fettuccine Alfredo Demo Below!
This video also includes recipes for my Fresh Tomato Sauce and Homemade Pesto Sauce, two other fantastic pasta sauces to make from scratch! For another quick and easy pasta recipe try my Orecchiette Pasta with Sausage and Baby Broccoli.
What does fettuccine alfredo have in it?
Fettuccine Alfredo is a really easy recipe to make with pantry staples and basics found in your refrigerator and freezer. It's definitely not the most "low-cal" recipe around, but boy is it good! The basic alfredo sauce includes heavy cream, butter, garlic, and freshly grated parmesan cheese.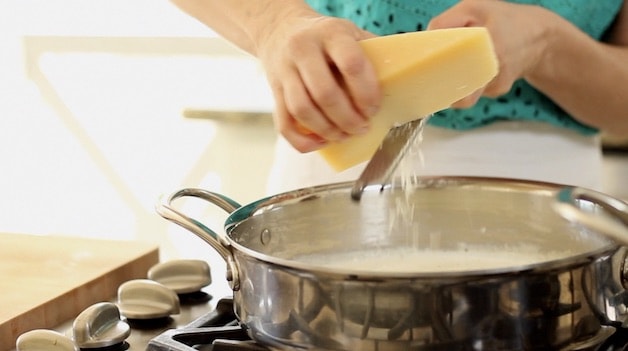 Add Some Freshness
I like to add frozen peas and fresh parsley to alfredo sauce because I find it cuts the richness a bit and creates a really wonderful freshness to the dish.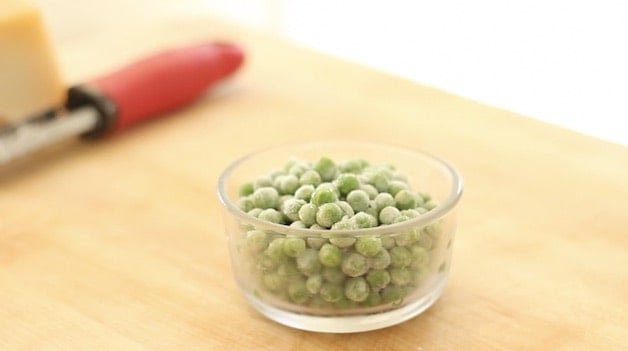 Step#1: Create the Alfredo Sauce
You'll melt the butter in a large deep skillet. I like to use salted butter because it will give your sauce more flavor.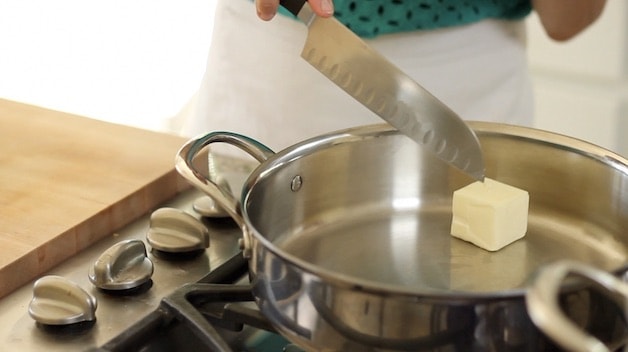 Make sure your skillet is deep enough to hold at least 1 ½ cups of heavy cream and to be able to toss the pasta in it after it's cooked.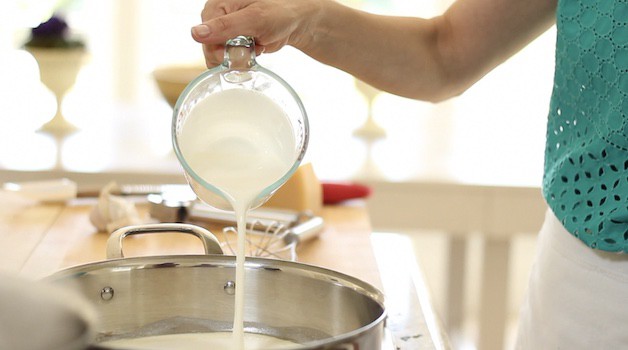 Step#2: Simmer and Season the Sauce
Alfredo sauce on its own is pretty bland. It's more of a creamy vehicle for flavors you will add to it!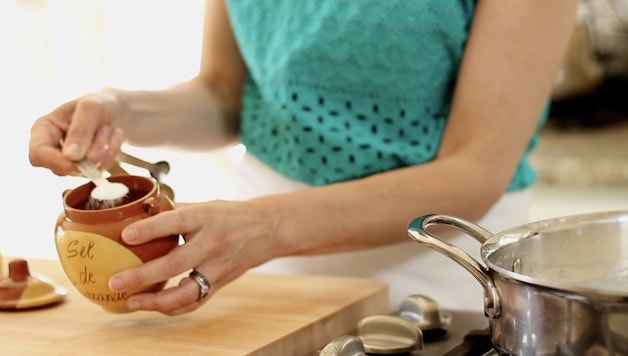 You'll add salt and pepper, and a good clove or two of minced garlic.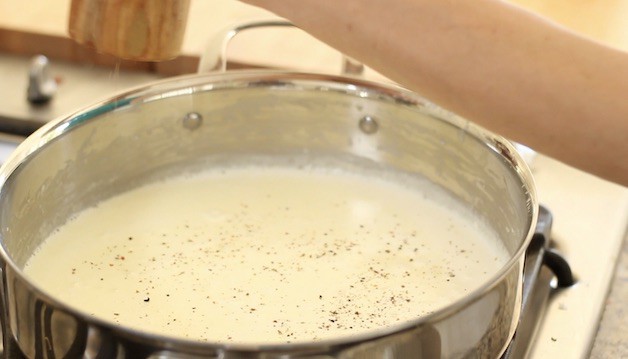 Use Fresh Garlic
If you have it, try and use fresh garlic (as opposed to already crushed garlic in a jar) you'll get a much better flavor from the fresh!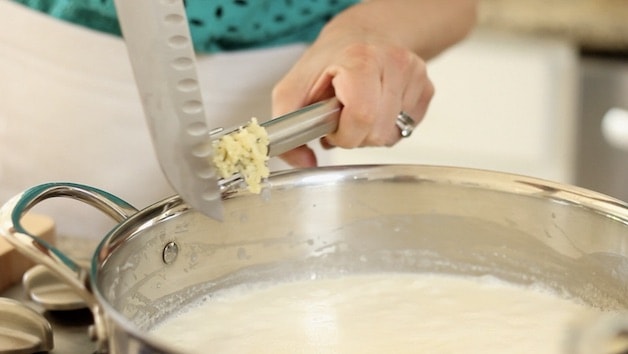 Use Freshly Grated Parmesan
Once the alfredo sauce has thickened and is simmering, you can add the freshly grated parmesan cheese. Take the time to use freshly grated parmesan cheese. Even though it's tempting to save a step and buy the already grated cheese, you'll get so much more flavor from the freshly grated.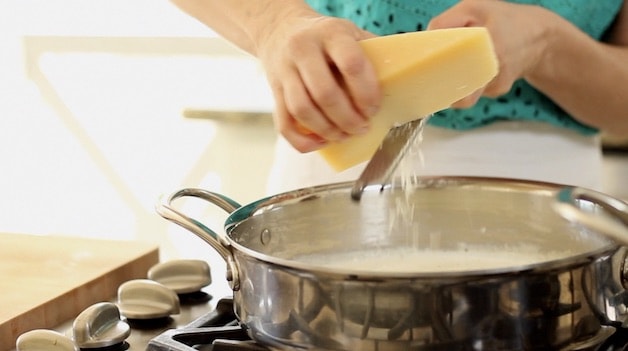 Then toss in the frozen peas. There's no need to thaw them first, the heat from the alfredo sauce will heat the peas and warm them through.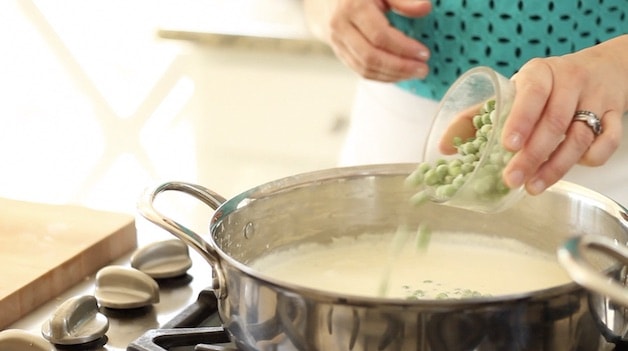 Step#3 Toss the Pasta
It's much better to add your pasta to your sauce, than your sauce to your pasta. This will assure every strand of pasta is being well-coated with the sauce.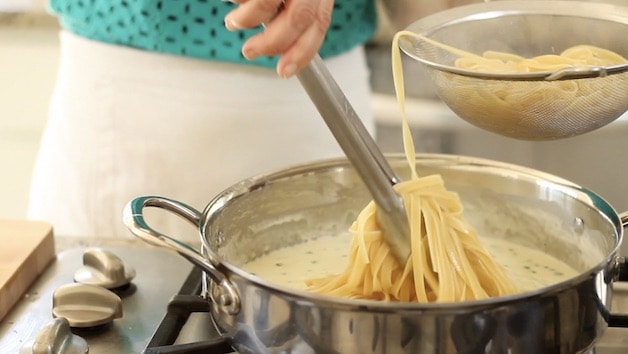 Your best friend for this operation is a pair of kitchen tongs. They make it really easy to toss the pasta as well as serve it into bowls.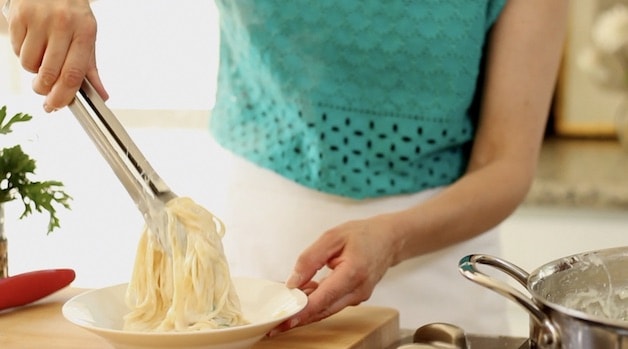 Serving and Garnishing:
I like to serve this pasta in shallow bowls because I find it creates a prettier presentation. Give your pasta a nice decorative twist in the bowl and then garnish with freshly chopped Italian parsley. You can also add a little more freshly cracked pepper on top too!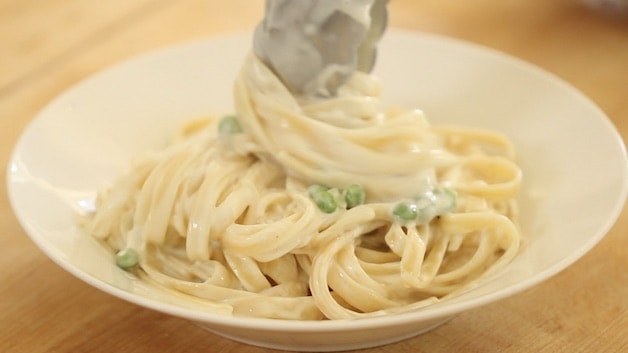 The combination of the rich alfredo sauce with the fresh peas and parsley is such a great spring flavor combination that is also so comforting too.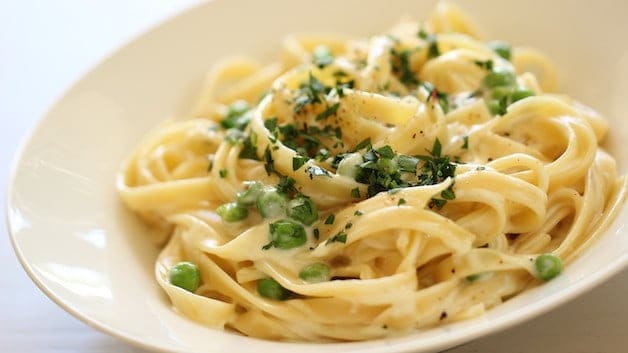 If You Enjoyed This Fettuccine Alfredo Recipe
Please leave a Rating and Review Below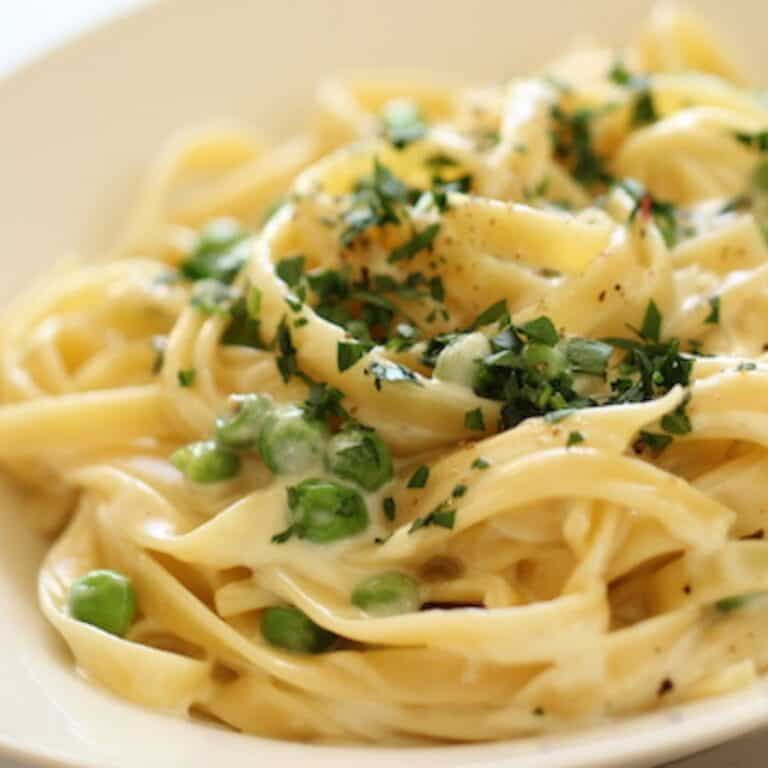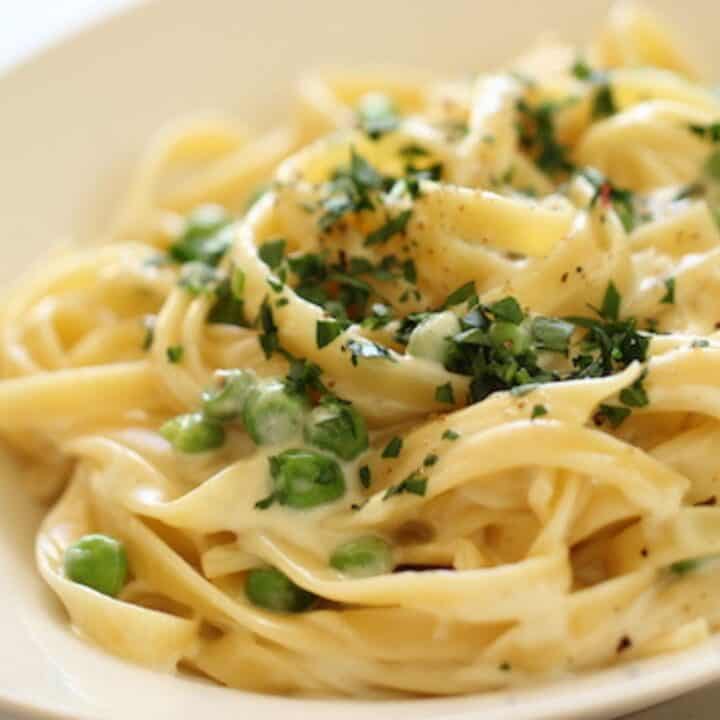 Easy Fettuccine Alfredo
A deliciously decadent fettuccine alfredo comes together quickly and easily! A perfect recipe to use up pantry and fridge staples.
Ingredients
½ lb (230 g) Fettuccini pasta
4 tablespoon (60 g) butter
1 ½ cups (350 ml) of heavy cream
1 clove garlic, minced
½ teaspoon (2.5 ml) salt
Freshly cracked pepper to taste
1 cup (90 g) Parmesan cheese, freshly grated
⅓ cup (50 g) of frozen peas
1 tablespoon (15 ml) of freshly chopped flat-leaf parsley
Instructions
Boil pasta according to package instructions.

Meanwhile, place butter in a large saute pan and melt on medium flame. Add heavy cream. Simmer on medium heat until bubbling and thickened. Reduce heat to low. Add garlic, salt, and pepper. Stir to combine.

Add cheese, stir to combine and melt. Add peas and heat on low until peas are warmed through.

Add drained pasta to the sauce and toss to coat.

Serve in shallow bowls and top with fresh pepper and freshly chopped parsley.
Notes
To make this a chicken fettuccine alfredo you would just cut two skinless chicken breasts into bite-sized pieces. Season with salt, pepper and 1 teaspoon of Italian seasoning.
Then melt 1 tablespoon of butter with 1 tablespoon of olive oil.  Saute on each side until cooked through and then add the chicken to the finished alfredo sauce.
Take the time to use freshly grated parmesan cheese. Even though it's tempting to save a step and buy the already grated cheese, you'll get so much more flavor from the freshly grated. 
Nutrition Information:
Yield:

4
Serving Size:

1
Amount Per Serving:
Calories:

99
Total Fat:

7g
Saturated Fat:

4g
Trans Fat:

0g
Unsaturated Fat:

2g
Cholesterol:

20mg
Sodium:

54mg
Carbohydrates:

7g
Fiber:

1g
Sugar:

1g
Protein:

3g