You will love this easy Apricot Galette! It's a beautiful, rustic-style dessert that can be whipped up in a flash. Much easier than making a pie or a tart but equally delicious!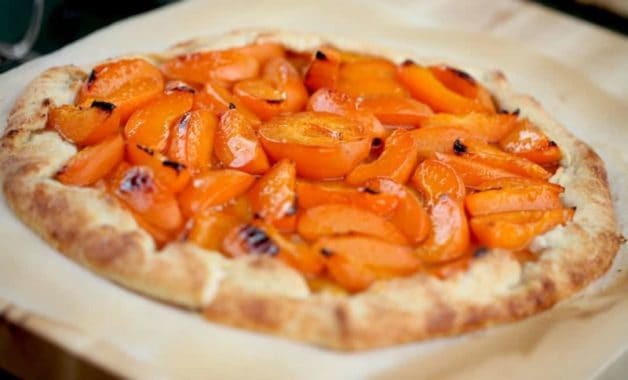 Apricots are now in season and years ago I kinda waltzed by them thinking in the market thinking, "aw aren't they cute, but I think I'll hold out for the peaches." But boy was I wrong!
I didn't develop a true appreciation for them until I started to grow them myself (they do very well in Southern California!) and one year we had such a bumper crop of them I wasn't sure what to do with them all! That's when my Apricot Galette recipe was born.
How do you make an Apricot Galette?
It's a really easier dessert to whip up as far as pies goes, because it doesn't need to be perfect. In fact, the more "free form" the better!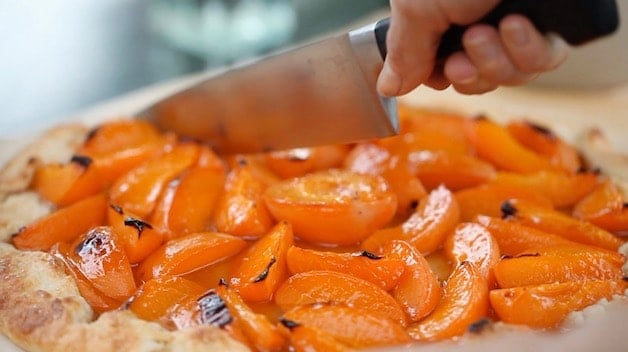 You'll make a simple crust, which doesn't require a food processor, that's the best part! Spread the dough with apricot jam, top with fresh apricots tossed with sugar, and bake! It's really as simple as it gets!
WATCH MY APRICOT GALETTE VIDEO BELOW
STEP#1: Make the Dough
I love this dough because it doesn't require a food processor! You can mix it up in a bowl, and work the butter and flour with your hands.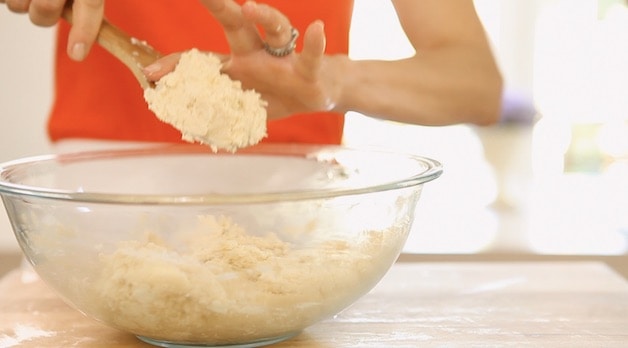 Then roll it out into a large circle. The best part is, it doesn't need to be perfect. There's something beautiful about the "free-form" shape.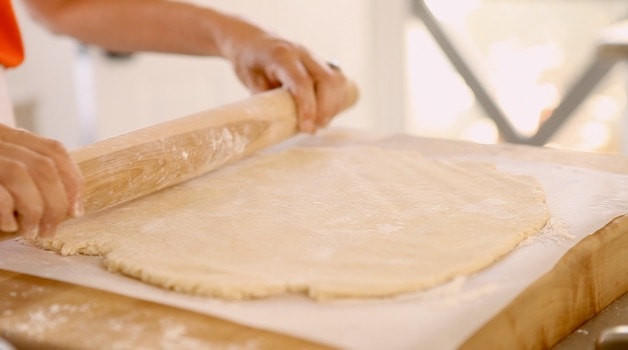 STEP#2: Spread The Jam
You'll spread the base of the galette with some Apricot jam. Since apricots aren't the "juiciest" fruit, they need a little help to create a nice sweet base and a little apricot jam does the trick!
I like to use the reduced-sugar variety from Trader Joe's since it's too too sweet and has the right amount of tartness too!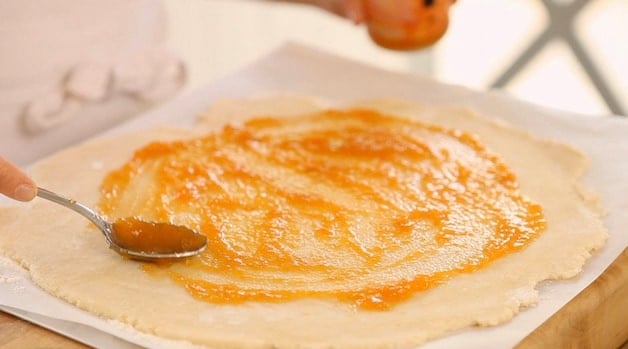 STEP#3: Toss the Apricots
Then you'll quarter your apricots and toss them with with sugar.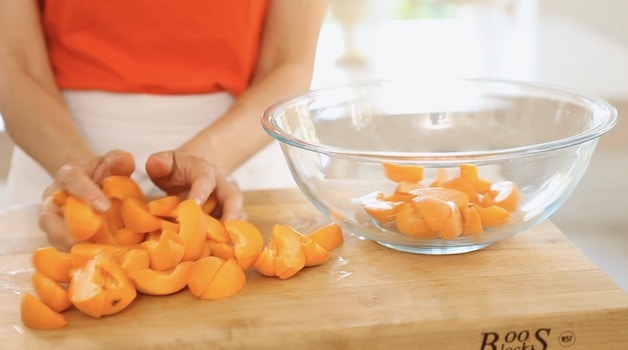 STEP#4: Crimp the Dough
Place them on top of your dough and create a "crust" by folding over the edge of the dough and crimping it together.
STEP#5: Add Sugar and Bake
To create a nice caramelized top, add some turbinado sugar the the top of your apricots, just before baking. And pop in the oven!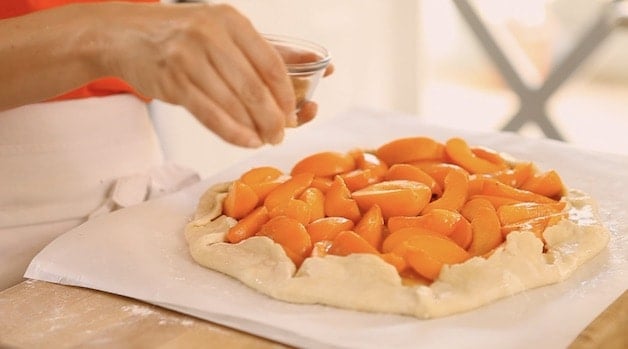 Serve your apricot galette right on the parchment paper on a large cutting board. It's an easy way to serve it since it can be sliced right at the table.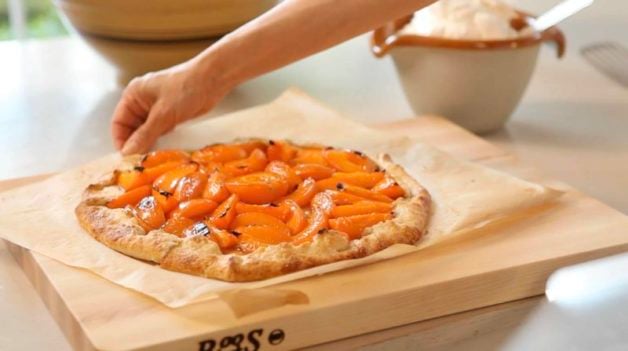 Plus, galettes are a bit larger than a standard pie or tart so they rarely fit on a cake stand. I also think it completes the rustic-charm to serve them on a large board.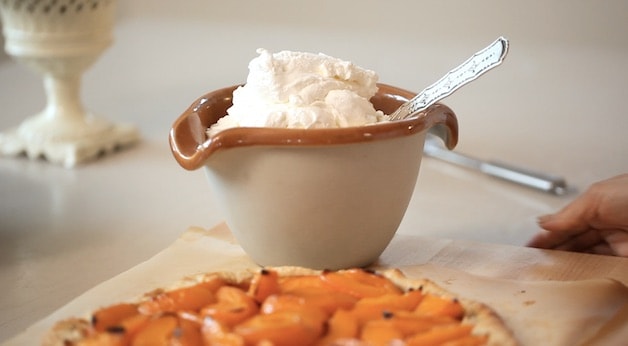 Serve with homemade whipped cream flavored with Amaretto liqueur (recipe below!) and you'll have one sensational spring time dessert worthy of your Easter or Mother's Day table! xx Enjoy
More Great Spring Recipes!
Please let me know if you make this apricot galette recipe by leaving a rating and review below
Follow me on Youtube, Pinterest, Instagram, Facebook & Twitter!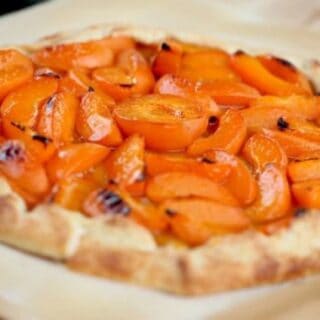 Apricot Galette
Total Time:
1 hour
5 minutes
An apricot galette for me is the truest form of simple elegance! This recipe is as easy as it gets! No food processor required and perfect for any spring time occasion.
Ingredients
For Pastry:
2 1/4 cups (270 g) flour
2 tbsp (25 g) sugar
1 tsp (5 ml) salt
1 cup (240 g) of cold salted butter*, diced
½ cup (120 ml) very cold water
*You can also use unsalted, but I find the salted gives a richer, deeper flavor to the pastry.
For the Galette
2 pounds (900 g) of semi-firm apricots, pitted and cut in quarters
1/4 cup (50 g) of sugar
1/3 cup (40 g) of flour
½ cup (120 ml) of reduced sugar Apricot jam + ¼ cup (60 ml) for garnish
1 tbsp (13 g) turbinado sugar
For Amaretto Whipped Cream:
4 cups (950 ml) heavy cream
¼ cup (25 g) powdered sugar
¼ cup (60 ml) Amaretto*
Instructions
Place flour, sugar and salt in a large bowl and whisk to combine. Add butter and press the butter between your fingers, combining it with the flour, as you go. The idea is to create a coarse meal of butter and flour.
Add water and mix with a wooden spoon until a dough forms. Flour your hands and turn it into a ball. Wrap in plastic and refrigerate for at least 30 mins.
Roll out dough on a lightly floured piece of parchment paper (that is sized to fit a flat cookie sheet). Roll out to about 1/8" thick, in the form of a large circle, about 15-16" in diameter. Transfer dough, by sliding the cookie sheet underneath the parchment, to position the parchment paper and dough, on top.
Spread a thin layer of apricot jam onto the dough, creating a large circle, and leaving about 1 inch border all around.
Then toss the fresh apricots with the sugar, and flour (sorry forgot to show the flour part in the video, but it should have a little flour mixed in to avoid the galette from being too runny)
Arrange the apricots decoratively in circular rows, or just pile them on top of the jam. Then place 1-3 apricot halves in the center to create a decorative center.
Then fold the dough border over onto itself to create a crust border of about 1-2 inches. Brush the crust with water and sprinkle with the turbinado sugar. Place the cookie sheet with the galette, in the fridge for 15 mins (or the freezer for 10 mins) just to firm up before baking. Otherwise if it hits the oven without the dough being firm, the butter will melt too quickly and your galette will not hold its shape.
Bake at 425F (218 C) for 20 mins until golden brown, (if you like the look of black scorch marks on your galette, which I personally like because it reminds me of the apricot tarts in France, then go 450F (232C) for 15mins) then reduce to 350 (176C) for 5-7 mins, just to soften the apricots and to be sure they are well baked.
Allow to cool slightly and then for a nice "glossy finish" heat ¼ cup apricot jam in the microwave or in a sauce pan, until it reaches a liquid consistency. Then brush the jam on the finished galette, with a pastry brush, to give the apricots a shinny, glossy finish.
Serve the galette with homemade Amaretto whipped cream.
Enjoy!
For whipped cream, combine ingredients in a bowl and whip with an electric mixer until slightly stiff peaks form. This can be made the day ahead and covered and placed in the fridge. Just whisk it up with a spoon before serving.
Notes
For plain whip cream skip the Amaretto, and add 2 tbsp (30 ml) vanilla extract, or for almond flavor without the alcohol add 1-2 (15/30ml) tbsp of Almond extract.
Almond extract can be strong. So try 1 tbsp (15 ml) of Almond extract first, and if you'd like more flavor than add 2 tbsp (30 ml).
Nutrition Information:
Yield:

8
Serving Size:

1
Amount Per Serving:
Calories:

132
Total Fat:

9g
Saturated Fat:

5g
Trans Fat:

0g
Unsaturated Fat:

3g
Cholesterol:

26mg
Sodium:

53mg
Carbohydrates:

12g
Fiber:

0g
Sugar:

4g
Protein:

2g