This lobster thermidor recipe is a classic dish that deserves to be in your repertoire. It's elegant and fancy and oh so delicious! It's the perfect "special occasion" dish that will impress just about anybody!
It's a great holiday recipe that works for Christmas, New Year's Eve or even Valentine's Day!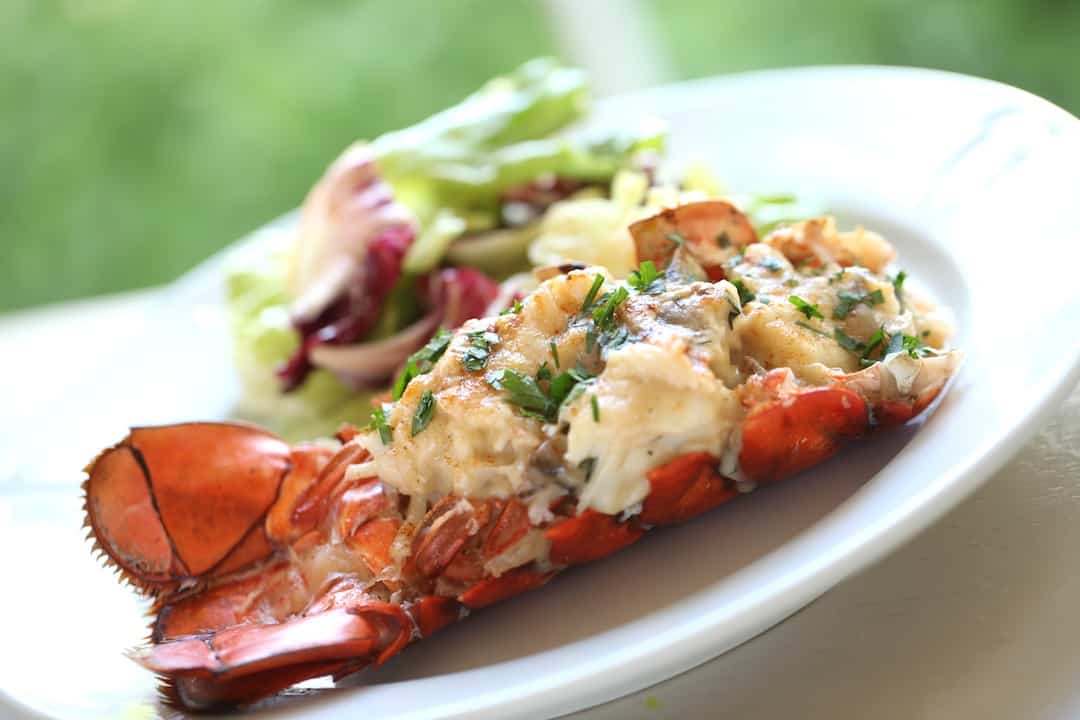 Looking for more lobster recipes? Try my Bouche a la Reine with Lobster, another fantastic lobster recipe that can be made in advance.
What to serve with Lobster Thermidor?
Because this dish is pretty rich I think a tossed salad with a simple vinaigrette is your best bet! If you are looking for a starch, then I would do white rice tossed with butter and parsley.
Watch My Lobster Thermidor Video Tutorial Below!
Subscribe to My YouTube Channel and Never Miss a Video!
My easiest French vinaigrette recipe is so easy you can commit to memory and always be "at the ready" whenever a dressing is needed! (see recipe card below)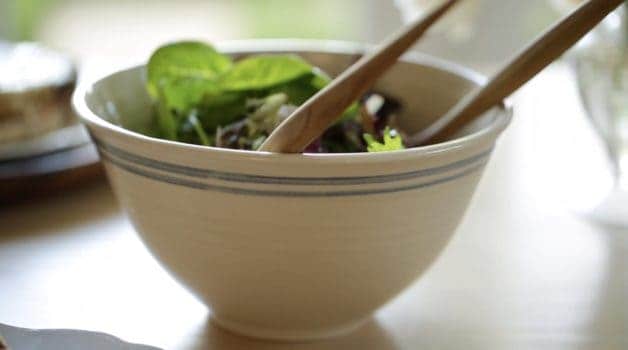 How do you make a classic Lobster Thermidor Recipe?
Lobster Thermidor is actually pretty easy to make. You'll begin by roasting your lobster tails, I think you get the best flavor that way, then extract the meat and save the shells.

Then you'll sauté up some vegetables, add some sherry and reduce. You'll create a roux and add some fish stock, cook until a smooth sauce develops, add back in your veggies, lobster, heavy cream, and seasonings, spoon into the lobster shells, top with cheese broil, and serve!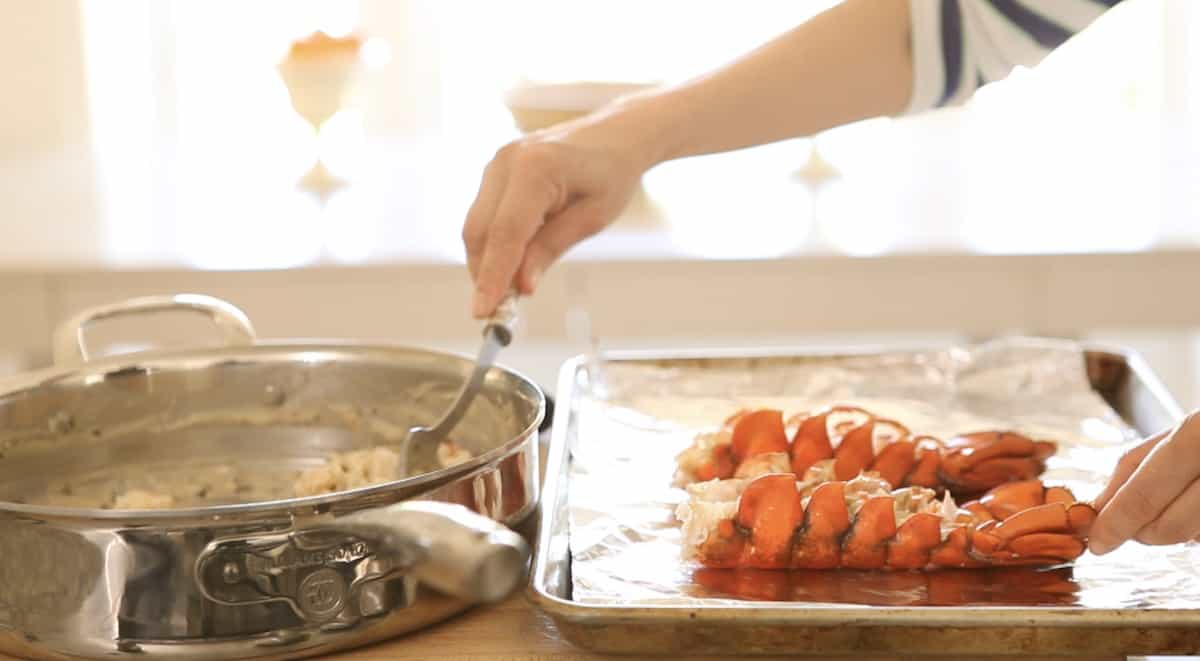 This is such a fancy dish to make at home, your guests will oooh and ahhh as soon as you bring it to the table!
STEP#1: Use Lobster Tails Over a Full Lobster
Lobster tails are not only more affordable, but they are so much easier to work with, especially if you are squemish about boiling live lobsters. I also find the lobster tail meat is the tasiest part of the lobster too!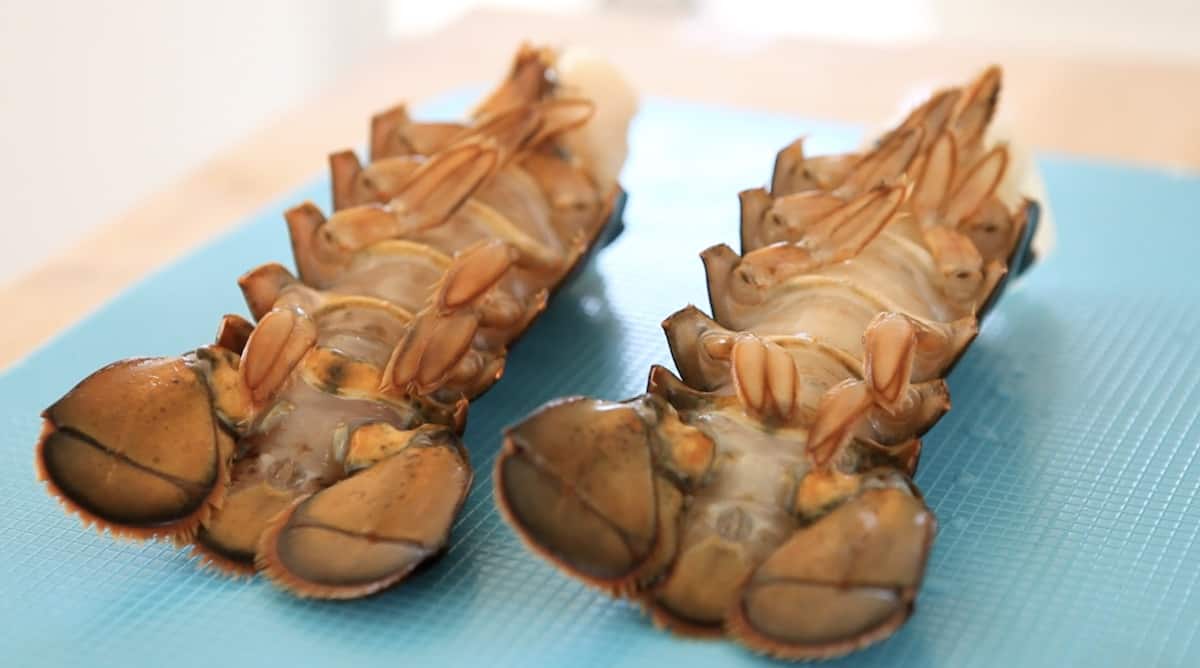 Roasting Brings Out The Best Flavor
The other thing that makes this recipe easy, is the lobster is roasted, over steamed or boiled. At 400F it only takes 15-20 minutes. This part can also be done a day ahead, and once cooled you can store the tails in the refrigerator until ready to pick out the meat and serve.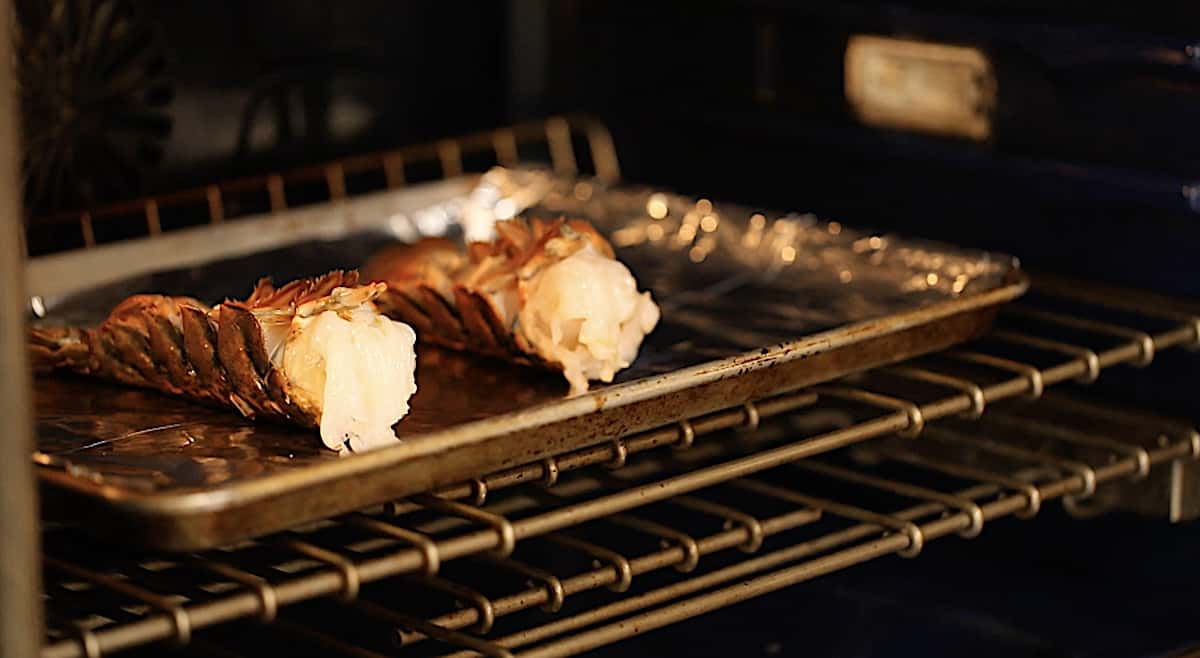 STEP#2: Chop the Lobster Meat
To release the lobster meat, cut the shell with scissors on each side of the shell to release the center panel. This will allow you to release the lobster meat in one piece, and create a lobster shell that will be easy to fill for serving.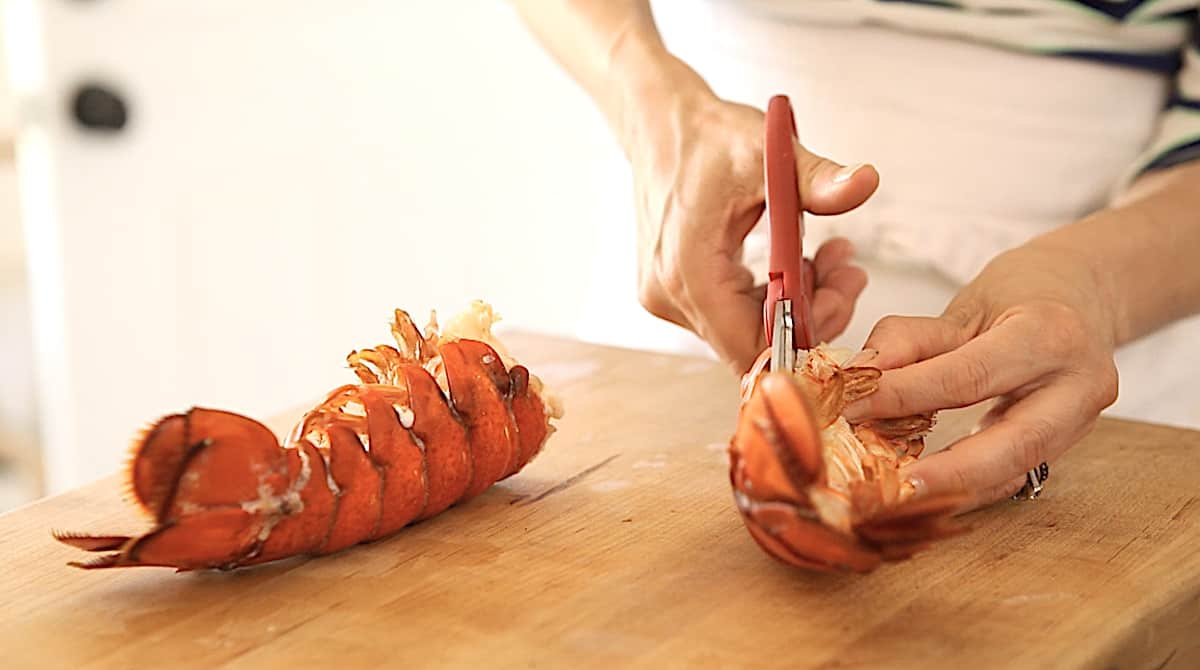 Then cut the lobster meat into bite sized pieces and set aside. You'll place the lobster meat into the sauce at the last-minute. The warmth from the sauce will also reheat the lobster meat too.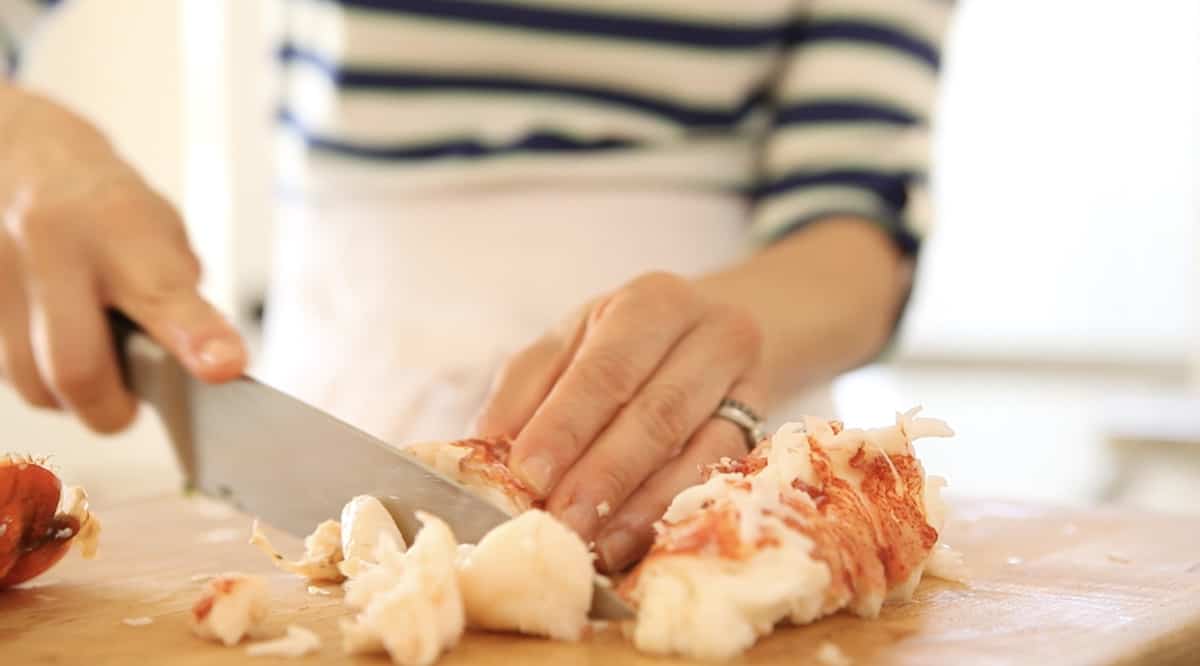 STEP#3: Make the Lobster Thermidor Sauce
In a large skillet, sautee the shallots until fragrant and translucent. Then you'll add the mushrooms and continue to cook until both are soft and fragrant.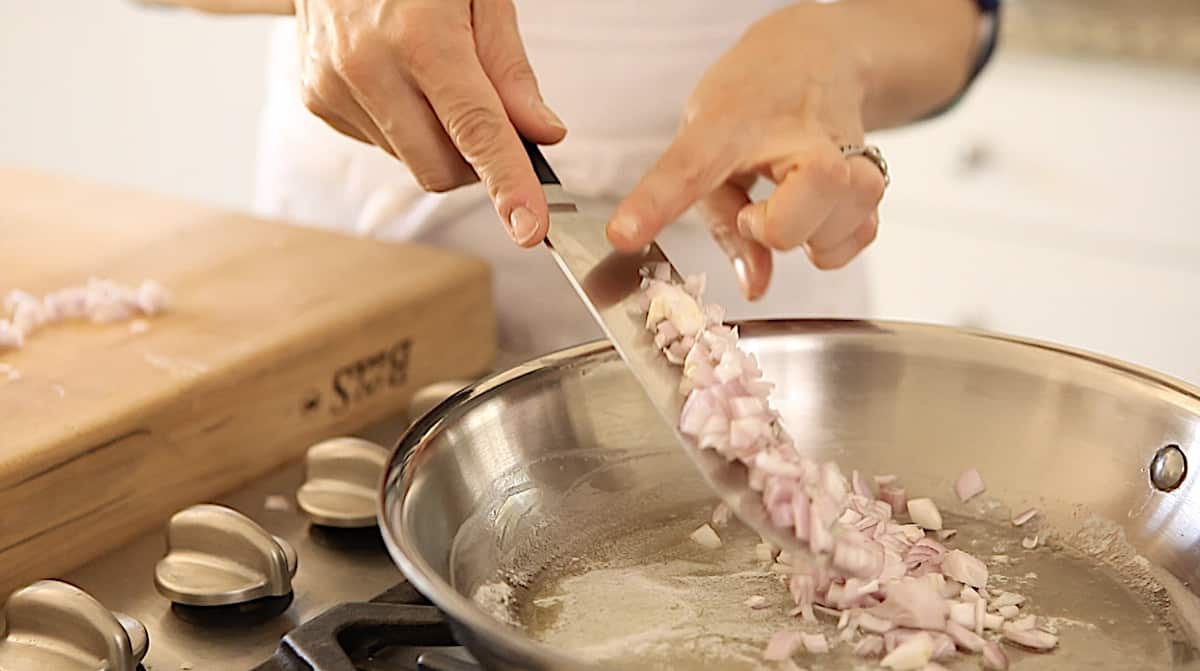 Slicing Mushrooms Vs. Store-Bought Sliced Mushrooms
For this recipe, it's better to slice the mushrooms yourself rather than buy pre-sliced mushrooms. I realize during the holidays it's tempting to buy those pre-sliced mushrooms, but they are sliced too thick to fit in the lobster shells.
Slicing the mushrooms yourself will create a much thinner mushroom slice which will create a better texture for your lobster thermidor sauce, and allow the lobster meat to be the most dominate piece in the sauce.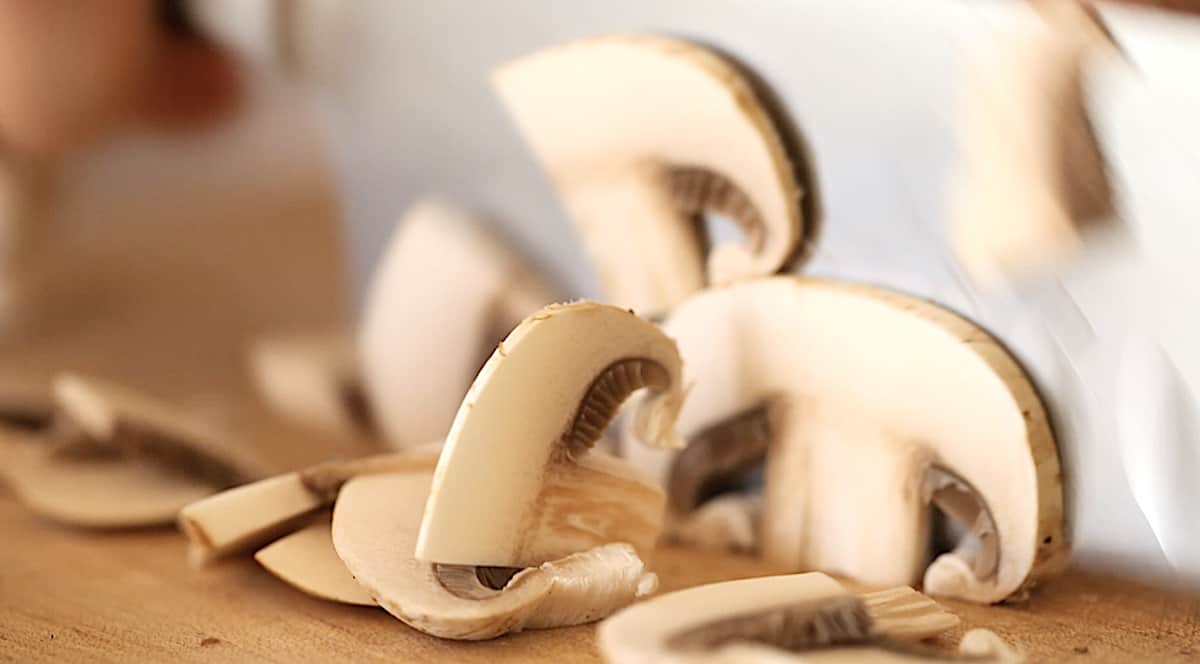 Make-Ahead Tip:
After adding the sweet sherry and reducing the shallot and mushroom mixture you can transfer it to an airtight container and refrigerate until ready to complete the sauce

STEP#4: Finishing the Lobster Thermidor Sauce
The day you plan to serve the Lobster THermidors, all you'll have to do is make the sauce add the shallot and mushroom mixture and the lobster meat.
The base of the sauce is a roux, which is created with butter and flour and then thined with fish stock and thickened with heavy cream. Once the mushroom and shallot mixture is added back in, you'll add the lobster meat.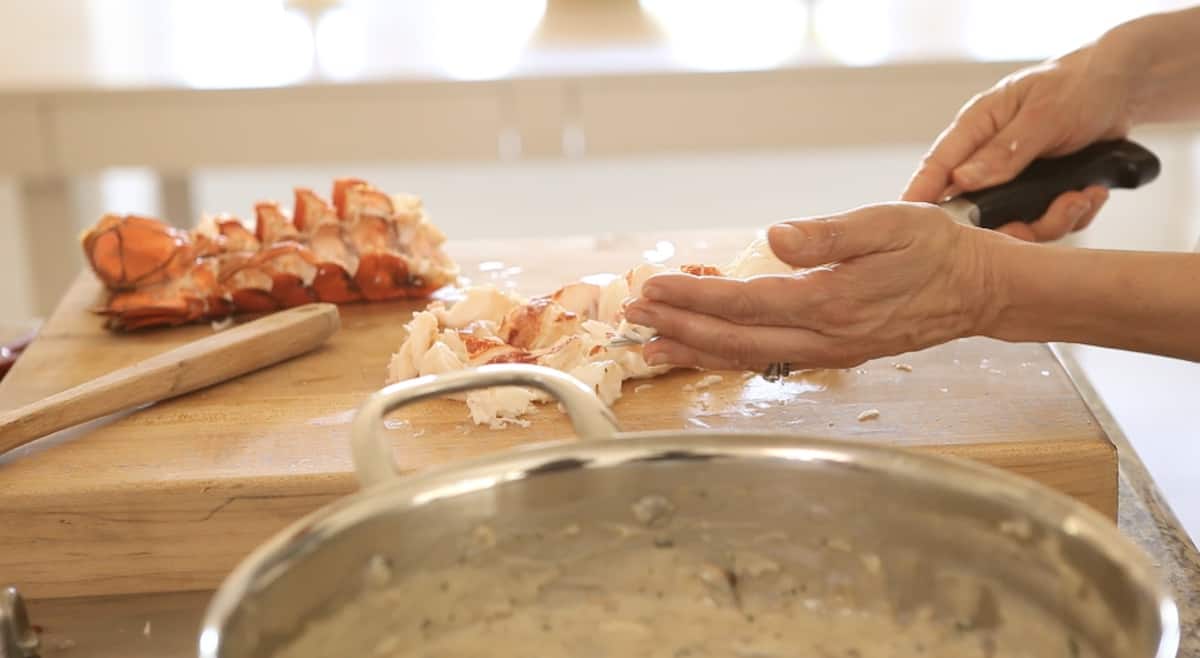 STEP#5: Serving the Lobster Thermidor
Once the sauce is ready and the lobster meat has been warmed through, spoon the mixture back into the shells.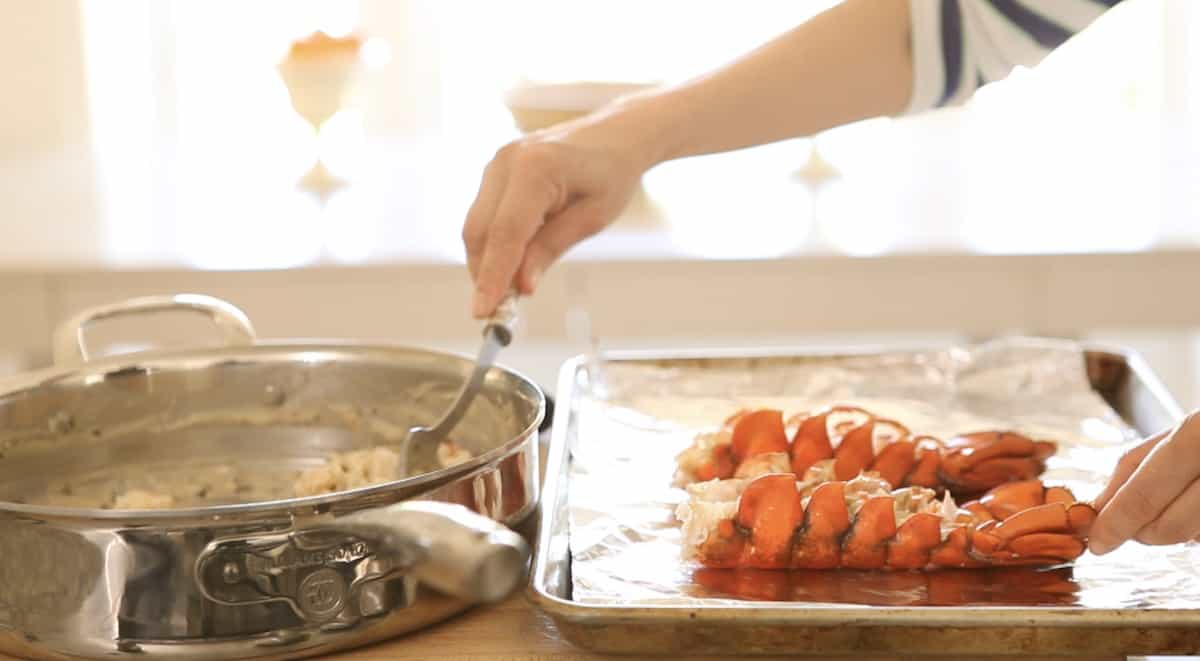 It's also nice to add a little freshly grated parmesean cheese on top to allow the tops to get nicely browned and crispy.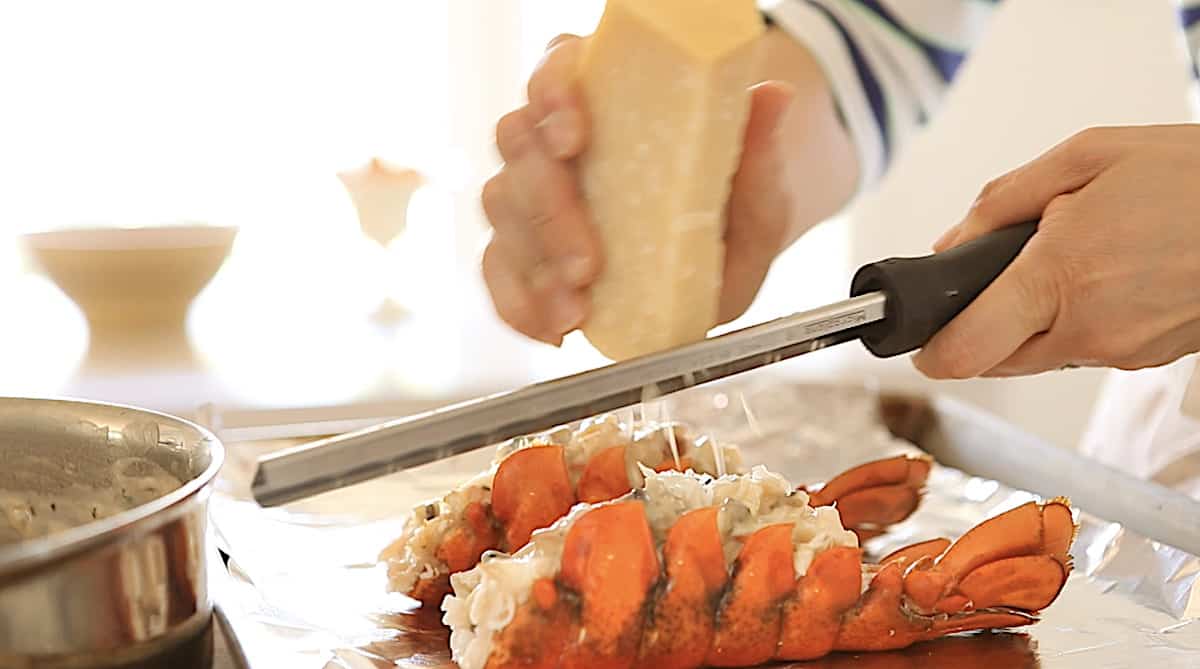 Then add a little freshly chopped parsley for some greenery and freshness. It's also a nice compliment to the richness of the sauce.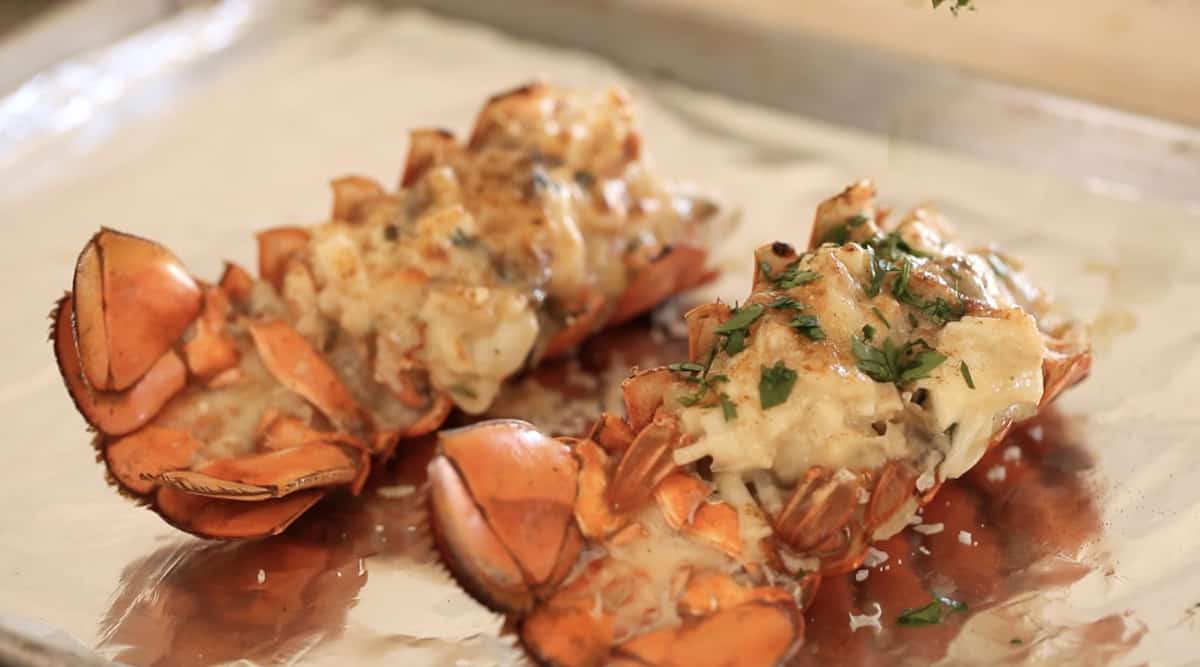 Serve the lobster thermidors with the salad, tossed in the vinaigrette. One of my favorite white wines to serve with this dish is either a Sauvignon Blanc or a Sancerre.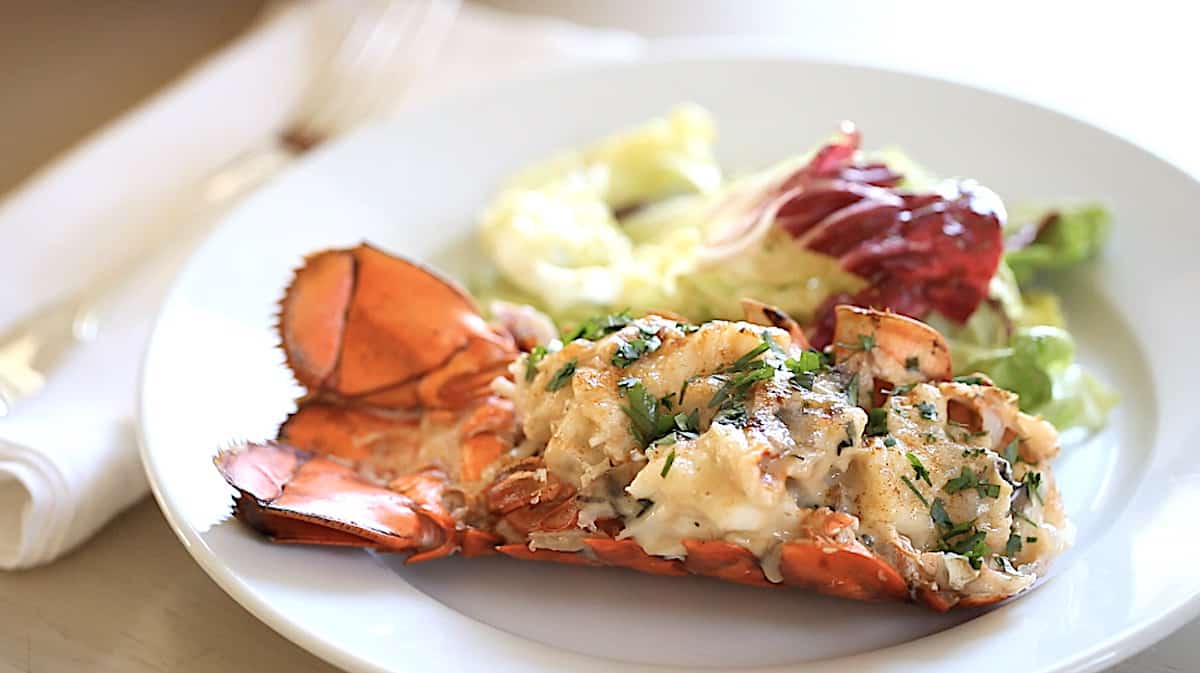 I'm always amazed at the wide variety of Sancerre wines available at Trader Joe's! I can usually find a great bottle for under $15.00!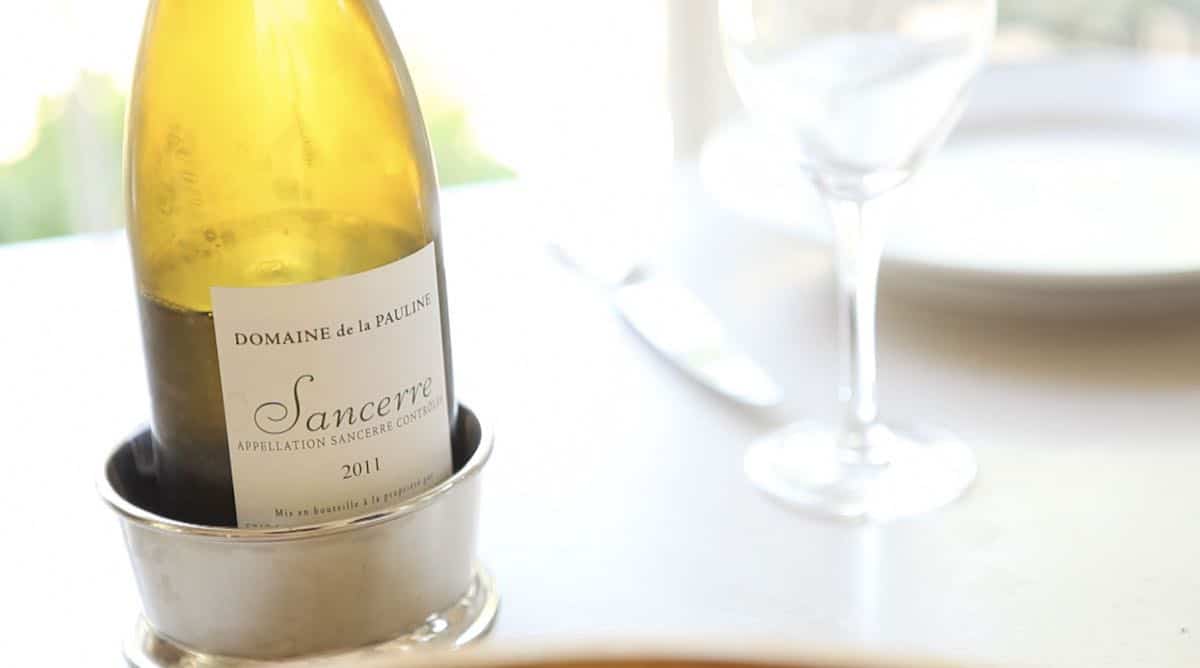 MORE SEAFOOD RECIPES!
Please let me know if you make this recipe
by leaving a rating and review below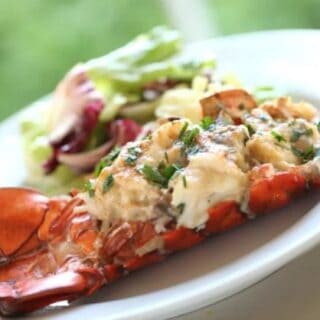 Beth's Lobster Thermidor
A Lobster Thermidor Recipe is a classic that deserves to be in your repertoire. It's elegant and fancy and oh so delicious!  It's the perfect "special occasion" dish that will impress just about anybody! It's a great one for Christmas Eve or even Christmas Day.
Ingredients
2 8-0z Lobster Tails
1 tsp olive oil (5 ml)
1 tbsp butter (15 g)
2 shallots
½ cup (75 g) sliced mushrooms
¼ cup (60 ml) of sweet sherry
2 tbsp (30 g) butter
2 tbsp (15 g) flour
¾ cup (180 ml) of fish stock
¼ cup (60 ml) of heavy cream
salt and pepper to taste
1 tbsp (15 ml) fresh tarragon
2 tbsp (11 g) freshly grated parmesan cheese
Salad Dressing:
1 tsp (5 ml) mustard
1 tbsp (15 ml) red wine vinegar
6 tbsp (90ml) grapeseed or vegetable oil
1 minced shallot
salt and pepper to taste
Instructions
Preheat oven to 400F (200 C).
Cut lobster tails up the center to expose the meat, with kitchen shears. Drizzle with olive oil. Place on a rimmed cookie sheet and bake for 15-20 mins until lobster meat is cooked through.
Set aside and allow to cool.
Meanwhile, melt 1 tbsp of butter in a large sautee pan, then add shallots and cook until translucent, add mushrooms and cook until they release their juices. Add sherry, and cook until reduced by a third. About 2 mins.
At this point you could allow mixture to cool, refrigerate and store up to 2 days until ready to use.
Cut the rest of the lobster's underside tail shell, to remove and expose the full shell and remove the cooked meat. Remove the meat and save the shells for presentation. Roughly chop the meat into bite sized pieces and set aside.
In a large skillet melt 2 tbsp of butter until foamy, add the flour and mix with a spoon until a smooth paste forms. Then slowly add the fish stock, whisking until a smooth sauce develops. Then add the mushroom mixture, and the heavy cream. Cook for 1 mins until thickened. Add the salt, pepper and tarragon. Then add the cooked lobster.
Spoon the mixture back into the shells, top with cheese and broil until cheese and mixture bubbles.
Serve in the shells, along with a tossed salad and crisp glass of Sancerre wine. Bon Appétit!
For salad Dressing: In a small bowl combine mustard and vinegar.
Then slowly whisk in the oil, a little at a time, whisking all the while until an emulsion forms and dressing is combined.
Add shallot and salt and pepper. Toss with greens!
Nutrition Information:
Yield:

2
Serving Size:

1
Amount Per Serving:
Calories:

641
Total Fat:

18g
Saturated Fat:

7g
Trans Fat:

0g
Unsaturated Fat:

9g
Cholesterol:

331mg
Sodium:

1221mg
Carbohydrates:

19g
Fiber:

2g
Sugar:

4g
Protein:

95g