A deconstructed Key Lime Pie in a cup! These Key Lime Cups are a great Easter dessert idea or perfect for Mother's Day. Includes video tutorial too (see below!)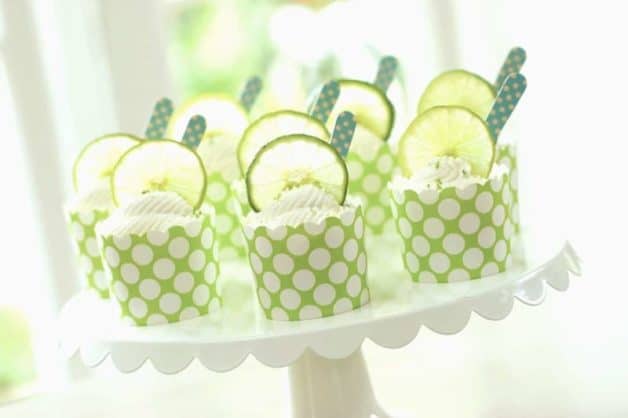 Sometimes there are times when you want the taste of pie, but just don't want to mess around with making one 🙂 that's when I say turn to the "deconstructed" version instead. For springtime entertaining, I always rely on this recipe. It's fast, easy and oh so good! (And it can be made the day before! My kind of dessert!)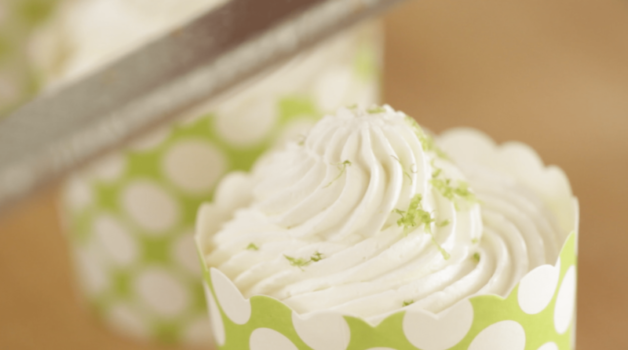 Subscribe for weekly recipes
and new videos!
How do you make key lime pie cups?
Really they are as simple as it gets! Essentially you just fill your cups with crushed graham cracker crumbs...top with a lime flavored custard, add homemade whipped cream and garnish with lime zest and a lime wheel and seriously, that's it!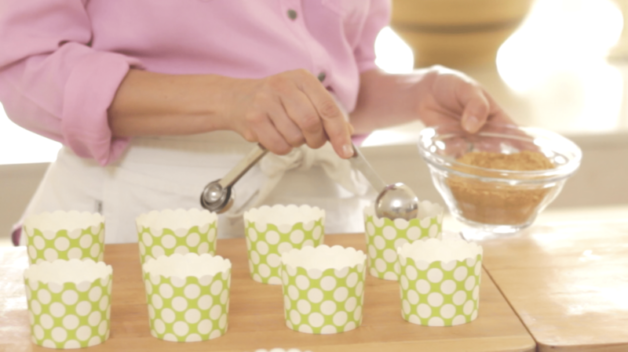 When filling the cups measure out 2 tablespoons of graham cracker crumbs..add to cups and then use an ice cream scoop to portion out the lime filling.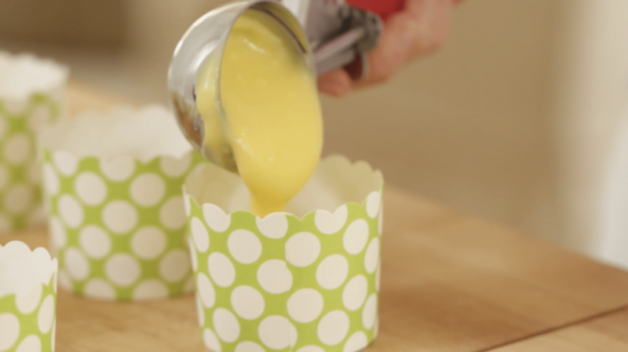 Top with whipped cream and freshly grated lime zest..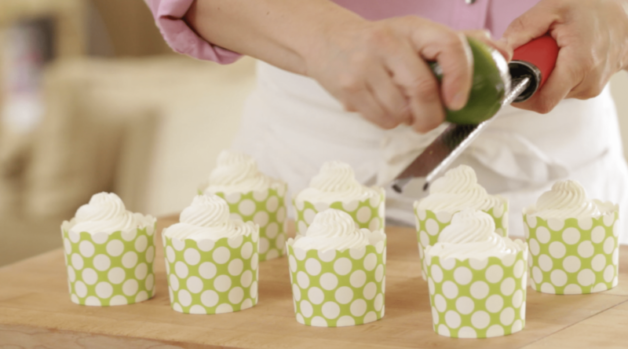 This dessert really comes to life with some fun paper cups and serving spoons...and no dishes to wash! (see below for source)
Can you make key lime pie cups ahead of time?
Yes! That's the best part! You can absolutely makes these a few hours before and keep uncovered in your fridge. Then all you have to do is bring them out, add the spoons and serve!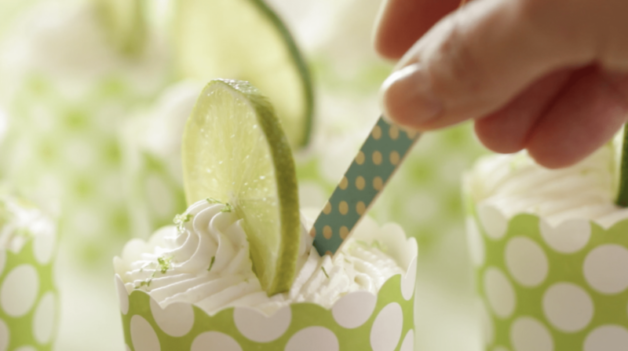 You can order the cups and spoons from Simply Baked they have so many cute paper products you are sure to fall in love with them! (coupon code has since expired, but still a very reasonably priced product!)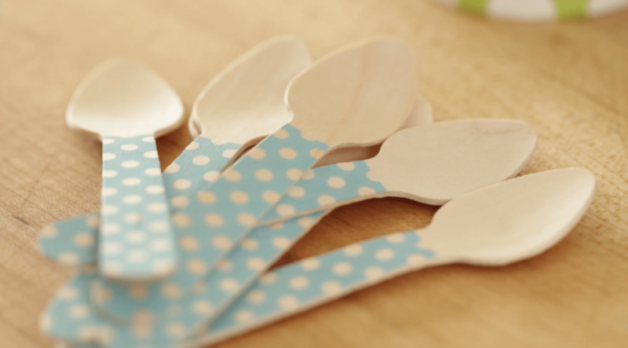 This makes for a very cute Easter dessert or a springtime treat for Mother's day or baby or bridal showers.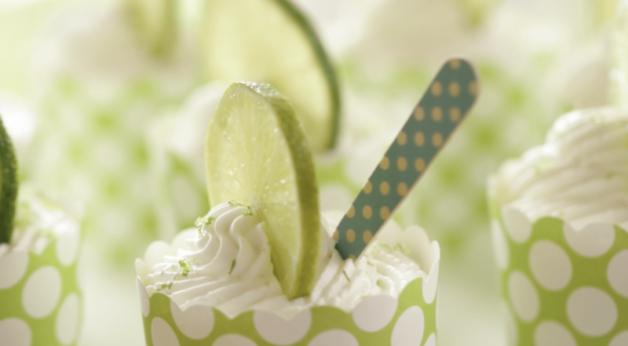 WATCH MY KEY LIME CUPS VIDEO BELOW
SUBSCRIBE TO MY YOUTUBE CHANNEL (it's free!) and never miss a recipe! New videos post each Saturday!
Fancy some more mini desserts? Try my Blueberry Tartlettes, Earl Grey Pound Cake Recipe, or S'more Pudding Pot Recipe.
Please let me know if you make my key lime cups recipe by leaving a rating and review below.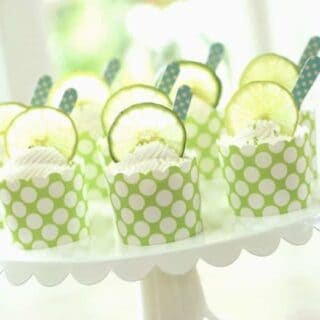 Beth's Key Lime Cups
A deconstructed Key Lime Pie in a cup! These Key Lime Cups are a great Easter dessert idea or perfect for Mother's Day. Includes video tutorial too.
Ingredients
7 Graham Crackers
6 egg yolks
⅓ (40 g) cup cornstarch
¼ (1.25 ml) teaspoon salt
1 ½ cup (350 ml) water
¾ cup (150 g) + 1 tablespoon (13 g) sugar
2 tablespoon (30 g) butter
⅔ cup (160 ml) fresh lime juice (about 3 large limes)
WHIPPED TOPPING:
2 cups (475 ml) heavy cream
2 tablespoon (13 g) powdered/confectioners/icing sugar
1 teaspoon vanilla (5 ml)
GARNISH:
2 whole limes for garnish (wheels and zest)
Instructions
Place graham crackers in a zip lock bag and seal it. Then whack the bag with a rolling pin, crushing up the crackers to form a fine crumb. Set those aside.
In a medium saucepan heat of water with sugar until sugar is dissolved.
Meanwhile in a large heat safe bowl, crack in 6 egg yolks. To that add cornstarch (cornflour) and salt. Mix together until a pale yellow paste forms.
Then slowly add the hot sugar water to the egg mixture in a steady stream whisking all the while until a thin egg mixture forms. Pour this mixture back into the sauce pan and cook on medium flame, while stirring frequently.
In just a few minutes the mixture will thicken up and start to resemble a pudding. Once you achieve a pudding consistency. Remove your pan from the burner, place on a cool burner, pop in the butter and stir and then add the lime juice and stir until thinned out and smooth.
Immediately transfer your mixture to a clean heat safe bowl (otherwise it will continue to cook and thicken in the sauce pan! If that happens thin back out with more butter and if still too thick you can add more lime juice or a little water.
Place some plastic wrap on top of lime curd, touching the surface so a skin does not form, and refrigerate.
To make the whipped cream topping place all ingredients in an electric mixer and whip until stiff peaks form. Transfer to a pastry bag, fitted with your favorite tip. Refrigerate cream.
NOTE: Everything up until this point can all be done the day before serving.
The day of serving, assemble your cups.
TO ASSEMBLE:
Lay out 8 of your baking cups (you can also use any decorative glass too). Place 2 tablespoon (30 ml) of crumbs in the bottom of each cup. Then with an ice cream scooper, place lime curd on top. It fill about ¾ of the way full.
Then pip your whipped cream on top in a counter clockwise circular fashion creating a little mound. You can pop these in he fridge several hours before serving.
TO SERVE:
Moments before serving, garnish with fresh lime zest, and a thinly slice lime wheel on top. Place spoons inside each cup. Et voila!
Nutrition Information:
Yield:

8
Serving Size:

1
Amount Per Serving:
Calories:

154
Total Fat:

7g
Saturated Fat:

3g
Trans Fat:

0g
Unsaturated Fat:

4g
Cholesterol:

147mg
Sodium:

142mg
Carbohydrates:

19g
Fiber:

1g
Sugar:

5g
Protein:

3g