My S'more Pudding Pot Recipe is your new favorite summer dessert idea that will WOW a crowd! Just top your puddings with crushed graham crackers and broil the marshmallows and you're DONE! These desserts are great for entertaining families, since both kids and grown-ups go nuts for these!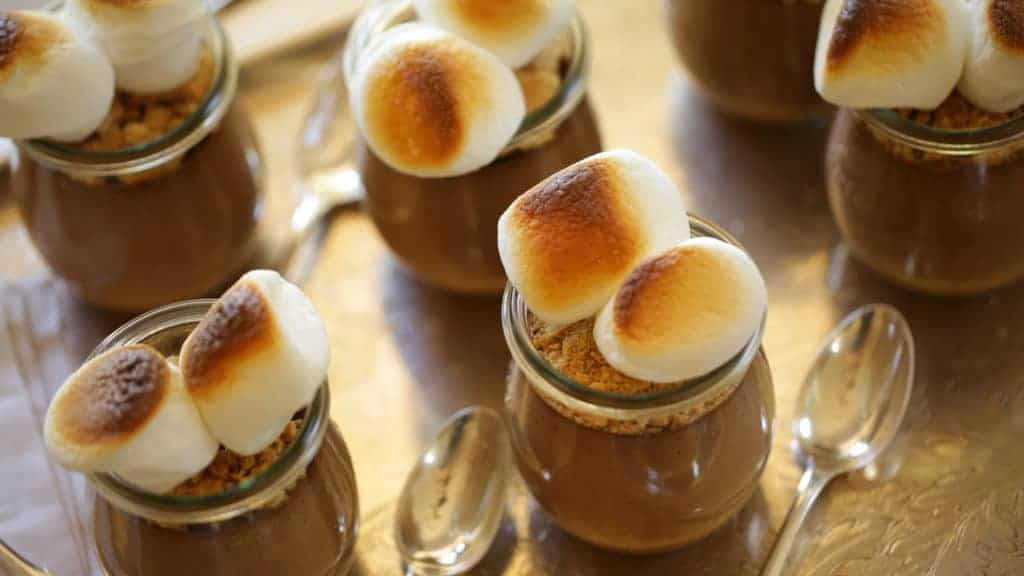 These cute little confections only look complicated! The best part is, you can make the puddings the day before (in fact they are even BETTER if you make them the day before) and chill in your fridge overnight.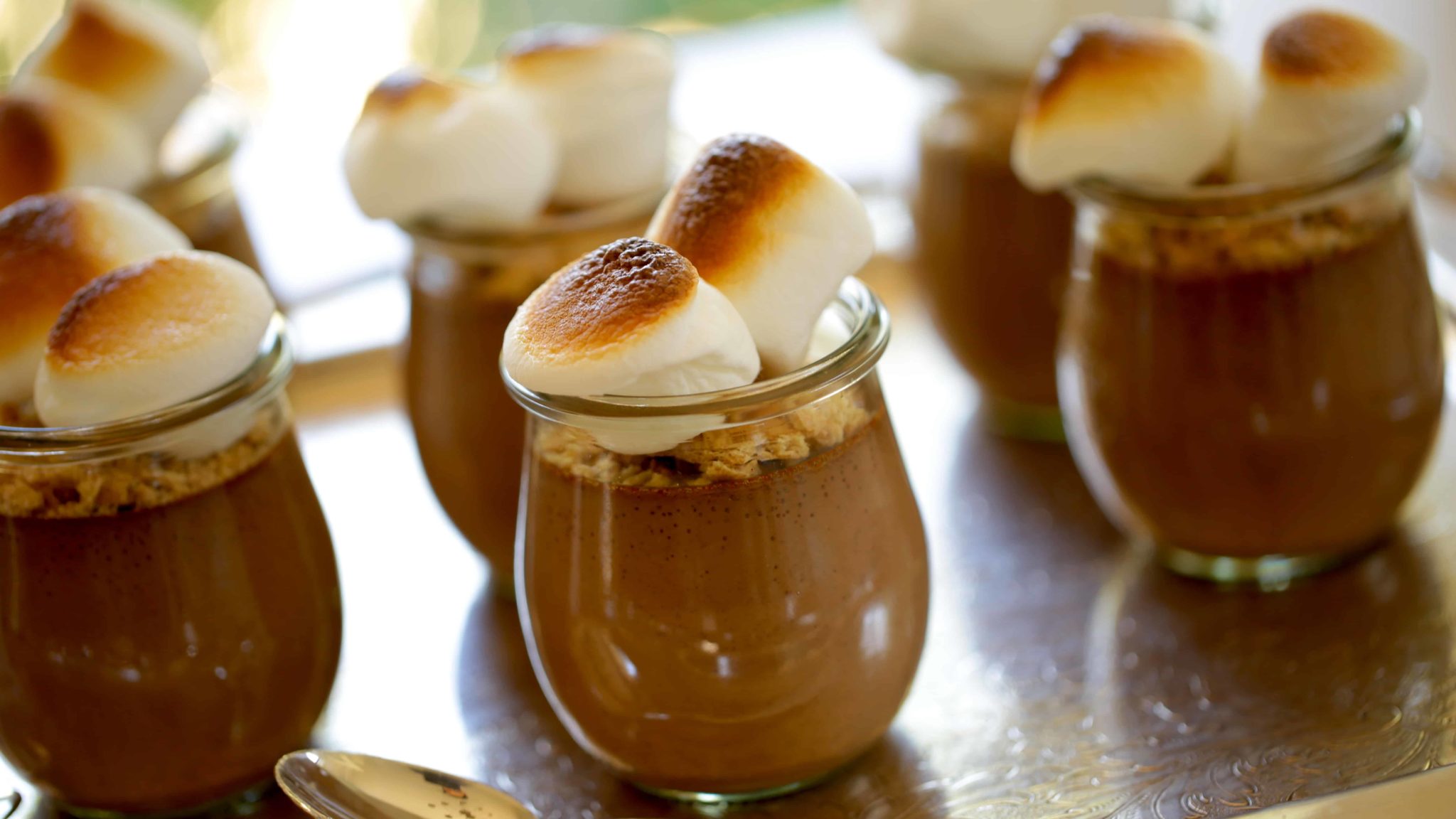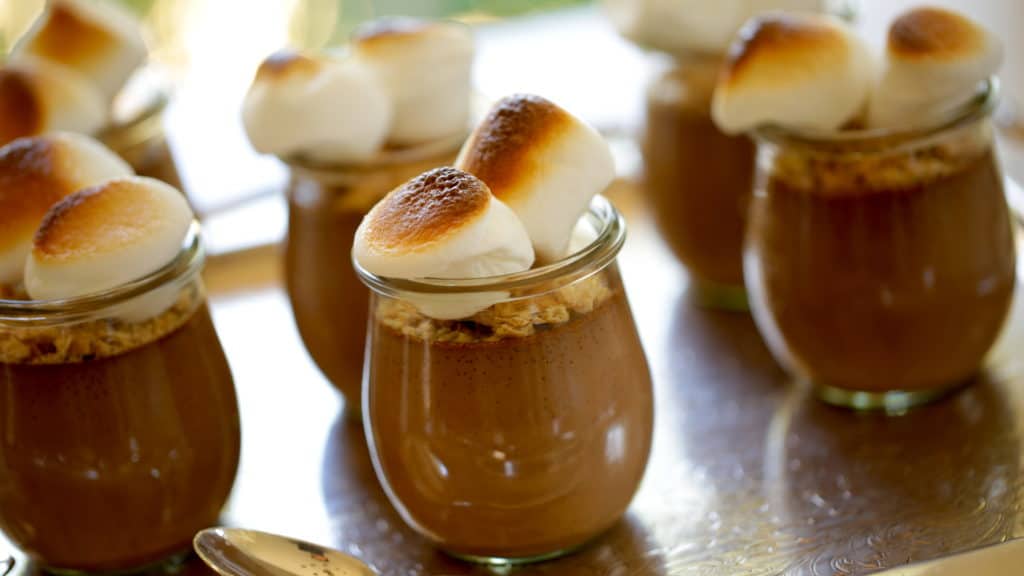 For a great main course idea to pair with this dessert try my Franglais Burgers! And for another S'More Dessert Idea try my S'More Pie!
Here's how to Make the Perfect Summer Dessert for a Crowd:
Step 1: Make Pudding Paste
In a large sauce pan, add heavy cream, milk and semi-sweet chocolate chips. Mix well in the pot until those chocolate chips begin to melt.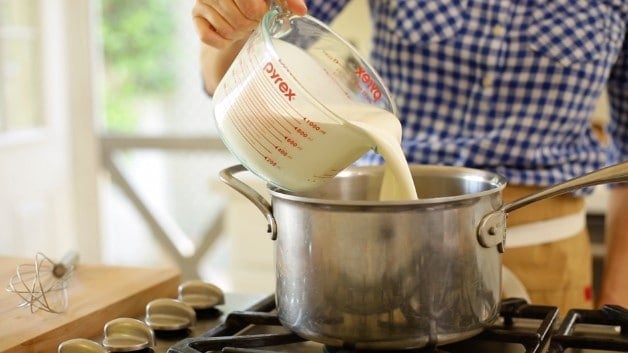 You can also use dark chocolate or milk chocolate, it's whatever you prefer!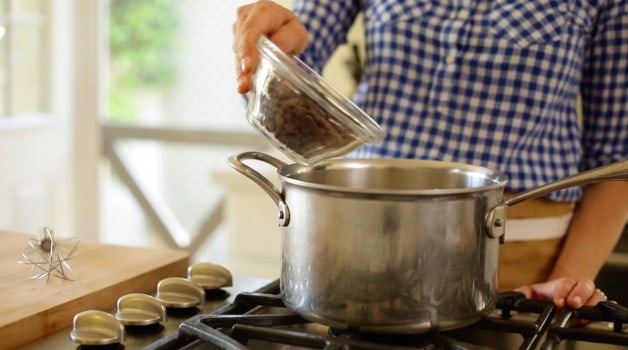 Meanwhile, add egg yolks, sugar and vanilla extract into a bowl and whisk until combined.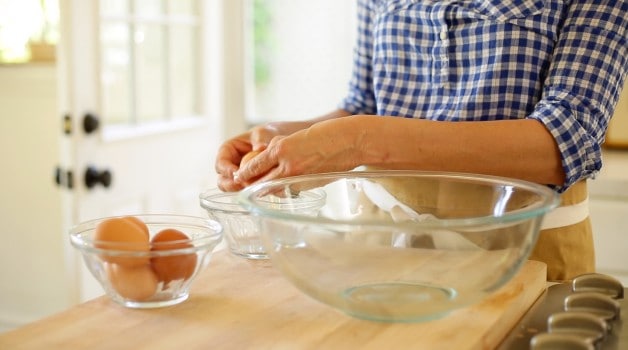 Then, combine your chocolate mixture with your eggs… carefully. Pour just a little bit of the chocolate over the eggs and whisk quickly to temper the eggs.
What does "tempering the eggs" mean?
The goal when tempering eggs is to slowly introduce the hot liquid with the raw egg. If you were to add all of the hot liquid at once, you could end up with clumpy, cooked eggs as a result. The small addition of hot or warm liquid dilutes the uncooked egg proteins, making it harder for them to form clumps when heated.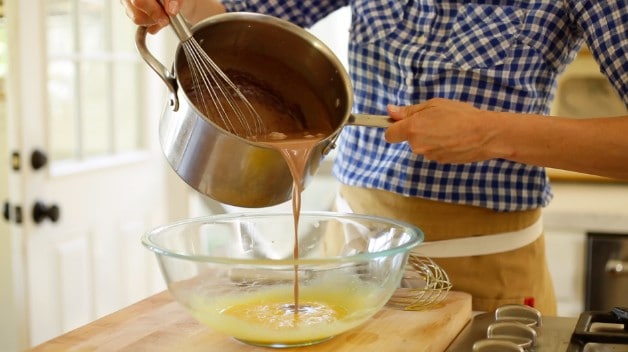 When both the chocolate mixture and eggs are combined (and clump-free!) pass the liquid through a fine mesh sieve into a Pyrex pitcher. This will extract any tiny bits of chocolate or egg that didn't incorporate to create a super smooth pudding.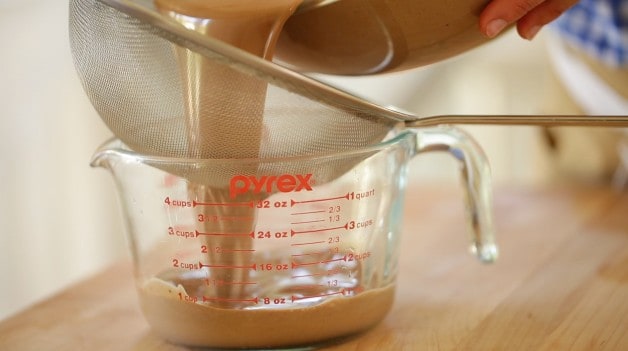 Step 2: Pour into jars
After you've strained the pudding mixture, pour it into some jam jars. Since we are placing these puddings in the oven to bake and then toast the marshmallows it's important that you use a container that's oven safe.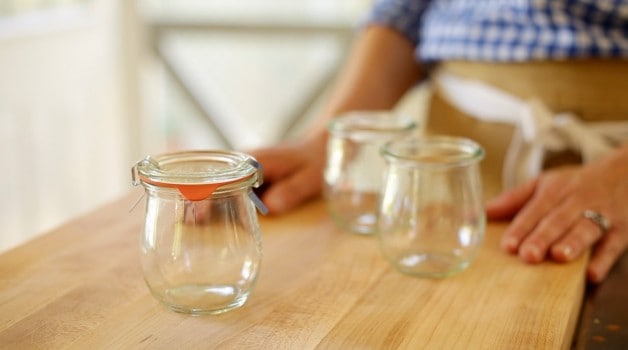 Tip: I like to strain half of the mixture at a time to make it easier during the pouring process. If your Pyrex pitcher is over-filled, things could get messy.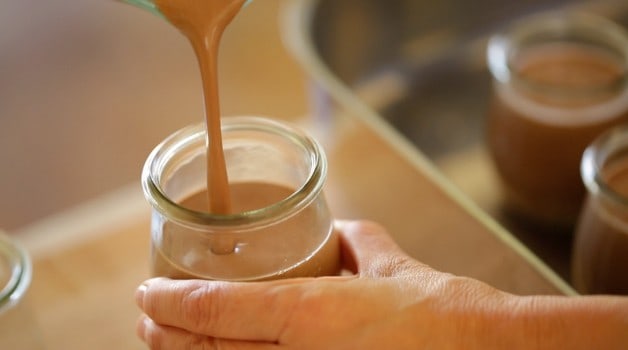 Step 3: Create a water bath and bake
Place your prepared jam jars into a large roasting pan or casserole dish. This makes it easy to transport to the oven and allows for plenty of room for our water-bath.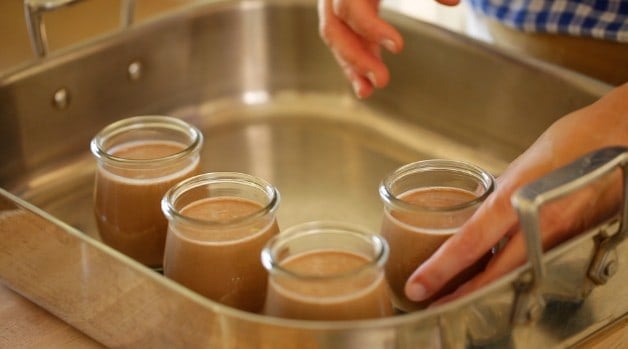 Place the jars into a 350F (175C) degree oven, then add enough water to cover the jars about 1/3 of the way up.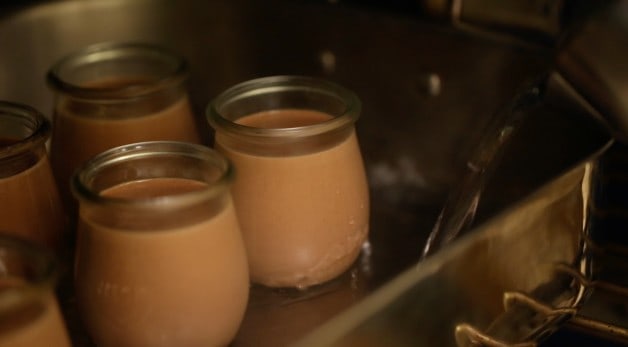 Using a water-bath while baking allows the puddings to bake at a soft, slow heat without cracking. Bake for 40-45 minutes if you are using the tulip jars. If you are using a ramekin or other shallow dish, the baking time won't take as long. Just bake long enough so that the puddings are set.
Tip: Check the puddings by gently jiggling the pan. If it's too jiggly, bake a little longer. Slight movement is OK.
Step 4: Rest & Chill
After the puddings are done baking, allow the pan to sit at room temperature until the jars are easily handled. remove the pudding pots and place them in the refrigerator overnight to set.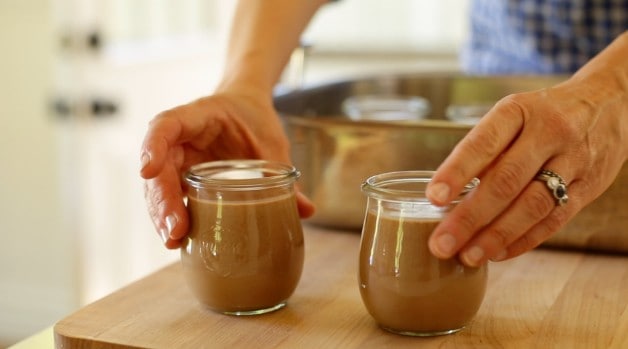 The next morning, your puddings should look a little something like this.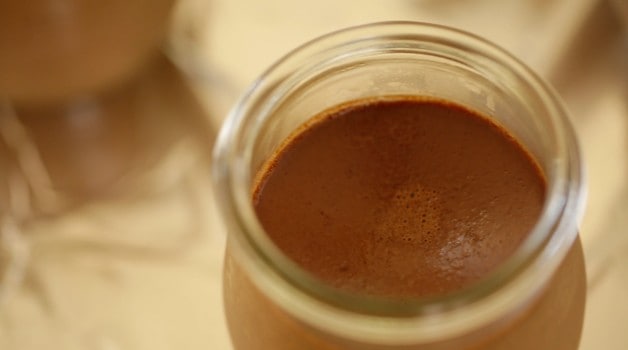 Step 5: Top with Toppings
When you are ready to serve, crush up the graham crackers and add the marshmallows.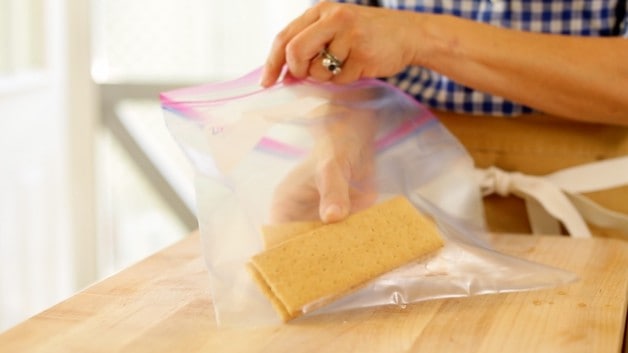 There's no need to drag out the food processor, just place a few graham crackers in a ziploc bag and smash between your hands.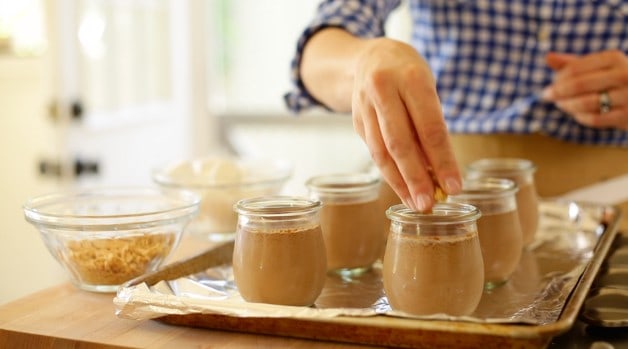 Then add the crackers over the top of the pudding pots.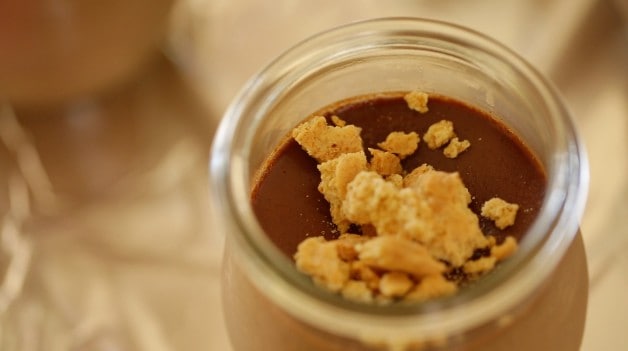 Place the marshmallows on top and your puddings are ready for the oven!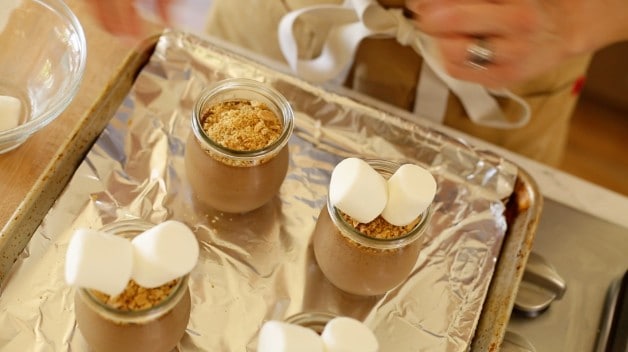 Step 6: Broil and Finish
Place the pots on a baking sheet and place under the broiler to toast your marshmallows.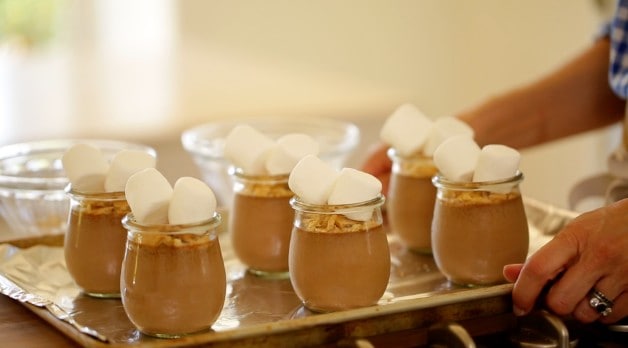 TIP: Be careful not to place the marshmallows too close to the broiler. The top 1/3 of your oven is a good place to start. We don't want any flaming marshmallows!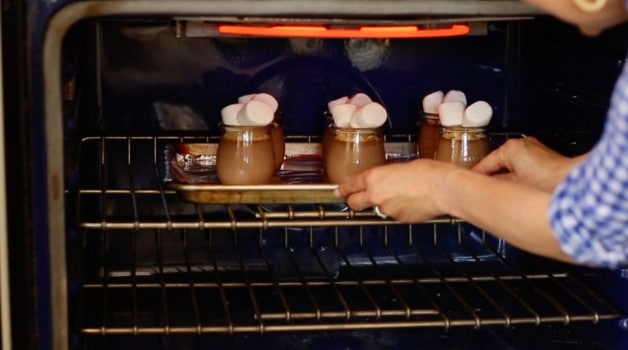 On this rack, your marshmallows will brown and toast beautifully with a slight char – which is just what we want!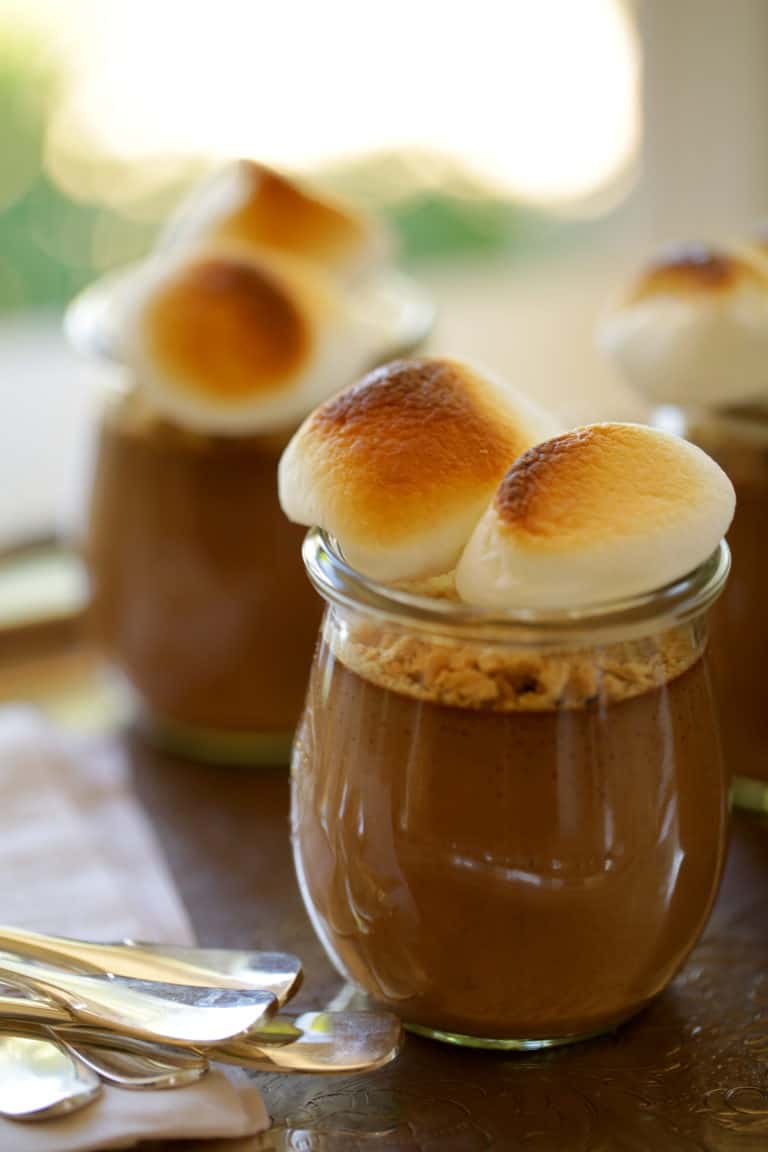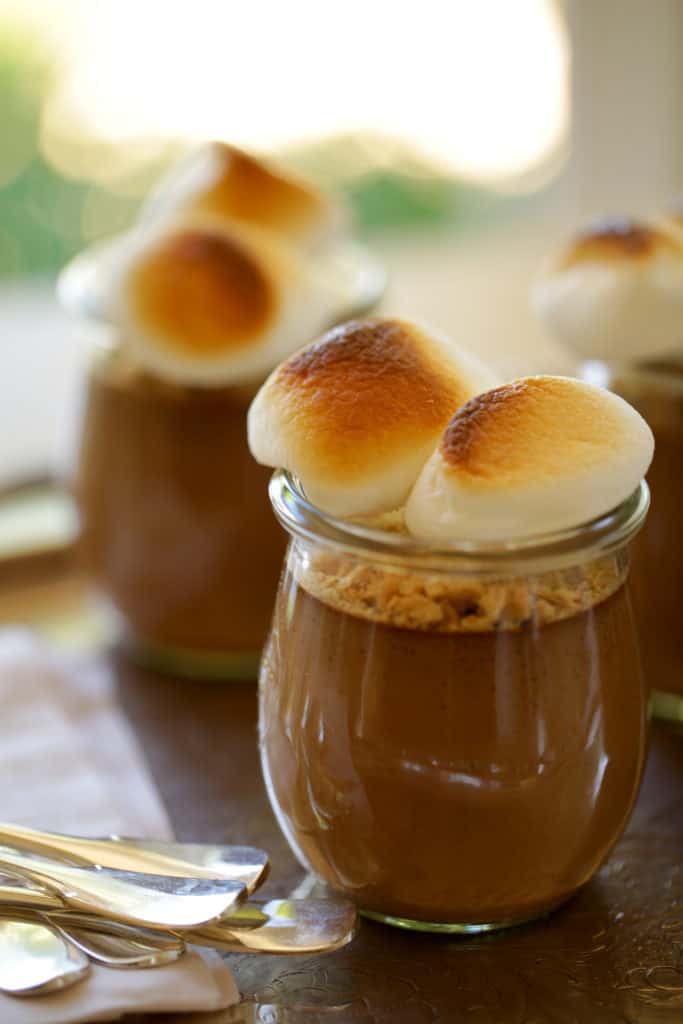 PLEASE LET ME KNOW IF YOU MAKE THIS RECIPE
BY LEAVING A RATING AND REVIEW BELOW!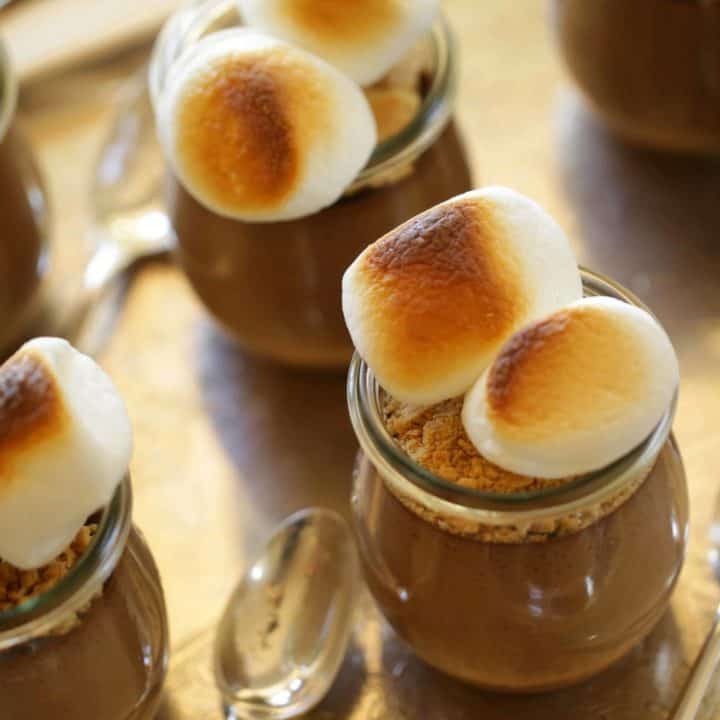 S'more Pudding Pot
Total Time:
1 day
45 minutes
Learn how to make my S'more Pudding Pot recipe! A great summer dessert idea to wow a crowd! The best part is the puddings can be made the day before, and all you have to do is top with graham crackers and toast the marshmallows. How easy is that?
Ingredients
2 ¾ cups (655 ml) heavy cream
¾ cup (180 ml) milk
1 ½ cups (210g) semi-sweet chocolate chips
6 egg yolks
1 tbsp (12 g) sugar
½ tsp (2.5 ml) vanilla extract
3 graham crackers, crushed
12 large marshmallows
Instructions
Preheat oven to 300F (150C) degrees. Combine heavy cream and milk and heat until simmering. Add the chocolate and whisk until melted. Allow to cool slightly.Combine the eggs yolks, sugar and vanilla. Slowly add the chocolate mixture, a little at first to "temper" the eggs and prevent them from scrambling, then adding the rest, whisking until combined.
Strain through a fine mesh strainer into a 4-cup Pyrex pitcher, in batches doing only half the mixture at a time to prevent filling that pitcher to high (the jars will be hard to fill if your pitcher is too full!)
Then pour the mixture into, 7.4-ounce mini tulip jars (or any other similar sized ramekin) just ¾ of the way up.
Place ramekins in a roasting pan, and place in the oven. Fill roasting pan with hot water until it reaches 1/3 up of the way of the ramekins.Bake for 40-45 mins until custards are set.
Place in refrigerator overnight to set and chill.
When ready to serve, place graham crackers in a Ziploc bag, and whack with a rolling pin to crush.
Top each jar with 1 tbsp of crushed cookies and 2 marshmallows on top. Place jars on a heavy rimmed line baking sheet, set oven to broil and move rack to the upper third position, not too close to the heating implement or your marshmallows will burn!
Broil for 15-30 second until marshmallows are toasted. Serve immediately!
Notes
If you are using a lower or smaller sized ramekins it will take less time. Check it at 25 mins and increase baking time as needed. Puddings should be set and only giggle very slightly
Recommended Products
As an Amazon Associate and member of other affiliate programs, I earn from qualifying purchases.
Nutrition Information:
Yield:

6
Serving Size:

1
Amount Per Serving:
Calories:

738
Total Fat:

58g
Saturated Fat:

35g
Trans Fat:

1g
Unsaturated Fat:

20g
Cholesterol:

310mg
Sodium:

104mg
Carbohydrates:

53g
Fiber:

3g
Sugar:

39g
Protein:

9g