Chocolate Pot de Creme Recipe
If you want an easy and decadent chocolate dessert, you can't go wrong with my Chocolate Pot de Creme Recipe. It's one of my favorite French recipes for entertaining because they can be made ahead of time.
In fact, they are even better when they are made 24 hours in advance because the texture is creamier, the chocolate flavor is more pronounced, and there's no mess to clean up the day you are entertaining! They are all ready to go!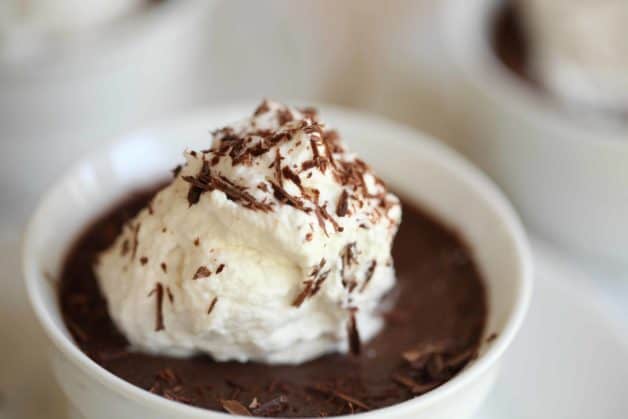 This dessert is seriously a chocolate lover's dream. It's a more sophisticated version of a Chocolate Cream Pie, but I think it's even easier because you can skip the time-consuming step of having to make a pie crust.
Subscribe for weekly recipes
and new videos!
Watch My Video of this Recipe Below!
Chocolate Quality Matters
Start with good-quality, bittersweet chocolate. Pot de Cremes do not have many ingredients in them, and the quality of the chocolate you choose will affect the end result in a big way.
Chocolate is typically classified by how much cacao it contains. The higher the percentage of cacao the more chocolate flavor you will get.
Personally, for this recipe, I think 60% cacao is perfect. Once you get to 70%+ I think the chocolate becomes a bit too bitter.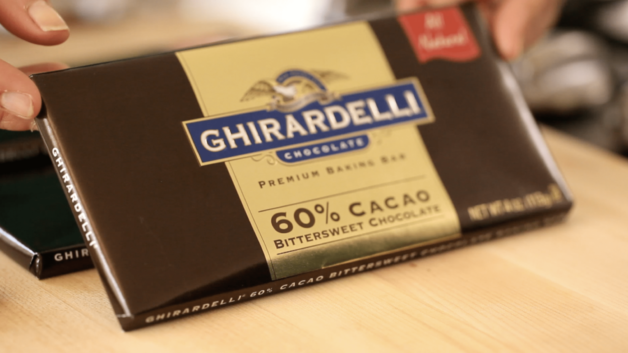 Chop the Chocolate
To help the chocolate melt in the heavy cream and milk mixture in an even manner, it's best to chop the chocolate first. This will also help to prevent your chocolate from scorching while it melts.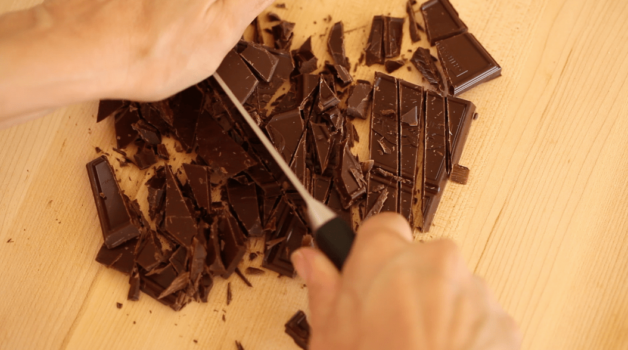 Pour into Ramekins
Once you combine the chocolate milk/cream mixture with the egg yolk mixture you'll pour the custard into ramekins ¾ of the wall full.
I find it's easier to pour the mixture by transferring the custard into a Pyrex pitcher.
But don't fill the pitcher all the way full, or it will be harder to control the flow if it's too full. Halfway is usually best!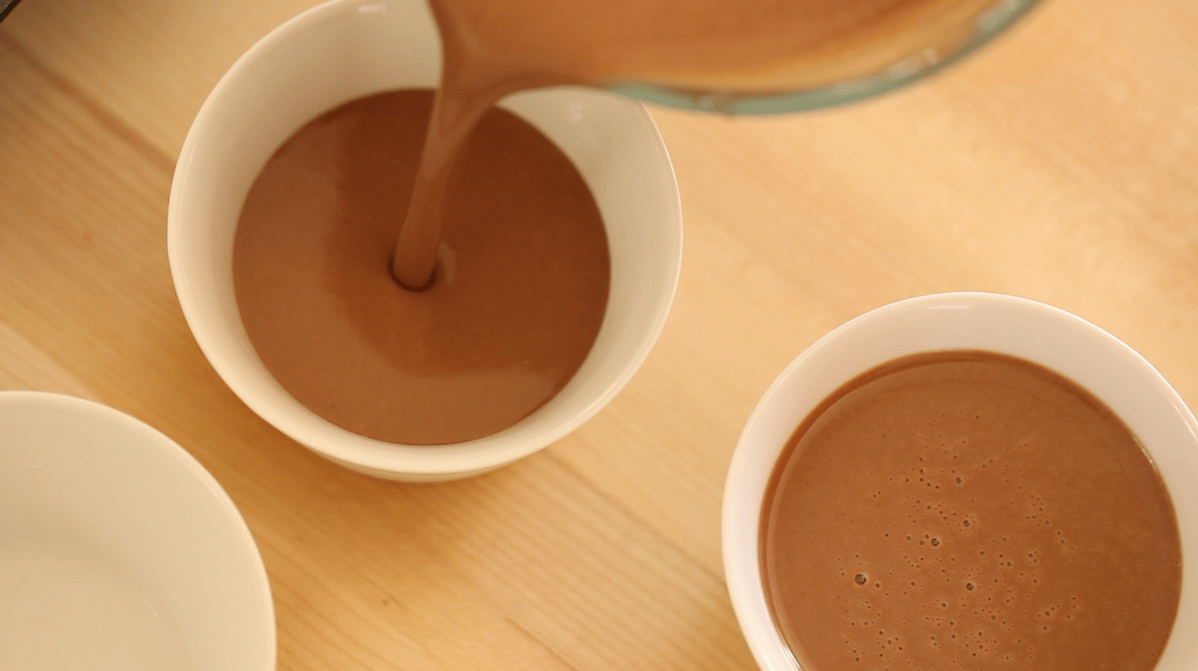 Bake in a Water Bath
One of the hallmarks of a fantastic pot de creme is the texture. It should be smooth as silk, without graininess or uneven texture.
And the best way to assure a great texture is by baking these custards in a water bath.
The water bath will cook the custards with gentle heat. It also helps cool them down too at an even rate. Since as the water cools, the custard cools as opposed to shocking the cooling by a dramatic change in temperature.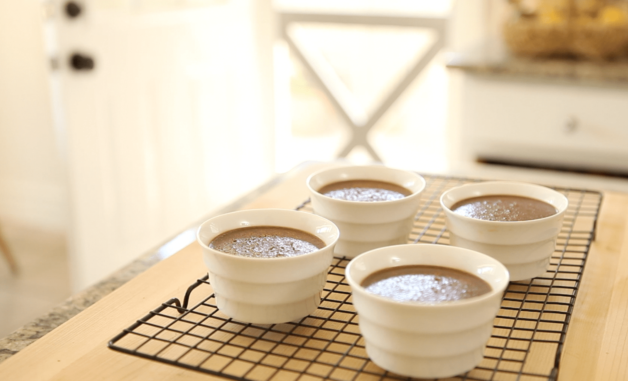 Chilling the Custards
Once the ramekins are cool enough to touch, you can remove them from the water bath and allow them to cool completely on a cooling rack.
Then place them in the refrigerator to chill overnight. It's best not to cover them, to avoid the custards developing condensation on the top.
Just before serving, top with some homemade whipped cream and garnish with chocolate curls. The whipped cream is a great complement to the richness of the chocolate and provides a nice relief between bites.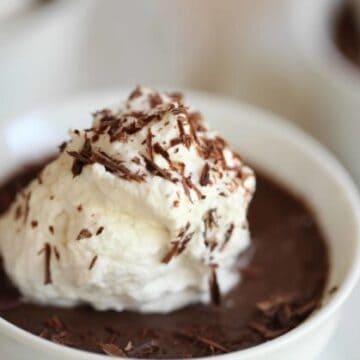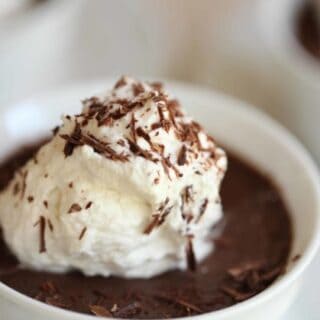 Chocolate Pot de Creme
Total Time:
1 hour
35 minutes
If you want a decadent, rich, chocolate pudding search no further than a Chocolate Pot de Creme.  It's seriously a chocolate lovers dream.  It doesn't get any better than this my friend.
Ingredients
For Pot de Creme
2 cups (480ml) heavy cream
½ cup (120 ml) whole milk
5 oz (141 g) bittersweet chocolate, roughly chopped
5 egg yolks
¼ cup (50 g) of sugar
1 (5 ml) teaspoon vanilla
Homemade Whipped Cream
1 cup (240 ml) heavy cream
1 tablespoon (6 g) powdered sugar
1 teaspoon (5 ml) vanilla extract
Instructions
Preheat oven to 300F (148C) degrees.
Combine heavy cream and milk and heat until simmering. Add the chocolate and whisk until melted. Allow to cool slightly.
Combine the eggs yolks, sugar and vanilla. Slowly add the chocolate mixture, whisking until combined. Strain through a fine mesh strainer. Transfer to a pyrex pitcher, and pour about ¾ of the way up, into (5) ½ cup (4 0z/120 ml) ramekins.
Place ramekins in a roasting pan, and place in the oven. Fill roasting pan with hot water until it reaches half way up the ramekins.
Bake for 30-35 mins until custards are set. Top with a dollop of homemade whipped cream, and chocolate shavings.
To make whipped cream:
Combine all ingredients in a bowl and whip with an electric mixer until soft peaks form.
Nutrition Information:
Yield:

5
Serving Size:

1
Amount Per Serving:
Calories:

172
Total Fat:

14g
Saturated Fat:

7g
Trans Fat:

0g
Unsaturated Fat:

5g
Cholesterol:

208mg
Sodium:

31mg
Carbohydrates:

8g
Fiber:

0g
Sugar:

5g
Protein:

5g