Learn how to make Scallops Gratin, otherwise known in French as Coquilles Saint Jacques. It's a delicious French recipe that makes for a wonderful holiday starter!
Or you can also serve them with rice and serve as the main course. Looking for more festive holiday seafood dishes? Try my Salmon with Buerre Blanc Sauce or my Bouche a la Reine with Lobster.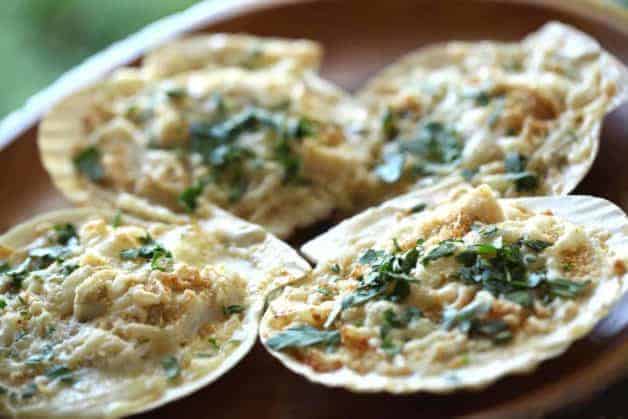 Menu Ideas:
Watch my Video Demo Below!
Subscribe to My YouTube Channel and Never Miss a Recipe
What is Coquilles Saint Jacques?
Coquilles Saint Jacques is a French dish typically served as a first course.
It's a combination of scallops, wine and cream, and often times mushrooms.
The steps are easy but the results look and taste so fancy!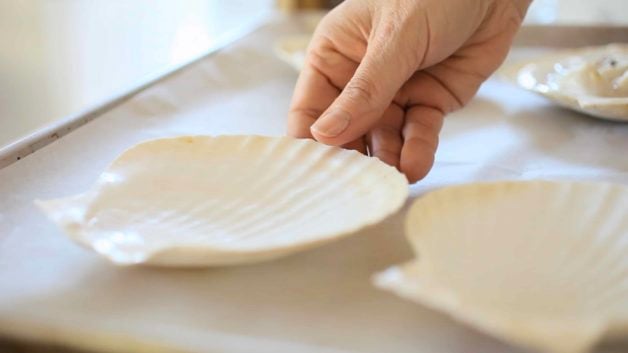 Step#1: Saute the Vegetables
You'll begin by sauteing the leeks and shallots in butter in a large skillet.
Once they are fragrant and soft you'll add the mushrooms.
You could do this step the day before, and cover and refrigerate the vegetables until ready to use.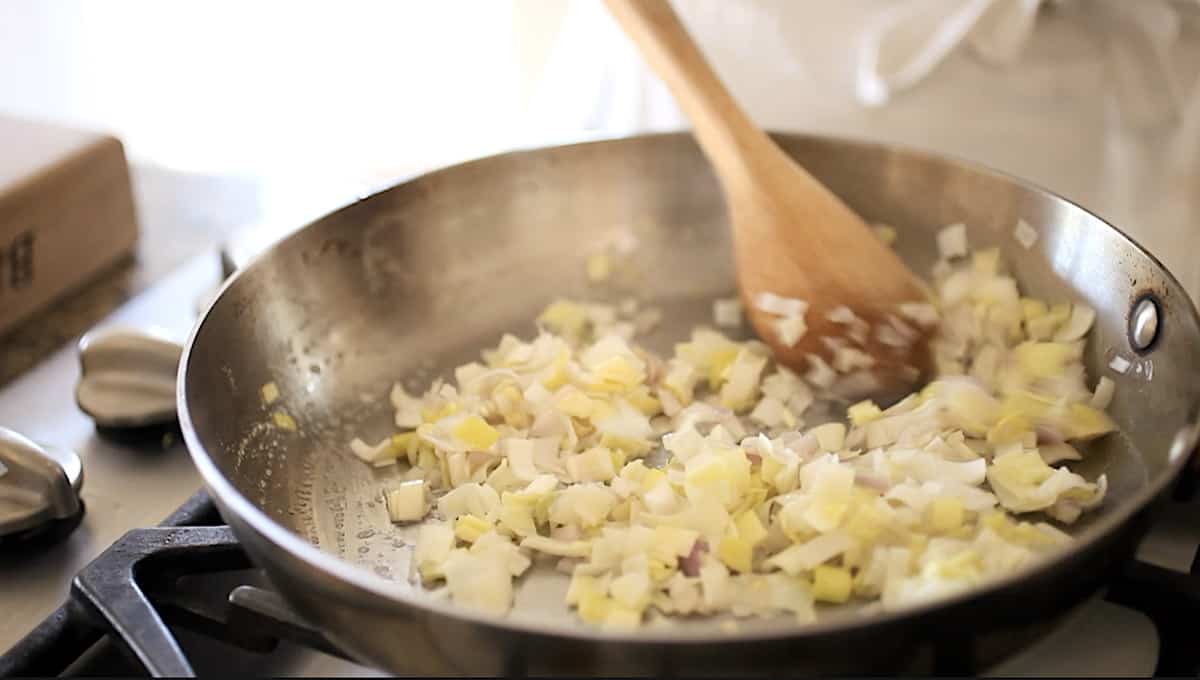 Step#2: Create the Poaching Liquid
You'll cook the scallops by poaching them in a flavorful poaching liquid.
I like to use white wine as the base and then add lemon juice, and herbs.
But if you don't drink you could also use water or fish stock for the poaching base.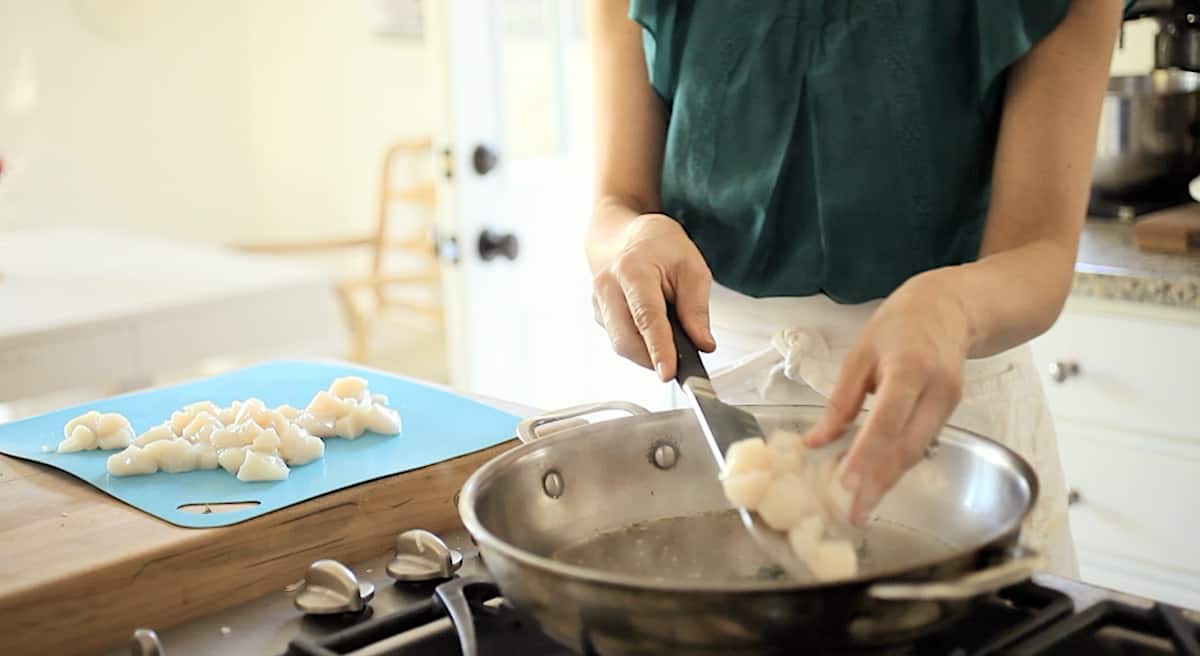 Do Not Overcook the Scallops
Scallops only take a minute or two when cut small to cook through. You do not want to overcook them, because they will become too rubbery.
They will cook a little further once you pop the shells under the broiler to melt the cheese.
So just take them to where they just become opaque. Then transfer them to a bowl.
Then reserve at least 1-cup of the poaching liquid for the cream sauce, you can discard the rest.

Step#3: Create the Cream Sauce
This flavorful cream sauce is what makes Coquilles Saint Jacques so delicious!
You'll begin by making a roux with butter and flour, then whisking in the reserved poaching liquid, and then add the cream.
Then it's all downhill from here! Add back in the veggies, and the scallops, and then it's time to fill the scallop shells.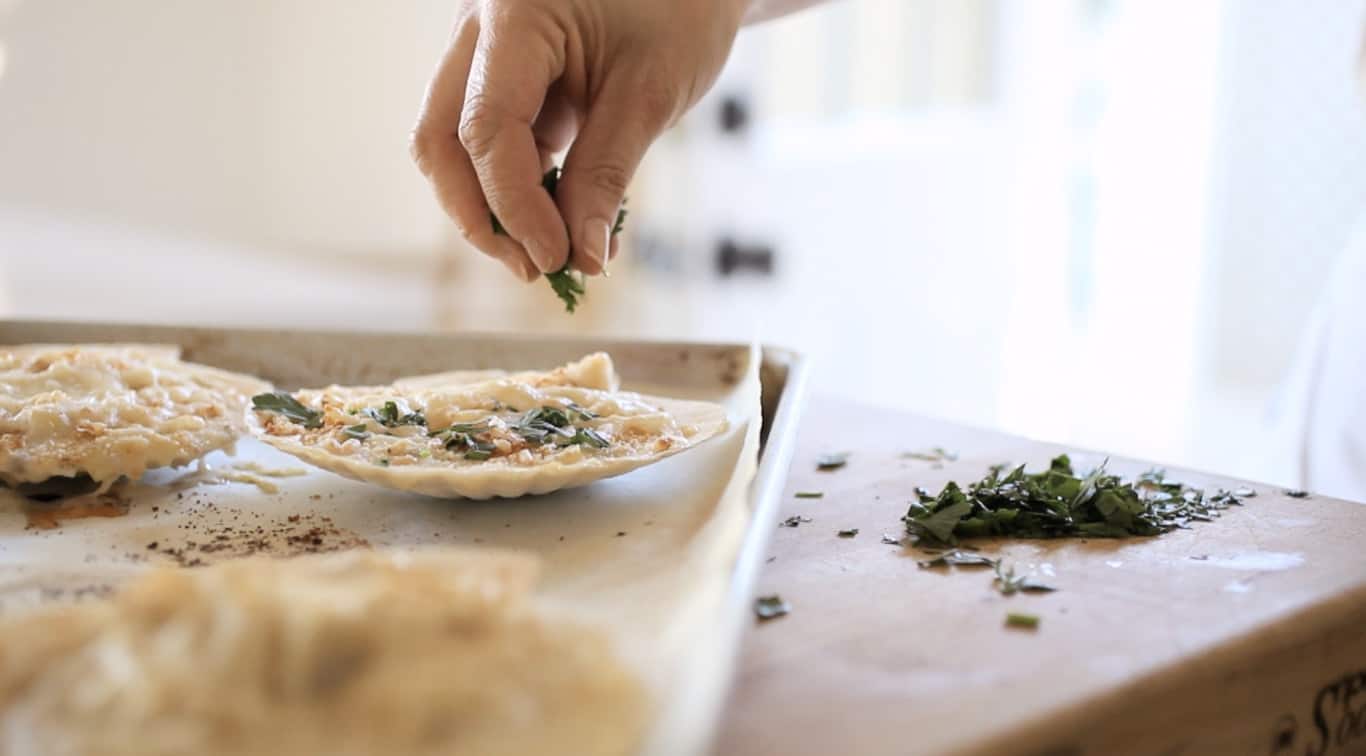 How To Serve Coquille Saint Jacques: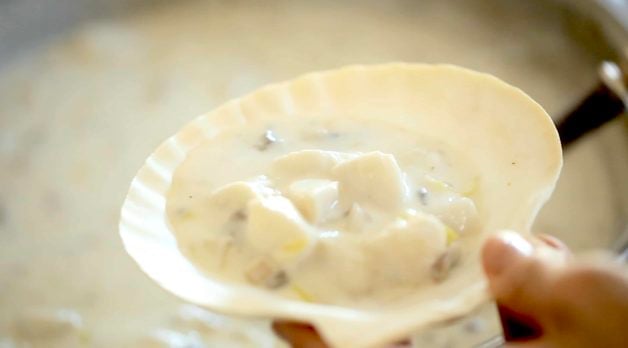 Can you make Coquille Saint Jacques ahead of time?
Yes! That's why I love this recipe for holiday entertaining because you can make them in advance. Just portion them out in the shells, top with the bread crumbs and cheese, and place them in your fridge on a baking sheet. Then just pop in the oven to bake when ready to serve!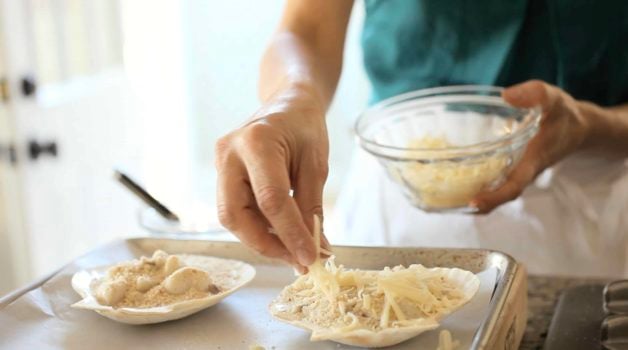 Step#4: Add the Bread Crumbs and Cheese
The bread crumbs will add a nice crunchy texture to the top of this dish. For extra crispiness spray the crumbs with a light dusting of olive oil spray
Then add the cheese. For the best flavor use grated Gruyere cheese. It will create a nice "gratin" on top!
Serve these as a wonderful starter to a meal, or serve as larger portions, 2 shells per person, with some buttered white rice and parsley for a main course
More French Recipes
If You Enjoyed This Recipe
Please Leave a Rating and a Review Below
This helps others discover and enjoy the recipe too!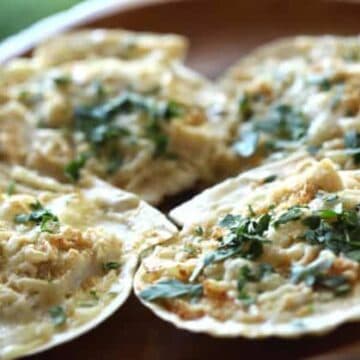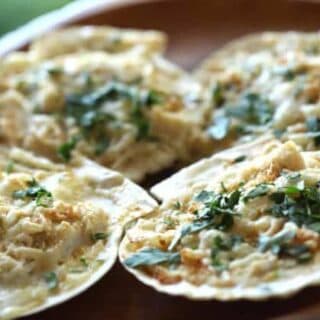 Coquilles St. Jacques (Scallop Gratin)
A delicious French recipe for a first course for holiday entertaining, Scallops Gratin is otherwise known as Coquilles Saint Jacques looks as festive as it is delicious.
Ingredients
1 pound of scallops (453 g) , cut into quarters
5 tablespoon (75 g) butter
1 shallot, minced
1 leek, white parts only sliced
1 cup sliced mushrooms, roughly chopped
2 tablespoon (30 g) butter
1 lemon, zest and juice
1 ½ (350 ml) cup dry white wine
1 bay leaf
½ (2.5 g) teaspoon fresh thyme
½ (2.5 g) teaspoon salt
2 tablespoon flour (15 g)
1 cup (240 ml) of heavy cream
1 cup (150 g) bread crumbs
½ cup (45 g) grated gruyere cheese
2 tablespoon (11 g) freshly chopped parsley
Instructions
Melt 2 tablespoon (30 g) of butter in a pan. Add shallots and leeks and cook until soft. Add mushrooms. Cook until they release their juices. Set aside
In a large sauté pan, add wine, bay leaf, thyme, lemon zest and juice, salt, and pepper. Bring to a boil. Reduce to a simmer and add scallops. Cook for 4-5 minutes until scallops are slightly firm (do not overcook). Drain all liquid except about 1 cup (240 ml). Set aside.
Melt the remaining 3 tablespoon (45 g) of butter, add flour, and cook for 1 minute. Add the scallop liquid and cream. Cook until reduced slightly, and the mixture has thickened.
Add vegetable and scallops back into the pan, stir until combined. Then portion out into scallop shells or ramekins.
Sprinkle with bread crumbs. Spray a light dusting of olive oil spray over the breadcrumbs for extra crispiness. Then top with the cheese.
Bake at 400 F/200 C degrees until bread crumbs crisp and cheese melts. If re-warming from the fridge, bake for 20 mins covered with foil until warmed through, then a few mins under the broiler to allow the cheese to crisp up.
Notes
If you can find the scallop shells you can also bake these in 6 oz ramekins or make a large one in a shallow baking dish and serve family style.
You could also use the smaller bay scallops for this recipe and not have to quarter the scallops
To make ahead of time assemble the mixture into the scallop dishes, top with the bread crumbs and chhese, cover and refrigerate. Then bake before serving.
Nutrition Information:
Yield:

6
Serving Size:

1
Amount Per Serving:
Calories:

205
Total Fat:

6g
Saturated Fat:

3g
Trans Fat:

0g
Unsaturated Fat:

2g
Cholesterol:

47mg
Sodium:

793mg
Carbohydrates:

16g
Fiber:

1g
Sugar:

7g
Protein:

20g