If you want a beautiful entree recipe for entertaining, then you will love my Pan Seared Salmon with Beurre Blanc and Veggie Nests.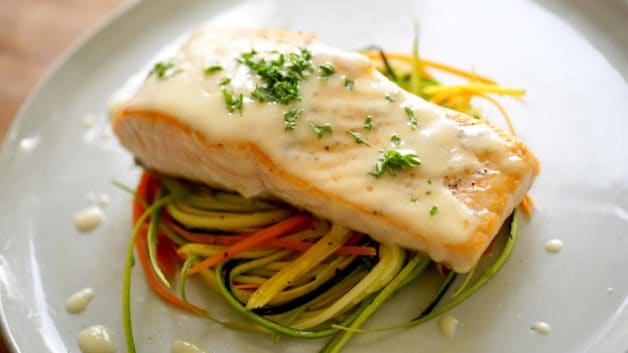 How Do You Make a Beurre Blanc Sauce?
A beurre blanc sauce is a popular French sauce, originating from the Loire Valley in France. It is made from reducing white wine (Muscadet or Sauvignon Blanc) shallots and typically some kind of herb (parsley, thyme, tarragon) adding heavy cream, and then creating an "emulsion" by slowing adding butter cubes into the sauce, little by little until thick and creamy.
STEP#1 Boil Wine, Shallots and Parsley
The wine, shallots and parsley form the basis of the rich flavor of the sauce.

STEP#2 Reduce Mixture Until Dry
You'll simmer this mixture until almost completely evaporated. This concentrates the flavor back into the shallots and parsley that remains.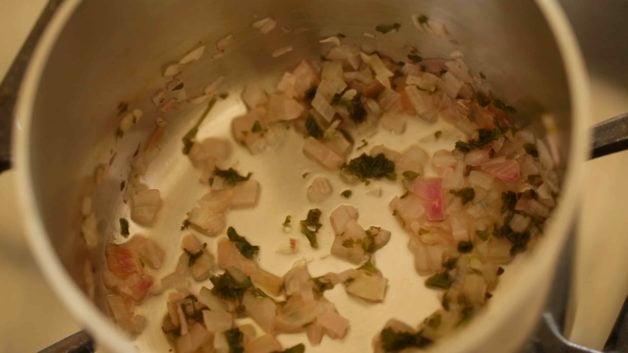 STEP#3: Add Heavy Cream
The heavy cream creates a wonderful richness to this sauce which will them be even better once you add the butter!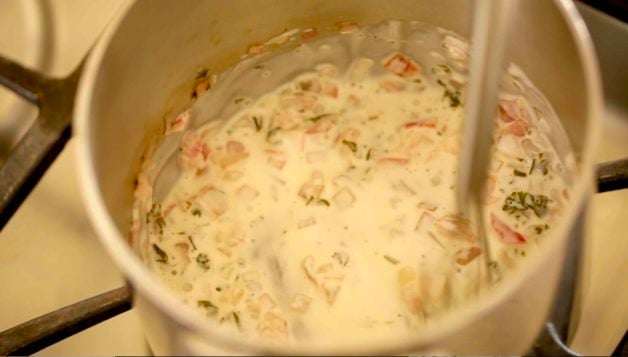 Step#4: Slowly Add the Butter
This is where the emulsion comes into play. You'll add the butter slowly, a little at a time, to assure it combines and thickens with the sauce.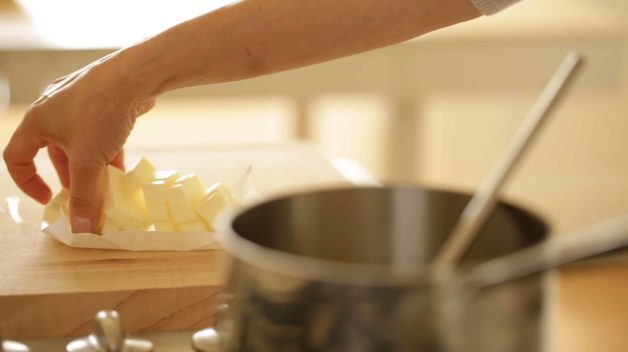 As you add the butter, be sure to keep it on a low flame and whisk all the while.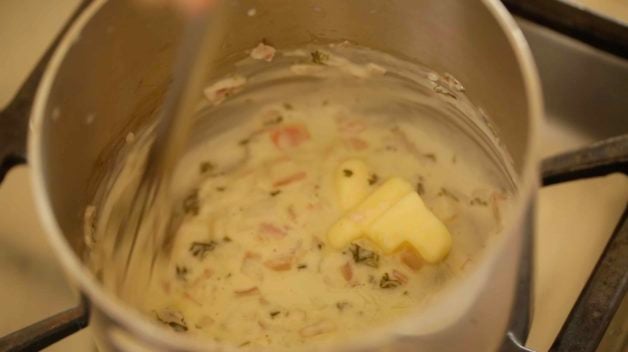 Can You Reheat a Beurre Blanc Sauce?
Personally I have not had success with reheating a beurre blanc sauce from a refrigerated state. This sauce is really best made right on the spot and kept on the lowest flame possible before serving. However, if you must make it an hour or so before I would recommend keeping it warm in a thermos and then reheating slowly to desired temperature in a sauce pan. But don't take the heat too high or you will break the sauce and it will separate.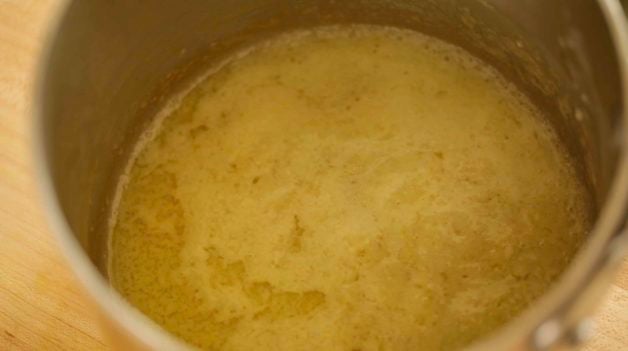 How Do You Fix a Broken Beurre Blanc Sauce?
If you add the butter too fast and it doesn't emulsify properly you'll have what's known as a "broken sauce". The best way to fix a broken beurre blanc sauce is to add 1 tsp of water in a bowl and slowly add the broken sauce in a steady stream, whisking all the whole until it comes back together. Then you can slowly reheat it in the stove top under a very low flame.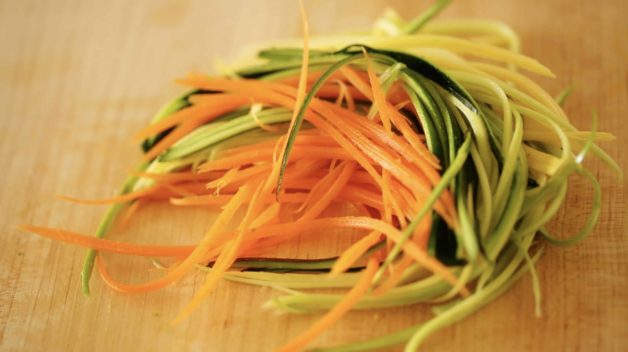 This salmon recipe really looks spectacular on a bed a veggie noddles you can create using this handy gadget called "The Peel of Fortune" by Vremi (this link goes to Amazon where I am an affiliate partner).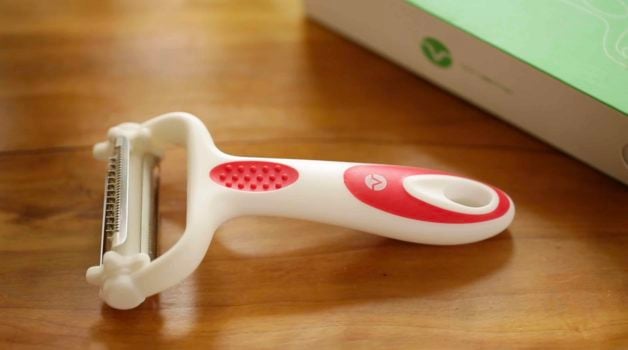 Use the julienne setting for the noodles, and use a combination of colors for the best visual effect. I like zucchini, carrots, yellow squash and asparagus.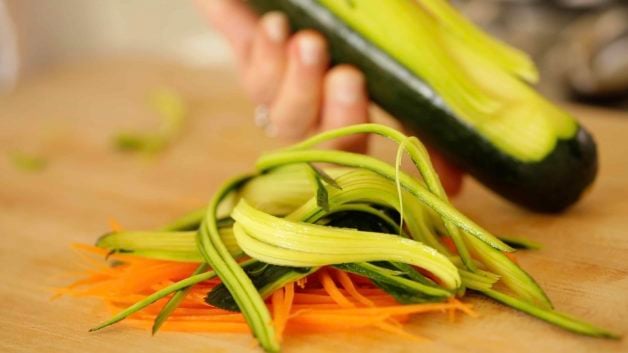 WATCH VIDEO OF PAN SEARED SALMON WITH BEURRE BLANC
This meal would pair beautifully with my Honey Lavender Creme Brulee for dessert or my No-Fuss Strawberry Shortcakes would also be a great idea too!
PLEASE LET ME KNOW IF YOU MAKE THIS RECIPE BY LEAVING A RATING AND REVIEW BELOW!
Sign up to get recipes in your inbox- click here to sign up! And make sure to follow me on YouTube, Pinterest, Instagram , Facebook and Amazon!
Print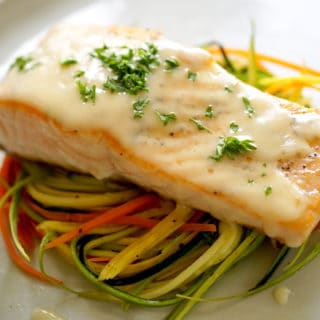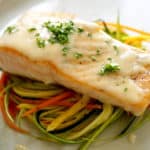 Pan Seared Salmon with Beurre Blanc
---
Author:

Prep Time:

1 hour

Cook Time:

20 mins

Total Time:

1 hour 20 minutes

Yield:

4

1

x
Description
Pan Seared Salmon with Beurre Blanc Sauce. A wonderful dish for elegant entertaining!
---
Scale
Ingredients
(4) 6oz Salmon fillets
1/3 cup (80ml) dry white wine (Sauvignon Blanc, Muscadet)
2 tbsp (30ml) shallots, minced
1 tbsp (15ml) fresh parsley, chopped
3 tbsp (45ml) heavy cream
8 tbsp (120g) butter, diced into small cubes
2 carrots
2 zucchini
2 yellow squash
4 asparagus spears
1 tbsp (15ml) olive oil + more for searing fish
salt and pepper to taste
---
Instructions
METHOD:
Set the "Peel of Fortune" vegetable peeler to the julienne setting. Peel 3 turns of each vegetable for each person (12 turns total). Transfer to a large bowl, toss with olive oil and season with salt and pepper. Set aside.
In a saucepan, simmer shallots, wine and parsley until the liquid is completely evaporated and the pan is "almost dry". Add heavy cream. Keeping your saucepan on low, add the butter, in 1 tbsp increments, whisking gently until all the butter has been used. Strain sauce through a fine mesh sieve and keep sauce on very low flame until ready to serve.
Season salmon with salt and pepper on both sides. Heat olive oil in a large skillet, sear fish top side down, until golden brown, flip and then place in a 350F (175C) oven for 8-10 mins.
Place fish on veggie ribbons and spoon sauce over the fish. Garnish with freshly chopped parsley.
---
Keywords: Beurre Blanc Sauce, Pan Seared Salmon with Beurre Blanc Sauce, How to Fix a Broken Beurre Blanc Sauce