Pan Seared Salmon with Beurre Blanc Sauce and Veggie Nests is a beautiful entree recipe for summer entertaining! The fresh flavors are fresh and decadent all at the same time.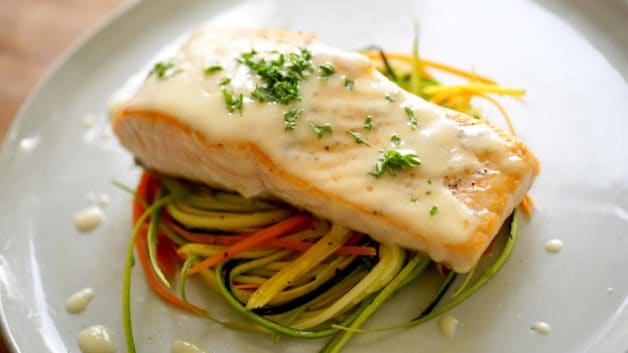 This salmon recipe really looks spectacular on a bed a veggie noddles you can create using this handy gadget called "The Peel of Fortune" by Vremi (this link goes to Amazon where I am an affiliate partner).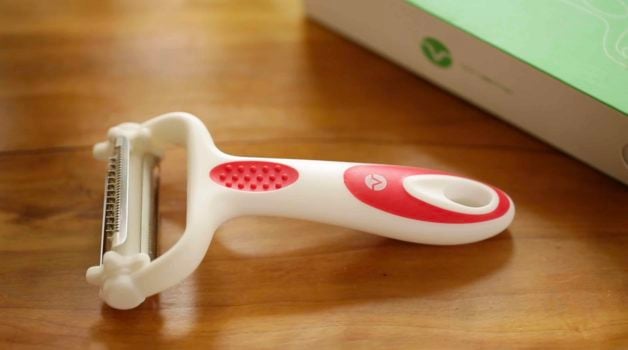 How to Make Pan Seared Salmon with Beurre Blanc
Step 1: Make the Veggie Nests
I like to use a combination of colors for the best visual effect. I like zucchini, carrots, yellow squash and asparagus. I serve these veggies raw, which sounds strange, but it's the perfect texture to go with the decadent sauce and tender fish. If you prefer to cook them, you can sauté with olive oil or butter for a few minutes.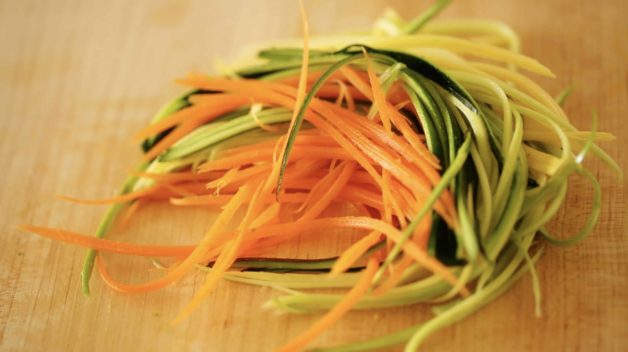 Using "The Peel of Fortune" on the julienne setting, carefully glide the peeler toward you along the length of the vegetable. It will look like the peels are coming off in large strips, but they separate into smaller "noodles".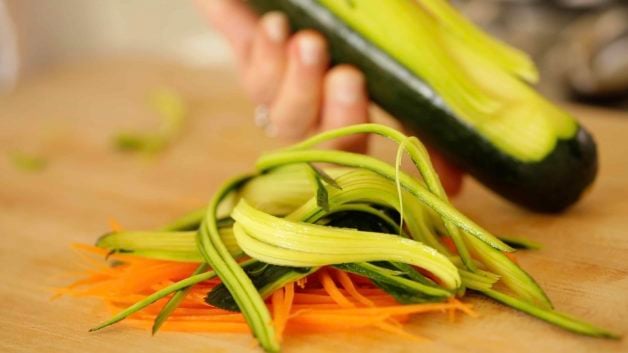 Place in a bowl and round the edges of the stack for a "nest" effect. Drizzle with olive oil and salt and pepper.
I like to go ahead and portion these out per person, so they are all ready to go when the salmon is done.
Step 2: Make the Beurre Blanc Sauce
This sauce is so decadent and rich! This sauce comes from Loire Valley in France, where my husband was from, and which is also where we were married. We served this sauce at our wedding and my relatives from the States couldn't stop talking about this sauce!
How Do You Make a Beurre Blanc Sauce?
A beurre blanc sauce is a popular French sauce, originating from the Loire Valley in France. It is made from reducing white wine (Muscadet or Sauvignon Blanc) shallots and typically some kind of herb (parsley, thyme, tarragon) adding heavy cream, and then creating an "emulsion" by slowing adding butter cubes into the sauce, little by little until thick and creamy.
To a saucepan, add white wine, shallots and parsley. The wine, shallots and parsley form the basis of the rich flavor of the sauce.

You'll simmer this mixture until almost completely evaporated. We really want a pan that is almost dry without any liquid remaining. This concentrates the flavor back into the shallots and parsley that remains.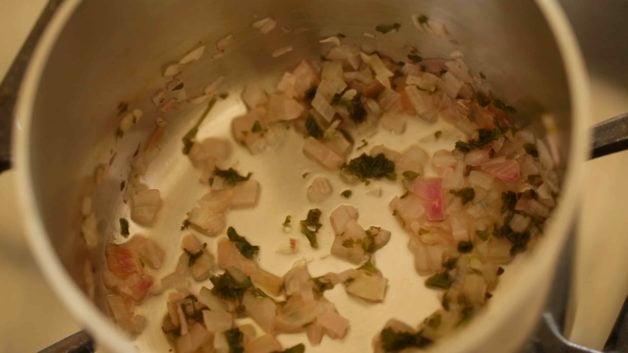 Then, add heavy cream to the same saucepan and whisk. The heavy cream creates a wonderful richness to this sauce which will be even better once you add the butter!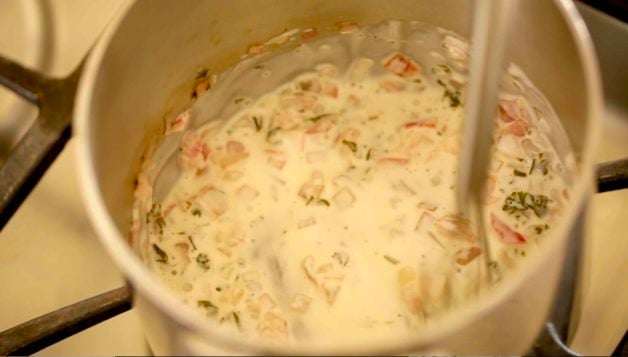 Next, slowly add the butter. This is where the emulsion comes into play. You'll add the butter slowly, a little at a time, to assure it combines and thickens with the sauce.
Tip: Since we are working with a whole stick of butter (yes, I know!), make sure it is chilled and right out of the fridge. You can cube this butter by cutting lengthwise, then turning the stick vertically and cutting lengthwise again. Then, you can cut across the stick of butter, like usual, to get even and small cubes. This way, you can be sure you aren't adding to much at a time. Take your time and add little by little.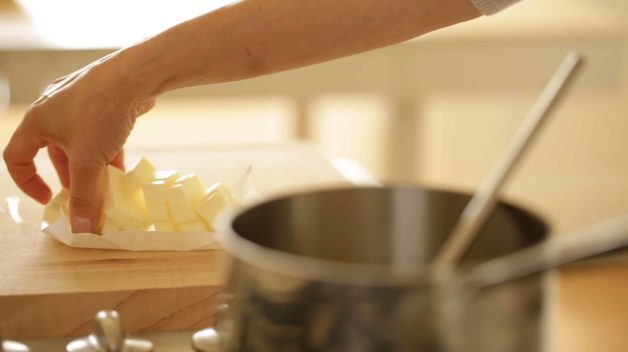 As you add the butter, be sure to keep it on a low flame and whisk all the while.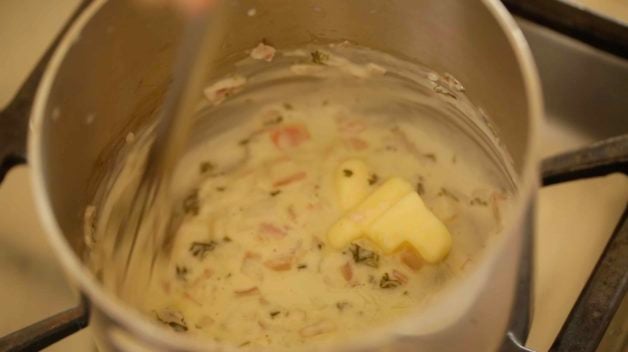 You will question your sanity (and mine) as you add all of the butter, but trust me. The sauce really does need it, and it will not taste like a butter bomb once the recipe is complete. Despite the amount of butter, this sauce feels and tastes so light, which is what makes it so dangerous!
Once all of the butter has been added, strain the sauce through a fine mesh sieve into a Pyrex pitcher, then add the mixture back to the sauce pan.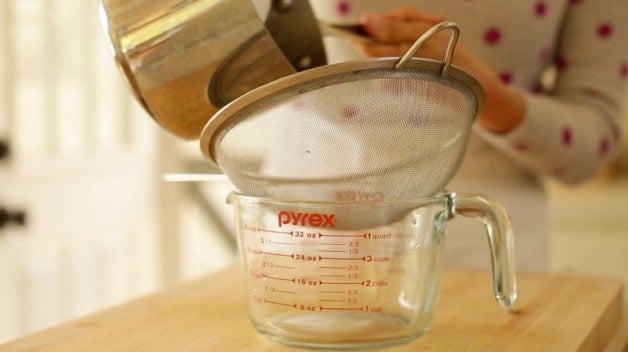 This will create a nice, smooth sauce! Continue to keep this on a low flame.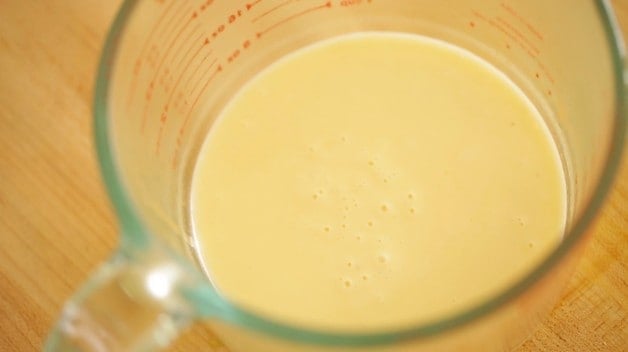 If you forget about your sauce and it begins to boil, the sauce is broken. You will notice immediately that the butter has separated and looks like it's all on top instead of well-blended. But don't worry, we can fix it!
How Do You Fix a Broken Beurre Blanc Sauce?
If you add the butter too fast and it doesn't emulsify properly you'll have what's known as a "broken sauce". The best way to fix a broken Beurre Blanc sauce is to add 1 tsp of water in a bowl and slowly add the broken sauce in a steady stream, whisking all the while until it comes back together. Then you can slowly reheat it in the stove top under a very low flame.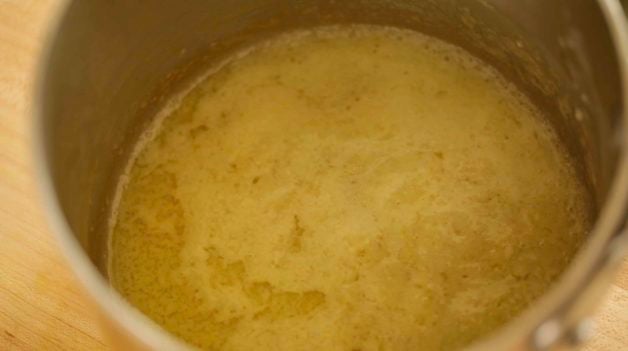 Can You Reheat a Beurre Blanc Sauce?
Personally I have not had success with reheating a Beurre Blanc sauce from a refrigerated state. This sauce is really best made right on the spot and kept on the lowest flame possible before serving. However, if you must make it an hour or so before I would recommend keeping it warm in a thermos and then reheating slowly to desired temperature in a sauce pan. But don't take the heat too high or you will break the sauce and it will separate.
Step 3: Prepare the Salmon
For this recipe, we are working with six-ounce salmon fillets which will be seared in a non-stick and oven safe pan. Be sure your skillet is oven-safe!
Place the salmon on a place or cutting board with the skin side down, and salt and pepper the tops.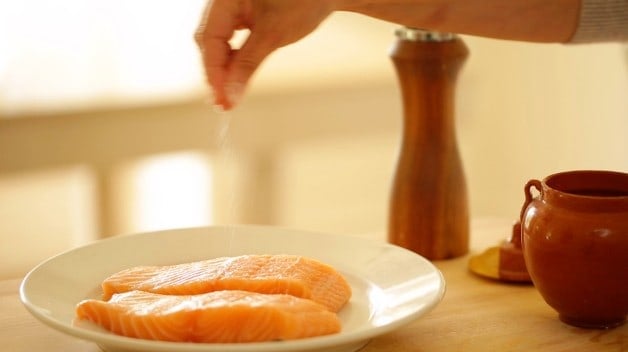 Heat a non-stick skillet, until very hot and melt down a spoonful of coconut oil in the pan.
Tip: I like to use coconut oil for this recipe because it creates a nice, toasted color on the fish. Don't worry, the coconut flavor is very faint and will not impact the flavors of the dish.
Lay the fillets skin side up in the pan.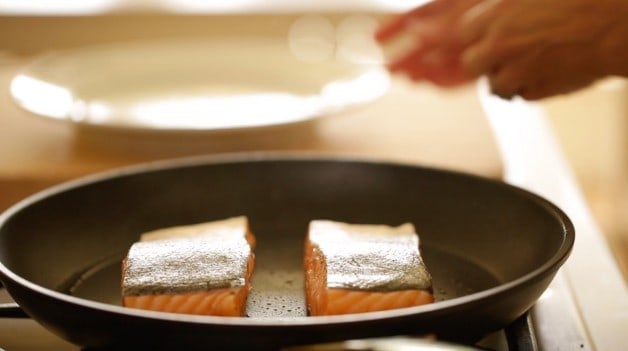 Allow the fish to get a really nice sear by waiting until the bottom turns a little opaque, or light pink. When the bottom turns opaque, gently flip the fish to skin side down.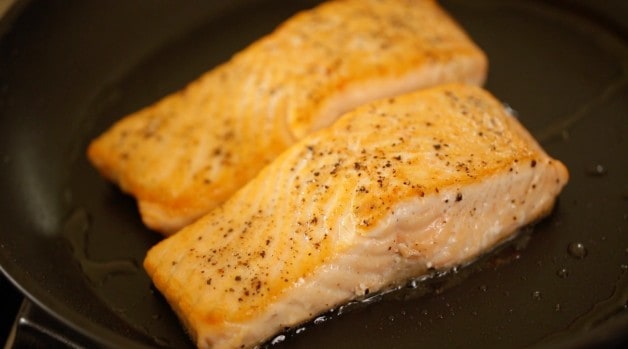 Place the pan into a 350F (175C) degree oven for about 6-8 minutes for two fillets.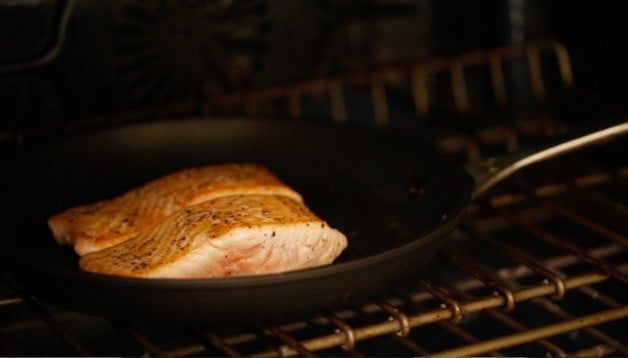 How do you know when salmon is done?
The FDA says salmon is safe to eat at 145F (62C) degrees, but the longer salmon is cooked, the more moisture and flavor it looses. Most chefs recommend cooking until it reaches 125F (51C) degrees for a tender, flaky and moist piece of fish.
Once your salmon is done, place salmon on top of veggie nests and spoon the Beurre Blanc sauce over the fish. Garnish with fresh parsley and serve!



This meal would pair beautifully with my Honey Lavender Creme Brulee for dessert or my No-Fuss Strawberry Shortcakes and Strawberry Panna Cotta with Basil would also be a great idea too!
PLEASE LET ME KNOW IF YOU MAKE THIS RECIPE
BY LEAVING A RATING AND REVIEW BELOW!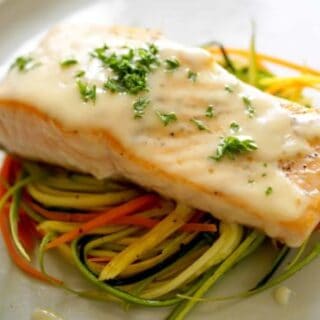 Pan Seared Salmon with Beurre Blanc
Total Time:
1 hour
20 minutes
Pan Seared Salmon with Beurre Blanc Sauce. A wonderful dish for elegant entertaining!
Ingredients
(4) 6oz Salmon fillets
1/3 cup (80ml) dry white wine (Sauvignon Blanc, Muscadet)
2 tbsp (30ml) shallots, minced
1 tbsp (15ml) fresh parsley, chopped
3 tbsp (45ml) heavy cream
8 tbsp (120g) butter, diced into small cubes
2 carrots
2 zucchini
2 yellow squash
4 asparagus spears
1 tbsp (15ml) olive oil + more for searing fish
salt and pepper to taste
Instructions
Set the "Peel of Fortune" vegetable peeler to the julienne setting. Peel 3 turns of each vegetable for each person (12 turns total). Transfer to a large bowl, toss with olive oil and season with salt and pepper. Set aside.
In a saucepan, simmer shallots, wine and parsley until the liquid is completely evaporated and the pan is "almost dry". Add heavy cream. Keeping your saucepan on low, add the butter, in 1 tbsp increments, whisking gently until all the butter has been used. Strain sauce through a fine mesh sieve and keep sauce on very low flame until ready to serve.
Season salmon with salt and pepper on both sides. Heat olive oil in a large skillet, sear fish top side down, until golden brown, flip and then place in a 350F (175C) oven for 8-10 mins.
Place fish on veggie ribbons and spoon sauce over the fish. Garnish with freshly chopped parsley.
Nutrition Information:
Yield:

4
Serving Size:

1
Amount Per Serving:
Calories:

321
Total Fat:

19g
Saturated Fat:

7g
Trans Fat:

0g
Unsaturated Fat:

10g
Cholesterol:

76mg
Sodium:

151mg
Carbohydrates:

14g
Fiber:

5g
Sugar:

8g
Protein:

25g