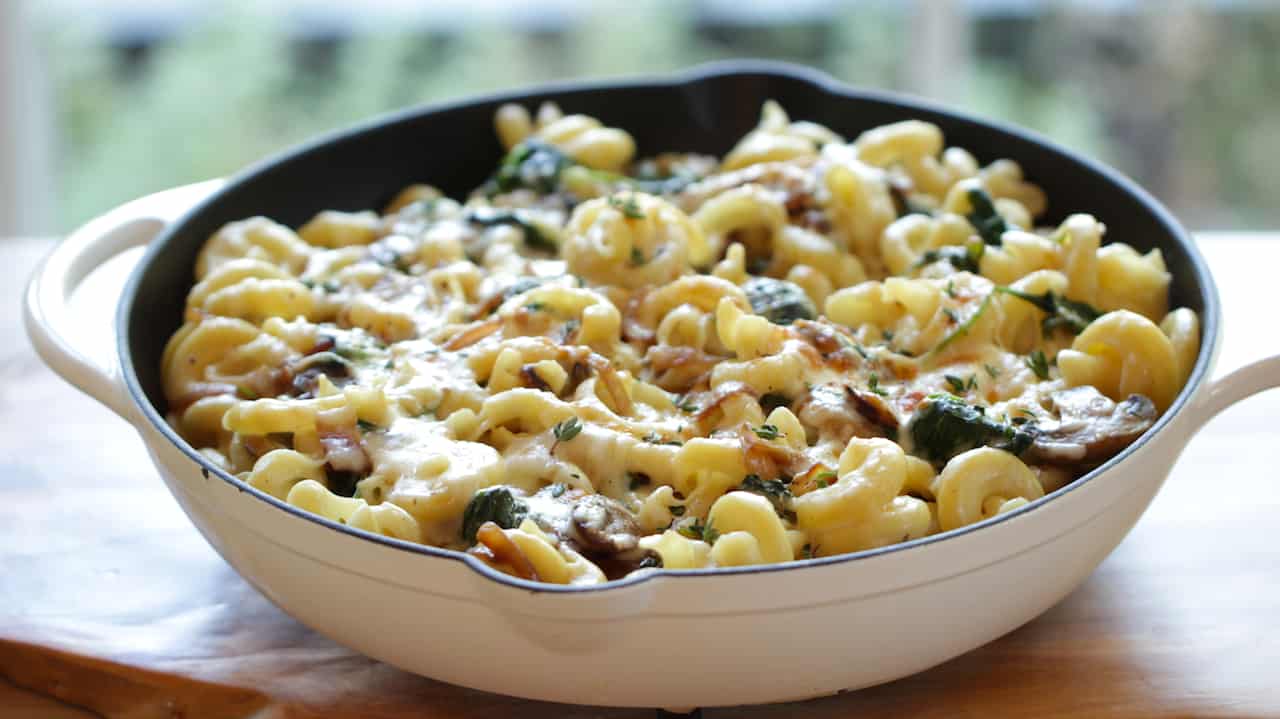 There's something so comforting about a bubbling skillet of baked, cheesy pasta. Especially now as the weather turns cool. This is a recipe we've been making at our house, as we try to eat "lower on the food chain" once a week by adopting a Meatless Monday dinner into the weekly rotation.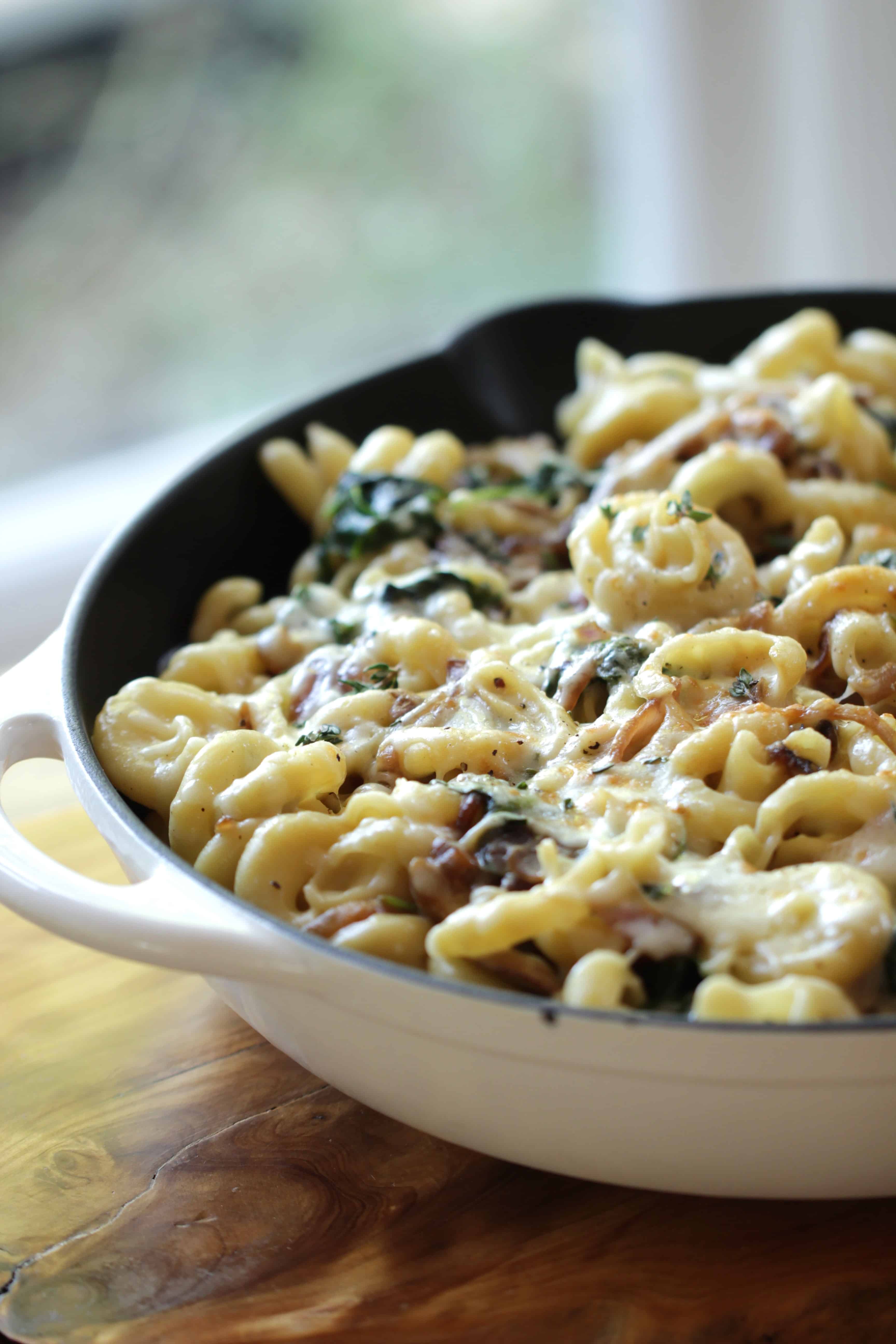 This recipe is quite versatile and works well for vegans too, by just omitting the sauce and cheese.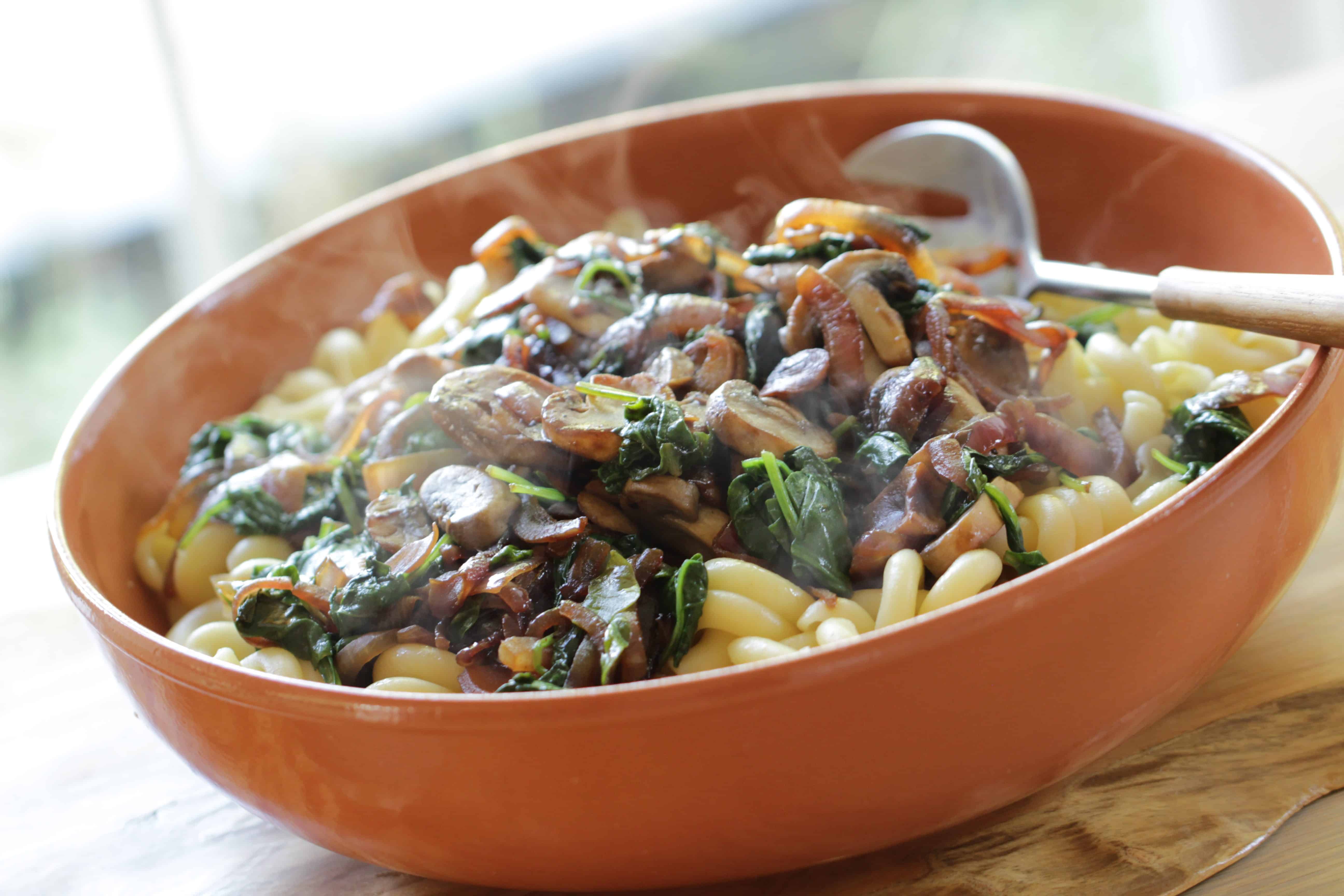 For a step-by-step tutorial of these recipes you can watch my video demo below.
SUBSCRIBE TO MY YOUTUBE CHANNEL and never miss a recipe! (it's free!) and new videos post each Saturday!
Print
---
Author:

Prep Time:

30 mins

Cook Time:

15 mins

Total Time:

45 mins

Yield:

6 servings

Category:

Dinner

Cuisine:

American
Ingredients
1 lb (450 g) of your favorite cut pasta (penne, rigatoni, etc)
2 tbsp (30 ml) olive oil
2 ½ cups (595ml) red onion, sliced into half moons
1 ½ tsp (7.5ml) balsamic vinegar
2 ½ cups (595 ml) sliced mushrooms
5 cups (1190 ml) of spinach
salt and pepper to taste
For Béchamel Sauce:
2 tbsp (30 g) butter
2 tbsp (15 g) flour
2 cups (480 ml) of milk
¼ tsp (1.25 ml) salt
freshly cracked pepper
2 garlic cloves minced
1 ½ cups (360 ml) Italian Blended Cheese (Provolone/Mozzarella for the gooeyness and Parmesan/Asiago for Flavor)
Fresh or dried Thyme for garnish
---
Instructions
Boil pasta according to package instructions.
Meanwhile sauté the veggies. In a large oven safe skillet add olive oil and sauté red onion until soft and fragrant, add salt and pepper to taste and then add vinegar and cook until reduced slightly. Add mushrooms, cook until soft, then add spinach, cover and cook until wilted. Season veggies with salt and pepper to taste, remove from skillet and set aside.
If you are Vegan. Simply toss the cooked pasta with 1 tbsp of olive oil, and the toss with the sautéed veggies and serve!
For vegetarians who eat dairy, continue below.
To make the sauce, heat the butter in the skillet until melted. Add flour and whisk until combined. Slowly add the milk and simmer until thickened. Add salt, pepper and garlic, and Worcestershire sauce. Stir to combine. Add ¾ cup of cheese to the sauce and combine. Set aside.
Drain cooked pasta and place in a large bowl then toss with the sauce to coat well, then add veggies and toss. Place pasta in cleaned out skillet, top with remaining ¾ cup of cheese, and place skillet in oven under broil setting for 1 minute or until cheese is golden brown and melted.
Serve oven-to-table with a tossed salad.
Makes for great leftovers too!
Notes
*If you are NOT Vegetarian 4-5 dashes of Worcestershire Sauce is great in the Béchamel sauce. But for Vegans/Vegetarians please note most Worcestershire sauce has anchovies in it.