This lobster ravioli sauce is the best sauce for store-bought lobster ravioli! It's easy, it's quick, and so delicious too! It's a creamy sauce loaded with shallots and fresh herbs, and large chunks of lobster meat.
It's a terrific pasta recipe for entertaining, because the store-bought lobster ravioli saves you both time and money. This allows you to concentrate on preparing a delicious homemade sauce.
Looking for another festive Lobster Recipe? Try my Lobster Thermidor of my Bouchée a la Reine with Lobster recipes.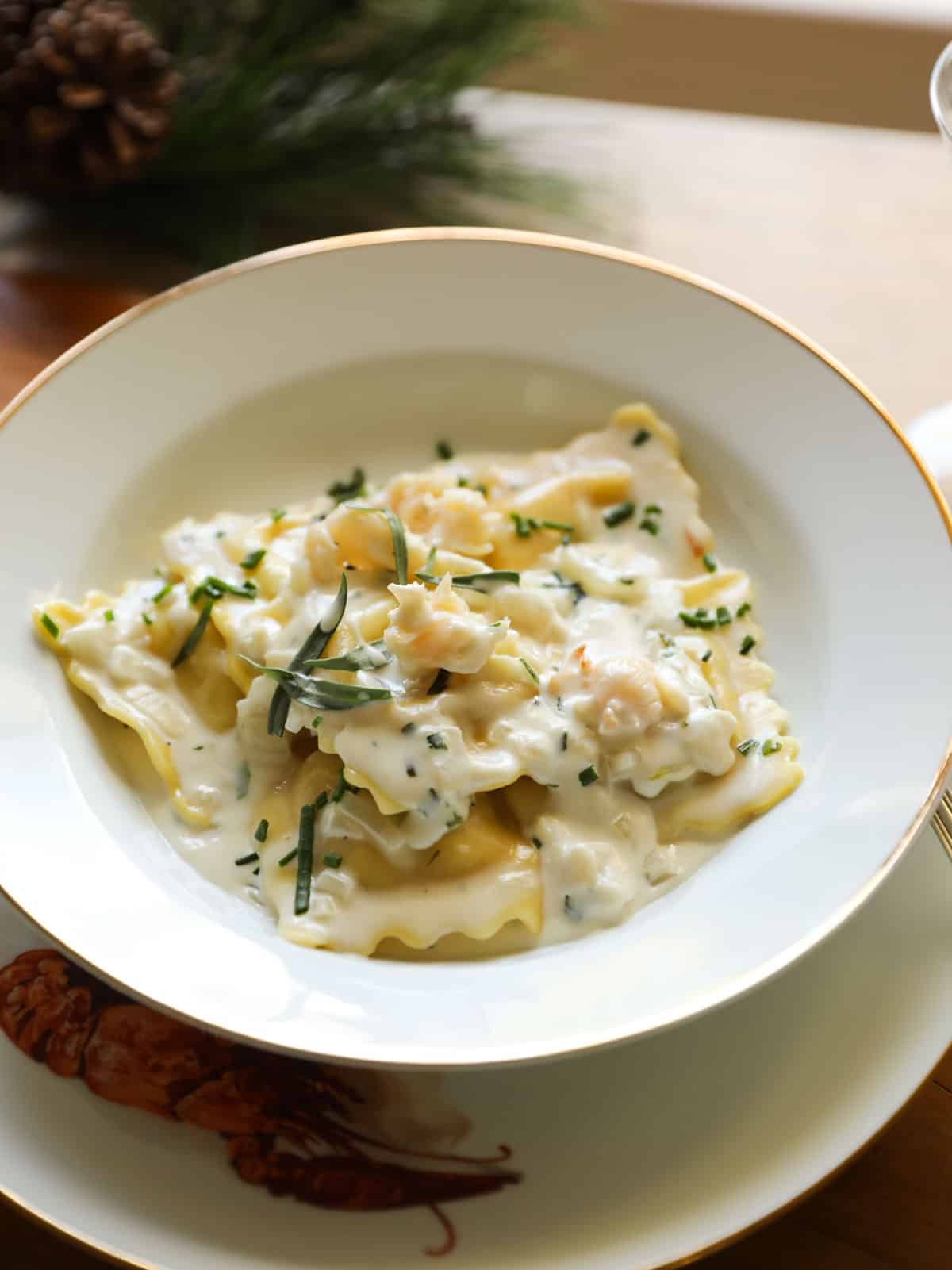 The Ingredients:
Lobster Tails You can use fresh or frozen lobster tails. If using frozen, defrost the tails in the refrigerator for 24-hours before roasting them.
Butter If inside the U.S.A use salted Land O Lakes Butter.It has the best flavor. Otherwise outside the U.S.A. use unsalted butter. Since international butters tend to be a lot more salty.
Shallots will add a wonderful texture and sweet flavor to the lobster sauce. But you could also substitute for white onion or leeks (white parts only)
Garlic I use 2 cloves to add greater depth to the sauce, but if you aren't such a garlic fan you could pair it back to one clove.
White Wine Use a dry white wine like a Sauvignon Blanc, Pinot Grigio or Sancerre.
Fresh Chives Add a wonderful herby freshness to the decadent creamy sauce.
Fresh or Dried Tarragon Fresh tarragon would be my first choice. The fresh, anise-like flavor of fresh tarragon is fantastic with the lobster. But if you don't have fresh tarragon you can also use dried.
Heavy Cream is what makes the sauce so decadent! I would not skimp here, since it's what creates the luxurious, silky smooth, texture of the sauce.
Store-Bought Lobster Ravioli pairs beautifully with this creamy, herby sauce, but you could also use crab ravioli, spinach ravioli or cheese ravioli too.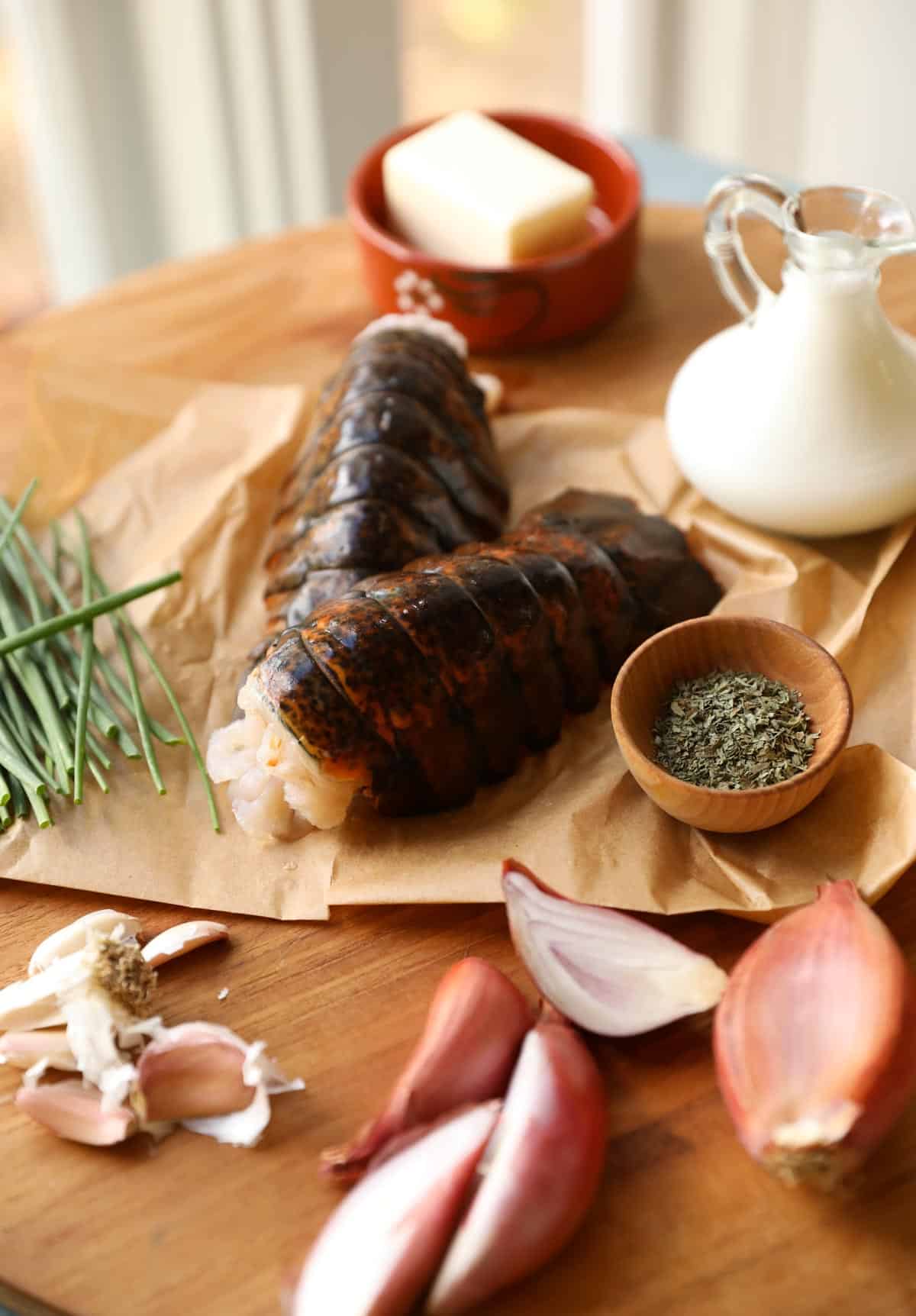 Selecting Store-Bought Ravioli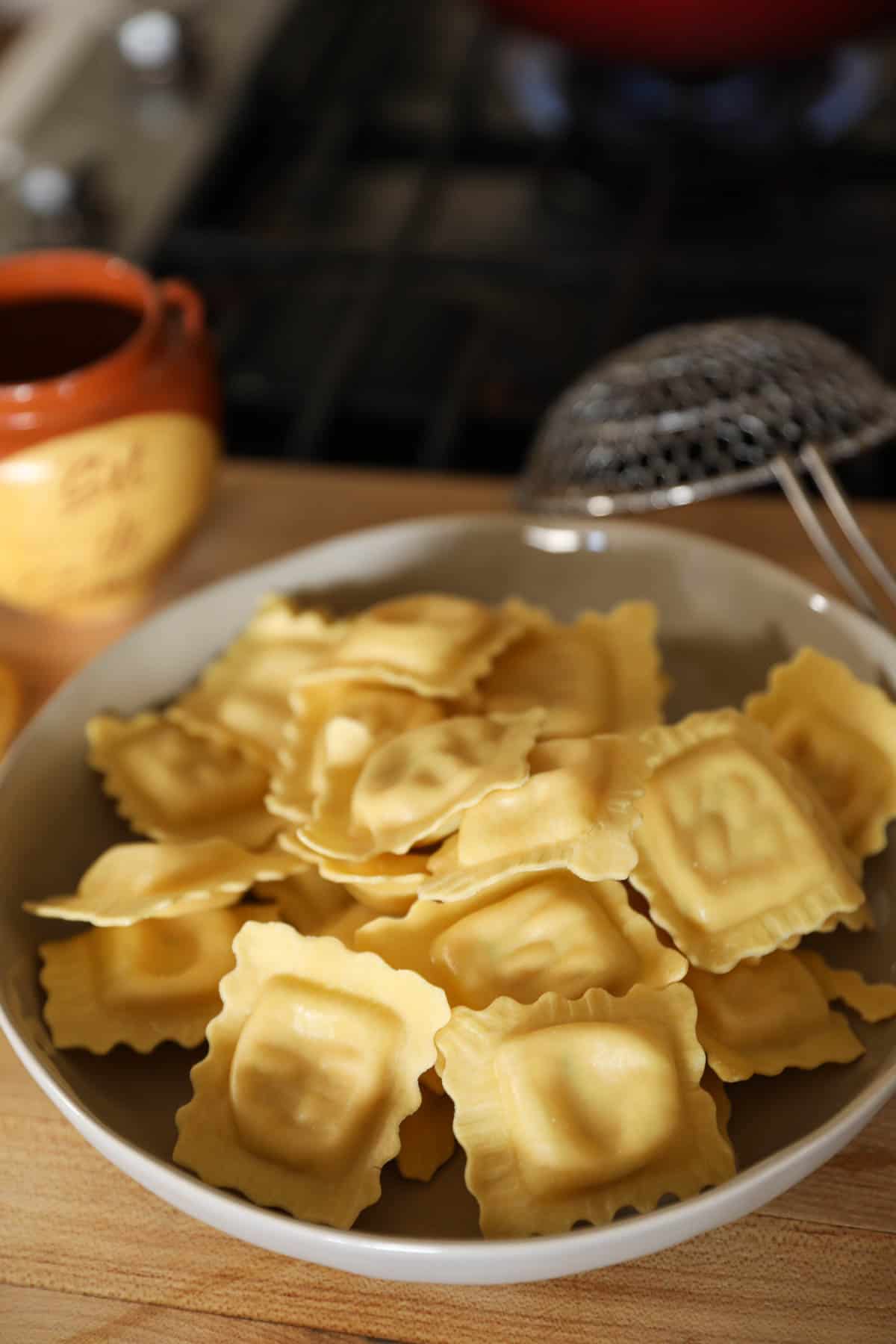 Adding Lobster Meat to The Sauce
I think at least a little fresh lobster meat sends this sauce over-the-top. It only takes 2 lobster tails to assure everyone gets a little taste.
But if you wanted to save money you could substitute the lobster tails for frozen shrimp.
If you go this route roast the shrimp the way I prepare it in my Shrimp Scampi Recipe.
Or you could also use lump crab meat too!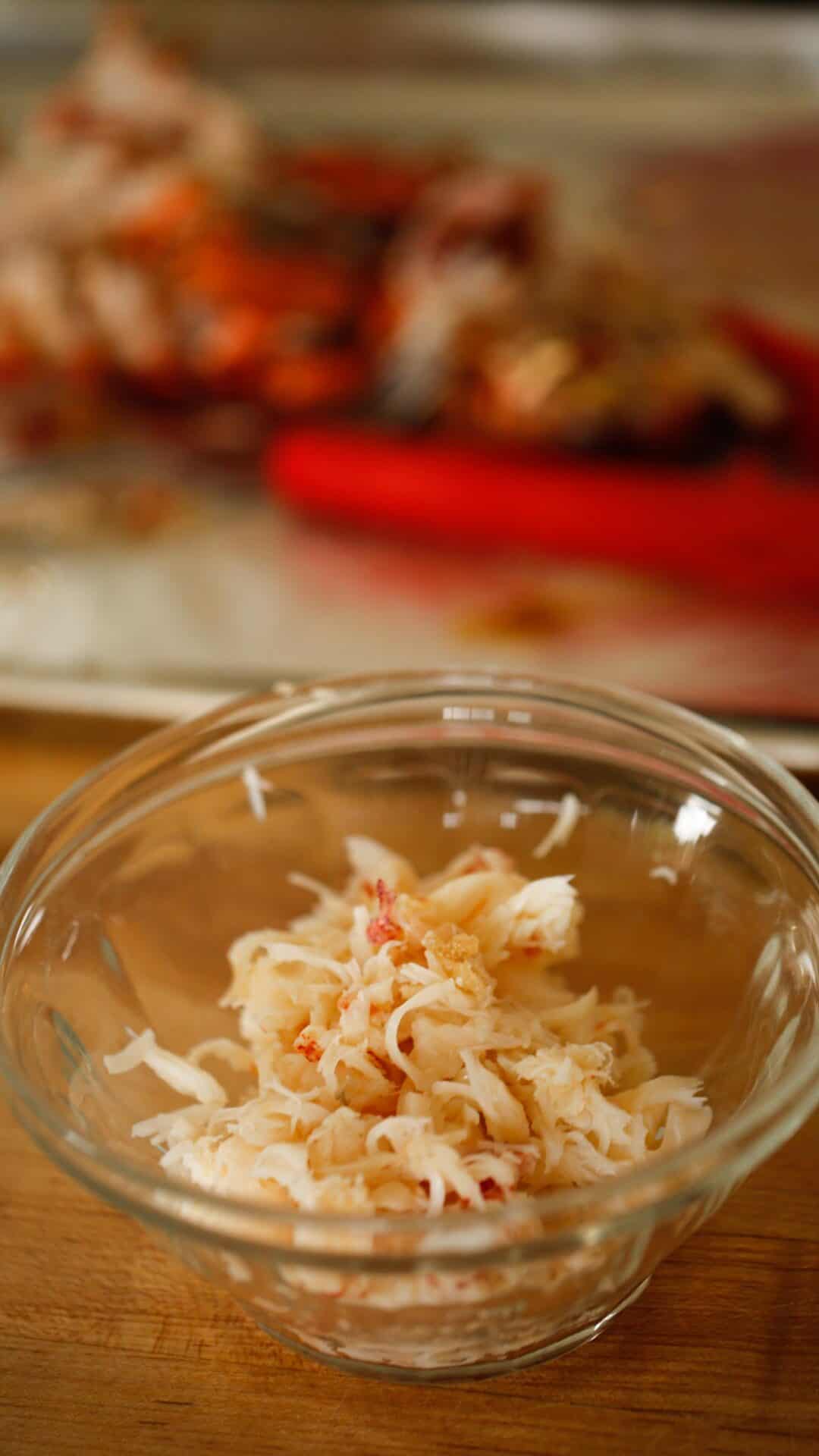 Extracting The Lobster Meat
Lobster tails are notoriously hard to crack with your hands!
To extract the most meat possible from the tail, be sure to use a lobster cracker.
Crack the tails top side up and you'll then be able to extract the meat in one piece and chop it into bite-sized pieces.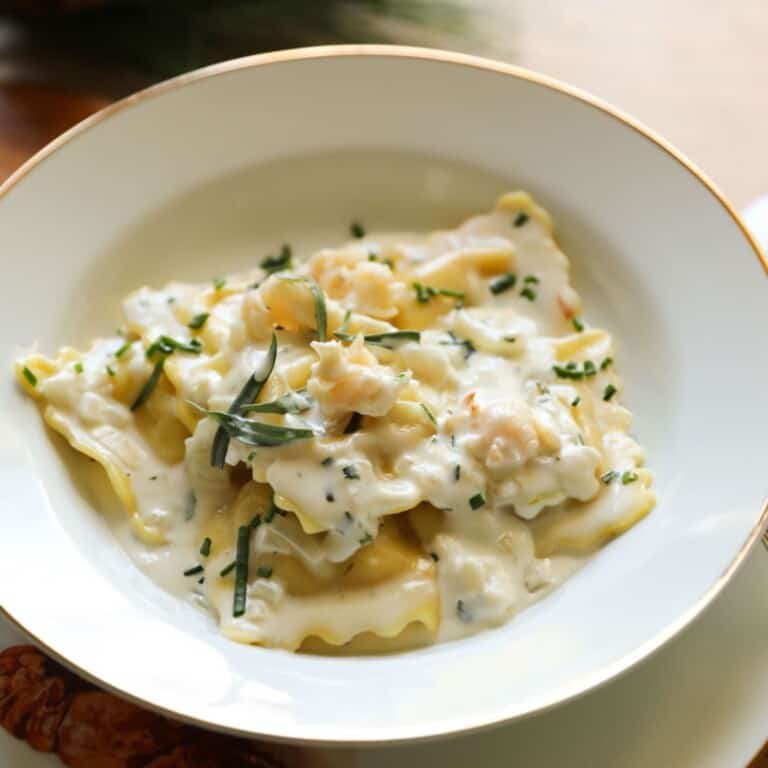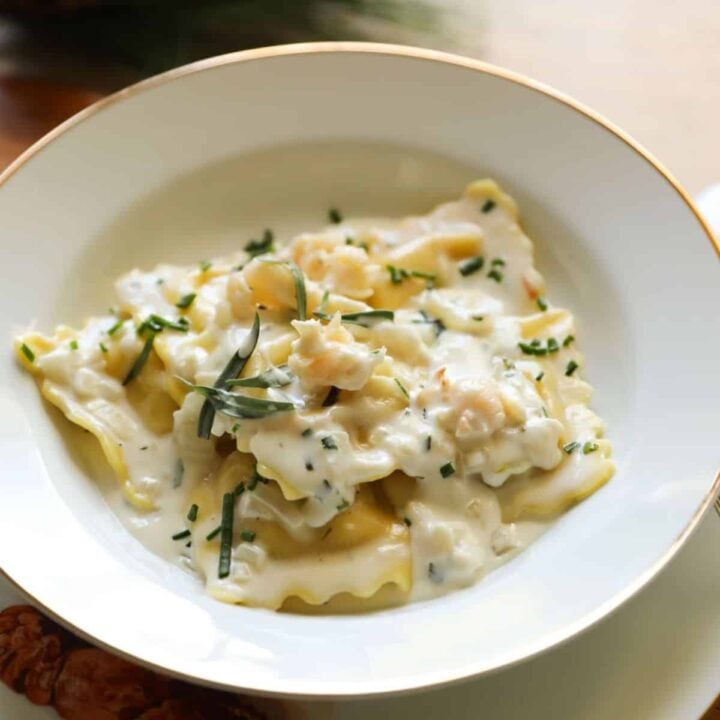 Lobster Ravioli Sauce
A deliciously creamy lobster ravioli sauce flavored with shallots, wine and fresh herbs. The best lobster ravioli sauce to pair with store-bought lobster ravioli.
Ingredients
2 (4-ounce) lobster tails (113g each tail)
6 tablespoon (84g) Butter
1 ¼ cup (110g) shallots, minced
Salt and pepper to taste
2 cloves garlic, minced
¾ cup (177 ml) dry white wine (Sauvignon Blanc, Pinot Grigio etc)
3 tablespoon (45ml) fresh chives
3 tablespoon (45ml) fresh tarragon + more for garnishing
2 cups (474 ml) Heavy cream
24-ounces (680g) Store-Bought Lobster Ravioli (Rana Brand or Trader Joe's Brand)
Instructions
Preheat oven to 400F (200C). Turn lobster tails over to expose their underside.
Using a pair of kitchen shears cup a slit all the way up the length of the tail. Place the lobster tails, slit-side up on a rimmed baking sheet lined with aluminum foil.
Bake for 15mins or until meat inside registers 140F with a meat thermometer. Set aside to cool.Meanwhile in a large, fry pan at least 2 inches deep, melt butter. Add shallots, seasoning with salt and pepper.
Continue to sauté until translucent. Then add white, and allow to simmer and reduce by about a third.Add herbs, then add heavy cream. Simmer sauce until thickened.
Then lower flame to keep warm.Crack open the lobster tails with a lobster cracker. Extract meat and chop into bite-sized pieces.
Add lobster to sauce and stirring until lobster meat has warmed through.Place 6-7 ravioli in a shallow bowl.
Top with sauce, and garnish with fresh tarragon leaves.
Notes
If sauce becomes too thick, thin with pasta water until desired consistency achieved
If you can't find fresh tarragon, you can substitute for 1 ½ Tablespoons of dried tarragon.
Nutrition Information:
Yield:

6
Serving Size:

1
Amount Per Serving:
Calories:

423
Total Fat:

40g
Saturated Fat:

26g
Trans Fat:

1g
Unsaturated Fat:

12g
Cholesterol:

120mg
Sodium:

168mg
Carbohydrates:

9g
Fiber:

1g
Sugar:

5g
Protein:

3g