Soft Gingerbread Man Cookie Recipe
This Soft Gingerbread Cookie Recipe is the perfect recipe for gifting to teachers, babysitters, family or friends. The gingerbread is soft and chewy and full of holiday flavor! It's also an easy gingerbread cookie recipe because it uses basic ingredients you probably already have sitting in your pantry and fridge.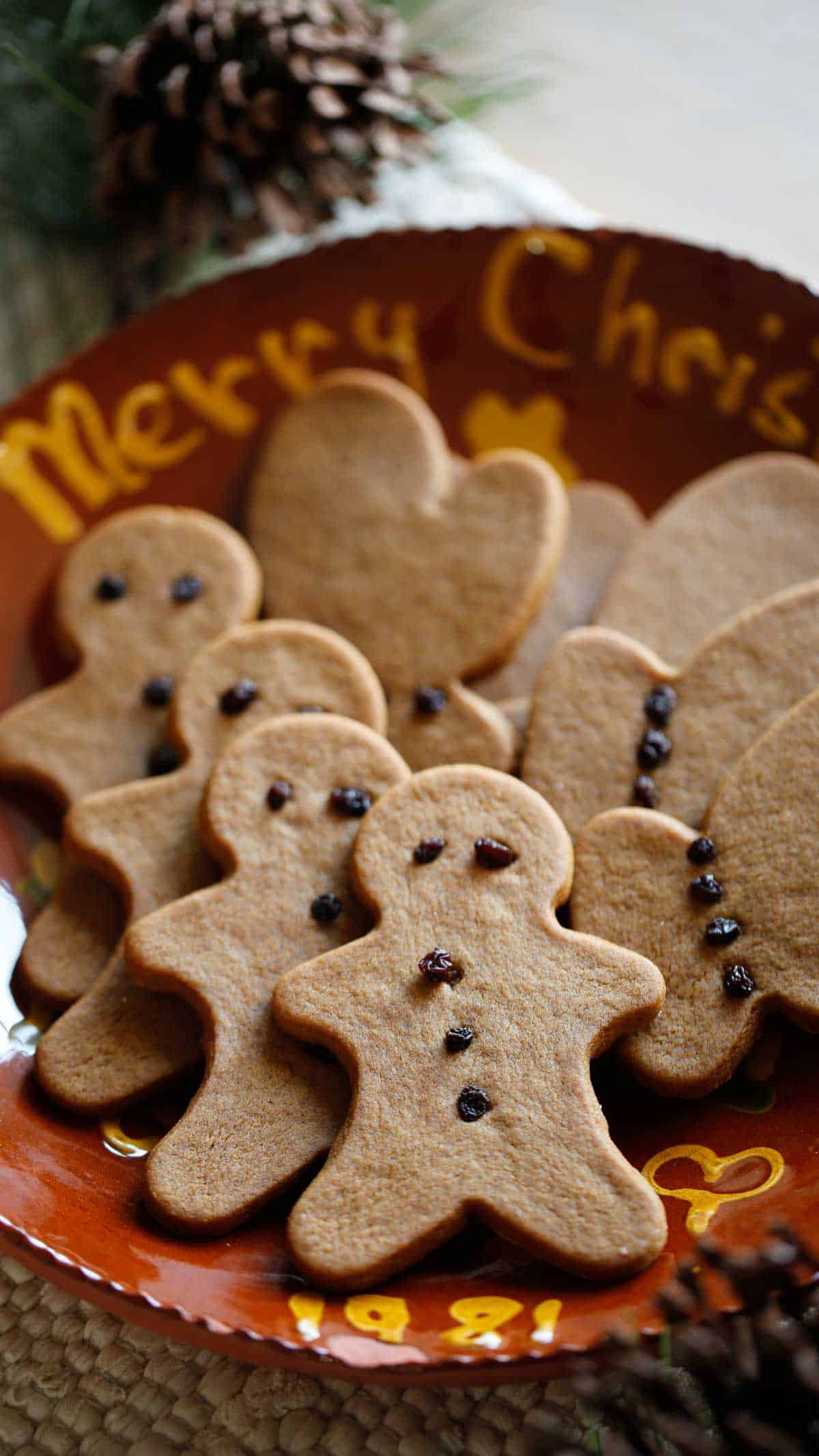 Why Stop at Just Gingerbread Men?
With this recipe, you can turn your gingerbread cookies into classic gingerbread men, or have fun with other shapes like Mitten Cookie Cutters, House Cutters, or Christmas Tree Cutters for even more fun and festive designs!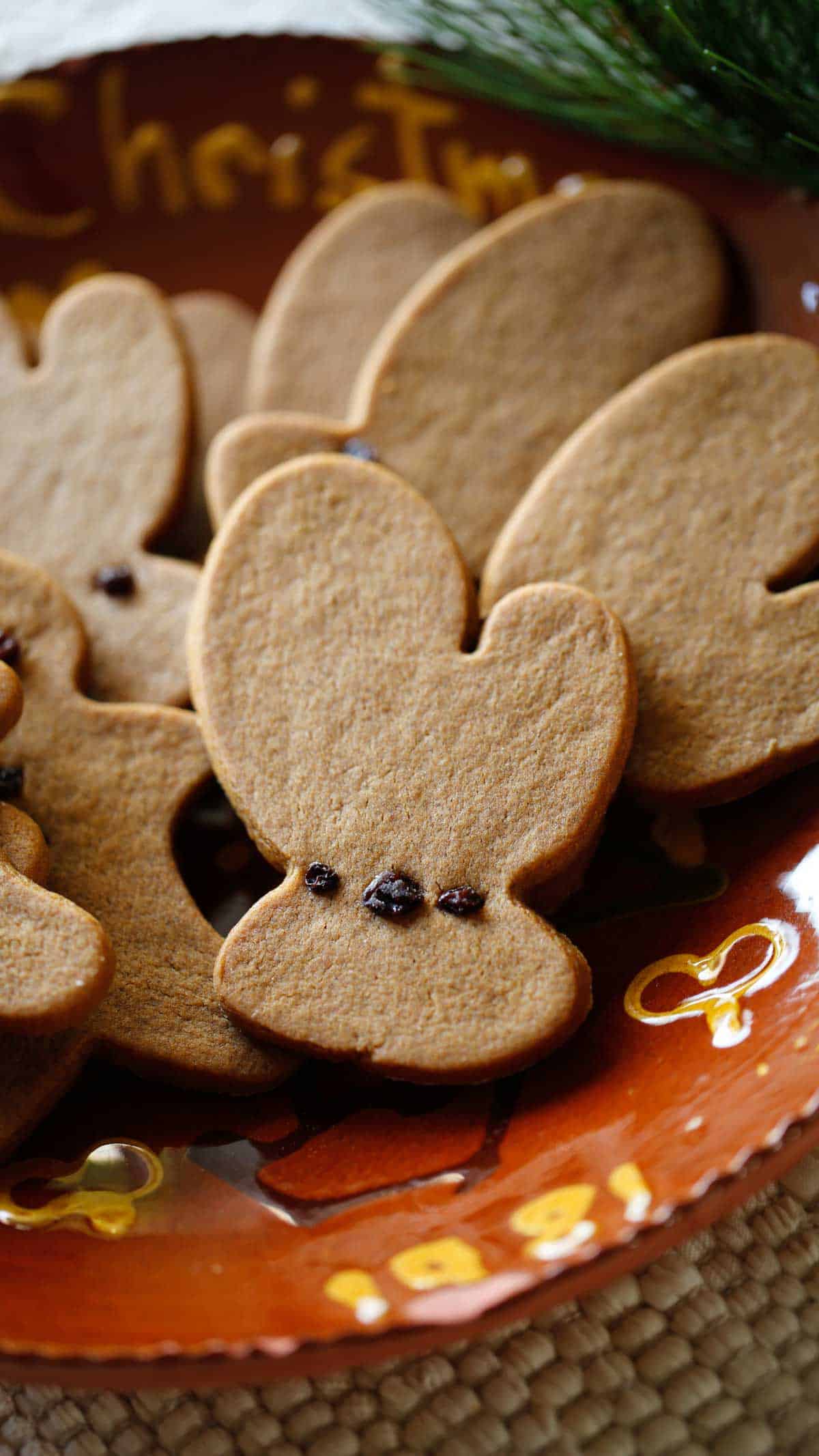 Watch My Video Demo of This Recipe
This was a video I did for the Kin Community YouTube Channel a few years back. You can watch the video below for all my tips, tricks and techniques for getting a delicious gingerbread cookie.
What Shapes To Use For Gingerbread Cookies?
I typically go with the classic shapes like gingerbread people, Christmas trees and mittens. But you can use really any shapes you like.
One tip though, be sure your shapes are roughly the same size, that way they will bake at the same rate.
It also helps to assure they are the same thickness, so they bake evenly as well. I think ¼" thickness is perfect.
Decorating Tips For the Cookies
Once your cookies are cut out and placed on your baking tray lined with parchment paper. You can then decorate them with currants. I find currants work better than raisins since they are smaller and set better into the cookie when baked.
Your cookies will start to come to room temperature at this point. To preserve their shapes pop your baking trays in the freezer for 5-10 minutes or the refrigerator for 15 minutes to firm back up.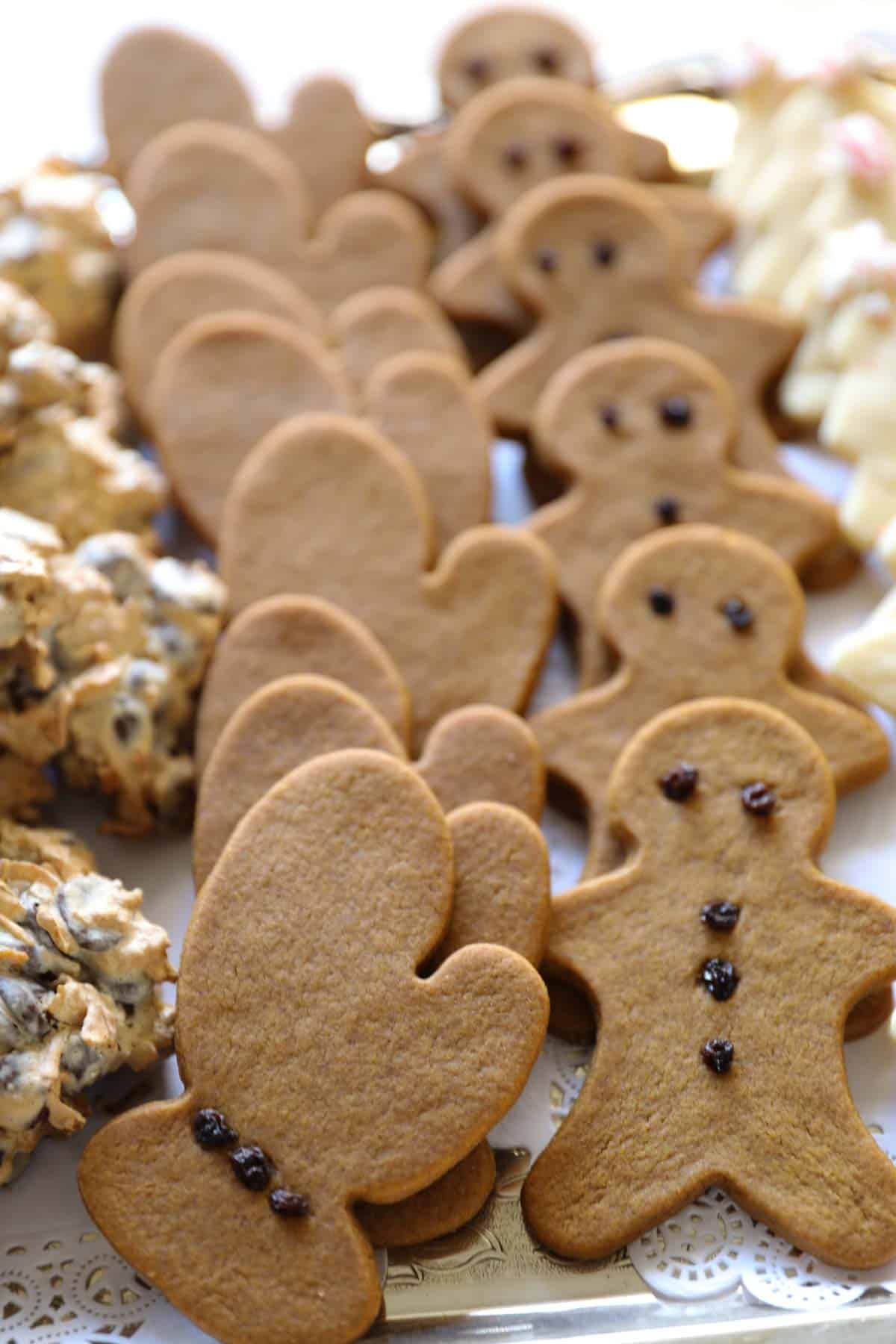 Why Are Your Gingerbread Cookies So Hard?
If you end up with crispy hard gingerbread cookies it typically means you've baked them too long! The secret with gingerbread is to take them out just they appear to be set, this will product a soft chewy cookie once cooled.
How Long To Bake Gingerbread Cookies?
For this recipe, I think 8-10 minutes is the sweet spot for a cookie that is 2-3 inches high. But it really depends on the size of your cookie. Larger cookies will take a bit longer, smaller cookies take less time. I would add a minute more, or a minute less for each inch of cookie.
Transfer your cookies to a wire rack to cool completely before packaging up. Even if they are just the tiniest but warm, your cookies will steam up in your bags! Not a good look.
Cookie Exchange Cookie
These cookies work well for a cookie exchange party too! Everyone loves a classic gingerbread men at Christmas time. They also look so festive and cute on the platter too! Other cookie recipes pictured below include my Marigoon Cookies, Vanilla Sugar Cookies, Chewy Chocolate Cookies and my Raspberry Thumbprint Cookies. You could also add some easy candy recipes to a cookie exchange party as well, try my Chocolate Turtles or my Classic Peanut Brittle recipes.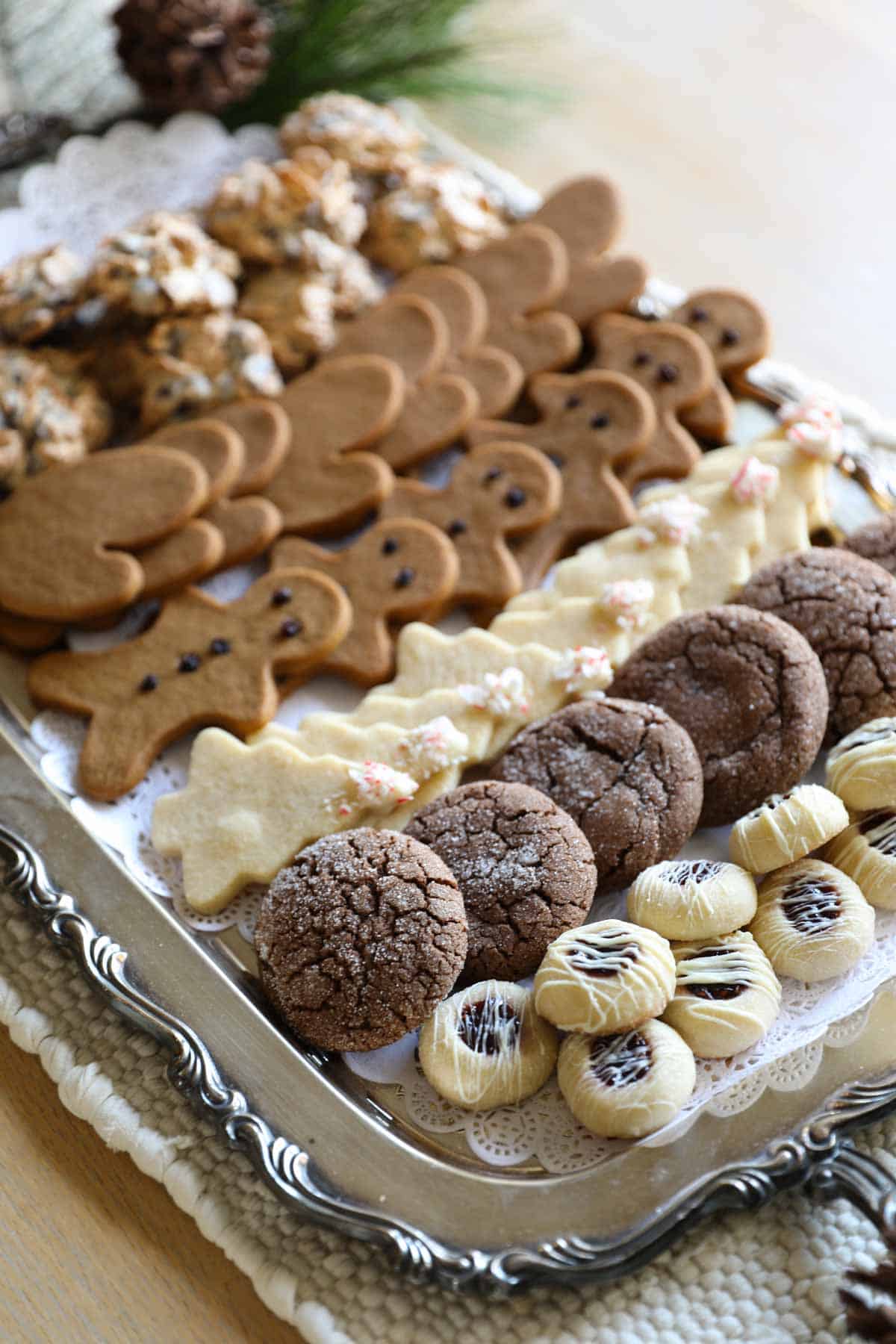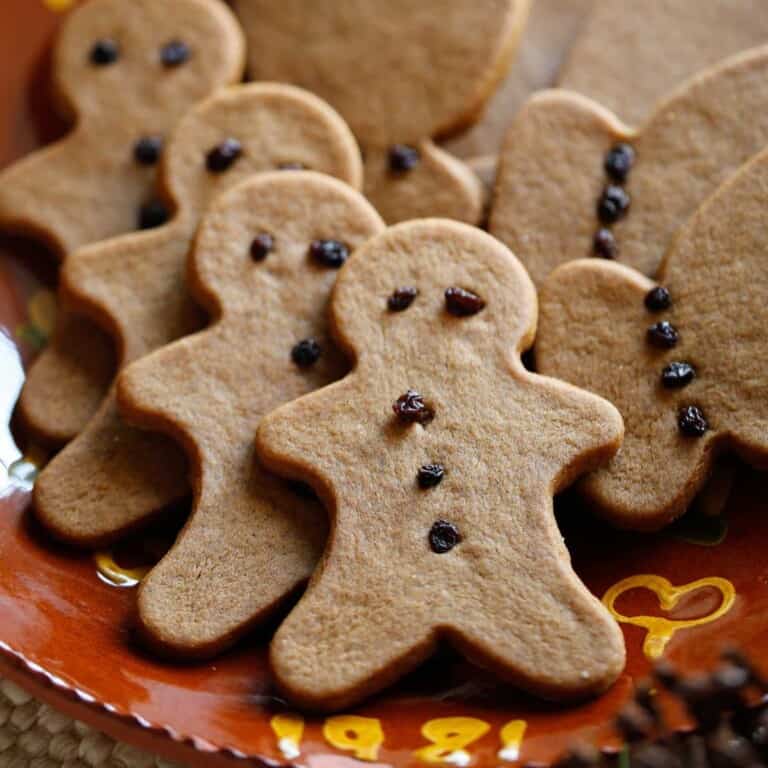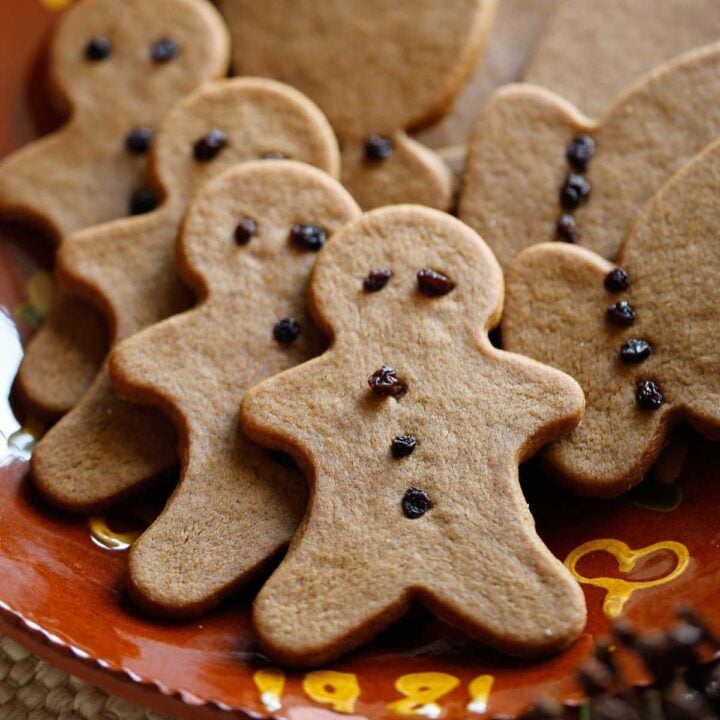 Soft Gingerbread Cookies
Prep Time:
2 hours
30 minutes
Total Time:
2 hours
38 minutes
A delicious soft and chewy gingerbread cookie recipe that's perfect for cookie exchanges or holiday gifting.
Ingredients
1 cup of butter (240 g)
¾ cup of sugar (150 g)
¾ cup of molasses (180 ml)
1 teaspoon vanilla (5 ml)
3 cups of flour (360 g)
1 tablespoon ground cinnamon (15 ml)
1 teaspoon baking soda (5 ml)
1 teaspoon ground ginger (5 ml)
¼ teaspoon ground allspice (2.5 ml)
⅛ teaspoon ground cloves (1.75 ml)
pinch of salt
½ cup of currants (75 g)
Instructions
Combine all the dry ingredients and whisk together. Beat together the butter, sugar until fluffy. Add molasses and vanilla. Beat until well combined. Slowly add the dry ingredients and beat just until combined.
Roll the dough into a large ball, cut in half, and flatten into 2 disks. Wrap well in plastic wrap and refrigerate for at least 2 hours, or overnight. Or if you really are in a rush, pop in the freezer for 20 minutes.
Preheat oven to 350F (150C)
Roll out dough on a well-floured surface, to about ⅛ " thick. Cut out shapes, and transfer to a parchment lined cookie sheet. Add currants for eyes, and button where needed. Bake for 8-10 minutes until slightly puffed and set. If you like them chewy pull them out at 8 minutes, and leave longer if you prefer crispy. Transfer to a cooling rack and allow to cool before packaging.
Nutrition Information:
Yield:

48
Serving Size:

1
Amount Per Serving:
Calories:

95
Total Fat:

4g
Saturated Fat:

2g
Trans Fat:

0g
Unsaturated Fat:

1g
Cholesterol:

10mg
Sodium:

62mg
Carbohydrates:

14g
Fiber:

0g
Sugar:

8g
Protein:

1g