Chewy Chocolate Cookie Recipe
This Chewy Chocolate Cookie Recipe is a delicious cookie recipe that is perfect for holiday gift giving or for a cookie exchange. It's soft and chewy and full of fudgy flavor. Almost like the texture of a brownie inside.
It can be topped with granulated sugar for a wintery, crackle effect, or topped with crushed candy canes for a fantastic chocolate peppermint flavor. It's also really festive that way too!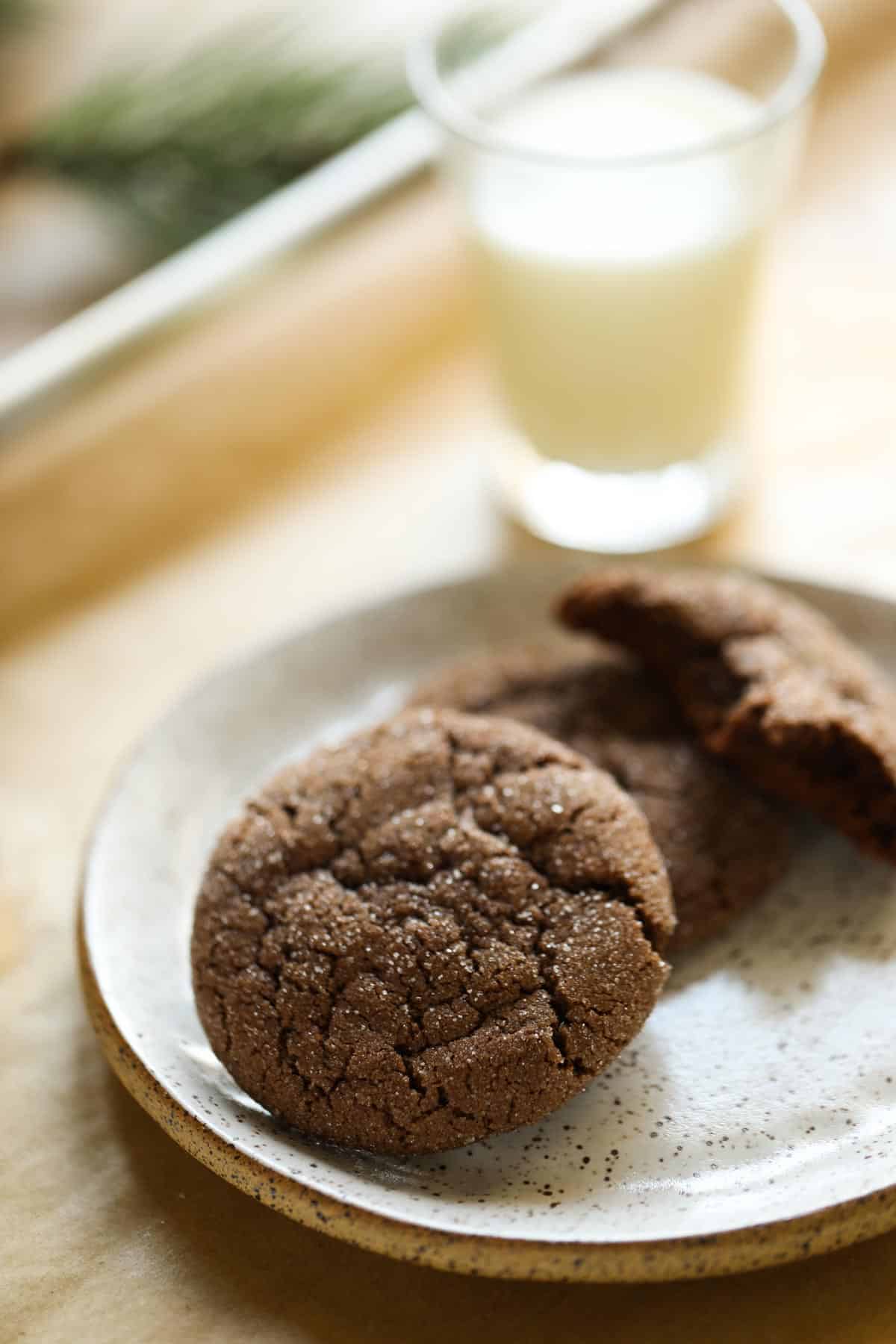 The Secret to a Soft and Chewy Cookie
The quickest, easiest way to create a soft and chewy cookie, is not over-baking them!
These cookies should be pulled out at exactly 12 minutes to obtain the best soft and chewy interior.
Another tip is to use a lot of eggs, more than you might think to use in a cookie recipe. This recipe calls for 3 eggs which adds a lot of moisture into the cookie, allowing them to stay soft and chewy long after they have baked (if kept in an air-tight container)
For more soft and chewy cookie recipes try my Oatmeal Chocolate Chip Cookie, my Kitchen Sink Cookie, or my Classic Peanut Butter Cookie.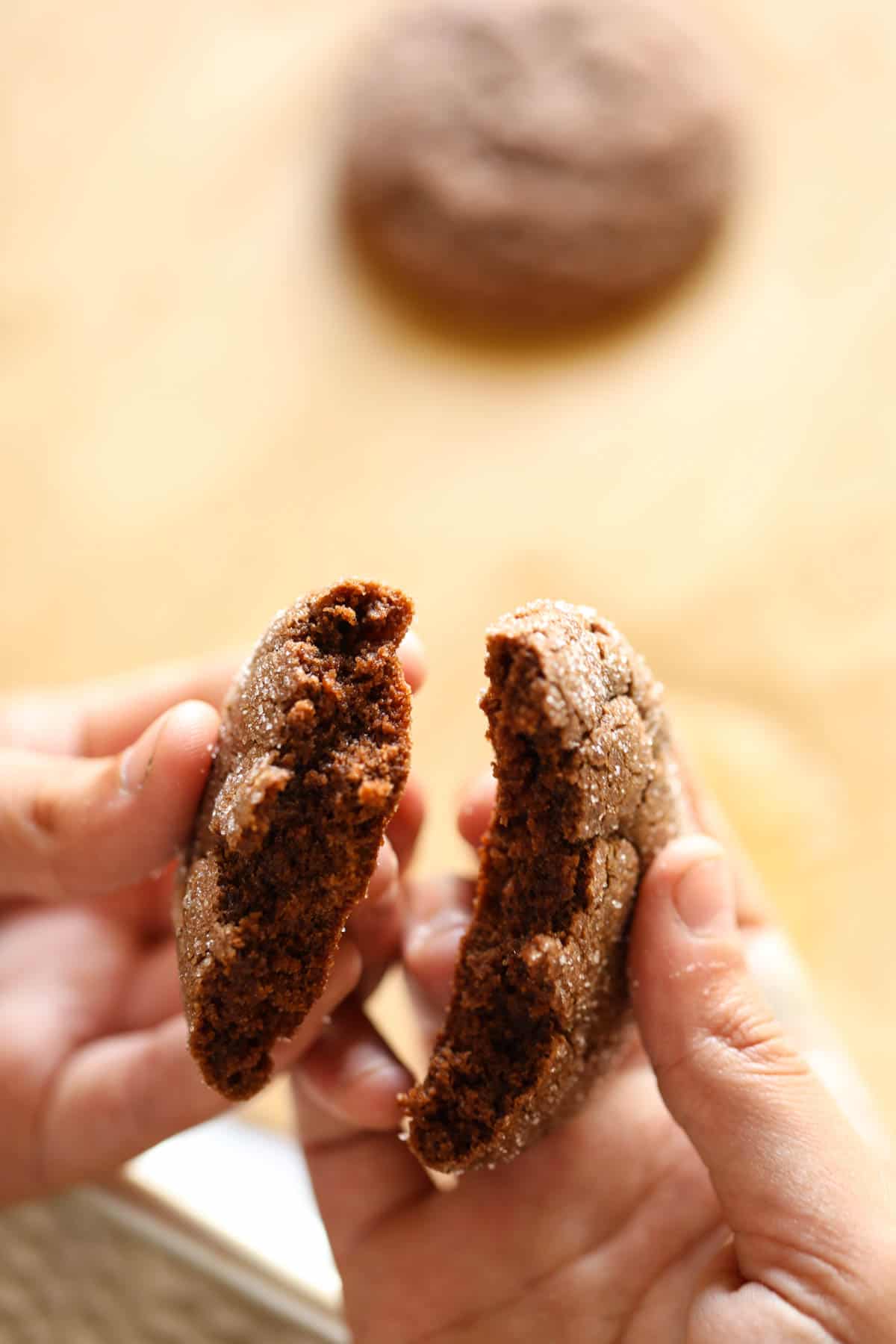 The Ingredients:
Unsalted Butter It doesn't matter if it's softened or not because it will be melted with the unsweetened chocolate.
Unsweetened Chocolate Many old-school recipes call for this type of unsweetened chocolate bar. It's how my Mom always made brownies back in the 70's. The brand to look for is Baker's Unsweetened Chocolate and you'll need 4 ounces which is the whole box. So buy two boxes if you are making two batches of these cookies.
White Granulated Sugar Yes the recipe calls for a lot of sugar (over 2 cups) but that's because we are using so much unsweetened chocolate.
Eggs I use three eggs to get the soft, fudgy center of the cookie.
Vanilla Extract Make sure it's pure vanilla extract, not imitation. You'll get the best flavor from the pure.
All-Purpose Flour I like to sift it with the unsweetened cocoa powder to be sure you don't have any lumps.
Unsweetened Cocoa powder I use ⅓ of a cup to boost the intensity of the chocolate.
Salt to boost all the flavors
Crushed Candy Canes (optional) the addition of the candy canes adds a fantastic peppermint flavor to the cookies.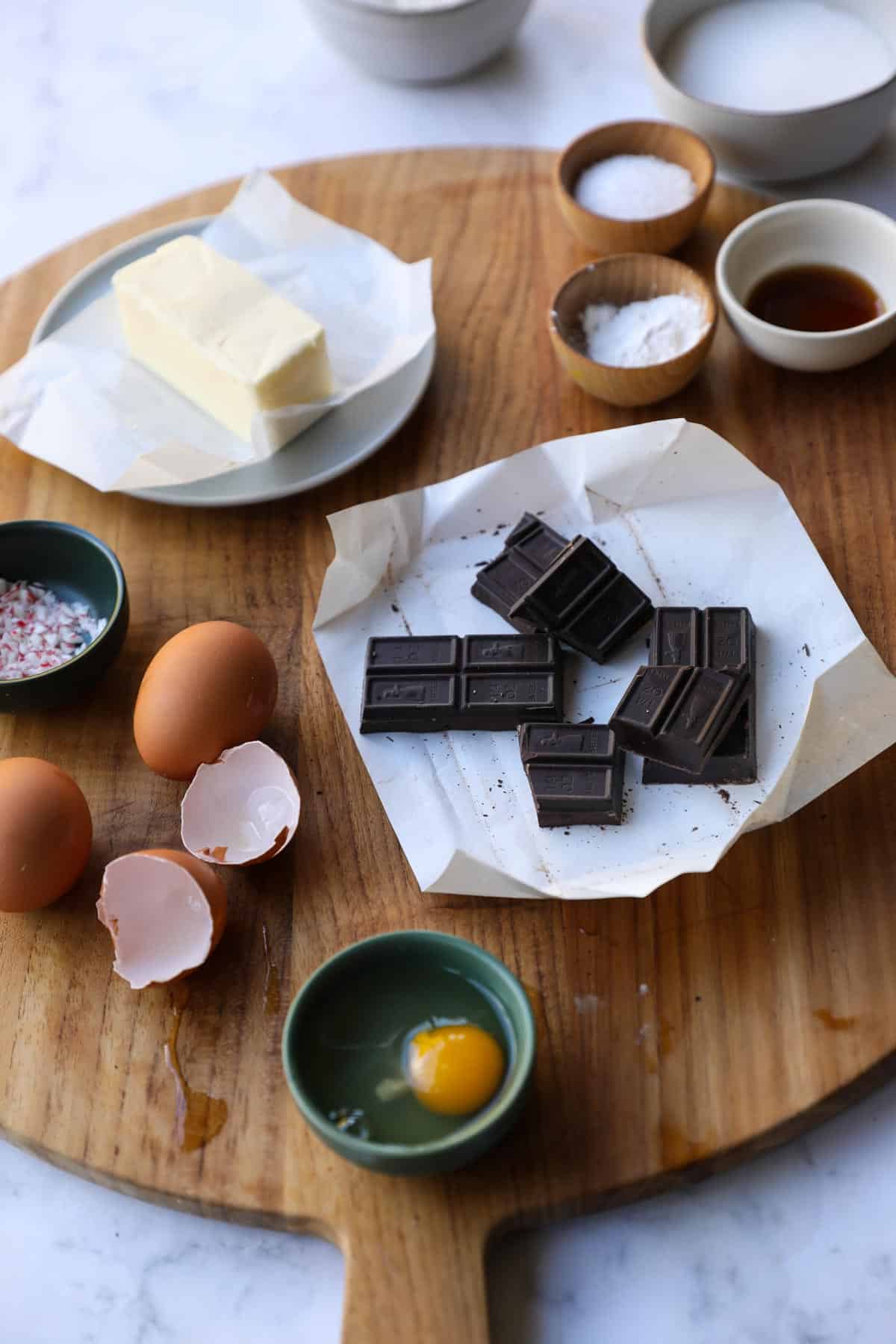 Unsweetened Chocolate and Cocoa Powder
The best combination for soft and chewy chocolate cookies is unsweetened baking chocolate and unsweetened cocoa powder.
I love the combination of the unsweetened chocolate for the moist texture it provides due to the added fat in the chocolate bar. You'll melt the chocolate with the butter until smooth.
I then add a little unsweetened cocoa powder sifted with the dry ingredients, to boost the intensity of the chocolate flavor.
The combination is the best of both worlds soft and chewy, yet flavorful and chocolatey!
Refrigerating the Dough
I know this can be a hard step to suffer through. Who doesn't want to bake a cookie straight away after mixing up the dough!? But if you give this dough just one hour in the refrigerator you will be rewarded with a better textured cookie, one that is both light, fluffy and chewy.
If you bake it right away it will spread out too much and become flat, without the softness of the lift that the chilling provides.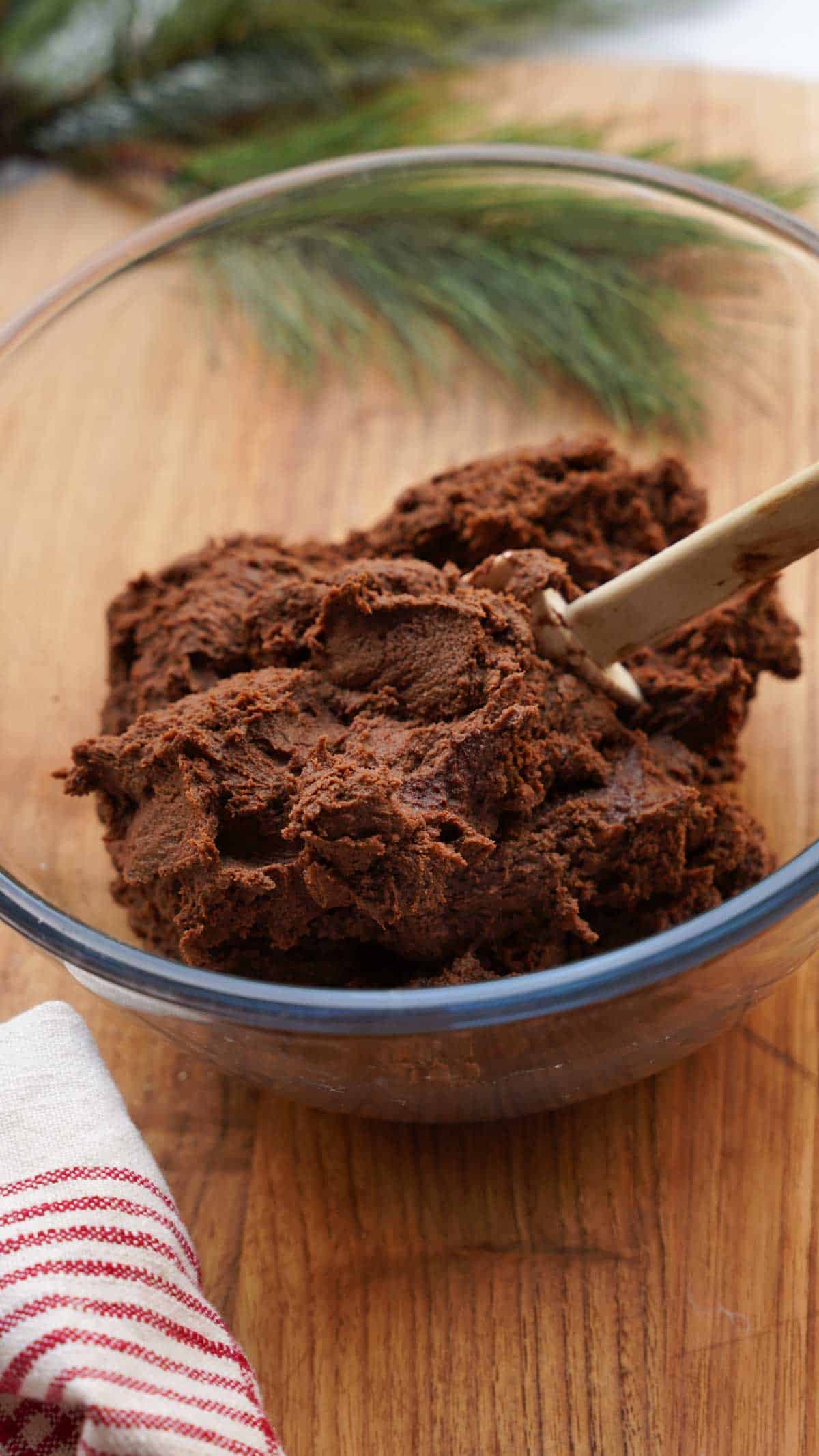 Sugar vs. Candy Cane Dust
You can top your dough balls with granulated sugar or crushed candy canes.
The sugar creates a wonderful wintery effect to the cookie and adds a nice crunch to the exterior
The candy cane dust melts into the cookie as it bakes, infusing a delicious peppermint flavor into the cookie.
I also top with a little more candy cane dust on top after it's baked for the prettiness it provides and because most of the candy cane has already melted while baking into the cookie.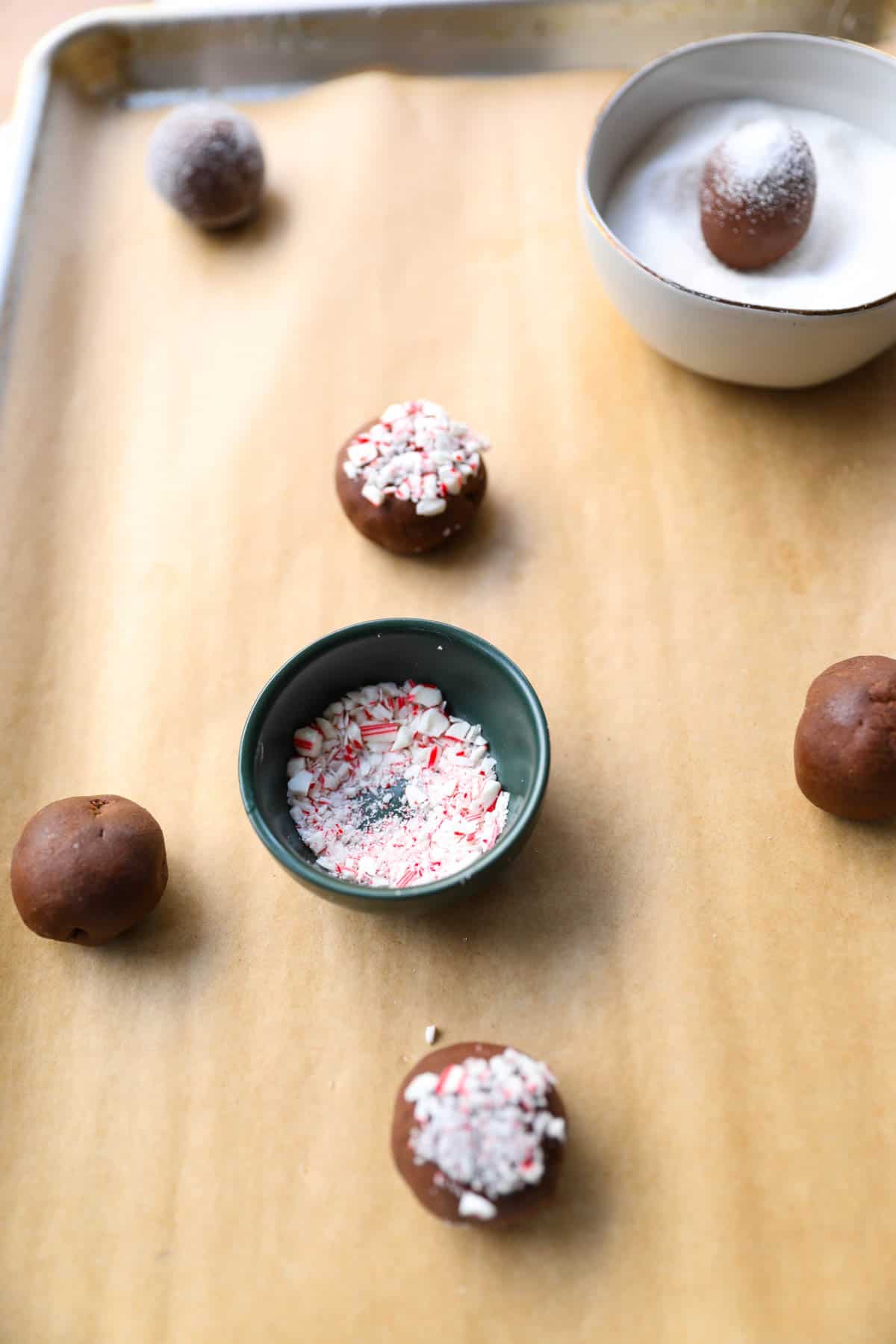 Cooling on the Baking Tray vs. The Rack
When it comes to creating chewy cookies, it's better to cool them on the tray than on a rack.
The residual heat from the tray will set their underbaked centers just a bit, without over baking them as would be the case if you left them in the oven longer.
They will also retain their shape better this way if they are not disturbed by transferring them to a cooling rack.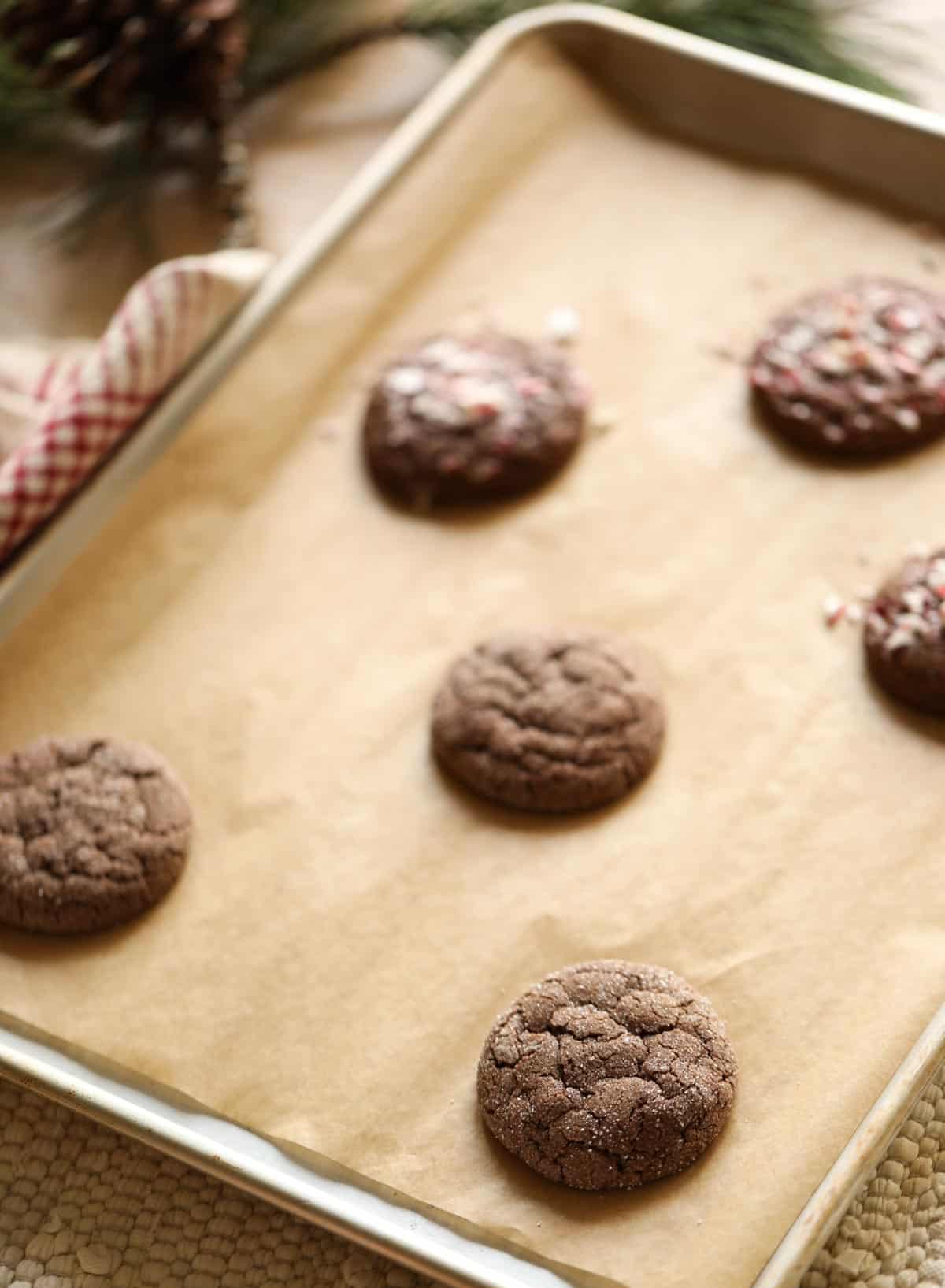 Add a Little Extra Candy Cane Dust for Presentation
Most of the candy cane dust will melt into the cookie while it bakes, which is what will impart the beautiful peppermint flavor to the cookie.
But while the cookies rest on the tray add another layer of candy cane dust on top. It will stick to the cooling cookie and provide a nice visual appeal while adding a bit of crunchy texture to the cookie as well.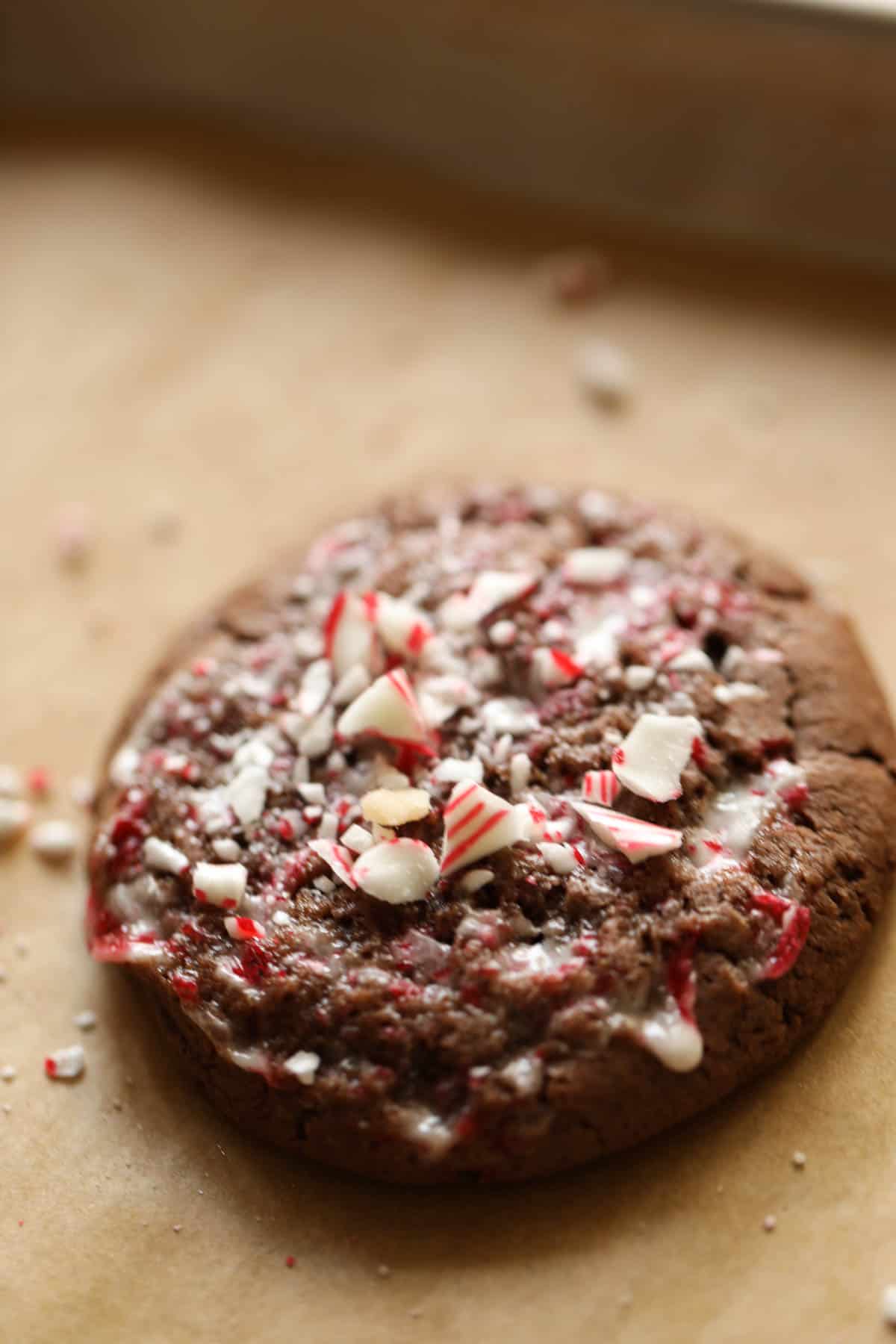 A Cookie Made for a Platter
Is there anything more festive than a platter of Christmas cookies? Add thee chocolate cookies to your platter this year! They are right at home with Gingerbread Men, Raspberry Thumbprint Cookies, Sugar cookies and my personal favorite? Marigoons, the easiest Christmas Cookie ever!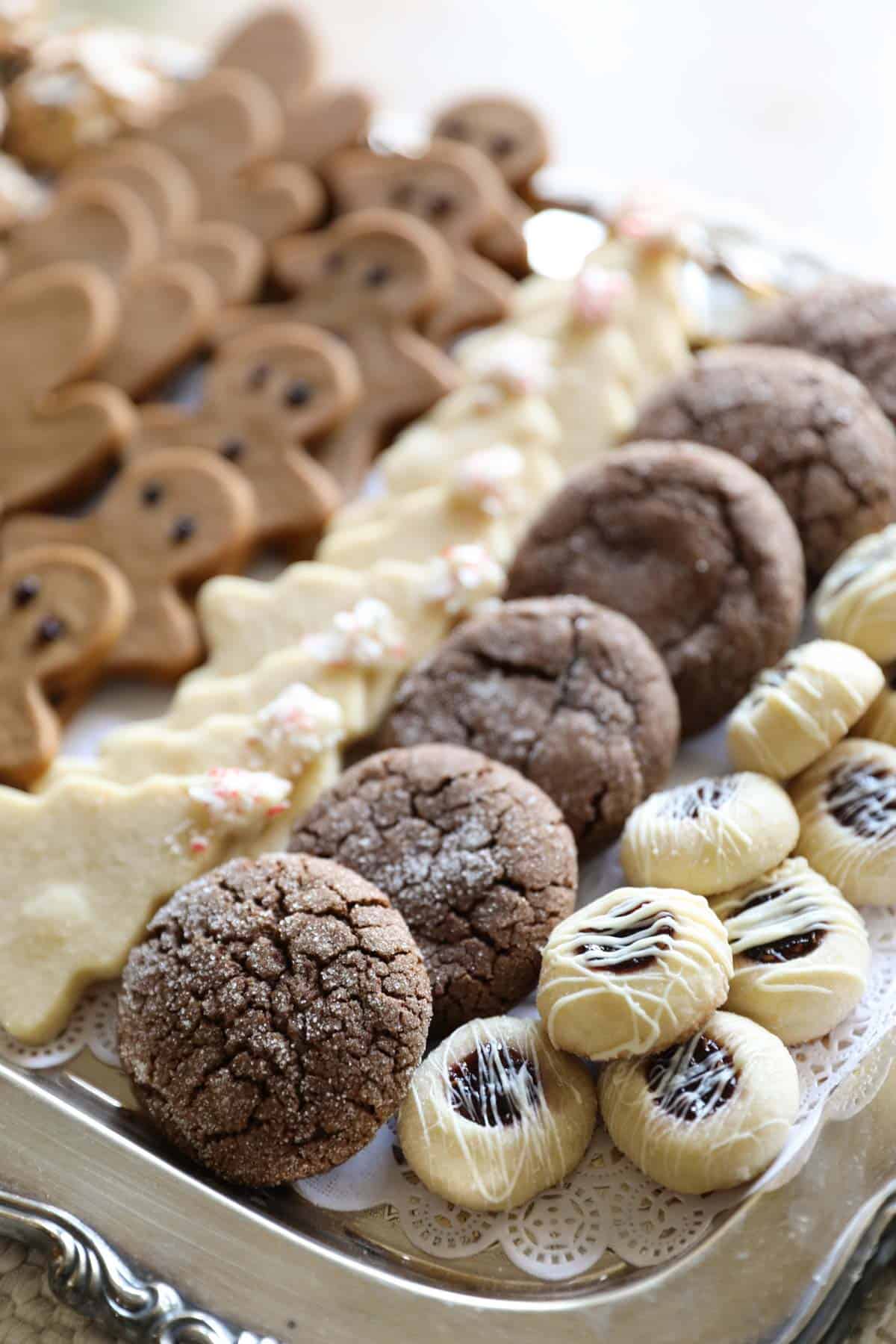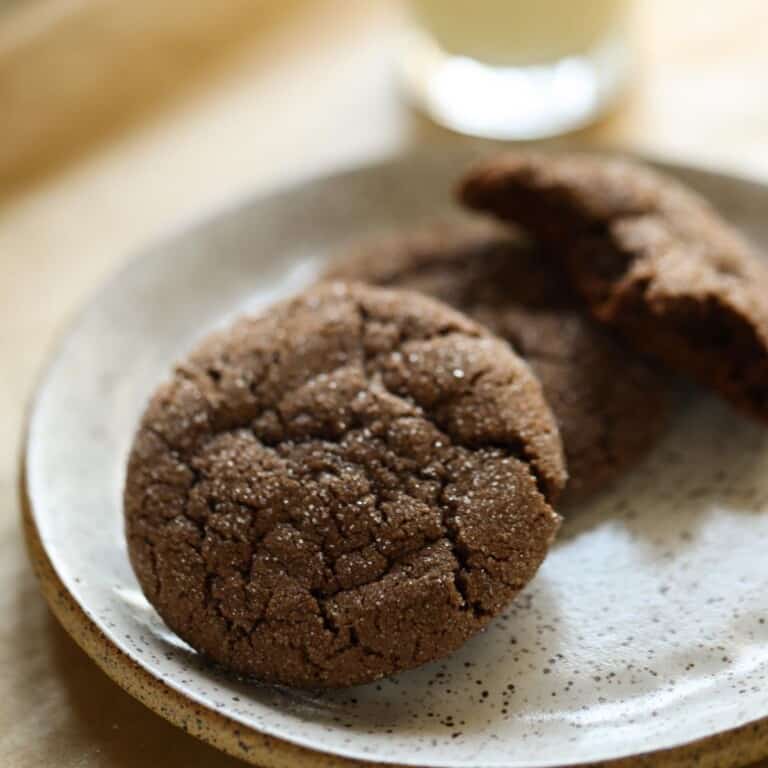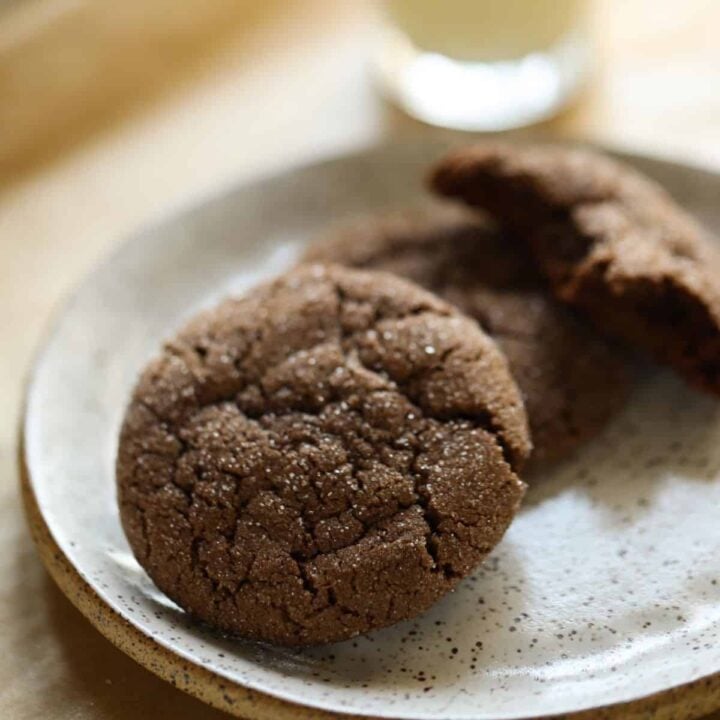 Chewy Chocolate Cookie Recipe
Total Time:
1 hour
32 minutes
Soft and Chewy Chocolate Cookies perfect for your holiday cookie platter! Crispy on the outside and soft and chewy on the inside, and filled with a wonderful chocolate flavor.
Ingredients
½ cup (113g) unsalted butter
4 ounces (113g) unsweetened Baker's chocolate
2 cups (402g) granulated sugar
3 eggs
1 ½ (7.5ml) teaspoons vanilla extract
1 ½ cups (204g) all-purpose flour
⅓ cup (35g) of unsweetened cocoa powder
2 teaspoons (8g) baking powder
½ teaspoon (2.5 ml) salt
Garnish:
½ cup (100g) of granulated sugar
Or 2 large candy canes, crushed into small shards
Instructions
Melt the butter and the chocolate in a sauce pot and allow to cool.
Transfer the cooled mixture to an electric mixer and add the sugar, beat to combine. Add the eggs, one at a time, beating in between each addition. Add the vanilla extract, and beat to combine.
Over a small bowl place a fine mesh sieve, combine the flour, unsweetened cocoa powder, baking powder, and salt, whisk to combine and then sift. Add the sifted mixture to the chocolate mixture, ⅓ at a time, beating in between each addition and scraping down the bowl as needed.
Cover and refrigerate for one hour.
Preheat oven to 350F
Scoop out medium-sized mounds of cookie dough, roll it into a ball and roll it in the sugar. If using candy canes, flatten ball slightly and then dip the flat side into the crushed candy cane shards.
These cookies do spread to space them out, placing only 6 cookies per large baking tray. Bake for 12 minutes, they will puff up and crack. Allow to cool on the warm tray to set up a bit, then transfer to a cooling rack.
Store the cookies in an airtight container at room temperature or in the refrigerator.
Nutrition Information:
Yield:

24
Serving Size:

1
Amount Per Serving:
Calories:

192
Total Fat:

6g
Saturated Fat:

3g
Trans Fat:

0g
Unsaturated Fat:

2g
Cholesterol:

35mg
Sodium:

121mg
Carbohydrates:

33g
Fiber:

0g
Sugar:

24g
Protein:

2g