Christmastime calls for a show-stopping-dessert or two! And one of my favorites (because it's so easy!) is this Ile Flottante Recipe with Spun Sugar, otherwise known as "Floating Island".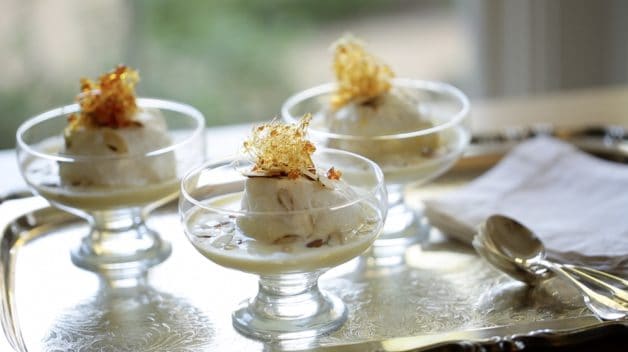 What Is a Floating Island Dessert?
A floating island is essentially a light and fluffy meringue, floating in a "sea" of vanilla scented creme anglaise.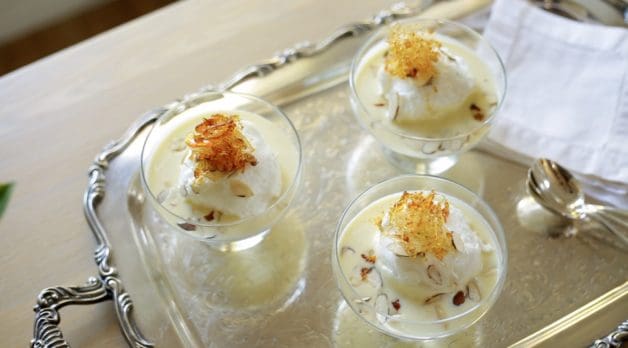 Watch my Ile Flottante Video Demo Below!
Floating island is also typically topped with toasted almonds and some kind of caramel. It could be a caramel drizzle or caramelized almonds, or in this case a beautiful caramel spun-sugar garnish.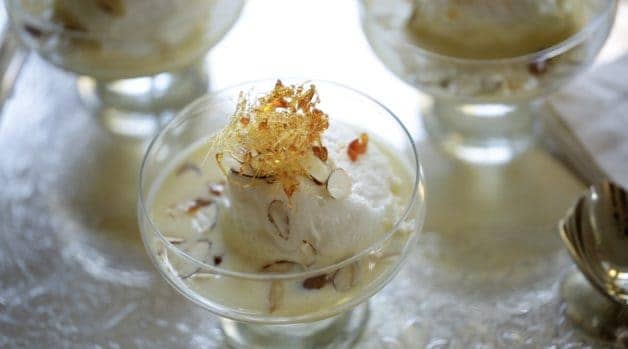 Don't be intimidated by it, it's actually super simple to do and looks so festive too!
What's the Easiest Way to Make Floating Island Meringue?
There are a lot of ways to tackle the meringue for a floating island dessert.
There are purists who say the meringues should be poached, others who claim they are best steamed.
But frankly, both sound like too much work during the holiday season and I'd rather spend my energy on the spun sugar garnish because they really are what makes this dessert so impressive and fancy.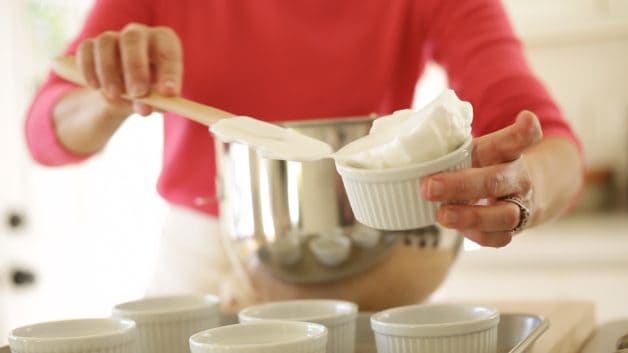 For this recipe we are going to bake the meringues in 1/2 cup ramekins which also allows you the ability to make the meringues ahead of time! (Nice!)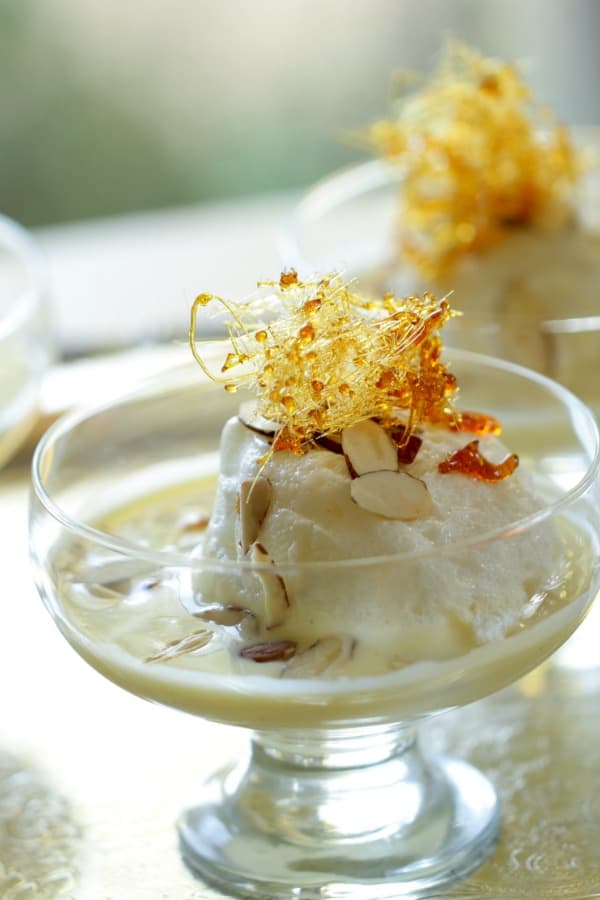 In fact this whole dessert can be made ahead of time which is why I love it so much (see "Game Plan" for how to do this below).
How to Make Spun Sugar at Home
There are a lot of different techniques for making spun sugar at home, but this one I feel is the easiest!
After melting white sugar in a heavy-bottom sauce pot until caramel forms, you'll then take a whisk and run it back and forth over a bowl lined with wooden spoons in a cross hatch pattern.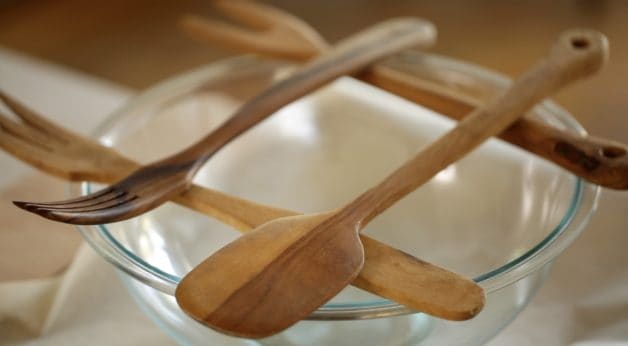 The cross-hatch pattern provides more surface area for the spun sugar to cling to and develop.
Not cutting the whisk into a claw (like some recipes advise) will save you a whisk (!) but also will produce these nice caramel shards which you can peel off after they harden as use for garnishes too.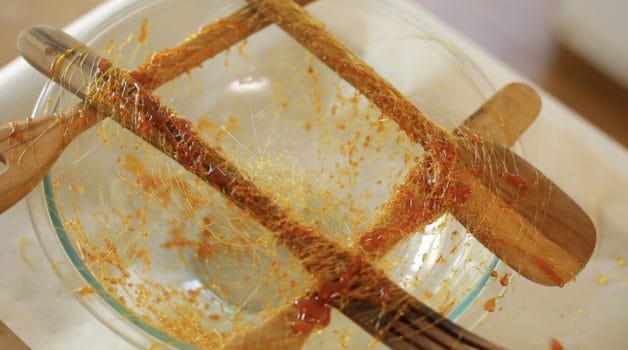 How to Store Spun Sugar Garnishes
The best way to store your spun sugar garnishes is in a freezer-safe container with an air tight lid.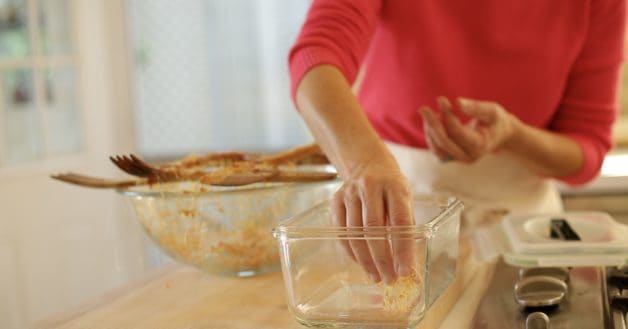 They won't actually "freeze" but will stay in hardened form. The freezer provides that dry environment that spun sugar needs (unlike the refrigerator where condensation can develop).
If condensation develops around your spun sugar it melts and then disappears!
How to make an Ile Flottante Ahead of Time?
Basically you will make and store the components separately and then assemble just before serving. Below is a guideline for the prep.
The Game Plan:
3 days before make your spun sugar garnishes place in a freezer-safe container and store in the freezer.
2 days before make the creme anglaise. Place in an airtight container and refrigerate
Up to 8 hours before bake the meringues. Allow to cool completely. Leave in the ramekins and refrigerate. (no need to cover)
The day of toast your almonds. Place in a container, cover and keep at room temperature
MORE HOLIDAY DESSERTS!
Please let me know if you make this recipe by leaving a rating and review below!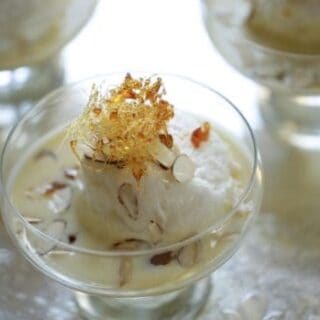 Easy Ile Flottante with Spun Sugar
Cook Time:
1 hour
30 minutes
Total Time:
4 hours
30 minutes
Ile flottante a wonderful holiday dessert idea that can be made in advance!
Ingredients
For Meringue:
4 Egg whites (reserve egg yolks for the crème anglaise)
¼ tsp (1.25ml) cream of tartar or 1 tsp fresh lemon juice
2 tbsp (25g) white sugar
½ tsp (2.5ml) vanilla extract
For Crème Anglaise:
2 1/3 cups (555ml) whole milk
1 vanilla bean
4 egg yolks
2 tbsp (25g) sugar
pinch pf salt
For Spun Sugar:
Garnish:
½ cup (75g) of sliced raw almonds
Instructions
For Meringue:
Preheat oven to 225F (107C). Spray ½ cup (120ml) oven-safe ramekins with baking spray, distribute with a pastry brush and place on a baking tray. Set aside.
Place egg whites in the bowl of an electric mixer. Add cream of tartar and salt. Whip on high until foamy and opaque, slowly add sugar a little bit at a time, whipping continuously in between each addition. Until whites are stiff and can form a peak on their own. Then add in vanilla extract.
Spoon meringue mixture into prepared ramekins, filling to the top and level out with spatula. Bake for 25 mins until meringues has risen and set. Allow to cool and then place uncovered in the fridge until ready to serve (maximum 8 hours)
For Crème Anglaise:
Combine milk and vanilla seeds and pod. Bring to a simmer and then remove from heat. Remove vanilla pod with tongs and discard.
Whisk egg yolks and sugar in a large bowl. Slowly mix in the hot crème mixture into the yolk mixture. Return the custard to a cleaned-out sauce pan and stir over low heat until mixture thickens (about 5-7 minutes) and reaches 165F(73C).
Strain mixture through a fine mesh sieve, into a 4 cup Pyrex pitcher. Cover and refrigerate until ready to serve.
For Almonds:
Place on a cookie sheet and toast at 350F (176C) for 5-7 minutes. Allow to cool and keep in an air tight container at room temperature until ready to serve.
For Spun Sugar.
Place a large sheet of parchment paper on a baking sheet. Allow it to hang over the sides 3-4 inches. Place a large mixing bowl on the parchment lined baking sheet. Place 4 wooden spoons on top of the bowl, in a cross-hatch pattern. Set aside.
Place a cup of sugar in a heavy bottom sauce pot. Set on a medium high flame. Sugar will melt then caramelize. Adjust flame while it melts so it doesn't turn too amber and burn.
Remove from heat and allow to cool for 2-4 minutes. Once the caramel begins to form threads, meaning if you place a fork in it, and raise it above the pot, long threads start to drip, as opposed to small drops, it's ready!
Place a large balloon whisk inside the caramel and wave bath and forth across the wooden spoons. Caramel will begin forming threads and large drips.. This is the idea since you will use both for your garnish.
Once all the caramel has been dripped over the spoons, collect small bunches, thread and chards and place in a container and store in the freezer until ready to use.
To assessable desserts. Pour ¼ cup (60ml) of the crème anglaise in a footed dish or shallow bowl, scoop out the meringue and place on top. It will have gagged edges and that's part of the charm of the "rugged" island.
Sprinkle with Toasted Almonds. Place the spun sugar on top! Et voila!
Notes
THE GAME PLAN:
3 days before make your spun sugar garnishes place in a freezer-safe container and store in the freezer.
2 days before make the creme anglaise. Place in an airtight container and refrigerate
Up to 8 hours before bake the meringues. Allow to cool completely. Leave in the ramekins and refrigerate. (no need to cover)
The day of toast your almonds. Place in a container, cover and keep at room temperature
Nutrition Information:
Yield:

6
Serving Size:

1
Amount Per Serving:
Calories:

106
Total Fat:

5g
Saturated Fat:

2g
Trans Fat:

0g
Unsaturated Fat:

2g
Cholesterol:

131mg
Sodium:

114mg
Carbohydrates:

8g
Fiber:

0g
Sugar:

2g
Protein:

8g