'Tis the season for Christmas Cookie Recipes, and this Linzer cookie with hazelnuts and Nutella will rank high on your list! It's so beautiful to present and even more delicious to eat!
While Linzer Cookies are typically made with ground almonds, I like to switch it up for the holidays and use hazelnuts, you can find Hazelnut flour at Trader Joe's this time of year or you can also find it online. To keep it fresh, store it in the refrigerator.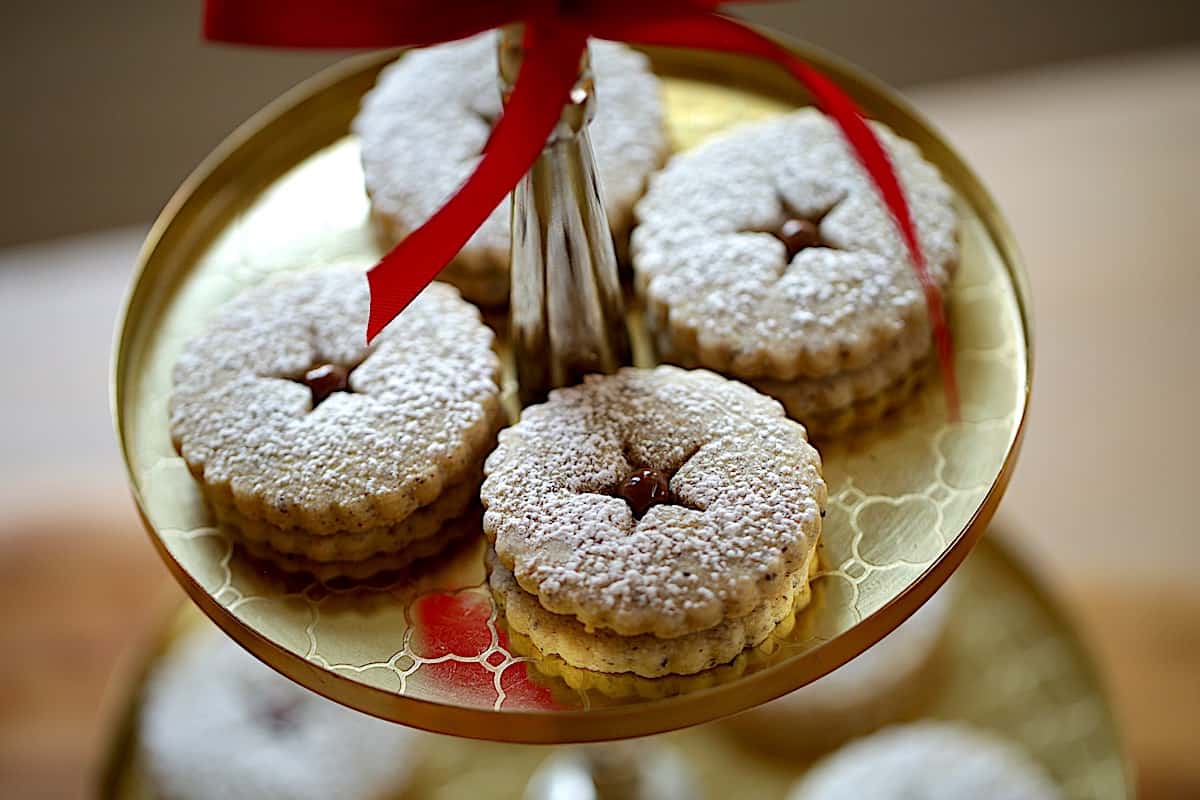 Watch My Video Demo Below!
Subscribe to My YouTube Channel and never miss a video!
Step#1: Invest in a Linzer Cookie Cutter Set
These cookies are so festive and fun to make but they do require a Linzer Cookie Cutter Set.
I find it's worth the investment because I use the star for Christmas and then the heart for Valentine's Day and the other shapes for anything in between

What Comes in the Linzer Cookie Set?
The set typically includes the basic round cutter. This is the cutter you will use for the bottom of the Linzer cookie.
But you could also use it for other things too, like my delicious Cheese Coin Recipe which is a great holiday cocktail nibble. The scallop edge would be a festive touch!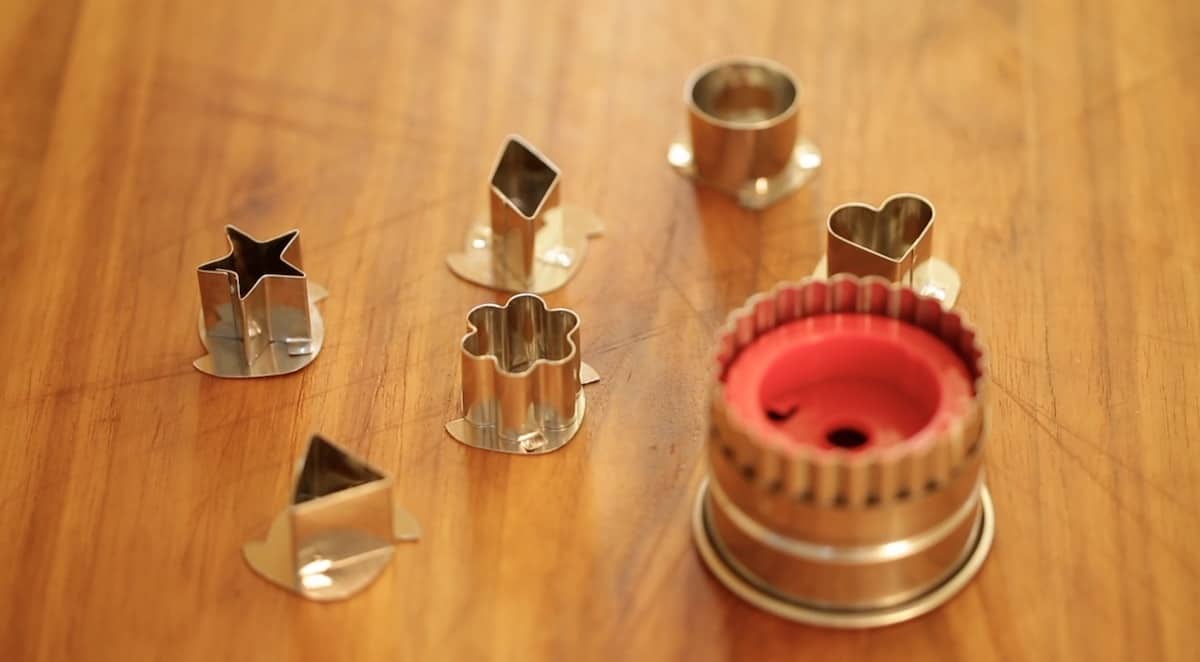 Step#2: Make the Dough
These cookies are all about the butter. It's the butter that gives them such a wonderful, melt-in-your-mouth texture.
Be sure your butter is softened and at room temperature. This will help it cream well with the sugar and eggs to get a fluffy texture.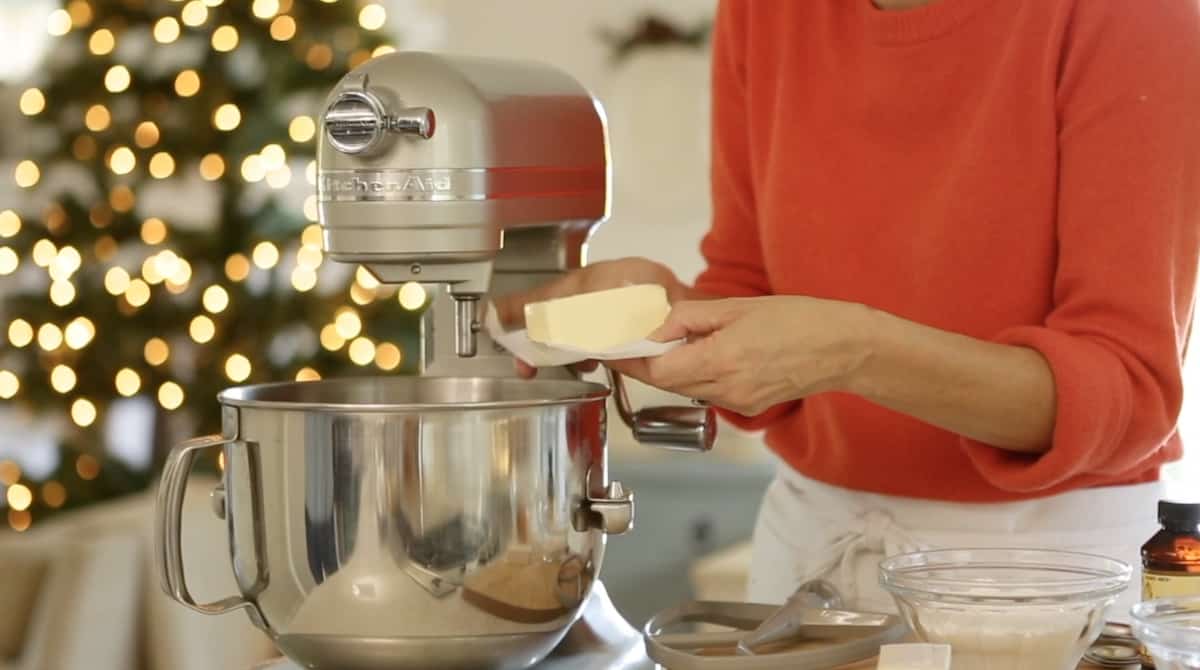 Almond Meal vs. Hazelnut Meal
For this recipe, you really can use either. Just use the same amount if using the almond meal. Sometimes Hazelnut Meal or Almond Meal can be labeled as "Almond or Hazelnut flour". Don't worry "meal/flour" it's the same thing.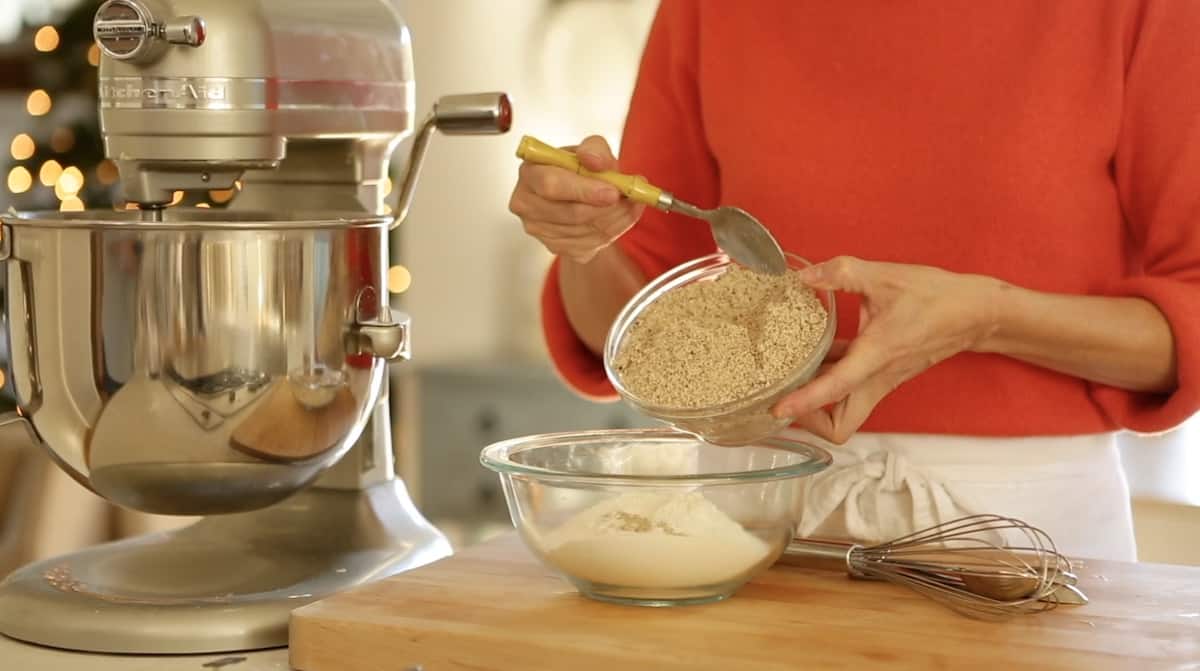 Yes, You'll Need All-Purpose Flour Too!
I do mix the nut flour with regular all-purpose flour. This will give your cookie the best structure.
Otherwise, without the all-purpose flour, these cookies would be hard to roll out and cut.
It's also important to chill the dough for at least 2 hours, but overnight is even better!
Step#3: Bake the Bottoms First
I like to cut out all the bottoms first and bake those right away so the dough doesn't sit out.
As the dough sits out it will become softer, and the softer the dough is the harder it will be to cut out.
I also find that Linzer cookies are best baked separately, the bottoms on one tray, then the tops.
This is because the tops, due to their cut-outs, require slightly less time to bake so it's best to bake them separately to avoid burning them.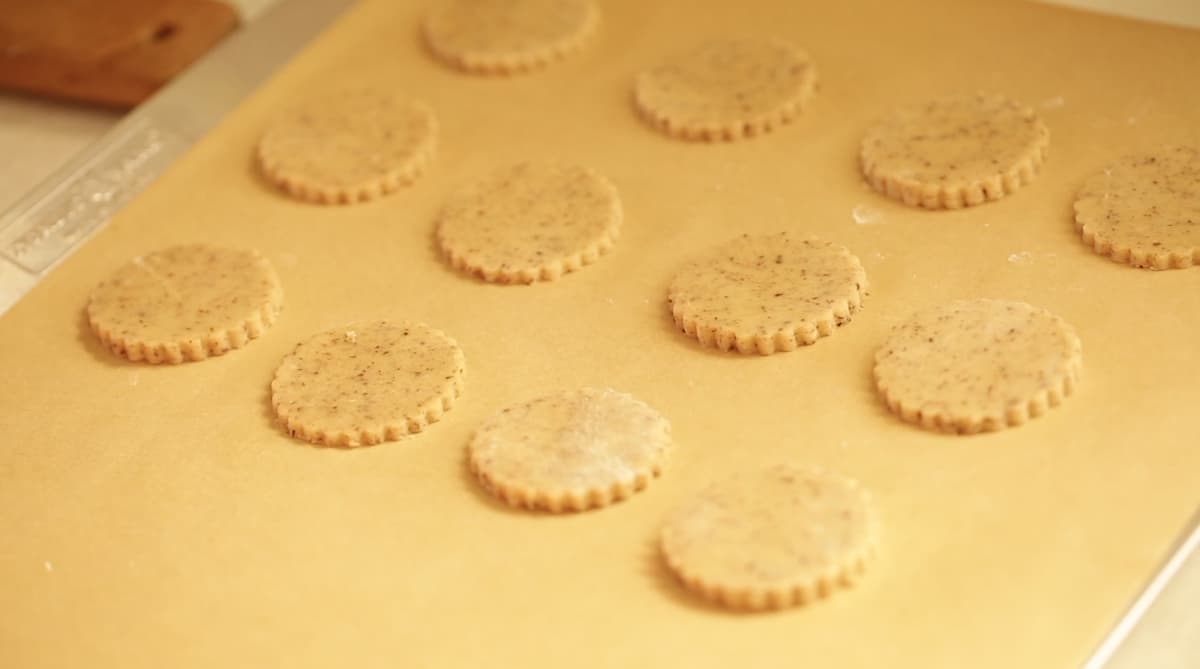 Step#4: Make the Linzer Cookie Tops
To make the tops you'll insert your shape of choice into the base and twist it into place. It then works just like any other cookie-cutter, cutting out a silhouetted shape with the chosen design.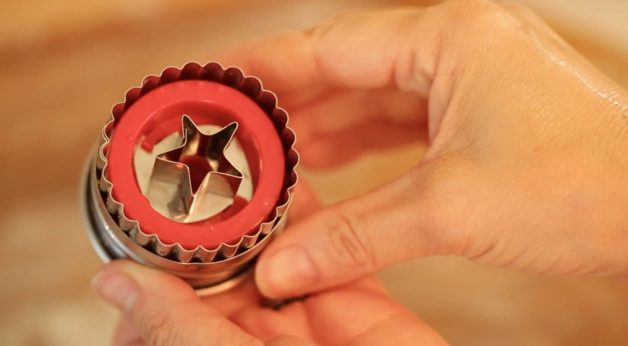 Word of Advice
Once you are finished with the insert wash it and store it away. They can easier get lost in your sink during the cleanup and I broke our garbage disposal once by grinding up one of these little guys! So just keep track of them!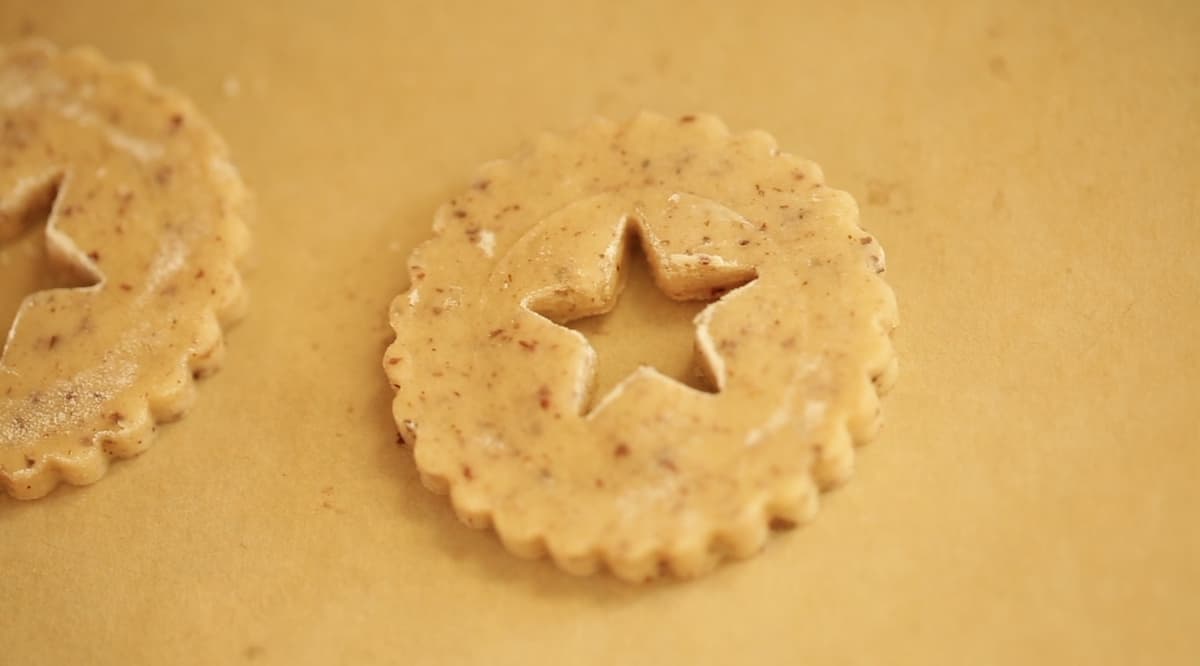 Step#5: Dust the Tops with Powdered Sugar
Once the cookies are completely cool, dust the tops with powdered sugar. I find you really only need the sugar on the tops, not on the bottoms. It prevents them from becoming too sweet.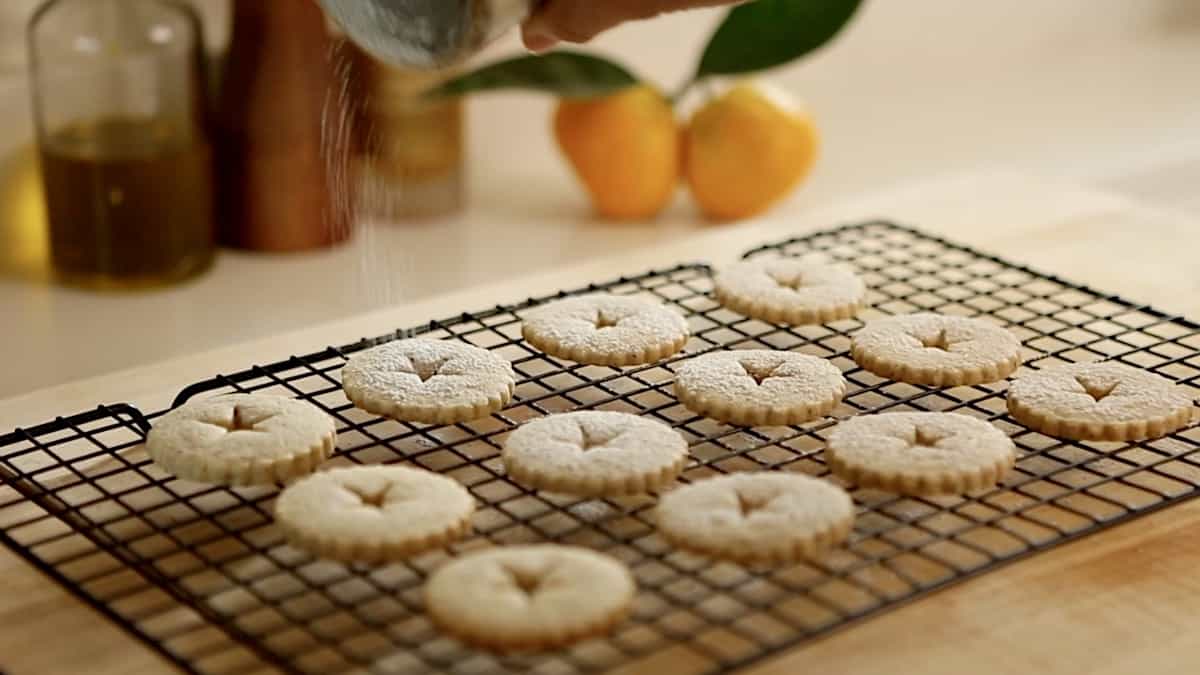 Step#6: Add the Nutella
Then add a tiny dollop of Nutella in the center of each cookie bottom. I find using a small espresso spoon works great. A little dab does the trick! Since once you press the top on, you don't want it to ooze out too much.
Have leftover Nutella? Put it to good use in my Foolproof Crepes or my delicious Nutella Ice Cream recipe.
And don't worry even the tiniest dollop will still give you great Nutella flavor. These cookies are best served right away since they are fragile and don't travel all that well.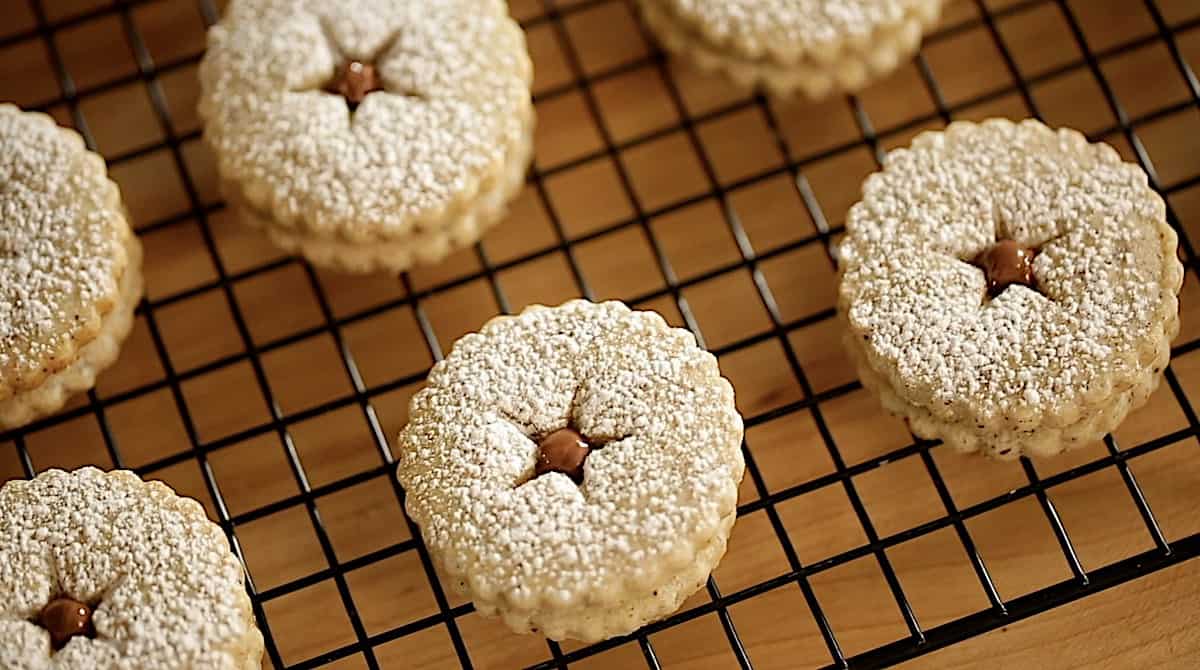 Make-Ahead Tips:
You can bake the bottoms and tops ahead of time and then dust them with sugar and fill them with Nutella up to 2 hours before serving.
Then allow them to rest at room temperature, uncovered.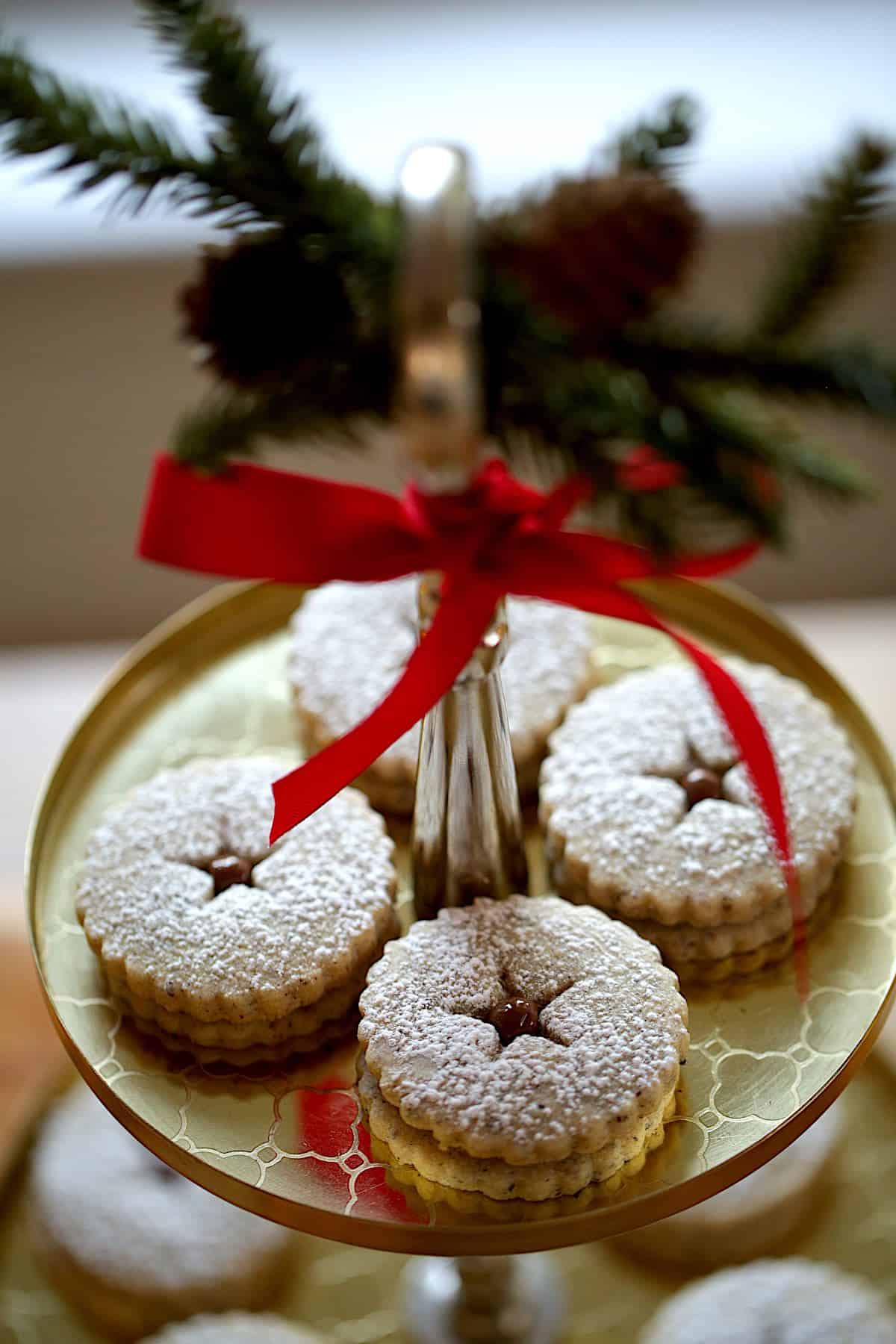 More Holiday Cookie Recipes!
Please let me know if you make this recipe
by leaving a rating and review below!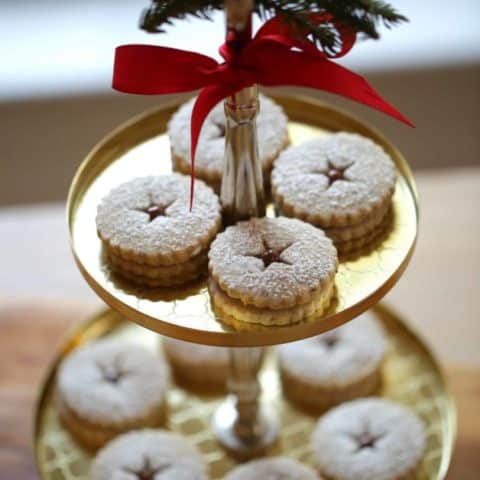 Chocolate Hazelnut Linzer Cookies
Yield:
24 sandwiched cookies
Total Time:
5 hours
19 minutes
What could be better than a melt-in-your mouth Christmas cookie sandwiched between Nutella!? These cookies are so beautiful to make and delicious to eat!
Ingredients
1 cup (240 g) butter
1 ¼ cups (125 g) powdered sugar
1 egg
1 egg yolk
2 teaspoon (10 ml) vanilla extract
1 ½ cups (180g) all-purpose flour
2 cups (240g) of Hazelnut Flour or Hazelnut meal (same thing)
½ teaspoon salt (2.5 ml)
¼ teaspoon (1.25 ml) baking powder
⅓ cup (80 ml) chocolate hazelnut spread (Nutella or other brand)
2-3 tablespoon (26-39g) powdered sugar for dusting
Instructions
Beat butter with an electric mixer until pale and fluffy. Then slowly add the sugar in stages until smooth and fluffy. Add in egg and egg yolk one at a time until well combined.
Then add vanilla extract.
In a smaller bowl combine all-purpose flour, hazelnut flour, salt, baking powder. Whisk together until combined. Add to the flour mixture to the butter mixture in thirds, until combined.
The dough will be very sticky. Remove the dough and form into 2 equal-sized mounds, place on parchment paper or wax paper. Flatten into disks (by folding the paper over it. It will be easier this way than handling it since it is so sticky!) and wrap in paper well. Refrigerate at least 4 hours or over night.
Then roll out one disk on a floured surface to ⅛ thick. Using the bottom half of the Linzer cookie cutter, cut out the bottoms and place on a parchment lined cookie sheet.
Bake bottoms at 350F (176C) for 10 mins. Remove and allow to cool on baking tray. They will continue to "bake" this way sitting on the hot tray and firm up.
Then add the star attachment to the Linzer cookie cutter and cut out the tops. Bake tops for just 9 mins. Allow to cool on tray as well.
Once the cookies are cooled, dust the tops with powdered sugar.
Then dollop a small amount (about the size of a marble) of Nutella on the bottom cookie, in the center. Top with star tops.
Notes
Cookies could be baked the day before and assembled the day of.
Nutrition Information:
Yield:

24
Serving Size:

1
Amount Per Serving:
Calories:

62
Total Fat:

3g
Saturated Fat:

0g
Trans Fat:

0g
Unsaturated Fat:

2g
Cholesterol:

15mg
Sodium:

52mg
Carbohydrates:

7g
Fiber:

1g
Sugar:

1g
Protein:

2g