This is the best butterscotch brownie recipe! So chewy, moist, and delicious! Betcha can't eat just one!
This recipe is a delicate mix of a chewy texture and sweet butterscotch flavor with a nice little crunch of walnut. It's the perfect dessert bar recipe for easy entertaining! For another delicious dessert bar recipe try my Pecan Squares with Shortbread Crust.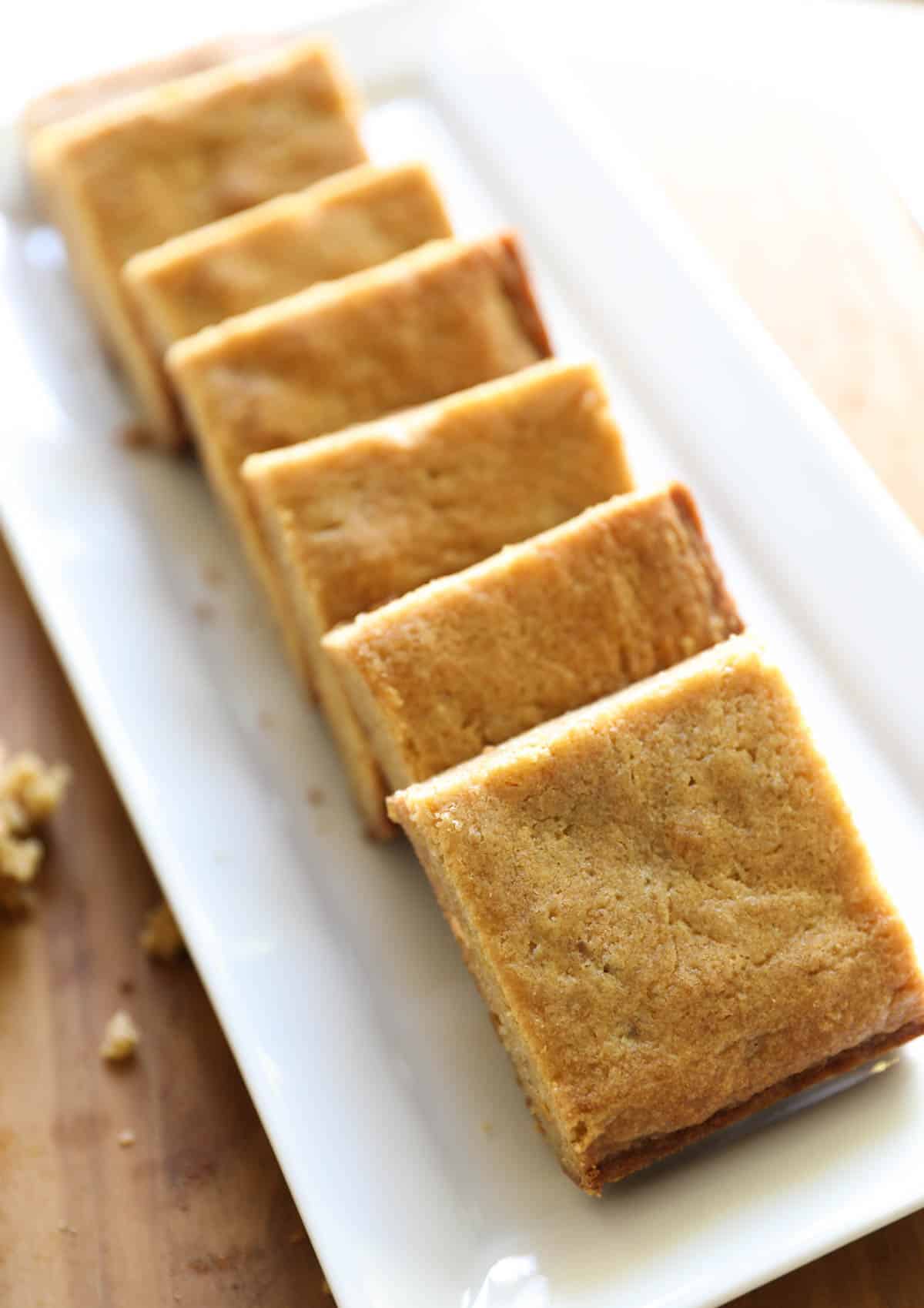 What is a Butterscotch Brownie?
A butterscotch brownie or butterscotch blondies as they are also called, are a dessert bar made in a similar fashion as a traditional chocolate brownie recipe.
Except, instead of chocolate it's a mix of sugars that give this brownie bar it's "blonde" color caramel flavor. And it's the brown sugar that gives them their soft, chewy texture.
Personally, I don't like a gooey texture, I find blondies are better with a chewy, cake-like texture. For this, I don't underbake a blondie the way I would a brownie recipe, which I do think is better a bit underbaked for a gooey, fudgy center.
The butterscotch flavor is created with the help of some Tollhouse Butterscotch Chips. But you could also skip the butterscotch chips and use dark or semi-sweet chocolate chips instead. I really love the Tollhouse Dark Morsel chips for this, since the dark chocolate will offset the sweetness of the blondie nicely.
Simply add the butterscotch chips, or chocolate chips to the brownie batter after it's made and mix it it.
I also like to add walnuts to blonde brownies for a nice little buttery crunch or pecans are great too.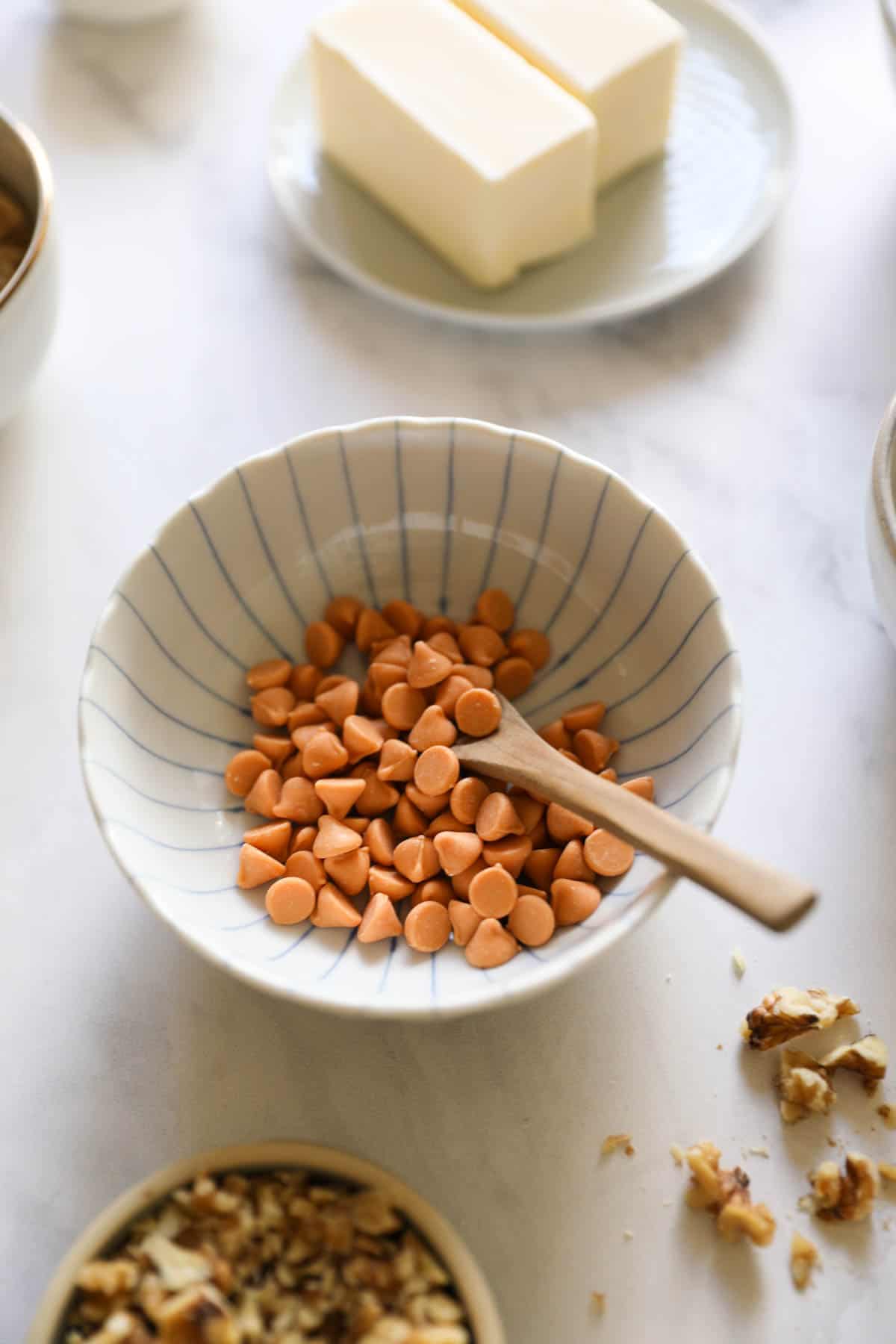 Watch My Butterscotch Brownie Video Demo
The Best Baking Pan
The real game changer for making the butterscotch chip brownies is a removable bottom brownie tin.
It will give you tight corners and clean edges for equal-sized squares. Who knew such a contraption existed?!
I actually think it's probably a cake pan, but it really works well for any type of dessert bar too!
I also use it for my delicious Blueberry Crumb Cake Recipe too.
Just be sure you spray it well with baking spray, and distribute the spray with a pastry brush, for an easier release once the brownies are baked.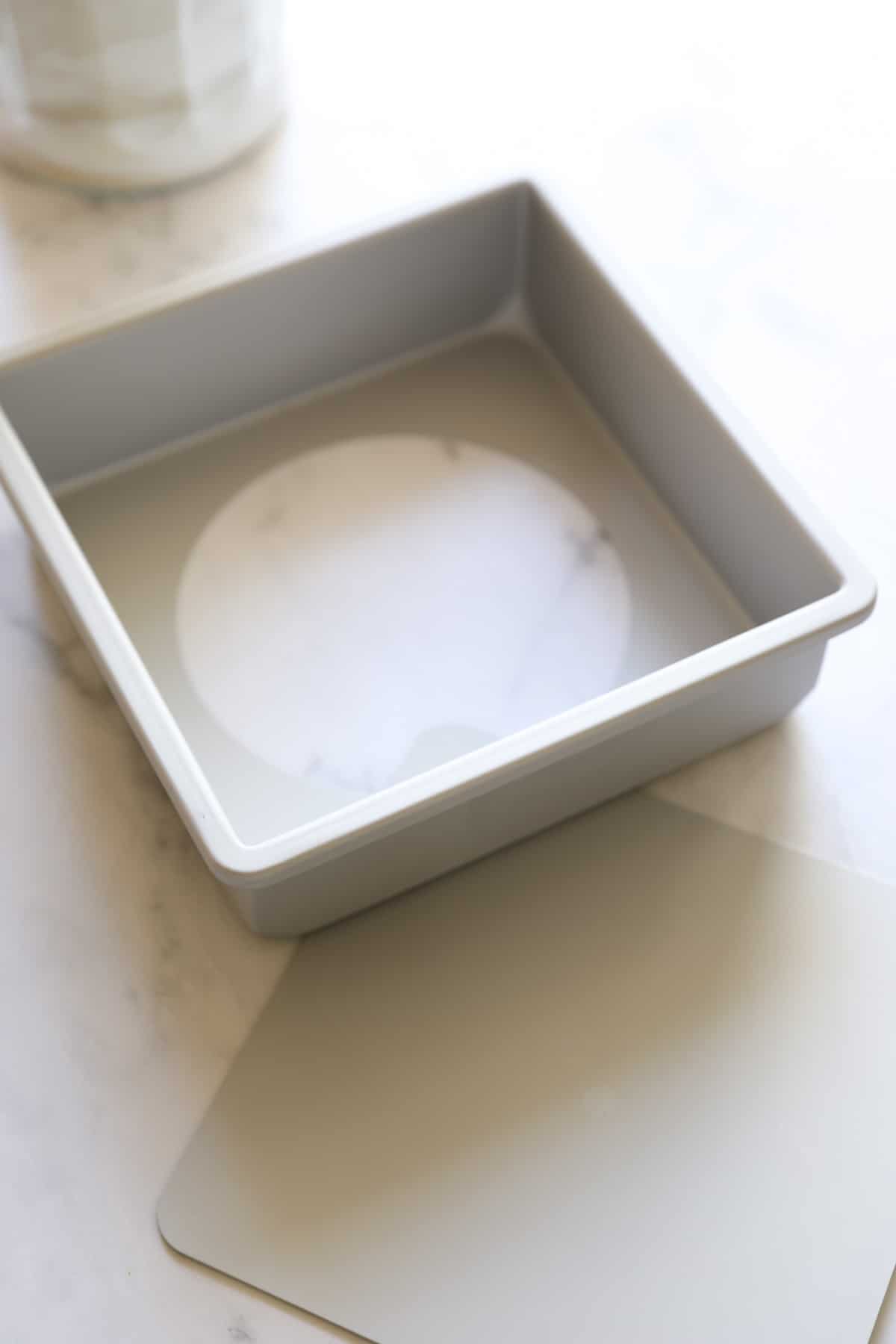 Adjustments for an 8x8 Brownie Pan
If you only have a 8" x 8" pan, that's OK, you'll just have thicker brownies!
Line the pan with two pieces or cut parchment paper going opposite directions, like a cross, and creasing the sides. This will make them easier to remove from the pan.
Keep the baking temperature the same, and increase the baking time by 5-10 minutes. Check on it at 5 mins, and if the toothpick isn't coming out clean increase by 2-3 minute increments until fully baked inside.
Just be careful not to over-bake your brownies or they will be dry and loose their chewiness.
The Batter with Be Sticky and Thick
This batter resembles cookie dough. It will be sticky and thick and you'll wonder if you have enough of it to fit in the pan.
Rest assured that it will rise up in the oven to the height of a traditional brownie.
To make the dough easier to spread, transfer the full mound of dough into the center of the pan, and then smooth it out to the corners as an even layer with an offset spatula. This will assure even baking on your blondies.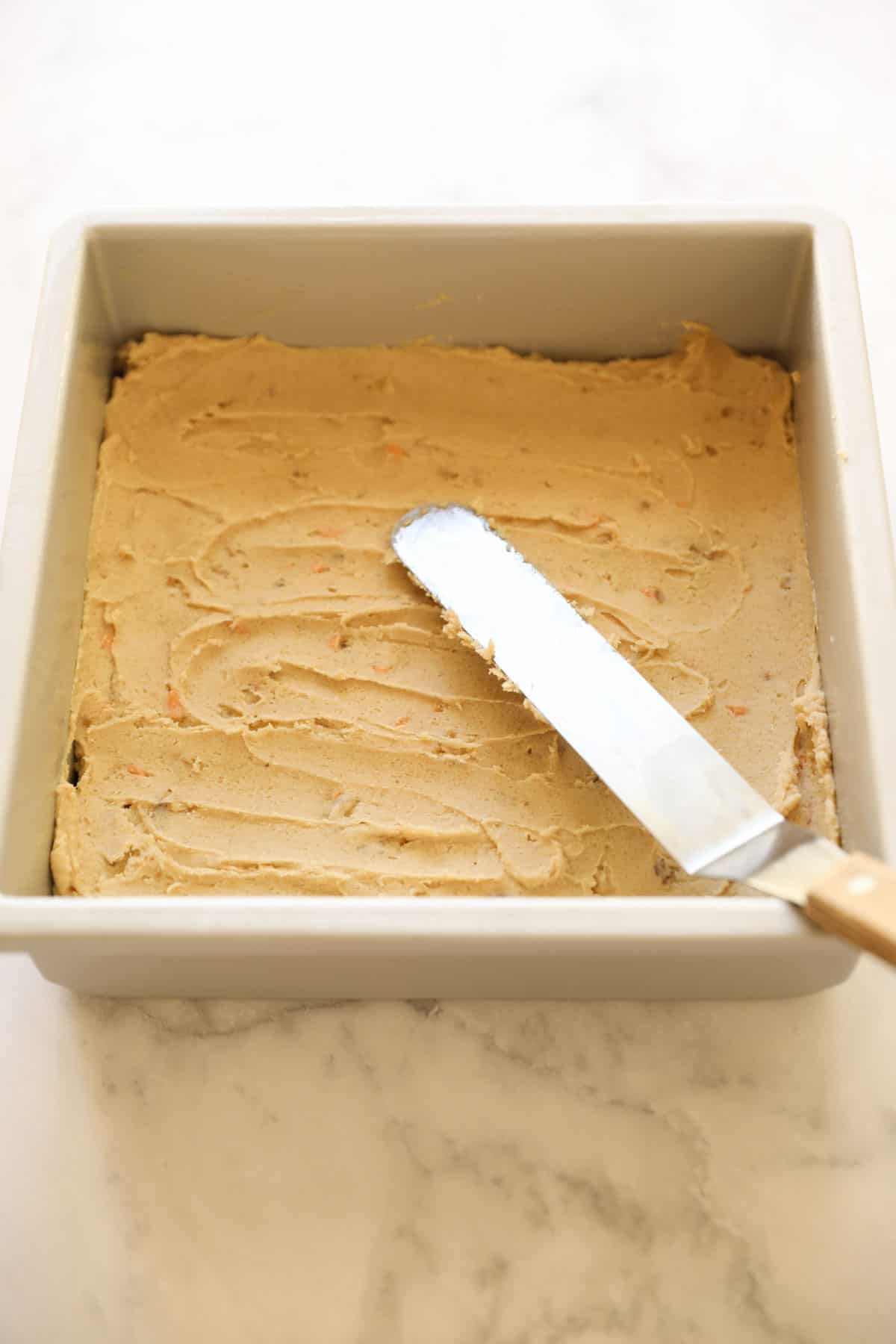 Serving and Storage Tips
Serve your freshly baked butterscotch brownies with a cup of coffee or tea, or they are also really good with a scoop of vanilla ice cream and a drizzle of my homemade hot fudge sauce too!
These brownies are actually even better when made a day ahead because they get chewier the longer they set up and rest in the refrigerator in an airtight container.
After they are baked and completely cool, cover and refrigerate.
Then remove them from the refrigerator 30 minutes before serving to allow them to come up to room temperature.
You can also freeze them too! Place the squares in a freezable container, separated with wax paper, and place them in the freezer for up to 1 month.
To defrost, place them in the refrigerator over night, or pop them in the microwave for :30-:45 until warmed through.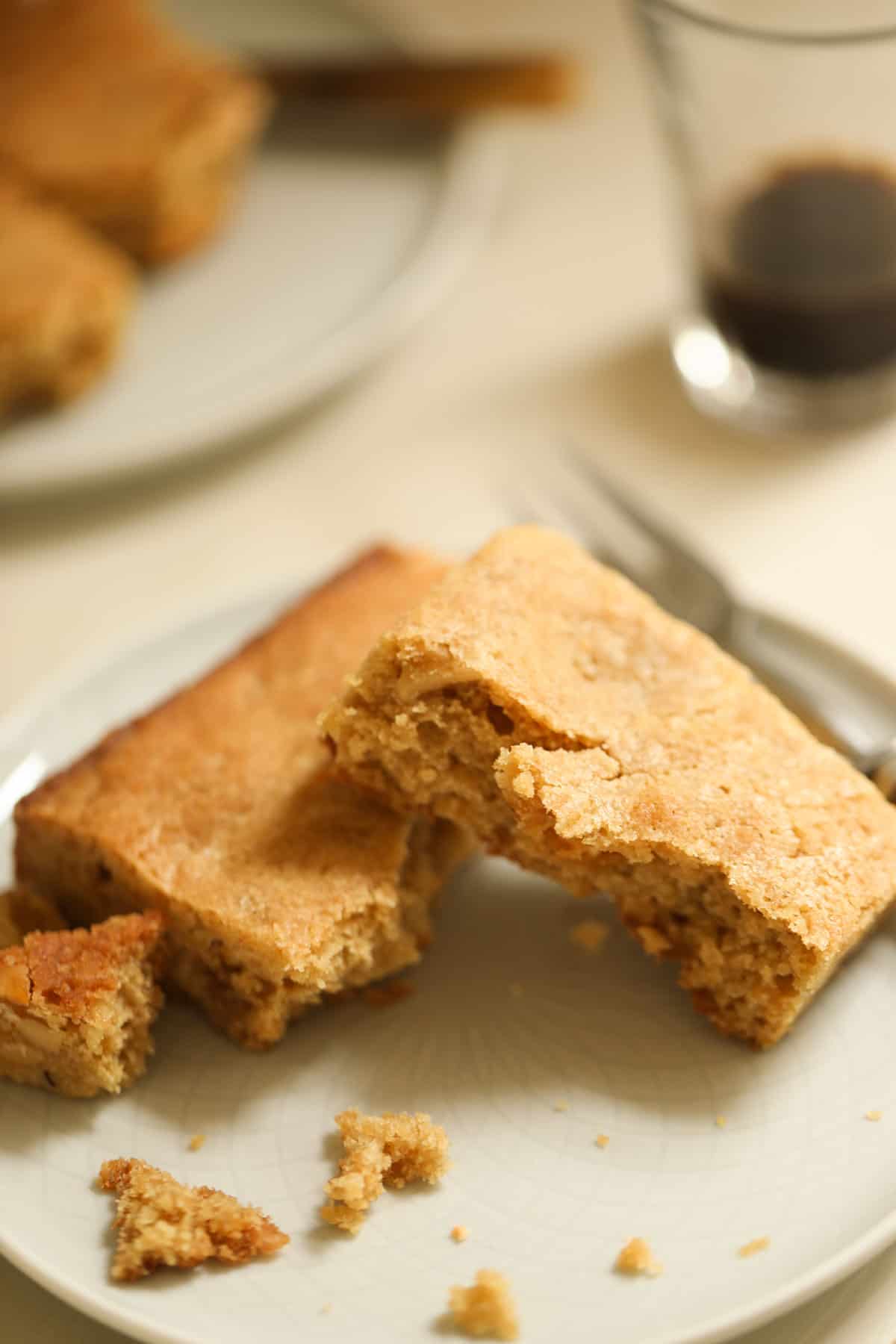 More Great Dessert Recipes!
If You Enjoyed This Recipe
Please Leave a Rating and a Review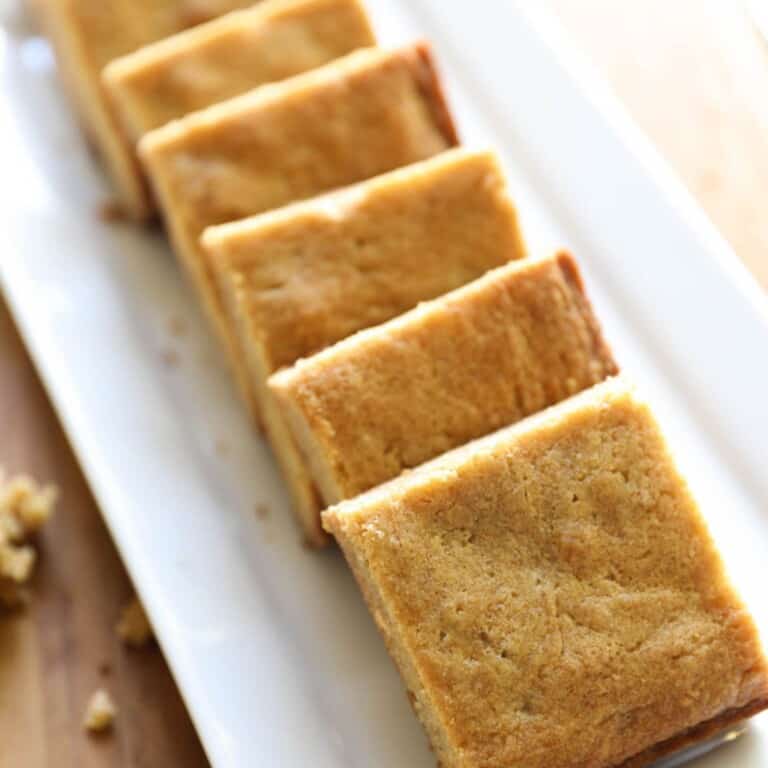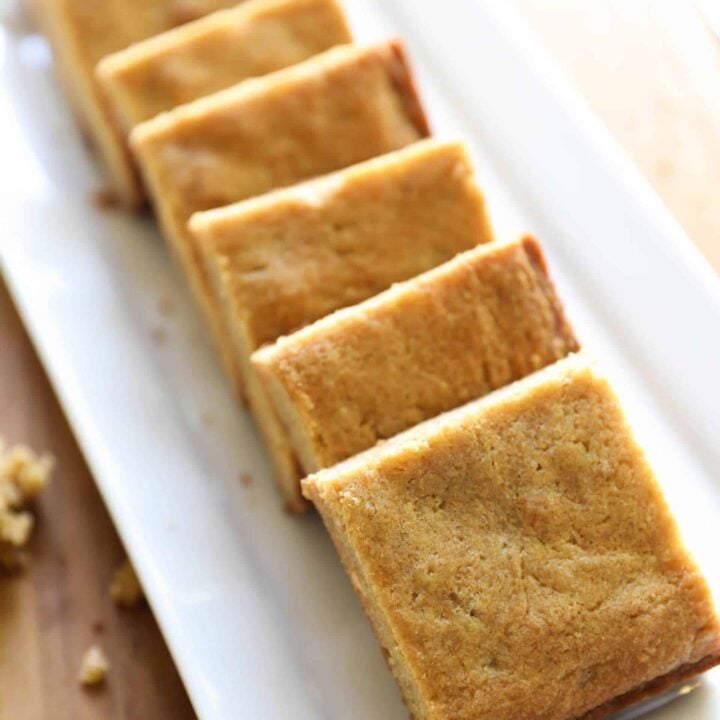 Butterscotch Brownies
This recipe is a delicate mix of a chewy texture and sweet butterscotch flavor with a nice little crunch of walnut. It's the perfect dessert bar recipe for easy entertaining!
Ingredients
1 cup (240 g) butter
½ cup (100 g) white sugar
¾ cup (135 g) brown sugar
2 eggs
1 teaspoon (5 ml) vanilla
1 ¾ (210 g) cups flour
½ teaspoon (2.5 ml) baking soda
1 teaspoon (5 ml) salt
½ cup (75 g) walnuts
¼ cup (40 g) Tollhouse butterscotch chips
Instructions
Preheat oven to 350F (176C).
Cream together the butter and sugars with an electric mixer until pale and fluffy, about 5-7 minutes.
Add eggs one at a time, scraping down the bowl between additions. Add vanilla. Beat to combine.
In a separate bowl whisk together the flour, baking soda, and salt. Whisk to combine.
Add flour mixture to butter mixture, in thirds, beating between each addition and scrapping down the bowl as needed.
Add butterscotch chips and walnuts and beat down the bowl as needed.
Transfer to a 9 x9 pan that has either been sprayed with baking spray, or lined with parchment paper.
Bake for 20 minutes until golden brown and set.
Allow to cool and then cut into 9 squares.
Notes
These are so much easier to release and cut if you make them in a removable bottom brownie pan!
These are even better when made a day ahead because the texture gets firmer and the blondies get chewier
Nutrition Information:
Yield:

9
Serving Size:

1
Amount Per Serving:
Calories:

90
Total Fat:

3g
Saturated Fat:

2g
Trans Fat:

0g
Unsaturated Fat:

1g
Cholesterol:

41mg
Sodium:

21mg
Carbohydrates:

14g
Fiber:

0g
Sugar:

6g
Protein:

3g