Best Fudgy Brownie Recipe
Achieving the best fudgy brownie boils down to 7 tips. Follow these tips and you'll be rewarded with a chewy, moist, fudgy brownie that will disappear in minutes! Just be sure you have enough friends and family around to share these brownies with, otherwise left unsupervised you might just find yourself eating the whole pan, they are that good!
Need a Vegan alternative? Try my Vegan, Gluten-Free Fudgy Brownies which dare I say rival these conventional brownies!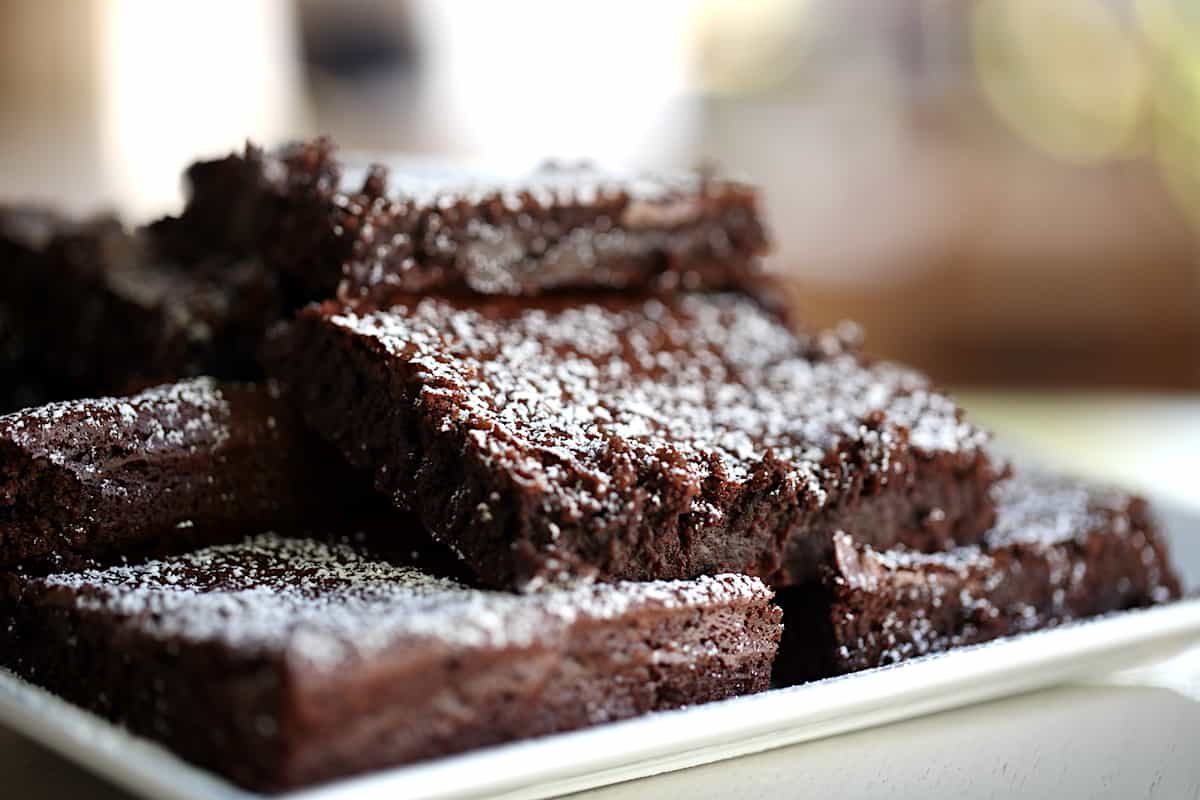 Tip#1: Choose The Right Mix of Chocolate
For me, the best ratio is 12 ounces of Bittersweet Chocolate (60% Cacao) to 4 ounces of semi-sweet chocolate.
Mixing the bittersweet and semi-sweet chocolates will get you the perfect mix of sweetness and rich chocolate flavor.
Pay attention to the percentage of Cacao. I wouldn't go over 60% otherwise the brownies will be too dense and bitter.
I really love the Ghirardelli brand of chocolate because it's great quality chocolate you can find at just about any major grocery store and contributes to a fantastic brownie!

Tip#2: The Ratio of Chocolate to Butter Counts
1 cup of butter I've found is the sweet spot. I know it may seem like a lot of butter, but let's face it unless you eat the entire pan, you won't have much to worry about. (see note at the top about having lots of friends around!)
If you want a great-tasting brownie, you need to embrace the butter!
If you live in the U.S.A, use Land O' Lakes Salted Butter. I find this butter is more "flavorful" than salty and definitely more flavorful than their unsalted butter.
But if you like outside the U.S.A I would use unsalted butter since salted butter outside the States can be pretty salty.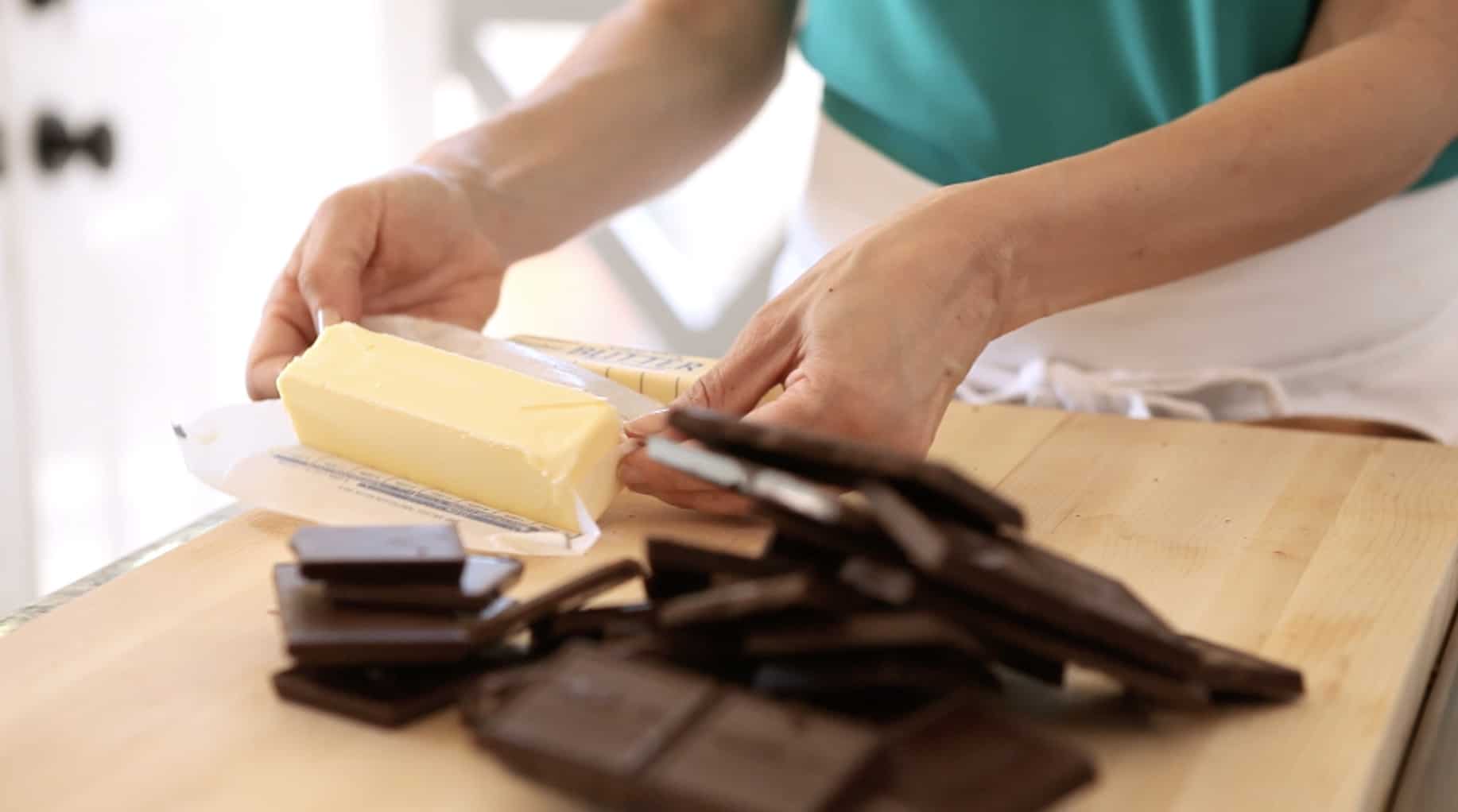 Subscribe for weekly recipes
and new videos!
Watch My Video Demo of This Recipe Below!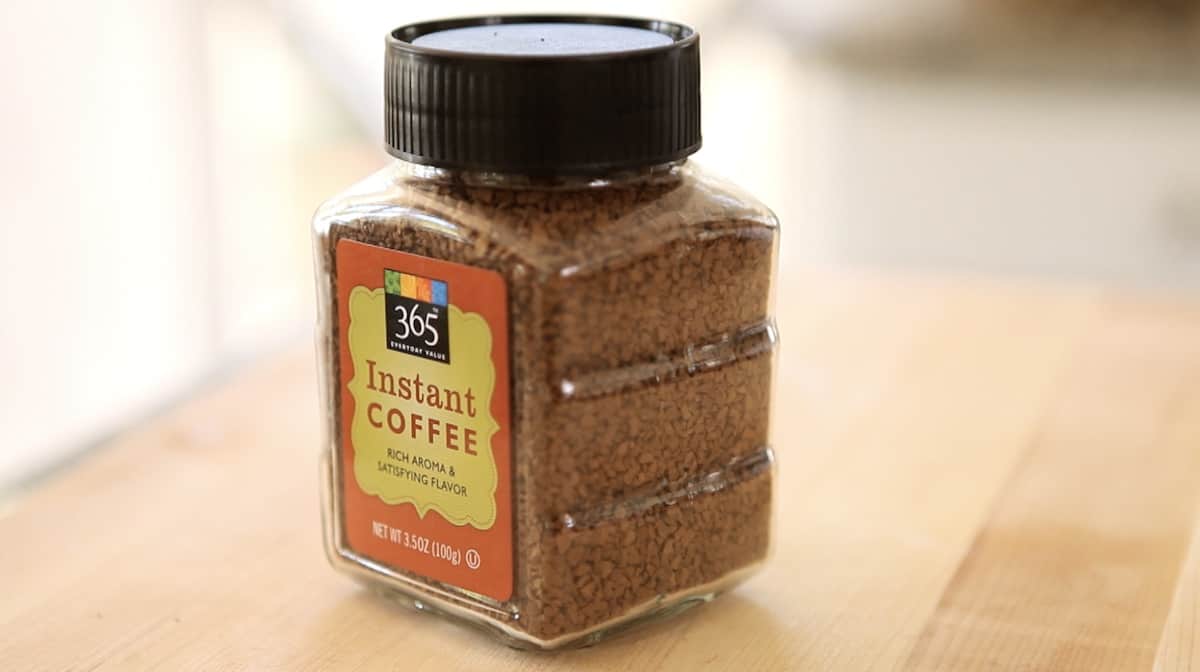 Tip#3: The Flavor of Chocolate Is Enhanced By The Flavor of Coffee
I like to use coffee granules (instant coffee) that will dissolve in the heat of the chocolate.
I find the instant coffee will provide a deeper flavor than liquid coffee which is a bit diluted in flavor.
It's not a total deal breaker if you leave it out, but I do think it gives the brownies a deeper chocolatey flavor.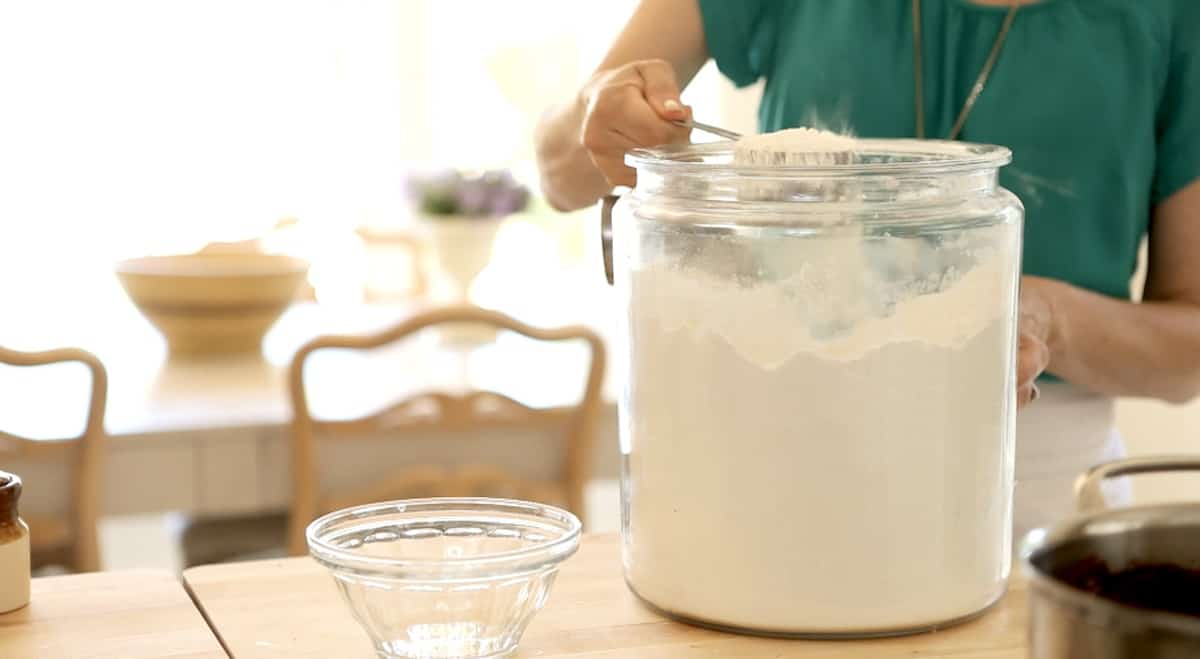 Tip#4: Easy on the flour!
A fudgy brownie will remain fudgy so long as there isn't too much flour involved.
Too much flour will turn a fudgy brownie into a cakey brownie.
And how you measure for this recipe matters!
This recipe calls for ¾ cup of flour and the way that I measure this is by placing the measuring cup into my canister of flour (or bag of flour) and shaking the measuring cup loose of any excess until the flour settles and is even at the top.
I mention this since other methods like packing the flour too tightly or spooning the flour in, will not yield the same measurement which will affect your results.

Tip#5: Use The Right Pan
My favorite brownie pan size is 11" x 16" x 1". But if you can't find that try to find a similar pan that is roughly the same size. Smaller dimensions are better than larger dimensions.
Also line the pan with parchment paper. I love pre-cut parchment sheets for baking since it makes using them so much easier!
Remember these brownies are fudgy so no amount of butter and flour will help prevent them from sticking to the pan!
The parchment paper will make it much easier to remove the brownies and slice them once cooled.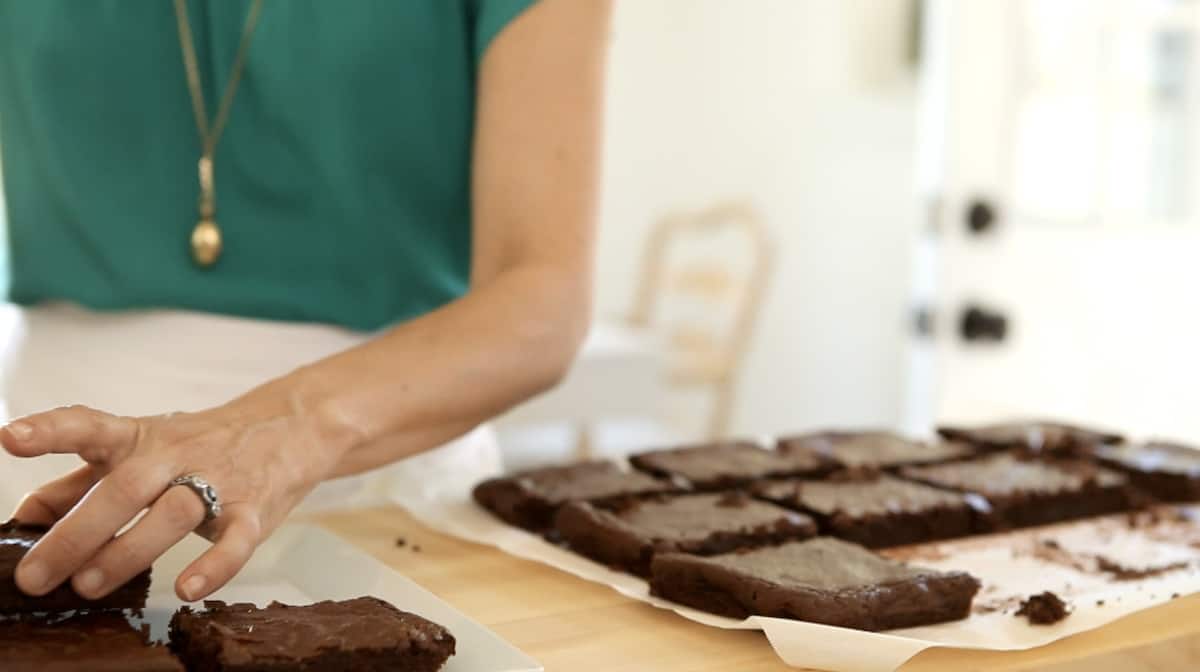 Tip#6: Do Not Overbake The Brownies
If you want a nice chewy and moist brownie you cannot overbake them.
I've found the perfect temperature is 375F for exactly 10 minutes
At the 9-minute mark the brownies will rise up and start to crack at the edges, but not to worry they will settle down as they cool.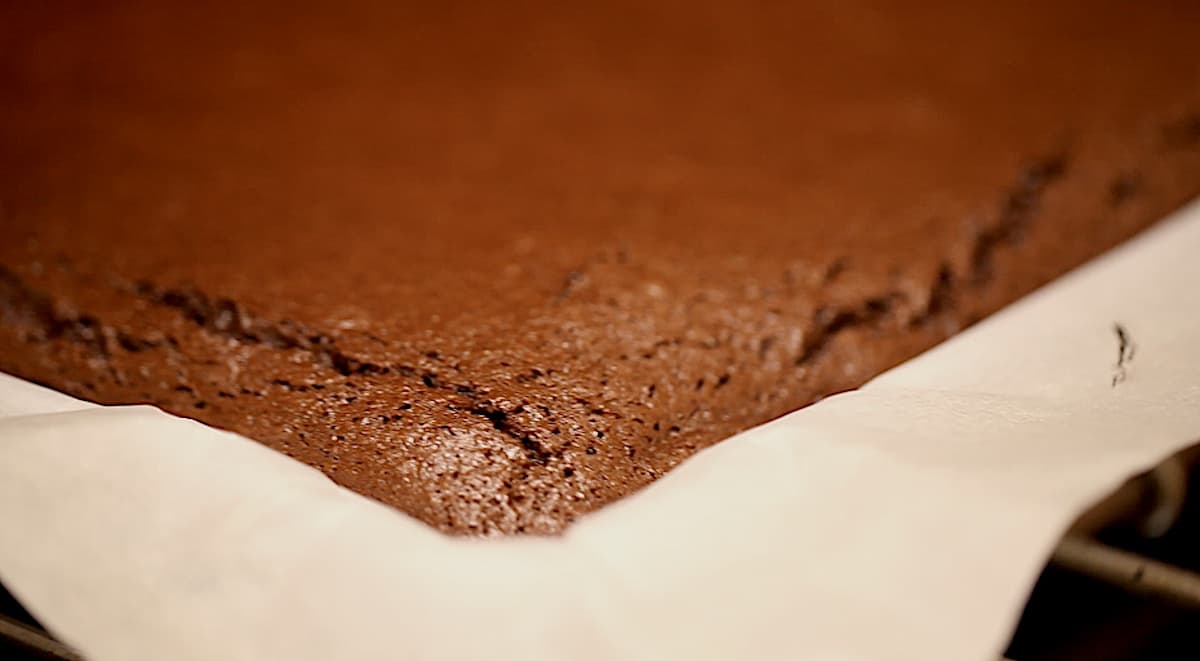 Tip#7: Allowing Your Brownies to Cool
Allow your brownies to cool at least 30 minutes if you can stand it, but an hour is even better!
This will give the brownies a chance to set up probably
If you cut into them too quickly they will become too crumbly

Storing The Brownies:
You'll find fudgy brownies are even better the next day because of how they will congeal and set up.
Or better yet, leave them in the fridge overnight since it gives the brownies a chance to become even chewier.
This a great one to bring to co-workers on Monday morning and help ease the "Monday Morning Blues" and brighten the week ahead!
More Chocolate Recipes You'll Love!
If You Enjoyed This Recipe,
Please Leave a Rating and a Review Below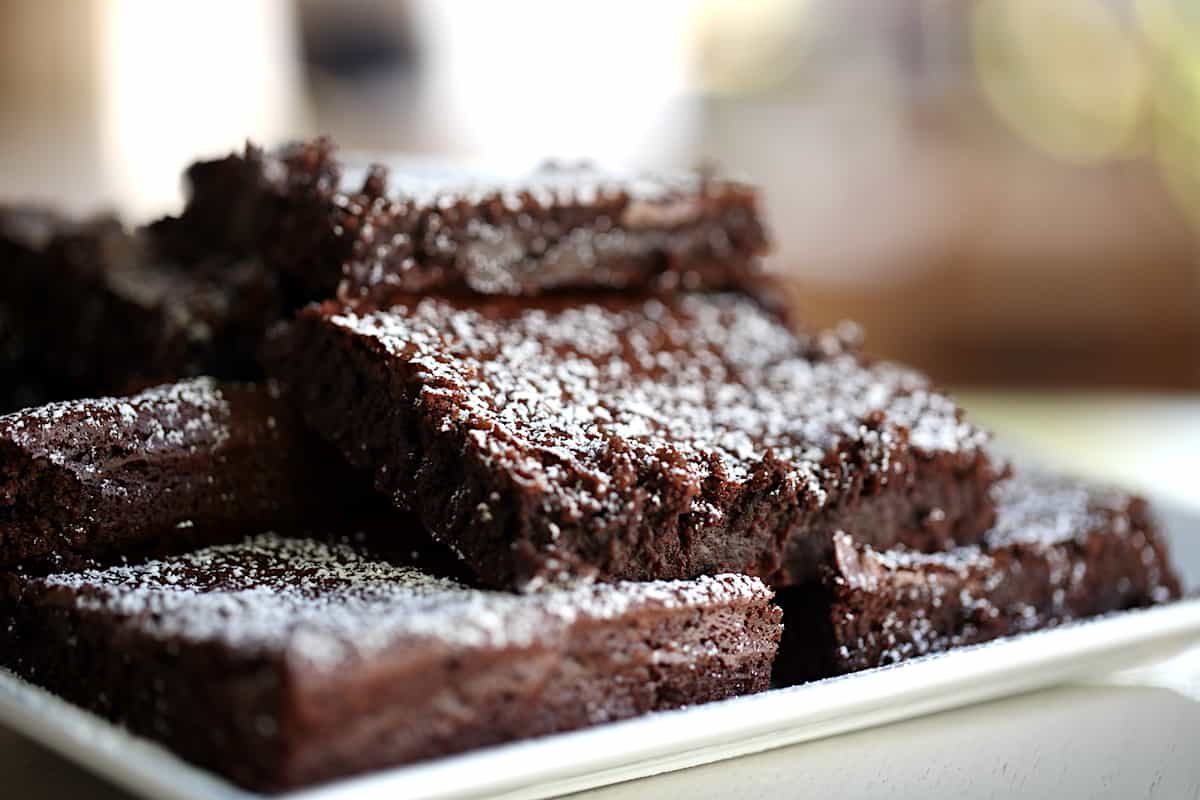 Best Fudgy Brownie Recipe
Achieving the best fudgy brownie recipe boils down to 7 tips. Follow these tips and you'll be rewarded with a chewy, moist, fudgy brownie that will disappear in minutes! 
Ingredients
4 oz (112 g) semi-sweet chocolate
12 oz (336 g) bittersweet chocolate
1 tablespoon (15 ml) vanilla extract
½ teaspoon (2.5 ml) instant coffee
1 cup (240 g) of unsalted butter
4 eggs
1 cup (200 g) of sugar
¾ cup (90 g) of flour
½ teaspoon (2.5 ml) salt
½ teaspoon (2.5 ml) baking soda
2 tablespoon (30 ml) Powdered Sugar for garnish (optional)
Instructions
Preheat oven to 375F. (190 C)
Melt chocolate and butter in a sauce pan on low. Add vanilla and instant coffee, stir to combine. Allow to cool slightly.
In a small bowl combine flour, baking soda and salt.
Beat eggs and sugar together until smooth. Add chocolate mixture and beat until smooth. Then add flour mixture, beat until smooth.
Transfer into a 11 x 16 x 1 pan, lined with parchment paper. Pour batter into pan, and smooth with a spatula.
Bake 10 mins exactly. Allow to cool for at least 30 mins to 1 hour, but overnight even better! (they will get chewier)
Cut into 3 x 3 squares, sprinkle with powdered sugar (icing sugar)
Notes
Allow the brownies to cool for at least 1 hour before slicing. This will allow them to set up properly
I also think these brownies are even better the next day or left in the fridge overnight since it gives the brownies a chance to really set up and become even chewier.
Use Ghiradelli chocolate, I think it provides the best results!
Nutrition Information:
Yield:

12
Serving Size:

1
Amount Per Serving:
Calories:

121
Total Fat:

5g
Saturated Fat:

3g
Trans Fat:

0g
Unsaturated Fat:

2g
Cholesterol:

67mg
Sodium:

32mg
Carbohydrates:

14g
Fiber:

1g
Sugar:

7g
Protein:

4g