Game Day is here! To keep the crowds well-fed at your game day party here are 10 of my favorite Game Day Recipes, from appetizers, snacks, and mains all the way down to dessert! They'll be sure to keep everyone happy even if their own team is down a few points.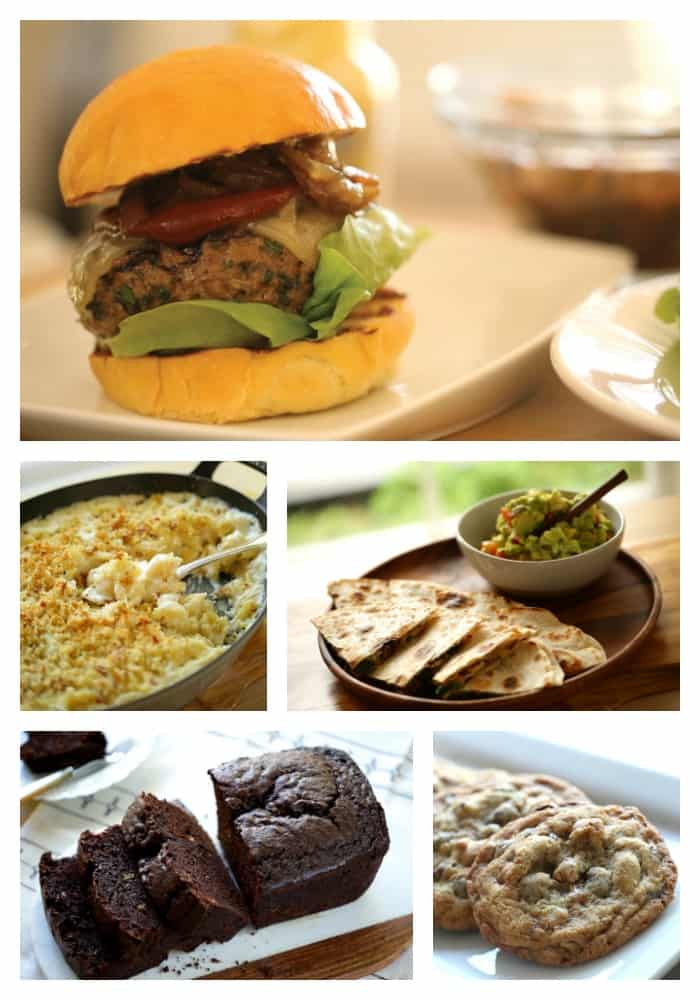 #1: Homemade Hummus
Hummus is a great party dip since it comes together quickly and can be made the day before. Once you make your own Homemade Hummus, you'll never go back to store-bought, it's so much better! For an even healthier option try my Beet Hummus with Spring Veggies. It's as beautiful as it is tasty!
Why You'll Love it?
It only takes a few ingredients and can be made in advance and stored in your fridge!
Homemade hummus is creamier and lighter than store-bought hummus, making it so much more delicious!
Loaded with protein it will keep your guests going until you serve the main event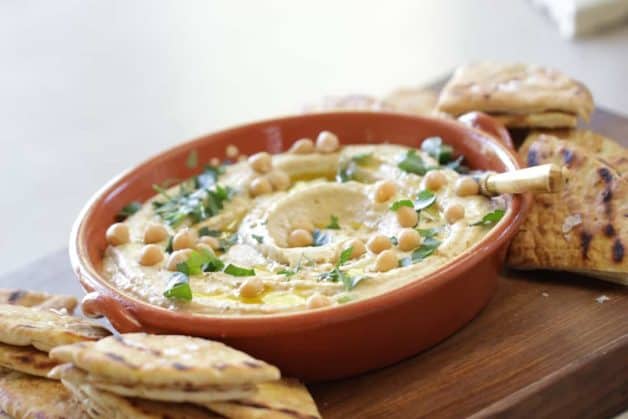 #2: Warm Nuts
Who can resist a warm nut? Especially one that's buttery, and sweet and tossed with fresh rosemary?! These Honey Glazed Cashews are the best!
Why You'll Love It?
You can control the amount of salt and spice, unlike those packaged varieties!
You can also make them sweet or savory depending upon your mood
You can keep the quantities the same, but swap out the cashews for pecans, walnuts, or mixed nuts too!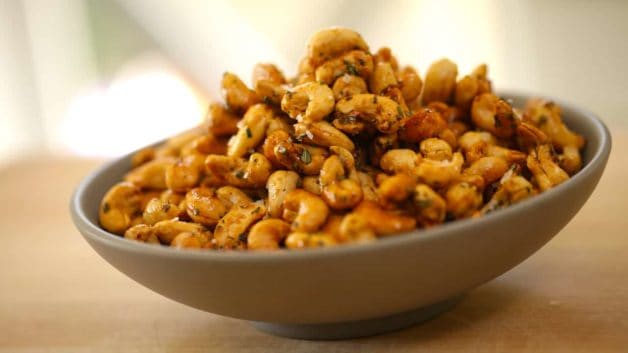 #3: Veggie Quesadilla and Homemade Gaucamole
Next up, for something familiar, yet "gourmet" try my veggie quesadilla and homemade guacamole recipe! The "uncooked tortillas" are really great with these! They sell them in the refrigerated section of your grocery store, and will up your tortilla game 10-fold! My favorite brand is Tortillaland Uncooked Tortillas.
Why You'll Love it:
Homemade guacamole kicks you up into "pro entertainer" status! It's one of the easiest things to make, yet people are always so impressed by it!
It also allows you to add your own hot sauce and regulate the heat!
A veggie quesadilla is the easiest way to pack some healthy nutrients into what would otherwise be a carb and cheese-fest. Let's be honest.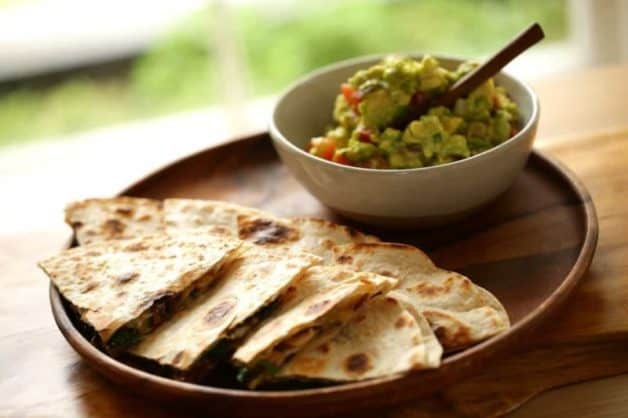 #4: Crudite and Green Goddess Dressing
For something on the lighter side, there is always a veggie platter with Green Goddess Dressing!
Why You'll Love it?
Because there is always that person who shows up who has just started their diet.
They'll be the ones looking for something green and refreshing. It also looks so pretty on a buffet table.
You can make the dip a day before and prep the veggies the morning of, then all you have to do is "set it and forget it"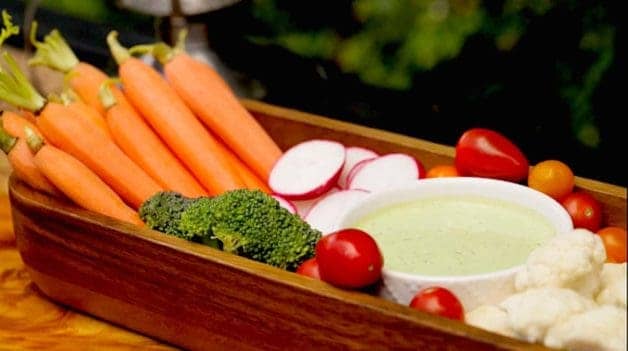 #5: BBQ Chicken Sliders
Now for your main courses, and yes I do believe you should give people more than snacks on Game Day. Something needs to soak up all the beer! Might I suggest some BBQ Chicken sliders?
Why You'll Love it?:
BBQ sliders without the need for the BBQ!
You'll bake the chicken in the oven, shred it and toss it with my totally delicious homemade BBQ homemade sauce.
It makes a big batch that you can make ahead of time and then just assemble before guests arrive. Or set it all out family-style and let your guests do the assembling! Even easier.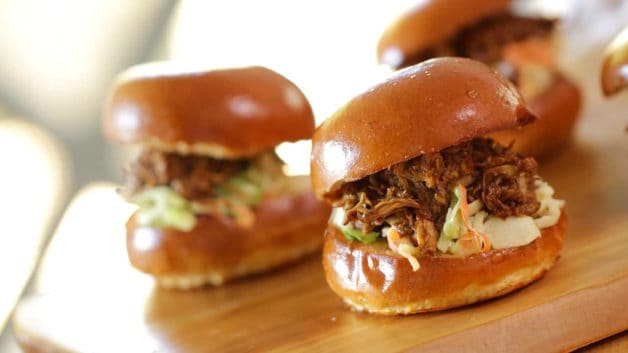 #6: Baked Mac & Cheese
For something fancy and comforting at the same time I highly recommend my 'Ultimate Mac & Cheese" a cheesy, saucy concoction that's always a real crowd pleaser!
Why You'll Love it?
This is a great one for any picky eaters or kids at the party.
It's also perfect lap food that only requires a fork, so it's easy to balance on one's lap!
It's a great meatless option for any vegetarians but also serves as a great side dish to the sliders as well.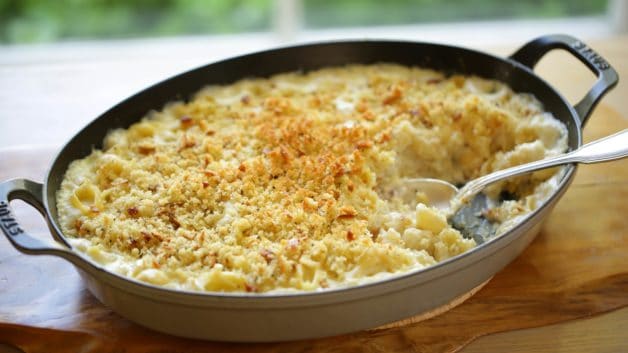 #7: Ultimate Burger Recipe
And of course, you can never go wrong with the classics. A grilled burger will always be a hit! Switch things up and try my "Franglais" burger
Why You'll Love it?
This is a great "gourmet" burger that's familiar enough for the traditionalists (onion, ketchup, bun, etc) but interesting enough for the foodies (caramelized onions, smokey ketchup, and brioche bun)
These work on an indoor grill pan as well as an outdoor grill
You can set up a burger buffet station, prep all the toppings in advance and set them out on the table, and let your guests build their own burgers.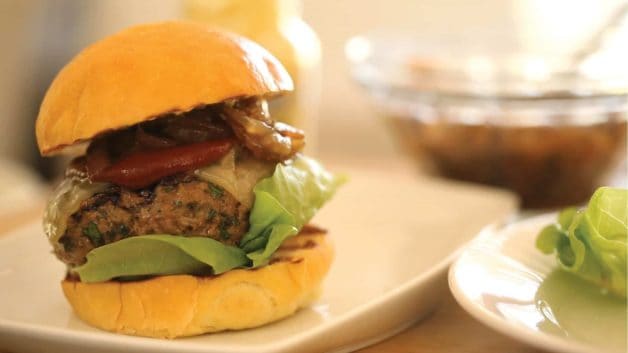 #8: Ultimate Chocolate Chip Cookies
Now for some desserts! First up you can go wrong with a classic chocolate chip cookie. And this recipe is my go-to fave! For a more gourmet twist try my Brown Butter Chocolate Chip Cookies with Sea Salt Flakes.
Why you'll Love it?
This cookie is so fantastic because it's "fully loaded" with chocolate chips, toffee bits, chocolate-covered raisins, and candied walnuts. Need I say more?
They are even better turned into ice cream sandwiches! You can make them the day before freeze overnight and then cut them in half or in quarters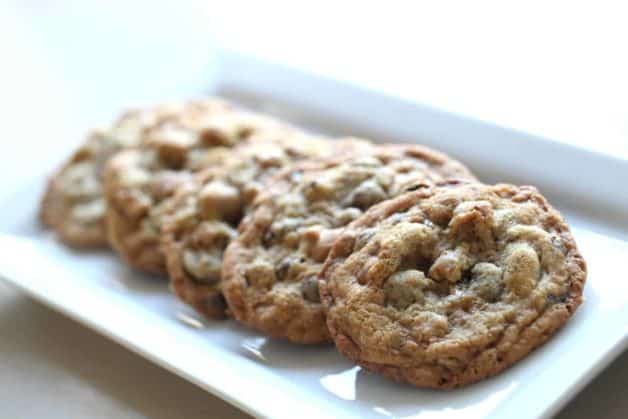 #9: Chocolate Banana Bread
Next up, who can resist some decadent chocolate banana bread? A loaf cake like this is great for a crowd because you can slice the pieces in half or quarters and even mix it up with my traditional Banana Bread Recipe, my Spiced Zucchini Bread Recipe, or Pumpkin Bread Recipe, for a medley of quick breads.
Why You'll Love it?
This bread is so rich and chocolatey, and combined with the banana flavor the combination is just sublime
It's so moist and tender, it melts in your mouth
You can make it the day before and once completely cooled, keep it tightly wrapped at room temperature until ready to serve.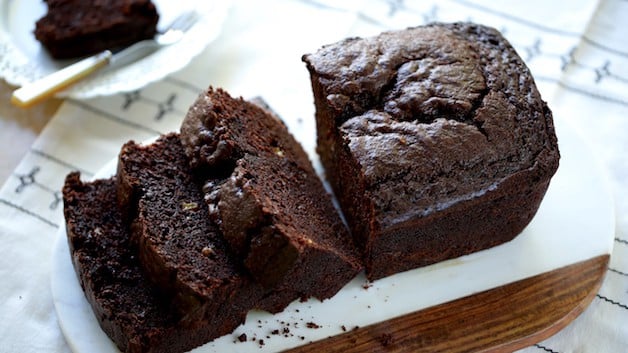 #10: Ice Cream Sandwiches
And finally, for those who would like a little ice cream, there's nothing more impressive than homemade ice cream sandwiches! Just watch everyone's expression when you bring these out at halftime?!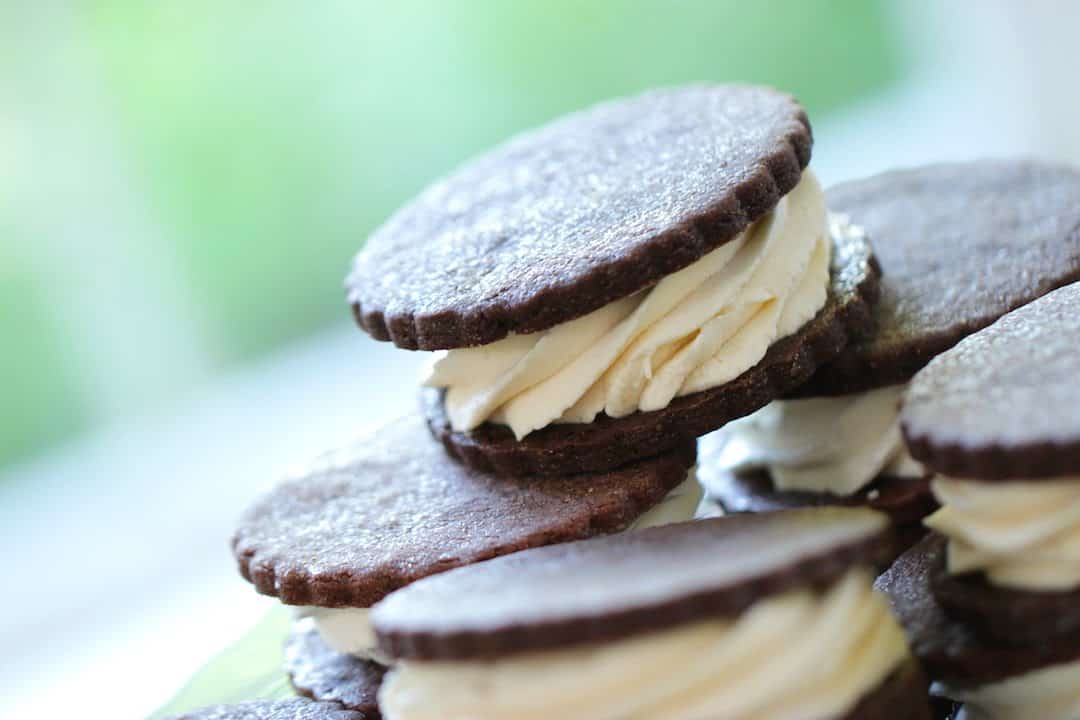 Why You'll Love It?
You can make the cookies a day ahead, assemble with the homemade whipped cream which once frozen the heavy cream turns into what tastes like soft-serve ice cream.
The scalloped edge and rich chocolate cookie will remind everyone of those old-school ice cream sandwiches they enjoyed as kids.
Place them on a baking sheet and pop them in the freezer until ready to serve.