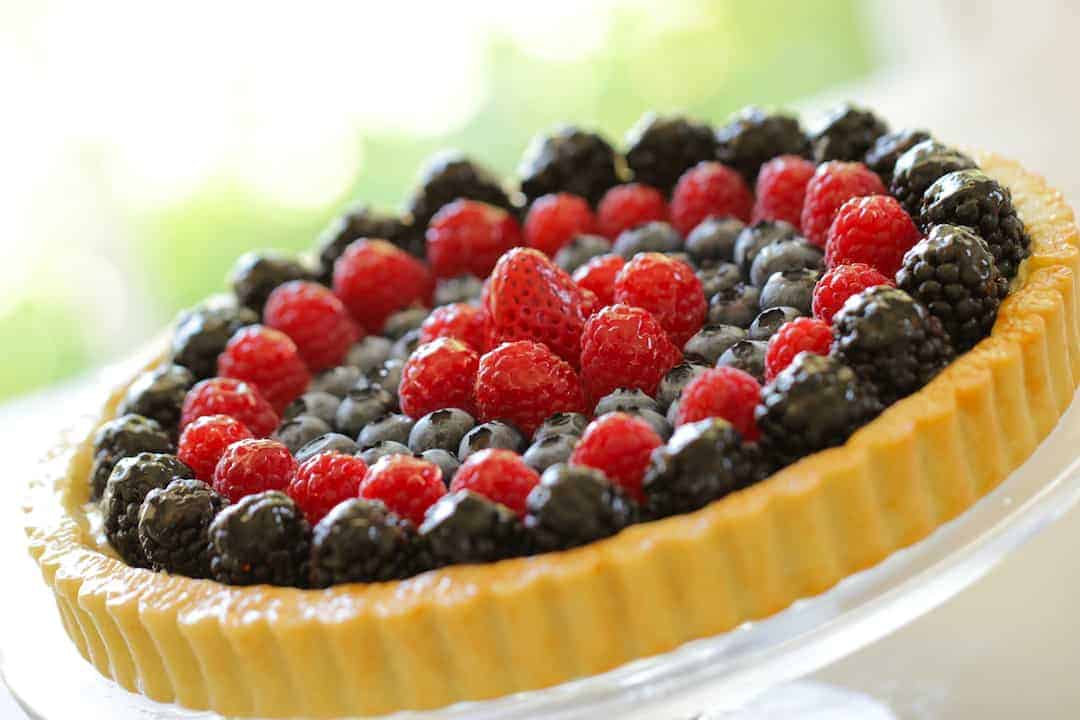 Summer berries are a great way to show off your patriotic pride!  They are also really easy for decorating because nothing needs to be peeled, sliced or chopped (Yes!) I love this fruit tart anytime in the summer, but it's especially fun for the patriotic holidays like Memorial Day and 4th of July!
For a step-by-step tutorial you can watch my video demo below. Subscribe to my YouTube Channel and never miss a recipe! (It's free)
Please let me know if you make this red, white and blue fruit tart recipe by leaving a rating and review below.
Sign up to get recipes in your inbox- click here to sign up! And make sure to follow us on Youtube, Pinterest, Instagram, Facebook & Twitter!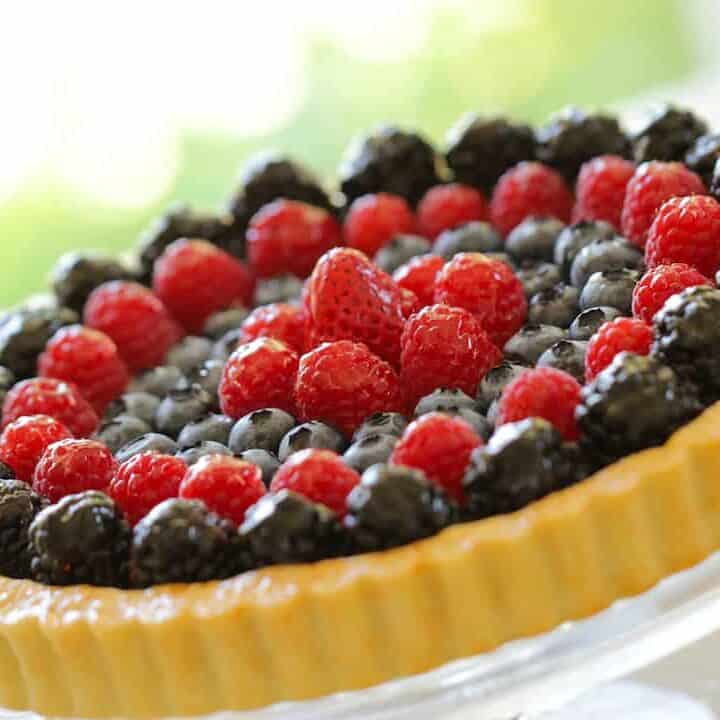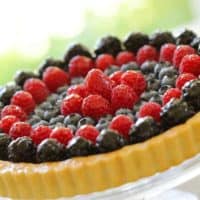 Red, White and Blue Fruit Tart
Prep Time:
1 hour
30 minutes
Total Time:
1 hour
44 minutes
Ingredients
PATSRY SHELL:
½ cup (120 g) of butter
¼ cup (50 g) of sugar
1 egg
1 egg yolk
1 tsp (5 ml) vanilla
1 ¾ cups (210 g) of flour
½ tsp (2.5 ml) salt
FOR PASTRY CREAM:
2 cups (475 ml) milk
vanilla bean, seeds and bean
1/3 cup (65 g) sugar
4 egg yolks
1/3 cup (40 g) cornstarch
1 tbsp (15 g) butter
FOR GARNISH:
1 cup (150) Blackberries
1 cup (150 g) Blueberries
1 cup (150 g) Raspberries
3 tbsp apple jelly
Instructions
FOR CRUST:
whisk together the flour and salt and set aside.
Beat together butter and sugar with an electric mixture until fluffy. Add vanilla and eggs, beat to combine scrapping down the bowl as needed.
Slowly add flour mixture to butter mixture in thirds, until well combined. Form dough into a ball, flatten into a disk. Wrap tightly in wax paper or plastic. Refrigerate for 30 mins or 10 mins in the freezer.
Meanwhile make pastry cream.
TO MAKE PASTRY CREAM:
In a heat safe bowl add the egg yolks and cornstarch, whisk until a smooth paste forms. Set aside.
Then in a large saucepan heat milk, sugar, vanilla paste and pod until simmering. Strain out the bean. Allow to cool slightly. Add the warm milk slowly to the egg mixture whisking all the while until combined. Wash out the saucepan.
Pour egg mixture through a fine mesh sieve back into the clean saucepan. Heat custard on medium high, whisking all the while until thickened. Remove from heat. Allow to cool slightly. Add the butter, whisk until smooth. Transfer to a shallow container, cover with plastic wrap and refrigerate until ready to use.
Roll out dough to ¼" (6 mm) thickness transfer to a 9" (23 cm) removabale bottom tart tin. Fold over sides to form a double crust.
Trim edges around the crust until flush with the tin. Prick bottom of tart with a fork all over bottom. Place tart tine with dough in freezer for 10 mins
Bake at 375F for 10-12 mins. Cover with foil 3-4 mins to allow rest of dough to bake fully (2-4 mins more). Allow tart shell to cool. Remove s hell from tin and place on a cake stand.
Fill shell with pastry cream, smoothing out to become level with shell.
Add berries in a decorative fashion! My favorite pattern is:
One row of blackberries on the perimeter, then 2 circles blueberries, then a circle of raspberries and place a large strawberry in the center (point side up)
Brush berries with heated jelly (30 secs in microwave to liquidly or in a sauce pan on low) brush gentle with a pastry brush. Refrigerate until ready to serve. Enjoy!