I love cooking and baking with edible flowers and this Honey Lavender Creme Brulee Recipe might just be one of my favorites!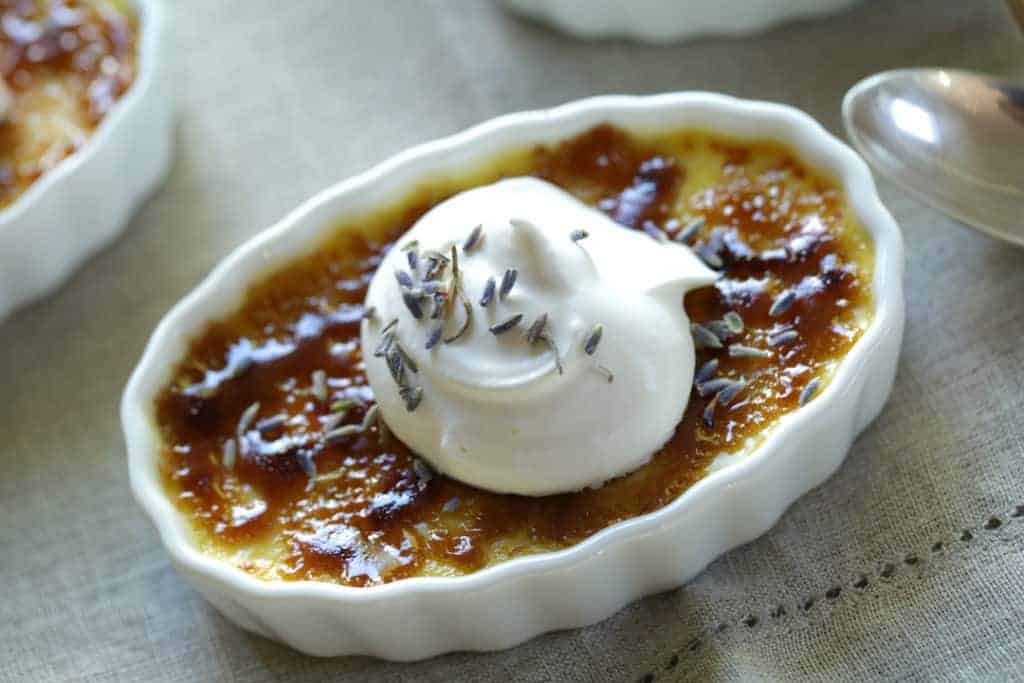 It always reminds me of the South of France and a Honey Lavender Creme Brûlée is the perfect dessert to show it off.
Watch my Video Demo of this Recipe Below!
It's also a super simple dessert that always gets rave reviews!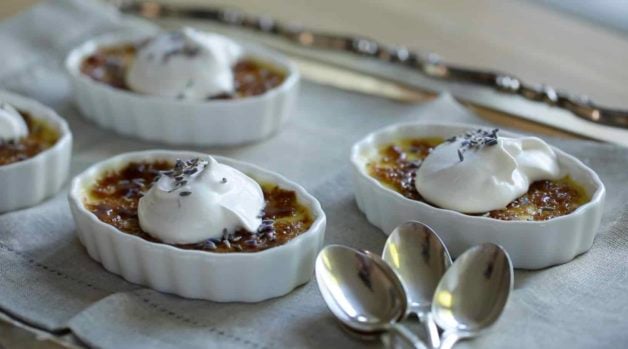 You'll use the lavender in both the base of the custard, by steeping it in the warm cream, as well as topped on the whipped cream as a garnish, and I think it just makes for the prettiest presentation.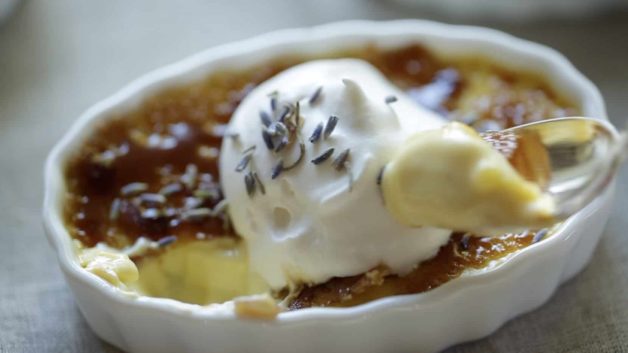 When you bite into these you get that warm crackle of the sugar, the cold custard underneath and of course that lightly flavored whipped cream on top sprinkled with lavender blossoms. Pure heaven!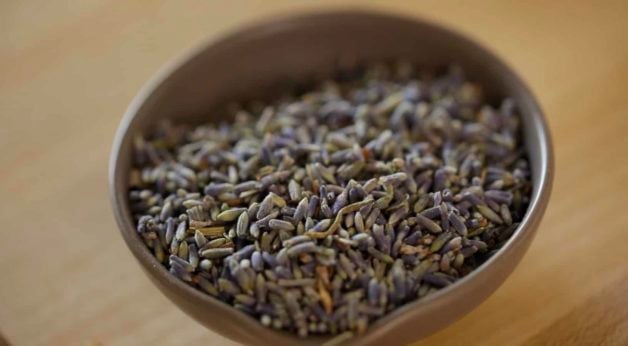 When cooking or baking with lavender it's important to use "Culinary Grade Lavender" so you know it is safe to eat.  You can find it in my Amazon Shop (this link goes to Amazon where I am an affiliate partner)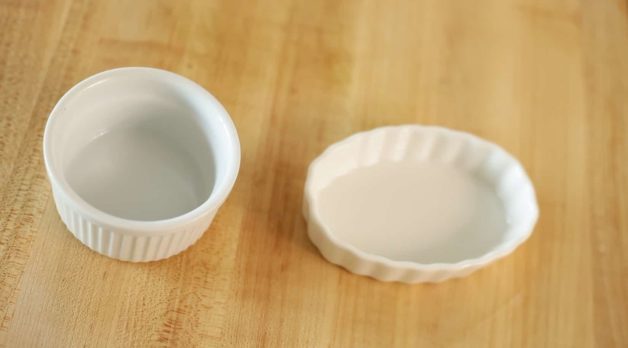 When it comes to the ramekins, you can really use any shape you like, just be sure the are 4 oz capacity and this recipe will make 8.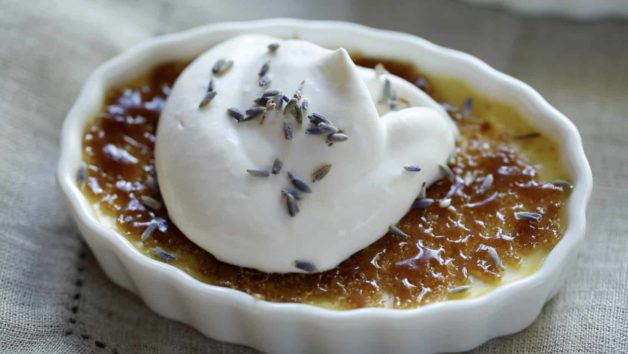 I like the scalloped, shallow design with this Honey Lavender Creme Brûlée Recipe because it creates a lovely, sophisticated presentation for entertaining.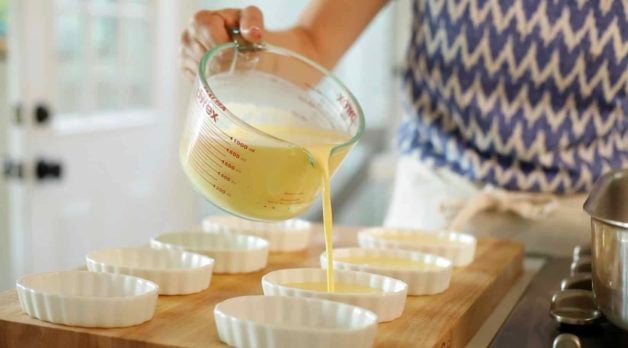 You can pour the batter in the ramekins, bake and allow them to cool.  Then refrigerate. All you then have to do is top with sugar and pop under the broiler when ready to serve.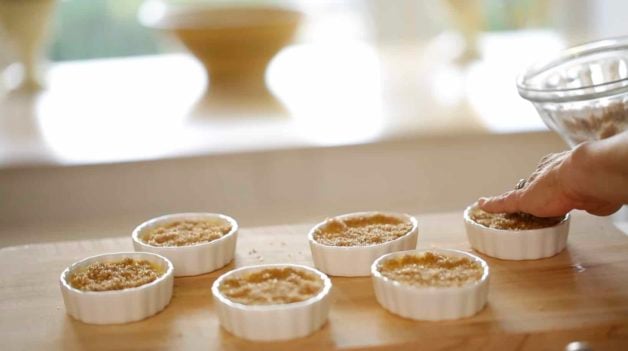 I find to get the best caramelization without the use of a kitchen torch, brown sugar is the way to go. You can refer to my traditional Creme Brulee Without a Torch Recipe for tips on how to do this.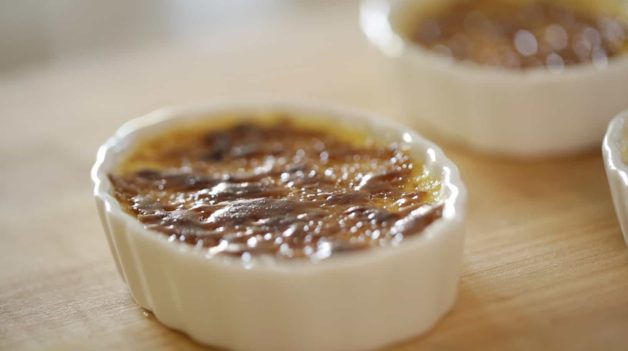 Top with a little whipped cream and you are good to go!
MORE FRENCH DESSERTS!
Please let me know if you make this recipe by leaving a rating and review below!
Follow me on Youtube, Pinterest, Instagram, Facebook & Twitter!
Print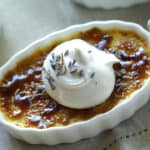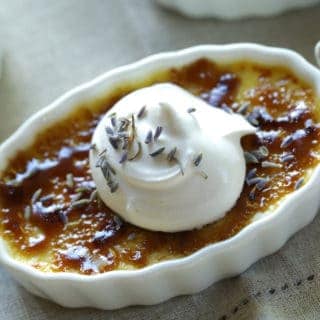 Honey Lavender Creme Brulee
---
Author:

Prep Time:

24 hours

Cook Time:

30 mins

Total Time:

24 hours 30 mins

Yield:

8

Category:

Dessert

Method:

Bake

Cuisine:

French
Description
Honey Lavender Creme Brulee recipe perfect for summer entertaining!
---
Ingredients
3 cups (700ml) of heavy cream
2 ½ (37 ml) tbsp honey
1 vanilla bean, scraped of its seeds
1 tbsp (15 ml) culinary grade lavender
pinch of salt
6 egg yolks
8 tsp (40 ml) brown sugar for the tops
HOMEMADE WHIPPED CREAM:

INGREDIENTS:
1 cup heavy cream
1 tbsp powdered sugar
½ tsp vanilla extract
---
Instructions
In a saucepan combine the heavy cream, honey, vanilla bean paste and pod, lavender and salt. Bring to a simmer. Turn off heat, cover and steep for 30 mins.
Preheat oven to 300 degrees F (150C).
Meanwhile whisk together the egg yolks. Strain the heavy cream mixture into a 4-cup Pyrex pitcher to remove the lavender and vanilla pod. Then slowly pour the strained cream mixture into the egg mixture whisking all the while.
Using a cleaned out fine mesh strainer, strain the mixture once more back into a cleaned-out 4-cup Pyrex pitcher. The second straining will create an even smoother texture for your custards. Pour mixture into 4 oz ramekins, and place in a roasting pan.
Place roasting pan in the oven and pour hot water from a kettle slowly in the corner of the roasting pan (to avoid splashing into the custards. They will not set if they are mixed with splashed water, so be careful not to splash).
Pour just enough water so that it reaches half way up the ramekins. Bake for 25-30 mins for shallow ramekins (1-inch-deep) or 45-50 mins for deeper ramekins (2 inches deep) just until custards are set and jiggle slightly, but they should be more firm the jiggly. Allow them to cool, then refrigerate overnight, uncovered.
To serve, sprinkle the top of each custard with 1 tsp of brown sugar. Position your oven rack on the highest rack of your oven, as close to the heating implement it will safely go. Set your oven to broil. Place the custards on a flat cookie sheet and pop under the broiler for about 10-15 seconds, or until the sugar has browned and caramelized.
Allow crème brulees to cool slightly. Then top each one with a dollop of homemade whipped cream and garnish cream and caramelized sugar with the dried lavender blossoms on top et voila!
To Make Homemade Whipped Cream: Combine all ingredients in a bowl and whip with an electric mixer until soft peaks form.
Notes
Be sure to use "culinary grade" lavender for this recipe. It can be found online.
IMPORTANT! Do not walk away from custards while they are caramelizing under the broiler. You must watch this carefully or they will catch fire if left too long to broil!!! Sugar is extremely flammable!
Keywords: Creme Brulee Recipe, Honey Lavender Creme Brulee, Lavender Cream Brulee